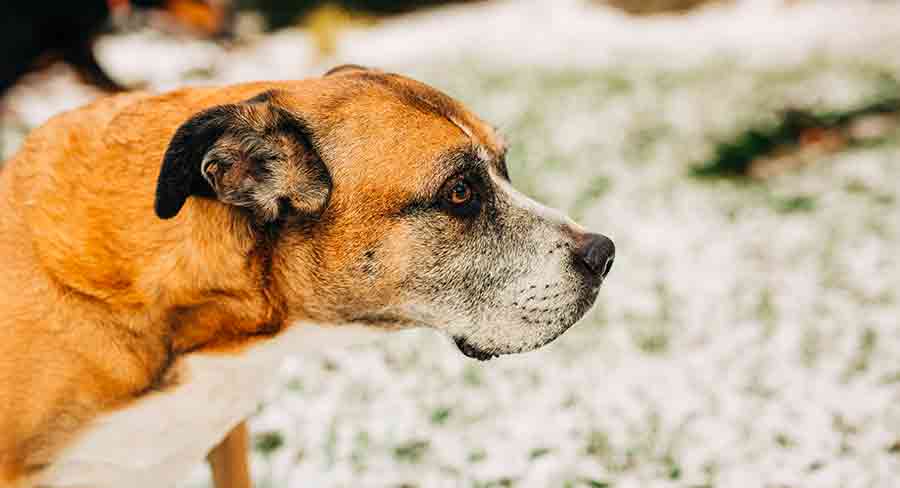 Boxer Lab mix dogs are confident, affectionate, loyal and loving. The Boxador is a hybrid cross between the purebred Boxer and the purebred Labrador Retriever. An adult Boxer Lab mix will weigh somewhere between 55 – 80 lbs and can grow up to 25 inches tall. Boxador dogs are friendly, intelligent and active. Today we'll look at how to find and raise a friendly, healthy Boxer Lab mix puppy. And share tips for deciding whether this energetic designer dog is the right choice for your family and lifestyle.
Contents
The Boxer Lab mix is a great fit for active families with plenty of time for games and training. You'll also need time for and interest in grooming. Boxer Lab mix dogs are high shedding and need regular brushing. Boxador puppies are $500 – $1,000 on average, but prices will vary depending on location and demand.
What is a Boxador?
Boxadors are a cross between a Boxer dog and Labrador Retriever. They are intelligent, lively, appealing dogs. But what do you need to know about this mix before deciding whether to bring one home?
Popularity: Uncommon but on the rise!
Purpose: Companion breed
Weight: 55 – 80 pounds
Height: Up to 25 inches
Temperament: Active and friendly
Coat: Short and dense, can come in a wide range of colors
Boxer Lab Mix History and Original Purpose
A Boxador is a cross bred dog, made by mixing a Labrador Retriever with a Boxer. Little is known about the exact origins of this interesting mix. It could very well have been accidental. We do know a bit more about the parent breeds, however.
Labrador Retrievers are currently ranked as the most popular dog breed in America, according to the AKC. Though they were originally bred to help assist hunters with retrieving game, they're more commonly seen these days as favorite family members.
Boxers originate from Germany, and were also in use as hunting companions.
Along with the Labrador, they're more commonly seen as beloved household pets in the United States. But both parent breeds are commonly used as working dogs, in roles like search and rescue dogs.
Fun Facts About Boxer Lab Mix Dogs
Technically a Boxador is not a recognized breed in it's own right, as it has not been approved by the Kennel Club. However, it is recognized by several smaller designer dog clubs in the USA.
As a mixed breed, Boxador puppies can inherit any blend of traits from their parents. So, each of these little dogs is completely unique.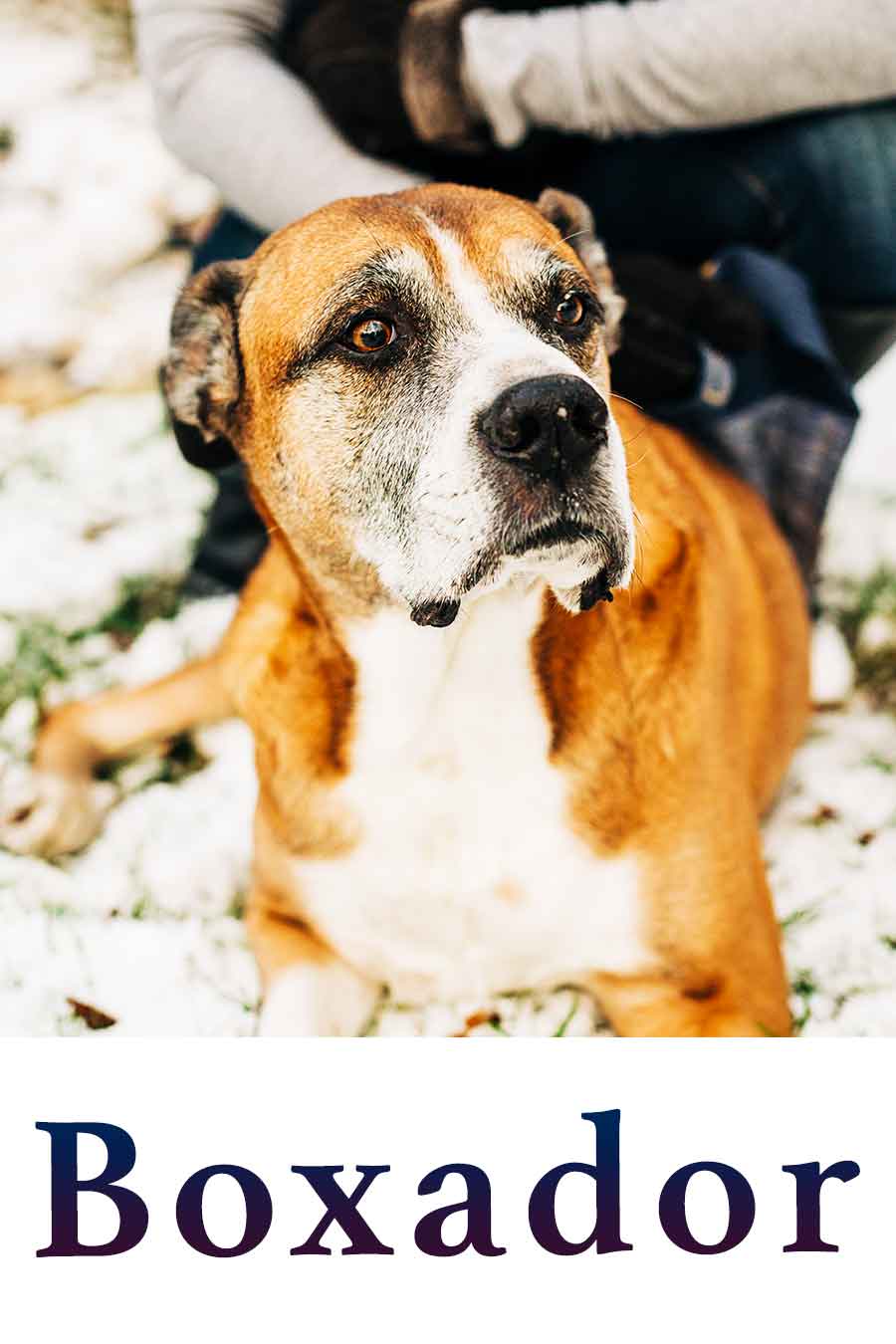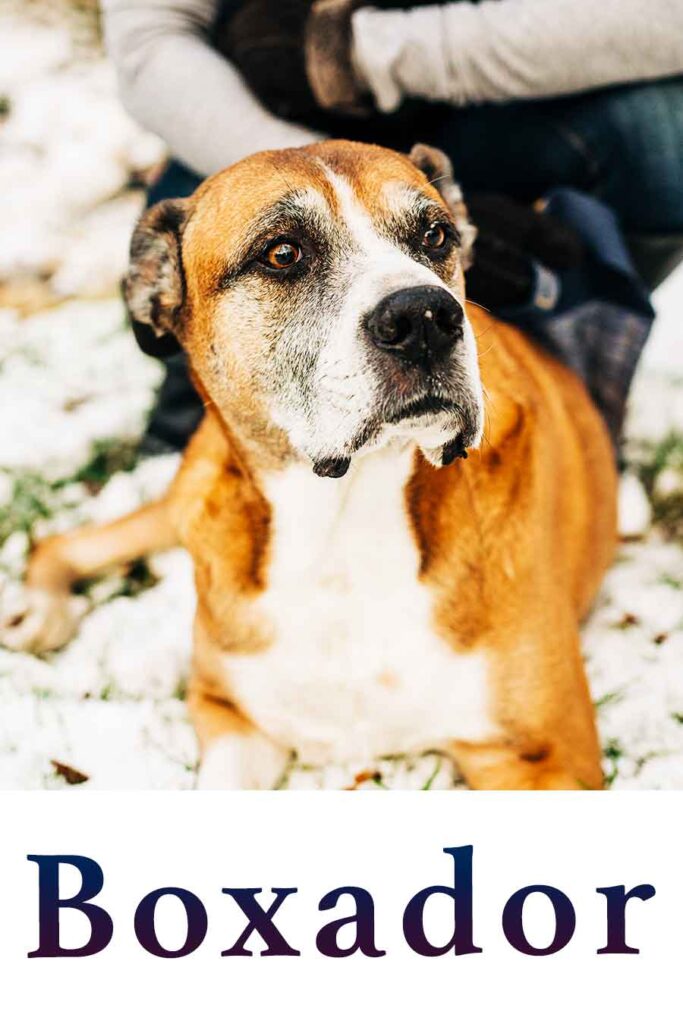 Boxador Appearance
The shape and conformation of Boxer Lab mix dogs can vary. Some will have shorter snouts, more closely resembling the Boxer parent. But others may have a longer snout, like the Labrador parent. In terms of health, it is better for dogs to inherit the Lab's longer muzzle.
Because Boxer Lab mix puppies can inherit any traits from their parents, you should make sure you're happy with any possible appearance.
Boxer Lab Mix Size
| | | | |
| --- | --- | --- | --- |
| | Boxer | Labrador | Boxador |
| Size: | Medium to large | Medium to large | Somewhere between the two parents |
| Height: | 21 – 25 inches | 21.5 – 24.5 inches | 21 – 25 inches |
| Weight: | 55 – 75 pounds | 55 – 80 pounds | Usually 60 – 80 pounds |
Can Boxadors Come in Lots of Colors?
Boxer Lab mix breed dogs can come in a range of colors. Boxer Lab mix puppies will rarely be one uniform color. They will often have a black mask on their muzzle and around their eyes. They may have white feet, chests, or tails too.
The color of your puppy will depend upon the colors of his parents, and their ancestors too. Some colors can be hidden in a dog's genetics for years, and only be expressed when there isn't a more dominant gene passed on.
A brindle Boxador can look very much like its Boxer parent, due to the characteristic coloration. They will often have the distinctive black mask over their faces and white markings on their feet.
Some breeders may try to breed dogs for certain colors, eg. a black Lab Boxer mix. Choosing a black Lab Boxer mix might be a good way of getting a black puppy, an increasingly popular shade.
Just remember all aspects of mixed breed puppies can be unpredictable. So, there's no guarantee of color until the pups arrive.
Boxer Lab Mix Coat Care
Although Boxer Lab mix puppies normally have short, shiny coats, Boxador shedding is a potential issue you will need to consider if you are thinking of bringing a puppy into your home. Boxers shed and Labrador shedding can be quite extreme too. It is likely that your Boxador will shed quite a lot of fur, especially in moulting season.
To keep your Boxador feeling comfortable, and your house fairly clean, you will need to have a good regular grooming routine. A quick brush with a firm bristle brush at least twice a week should be adequate most of the year.
When they are visibly shedding, a daily brush with a short hair Furminator will really help to keep those loose hairs tidy.
Are Boxer Lab Mix Dogs Hypoallergenic?
Dog allergies come from proteins produced by dogs. They are spread in their skin dander and saliva. This mix is definitely not hypoallergenic. This is one for people with allergies to avoid.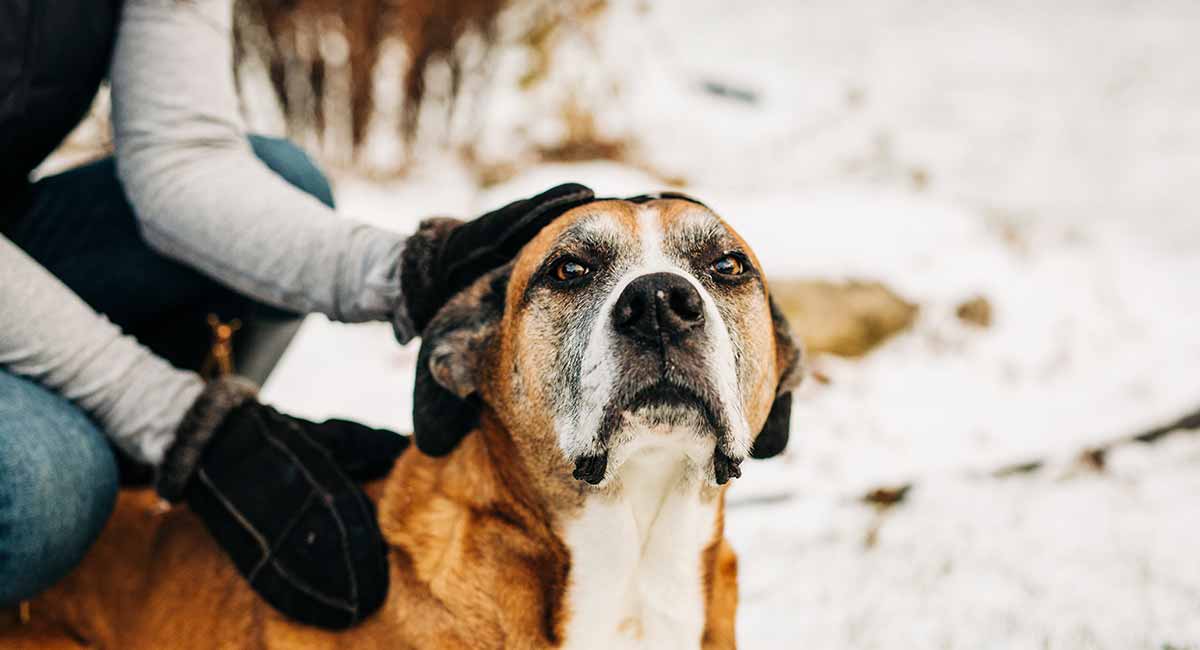 Boxer Lab Mix Temperament
The Boxador personality can be hard to define, as mixed breed temperaments can express in a variety of potential ways. The puppy may take after either, both, or neither of its parents. But both Boxers and Labradors do have a few things in common that puppies are likely to inherit. You'll find the following traits in both parent breeds:
Loyalty
High energy levels
Intelligence
Playfulness
A Boxador is not a lap dog. It is likely exuberant and lively. It will love to spend time outdoors, walking or running around with you. Both Boxers and Labs have good reputations for liking children, however they are also both large and bouncy dogs. You will therefore need to be careful and supervise their contact around smaller children, to avoid accidents.
The main difference between the standard Labrador and Boxer personalities is in guarding potential. Most Labs are not natural guard dogs, but many Boxers are. So, owners must socialize puppies from a young age.
Boxador Barking
Neither parent breed are particularly known for a tendency to bark. But, it is a possible trait, especially if your Boxador is frustrated, or if you aren't fulfilling all of their needs.
Boxer Lab mix dogs are very social and energetic. They are happiest when they are spending time with you. But, they also need plenty of mental and physical stimulation to prevent boredom and stress. Without adequate exercise, training, and play, they may become frustrated, which can lead to barking.
Training and Exercising your Boxador Dog
The Boxador should be very receptive to positive training techniques, being both intelligent and food motivated. Both parent breeds are known to be trainable. And, as we've already learnt, it's important to train this breed well due to their large adult size.
Training can also help to keep your Boxer Lab mix entertained. Here are some guides that will get you started:
As mentioned before, due to the Boxer parent's history as a guard dog, it's important to focus on socialization of your Lab Boxer mix puppy. You have no way of knowing whether this guarding potential will be expressed in your particular pup.
Help them to meet lots of people when they are very young, both in the house and outdoors. This will help them to feel more relaxed around strangers.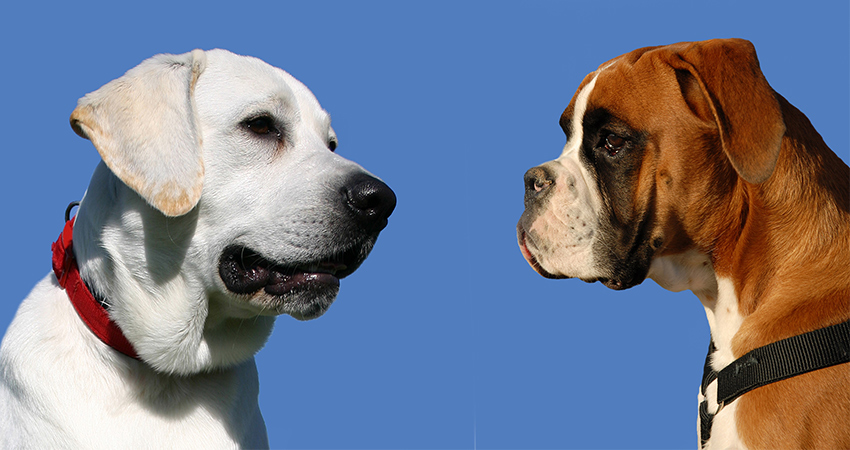 Boxer Lab Mix Exercise
Both parent breeds are very active, and your Boxador will need at least an hour of exercise each day. The Boxer parent does tend to have a shorter muzzle that puts it right on the edge of brachycephaly, however.
So, it can easily overheat when exercising. It is at higher risk of this on hot days. And, some Boxadors may have trouble swimming. Although, they're sure to enjoy paddling in shallow water. Just make sure to supervise your Boxer Lab mix closely when exercising them so that they are safe and don't overheat. Especially in water.
Boxador Health and Care
Studies have generally shown greater longevity in cross bred dogs. But designer dogs like Boxadors aren't necessarily going to be healthier if the parents have not been health tested.
Boxador health risks to be aware of:
| | |
| --- | --- |
| Heart | Aortic Stenosis, dilated cardiomyopathy |
| Eyes: | Progressive Retinal Atrophy |
| Joints: | Hip and elbow dysplasia |
| Other: | Bloat, brachycephaly, hypothyroidism, cancer, degenerative myelopathy, exercise induced collapse |
Aortic Stenosis
This heart disease occurs when the aortic valve in your dog's heart is narrower than it should be. If your dog has this problem, its heart must work harder to pump blood. This is a hereditary problem common in the Boxer parent. Boxers with this health issue should not be bred from.
Cardiomyopathy
Dilated cardiomyopathy is another heart condition that is common in large breed dogs, like the Boxer and Labrador. In this health issue, heart muscle degeneration leads to a larger-than-normal heart. This can lead to overall heart failure.
Some studies have recently been investigating a link between this issue and diet, but more research is needed to determine whether there is a causal link.
Progressive Retinal Atrophy
Progressive Retinal Atrophy (PRA) refers to a group of eye issues in dogs that can eventually result in blindness. Health testing is available for this problem. So, make sure your puppy's parents are cleared of PRA.
Hip and Elbow Dysplasia
This is another health problem known to affect many large breeds. It occurs when your dog's joint is warped, and does not fit comfortably in the socket. Hip or elbow dysplasia can be extremely painful for affected dogs. Make sure your breeder only breeds from dogs with good hip scores.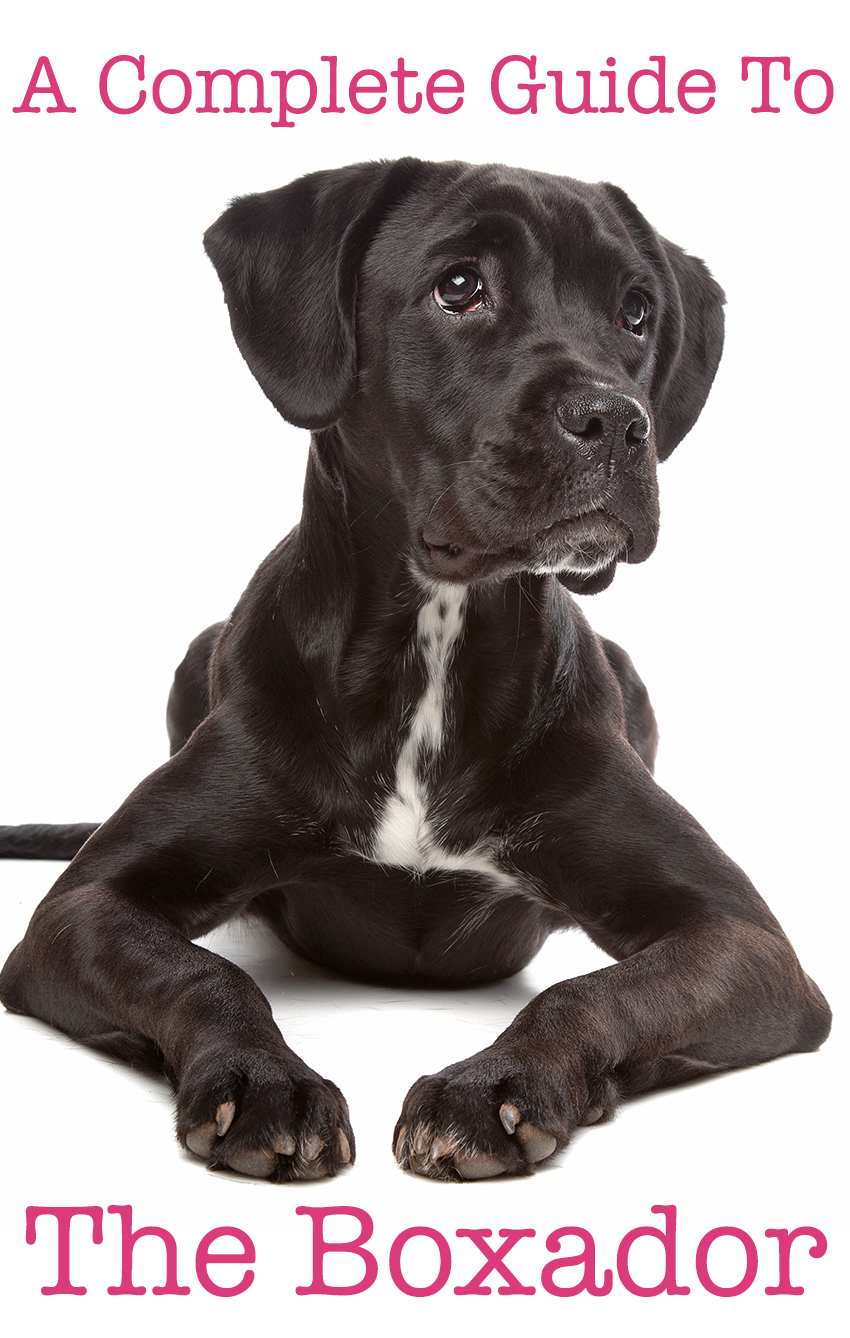 Bloat
Canine bloat is also known as gastric dilatation volvulus. This condition occurs when your dog's stomach fills with gas or fluid, and twists. Bloat can be fatal, so you must act quickly if your dog shows any symptoms associated. It's common in dogs that eat their meals too quickly, or too soon after exercise.
Brachycephaly
Brachycephalic dogs are those with flat faces. The Boxer parent is affected by this conformation issue. Boxador puppies may inherit this shorter snout.
This can lead to breathing and temperature regulation problems, as well as poor dental health and eye issues. When picking your puppy, make sure that they have a full muzzle and that the Boxer parent has a prominent nose.
Hypothyroidism
Hypothyroidism is when the thyroid gland doesn't produce enough of the hormone thyroxine. Symptoms can include hair loss, flaky skin, weight gain, sluggishness, seizures, and more. Dogs with this issue may have to take medication regularly for the rest of their life.
Cancer
Of course cancer is a broad term. Different types of cancer can affect the Boxador parent breeds. So, make sure your breeder is not breeding from dogs with a history of cancer.
Degenerative Myelopathy
This is a progressive spinal cord disorder. Dogs with degenerative myelopathy will experience slow paralysis of their back legs and rear. In some dogs, eventually their front legs will also be affected.
Exercise Induced Collapse
This problem is exactly as it sounds. Affected dogs will collapse after short bursts of extreme exercise. Symptoms can include wobbliness or poor coordination. In worst cases, this problem can be fatal.
General Health of Cross Breeds
Not only do purebred dogs like Labs and Boxers have some serious potential health issues to contend with, some of these issues are the same. Which means it is still vital that your puppy's parents are health tested for the relevant conditions.
Mixed breed dogs will still be vulnerable to these issues if their parents have them. The likelihood of hereditary issues may be reduced by widening the gene pool, but there's no guarantee. So, choose reputable breeders that health test parent dogs before breeding for the best chance at a healthy puppy.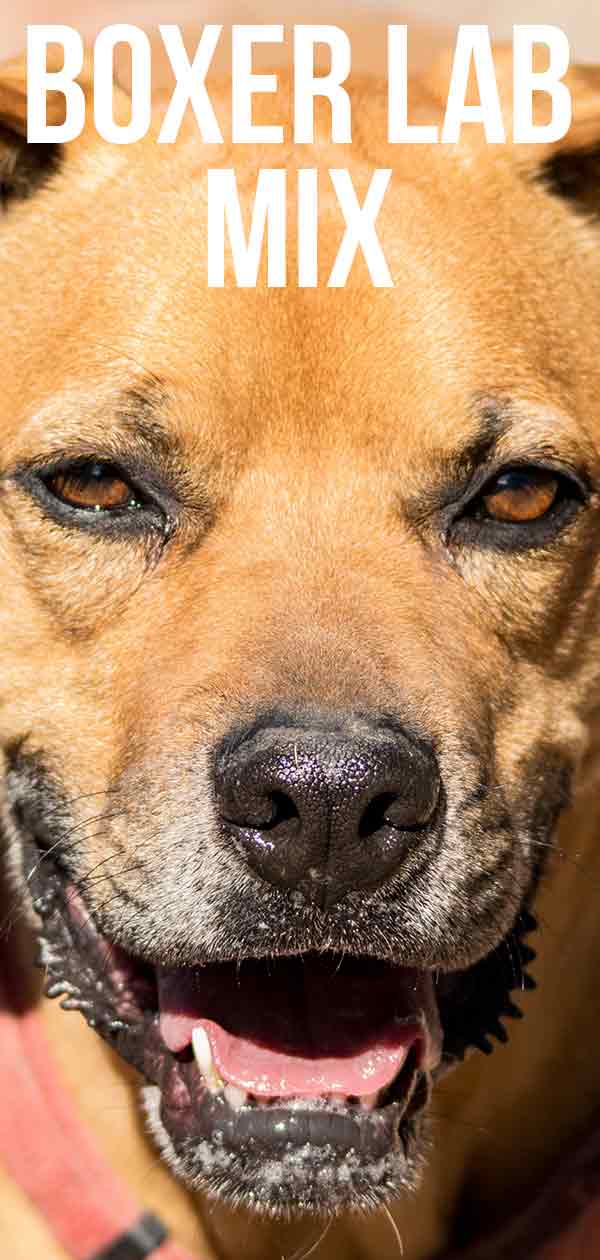 General Care
Boxadors should be fed with a high quality dog food designed for large breeds. They need regular exercise and plenty of social interaction and play to stay happy and healthy. Check their nails and ears when grooming them. Dental health is a particular issue for Boxador dogs, especially those with shorter muzzles. So, keep a keen eye on their teeth.
What is the Boxador Life Expectancy?
It is widely reported that Boxadors live 12 to 15 years. But, at the moment there are no studies that confirm this figure.
What we do know is that on average Labs live 12 years and Boxers live 10 years. Cross bred dogs tend to live longer than their parents, but this is not guaranteed.
The best way to make sure your Boxer Lab mix lives as long as possible is to find him from a reputable breeder who has used health as a primary goal.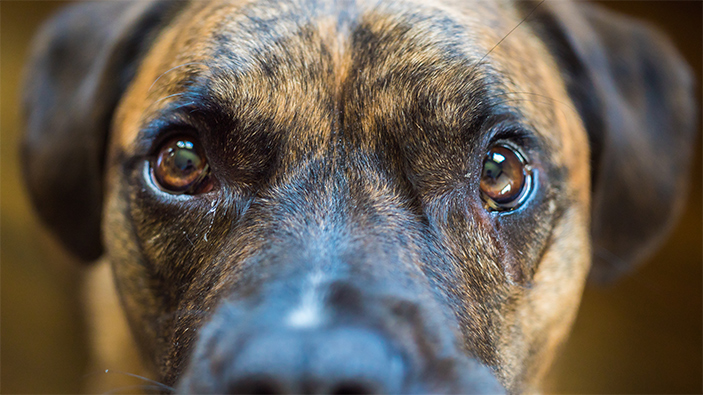 Do Boxador Dogs Make Good Family Pets?
Both Boxers and Labs have great reputations as family pets. They are both exuberant, active breeds, so you can expect the same from a mix between them. Because of this, Boxadors may be better suited to families with children who are a little older.
This breed needs a family that is very active and that has plenty of time to dedicate to training and socialization. Because of the brachycephalic nature of the Boxer parent, health problems may arise in the Boxador. You may want to consider rescuing an adult Boxer Lab mix rather than looking for a puppy.
Pros And Cons of Getting A Boxador Dog
Cons
May have brachycephalic concerns
High shedding
Large and energetic so can accidentally hurt small kids when playing
Exact traits are unpredictable
Pros
Great temperament when properly socialized
Perfect for active families
Known for being great with kids
Loyal and affectionate to close family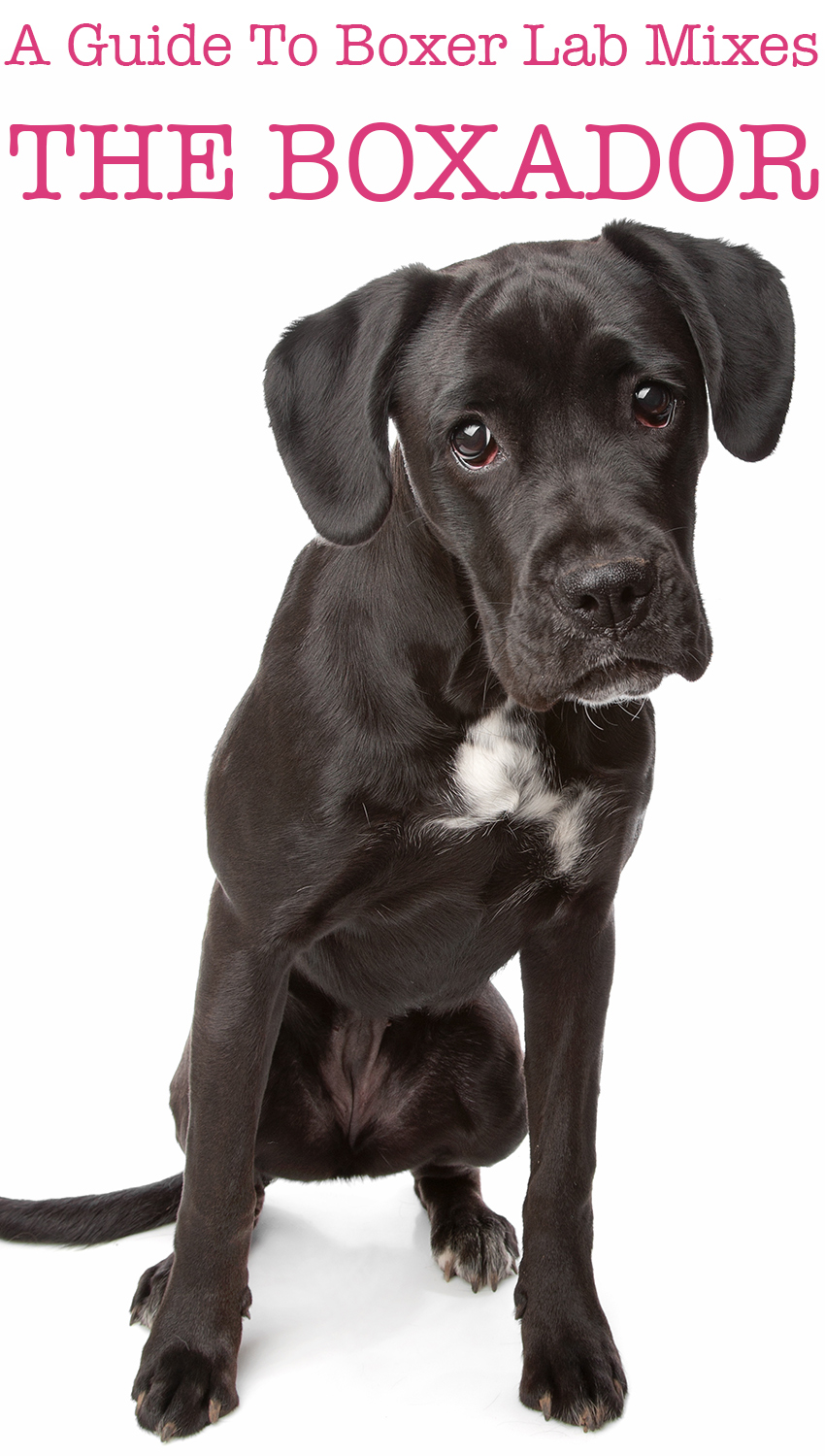 Rescuing a Boxador
It's always rewarding to rescue a dog who is in need of a home. Though you may not know all the details of the dog's parentage, choosing a dog who is already full grown can help potential owners to be able to ascertain the personality and health of the animal.
Rescue is also a great option for breeds that can suffer from a lot of health issues, like the Boxador. Dogs from rescue centers will usually be cheaper than puppies from a breeder.
Boxer Lab mixes, as can be seen in the comments, are increasingly in demand. So, it's becoming more common to find them in rescue centers. If you can't find any in general adoption centers, search for some specific to the parent breeds. Check out some of the rescue organizations for this mix and the parent breeds below.
Boxer Lab Mix Breed Rescues
Do you know of any other rescues that focus on Boxadors or the parent breeds? Let us know about them in the comments below!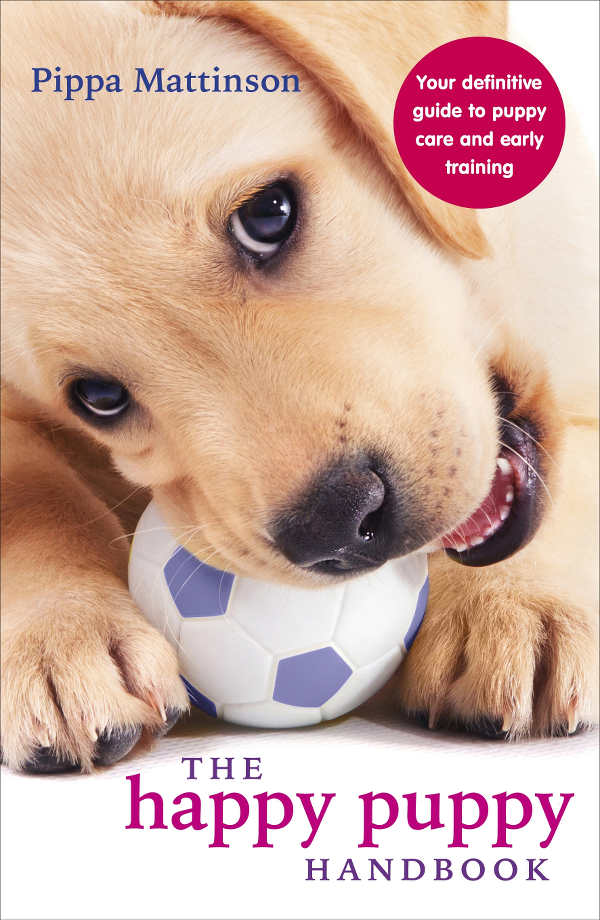 Finding a Boxador Puppy
Boxador breeders are fairly numerous in the US, but much harder to find in the UK. The breeders of designer dogs can be just as reputable as pedigree dog breeders, but they can also be out to cash in on a recent trend and make a fast buck.
A good breeder will put the health and temperament of the parents they breed from as a firm priority. Good breeders do not have numerous other litters available. Their dogs will clearly have a role in the family too, either as adored pets or as agility or show dogs.
Make sure that the parents clearly have a bond with their owner, respond to their names and are happy to greet you when you arrive.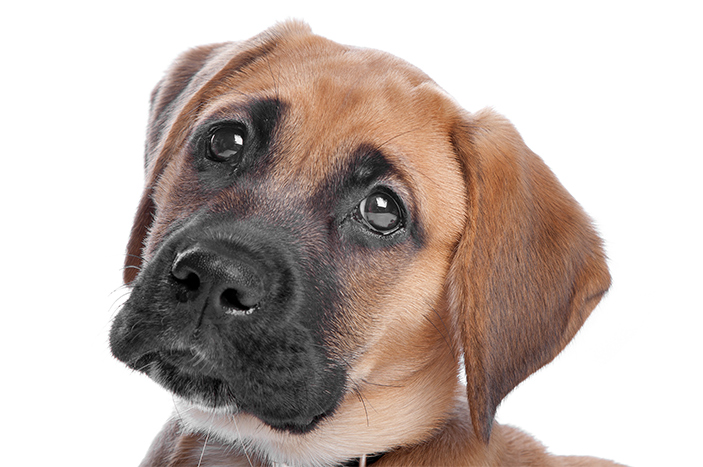 Boxer Lab Mix Breeders
Never buy a puppy from someone who wants to meet you away from their own home, or who makes excuses about why you can't meet the puppy's mother.
They should always be happy to arrange for you to meet both parents, even if one does not live on site. And, they should always be happy to show you the results of health testing. Please take care to avoid buying from puppy mills and pet stores!
Boxador Price
Unlike some designer dog breeds, the Boxador price does not seem to have gone to extremes. This is possibly because, due to their size, they have fewer potential appropriate homes to go to.
In the US, you can expect to pay somewhere between $500 – $1,000 for a Boxer Lab mix puppy.
Raising a Boxer Lab Mix Puppy
Caring for a vulnerable Boxer Lab mix puppy is a big responsibility.
There are some great guides to help you with all aspects of puppy care and training.
You'll find them listed on our puppy page.
Here are some great products that will help you out if you're bringing home this mix puppy.
For more suggestions on the perfect products for your Boxador, check out our articles on dog supplies.
Similar Breeds
Mixed breed or designer dogs are increasingly popular. If you're interested in the Boxador but not quite certain yet, here are a few other breeds that are worth a look.
Corgi Boxer mix
Husky Boxer mix
Labradoodle
Your Boxador
What do you think about the Boxer Lab mix? If you've got one of these dogs at home, we would love to hear about them in the comments!
References And Resources