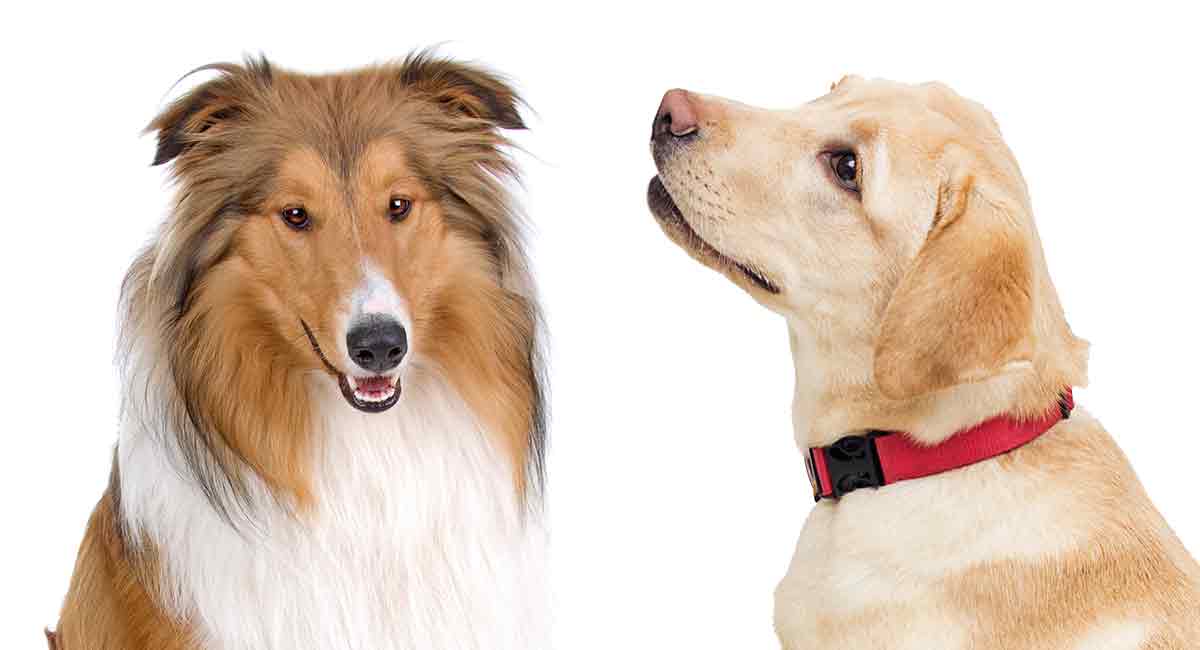 The Lab Collie mix is a cross between a Labrador Retriever and Collie. Lab Collie mix breeds are clever, active and energetic, but very affectionate and loyal to their families. This medium sized hybrid designer dog weighs from 50-80lbs and stands up to 26 inches in height. Today we'll look at what lifestyles and families are a good fit for this smart, working dog. And help you to find, raise and care for a Lab Collie mix puppy.
Contents
Is the Lab Collie mix as cute and sweet as its parent breeds? Few dog breeds are as beloved as the Labrador Retriever and the Collie. But does a pup from each parent still make a great pet?
Where Does the Lab Collie Mix Come From?
The Labrador Retriever has ranked at the top of many most popular dog breed lists for several years. The Lab is a famously kind, friendly, and lively family dog. The breed originated as a water dog in Canada, retrieving waterfowl for hunters and accompanying fishermen.
The Lab was brought to Great Britain, where it became a favorite sporting dog breed. The popularity of the Labrador quickly spread around the world, thanks to that winning Lab personality.
The Collie is a cute sheep herding dog breed from Scotland. It's said that Queen Victoria's love for the breed led to its popularity in England… and beyond. Like the Lab, the Collie is well known for its loving, loyal, and steadfast nature.
Fun Facts About the Lab Collie Mix
Both parent breeds of the Lab Collie mix are familiar dogs in popular culture.
One of the most famous Labs is Marley, a yellow Lab from the Marley & Me book and film.
Other famous Labs include Bill Clinton's dog Buddy and Prince William's first dog Widgeon.
A real-life Collie named Lad became famous after his owner Alfred Payson Terhune wrote about him in the classic book Lad, A Dog.
The most well-known Collie is a fictional dog named Lassie, originally from the book Lassie Come Home, and subsequent movies and television shows.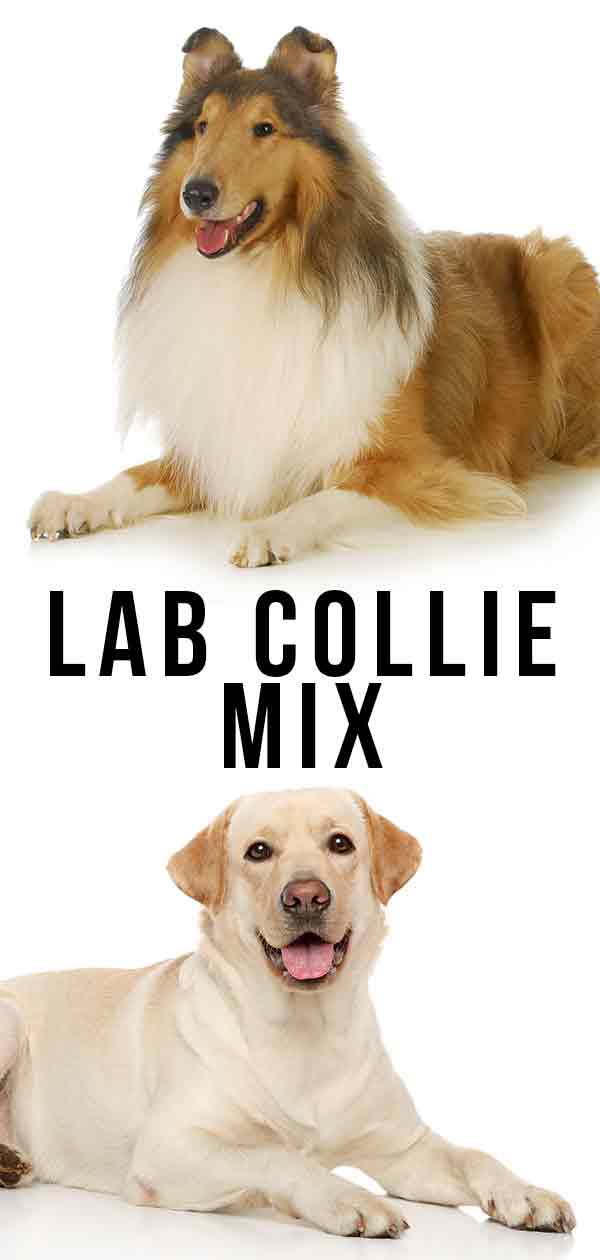 Lab Collie Mix Size
Generally, a Lab Collie mix will be a medium-large size dog, with males in the 60 to 80-pound range and females in the 50 to 70-pound range.
The Collie is a medium-large sized elegant dog. Males weigh between 60 to 75 lbs and stand 24 to 26 inches tall at the shoulder. Female Collies weigh around 50 to 65 lbs and are 22 to 24 inches tall at the shoulder.
The Labrador Retriever is also a medium to large size dog, but with a sturdier build than the Collie. Males weigh 65 to 80 lbs and stand 22.5 to 24.5 inches tall at the shoulder. Females are 55 to 70
lbs and stand 21.5 to 23.5 inches tall.
Lab Collie Mix Colors
Expect your dog to have a medium length double coat that sheds seasonally and requires regular grooming. The Lab has a short but dense double coat. Most people imagine a full fluffy coat (called "rough") when they think of a Collie, but Collies can also have short fur, known as "smooth" coats.
A variety of coat colors and markings are possible for the Lab Collie mix. Collie coats come in four recognized colors:
sable and white
tricolor
blue merle
white
The three recognized Lab coat colors are
Grooming your Lab Collie Mix
Labs require regular brushing, with more frequent grooming during shedding season. Both rough and smooth Collies have undercoats and require grooming during shedding season. Rough Collies need more year-round regular grooming than smooth Collies. Your Lab Collie mix will require a lot of coat care, regardless of which parent they take after.
Are Lab Collie Mixes Hypoallergenic?
Both Labs and Collies are high shedding breeds, so their offspring will not be dog allergy friendly.
Lab Collie Mix Temperament
Both parent breeds are known for their agreeable temperaments and share many similar personality traits. While both are known as gentle, loyal, intelligent, and friendly dogs, there are a few differences.
Dog experts agree that while the Collie is active, the breed is not as highly energetic as the Lab. Expect your mix to be a lively, outgoing, and good-natured dog. Since both the Lab and the Collie are popular family dogs, your mix should do very well with children of all ages.
Training and Exercise Requirements of Your Lab Collie Mix
Labradors require a good amount of exercise and activity every day. Collies are a bit calmer than the high energy Lab but also enjoy the opportunity to run and play. Your Lab Collie mix will be happy with regular daily exercise and play sessions.
Mixes that inherit the Lab's energy levels will benefit from lots of interactive outdoor adventures with you as well as organized canine sports like agility trials.
Both the Lab and the Collie are intelligent and eager to please breeds with backgrounds in retrieving and herding and are therefore very trainable.
Early training and socialization are important for all breeds and mixes, especially those with the exuberance of a Labrador. Experts recommend gentle training using only positive reinforcement training techniques.
Mixed Breed Health
Mixed breed dogs are said to be healthier than purebred dogs, a concept known as hybrid vigor in genetics. Is this true? Well, the health of your mixed breed dog still depends on the health of its parents.
That's why it's important to obtain your Lab Collie mix from a reputable breeder who tests their dogs for inherited health conditions.
Lab Collie Mix Health
Your Lab Collie mix can inherit the health problems of one or both parent breeds. This is why it's important to carefully choose a responsible breeder who health tests their dogs.
Health testing can take the form of DNA tests or examinations performed by veterinary specialists. Responsible breeders will not breed dogs with certain health issues.
Lab Health
Like other breeds of this size, the Labrador Retriever can be prone to the painful inherited joint conditions known as hip and elbow dysplasia.
A potential genetic mutation can cause a serious health condition called exercise-induced collapse in Labradors and Labrador crosses.
Certain inherited eye disorders can be common in Labs, including cataracts and retinal disorders (progressive retinal atrophy and retinal dysplasia).
Collie Health
Collies can also inherit eye disorders, including progressive retinal atrophy and a developmental disease called collie eye anomaly.
Collies and other herding dog breeds can also be prone to certain drug sensitivities, caused by a specific genetic mutation. Like Labs, Collies can also be prone to hip dysplasia. As a larger, deep-chested breed, they are also at risk of bloat.
Pros and Cons of Getting a Lab Collie Mix
A Lab Collie mix can make an ideal family dog for an active family with kids.
Looking for a lap dog to snuggle up with on the couch? A smaller, less active dog may be a better choice for you.
The Lab is known for its exuberance and high energy level. A Lab Collie mix puppy can grow into one large and enthusiastic dog, so be prepared for lots of action!
Do Lab Collie Mixes Make Good Family Dogs?
The Lab Collie mix temperament makes it a good choice as a family pet. While both parent breeds are known to do well in families with children, every dog is individual, so be sure to provide your pup with proper training and socialization from an early age.
It's also a good common sense to supervise young children around dogs and teach them how to safely interact with dogs.
Rescuing a Lab Collie Mix
Can you rescue a Lab Collie mix? Yes, it is possible to find a Lab Collie mix at your local animal shelter or breed rescue group. Rescues are a great option if you are interested in rehoming an adult dog.
Where can you find an adoptable Lab Collie mix? Many shelters do their best to identify mixed breed dogs in their care. You can also contact breed-specific rescue groups for both the Lab and the Collie and let them know you are interested in a mix.
Lab Collie Mix Puppies
If you have your heart set on a puppy, here's how to find a healthy Lab Collie mix puppy. Because designer mixed breed dogs are popular, it's important to find a reputable small-scale breeder who health tests their breeding stock.
Avoid getting a puppy from an online ad or retail pet store. Many of these dogs come from commercial breeding operations known as puppy mills.
Collie Lab Mix Breeders
Your breeder should share all health test results with you and provide clients with a contract and health guarantee. Visit your breeder in person and note the living conditions and overall health of the puppies. Choose a puppy that is curious, friendly, and playful.
Your puppy's eyes and nose should be clean and free of discharge. Make sure that its stools are well-formed and not too loose.
Raising a Puppy
Proper training and socialization will ensure that your puppy is well-behaved. While Lab Collie mixes are generally trainable and eager to please, inexperienced dog owners can benefit from organized puppy kindergarten classes or one on one lessons with a professional trainer.
As your puppy grows, considering enrolling your dog in activities like agility and obedience trials. The good-natured Lab Collie mix can also make an excellent therapy dog.
Puppy Products and Accessories
Ready to shop for your new Lab Collie mix puppy? Invest in a good quality crate and bed, food and water bowls, and secure collars, leashes, and harnesses.
Quality brushes and combs are essential equipment when shedding season comes around, and don't forget about nail clippers and a toothbrush.
What about toys? Active and playful dogs like the Lab Collie mix will appreciate interactive toys that keep them busy.
Similar Lab Collie Mixes and Breeds
Having trouble finding a Lab Collie mix, or maybe you'd like a small to medium sized dog instead? Here are some other breeds and breed mixes to consider.
Labrador Retriever mixes come in all shapes and sizes. Labs mixed with Poodles, Border Collies, Corgis, or Huskies are all popular choices among dog lovers.
What about Collie mixes? You can consider a Collie mixed with a Poodle, Golden Retriever, German Shepherd, or Springer Spaniel.
Is a Lab Collie Mix Right for Me?
The Lab Collie mix is a handsome dog with an appealing personality.
An excellent choice for active, outdoorsy families with kids, the Lab Collie mix will be happy to accompany you on all your adventures!
Remember to choose your breeder carefully and start training and socializing your dog from an early age.
Already share your life with one of these lively and affectionate pups? Tell us about your best friend in the comments below!
References and Resources
Minor KM et al. 2011. Presence and Impact of the Exercise-Induced Collapse Associated DNM1 Mutation in Labrador Retrievers and Other Breeds. The Veterinary Journal.
Kraijer-Huver IMG et al. 2008. Characterization and Prevalence of Cataracts in Labrador Retrievers in The Netherlands. American Journal of Veterinary Research.
Miyadera K. 2014. Inherited Retinal Diseases in Dogs: Advances in Gene/Mutation Discovery. Dobutsu Iden Ikushu Kenkyu.
Parker HG et al. 2007. Breed Relationships Facilitate Fine-Mapping Studies: A 7.8-kb Deletion Cosegregates with Collie Eye Anomaly Across Multiple Dog Breeds. Genome Research.
Dowling P. 2006. Pharmacogenetics: It's Not Just About Ivermectin in Collies. The Canadian Veterinary Journal.