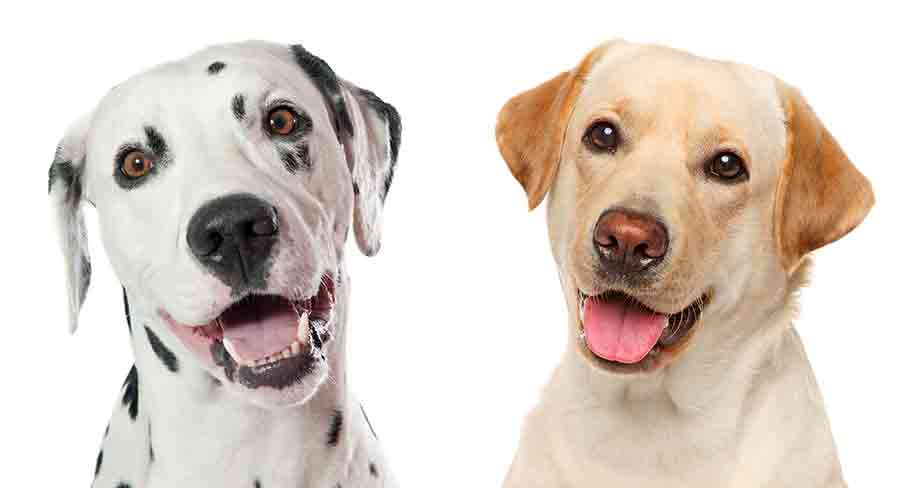 The Dalmatian Lab mix, or Dalmador, combines two famous and instantly recognizable dog breeds.
Dalmatian Lab mix puppies grow into medium or large dogs. They can weigh anywhere from 35 to 80 lbs.
Dalmadors are intelligent dogs who thrive off a close relationship with their owner, based on working, training games, dog sports, obedience or fieldwork.
Their Labrador parentage may protect them from some of health problems which are widespread in Dalmatians. But breeders must screen both parents before mating to ensure healthy puppies.
Dalmatian Lab Mix: Breed At A Glance
In this complete Dalmador breed review, we'll arm you with everything you need to know about finding, raising, and caring for a Dalmatian Lab mix.
Including what to expect from them in terms of looks, personality, trainability and health.
But let's start with some quick facts:
Popularity: Ascending.
Purpose: Work or companionship
Weight: 45 – 80 lbs
Temperament: Smart, boisterous, tireless
In 2019 Labs and Dalmatians were the 1st and 59th most registered breeds with the American Kennel Club, respectively.
Interest in designer dogs – mixing two or more pedigree breeds – has grown exponentially in the last few years. Dalmadors have enjoyed their share of that enthusiasm.
But there are drawbacks as well as benefits to choosing a mixed breed puppy. Let's look at the areas you need to consider.
Dalmatian Lab mix Breed Review: Contents
Before choosing any purebred or mixed breed dog, it's important to get to know them really well.
Nothing beats meeting one in person. But in this article we've got as much insight as it's possible to give you in writing. Plus some important rules about what to look for when you start meeting the real article!
History And Original Purpose Of The Dalmatian Lab Mix
Understanding the history of purebred dogs helps us learn the kind of pet they'll be today.
For mixed breed dogs, it helps us predict what instincts and temperament they could inherit.
Labrador Retriever history
Labradors are the world's most famous gundog. They were first bred to retrieve fallen waterfowl and return it to their owner during hunting.
To make successful working dogs, Labrador breeders looked for strength, a waterproof coat, attentiveness to their human handler, intelligence and stamina.
Today, Labs continue to work as gundogs. But they're also popular as service dogs and of course, pets.
Dalmatian history
Dalmatians meanwhile started out as carriage dogs in the 17th century. They would trot alongside carriages, and deter threats such as highwaymen.
Dalmatians were popular in this role because they were athletic enough to keep up with the horses, and they had strong guarding instincts.
The same can be said of Dalmatians today.
What does this mean for Dalmadors?
The origins of the Dalmador's parents show us that we can expect the Dalmador to be devoted, trainable, athletic, and capable of remarkable physical endurance.
They might also inherit strong retrieving or guarding instincts.
Dalmatian Lab Mix Appearance
Labradors weigh 55 to 80 pounds. They're usually 21.5 to 24.5 inches tall at the shoulder.
They are traditionally bred in two different types:
English, or show type Labs, which are more likely to be shorter, stockier and heavier.
And American, or working type Labs, which are typically taller and relatively slender.
Dalmatians are similar in size and build to the working type Lab. They weigh 45 to 70 pounds.
Dalmador size depends upon what type their Lab parent was. And the size of their Dalmatian parent.
Two small dogs are likely to produce small offspring. Plus, female Dalmadors are likely to be smaller as adults than male Dalmadors.
Does a Dalmador have spots?
Sometimes.
Dalmatians owe their iconic spots to a combination of the Extreme White Spotting and Ticking genes.
One way to think of it is that they have a black (or liver) coat, with white markings so big that they cover their whole body, and small holes poked in those markings, so that the black (or liver) spots show through.
Labradors usually have solid coats inblack, brown, or yellow. But small white markings, such as a medallion on the chest, are permitted by the breed standard.
Dalmatian Lab mix puppies are usually black or chocolate. They may have white markings which cover some, or a lot, of their body. And those white markings may have spots or flecks of color in them.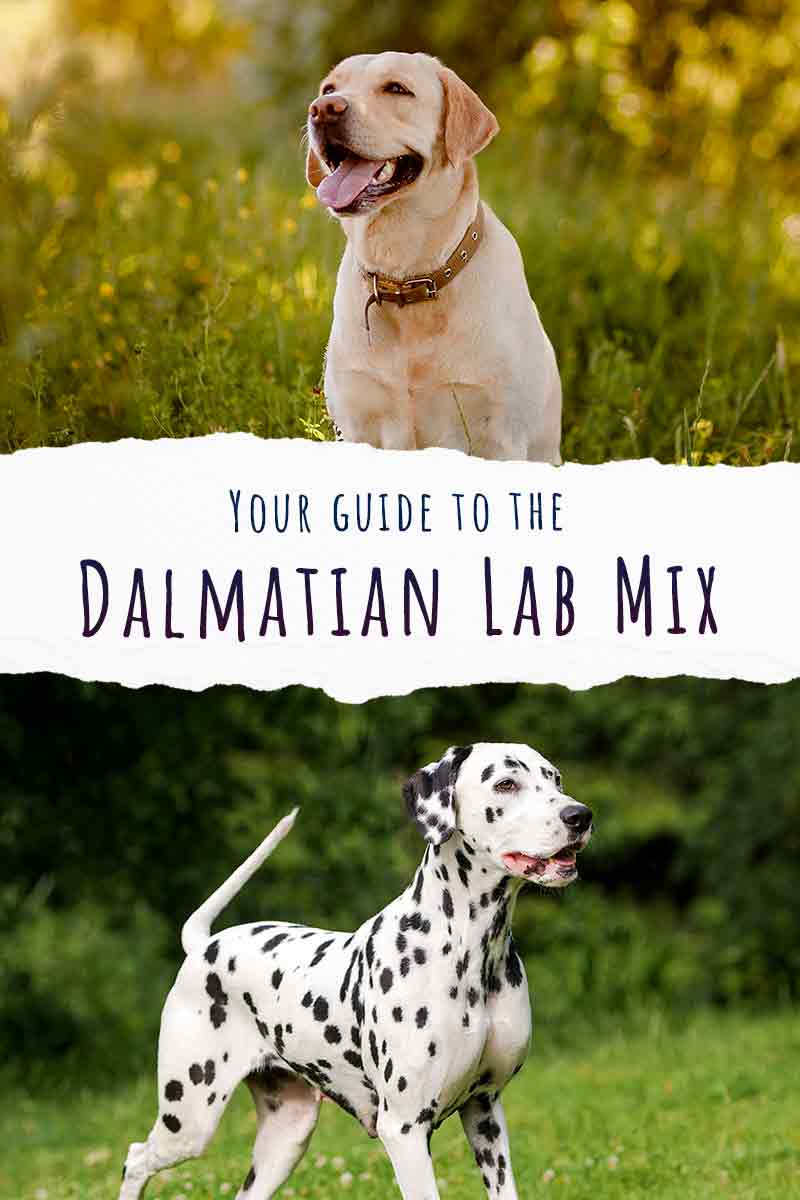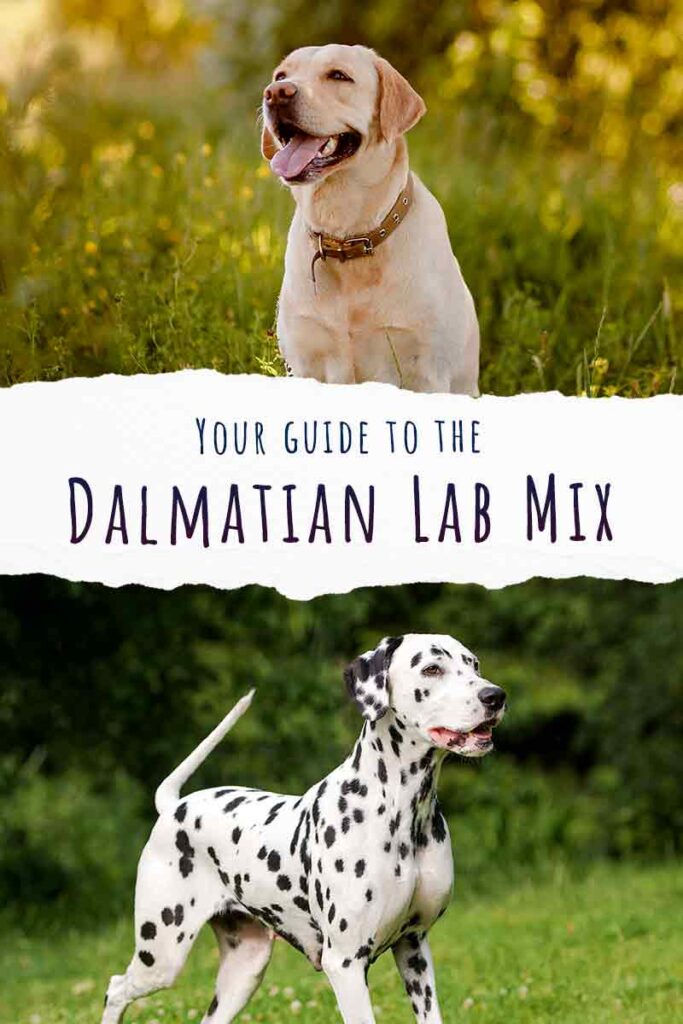 Since both Dalmatians and Labs have an athletic build, and a relatively short coat, a Dalmador certainly will too.
On the whole, Dalmador appearance is pretty predictable. But the same is less true of their personality.
Dalmatian Lab Mix Temperament
Dalmadors can inherit any mix of traits from the Labrador and the Dalmatian.
And since these two breeds were bred for very different purposes, Dalmador temperament can vary a lot from one dog to the next.
Labradors are famously friendly and confident meeting new people. But the Dalmatian's old profession of guarding carriages meant that they were bred to be wary of unfamiliar people.
They are still very affectionate with their human family. But they often take a while to warm up to strangers.
A Dalmador puppy might naturally be outgoing like a Lab, or more reserved like a Dalmatian. Their puppy personality isn't a very reliable indicator of this in the long term. So you'll only really know which you've got once your dog is grown up.
Some Traits They Might Have
Dalmadors with strong Labrador traits might also love fetching toys and carrying them around in their mouths.
They might also be very food oriented, and try to climb on counters or break into cupboards to get at snacks.
Dalmatians on the other hand were bred for remarkable physical endurance. As pets, they tend to be extremely energetic and constantly on the go.
Their owners report that they are also very goofy and playful!
Training and Exercising Your Dalmatian Lab Mix
Labradors were bred to work in close partnership with people, constantly receiving and acting on new information from their handler.
A Dalmador who takes strongly after a Labrador will be very motivated to take part in training games. They will pick up new commands quickly.
Dalmatians meanwhile had a much more straightforward role in the past. Which they learned to do without needing constant management from a human.
A Dalmador who takes after a Dalmatian more might be harder for a novice dog trainer to teach. But they're still very clever, and capable of learning a great deal.
Whichever breed a Dalmador takes after, they will respond best to force free, positive reinforcement training.
You'll need to prioritize teaching good etiquette such as not jumping up at people. This mix is likely to be large, and could easily knock over children or elderly people.
Socialization
All dogs need socializing carefully as young puppies. This is the process of introducing them to all the people, places and experiences they'll need to be familiar with as adults.
This is even true of the ultra-outgoing Labrador.
But it is especially true of Dalmatians and their mixes, which are less naturally confident around new things.
Socializing them as puppies minimizes the risk of them reacting in an anxious or fearful way to new people when they're older. Which would be stressful for them and you.
Exercise
Labs and Dalmatians are both able to work for several hours a day in intensely physical roles, without flagging.
So Dalmadors demand a lot of exercise to meet their need for physical activity.
This means at least two hours of walks. They also make great companions for runners and cyclists.
Dalmadors which don't get enough exercise may become bored and restless at home. They may resort to displacement activities such as digging outdoors and indoors, and chewing furniture.
Dalmatian Lab Mix Health And Care
Unfortunately, pedigree Dalmatians are prone to more than their fair share of hereditary diseases.
Around 1 in 8 Dalmatians experience some hearing loss or deafness. This is linked to their markings. The Extreme White Spotting gene also causes abnormal development of the cells in the inner ear.
They are prone to:
Heart disease
Problems with their teeth and gums
Hip dysplasia
Kidney stones
Thyroid disease
What About Labs?
Labradors meanwhile are prone to hip and elbow dysplasia, heart disease and thyroid disease.
The addition of Labrador genes to a litter of Dalmador puppies lowers the risk of deafness and kidney stones. But doesn't remove it altogether.
Good breeders will only breed Dalmador puppies from parents who have been tested clear of health problems before the mating takes place.
How long do Dalmadors live?
On average, both Labradors and Dalmatians live for 12 to 13 years. Some lucky individuals make it as far as their mid- to late-teens.
So, it's reasonable to hope that a Dalmatian Lab mix dog from healthy parents will have the same lifespan.
This compares well to the all-dog average lifespan. Which is slightly shorter at 11-12 years.
Do Dalmatian Lab Mixes Make Good Pets?
Dalmadors are large, energetic dogs.
If they take after a Labrador, they need an owner who has lots of time to interact with them, and meet their need for mental stimulation.
If they take after the Dalmatian, they need someone who can provide hours of physical activity every day.
Either way, they need an owner with a lot of time, which makes them difficult to combine with full time work, or raising human children at the same time.
Expect Variation
Since Dalmador temperament is so variable, and impossible to predict, they also need a very special household, who can adapt to any of the possible outcomes.
This might make them too much of a challenge for first time dog owners.
They are affectionate with their human family and enjoy playing games. So, Dalmadors can be a good match for families with older children who can match their enthusiasm for running around.
But, due to their size, a boisterous Dalmador might knock over or overwhelm younger children.
Finding a Dalmatian Lab Mix Puppy
First generation mix dogs are very popular at the moment.
This means they're generally easy to find. But there's an increased risk that a litter of puppies in an advert has been bred by a puppy farmer.
Puppy farmers breed from dogs in awful conditions, and sell the puppies on for the highest price possible by lying about their quality.
Sadly, puppies from puppy farmers are more likely to have chronic health conditions which require expensive long term treatment. And they are more likely to display lifelong behavioral problems, such as separation anxiety and aggressiveness.
So it's in the puppy's interests and yours to find them from a responsible breeder.
Perhaps someone keen to continue a line of Dalmatians with great temperaments, but who is outcrossing to a Lab to avoid perpetuating the health problems in Dalmatians.
You may need to be patient to find such a breeder. Our Puppy Search Guide can help you find them.
Raising a Dalmatian Lab Mix Puppy
Raising a puppy is a big project!
Especially a puppy from energetic breeds, which quickly grows too big to pick up.
We have lots of resources on this site to help you get started:
How Much To Feed A Puppy – Your Complete Puppy Feeding Guide
And if you're using force free training techniques for the first time, take a look at the courses from our Dogsnet Training Center!
Pros And Cons of Getting A Dalmatian Lab Mix
There's a lot to weigh up before you commit to a Dalmador.
Here's a summary of their pros and cons:
Cons
Their temperament, and how trainable they are, is unpredictable.
They need a lot of time from their owners every day.
They might inherit health problems from the Dalmatian which a purebred Lab puppy wouldn't have otherwise had to worry about.
It's hard to find one whilst avoiding puppy farmers.
Pros
Great companions for people who love exercise and spend a lot of time outdoors.
Loyal and affectionate.
For fans of Dalmatians, their Labrador ancestry may protect them from deafness and kidney stones.
Similar Breeds
Don't worry if the Dalmatian Lab mix isn't for you after all.
Perhaps one of these dogs will be your perfect companion instead:
Do You Already Have a Dalmador?
Tell us more about them in the comments box down below.
What kind of people would you recommend them to?
References And Resources