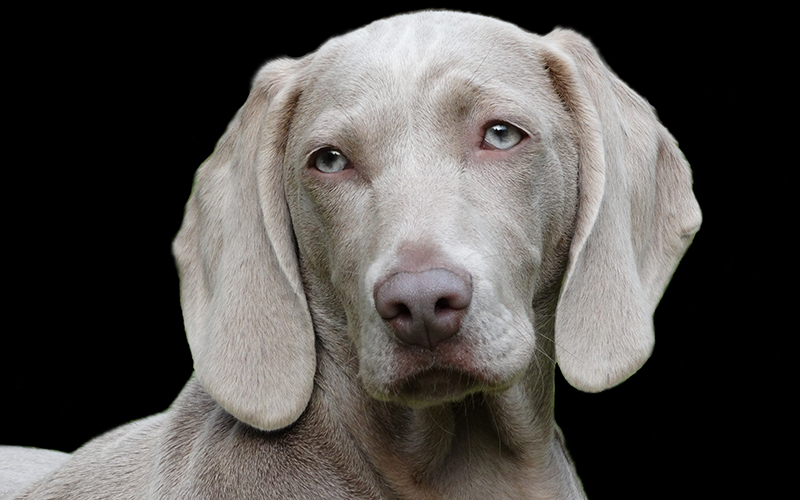 Welcome to our complete guide to the Weimaraner breed!
Giving you all of the Weimaraner facts and information that you are looking for.
These beautiful silver coated dogs are intelligent, fun and full of charisma.
But is it the right breed for you?
If you are thinking of bringing a Weimaraner puppy into your family, then let's take a look at what you can expect from your new friend.
Weimaraner origin
Let's start by answering the question 'where do Weimaraners come from?'
Weimaraners are a large breed of gundog, falling within the Hunt, Point, Retrieve subgroup (HPR) in the UK. In the US, they are considered one of the 'versatile' breeds for performing all these functions.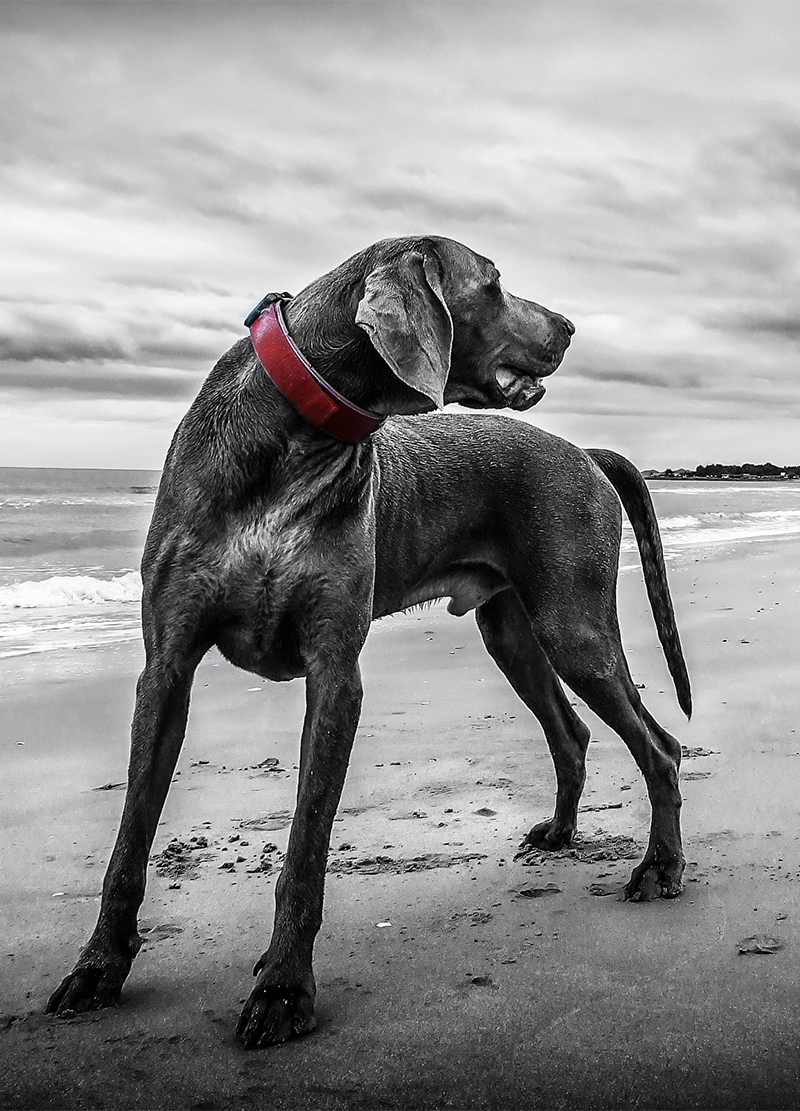 They are called 'Weimaraners' because they are said to originate from Weimar, Germany.
The recorded history of the Weimaraner dates back to 1897, when a club was first formed for the breed in Germany. There are reliable records available from that date forwards. However, the history earlier than 1897, is best described as murky and mythical hearsay.
Many accounts of the breed's development mention the Grand Duke of Weimar – a myth which has largely been debunked by Craig Koshyk's excellent book 'Pointing Dogs – Volume One: The Continentals'.
As Craig writes: 'the entire Grand Duke theory is based on nothing more than the fact that he lived in the region for which the Weimaraner was named and that a few dusty old engravings seem to show him in the field with short-haired hunting dogs'.
It's safe to say that we don't really know much at all about pre-1897. And that any sources purporting to know are using unreliable information.
Interestingly, what we do know is that, from 1897 to 1922, Weimaraners were listed in the German Shorthaired Pointer's stud book and did not have their own registry.
Breed supporters had to fight hard to see the Weimaraner recognized as a separate breed. Not just a grey version of the GSP (Koshyk 2011).
In terms of recent past, then, we can see that the Weimaraner is most closely related to the GSP.
What do Weimaraners look like?
Weimaraners really are stunning dogs, who draw looks of appreciation wherever they go.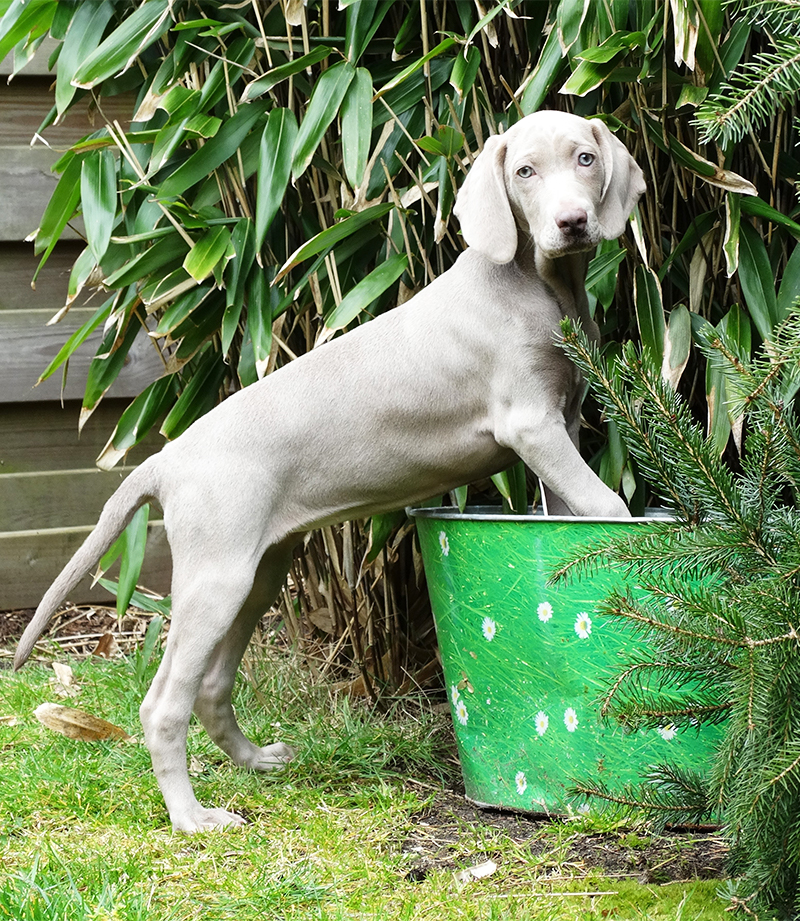 Their most distinctive feature is probably their striking silver-grey coat.
Interestingly, this appearance is achieved through very tight interspersing of white and brown hairs – not from a coat which is actually silver.
The short-haired Weimaraner is the most common type – with a coat similar to the German Shorthaired Pointer coat. This needs very little to no grooming.
There is also a long-haired Weimaraner, which will need regular brushing.
Traditionally, the Weimaraner is a docked breed but undocked dogs are also now commonly seen especially as pets.
Weimaraner Colors – the blue Weimaraner
Controversially, there is a blue Weimaraner coat – which looks like a very dark, steel grey Weimaraner.
This color is outside the breed standard, and considered undesirable.
So, according to the breed standard, there is only the grey Weimaraner.
Despite this, some breeders – perhaps motivated by profit – are deliberately breeding the blue Weimaraner, calling them 'rare', and charging double the price of a silver Weimaraner.
If you are looking for a Weimaraner puppy, it's never advisable to choose a breeder whose motives are soley profit-driven. And, since the blue Weimaraner cannot be exhibited and is considered unacceptable by breed enthusiasts, there are not many other reasons for deliberately producing the blue Weimaraner in the UK.
However, in the US, there is a small group of enthusiasts who are trying to establish the blue Weimaraner as a legitimate separate breed. These breeders would be more reputable and have better objectives.
So if you are looking for a blue Weimaraner in the US they would be the first people to contact.
Weimaraner weight and size
On average, male Weimaraner weight will be greater than female Weimaraner weight.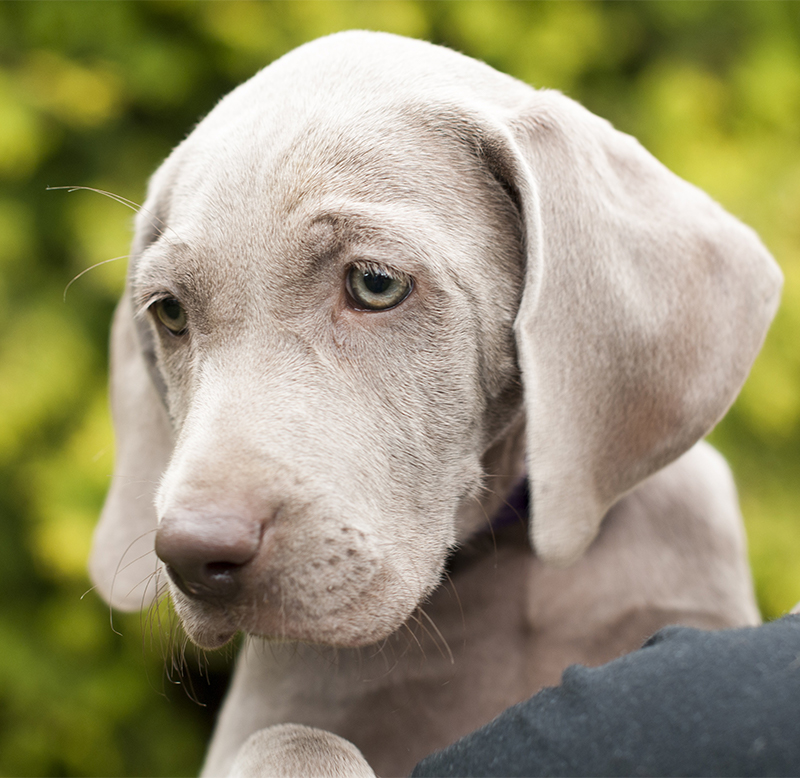 Female Weimaraners range from 55-77lbs (25-35kg) and are 56-64cm (22-25in) tall. Male Weimaraners range from 66-88lbs (30-40kg) and are 61-69cm (24-27in).
Weimaraners have deep chests and considerable 'tuck-ups' after the rib-cage. They should look very athletic.
Sometimes people have, in their minds, the body-shape of a show-bred labrador and try to feed up their Weimaraners to achieve this.
This is not what the body-type of a Weimaraner should look like, and a Weimaraner with that body-shape would be very overweight.
Adolescent Weimaraners, especially males, will often go through a 'skinny' phase when it seems hard to keep weight on them – but they will emerge from this.
So try not to worry if your adolescent Weimaraner is skinny!
Weimaraner personality
There are always exceptions to any rule, and individual dogs which will fall outside this description.
The Weimaraner personality has some fantastic qualities, but Weimaraners are also not easy dogs.
Weimaraners get very attached to their owners.
Sometimes called 'velcro dog', Weimaraners will want to be close to you and – despite their size – on you, and the Weimaraner personality could be described as emotionally 'needy'.
Whilst this affection and involvement is part of what owners love about them, the downside to this aspect of the Weimaraner temperament is the high incidence of separation anxiety in the breed – with many Weimaraners being given up to rescue due to this.
For this reason, too, they are not well-suited to living in kennels and need to live in the home. Alongside this intense attachment to their owners, the Weimaraner personality is often quite aloof and disinterested towards strangers.
If you want a dog which is immediately everyone's best buddy, the Weim might not be for you.
Weimaraner Energy Levels
Weimaraners are very busy dogs, with a lot of energy. Like any large breed puppy, they should not be over-exercised when young – but as a Weimaraner, full-grown, they will need considerable exercise (preferably involving training at the same time).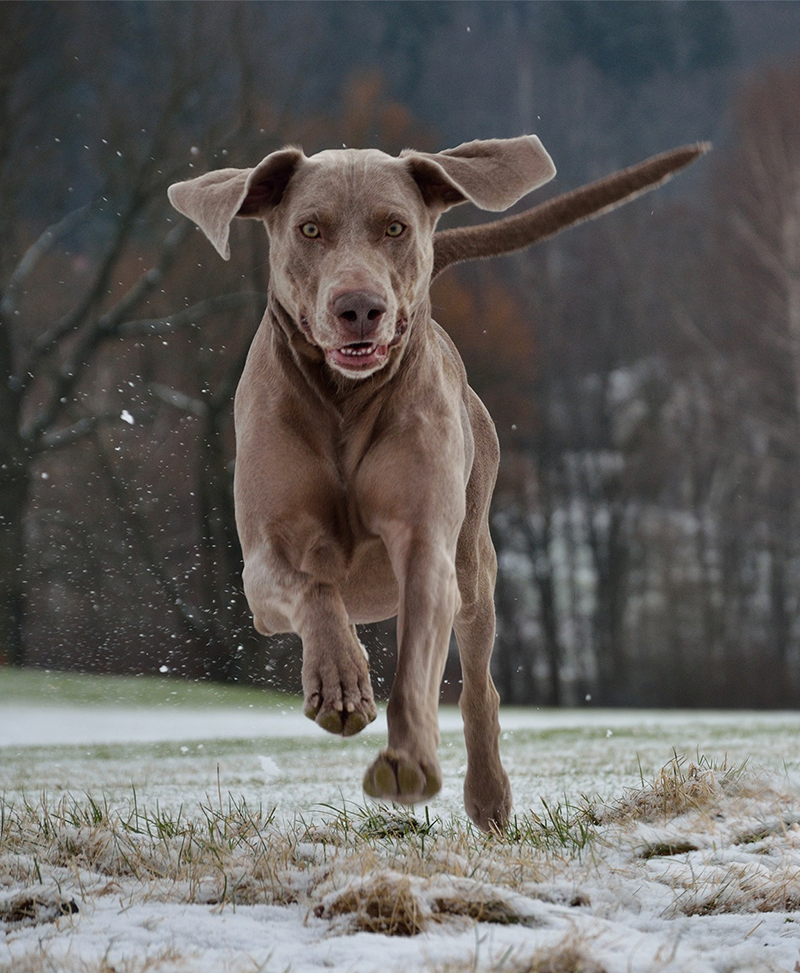 They can be a great choice of breed if you are interested in an active dog sport, like agility or working trials or canicross – all sports where their energy and athleticism will shine. But if Weims don't receive enough mental or physical stimulation, they will 'make' their own entertainment – often by being destructive around the house.
Whilst this is true of many breeds, the Weimaraner temperament takes it to a whole new level – the degree to which you will not be able to get anything else done with an unexercised Weimaraner around, will lead you either to exercise her more – or give her up to rescue. Where sadly many end up.
(By comparison, my working Labrador will be happy to sleep the day away at home on the rare occasion I haven't been able to walk her – and she is a high energy Lab when out and about!).
The frustrating thing about the Weimaraner's high energy levels, is that they don't translate across to hunting drive or 'run' – the majority of modern Weimaraners are poor hunting dogs due to Weimaraner breeders mainly breeding for show or pet homes.
Weimaraner Temperament
Weimaraners are very mouth-orientated.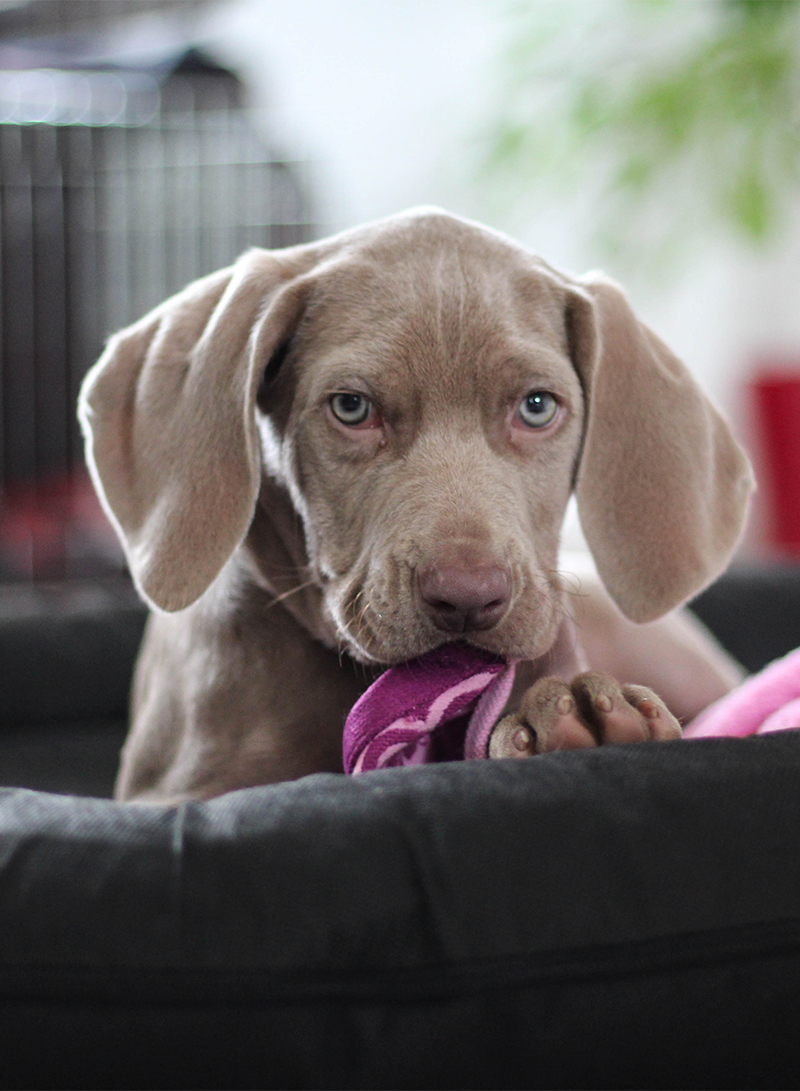 We could say that the Weimaraner personality is orally-fixated(!). This aspect of the Weimaraner temperament manifests in different ways.
Despite the fact that the hunting drive has largely disappeared from most lines of Weimaraner in the UK and US, the desire to retrieve is very much still there: Weimaraners typically have a great natural retrieve, due to a strong urge to put just about anything in their mouth. This is a positive.
There is also a strong desire to play tug (prey drive), which is really useful as a training tool to use alongside food. (Which – no surprises – they are also very motivated by!)
Weimaraner Behavior
As a negative slant on this element of the Weimaraner temperament, stress or nausea in many Weimaraners is often expressed through 'mouth-focussed' activities – attempts to eat inedible things.
I'm going to need to illustrate this one with a few examples from our own dog: If our Weimaraner has a difficult encounter with another dog, she will then turn to the nearest stick and attempt to chew it – redirecting her stress into this activity. On the beach once, harassed by another dog, she ate mouthfuls of sand and needed emergency surgery to flush her intestines out.
When feeling nauseous, she has eaten holes in numerous blankets over the years. And occasionally, she quite likes chewing her own toenails – in an almost driven, obsessive way which is hard to interrupt or redirect. Right now (age 12yo), she is on antibiotics and wearing a bootie because she ripped a nail down to the quick, whilst biting her own toenails, and it got infected!
So this aspect of the Weimaraner temperament is not just inconvenient, but can be a health hazard too. Our dog is just one example of the breed, and it's unlikely that all individuals respond to stress in this way – but I mention these examples because I've heard of many other Weimaraners with similar issues. And I've spoken to several owners whose Weimaraners wear muzzles on walks, to prevent them eating things.
Do Weimaraners get on with other dogs?
Weimaraners can be 'off' with other dogs.
Extreme aggression of a dangerous level, is not common in the breed. But the entire Weimaraner dog can very frequently be reactive towards other entire males, in an 'all noise' way.
Female Weimaraners can take a dislike to any dog or feel much need to 'tell' another dog off.
It is definitely possible to keep Weimaraners in multi-dog households with dogs of the same sex (we do!), but don't expect an almost Labrador-like love of all other dogs with the Weimaraner temperament.
This may not be the breed for you if you want a social butterfly of a dog.
Weimaraner training
Due to their high energy levels, training for a Weimaraner is essential. This is not a breed for those unwilling to invest much time, training.
However, if you do invest this time, you will probably reap the rewards.
Weimaraner-training has huge potential because Weimaraners are very food-motivated and also tug-motivated and this means they are ideal dogs for dog sport homes. They are intelligent and learn new skills quickly.
However, if you are interested in hunting with your Weimaraner, you will need to be careful where you get a puppy from. (More below!)
Weimaraner hunting
Weimaraners should hunt to find game; point when finding game; flush game on command; be steady to flush; and retrieve when asked. They must also swim.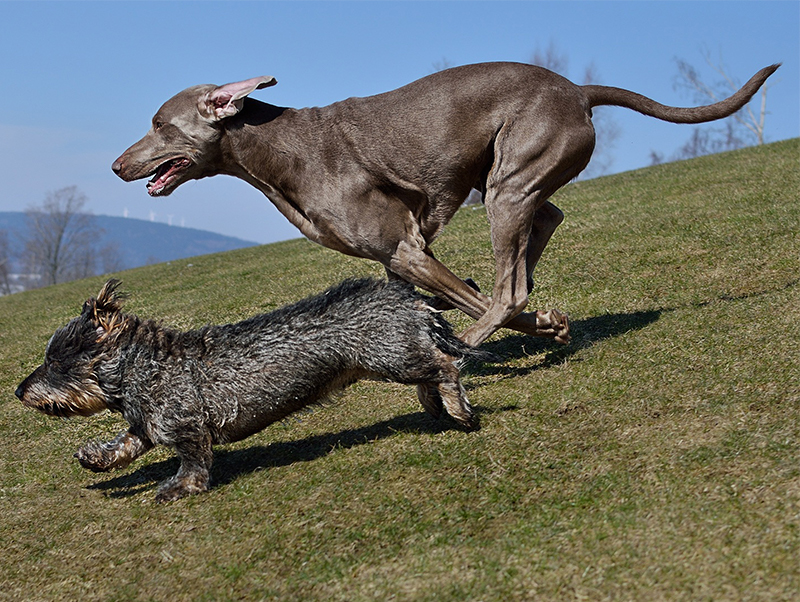 In their native Germany, tracking of wounded larger game is also an important task.
The breed standard states that Weimaraner 'Hunting ability is of paramount concern' – although it's unclear how this aspect of the breed standard can be assessed in a conformation ring, where no hunting occurs…
Perhaps due partly to this, hunting ability has been all but completely bred out of most lines of Weimaraner in the UK and US.
The Weimaraner has become a victim of its own success – much desired for the beautiful silver coat and piercing eyes, the appearance was then popularised even more by William Wegman's photography, driving demand for Weims as pets up even further.
With the end result that the market has been flooded by Weimaraner breeders selling to pet and show homes for decades, in both the UK and US.
Working Weimaraner Breeders
However… all is not doom and gloom. There has always been a small cohort of Weimaraner breeders in the US successfully producing excellent working Weimaraners that are competitive in all-breed competition. That group formalised into a group called the Hunting Weimaraner Alliance, which carries litter listings where both parents must have certain field qualifications to be listed.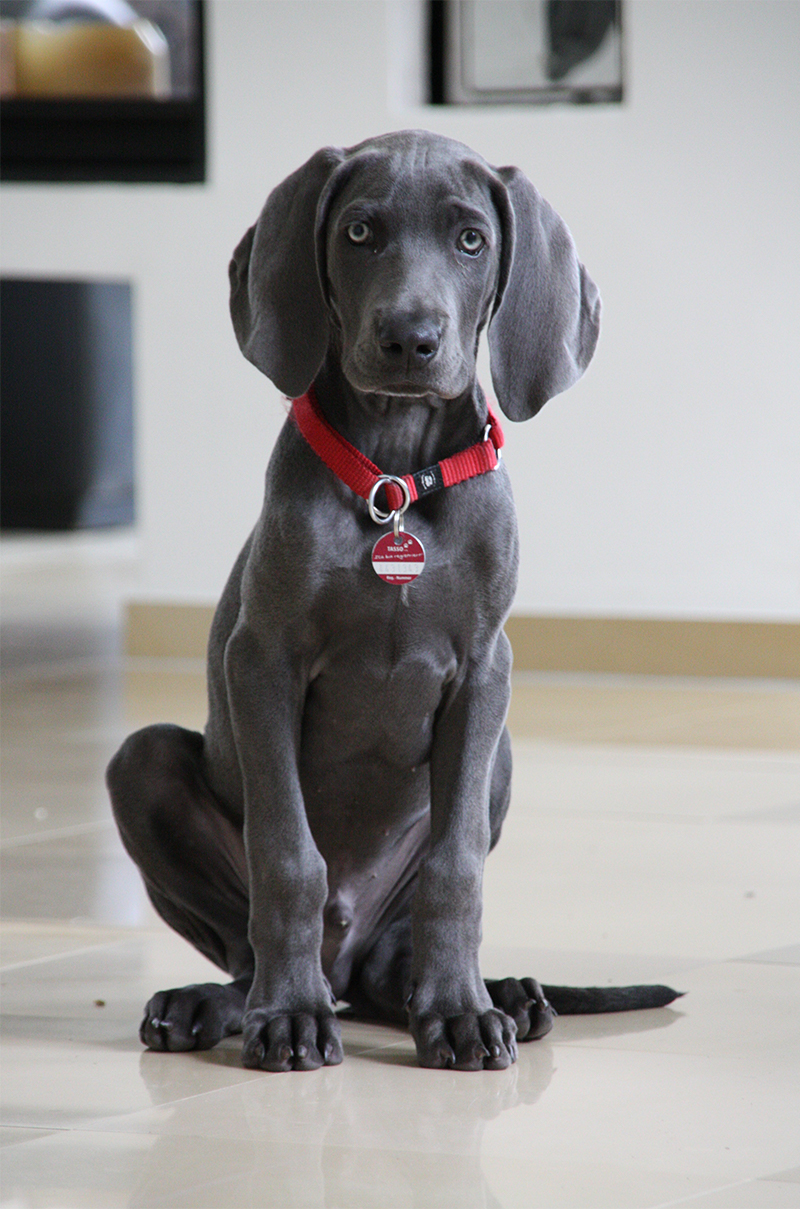 Meanwhile, as this excellent article by Craig Koshyknotes, there are about 550 Weimaraner puppies born in Germany each year – almost all of them bred by Weimaraner breeders who are hunters, and for hunting homes.
There are also some good hunting Weimaraners being produced by Swedish/Scandinavian Weimaraner breeders.
If you're looking for a Weimaraner for hunting, there are some excellent litters out there – but you might have to look harder and longer than with other breeds, to find one.
You may need to import a puppy from abroad, to give yourself the best chance of a good working dog. Or you might find a UK litter sired, or out of, an import.
Weimaraner health problems
There are not too many Weimaraner health problems, compared to many other breeds.
The one health-test you should expect to have been carried out on the parents of any litter you consider, is hip-scoring.
Both parents must have good hips in US tests. The average (median) hip-score for Weimaraners in the UK is 10. Ideally, both parents should have been hip-scored with an average at or below 10.
To reduce the incidence of Weimaraner health problems, it is also important to check the COI (Coefficient of Inbreeding) on any litter you consider.
This will let you know how closely related the parents of your puppy were. The average COI for Weimaraners, is 7.5%. You should ensure any litter you consider has a COI at or below 7.5%. Preferably look for litters with the COI at or under 5%, since 5% is the point at which the undesirable effects of inbreeding begin to be seen.
In the US you will need to ask for documentation from the breeder to support this.
In the UK if you know the KC registered names of the sire and dam of a litter, you can check both their hip-score results and the COI for the proposed mating.
Weimaraner life expectancy
Weimaraners have a life expectancy of 10-12 years. Although our Weimaraner is now 12.5yo. And her mother recently passed at an impressive 15 years old!
Weimaraner breeders
Looking for a Weimaraner for hunting or gundog purposes? Check out the section above on hunting. This will help you to find a breeder of working Weimaraners.
Ensure both parents have the relevant health tests.
For socialization purposes, it is always best to find a breeder who has raised a litter in the house. In a stimulating environment, rather than a breeder with a litter outdoors in kennels or an outbuilding.
Good Weimaraner breeders will ask you a lot of questions about yourselves and your circumstances, and should be open to being questioned in return.
Weimaraner cost
In the US you can expect to spend $600 to $1,000 on a Weimaraner.
In the UK, Weimaraner puppies are currently for sale between £800-900.
The Weimaraner boy price and Weimaraner girl price should be the same – a breeder should not charge more for females.
Weimaraner puppies
Due to the breed's predisposition to separation anxiety, if you work full-time (maybe even part-time!), a Weimaraner puppy is not the puppy for you.
It is in puppyhood that Weimaraners need to learn that, when people leave the house, they always come back. So they learn to feel safe and secure when alone. They won't learn this if they are separated from you.
Night-times might also be a challenge for the same reason. Many other breeds of puppy would be fine left alone with only minor noise. A Weimaraner will need to stay by your bed for a few nights. Then to be gradually introduced to the idea of being crated in a separate room.
Weimaraner Puppy Behavior
Weimaraner puppies will have an unstoppable desire to pick up anything at all on the floor. Whilst you are out, but also at home.
Whilst this is a characteristic of puppies in general, in the Weimaraner the urge to do this is typically greater than most other breeds. Puppyhood becomes a never-ending sequence of removing things from your puppy's mouth. Remember to swap with food, to prevent keep-away! And moving everything up off the floor to an unreachable place.
If an item falls to the floor, your puppy will be there. Whatever the item is and whether they were on the other side of the room, or sleeping, when it fell.
Puppy play-biting is also often difficult with Weimaraners, for the same reasons – but this phase will pass.
Weimaraner Puppy Appearance
Weimaraner puppies are born with dark grey tiger stripes on their fur – which fade after the first week. When Weimaraner eyes open, they are deep blue. They will then change to blue-green at maturity and, as the dog ages, to yellow/orange Weimaraner eyes.
Any Weimaraner puppies may be docked in the US. But in the UK there are some new laws which prevent docking unless the pups are intended for work.
Weimaraner puppies in the UK may be legally docked if under 5 days old. But only if the puppies are intended for work. The puppy should then come with an exemption certificate. This means you can prove she was legally docked.
Docked Weimaraners cannot be exhibited at dog shows in the UK if members of the public pay a fee to enter the show.
This greatly limits the number of dog shows accessible to docked Weimaraners. So if you have hopes of exhibiting your Weimaraner puppy, you might not want a docked Weimaraner.
If you intend to work your dog, you might very much want a docked Weimaraner.
When Weimaraner puppies are docked, their dew claws are also conventionally removed. These may be removed even if a puppy is not docked (since there is no legislation around dew-clawing, unlike docking).
Discuss docking and dew clawing with your breeder before the birth of the litter, if you have strong feelings on this subject.
Weimaraner rescue
A Weimaraner rescue is a great choice if you want to avoid the difficulties of puppyhood.
With a Weimaraner rescue dog, you will know what you are getting. They will already be their Weimaraner full-grown self.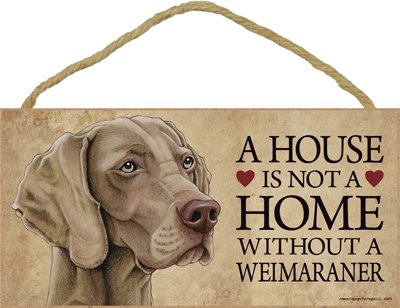 Moreover, many Weimaraner rescue dogs are 6+ years old. Still young enough to have energy and definitely not geriatric. But old enough to have slowed down slightly from adolescence.
So, if the energy requirements of a fit, young Weimaraner are a bit off-putting, but you still love the breed, a Weimaraner rescue could be a great choice.
You can find lists of Weimaraner Rescues in the USA here.
The Weimaraner Club of Great Britain runs Weimaraner Rescue with details of dogs available for rehoming on their website.
Is a Weimaraner the best puppy for me?
If you are looking for an athletic, intelligent and high-energy family member to share an active life with. And/or you are a dog sport enthusiast (or prepared to become one!). Then a Weimaraner could be a great choice.
If you want to work your Weimaraner as a gundog, you will need to source a puppy carefully.
However, don't forget their predisposition to separation anxiety. If you work away from home full-time, a Weimaraner puppy is probably not the best breed for you.
Weimaraners are not commonly recommended as a breed for inexperienced homes or for first-time dog owners. But committed first-time owners can and have successfully owned Weimaraners. So if you are especially determined, don't let being a first-time dog owner deter you.
Do you share your home with a lovely Weimaraner puppy or dog? Then why not let us know about your experiences in the comments section below!
Still trying to decide which breed of puppy to bring home?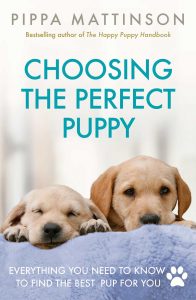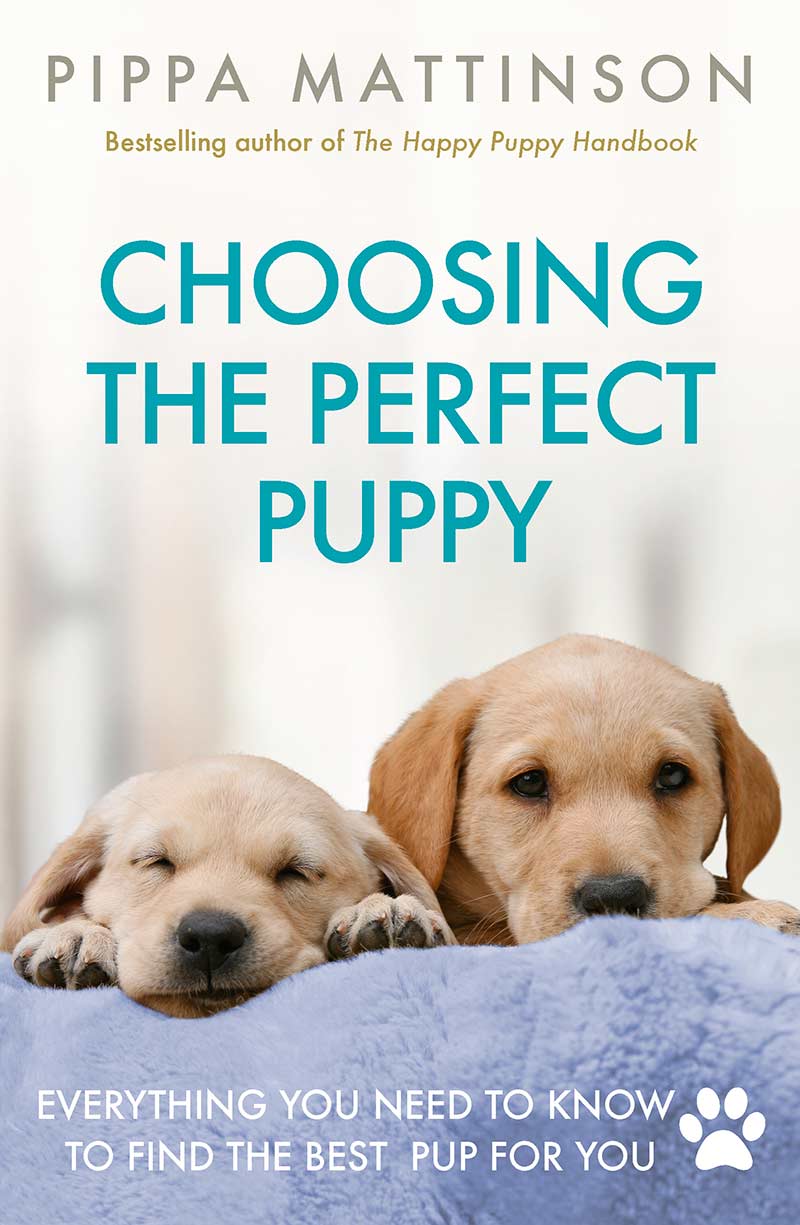 Then why not pick up a copy of Choosing The Perfect Puppy.
A complete guide to finding the right breed for dog for you and your family.
Brought to you by best selling author of The Happy Puppy Handbook and Total Recall.
This book tells you what you can expect from the most popular dog breeds, in terms of health, care and personality.
Order your copy of Choosing The Perfect Puppy from Amazon today.