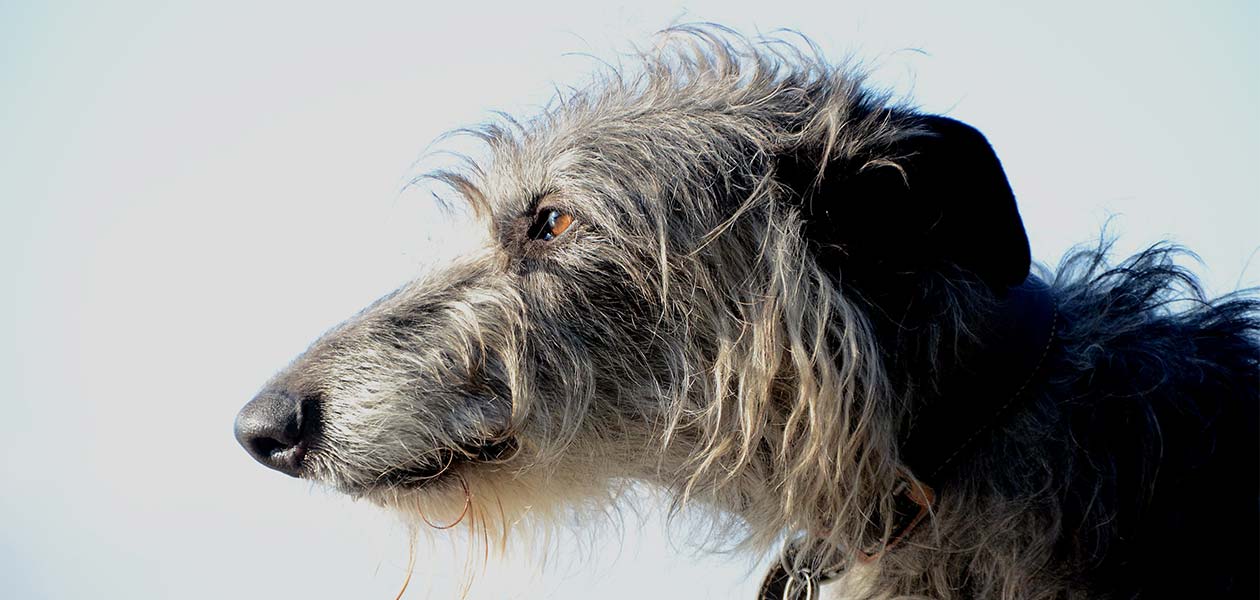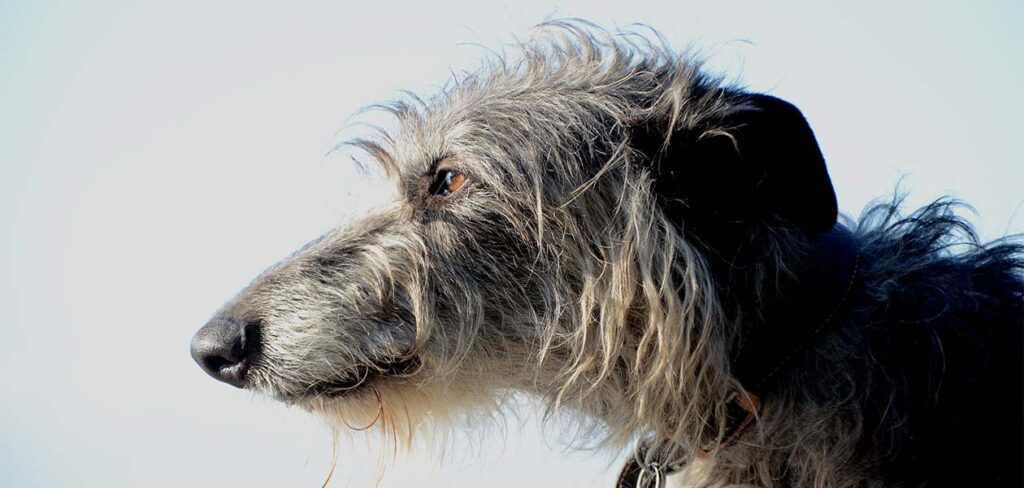 The Scottish Deerhound is intelligent, gentle, and alert. They have a history as hunting dogs originating in Scotland.
These dogs can grow up to 32 inches tall, weighing from 75 to 110 pounds as adults.
They have natural hunting instincts which can be problematic in homes with other pets or small children. But, for some families, this is the ideal dog.
What's In This Guide
Scottish Deerhound FAQs
Take a look at our readers' most popular and frequently asked questions about this noble breed.
Here are some brief stats about the Deerhound breed.
Breed At A Glance
Popularity: 158 out of 196 breeds on AKC
Purpose: Hound group
Weight: 75 to 110 pounds
Temperament: Gentle, intelligent, dignified.
Curious about what's in this guide? Read on for more.
Scottish Deerhound Breed Review: Contents
Firstly, where does this ancient breed come from?
History and Original Purpose
The history of this hound breed stretches back so far that many can't separate it from myth and legend.
Many believe that deer-stalking hounds like this were around from the 9th Century.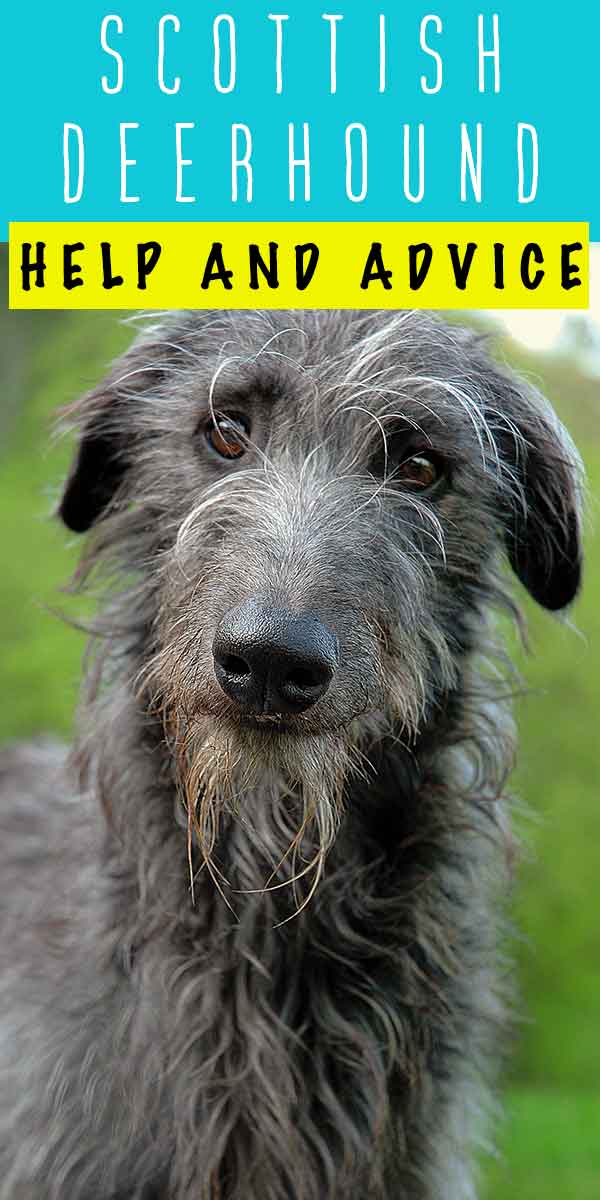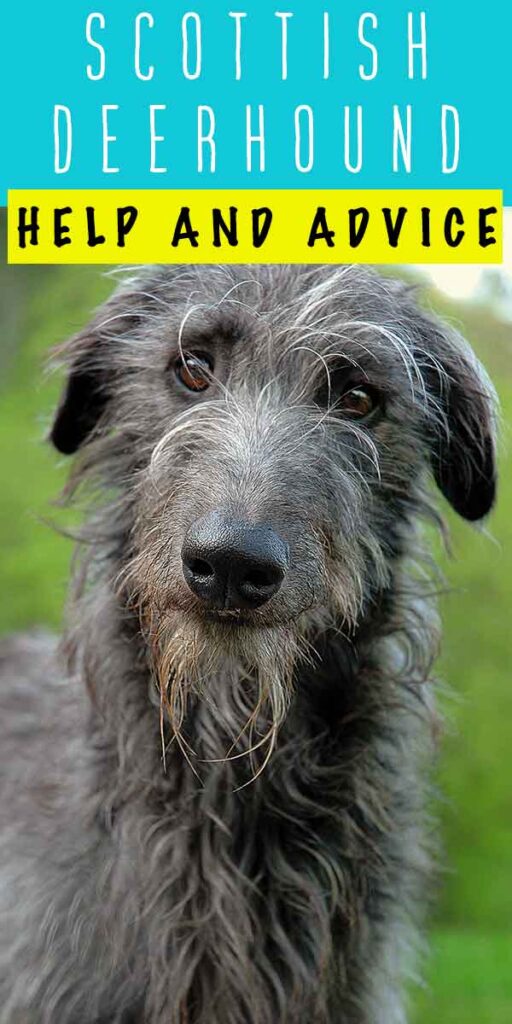 The modern breed's ancestors were used by clans to take down wild red deer. They were mainly used in the rocky Scottish highlands.
As time went on, these large dogs were mainly used by earls and people of higher rank.
Nowadays, this isn't a common breed. But, even today they are known for their great hunting ability and instincts.
Fun Facts About Scottish Deerhound
Despite being around for such a long time, this hound was the 33rd breed to be officially recognized and registered by the AKC.
Bonnie Robin became the first Scottish Deerhound to be registered with the AKC in 1886.
The breed almost became extinct when breeding policies demanded that exclusive ownership was to be a priority.
Nowadays, it is still quite uncommon to see the breed in daily life. But, thankfully, they were never completely wiped out.
Scottish Deerhound Appearance
In appearance, the Scottish Deerhound is often compared to the Greyhound and the Irish Wolfhound.
Slim but powerful.
The breed has a narrow, relatively long head with folded back ears. Their expressive eyes come in a variety of brown shades.
Height can range from 28 to 32 inches tall. Weight ranges from 75 to 110 pounds when fully grown.
Females are usually smaller than males in both height and weight.
Coat Type and Colors
Their coats will be wiry.
Standard colors include:
Blue gray
Brindle
Gray
Gray brindle.
Black, black brindle, and blue are also accepted, as are white markings.
Scottish Deerhound Temperament
These dogs have always been bred for a hunting purpose. It's rare to see them kept as housepets.
They are likely to be gentle, dignified and intelligent dogs. Scottish Deerhounds can be sensitive, so must be trained with care, and treated with gentle affection.
One particular note to be aware of with any hound breed is their natural instincts.
Natural Instincts and Aggression
Dogs with hunting pasts like the Scottish Deerhound will often display natural hunting instincts. This means they may chase after other pets in your home, or even small children.
These habits aren't something that can be trained out of a dog. So, you need to carefully decide if they are right for your family.
One study used various categories in a temperament test to measure dogs' reactions. This included testing their behavior to different types of strangers and various noises.
The hound category, which included the Scottish Deerhound, had one of the lowest proportions of dogs passing the temperament test.
Importance of Socialization
The Scottish Deerhound is a large dog breed with strong natural instincts. So, socialization is more important than ever.
Socializing your dog from the time they're a puppy will minimize any aggression. Especially fear-based aggression.
Introducing your dog to as many new experiences and things when they are younger will help to create a friendly, confident adult.
However, it won't completely eradicate any natural instincts. So, be aware of this when deciding if this breed is right for you.
Training and Exercising your Scottish Deerhound
Intelligent breeds like this can easily get bored. But, providing plenty of training and exercise for your Deerhound will help to stimulate their mind and body.
Don't over-exercise your Deerhound as a puppy, as this can damage their joints.
Because of the natural instincts we mentioned before, it's important to keep your Deerhound on a leash if you're walking them in a non-enclosed area.
Even the best trained dog may not listen to you when he's started to chase something.
Training Methods
The importance of training in large breeds like this cannot be overemphasized.
Large breeds can easily hurt people without meaning to if they are not well trained. This includes teaching them not to jump up and adults and children.
As these dogs can be sensitive, it's important to use positive-reward methods when training your dog.
Punishment based methods can cause a Scottish Deerhound to shut down.
Scottish Deerhound Health and Care
Sadly, all dog breeds are prone to some health conditions. And the Scottish Deerhound is no exception.
If you're thinking of bringing this dog into your home, it's important to learn about the following health issues.
Bloat (Canine Gastric Dilatation Volvulus)
Osteosarcoma (bone tumor)
Hip and elbow dysplasia
The OFA recommends that Scottish Deerhounds get a cardiac evaluation, Factor VII deficiency DNA tests, and a serum bile acid test.
Expected Lifespan
One study found that the average lifespan of Deerhounds studied came to just over 8 years old.
Obviously, this is only an average. In fact, the oldest Deerhound in their test lived to be twice this age.
Making sure your Deerhound receives the best general care is the best way to ensure they have a long lifespan.
Larger breeds often have shorter lifespans than smaller breeds. But, your Deerhound can still be with you for a really long time.
Do Scottish Deerhounds Make Good Family Pets?
For the right family, this breed can make a great companion. Scottish Deerhounds aren't necessarily the best choice for a first time owner.
They are large dogs that are sensitive and gentle with family. But they have strong natural instincts that can make life with other animals and children difficult.
There are a few health problems that this breed can suffer from. So, a high level of general care is important.
This breed does best in an active family, and will be happy as long as there is something to entertain them.
Rescuing a Scottish Deerhound
Scottish Deerhound rescue is a great option if you don't mind what age your dog is when you bring him home.
Many people worry that rescue dogs are aggressive and badly behaved. But this isn't always the case.
Dogs are sadly given to rescues for a number of reasons. But, centers will work hard to pair you with the right dog.
Expect lots of questions, and make sure to ask about the dog's health, temperament, and background.
We've left some links to Deerhound rescue centers at the bottom of this guide.
Finding a Scottish Deerhound Puppy
If you're planning to bring a Deerhound puppy home, the most important step is finding a reputable breeder.
Make sure to see all health certificates and meet both parents of the puppies if possible.
This will allow you to see the type of temperament your dog might inherit.
Good breeders will ask lots of questions. And make sure you have plenty to ask too.
Avoid going to puppy mills and pet stores. Their puppies may be cheaper at front, but the risk of high vet bills later in life will outweigh this.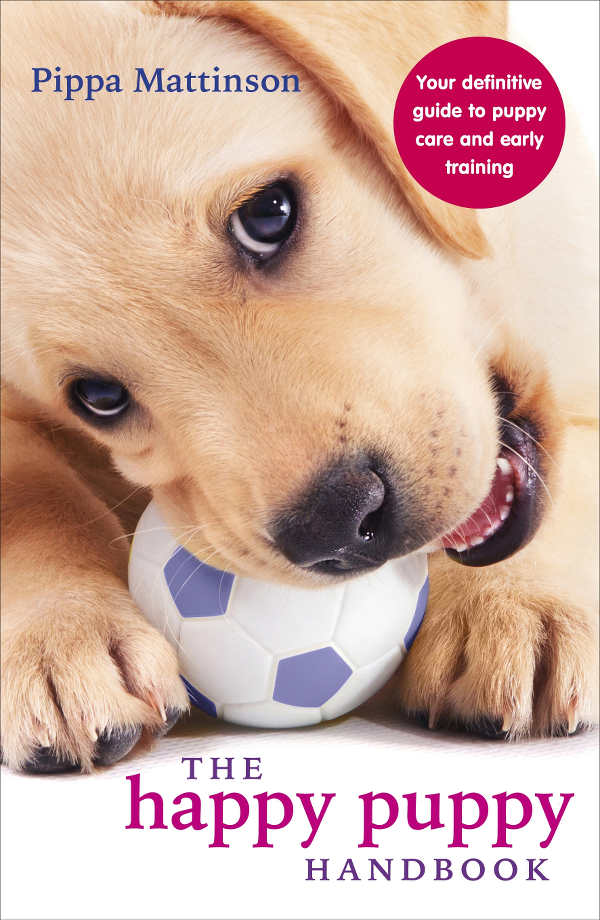 Take a look at our puppy search guide for more help finding a healthy puppy.
Raising a Scottish Deerhound Puppy
Caring for a vulnerable Scottish Deerhound puppy is a big responsibility.
There are some great guides to help you with all aspects of puppy care and training. You'll find them listed on our puppy page.
You can also check out our online puppy parenting course for more help with every step of raising a well-behaved puppy.
Comparing the Deerhound with Other Breeds
The Scottish Deerhound is often compared with other breeds. We've made an in depth guide to one of the most common comparisons.
Check out our Scottish Deerhound vs Irish Wolfhound comparison for everything you need to know.
Now, what if you've decided the Scottish Deerhound doesn't make the perfect match for your family?
Similar Breeds
You don't need to panic if you don't think the Deerhound will suit your home. There are plenty of other great breeds out there that might be right for you.
Now, it's time to recap the pros and cons of the gentle, dignified Scottish Deerhound.
Pros And Cons of Getting A Scottish Deerhound
We've given you a lot of information to take in. So, let's quickly remember the major points.
Cons
Strong natural instincts mean they won't suit homes with other small pets
Their large size means they can accidentally hurt small children
Can be tricky to train if you are a first-time owner
Aren't a common breed, so could be hard to find a puppy
Pros
Gentle, dignified breed
Deerhounds are intelligent, so can be taught a number of tricks
These dogs have a healthy conformation
Relatively few grooming requirements
Looking to prepare for every aspect of puppy parenthood?
Scottish Deerhound Products and Accessories
There's a lot to do when preparing for a new puppy. But, luckily we have a lot of guides that can help you.
Take a look!
If you're interested in finding a Scottish Deerhound rescue dog, we've got some links below to help start your search.
Scottish Deerhound Breed Rescues
If you know any other great rescue centers, make sure to leave them in the comments for us to add to this list.
References And Resources
Gough, A. (et al), 'Breed Predispositions to Disease In Dogs and Cats', Wiley Blackwell (2018)
Dowd, S. 'Assessment of Canine Temperament in Relation to Breed Groups', Matrix Canine Research Institute (2006)
Howell, T. (et al), 'Puppy Parties and Beyond: the Role of Early Age Socialization Practices on Adult Dog Behavior', Veterinary Medicine: Research and Reports (2015)
Xun, X. 'Risk Factors and Prevention of Canine Gastric Dilatation-Volvulus', Journal of Animal Science and Veterinary Medicine (2011)
Phillips, J. (et al), 'Heritability and Segregation Analysis of Osteosarcoma in the Scottish Deerhound', Genomics (2007)
Dillberger, J. & McAtee, S. 'Osteosarcoma Inheritance in Two Families of Scottish Deerhounds', Canine Genetics and Epidemiology (2017)
Kerridge, L. 'Questionnaire Study Investigating Congenital Portosystemic Shunts in Deerhounds', The Queen's Veterinary School Hospital University of Cambridge (2014)
Meurs, K. 'Canine Dilated Cardiomyopathy – Recognition and Clinical Management', College of Veterinary Medicine (2002)
Adams, V. (et al), 'Methods and Mortality Results of a Health Survey of Purebred Dogs in the UK', Journal of Small Animal Practice (2010)