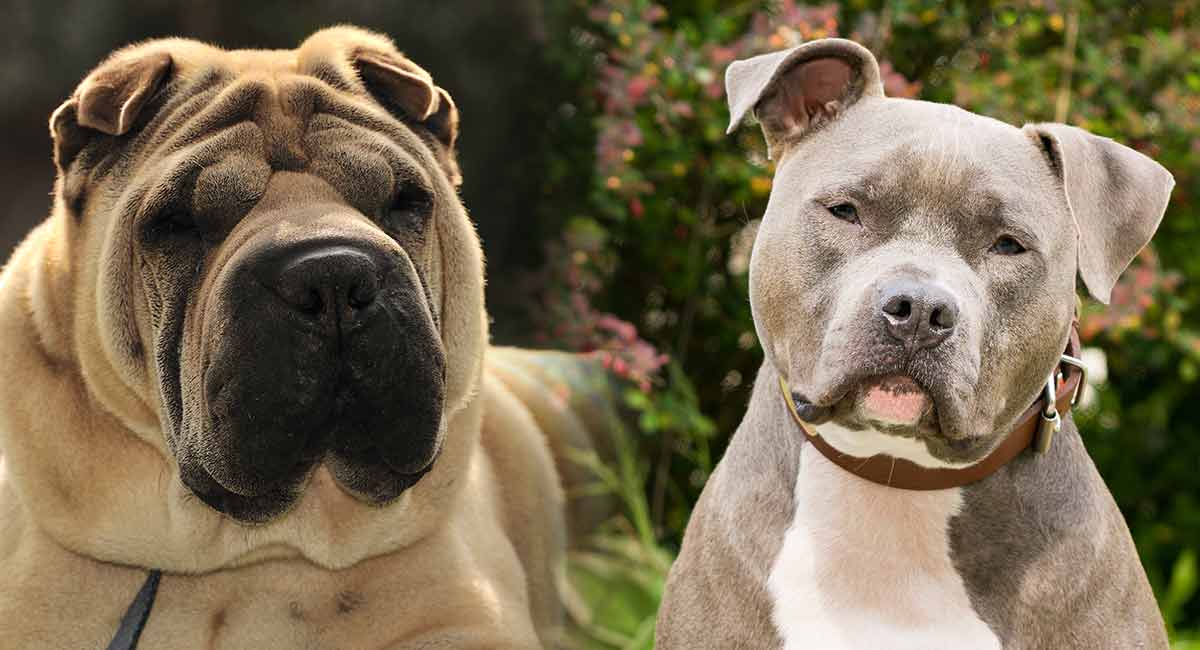 The Shar Pei Pitbull mix combines two strongly loyal and protective characters. This hybrid dog bonds strongly with their family and makes a great watchdog. They are intelligent, easy to train with positive methods and don't need much in the way of grooming. However, their strong personalities can get them into trouble. They are territorial, wary of strangers and other animals and easily bored. This mix is also prone to obesity and some pretty nasty skin and breathing problems.
Contents
Where Does the Shar Pei Pitbull Mix Come From?
The wrinkly Shar Pei has a long and interesting history. This ancient breed is uniquely Chinese with a lineage that dates back more than 2,000 years to the Han Dynasty. Although the breed was originally employed as a hunter, herder and guardian of livestock, this dog was also used in dog fights.
The muscular Pitbull's history begins in early 19th century England with the bloody sport of bullbaiting. Believed to be a cross between Old English Bulldogs and Terrier breeds, these dogs were bred to fight staked bulls.
When this abhorrent pastime was outlawed, the dogs were pitted against each other. Agile, strong with a stocky build, punishing jaws and tenacious courage, they were considered the ultimate gladiator. Unfortunately, their history still hounds them.
Shar Pei Pitbull Mix Appearance
You can expect the Sharpull Terrier to be a muscled dog of medium height that weighs around 60 pounds.
They typically have a wide muzzle, small eyes and ears and a high set tail. They can also have the loose wrinkled skin associated with Shar Pei dogs, although it might be less pronounced.
Coats are almost always short, even when one parent was a bear coat Shar Pei, and they are prone to shedding.
The Sharpull Terrier's short coat will require a good brushing once a week to keep him looking spiffy. Baths should only be given as needed because over-bathing can cause skin irritation. Drying must be done quickly and fully to avoid fungal infection in skinfolds.
Their ears will need to be cleaned weekly with an ear-cleaning solution to prevent infections.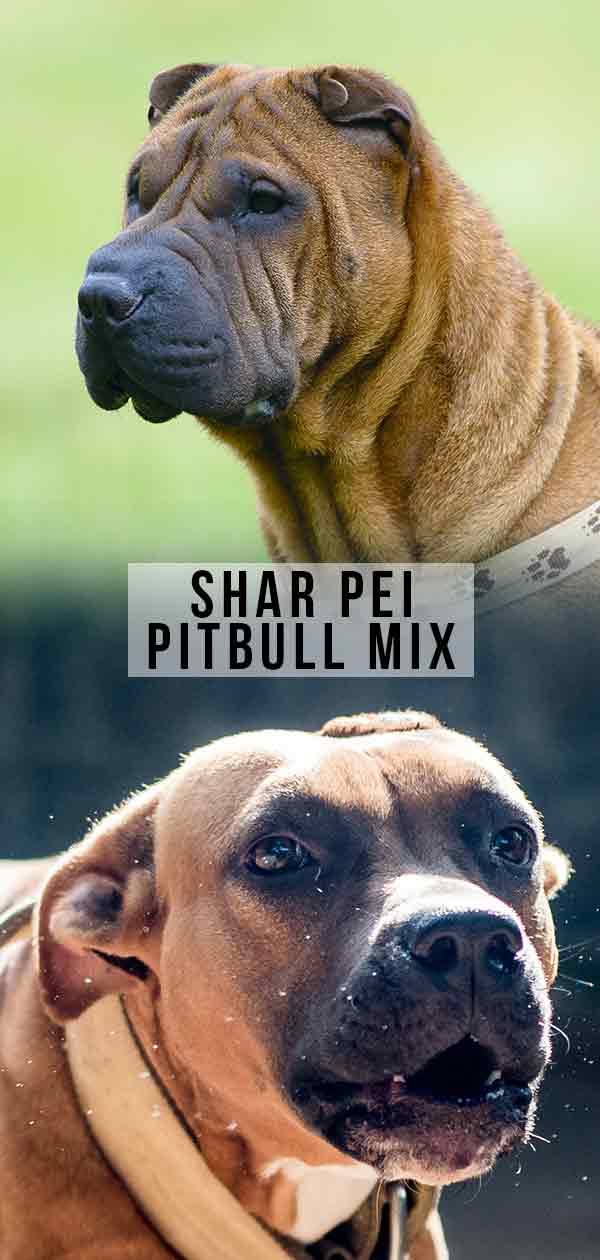 Are They Aggressive?
The Shar Pei Pitbull mix combines two dogs who are smart and strong-willed. While each breed can be devoted and loyal to family, the Shar Pei is known to be reserved and even aggressive toward strangers and other animals.
Despite their fighting background, the Pitbull can be gentle and loving. However, they too can show aggression toward other animals.
Training and Exercise
Though intelligent and able to learn quickly, this is an independent and strong-willed dog. He needs to be trained and socialized from an early age to prevent him from becoming too territorial or aggressive. Puppy training classes are recommended, as are positive reinforcement techniques.
As both parents have a history of fighting other dogs, even a well-trained Shar Pei Pitbull mix should never be left alone with other dogs.
When it comes to daily exercise, the Sharpull Terrier will enjoy long walks and must always be kept on a leash. Regular water breaks will help prevent a dog with a flat face and well-insulated body from overheating.
Shar Pei Pitbull Mix Health
A Shar Pei Pitbull mix can inherit health conditions from either parent, and the Shar Pei in particular has a lot of health issues to contend with.
This is due to breeders who have specifically bred these dogs to have exaggerated skin wrinkling and short snouts. The Shar Peis deep set eyes are also extremely at risk of primary lens luxation, glaucoma, entropion and retinal degeneration. Swollen Hock Syndrome, also referred to as Shar Pei Fever, is characterized by episodes of fever and inflammation.
In comparison, the Pitbull fares better in the health department, but they're still genetically susceptible to certain health concerns. Skin conditions and coat allergies are a problem for the breed, including atopic dermatitis or eczema.
The Pitbull parent should be genetically tested for a progressive brain disorder known as cerebellar ataxia, which affects muscle coordination. The breed is also prone to hip dysplasia, cardiac disease, neurodegenerative disorders, hyperthyroidism and eye disorders.
Both parents are subject to becoming overweight. They should be fed a high-quality dog food. Calories and treats should be closely monitored.
Do They Make Good Family Dogs?
As you may have deduced, this is a mixed breed that is susceptible to behavior issues, in addition to some serious health problems.
Before you bring this dog into your life, ask yourself if you're prepared for the amount socialization and consistent obedience training this dog will require.
How deep are your pockets? This is a dog who's apt to need plenty of veterinary care throughout his life.
Homes with small children and other pets should definitely stay away from the Shar Pei Pitbull mix.
Shar Pei Pitbull Mix Puppies
If your heart is set on this mix, then look for a breeder that uses a Chinese style Shar Pei. They have much tighter skin and longer faces, making them far less at risk of structural health problems.
Good breeders are happy to show evidence of health test certificates, and answer any questions you might have.
Try to meet both the puppy's parents too. Although they are unlikely to be warm with strangers, they shouldn't look fearful or show signs of aggression. They should also have an obviously strong bond with their owner.