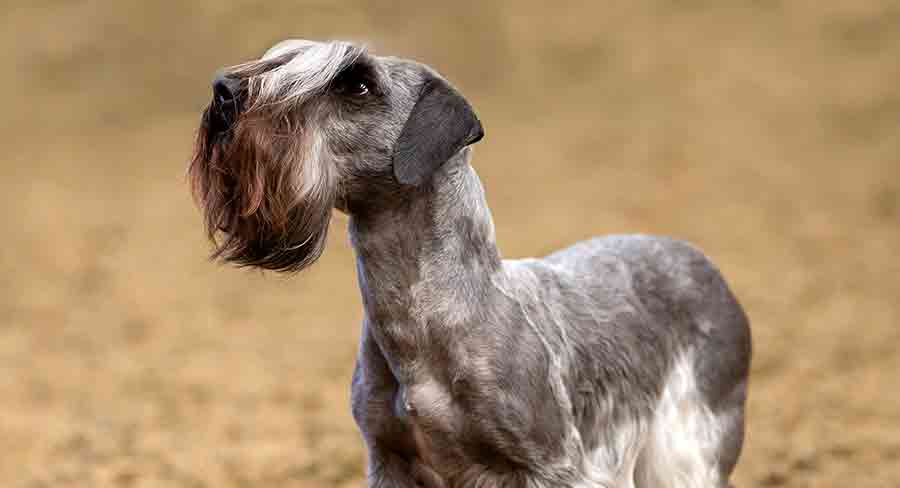 The Cesky Terrier (pronounced "chess-key terrier") is a rare dog breed originally from Czechoslovakia.
It has dwarf limbs and a long body. Cesky Terriers in show condition have unmistakeable facial hair, which falls forwards over their face.
Unlike other terrier breeds, they are bred to be just as good at working cooperatively with people and other dogs, as they are at hunting independently.
If you're looking for an uncommon dog breed, this could be your new favorite dog.
Breed At A Glance
Popularity: 185th out of 197 AKC breeds, by registration numbers
Purpose: Ratting, hunting, and companionship
Weight: 14-24 lbs
Temperament: Intelligent, bold and affectionate
Breed Review Contents
The Cesky Terrier is a little known dog breed, with a lot of great traits waiting to be discovered.
You can use these links to navigate our complete guide to Cesky ownership. Or scroll down to read the whole thing.
Let's start by looking at where these lesser-known dogs came from.
History and original purpose of the Cesky Terrier
The Cesky Terrier breed was founded by a Czech dog breeder called František Horák in the mid 20th century.
Horák was a keen hunter. He wanted to create his own ideal vision of a hunting terrier.
He set out to do so by mating his own Scottish Terrier (who had a great prey drive but was, Horák felt, too aggressive towards people) with a friend's Sealyham Terrier.
It's notable (but not unusual for pedigree breeds) how few dogs were involved in the foundation of the breed. And how much Horák relied on mating closely related dogs to fix traits he wanted in his new breed.
This means that all modern day Ceskies come from the same limited genepool. Which can have important repercussions for their health.
Once established, Horák's new breed was officially named the Cesky Terrier in the 1950s.
It was accepted as an official breed by the international dog registry Federation Cynologique Internationale (FCI) in 1963. And by the American Kennel Club (AKC) in 2011.
Fun facts about Cesky Terrier
Ceskies are one of the few terrier breeds developed outside of the British Isles.
The Cesky Terrier is sometimes called the Bohemian Terrier.
As his new breed started to gain popularity, Horák received so much mail from around the world that he was visited by the Czechslovakian secret police!
Cesky Terrier appearance
Cesky Terriers are a dwarf dog breed. Their legs are disproportionately short relative to the overall size of their body.
So, they only grow 10-13 inches tall at the shoulders.
Other features of Cesky Terriers are:
A long body, which is ever so slightly higher at the butt than the shoulders.
Triangle-shaped ears that fall forwards.
A long smooth coat which is blue-grey or light brown.
Ceskies in show condition have the fur on their back and sides clipped short. But the hair under their abdomen is left to grow long.
They also have a long beard and long eyebrows which flop forwards down the center of their face.
Cesky Terrier temperament
The Cesky Terrier's temperament was an important part of František Horák's vision.
He wanted a dog which:
Was independent and bold enough to chase small vermin underground and kill it.
Could also work in a pack hunting larger game.
And was a gentle and affectionate companion around the home.
This means Ceskies have a high prey drive. Which might extend to chasing smaller pets like cats.
They might also like to dig!
Some people argue they are easier to train than more traditional terrier breeds. This is because they are more naturally motivated to work in co-operation with people.
Fans of the Cesky breed say they are also more placid and quiet than other terriers. And less prone to watchdog barking.
Training and exercise
Ceskies, like all terriers, were first bred for a working role.
So, they've got lots of stamina. And they need plenty of physical and mental stimulation to prevent boredom and frustration.
Ceskies need at least an hour of physical exercise a day. They suit to being outdoors, and they're ideal companions for activities like hiking.
Since they're a dwarf breed, they won't be able to keep up on a run or a bike ride though!
Besides walks, they need toys and games to occupy them at home.
They respond well to positive reinforcement training. Training games are a good way of fulfilling their need for action and engagement.
If your Cesky Terrier is going to live with cats, introduce them carefully while he is still a puppy, so he learns to view the cat as part of the family, and not prey!
Cesky Terrier health and care
All purebred dogs are at risk of hereditary diseases becoming fixed and amplified in their pedigree.
This is especially true of rare breeds such as the Cesky.
Heritable health problems of the Cesky breed include:
Problems with the teeth and gums
Lots of small dog breeds have trouble with fitting a wolf's worth of teeth into a tiny pair of jaws.
Tooth decay and gum disease are rarely life threatening. But management and veterinary dentistry can be expensive!
Hip dysplasia
Hip dysplasia is abnormal growth of the bones in the hip joint, which causes arthritis and lameness.
As many as 1 in 3 Cesky Terriers have hip dysplasia. Potential breeding dogs can be screened for the condition before they are mated. To make sure they don't pass it on to their puppies.
Dystocia
Dystocia means difficulty giving birth.
Cesky bodies are narrow and long. So, females have a narrow pelvis. But their puppies aren't always small.
This means that they are more likely to need a cesarean section to deliver litters.
Other conditions
Other conditions reported in this breed include:
eye disease
the neurological condition Scottie Cramp
Do Cesky Terriers make good family pets?
How can you tell if a Cesky Terrier will be a good fit for your home?
Ceskies enjoy a lot of activity. So they benefit from living with a family who enjoys being outdoors. Or has a large outdoor space for their dog to explore and play in.
Since they're accomplished diggers, the outdoor space needs to be secure against breakout attempts!
Ceskies are a good match for people interested in terrier dog sports such as Earthdog.
Since they were bred to have an affectionate relationship with people, they tend to get on well with children.
But, young children should always be supervised with any dog, for safety.
Rescuing a Cesky Terrier
Lots of people getting ready to become pet parents are interested in adopting an older dog.
But, this isn't a breed you're likely to meet in many rescue shelters.
Simply because there aren't many of them in the first place.
If you'd like to rehome an adult dog, start with the websites for the national Cesky breed club for your country.
Sometimes they have their own rehoming service for older dogs.
Or, they might have a club secretary or puppy coordinator who can help you find a breeder who is preparing to retire one of their breeding or show dogs.
The breed clubs for the Cesky Terrier are:
Finding a Cesky Terrier puppy
The alternative to rescuing an older Cesky Terrier is, of course, raising one from a puppy.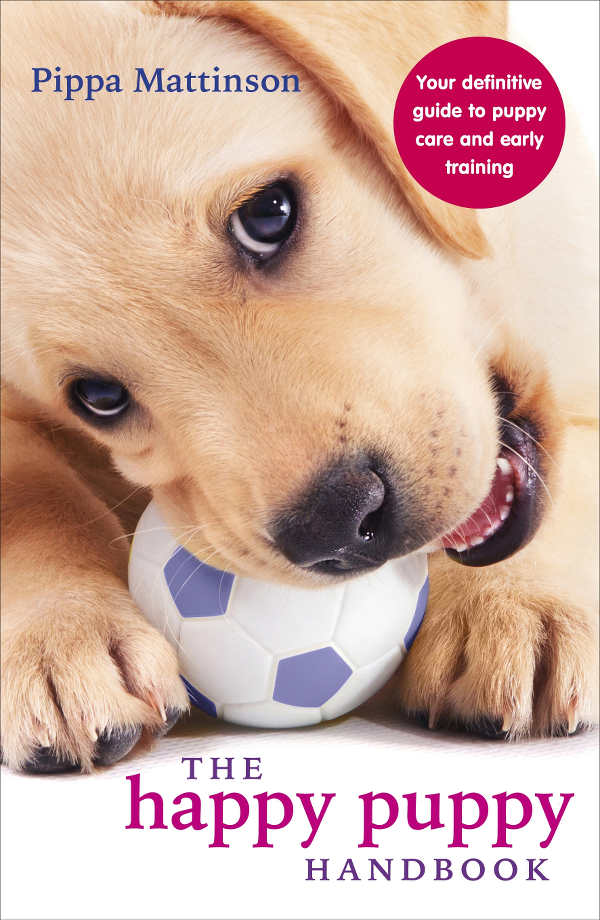 But, finding a Cesky puppy is not without obstacles of its own.
It is thought that there are only around 600 Ceskies in America today.
This means there are very few individuals of breeding age. And they're likely to be spread out.
When this happens, it gets difficult to balance:
choosing sires and dams with great temperaments,
choosing healthy dogs to mate,
and including enough unrelated individuals in a breeding programme to prevent the genepool getting overly small.
To find a Cesky Terrier puppy, be prepared to join a waiting list for a litter, and travel to collect a suitable puppy.
Raising a Cesky Terrier puppy
Caring for a vulnerable Cesky Terrier puppy is a big responsibility!
We have lots of guides and resources elsewhere on the site, to help you navigate the first year of your dog's life:
Similar Breeds
If it turns out this breed is out of reach for you, don't despair.
Their are some great alternative breeds, which pack the same charm: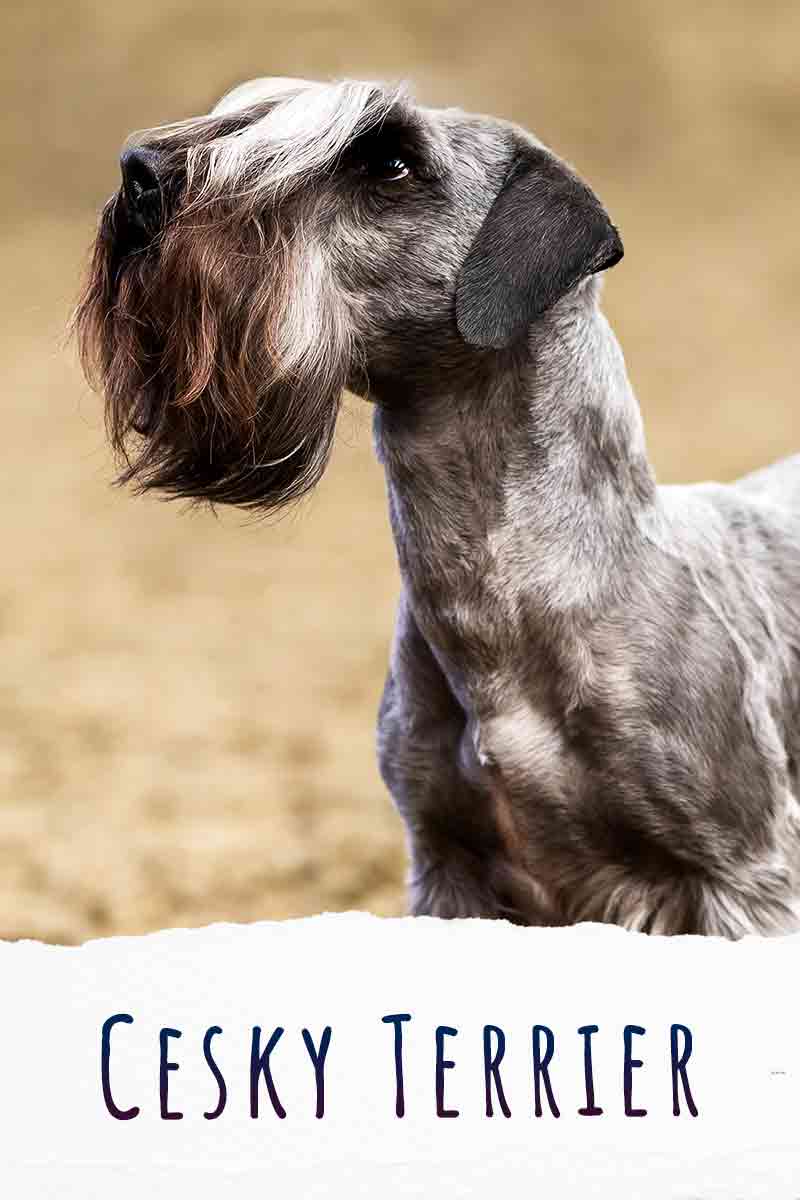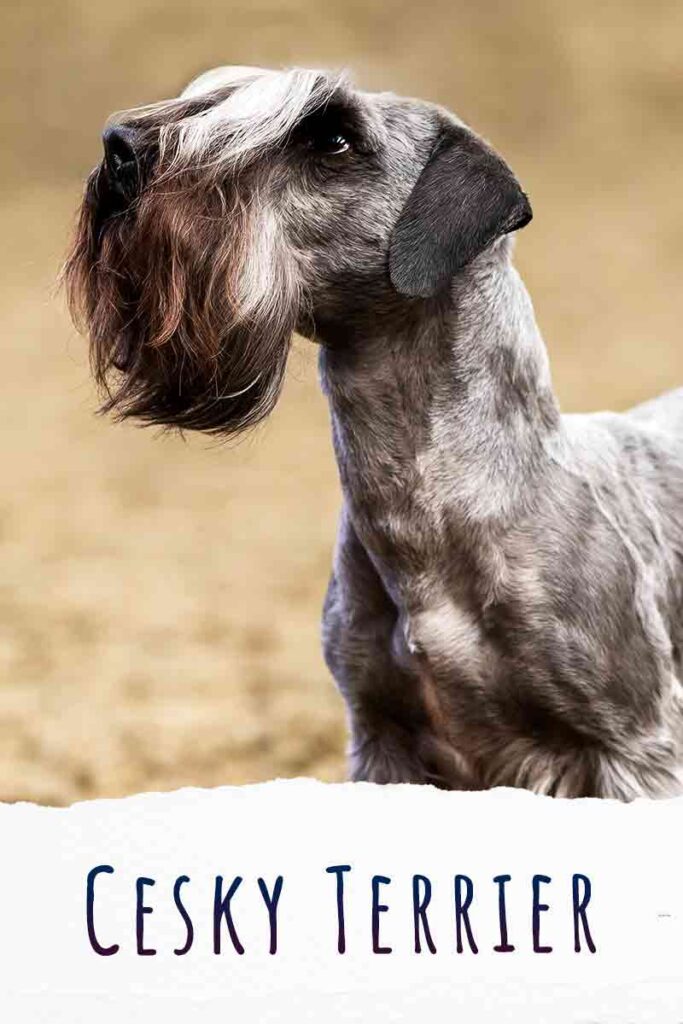 Pros And Cons of Getting A Cesky Terrier
There's a lot to think about before getting a Cesky Terrier.
Let's sum up the pros and cons:
Cons
High prey drive may make them a threat to smaller pets, and wildlife in your yard.
Inherited health problems, such as hip dysplasia.
They are very rare.
Pros
Quieter than your average terrier.
Affectionate and responsive to training.
Great facial hair if you like a dog that's a conversation starter.
Do you already have a Cesky Terrier?
How did you first encounter this unusual breed?
Tell us about your dogs, and how you met them, in the comments box down below!
References And Resources