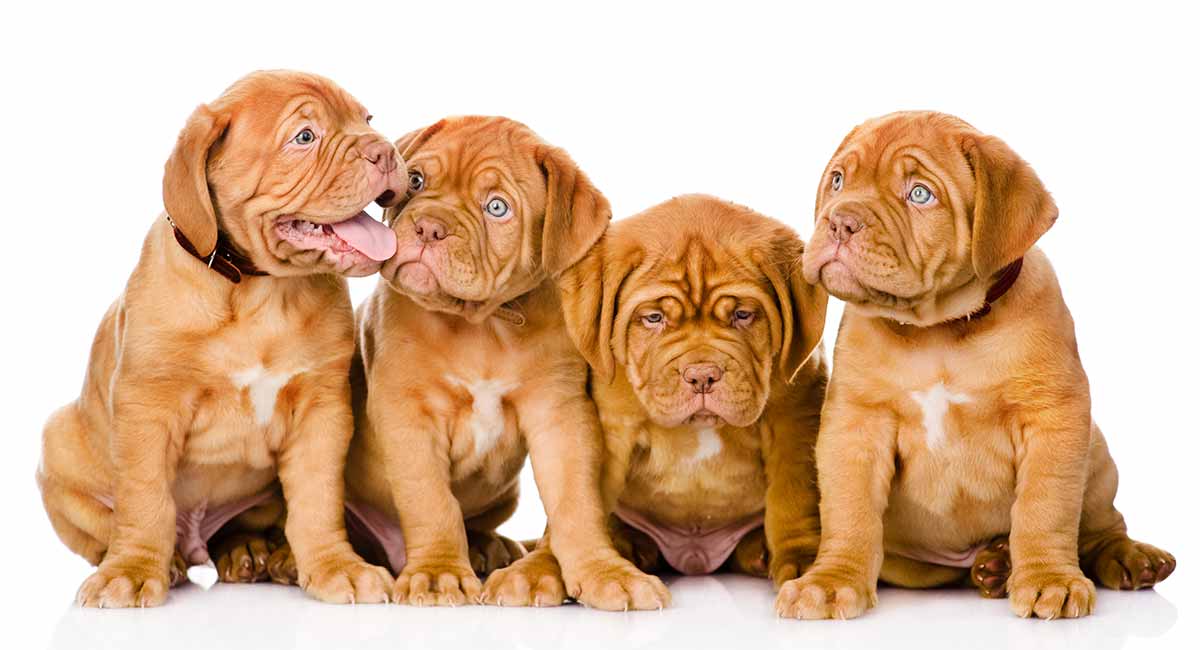 The Dogue de Bordeaux is a large, strong dog with a distinctive look. Tall, hefty dogs, they can grow up to 27 inches at the shoulder and average over a hundred pounds.
Though they form close bonds with their family and can be very affectionate, they also have guarding instincts that make them wary of strangers.
Training, socialization, and a thorough knowledge of the health issues that this breed may have are all important if bringing home a Dogue de Bordeaux puppy.
So, let's find out more.
What's In This Guide
Dogue de Bordeaux FAQs
Our readers' most popular and frequently asked questions about the Dogue de Bordeaux.
Breed At A Glance
Popularity: 63rd most popular dog in the USA
Purpose: Working dogs
Temperament: Loyal, hard-working, courageous
Dogue de Bordeaux Breed Review: Contents
History And Original Purpose Of The Dogue de Bordeaux
Often referred to as the French Mastiff, the Dogue de Bordeaux belongs to a group of dogs called Mastiffs. The Mastiff breeds, in turn, all belong to the working group of dogs.
This ancient French breed is a large and powerful animal. They were originally used for a variety of tasks and roles, including hunting big game and fighting.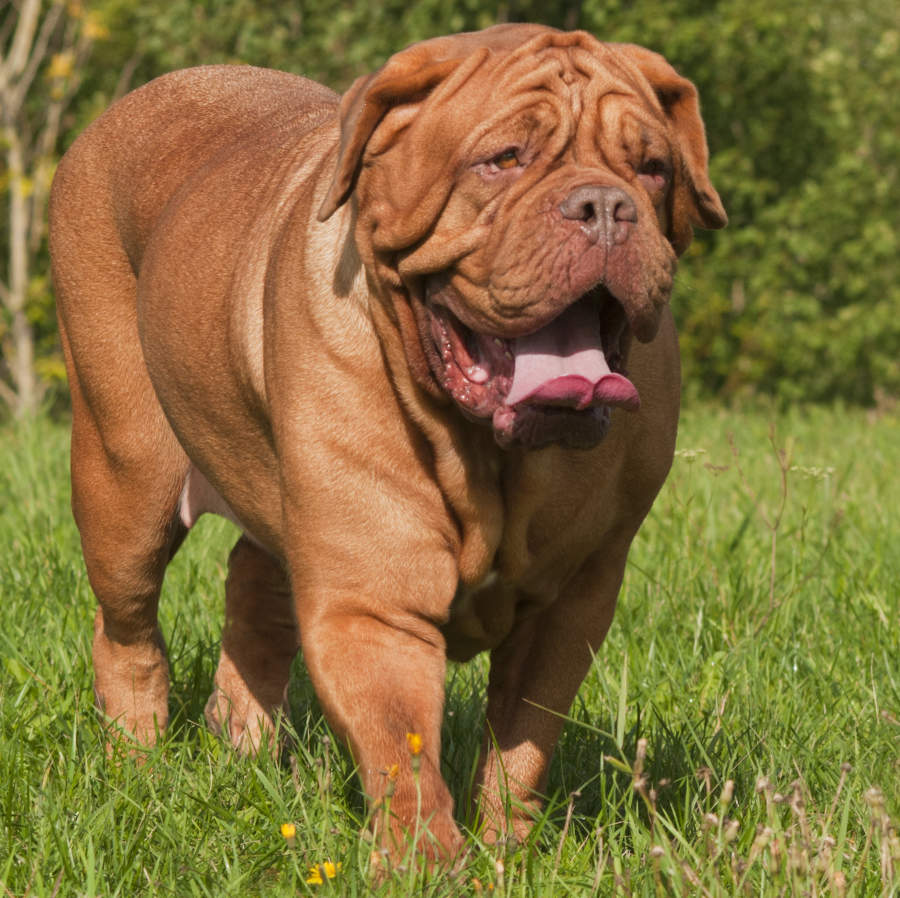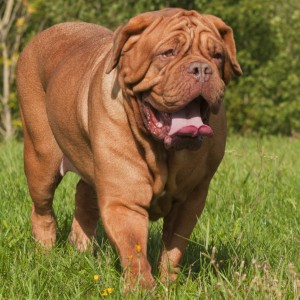 There isn't a great deal of readily fact-checked information available on the history of the Bordeaux Mastiff.
According to the American Kennel Club, the French Mastiff was a member of the very first French dog show in 1863. It was here that they were first called by their modern name, Dogue de Bordeaux.
It's speculated that the breed was named after the birthplace of the winning dog, who haled from the Bordeaux region in France.
These dogs showed up elsewhere in the world, including in the UK, in the late 1800s. However, the breed was not recognised by the Kennel Club in the UK until much more recently.
It is thought that breeding of Dogues in the UK was first carried out in the late 1800s, and then revised to more modern standards in the 1960s.
Fun Facts About The Dogue de Bordeaux
You may think that you've never heard of the Dogue de Bordeaux. But the odds are that you're actually quite familiar with the breed. Or at least one representative!
In 1989, the heartwarming family comedy Turner and Hooch was released. It starred Tom Hanks and, you guessed it, a Dogue de Bordeaux named Beasley.
Following the successful film, the DDB breed soared in popularity. And it's no wonder! The film didn't hide the fact that the breed definitely tends to drool, and can also get in trouble as only a large dog can. But it also featured the dog's protective nature and warm affection for his owner.
Dogue de Bordeaux Appearance
The early Dogue de Bordeaux looked a far cry from the modern breed, as you can see in these pictures, shown below with permission from Jemima Harrison of Pedigree Dogs Exposed.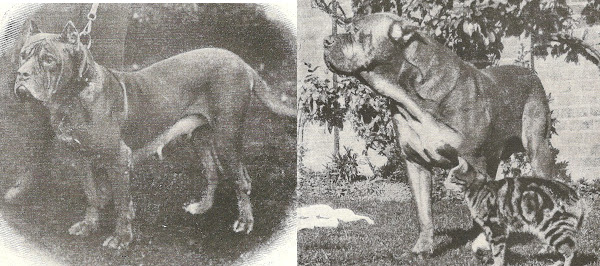 As she discusses in her interesting article looking at Yesterday's Dogues you might not believe that the loose skinned, wrinkled dog you see today is the same breed as the dogs pictured here.
Modern Dogues can grow to between 23 and 27 inches at the shoulder. Males generally weigh a minimum of 110 pounds. And females generally weigh a minimum of 99 pounds! These dogs are built stockily, and rather low to the ground.
They have large heads which are, in fact, proportionately the largest among dogs. Their features include short muzzles, expressive eyes, and loose skin on their face, often covered in drool!
Their coat is short, and the breed standard lists coat colors as fawn, isabella, mahogany, and red. They can also have a black or brown mask, and white markings or patches.
Dogue de Bordeaux Temperament
The Dogue de Bordeaux is known by owners as a loyal breed. They are affectionate to their close family, and love to demonstrate this by spending as much time with you as possible.
However, they can be wary about strangers. With a long history as guard dogs, they do still make exceptional guard dogs today.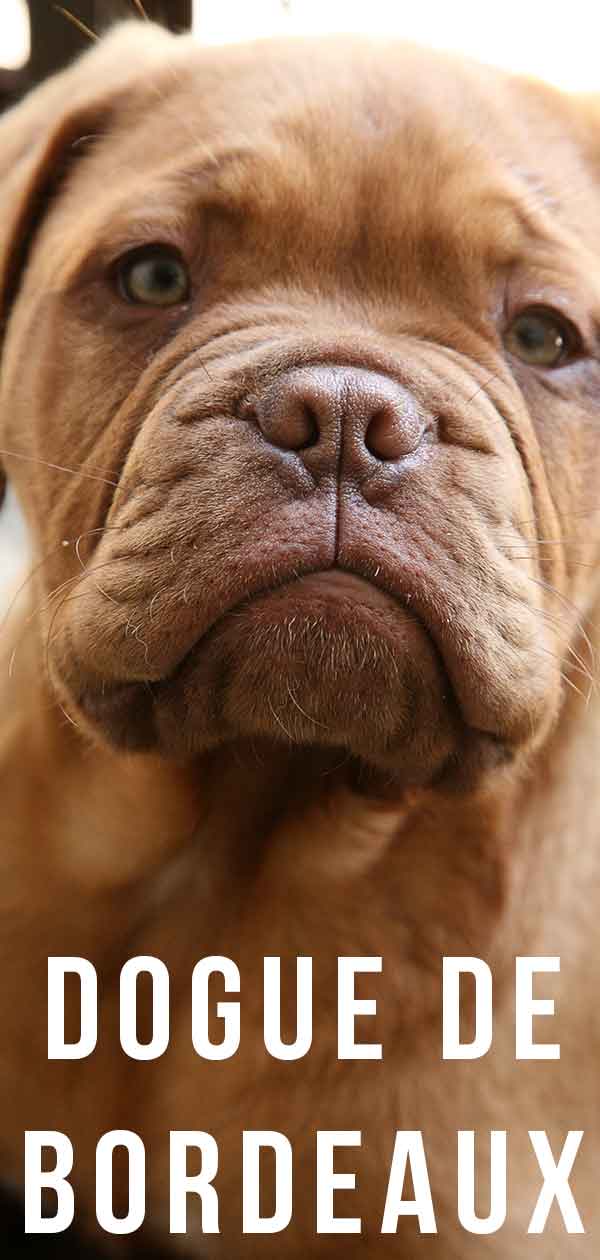 Because of the possibility that they may become over-protective, it is important that they be socialized and trained. Of course, this is vital for any dog.
However, simply because the Dogue is a very large and solid dog, it's even more important that he be well-behaved and obey his owner.It's also noted by some owners that Dogues can tend to be stubborn. This may make training a little more difficult, but certainly doesn't make it any less important!
Training And Exercising Your Dogue de Bordeaux
Dedication to positive reinforcement training is important with this dog, as is socialization from the moment you bring him or her home.
Try following a positive training program that allows all of his meals to be given in the form of treats. This will encourage you to stick to training, come rain or shine.
Puppy classes are a great benefit too. They will help your pup meet lots of different types of people and breeds of dog. Frequent exposure could help them to feel more relaxed and accepting of strangers.
Although the Dogue is a large breed, for health reasons it is best to give them several short walks a day rather than extended periods of intense exercise. They are a brachycephalic breed, which means that breathing may be an issue with an intense or sustained session of exercise.
They will also benefit from periods of play in the garden. This playtime is a great way to bond with your dog! Low-impact exercise, like swimming, is great for Dogues. This is especially true with pups under 18 months old, as it will minimize stress on their joints.
For more information on specific training, check out our potty and crate training guides.
Dogue de Bordeaux Health And Care
The Dogue de Bordeaux can suffer from some serious health issues. If you are thinking about bringing a Dogue home, it's best to be educated about these potential problems.
This helps you to choose a puppy that is less likely to have inherited them. It also helps you to spot signs of trouble brewing at the earliest chance.
Some of the health issues are ones which affect many breeds of dog, which any prospective dog owner should be aware of.
Epilepsy, progressive retinal atrophy and hypothyroidism are a few of these.
However, there are bigger issues as well with this dog. We will look at them in more detail.
Structural Issues
Like many larger breeds of dog, the French Mastiff is prone to suffer from hip and elbow dysplasia. These nasty inherited conditions arise where a malformation of the hip causes an instability in the joint.
Fortunately, hip dysplasia is one of those conditions is largely inherited. That means it can be screened for in potential parent dogs.
If you only buy a pup from a breeder whose dogs have better than average hip scores for the breed, you will increase your chances of getting a puppy who doesn't suffer.
Unfortunately however, the breed mean score for Dogues is approaching 20. When you consider that the average Labrador has a breed mean of 11, and lower scores equal better hips, you can see that this is a serious problem for the breed.
Can it be Improved?
This said, there are suggestions that your odds can also be improved further by limiting their exercise at a young age. This also includes preventing them from jumping or running up and down stairs.
Although research is not yet conclusive on this point, if you are buying a pup from a breed prone to joint issues, it's sensible to follow this advice just in case.
There are other structural issues that are more specific to the Dogue de Bordeaux. Let's take a look at his face.
The Dogue's Muzzle
As mentioned above, the Dogue de Bordeauxs is a brachycephalic breed. You can find out more about brachycephaly in general here.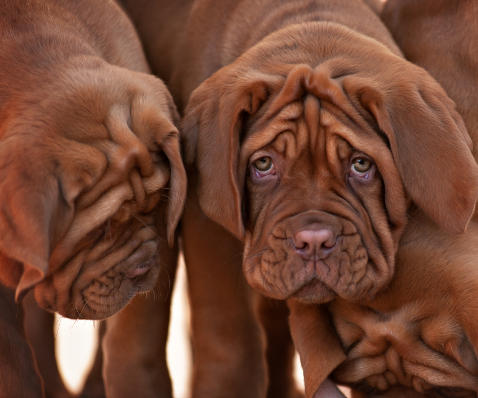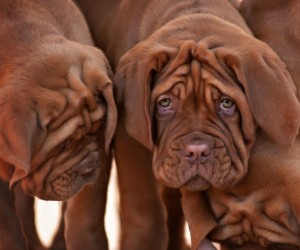 Brachycephaly refers to the condition whereby a dog has been bred to such extremes that their muzzle is far shorter than nature originally intended it.
This shortened muzzle can cause serious breathing problems, although this isn't shown in it's most extreme form in this breed.
Closed Nostrils
A related potential cause for concern is their nostril openings. It has been noted that some of our modern Dogues' nostrils are more closed, making it harder for them to both breathe and, potentially, to regulate their body heat.
Check both parents of your new puppy for signs of this to reduce the chances of your pup suffering.
And speaking of noses, a quick search online will show you numerous owners whose dogs are troubled by very dry, sore skin on their noses. There are even products being sold specifically to ease this problem in Mastiffs.
Another example of a structural health concern is the issues caused by excess skin.
Wrinkled Skin
Today's Dogue de Bordeaux has more than enough skin. It hangs loosely off his face in folds that wrinkle and form crevasses. There are several problems with this type of loose skin being bred into a dog.
Primarily, any fold of skin like this is hard to clean, and forms the perfect environment for germs to fester. This makes it very prone to infection.
The Dogue's loose skin also leaves him with drooping lips. This inability to securely close his mouth causes a constant stream of drool to fall from his mouth. Not all Dogues will drool a great deal, but the breed definitely has a tendency!
Given his enormous size, the proportionate amount of drool is not insignificant. Not only is this messy, but it increases the hostility of the environment on his skin by keeping it constantly moist.
Eyelids
The final serious issue caused by his loose skin relates to his eyes. When skin at the base of your eyelids hangs down, it exposes tissues that are meant to remain hidden. This outward rolling of the eyelid is known as ectropion.
Dogs suffering from ectropion have eyes which are very prone to infection, damage and contamination. Your Dogue will need regular vet checks to ensure that his eyes are staying healthy and not causing him irritation.
Your vet may also need to use surgical intervention to help the dog's eye health and repair the lids.
Bloat
Something all dog owners need to be aware of is bloat.
Several of the more prominent Dogue de Bordeaux websites suggest that this is definitely a serious issue for the breed.
It is a potentially fatal issue whereby the stomach becomes distended and rotates after eating.
Fortunately, there are several things you can do to help reduce your dog's chances of suffering. First of all, help them to eat their food slowly. Achieve this through the use of a slow feeder, or by giving smaller portions at more frequent intervals.
There is a good article on bloat on The Labrador Site here, which you might want to check out for further information.
Two other issues with several references as a serious concern to Dogue owners are cancer and heart disease.
Dogue de Bordeaux Lifespan
Taking the health issues that Dogues suffer from into account, it is still surprising to see just how short lived they can be.
Although as you may know, giant breeds seem to live far shorter lives than their smaller cousins.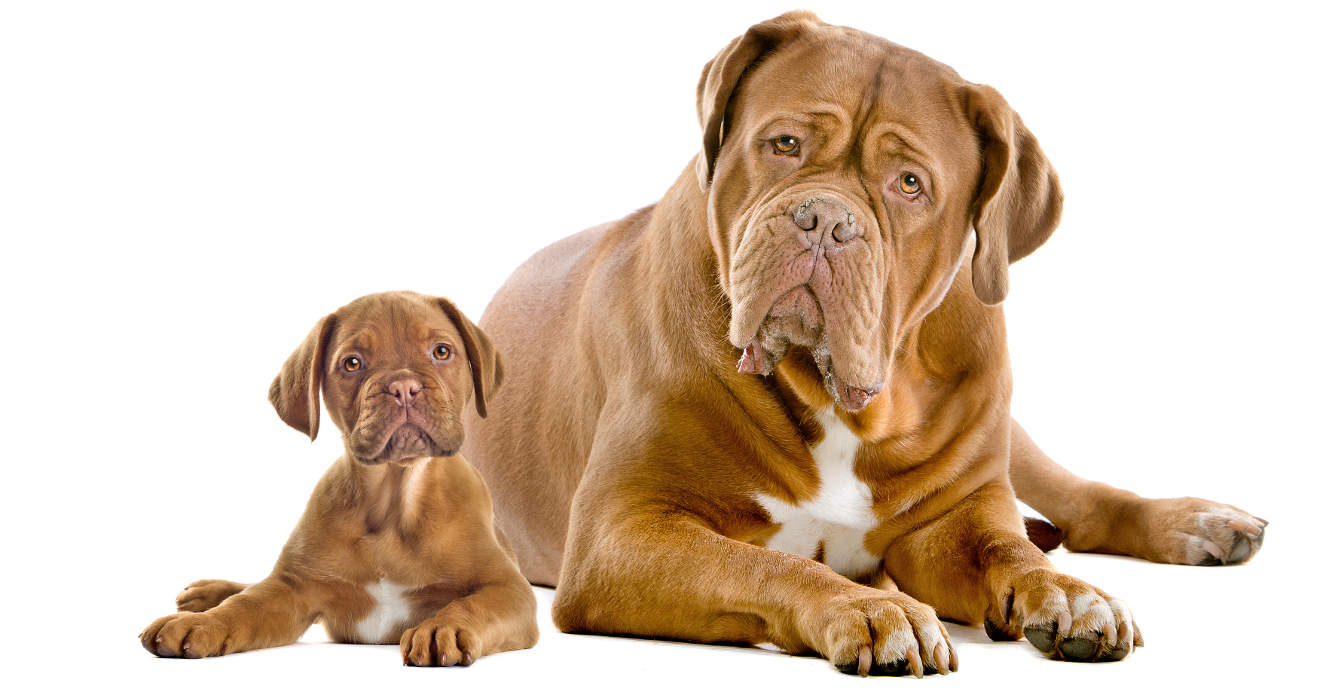 The Kennel Club website states the breeds lifespan as over 10 years. It's reported that probably the most famous Dogue, the star of Turner and Hooch, lived to a ripe old age of 14!
However, if you look at the Kennel Club's own health survey from 2004, they give the average lifespan as a measly 3.8 years! This was, however, a very small sample size, so you can draw your own conclusions from their survey summary here.
If you are to believe the recordings apparently taken from the Society study mentioned above, they put the expected lifespan at a middling 5-6 years. And this study agrees that five years is the average.
So it's hard to say exactly how long your Dogue puppy might be expected to share your life with you.
Grooming And Care
Dogues have very short coats, so grooming can generally be kept to a minimum. Their coats are generally short, neat, and not too prone to shedding. You should groom him weekly, although given his size that isn't a fast task!
However, that's the main bright side when it comes to grooming and care! They also have a serious drooling problem, due to the way that they have been selectively bred to have loose skin.
Even with conscientious wiping of their mouths, you will have a very sticky home to clear up on a near constant basis.
Their nails should be trimmed and their teeth brushed regularly. In addition, check their ears often to keep them clean and free from infection.
Because they have so much loose skin on their face, it can be difficult to keep this area clean and dry. But if possible, it is definitely recommended to help cut down on infection in the crevices.
Dogues should be fed a balanced complete nutrition diet geared toward their age and size.
Does The Dogue de Bordeaux Make A Good Family Pet?
Mastiffs are guarding breeds at heart. This means that whilst they are strongly bonded to the individuals they have regular contact with, they can be very wary of those that they don't.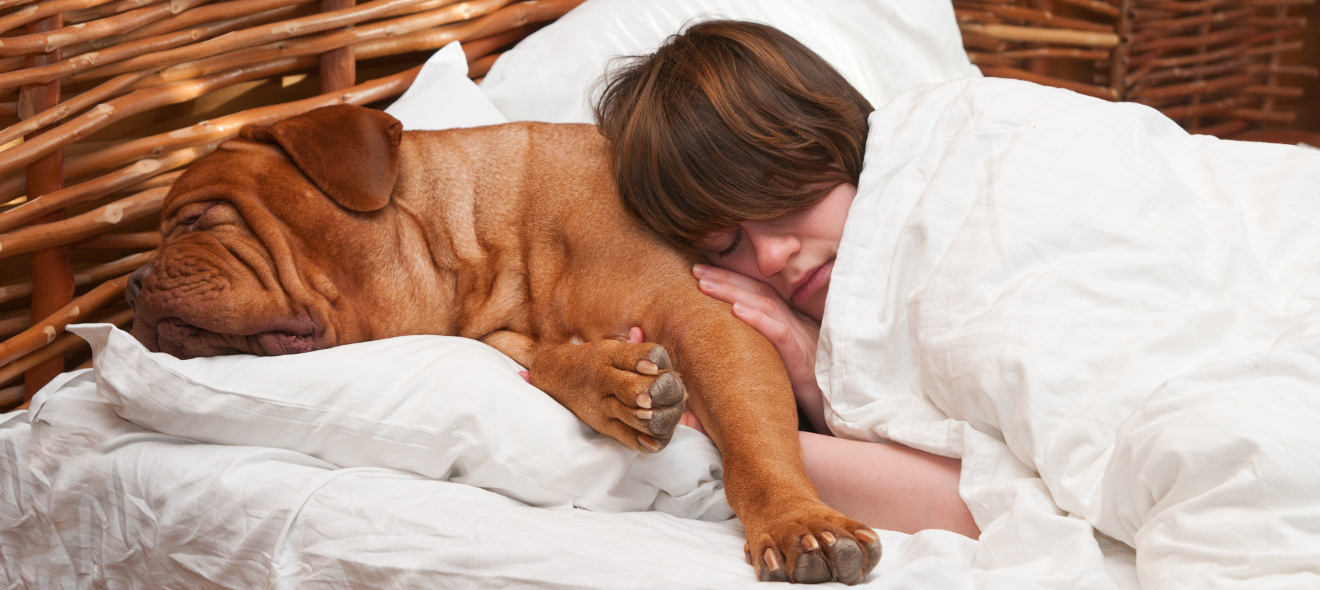 By all accounts they get along very well with the children in their families. But it is always a good idea to watch any large dog with children he doesn't know well, especially little ones.
Because they attach very strongly to individuals, this Mastiff breed can suffer from separation anxiety. You will need to gently introduce your puppy to the idea of spending time alone, consistently rewarding good quiet behavior around the house.
On the whole, the main problem with bringing a Dogue into your family's home is the health problems that he can suffer from, as well as very short lifespan that may be expected. For these reasons, we do not recommend the Dogue as a family pet.
If you have a family without children or with older children, and you're determined to bring home a Dogue, we recommend rescuing an adult dog in need of a home rather than adopting a puppy.
Rescuing A Dogue de Bordeaux
If you're looking to get a Dogue de Bordeaux and aren't worried about age, consider rescue dogs.
This is a really great option because it gives an older dog a second chance at a great home.
Not only is this good for the dog you're rescuing, but it can be really rewarding to watch this older dog settle in to your home!
Dogs of all ages have a lot of love to give. Offering another chance to a grown Dogue could mean giving him the opportunity to spend the rest of his life in a comfortable home, with people he loves.
For more specific information, take a look at our list of rescue organizations.
Finding A Dogue de Bordeaux Puppy
However, if you are absolutely set on bringing home a Dogue de Bordeaux puppy, finding responsible Dogue de Bordeaux breeders who breed healthy pups is really important. This is especially so, given some of the health problems Dogues are prone to.
This breed really needs help from their loving owners and breeders.
Help to reduce the issues with their shortening muzzle and loose skin by deliberately breeding parents that show less pronounced traits. Help to combat their health problems by only breeding from fully health tested parents.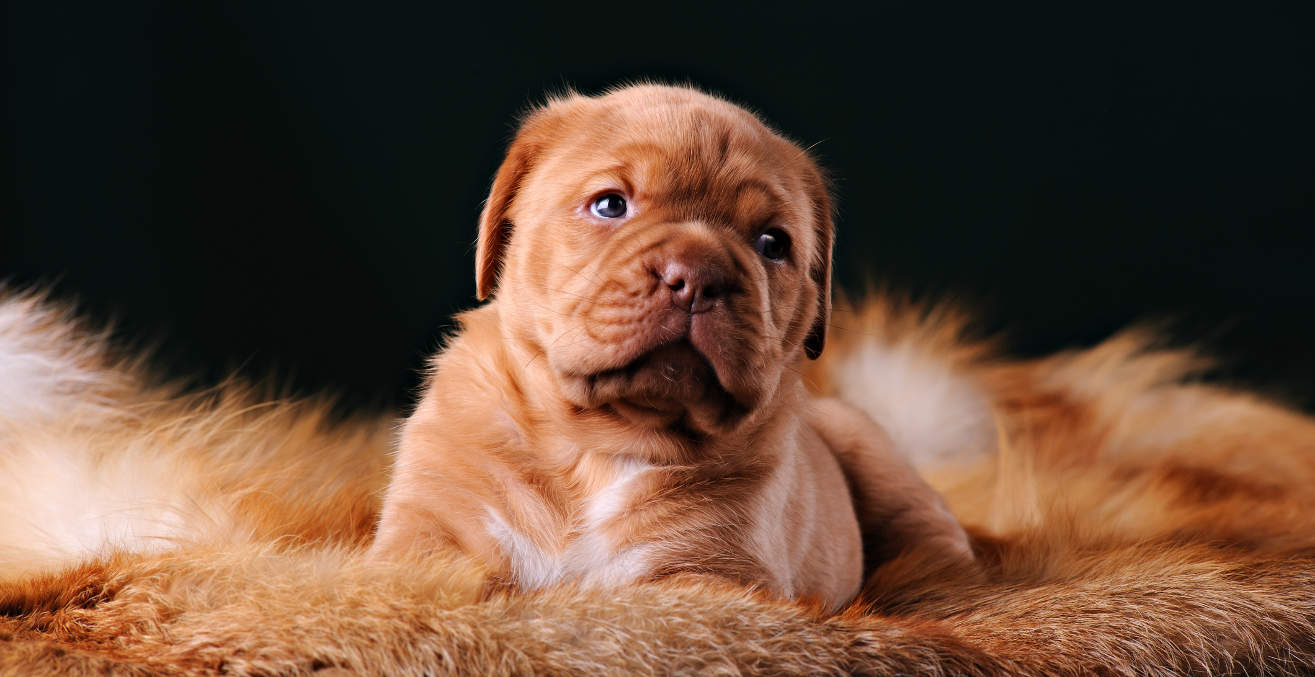 Generally, a Dogue de Bordeaux puppy will cost at least $1000. But it is important to remember the vet fees you might also need to pay later in life, given their hereditary health issues.
Where to Avoid
When buying a puppy, only go to reputable Dogue de Bordeaux breeders. Do not go to puppy mills or pet stores. Puppy mills are the worst place to get your new puppy. These dogs rarely, if ever, get the best start in life. And often, neither did their parents.
Pet stores usually get their puppies from puppy mills, so it's best to avoid them altogether. Stick to reputable breeders who can prove health testing and who welcome your visit to their facility.
Mixed breed dogs are becoming more popular recently, and this includes the Dogue de Bordeaux breed. Make sure you still only use reputable breeders, even if you're getting a mixed breed. Check out our puppy search guide for more advice.
Raising A Dogue de Bordeaux puppy
We've looked briefly at how to help combat potential health problems in Dogues when choosing a puppy. But there are also ways to help once you've got your puppy.
On an individual basis, new puppy owners help by socializing and training their Dogues to an incredibly high level.
The Dogue is not for the faint of heart, or light of bank account. Caring for a vulnerable Dogue de Bordeaux puppy is a big responsibility.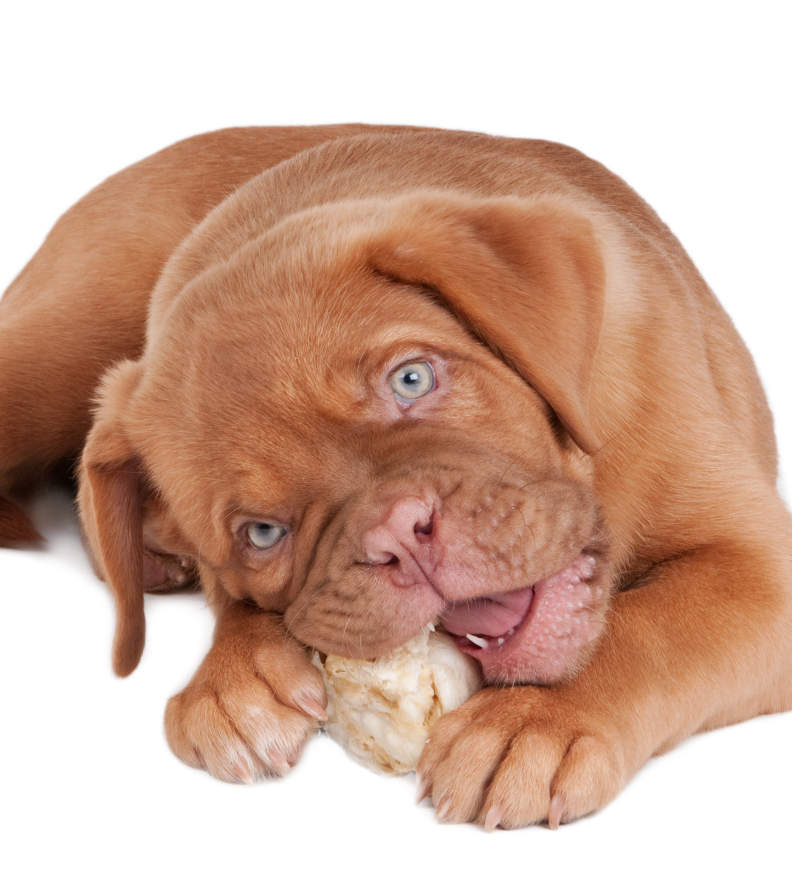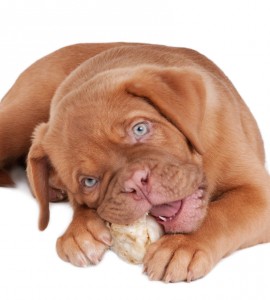 They are immense, and therefore eat vast quantities of food.
When they need veterinary treatment, and they are likely to do so, they require proportionately more of the vet's time and medicine – all of which racks up the cost quickly.
There are some great guides to help you with all aspects of puppy care and training. You'll find them listed on our puppy care page.
Popular Dogue de Bordeaux Breed Mixes
Mixed breed dogs are becoming more and more popular, due in large part to a couple of factors. For one thing, mixed breed dogs tend to be a little less expensive than purebreds.
However, if the mix you're looking for is an especially popular one, they still can run into the hundreds of dollars from a reputable breeder.
Secondly, mixed breed dogs enjoy what is known as hybrid vigor, in which the mixed dog will often be stronger, live longer, and avoid some of the health problems common to a purebred dog breed.
Dogues de Bordeaux mixes aren't all that common, but that doesn't mean they can't ever be found.
Some mixes which may be available include:
Comparing The Dogue de Bordeaux With Other Breeds
Unfortunately, despite the Dogue de Bordeaux's charm, most families are not well suited to him. The health issues alone, both known and unknown, can be very off-putting.
And when coupled with their guarding behaviors and short lifespan, you need to be a real die-hard fan to give these lovely dogs the home they need.
It's really important that people have honest breed information. Otherwise, the common result is a dog who ends up being shunted to a rescue home before he's even two years old.
So, if you are looking for a bigger dog to join your family, perhaps look for a German Shepherd to join your clan.
Although they don't have the unique look of a Dogue, they do have a lot of their charm in terms of intense loyalty and devotion. They also make excellent guard dogs.
They are a much more manageable breed for most pet owners. With proper socialization, they may fit more smoothly into your life.
Similar Breeds
If you're looking for a larger breed with a sweet personality, there are plenty of other dogs which tend to have a longer lifespan and generally better health. Have you considered any of the following breeds?
Pros And Cons of Getting A Dogue de Bordeaux
If you're still not sure whether a Dogue is right for you, here is a quick rundown of the for and against.
Cons
Prone to several serious health problems
Tends to drool a lot
Could show excessive guarding tendencies
Health problems will likely mean large vet bills
Short expected lifespan
Pros
Full of character
A sweet personality, gentle with family
With good training and socialization, could be an excellent watchdog
If you still think a Dogue de Bordeaux is for you, we recommend taking a look at the following websites before you bring your puppy home:
Dogue de Bordeaux Products And Accessories
If you are bringing home a new pet, you'll definitely need to be ready for him! Here is a list of some of our curated recommendations for pet accessories.
Dogue de Bordeaux Breed Rescues
Below is a list of breed rescues in USA, UK, Australia and Canada:
If you know any other great Dogue de Bordeaux rescues, let us know in the comments and we will add them to our list.
References And Resources
Gough A, Thomas A, O'Neill D. 2018 Breed Predispositions to Disease In Dogs and Cats. Wiley Blackwell
O'Neill et al. 2013. Longevity and Mortality of Dogs Owned In England. The Veterinary Journal
Schalamon et al. 2006. Analysis of Dog Bites In Children Who Are Younger Than 17 Years. Pediatrics
Duffy D et al. Breed differences in canine aggression. Applied Animal Behavior Science 2008
Strain G. Deafness prevalence and pigmentation and gender associations in dog breeds at risk. The Veterinary Journal 2004
Packer et al. 2015. Impact of Facial Conformation On Canine Health. PlosOne
Adams VJ, et al. 2010. Results of a Survey of UK Purebred Dogs. Journal of Small Animal Practice.
Meola, S, DVM, 2013, "Brachycephalic Airway Syndrome," Companion Animal Medicine
Willesen et al. 2008. Aortic Stenosis in the Dogue de Bordeaux. Journal of Small Animal Practice
Bell, J. 2014. Inherited and Predisposing Factors in the Development of Gastric Dilation Volvulus in Dogs. Topics in Companion Animal Medicine.
This article has been extensively revised and updated.