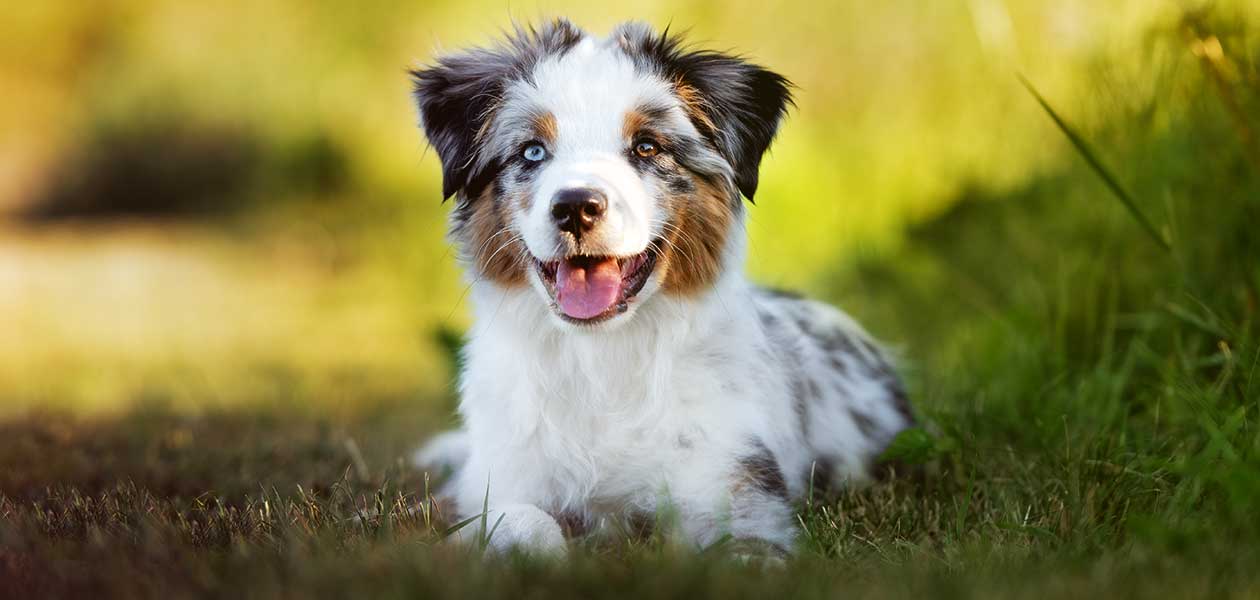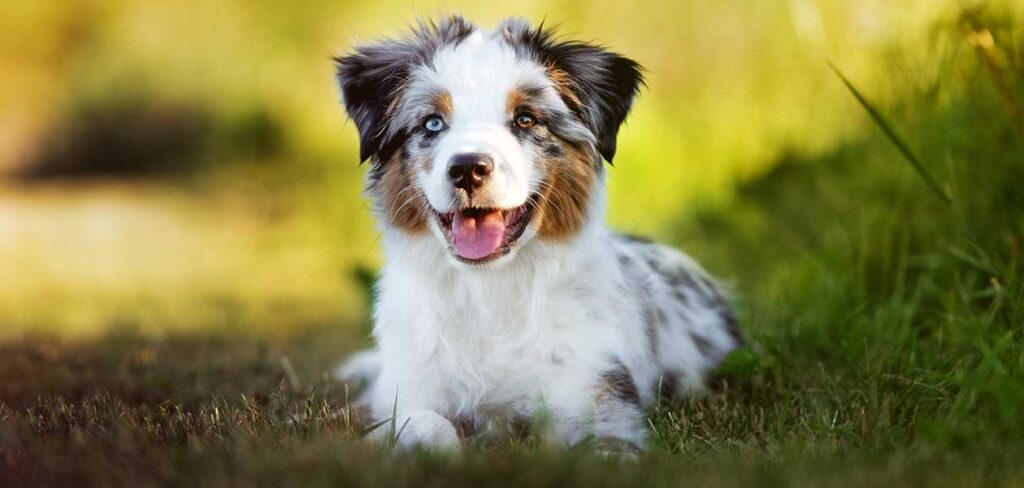 Merle dog coats have irregular patches of blue or red hair, that are laid over a lighter, or diluted, shade of the same pigment. The merle gene can change coat color, skin tone and even eye color in dogs. If you have two merle genes or a double merle it can also produce deaf, blind or even lethal health problems. Potentially merle dog breeds include the Australian Shepherd, Border Collie, Dachshund, Sheltie, Corgi, Catahoula Leopard Dog, Great Dane and Collie but there are many more. Today we'll look at which breeds of dog carry the potential for merle coats, how it changes their colors and patterns, and what it means for their characteristics, temperaments, health and the lifespan of their puppies.
The merle genetic pattern has been in dogs for many years, but wasn't called merle until the early 2000s. It's also known as dapple in some breeds. Dogs need a single merle gene to get this coat pattern. Dogs with two merle genes are more prone to the health problems associated with merle coloring. Let's take a closer look at how merle dogs get their coat and what health implications it has.
Merle Dog Breeds
There is a surprisingly long list of dogs that can display this interesting coat pattern. Some of these merle breeds include Australian Shepherds, Collies, Dachshunds, Cardigan Welsh Corgis, Great Danes, and Shetland Sheepdogs.
These can be blue merle dog breeds or red merle dog breeds. But we will look a big more at these different colors later. Other breeds that may show this color coat include:
Border Collies
Pyrenean Shepherds
Catahoula Leopard Dogs
Bergamasco Sheepdogs
Chihuahuas
American Staffordshire Terriers (pit bulls)
Old English Sheepdogs
American Cocker Spaniels
Beaucerons
Pomeranians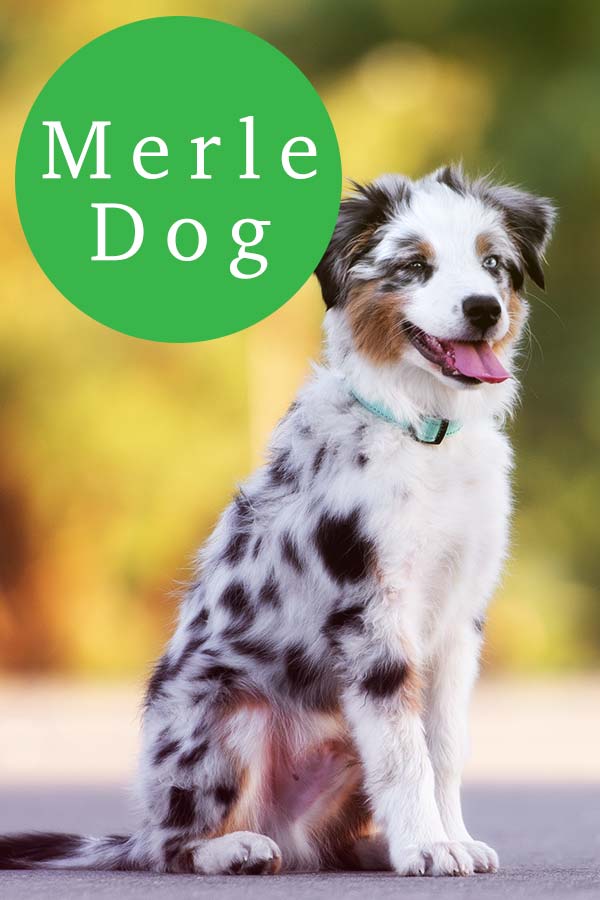 Is This Pattern Always Desirable?
In some breeds, such as the Australian Shepherd, the color is a distinguishing characteristic. But, in others, such as the Dachshund, merle coloration isn't considered desirable because of the associated genetic weakness.
Merle Color Dog Appearances
The random patches of color on top of the lighter color in this pattern is unusual and distinctive. In blue merle dogs, the color is mottled black atop black-and-white dilute hair. In red merles, the color is a mottled brown on top of lighter brown hair.
You'll still see patches of undiluted pigment over the dog's body. The merle gene seems to affect mostly the black pigment. In a 'Mm' dog, a tan color is not necessarily diluted. So, a blue merle dog may still have tan points.
'MM' dogs will be mostly white, with patches of color. Double merle dogs are not accepted at dog shows.
Merle Dog Colors
Merles are generally split into the blue merle dog and the red merle dog based upon the type of melanin produced. Some breeds also show:
cream
yellow
sable
black-and-tan
fawn, and
chocolate merle patterns.
So, although the pattern stays very similar, the colors can change dramatically.
Genetics of the Merle Coat
The gene that causes merle in dogs is called PMEL17 or SILV. This color pattern is what scientists call "incompletely dominant." It shows up when a dog gets just a single copy of the merle allele. It basically causes a dilution of color.
Researchers have isolated three different alleles, or variants, for merle. These are the merle allele (M), the cryptic merle (Mc), and non-merle (m). Merle dogs have one allele for merle and one for non-merle, which is expressed as Mm.
Cryptic Merle Dog Genetics
Cryptic merle refers to a pattern called phantom or ghost merle. Often, these dogs have the M genotype but don't express it. Cryptic merles are usually either liver or black, with some small areas of merle.
In fact, some don't look like merles at all. The inheritance of M and Mc is unstable. Sometimes M may produce Mc, and vice versa.
This makes merle inheritance complex. It can also cause potential health concerns.
Double Merle Dog
Dogs with two copies of the M allele, called double merle (MM), tend to be white with patches of color. If you've heard the term "lethal white," it (somewhat misleadingly) refers to the MM genotype.
Unfortunately, double merle dogs are more likely to suffer from some serious health problems, including deafness and blindness. We will take a closer look at this in a moment.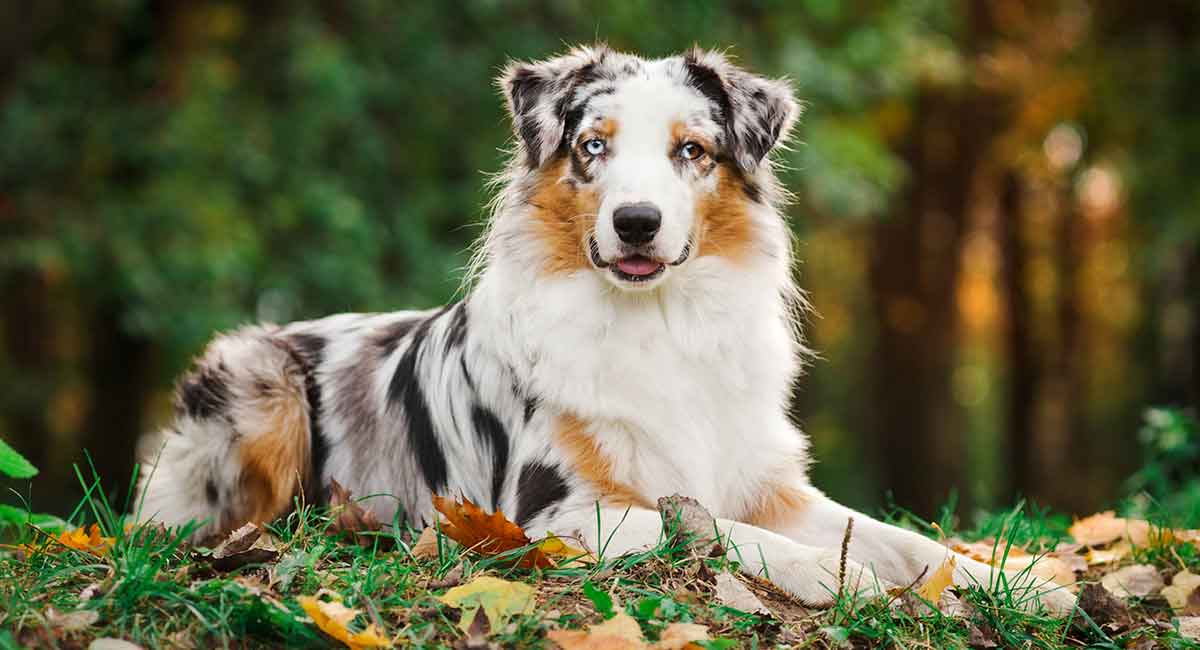 Modifying Genes
What makes the merle color even more complicated is that there are modifying genes that work with the merle gene to create different phenotypes (the look of the dog based on its genes). These include the harlequin merle, in which the "blue" is replaced with white to create a white dog with black patches.
It also includes patchwork or tweed merle, in which the "blue" or "red" becomes gray, tan, and brown. Patches in tweeds may be bigger in size, range, and dilution intensity.
Merle acts upon eye pigment in the iris as well, so a blue eyed merle dog or merle dogs with partially blue eyes are common.
Merle Dog Health
The merle gene is unfortunately linked with impaired function of the auditory, ophthalmologic systems, and immune systems of dogs. That's because color and color pattern in dogs is associated with the development of the nervous system in the dog embryo. They all come from the same cells.
The problems are caused in part by the suppression of pigment cells in the inner ear and the iris of the eye. Merle dogs are known to be vulnerable to a wide range of defects in the eyes and ears. The blue eyes sometimes make it more difficult to diagnose eye problems, as well.
Double Merle Dog Health
One study found that deafness affected 9.2 percent of dogs with the merle allele, with 3.5 percent in single merles and 25 percent in the double merle dog. Other studies have found similar results, showing also that double merle (MM) dogs experience ear and eye effects at a much higher rate than single merle dogs.
Some double merle dogs have been known to be born without eyes at all. There may be differences based upon breed, too. Collie-type breeds seem more affected by deafness than others.
Specific Merle Dog Conditions
One of the conditions these dogs may suffer from is microphthalmia with coloboma. This is a recessive trait that may show up in merles with a predominately amount of white hair (as with MMs), in which the eyes are abnormally small and may have anatomic malformations in the lens, iris, or retina.
Other conditions include:
distortion of the eye's appearance
night blindness
a cleft in the iris, and
third eyelids.
So how should we minimise the risks associated with the merle color?
Reducing Health Risks In A Merle Dog
Veterinarians recommend genetic testing for merle dogs, because the genetics of the merle coloring can be complicated. The variations of merle coloring can result in a variety of appearances, so testing may be the only way to understand the merle dog's true genetic makeup.
Also, please don't breed your merles, especially with other merles. Certain dogs that don't look like merles may actually still carry the M gene. For example, cryptic merles or sable-colored dogs may be indistinguishable from non-merle dogs.
And, if not identified through genetic testing, someone unaware of the genetic background of their dogs might inadvertently mate two merles together, resulting in a litter that includes double merle dogs. The genetics can be complicated, and breeding merles is for experts only! Even experienced breeders are likely to experience setbacks and heartbreak.
Merle Dog Temperament
The merle color gene does not have an effect on temperament, as far as researchers know. If you are looking for a dog with this type of coloring, we recommend you learn about the temperament of the breed in question, rather than the pattern of coloring.
We can't generalize in this respect, because the breeds that show merle coloration are all so different!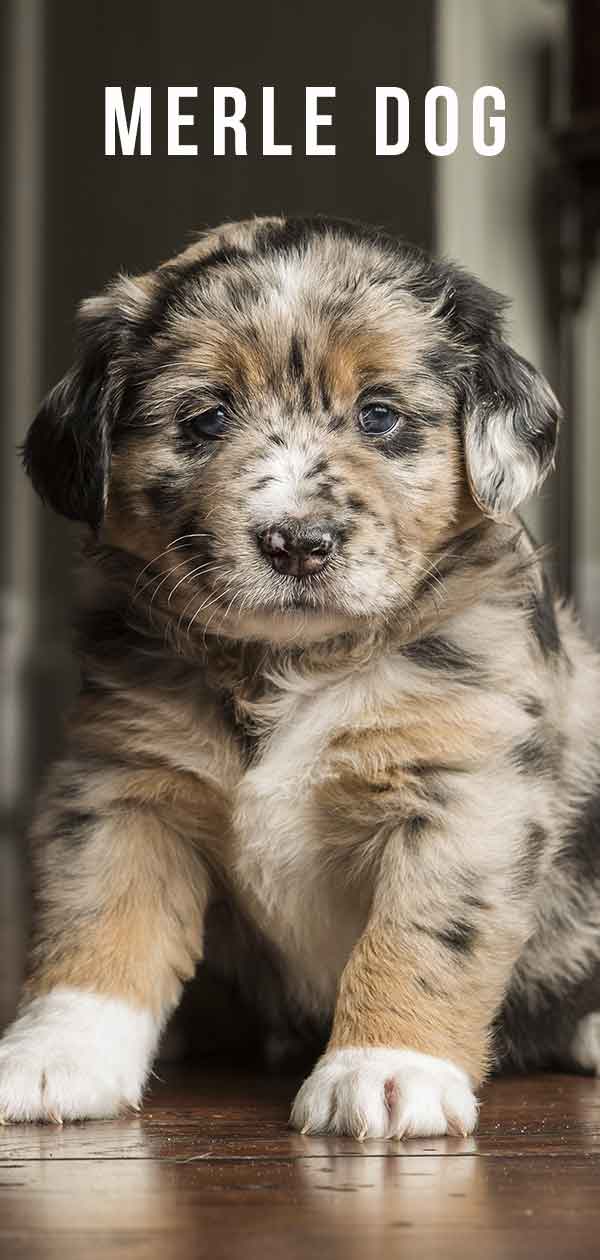 Merle Dog Intelligence
Some of the breeds that have merle coloring as one of their distinguishing characteristics are known to be quite intelligent!
However, there doesn't seem to be any relationship between intelligence and merle coloration. If you're looking for a smart breed of dog, the coloring will not necessarily be a factor.
Merle Coat Dog Training and Exercise
Whatever dog you end up getting, training will be important for your pup's overall socialization and happiness. We recommend basic obedience and agility training for larger, active merle dogs, many of which were bred for herding other animals.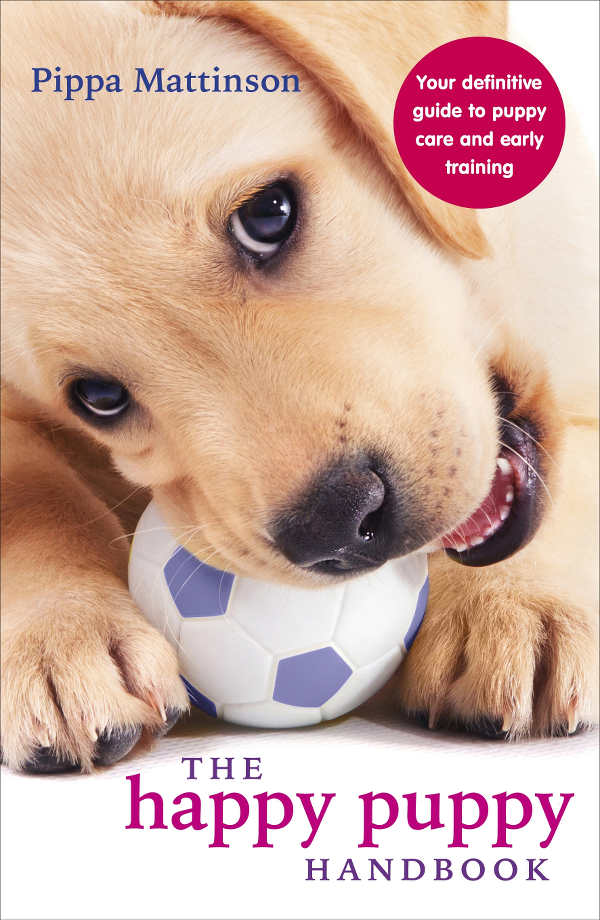 For smaller dogs such as chihuahuas, training is still important to minimize nervous and destructive behaviors. Again, how energetic your dog will be will probably be more dependent on breed than color.
Grooming Merle Dogs
Again, this is something that depends on the breed. Many merle dog breeds have long hair that requires a fair amount of maintenance. Australian Shepherds, for example, have a waterproof, double-layered coat that sheds seasonally. It requires thorough weekly brushing.
On the other hand, Pitbulls have a short, stiff coat that doesn't need much care, and only sheds occasionally. If you are looking for this pattern on a dog, check out the breed information for its grooming requirements.
Merle Dog Puppies
Merle coloring can become darker with age. So, be aware that those white areas on your merle puppy may start to look grayer as your dog ages. But other than that, a merle dog puppy will have all the attributes of an adult of the breed.
Color isn't necessarily going to determine your dog's longevity, temperament or the joy you take in being with her. However, the merle gene itself does have health issues associated with it.
If you want a puppy with this coloring, do your homework. Get your puppy from an experienced breeder, and know its genetics.
How you care for your new merle puppy will definitely affect his quality of life, so make sure you are ready!
Your Merle Dog
If you have a merle dog, we would love to hear about your experiences in the comments!
What is the personality and coat like on your puppy? And have you ever had to cope with any of the health problems we've mentioned?
Related Articles
Readers Also Liked
References and Resources
'Health and the Merle Pattern', American Dog Breeders Association (2016)
American Kennel Club
Chappell, J. 'Merle (M series)', Dog Coat Color Genetics
Davis, U.C. 'Merle', Veterinary Medicine Veterinary Genetics Laboratory
'Cryptic Merles', Australian Shepherd Health & Genetics Institute (2017)
Bowling, S. A. 'Elementary Merle Genetics for Newcomers', Sheltie Bloodlines, (2010)
Clark, L. A. (et al), 'Retrotransposon Insertion in SILV is Responsible for Merle Patterning of the Domestic Dog, Proceedings of the National Academy of Sciences of the United States of America (2006)
Gelatt, K. N. (et al), 'Inheritance of Microphthalmia with Coloboma in the Australian Shepherd Dog', American Journal of Veterinary Research (1981)
Sponeneberg, P. & Lamoreux, M. L. 'Inheritance of Tweed, a Modification of Merle, in Australian Shepherd Dogs', Journal of Heredity
Strain, G. M. (et al), 'Prevalence of Deafness in Dogs Heterozygous or Homozygous for the Merle Allele', Journal of Veterinary Internal Medicine (2009)