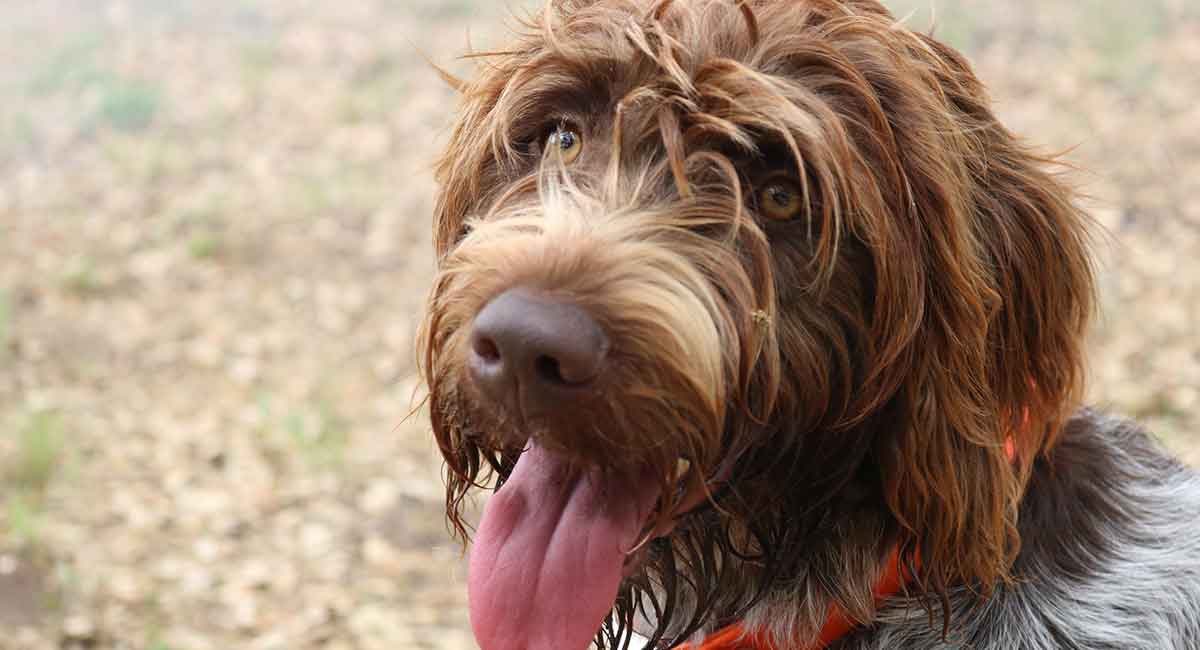 The Wirehaired Pointing Griffon gets their name from the harsh, wiry coat. It gives them a rugged, unkempt appearance.
They've been described as the "supreme gundog". This name comes from their versatility in pointing and retrieval.
They're also known for being both an athletic hunting dog and a loving family companion.
This energetic breed grows from 20 to 24 inches, weighing between 35 and 70 pounds as an adult. But are they right for you?
Where Does the Wirehaired Pointing Griffon Come From?
The Wirehaired Pointing Griffon is a relatively recent breed.
Their development is attributed to a Dutchman named Edward Korthals.
In the late 1800s, he set out to create a sporting dog who was able to work as a pointer on dry land and as a retriever in the water.
Although the Wirehaired Pointing Griffon was established in Holland, Korthals refined the breed while living in Germany and France.
The exact breeds he used are unknown. But various setters, spaniels, pointers, and possibly the Otterhound, are believed to be in the mix.
The breed was initially known as the Korthals Griffon.
Fun Facts About the Wirehaired Pointing Griffon
Some consider the Wirehaired Pointing Griffon to be of Dutch origins. But, others say they're a German or French breed.
The most famous owner of a Wirehaired Pointing Griffon was Prince Rainer III of Monaco.
His faithful dog, Odin, followed the casket during his funeral procession.
These dogs make sloppy drinkers and messy eaters.
They sport a whiskery beard that absorbs water and food, leaving a trail behind them.
Wirehaired Pointing Griffon Appearance
Male Wirehaired Pointing Griffons stand from 22 to 24 inches and weigh between 50 and 70 pounds.
But, females are smaller. They stand from 20 to 22 inches, weighing considerably less, at 35 to 50 pounds.
This medium-sized sporting breed is most distinguishable for their dense, water-resistant, double coat. It has a coarse, wiry texture and comes complete with a beard and moustache.
Coat colors include steel gray with brown markings, chestnut brown, roan, white and brown, and white and orange.
Their coat gives them a somewhat scruffy appearance. But, they're a handsome dog with a noble bearing.
Strong limbs allow them to move with a cat-like grace over any terrain.
The head is square-shaped with round, intelligent eyes framed by generous eyebrows, and hanging ears.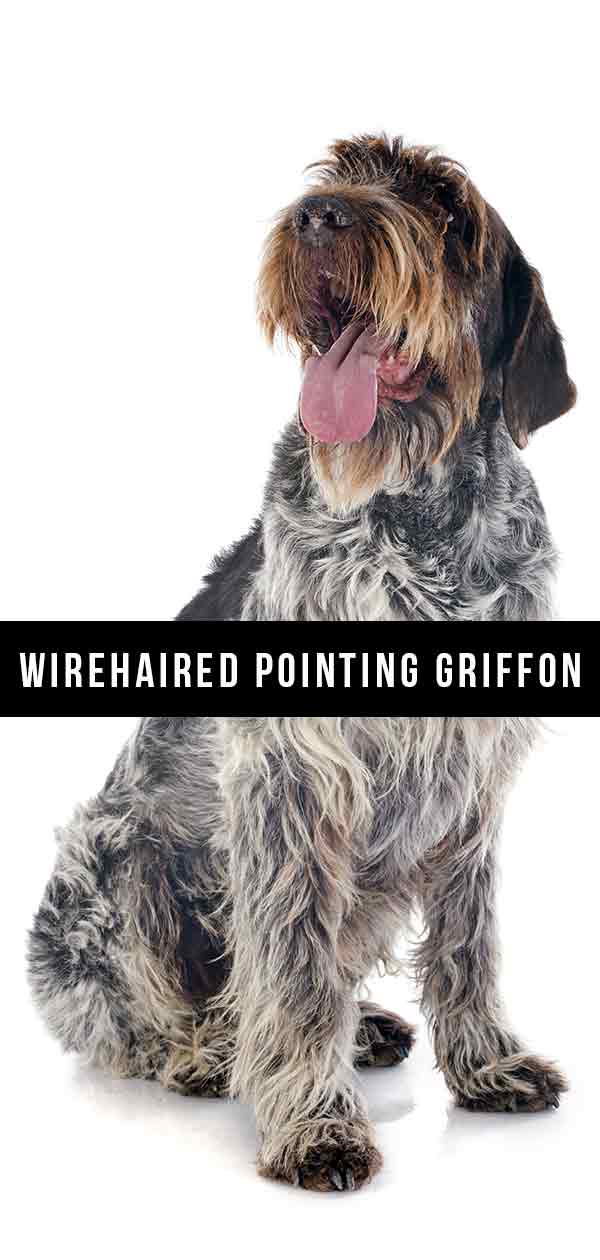 Wirehaired Pointing Griffon Temperament
The Wirehaired Pointing Griffon generally gets along with everyone. This includes children and other dogs and pets. But, this is dependent on proper socialization.
Some are prone to nerves around strange people and dogs.
They do best with older children. But if a younger child knows how to treat a dog properly, they should get along fine.
Prey Drives and Separation Anxiety
Due to their hunting instincts, some may have a prey drive and want to chase smaller animals.
These dogs have an alert bark and will let you know if someone comes to your door. But they're simply too friendly and gentle to make a good guard dog.
Wirehaired Pointing Griffons love their family and are very affectionate.
They're happiest when they're participating in activities with their loved ones.
The breed is known to suffer from separation anxiety if left on their own for too long.
Training Your Wirehaired Pointing Griffon
Wirehaired Pointing Griffons are both intelligent and eager to please. These two qualities usually make them very trainable.
However, like all pointing breeds, they can be quite independent and easily distracted by interesting sights or scents.
This is a breed that lives to please their owners. They will respond best to training that incorporates plenty of praise.
Harsh words will be taken to heart and do nothing to help train this sensitive breed.
Housetraining
These are very social dogs who require plenty of attention, consistency, and patience.
Some Wirehaired Pointing Griffons can be slow to housetrain.
It's important to stick to a regular schedule and give them the approval they seek.
Plus, socialization should start early. It's important to curb any nervousness or timidity around new people, dogs, or environments.
Exercising Your Wirehaired Pointing Griffon
The Wirehaired Pointing Griffon is an active, athletic working dog. It needs vigorous exercise and mental stimulation on a daily basis.
Owners must be able to provide them with regular activity to avoid boredom and destructive behaviors like barking and chewing.
Having a place where they can roam freely is important for this breed.
Activities such as running, hiking, or agility training are ideal. Most exercise should be off-lead.
Griffons who only get walked on the leash will need more time devoted to exercise to get the same amount of workout.
Wirehaired Pointing Griffon Health
The Griffon is a generally healthy dog. It has a respectable lifespan of 12 to 15 years.
But like any breed, they're prone to certain inherited health conditions. Good breeders will test and clear their breeding stock for these issues.
Hip and elbow dysplasia are developmental disorders leading to malformation of the joints. Symptoms include pain and lameness, which can lead to arthritis over time.
Hypothyroidism occurs when the thyroid gland doesn't make enough of the hormone called thyroxine that controls metabolism. Hair loss, typically on the dog's flank, rear legs, and tail, is a sign of the disease.
Wirehaired Pointing Griffons should also be tested and cleared for the bleeding disorders known as von Willebrand's disease and thrombopathia.
Progressive retinal atrophy may also affect the breed. This issue causes the retina to gradually deteriorate and leads to eventual blindness.
Grooming and Feeding a Wirehaired Pointing Griffon
A Griffon's rough coat is low shedding. It requires weekly brushing and occasional trimming around the ears and feet.
Bathing should only be done when necessary to avoid softening the natural texture of their coat.
Their drop ears can be prone to infection. So, they should be checked and cleaned regularly.
Trim their nails when you can hear them on the floor.
Teeth should be brushed regularly to reduce the chance of gum disease and tooth decay.
Griffons do well on a high-quality, age-appropriate dog food.
Some may be prone to obesity. So calorie counting is required if your dog is not as active.
Do Wirehaired Pointing Griffons Make Good Family Dogs?
Griffons are energetic dogs that require daily exercise.
They're ideally suited to a home with active people who want to include a canine companion in activities such as running, hiking, or biking.
As puppies, they're very active and adult Griffons are quite powerful.
Without a way to expend excess energy, they can become restless and destructive.
High Social and Physical Needs
They're also very social and need to be around people as much as possible.
As long as they get enough mental and physical stimulation, they'll be quite easy-going in the home.
However, they are not suited to apartment living.
Griffons are a good fit for life in the country where there is fenced space for them to run outdoors.
Rescuing a Wirehaired Pointing Griffon
Typically the dogs found in rescues are older. But puppies are sometimes available.
An older dog can suit people who'd rather not deal with the puppy development stages.
It also allows you to find out more about their health and behavior than when purchasing a puppy.
Some shelters also offer ongoing support and adoption fees. These are more affordable than buying from a breeder.
Not All Shelter Dogs are Bad!
Dogs end up at shelters for many different reasons.
Sometimes people aren't prepared for the responsibility of dog ownership.
Others bring their dogs to shelters because they're moving or are unable to afford pet maintenance.
Whatever the reason, millions of animals wind up in shelters and are in need of a new home.
Finding a Wirehaired Pointing Griffon
Although all Wirehaired Pointing Griffon puppies will be pretty adorable, this doesn't mean they're all created equally.
Where you choose to buy a puppy can make a world of difference.
Puppy mills are horrendous commercial breeding facilities that breed puppies only for profit.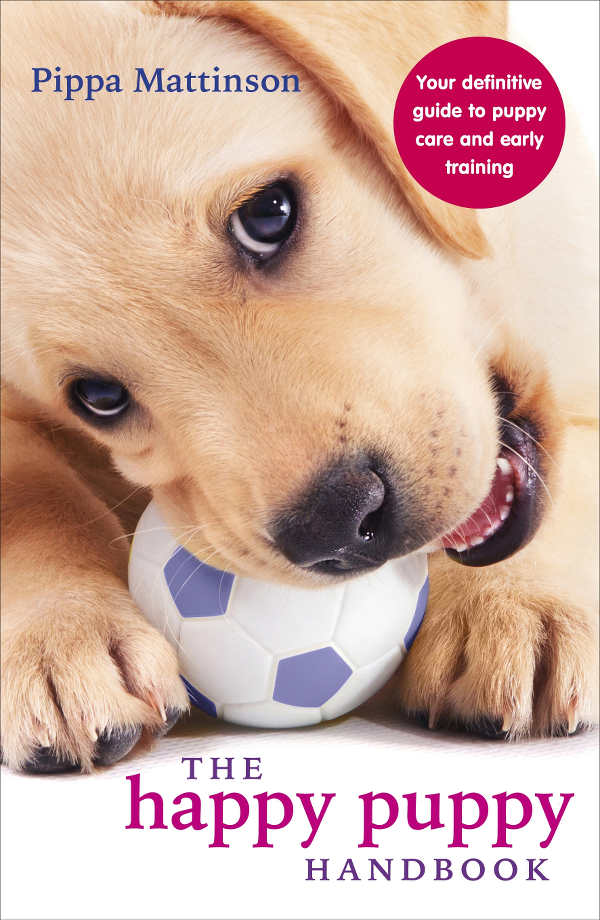 These dogs are kept in tiny cages, are fed the cheapest quality food, and receive little to no affection, exercise, or veterinary care.
To avoid contributing to this horrible cycle don't buy puppies from pet stores or those that are advertised online.
Choose a Reputable Breeder
The best way to ensure you're getting a healthy, well-cared for puppy is to choose a breeder who has health tested their dogs for genetic diseases that could be passed onto the puppies.
Visit where the puppies live and meet their parents and siblings. This lets you to see for yourself how well they've been cared for.
Our puppy search guide will give you more information on how to find a Wirehaired Pointing Griffon puppy.
Raising a Wirehaired Pointing Griffon
Caring for a puppy can be a lot of work. But it can also be a lot of fun.
Puppies grow up so fast it can sometimes seem like they're changing every day.
Our puppy care and puppy training guides will help you navigate your Griffon puppy's development.
Wirehaired Pointing Griffon Products and Accessories
Pros and Cons of Getting a Wirehaired Pointing Griffon
Like any dog breed, there are pros and cons to owning a Wirehaired Pointing Griffon.
Here's a summary to help you decide if this is the right dog for you and your family.
Cons:
Requires vigorous daily exercise
Can suffer from separation anxiety if left alone too much
May be nervous around strangers if not properly socialized
Not suitable for apartments
May be prone to barking
Pros:
Very trainable
Low shedding
A devoted family pet
Great companion for active people
Typically gets along with other animals
Very friendly
Similar Breeds
These breeds are similar, and in some cases related to, the Wirehaired Pointing Griffon.
If you're still undecided, here are some other dogs to consider.
Pointer
Spinone Italiano
English Setter
German Wirehaired Pointer
Wirehaired Pointing Griffon Rescues
The following rescues are good places to look for a Wirehaired Pointing Griffon.
If you know of other organizations please include them in the comments section.
Is a Wirehaired Pointing Griffon Right For Me?
Do you have the time and energy to devote to a dog that needs daily exercise and companionship?
Does your home have a large, fenced yard?
Are you unfazed by a dog who has sloppy eating and drinking habits?
If you've answered yes to all of the above, then the Wirehaired Pointing Griffon might just be the perfect pet for you.
Do you have a Griffon or are you interested in this breed? Let us know in the comments.
References and Resources