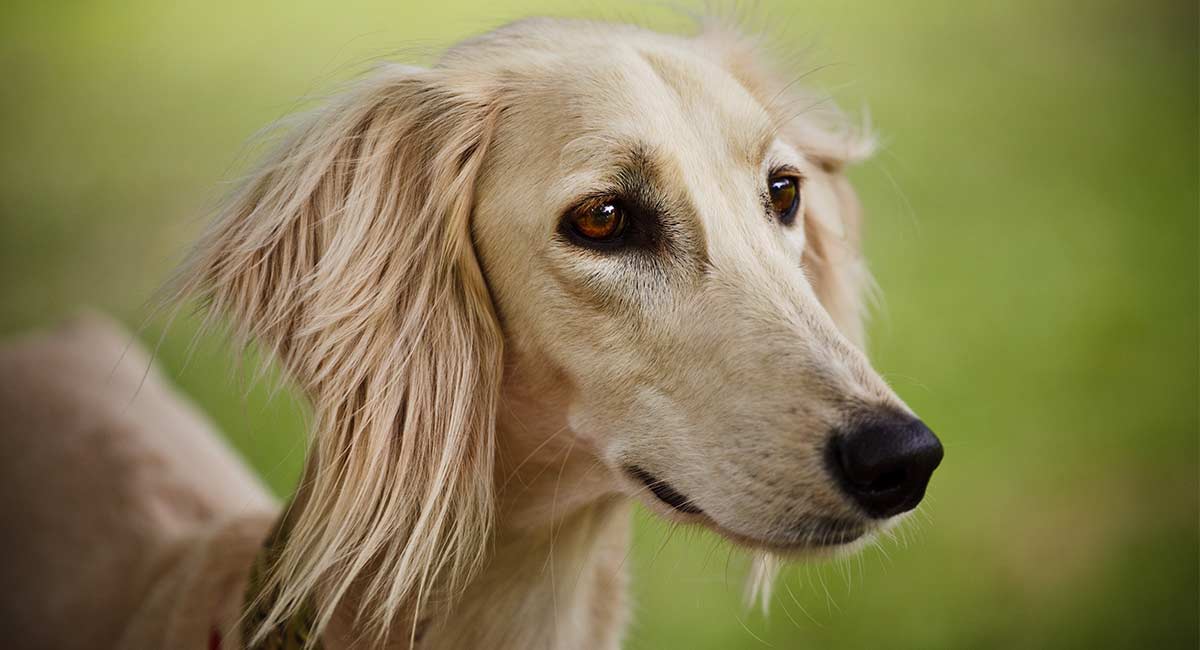 To hear archaeologists tell it, the saluki dog may just be the oldest domestic dog breed in the world.
Early saluki breed date estimates are based on archeological evidence of mummified remains that date all the way back to the 6th century B.C.
The saluki dog is fast disappearing from its birth country of Arabia. It's tribal way of life is being swallowed up by modern life in the big cities.
Luckily, the saluki hound is becoming popular with Western breeders, which will likely ensure the breed's survival.
Let's find out more about its height, weight, health and temperament.
Where Do Saluki Dogs Come From?
Saluki dogs originally arose in Arabia in the Middle East.
These dogs have long been members of the royal court, most famously with Alexander the Great.
Salukis are so speedy they can actually outrun gazelle and hare (more in a later section here).
Today, however, the only regular hunting many saluki dogs do is pure sport hunting, such as that held annually in the Western United States by the National Open Field Coursing Association.
Changes to the Saluki Breed
The lessening of demand for saluki hunting dogs among nomadic peoples has not yet substantially changed this dog breed.
So far as archeologists can tell, the saluki's appearance, temperament, activity requirements and overall presentation is still quite comparable to the earliest representatives of this breed.
What Do Saluki Dogs Look Like?
The saluki dog is quite unusual in appearance compared to many modern dog breeds.
These dogs truly look like canine supermodels, all leggy and lean with a calm yet exotic gaze.
One unusual trait about the saluki is that they grow what breeders call "feathers" on their ears and tails. The coat can be smooth or wavy (called "feathered").
In all other places on the dog's face, body and legs, the coat is quite short.
Another unusual trait that first-timers often can't help but remark about is this dog's wise, dignified and gentle expression.
If you've ever heard the term "old soul," you can see this manifesting in the saluki dog's expression.
And this dog is an old soul in terms of its breed lineage.
How Much Should My Saluki Weigh?
These dogs can show quite a bit of variation in weight between male and female dogs in adulthood.
The normal weight range for adult saluki dogs is 40 to 60 pounds.
At maturity, you can expect females to weigh at the low end and males nearer the high end.
How Tall Will My Saluki Grow?
Male adult dogs often stand several inches taller than their female counterparts.
The normal height range for the adult saluki is 23 to 28 inches (paw to shoulder) for male dogs.
Female dogs will generally stand less than 23 inches tall (paw to shoulder).
Saluki Temperament
The saluki temperament is said to be both wonderful and challenging.
Breeders and owners say this is one dog that many people find to be more "cat-like" than "dog-like."
The reason for this is that it has evolved to bond very closely with only "their" people—you and your family members.
The saluki tends to be naturally reserved around strangers and may not do well if you have frequent visitors to your home.
They have been bred to work hard and run fast as hunting partners to humans.
A bored saluki can quickly become an unhealthy saluki because their muscles won't be able to strengthen and stay strong.
Are Saluki Dogs Good with Children?
Breeders and owners say that they are not great around children. A child can, without meaning to or even realizing it, easily play too rough for your saluki.
For this reason, breeders advise never to leave a saluki and a child in a room together unsupervised.
Do Saluki Dogs Bark Much?
Saluki dogs are hounds—specifically, they are sight hounds.
But like all hunting dogs and hounds in particular, the saluki can readily emit a loud round of howling or baying. It may be cute to your ears but not so much to the neighbors.
For this reason, it is vital to consider in advance whether you live in an area where a saluki dog will be  welcome. This breed will not be a well-suited part of any neighborhood.
Grooming a Saluki Dog
The saluki dog breed has a very unique appearance and a unique coat.
While sometimes called the long-haired saluki, the only true long hair on this dog is found on the ears and tail areas.
The rest of the coat is short, sheds little, emits no odor, and is easy to groom and maintain.
You can brush your dog once per week. But, the long-haired areas will likely need brushing at least twice per week to keep them clean and tangle-free.
Training a Saluki Dog
The saluki dog is a gentle yet independent spirit.
Imagine what it's like to train a cat. You now have a good idea of the approach and patience it takes to train a saluki.
The saluki dog has always had one particular job to do. Run down the swiftest prey animals on the planet and deliver them to their human hunting partner.
Running is in your dog's blood—literally.
For this reason, you can absolutely expect to find a willing and eager hunting student in your saluki.
But if you want a canine sidekick who is closely attentive to your every command and will come when you call no matter how alluring the landscape may look, you may find the saluki is a frustrating companion.
Saluki dogs, like cats and many dog breeds, are only trainable students when you use positive training and reinforcement methods.
If you try to use any negative or punishment-based reinforcement or hire a trainer who uses this type of protocol, you can expect your saluki to become distrustful and harder to handle.
Does the dog in your life have a cat in theirs? Don't miss out on the perfect companion to life with a purrfect friend.

The Happy Cat Handbook - A unique guide to understanding and enjoying your cat!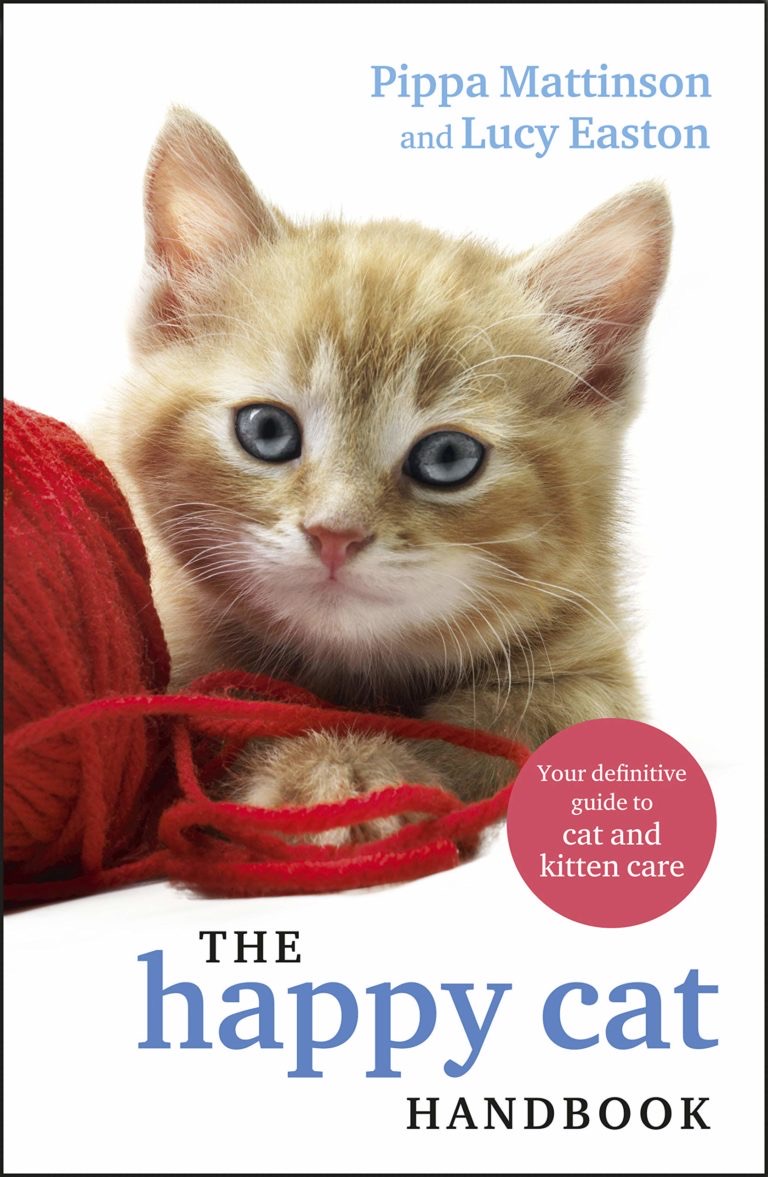 How Much Exercise Do Saluki Dogs Need?
The saluki speed is actually legendary—at a flat-out run, this dog can quickly reach speeds of nearly 40 mph.
Not even a greyhound dog can run faster than a saluki in hunting mode.
In hunting contests, saluki contestants sometimes run for two or three miles, reaching their maximum speed of around 40 mph by about the half-mile mark.
So this gives you a really good idea of how much daily exercise and activity your saluki dog will require to stay happy and healthy.
Specifically, breeders and trainers advise that this dog will need the opportunity for long, extended runs at least twice per week as well as daily exercise opportunities (such as accompanying you on your daily bike rides, runs or jogs).
Life with a Saluki
At home, your pup will be a calm, even-natured and relatively quiet companion (at least while inside the house).
There is one special requirement these dogs have that is worth noting.
When your saluki is done running and exercising for the day, she will require a plush, comfortable and well-padded place to rest.
This is because she is a very lean and spare dog that doesn't have much (if any) natural "padding" in places where most dogs have at least a little.
So your saluki dog will depend on you to provide a soft, cushioned bed, blankets and pillows where they can rest comfortably.
Without access to padded resting spots, the saluki can easily injure skin, coat, joints and muscles just by lying down for an extended period of time, such as at bedtime.
Understanding the Saluki Sighthound Drive
The saluki hunting style is to sight the prey and race after it. These dogs are sight hounds and will hunt by sight and sheer speed, not by scent.
Interestingly, a recent research study proved that sight hounds and other non-scent hound breeds do not display the same keen sense of smell in olfactory tests that scent hounds do.
Rather, they trust what their eyes tell them implicitly and follow that without question or hesitation.
When you understand that your saluki dog is absolutely driven by keen eyesight, the safety precautions breeders and owners recommend make so much more sense.
They cannot be completely trusted in an open area if you let them off the leash.
If they start chasing prey, they may not respond when you call them and can quickly get lost or get into trouble.
Escape Artists
These beauties are also notoriously excellent at escape.
They are smart and ambitious and likely do not even mean to escape, per se—they are just following their sight and their hunting instincts, which can lead them outside your yard if the area is not escape-proof.
If there is any little vulnerable area in your backyard area or the field where you are exercising your dog, they will likely find and use it.
The general guidance is to ensure your fence is five to six feet high.
Saluki club officials say the number one cause of death in this dog breed—other than sheer old age—is getting hit by a vehicle. The dog will run after a squirrel or something else equally captivating and won't understand to stay off the roadways.
Saluki Life Span
The saluki dog can live anywhere from 10 to 17 years.
A balanced and complete daily diet, plenty of daily exercise and enrichment, access to preventative veterinary care, and overall lifestyle can significantly impact length and quality of life.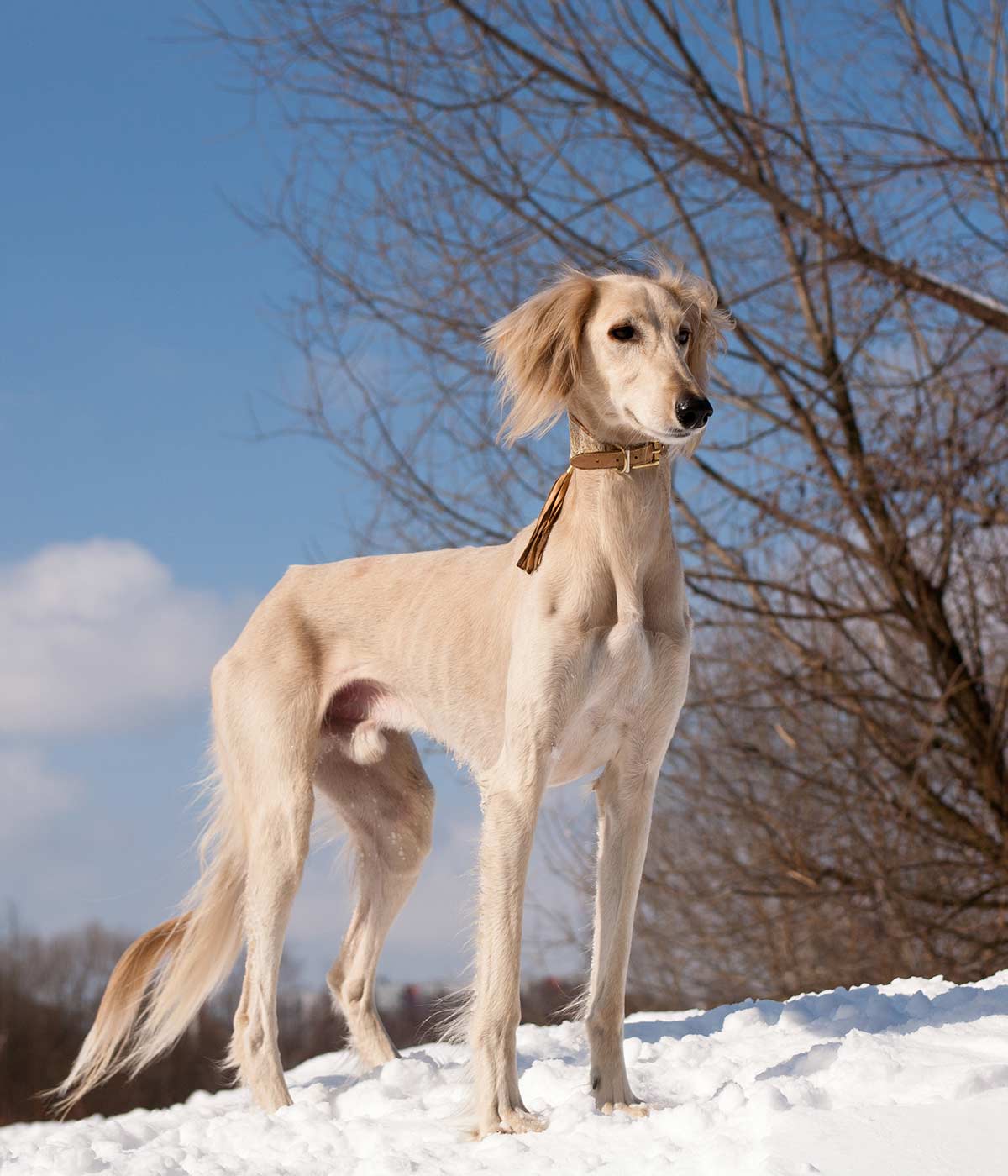 Saluki Health Problems
The saluki is notoriously intolerant to anesthetic. Most primitive dog breeds share this intolerance.
For this reason, it will be vital to find a veterinarian that is knowledgeable about treating primitive dogs. Your saluki won't be able to tolerate anaesthetic during a procedure.
A 1997 saluki genetic health study identified a number of concerning health issues. Three of these are significant: cancers, blood/immune issues and heart conditions.
Mammary and reproductive cancer, hemangiosarcoma, liver/spleen tumors, lymphoma, leukemia, and squamous cell carcinoma are the most common cancers.
Cardiomyopathy (hardening of the heart muscle), heart murmurs, arrhythmia (irregular heartbeat), congestive heart failure and congenital heart defects were the most-cited heart conditions.
Hypothyroidism, autoimmune hemolytic anemia, skin disorders, skin allergies and autoimmune thrombocytopenia (low platelet count) were all reported blood/immune system issues.
Picking Out a Saluki Puppy
Always choose a breeder that willingly volunteers the results of breeding pair health testing. They should provide an initial health guarantee and offers a take-back guarantee if the puppy doesn't work out.
When selecting your saluki puppy, be sure to pick a bright-eyed dog with clear eyes, nose, tail and skin that is alert, willing to be held and handled, and happy to play with you and litter mates.
Always try to meet the parent dogs.
Should I Buy a Saluki?
The saluki dog price can put a noticeable dent in your wallet—and that is just the cost of the dog itself and not the supplies, the initial "well puppy" veterinary exam or the annual care costs.
Breeders and club officials state that the current going rate for a saluki dog puppy is anywhere from $400 to $1,000.
The price fluctuation can relate to supply/demand, lineage (show line, hunting awards, etc.), gender, birth order, size and coloration, show versus pet quality, breeder expenses and other factors.
Saluki: Is This the Right Dog Breed for You?
The saluki is an ancient, honorable sighthound. But this isn't the dog for everyone.
What do you think? Could a saluki dog be your next canine companion?
References and Further Reading:
AKC, "Saluki Overview," American Kennel Club
Gamble, S., "Saluki Health/Considering Owning a Saluki?" Saluki Club of America
Mott, M., 2003, "Ancient Gazelle Hunting Dog Breed Hangs on in Arabia," National Geographic News
Polgar, Z., et al., 2016, "A Test of Canine Olfactory Capacity: Comparing Various Dog Breeds and Wolves in a Natural Detection Task," PLOS One Journal
Sist, M., DVM, "Saluki Genetics Study," Saluki Health Research