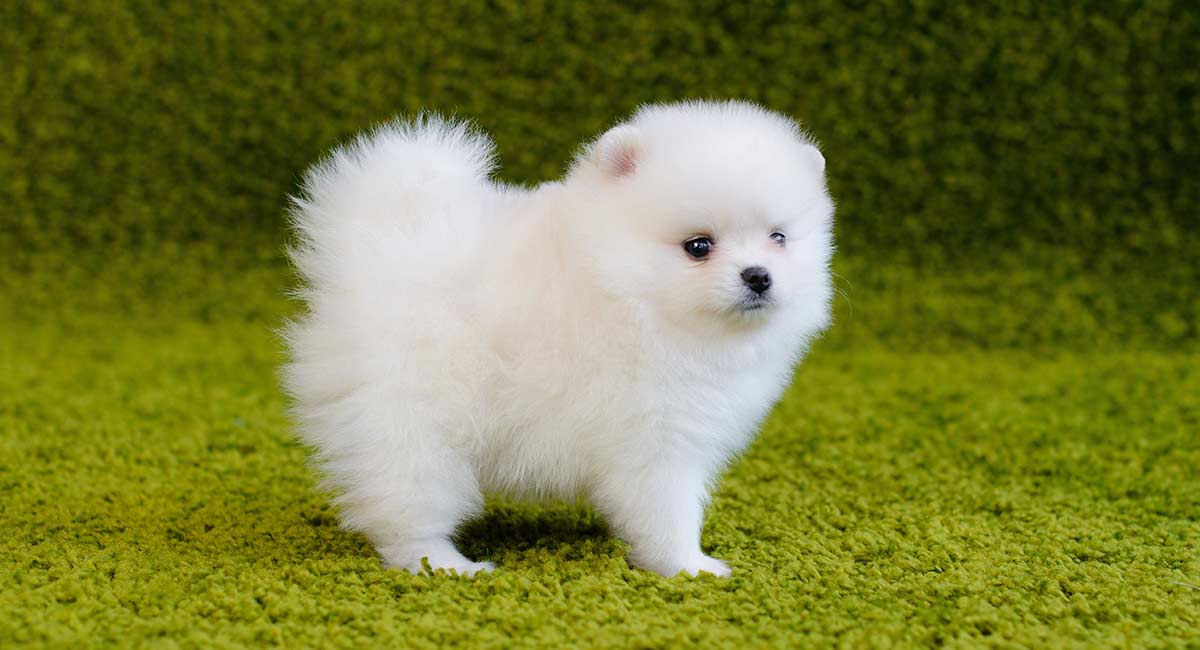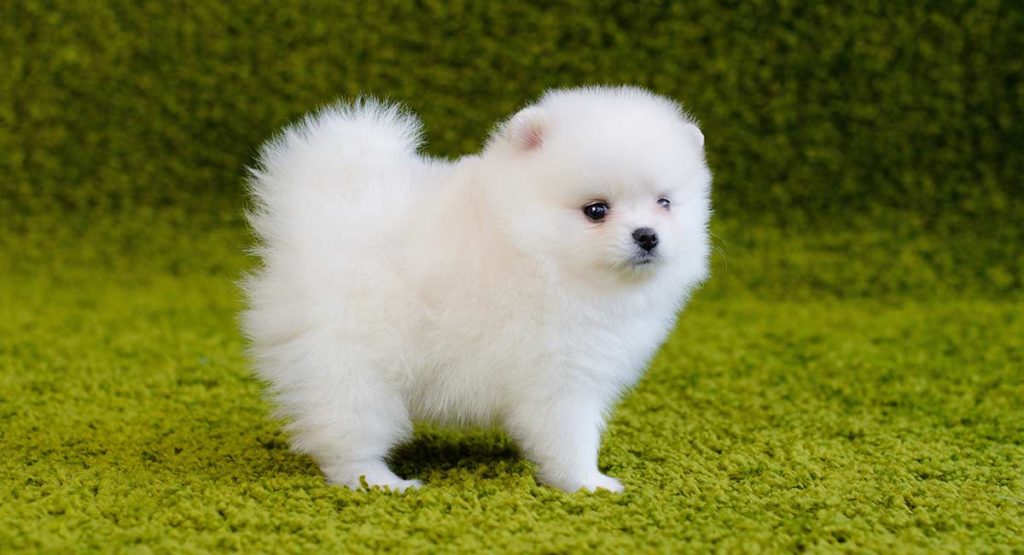 White Pomeranian dogs are small, fluffy pups with big personalities. They are incredibly rare, but you can find white Pomeranian puppies if you know where to look. Today we'll help you to find a white Pomeranian puppy, and care for them as they grow.
Amazingly, getting your hands on a real white Pomeranian puppy can happen. In this article we take a look at how Poms are bred to have snowy white coats, and let you know what you need to do to find a white Pomeranian puppy of your own!
What Is A White Pomeranian?
Mirror, mirror on the wall, who's the rarest of them all? A snow-white Pomeranian is perhaps one of the rarest color of Pomeranian today. In fact, breeding a true white fluffy Pomeranian could take as long as five generations to get right!
This is because there are so many different colored Pomeranians. And solid colors are already pretty difficult to come by to begin with. Not to mention, the genes that create most other colors and patterns in a Pomeranian's coat are more dominant than the gene that causes the coat to be white.
Thus, a white Pomeranian, sometimes referred to as an ice white Pomeranian, is very special indeed!
White Vs Cream Pomeranian
The ice white pomeranian is a pure snowy white with no trace of yellow. It should not be confused with the cream Pomeranian which is a lovely pale honey color.
White Pomeranian Origins
While some may confuse a white Pomeranian for an albino Pomeranian, that is simply not the case. In fact, the earliest Pomeranians were actually more commonly white, or sometimes black. It wasn't until Queen Victoria adopted an orange Pom that the color became so popular. Thus being one of the most common colors bred by enthusiasts!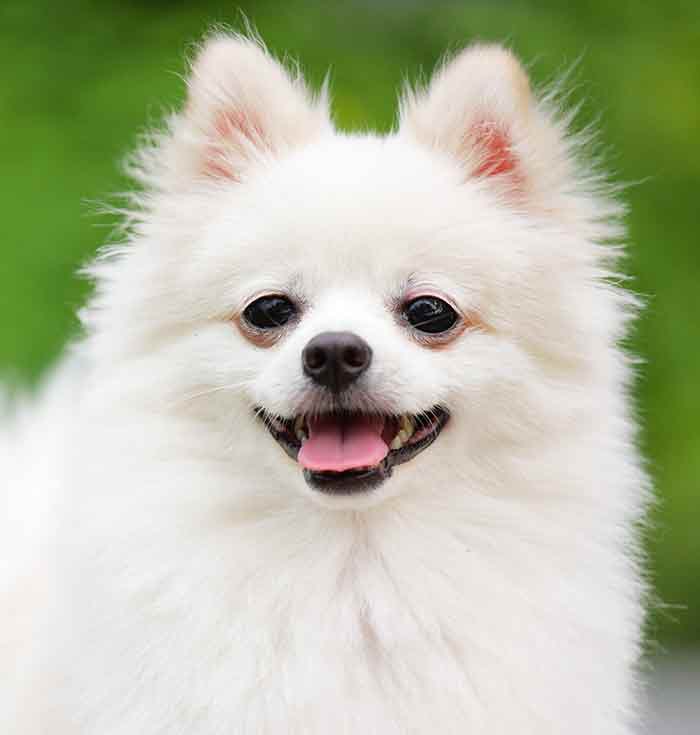 Today, however, a solid white Pomeranian is perhaps one of the rarest colors of Pomeranian to come by. This dog is specifically and carefully bred to maintain the ice white coat. Doing so while keeping the quality of the dog's fur texture and the breed's size as specified by the American Kennel Club (AKC).
A true white Pomeranian is most likely the cautiously crafted offspring of generations of careful breeding.
It's all in the genetics
The gene that causes a white Pom's coat to be white is recessive. Breeders must be careful during the breeding process as they work towards creating one. The breeding process of a true white Pomeranian is slow and could take years. With breeders carefully breeding out all other more dominant colors while simultaneously ensuring they don't overbreed whites to whites.
Overbreeding of whites to whites could cause Poms that are larger than the standard size. Or reduce the quality of fur texture and density. And just like with size, there are strict guidelines on when a Pom is truly white or not.
You see, a true white Pomeranian has absolutely no lemon or cream patches or other shadings in their fur. They must be purely white! Unfortunately, many Pomeranian's are registered as rare white Poms when they are not, simply because they are born white.
However, Pomeranian puppies often change color as they mature. To know if you truly have a white Pomeranian on your hands, you should wait until he reaches around eight to twelve weeks old.
White Pomeranian Dog Coat Care
Pomeranians of any color require a certain amount of upkeep, especially when it comes to grooming, and the white Pomeranian is no different. Just like other colored dogs, the white Pom has a double coat that will need consistent brushing to reduce matting and to help keep loose hair at bay. He will also need his ears cleaned regularly to avoid infection, and his claws trimmed to avoid breakage.
Other than that, a white Pomeranian does have a few special grooming needs you'll want to be aware of.
Tear staining: A white dog is going to show tear stains much more prevalently than Pomeranians of most other colors. It is best to have some quality tear stain products on hand and be sure to regularly and gently wipe your pup's face down with a clean canine wipe.
Paw hair overgrowth: Since a pure white coat is so, well, white, we recommend trimming around his paws to keep long fur from picking up excess dirt and grime. This will show up very obviously on his white paws.
Consistent wipe-downs: Whenever your dog comes in from a romp in the yard or a walk, it is best to wipe him down with some quality canine wipes. This will help to keep his white coat clean in between bath times.
Keep in mind that all dogs, not just the white Pomeranian, will benefit from high-quality dog food and daily exercise that meets their needs.
The Pomeranian, for example, is a small but active breed. A brisk walk every day and some playtime in the yard or in the home will be enough to meet his exercise requirements.
How Big is an Adult White Pomeranian?
The standard size of the Pomeranian, regardless of if he is white, orange, sable, or any other color, is still the same. Many white Pom lovers will look for a white toy Pomeranian or a white teacup Pomeranian, or even a white miniature Pomeranian. The truth is, all Pomeranians are of the toy group and their standard size, is about three to seven pounds in weight and under seven inches in height.
It's important to go through a reputable source who understands the standard size and weight of a Pom. This is vital not only if you plan to show your Pomeranian, but also because ensuring they were bred to grow to the proper size gives a better chance of longevity and health.
Size, Height and Weight
A true white Pom from a reputable source should be of the standard size and weight of a typical Pomeranian. The Pomeranian breed needs to be about six to seven inches tall, weighing anywhere from three to six pounds.
Of course, the white Pomeranian will be, you guessed it, white! This means no other color markings will do, regardless of how faint they are. And an all-white dog will almost always have dark brown or black eyes.
White Pomeranian Lifespan and Health Concerns
Pomeranians live anywhere from 12 to 16 years. Also, white dogs are no less prone to certain inheritable health issues as other Pomeranians. You should be on the lookout for eye problems such as:
Distichiasis
Entropion
Hypoglycemia
Patellar luxation
Tracheal collapse
Coat loss
Hypothyroidism.
A high-quality dog food, exercise, and regular vet checkups could help to reduce or even prevent certain health issues in your Pomeranian. However, not all health issues are avoidable as some are genetic. For this reason, we recommend early health screening whenever you get a new puppy.
Health screening could help you to prevent or prepare for possible health issues your Pomeranian may face in the future. Also, keep in mind that reputable breeders will be able to provide certificates proving your puppy has been health screened.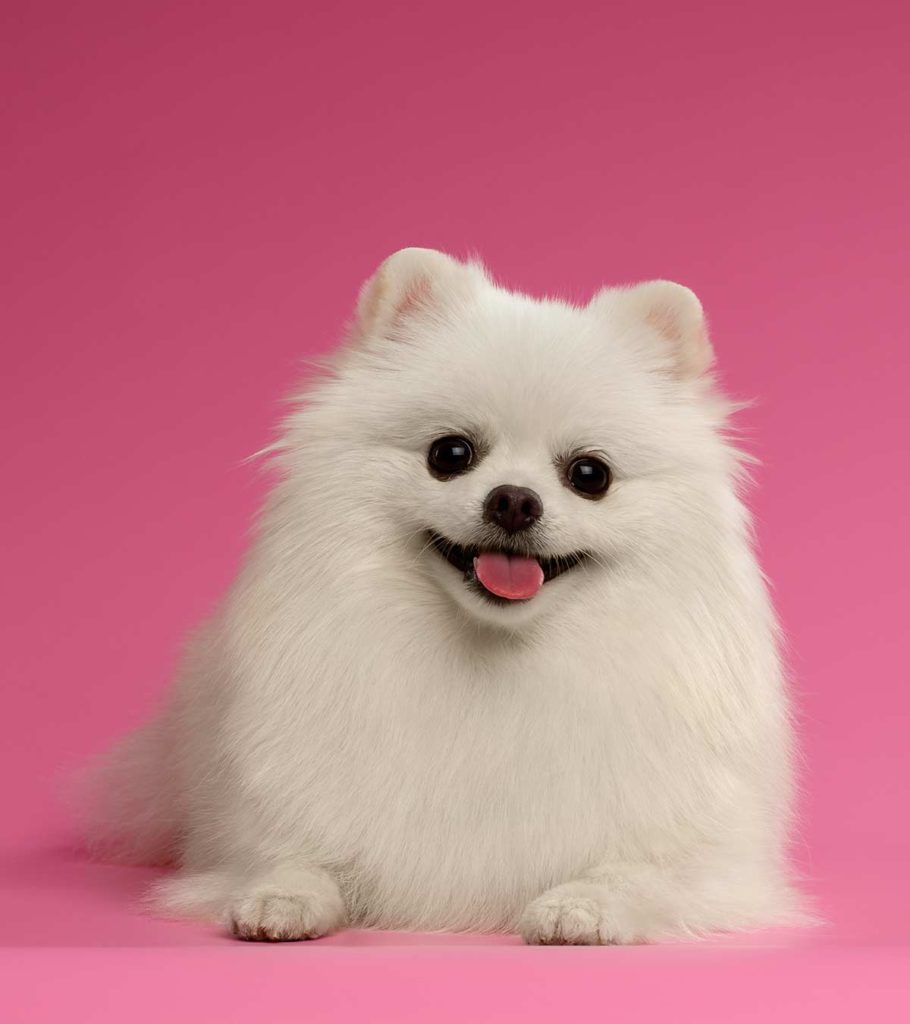 White Pomeranian Temperament
Historically bred to be lap dogs, the small Pomeranian has a big heart. Poms are known for their friendly, affectionate nature, and a white Pomeranian's personality is no exception! Spunky and outgoing, intelligent and eager to please, the Pomeranian is full of life and knows how to have fun!
Keep in mind Pomeranians in general love to use their voices, so they make for wonderful watchdogs. However, they are quite small, and while they do well with children, they can be easily injured if handled too roughly.
The Pomeranian has something of a big ego as well, with virtually no idea how small he is. Keep this in mind when you bring your white Pomeranian around other strange dogs who are bigger than him. If he doesn't like them, he won't be afraid to pick a fight, and that could be dangerous for him!
Early socialization and obedience training will help to keep your dog on track and happy in all situations.
Will White Pomeranian Puppies Stay White?
When seeking a true white puppy, be sure to keep in mind that just because you've found a white puppy does not mean he will stay white. Pomeranian puppies change color as they mature, and even breeders who specialize in white Pomeranian puppies won't have white puppies every time.
If you have your heart set on a white dog, we recommend researching what to look for in a puppy. Remember, a Pomeranian puppy's true color may not show up until he is 8 to 12 weeks old. But sometimes you can tell early on by looking behind the puppy's ears. Typically, a true white puppy will not have any shading or discoloration behind his ears.
Is A White Pomeranian Right for Me?
If you love Pomeranians in general and are looking for something unique, then the white Pomeranian may be a perfect choice! However, they will be difficult to come by and therefore they will likely be a little bit pricier than your typical Pomeranian.
Also, be aware that, like any Pomeranian, grooming, and maintenance is going to be a bit of a commitment for you. A white Pomeranian especially will require some extra care when it comes to tear stains and coat upkeep.
You should also remember that they are vocal, so if you are looking for a quieter dog, the Pom may not be the best choice. However, if you want a dog who will alert you of all things suspicious (and not so suspicious) the Pomeranian is the perfect pet!
Keep in mind that very young children could accidentally injure the tiny Pomeranian, so consider this before bringing a toy breed into a home with young or rougher children. And of course, we always recommend early socialization with any new dog, whether he is a tiny Pom or a huge Mastiff!
The White Mini Pomeranian
Small is cute so smaller must be cuter right? Well, not always. And we need to take care when looking for baby Pomeranian puppies. The miniature Pom is sometimes refered to as a teacup or micro Pomeranian, because they can literally fit in a teacup. They are truly tiny.
The problem with miniaturization, especially when it applies to what is already a very small breed, is that it comes with some big risks. The last thing you want is to bring home a sickly puppy that is destined for a very short life. So it's important that we mention those risks.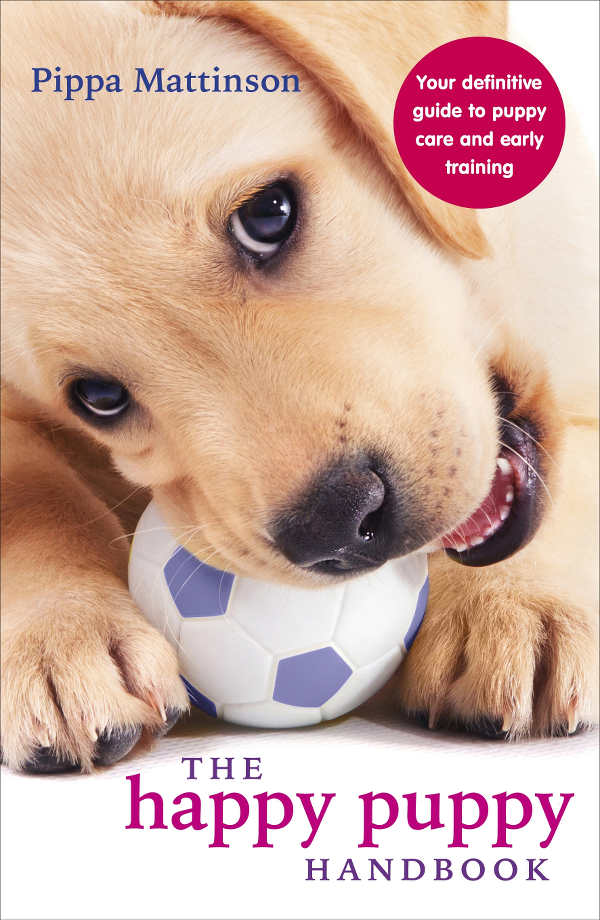 Being smaller than the average dog isn't always a disadvantage, some of our small to medium breeds are the longest lived. But extremes of size, at both ends of the scale are dangerous to dogs. So giant breeds and very tiny breeds, tend to have serious health issues. And it's best to aim for moderation.
There are some other problem with Pomeranian teacup dogs too. One is that they are very vulnerable to accidental injury. If a child trips over a teacup puppy it isn't going to end well. It's also important to remember that most reputable Pomeranian breeders would not consider creating teacup breeds because they care too much about the health and happiness of their puppies. So do think hard before you are tempted to visit a litter of teacup Pomeranian puppies.
I Must Have A White Pomeranian Puppy! Where Can I Find One?
These pups are gorgeous, rare, and sweet, so we can't blame you for wanting one to call your own. However, when looking for an ice white Pomeranian, beware of the novice breeder or sellers online.
All Pomeranians should come in one standard size. And should be registered with the American Kennel Club. Some people will try and deceive you by claiming their "white" puppy is a true white Pomeranian or showing you papers for a fake registry. Others may truly think they have these rare treasures on their hands and sell them for more than they should.
Pomeranian adoption
It's always worth checking out your local Pomeranian rescue society if you are willing to consider an adult dog rather than a puppy. It isn't very likely that you will find a white Pom waiting to be rescued but there's no harm in asking!
Finding White Pomeranian Puppies
For your best bet on finding white Pomeranian puppies, we recommend going through breeders who specialize in them. And are able to show you proof of other white litters and parent breeds.
Also, keep the white Pomeranian dog price in mind. While the average Pomeranian puppy price varies from $600 to $1500, the white Pomeranian price could be as high as $4000.
Remember, one of the most important things is that you get your baby Pomeranian through a reputable source. Responsible breeders should be able to provide health certificates proving their puppies have been screened and are ready for adoption. Beware of breeds trying to cash in on the high teacup Pomeranian price – a healthy full grown Pomeranian should weigh at least 3lbs, preferably nearer 6lbs
Good luck with your search and best of luck with your white Pomeranian when you find them! You surely have a rare snow-white treasure on your hands! Let us know about your cute Pomeranian puppies in the comments.
Related Articles
References
Lynn Buzhardt, DVM. Genetics Basics – Coat Color Genetics in Dogs, VCA Hospitals.
Ross D. Clark, DVM. Medical, Genetic & Behavioral Risk Factors of Pomeranians, Origin, and History, Breeding and Whelping, Recognized Risk Factors in Pomeranians.
Ruvinsky &Sampson. The Genetics of the Dog, White Dogs, Genetics of Coat Color and Hair Texture.
Schmeitzel & Lothrop. Hormonal Abnormalities in Pomeranians with Normal Coat and in Pomeranians with Growth Hormone-Responsive Dermatosis, Journal of the American Veterinary Medical Association.
Schmutz & Berryere. Genes Affecting Coat Color and Pattern in Domestic Dogs: A Review, Animal Genetics.
George M. Strain, PhD. Deafness and the Merle Gene.
Howell et al. Puppy Parties and Beyond: the role of early age socialization practices on adult dog behavior, Volume 6.