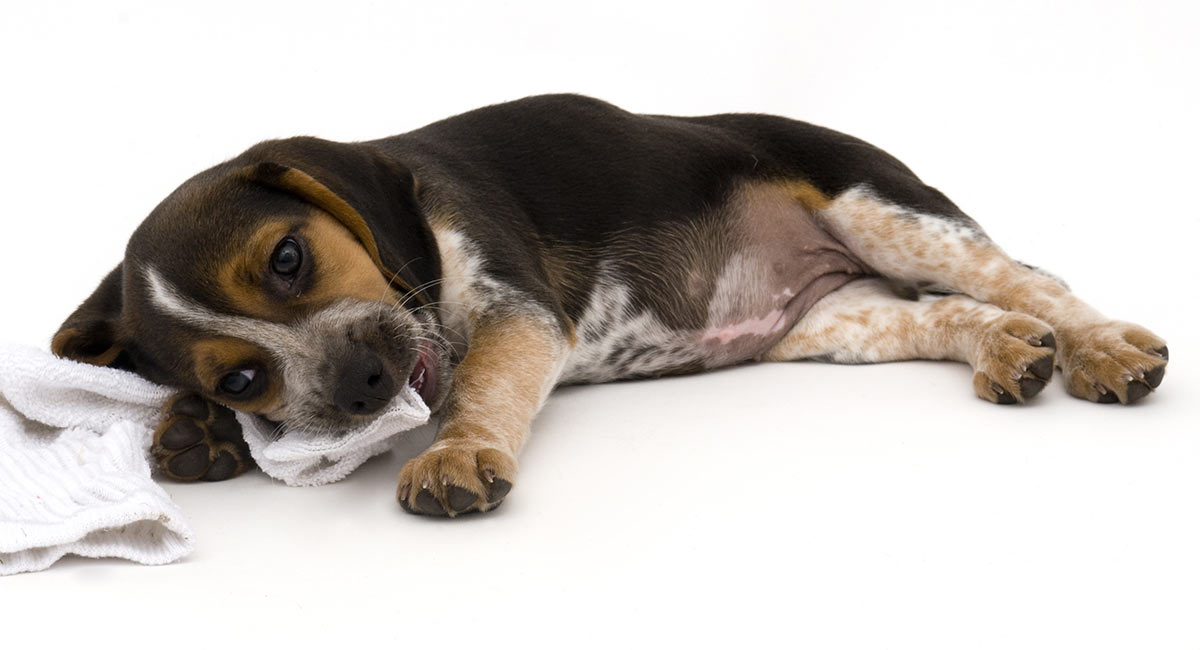 The blue tick Beagle is a rare type of purebred Beagle dog. They share all the usual Beagle traits, intelligence, high energy and lots of affection, but their tricolored fur has flecks or ticks of blue. Blue tick Beagle puppies have short, smooth coats like every other Beagle, but the pale areas have grey speckles all over them. A working, hunting dog, these cute pups make amazing pets for homes with an active lifestyle and an interest in training.
Contents
Do you love Beagles? Then you'll adore these blue tick Beagle facts. From celebrity Beagles to amazing information about your favorite pup. Get set for a quick and fun rundown of all the blue tick info that you could ever need. By the time you're done with our entertaining and educational fact list, you might even see a cute and likeable hound in your future!
1. Blue tick Beagle is just a color pattern
The blue coloration in his coat is what sets a blue tick beagle apart from the rest of the standard Beagles. The ticking appearance occurs when a primarily black or white colored Beagle sports contrasting-colored hair in certain patches.
The result is a blue-ish cast that appears to be a "faded" part of the coat. I like to think of it as a "camo" pattern, that same type of soft mottling of colors that you see in camouflage clothing.
2. A Blue Tick Beagle is a distinctive breed of Beagle, true or false?
False. Rest assured, a blue tick Beagle is as Beagle as they come: all Beagles belong to the hound group. The blue tick part of the name simply refers to the unique color markings in their coat.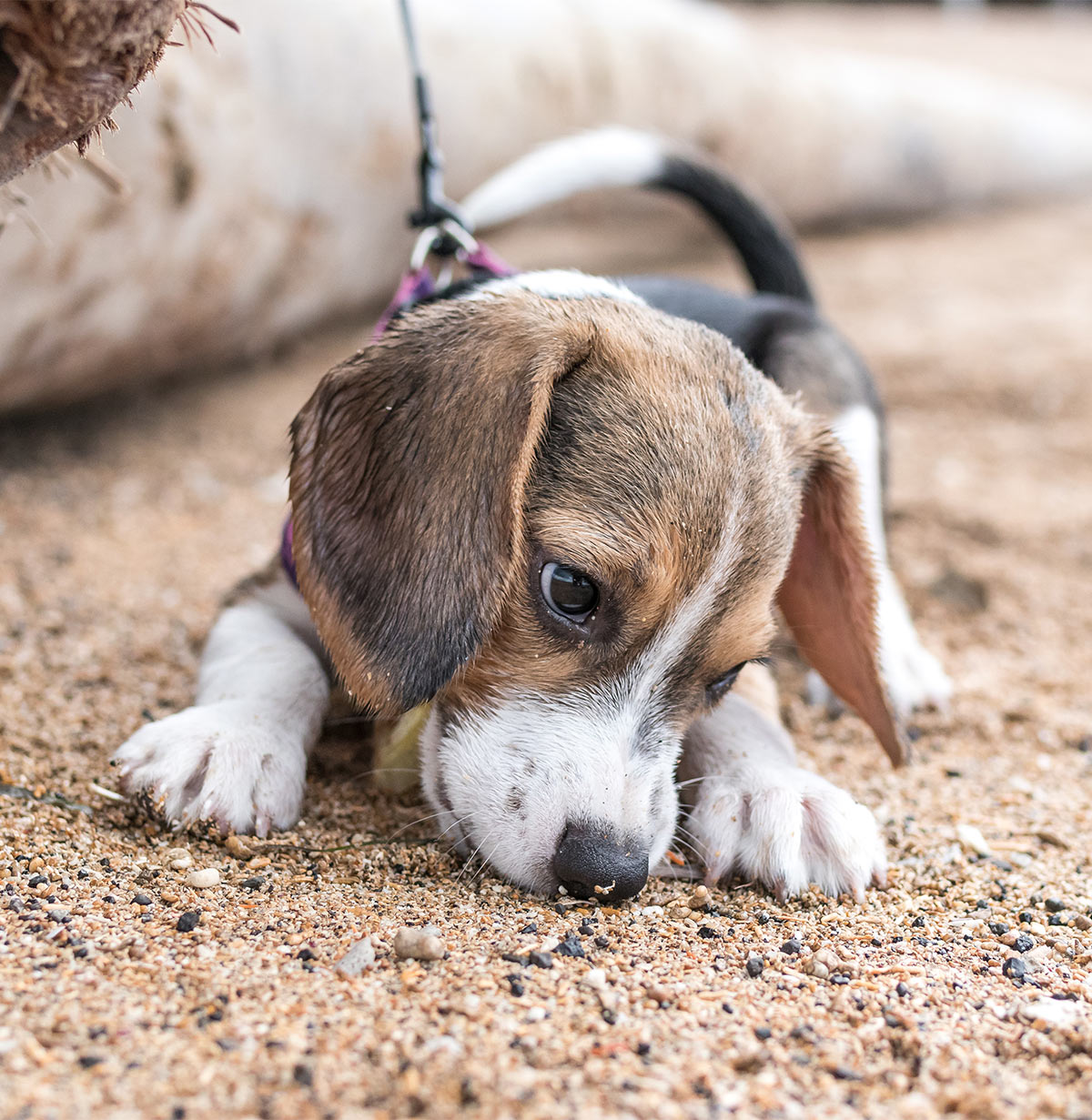 3. Beagles are among the Top Ten most popular dogs
Beagles are the 5th most popular dog breed in the US. Where they also enjoy the status of being the most popular hound breed.
4. The blue tick Beagle is not related to the blue tick Coonhound
I say this in jest, but the blue tick beagle is often mistaken with, and vice versa, for the blue tick coonhound. Although they have similar sounding names, they are indeed different animals and in no way related (by blood, marriage or otherwise!).
5. Are blue tick Beagles hard to train?
Beagles can have a bit of a stubborn streak, but they respond best to positive and supportive training methods. As Beagles like their how, a well-deserved treat every now and then can work wonders in the training department.
6. One of the most famous cartoon canines is a Beagle
That's right, Charlie Brown's faithful companion Snoopy is a Beagle. Although Snoop Dog is not a blue ticked Beagle, he is a proud Beagle hound nonetheless!
Snoopy has been in our lives since 1950, when his creator Charles M. Schulz debuted the loveable pooch in his comic strip Peanuts, where Snoopy fancied himself a famous WWI pilot!
Snoopy's influence even extends to NASA, where the The Silver Snoopy Award is bestowed upon employees for, "enhancing the probability of mission success, or made improvements in design," among other achievements. Way to represent the beagle breed, Snoopy!
7. Beagles enjoy a typical lifespan for dogs in their size group
If you find a dog from a breeders website or a rescue group, how long can you expect your new pooch to live? Beagles in general enjoy an average lifespan of 13 years, with 12-15 years being a typical range.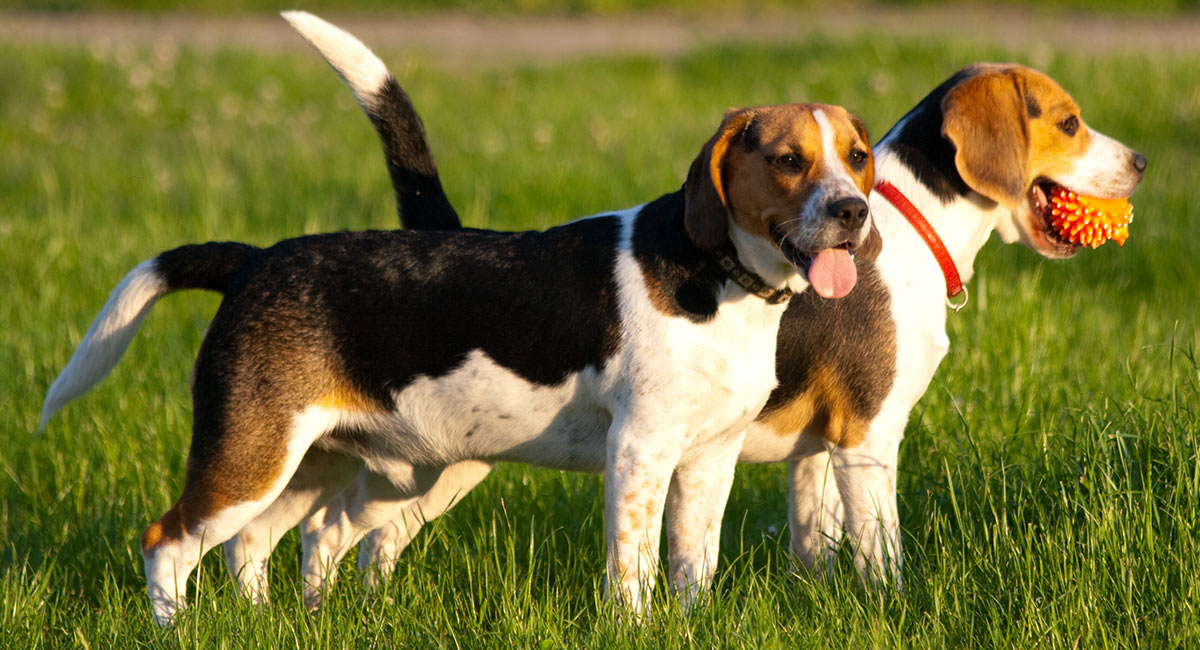 8. Some Beagles like to bay, and not just at a full moon!
Before you bring home a Beagle, consider sampling their vocal repertoire. Seriously. Why? Because some Beagles really, really like to bay and bark. They are hounds after all, so they're just doing what comes naturally.
With this in mind, you may want to ponder the ramifications of a dog that enjoys belting out a few "tunes." Do you live in an apartment? Or have a housemate who might object to a little late night crooning? Just something to consider!
9. Many famous people have been owned by beagles, including these newsmakers:
Frankie Muniz, Barry Manilow, Andy Cohen, Helio Castroneves, and Lyndon B. Johnson.
10. Pure breed health testing
Before you buy a pure breed dog such as the Beagle, it is important to inquire about its health status as well as that of its parents. Responsible breeders will readily provide you with this crucial information, and discuss fully the potential health risks of a particular breed.
11. What are the typical health issues for blue tick beagles?
As a whole, the blue tick Beagle is prone to hypothyroidism and epilepsy, as well as disk issues.
12. There is nothing funny about this particular beagle health issue
Some blue tick Beagle breeds and other types develop a condition known as "Funny Puppy" wherein the pup develops at a slower than normal rate. The unfortunate result is a Beagle that is left with a curved back and weakened legs.
13. Blue tick beagles are compact and handsome creatures
Blue tick Beagles range from almost 20 pounds up to around 35 pounds.
They average just over a foot in height with some pooches being well over 14 inches tall.
14. The blue tick Beagle is a scenthound
Scent hounds are used to help hunters find prey or game via their sense of smell. Beagles are used in this regard primarily for hunting rabbits and hares.
It should also be noted that because of their superior ability, scent hounds are used in search and rescue operations.
15. Their superior sense of smell can also lead them astray!
Historically beagles were valued, and bred, for their highly attuned sense of smell. Today they retain the instinct to follow a scent that intrigues them.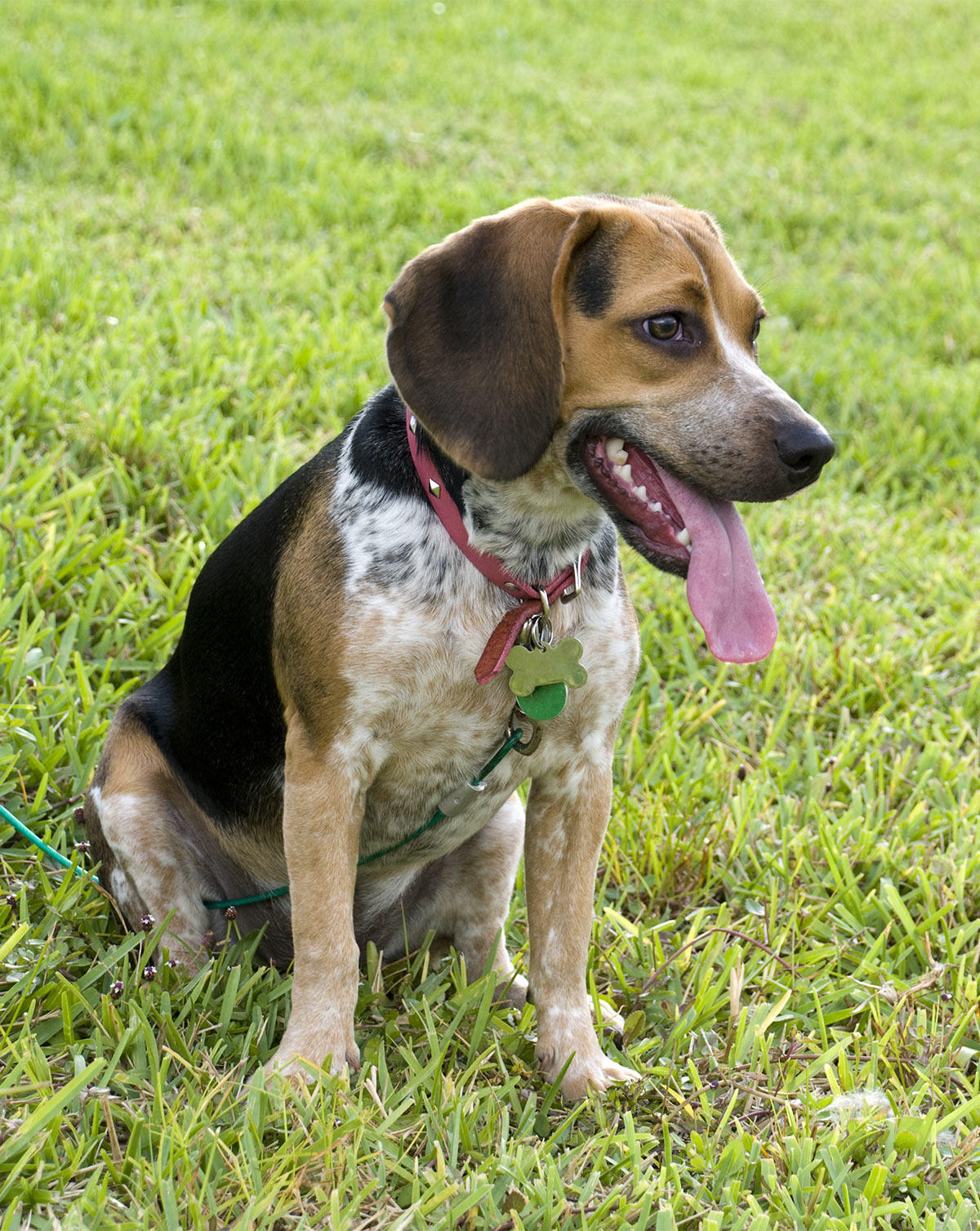 Because of their proclivity to run off after an interesting waft of this or that, it's important to keep them safe outdoors by keeping them on a leash and/or in a fenced yard.
16. Can Beagles swim?
Believe it or not, not all dogs can swim! Luckily Beagles are excellent swimmers who take to the water quite naturally.
17. Blue is a relative term
If you've dabbled at all in painting, or ever scribbled with the contents of a Crayola crayon box, you know that the blue hue comes in an almost infinite amount of shades.
Prussian blue, Copenhagen blue, ultramarine blue, just to name a few! And so it is with the blue tick Beagle, as their blue coloration is described in a variety of ways.
While some stick to traditional labels such as midnight blue, others describe the blue tick coloration as, "the grey color of the Great Dane."
18. Are Beagles a high-maintenance dog?
Beagles are small dogs with a medium level of energy. They will enjoy trips to the dog park to let off steam, and regular exercise or walks with their favorite human.
Beagles sport a heavy but short coat that requires regular brushing and sheds on a seasonal basis. They are not considered to be hypoallergenic.
19. Beagles have been around a long, long, time.
Records of Beagle-type dogs go back over 2,000 years to Ancient Greece, but the modern Beagle breed originated circa the mid-1800's in Great Britain.
20. What does Charles Darwin have in common with the Beagle breed?
The late, preeminent British scientist named his famous ocean-going vessel, "HMS Beagle" after the distinguished canine scent hound.
21. Have you ever heard of a blue tick pocket Beagle? How about a miniature blue tick Beagle?
These mighty mites are also hound dogs, they just come in a smaller package than the average blue tick beagle. How much smaller? Pocket or mini blue tick Beagle dogs range from 7 to 12 inches, and weigh anywhere from 7 to 15 pounds.
22. Blue tick Beagle puppies
These exceptional blue-colored pups aren't exactly inexpensive. How much should prospective owners expect to pay for a Beagle blue tick hound?
An online search revealed the blue tick Beagle price range for puppies anywhere from as low as $300 all the way up to $600.
23. Beagle puppy price varies a lot
It is their most excellent shade of blue that makes these little guys command higher prices than some of the other less dazzling colored beagles!
In reality, blue markings are simply less common (and therefore more valuable in some owners' eyes) than other shades and markings such as cinnamon, lemon, black and white. Of course, beauty is in the eye of the beholder!
24. Blue tick Beagles are a great choice for families as well as singletons
The blue tick Beagle is a sociable dog, and a little training will go a long way. Because their origins place them as pack animals, they enjoy being in the company of other animals.
They will benefit from a regular exercise outlet for their active energy.
And as befits their hunting DNA, they like to explore, especially if they pick up on an interesting scent trail!
25. Did you also know that Beagles can be mixed with other breeds to create a unique cross breed pup?
Yes Virginia, there is such a thing as a blue tick Beagle mix, blue tick hound beagle mix, even blue tick hound Beagle mix puppies!
26. Beagles would love to be your BFF
Blue tick Beagles are not solitary in nature.
They like to be around people and in particular with their special human.
It would not be a wise decision to acquire one of these alert, cheerful dogs if you must leave her alone for long periods of time.
27. Beagles are drop-eared dogs, what does this mean?
Drop eared dogs are prone to infections because the air does not freely circulate in their droopy dog ears.
If you have a blue tick Beagle, be sure to check his ears regularly for signs of infection.
28. Snoopy is not the only famous Beagle in pop culture!
If you're a fan of that fantastic Claymation duo Wallace and Gromit (created by Nick Park), you know that most aficionados agree that intelligent, loyal, and long-suffering Gromit is most definitely a Beagle!
29. Some Beagles exhibit a quirky little trait that involves how they breathe in air
It's called reverse sneezing, and happens when they breathe in air via both the nose and mouth. Although it sounds as if the animal is gasping for air, the habit causes no harm to the dog.