The unusual and uncommon Azawakh dog is slowly gaining popularity in the US. Azawakhs grow to between 23 and 29 inches tall. A healthy adult will usually weigh between 33 and 55 pounds. This rare breed is loyal and very affectionate, but has an independent streak. In the right home, they can make really awesome pets. Let's take a closer look and find out whether you have what it takes to be the perfect Azawakh parent!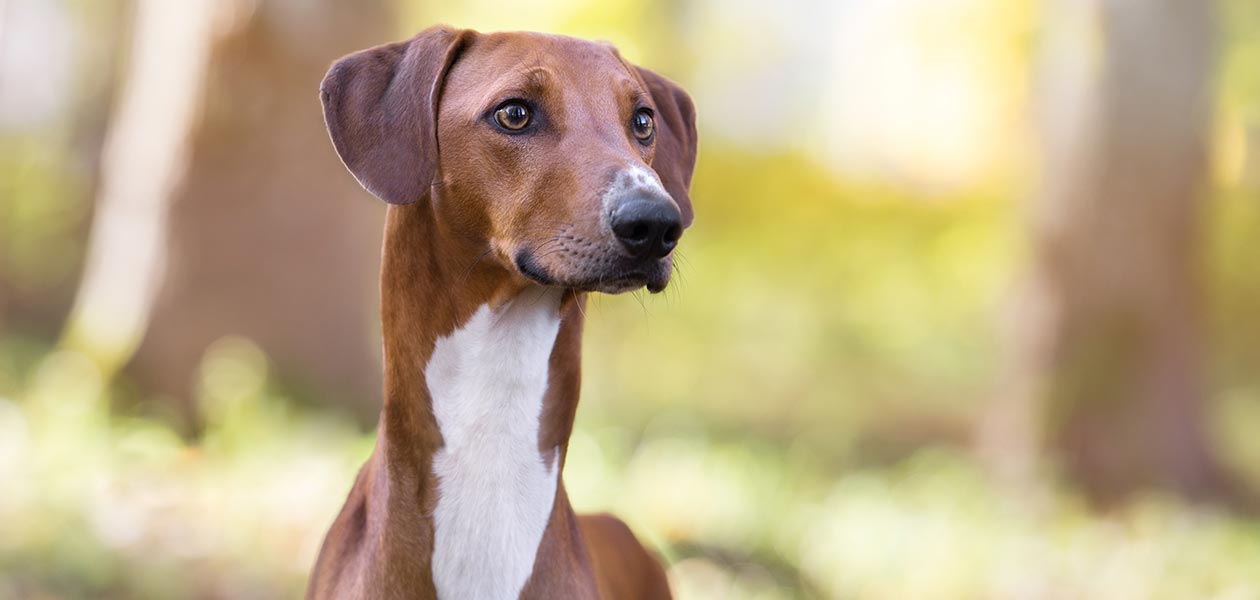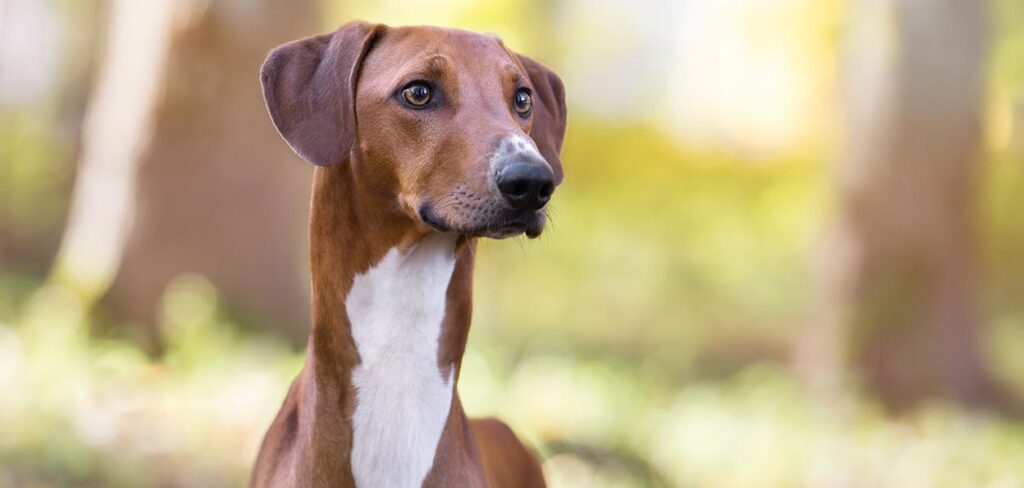 Breed At A Glance
Popularity: 190 out of 193 AKC breeds
Purpose: Sighthound
Weight: 33 – 55 pounds
Temperament: Affectionate, loyal, independent
Azawakh Breed Review: Contents
History and Original Purpose
The Azawakh dog breed originally comes from West Africa. Specifically, the countries Niger, Mali, and Burkina Faso. They were originally owned by the blue-clad Tuareg nomads in the Azawakh valley. In their native language, these dogs are called 'idii n' illeli', which means 'sighthound of the free people'.
Originally, these dogs had a dual purpose of protecting the family and home, and hunting meat for them to eat. They were most likely to catch wild hares, antelopes, and wild boars. But, this purpose has changed as firearms have become more common. The breed didn't make it to America until 1980, and it remains a pretty uncommon sight here.
Fun Facts About Azawakh Dogs
The Azawakh breed is also sometimes called the Tuareg Sloughi. From 1997 to 2018, it was an accepted breed on AKC's foundation stock service. However, on the 1st January 2019, it progressed to full recognition on the AKC stud book.
The slim, sleek Azawakh is not currently very popular in America. But, it is slowly gaining traction as a potential family pet.
Azawakh Appearance
The Azawakh dog is a sleek breed that partly resembles the more common Greyhound and Sloughi breeds. It grows from 23 to 29 inches tall as an adult, weighing from 33 to 55 pounds. Overall they look muscular and athletic. It's normal for some ribs and hip bones to be visible in this breed.
These dogs have large, almond shaped eyes, and droopy, triangular ears set high on their heads. They also have long, narrow muzzles, and long, delicate legs.
Coat Type and Colors
Azawakhs have short, fine coats over most of their body. In terms of their color and markings, there is a large range that they can have. In fact, they can be pretty much any color you can think of!
From shades like white, cream, and fawn, to deeper varieties like red, brown, and black. Markings include a black mask, brindle, grizzle, parti-color, piebald, and white markings.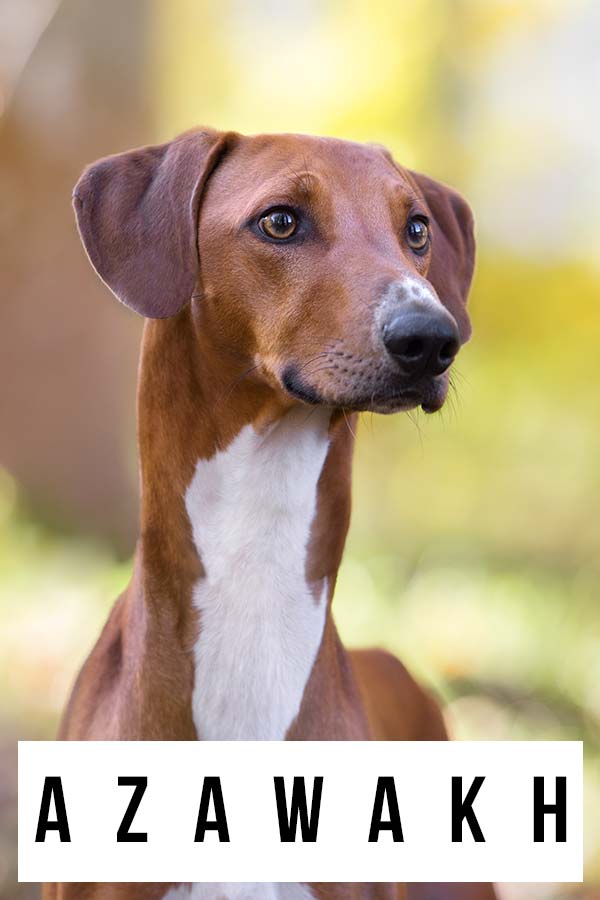 Azawakh Temperament
If you're liking the sound of this breed so far, it's important to find out about its temperament. Generally, the Azawakh is loyal and affectionate. They can be somewhat independent though. So, they might find exploring and making their own decisions about what to do next very rewarding.
Following their original purpose as a companion dog, they make great companions to modern families. They're athletic and energetic. So, they will enjoy getting their regular exercise alongside you. As long as they have been socialized well, this breed will be good with kids, and very loyal to all of their close family.
Natural Instincts
One thing to be aware of with the Azawakh is the risk of natural chase and hunting instincts. These dogs were originally used to hunt and provide the family with their meat. So, your pooch may be prone to chasing after smaller animals if it sees them running.
On the one hand, this makes them great candidates for doggy sports like lure coursing. But, on the other hand, it can make walks through the country or parks difficult. If your pup sees a squirrel or rabbit, you may not be able to stop them from running off after it.
This can make things tricky if you have other small pets. Azawakhs may be fine with animals they are brought up with. But it's a risk owners should always be aware of.
Socialization
Like all dog breeds, it's really important for owners to socialize their Azawakh puppies well before they reach 16 weeks old. Letting your puppy experience as many things, people, and environments as possible when they are younger will help them be confident, happy, friendly adults.
It will also make your dog less likely to react with fear-based aggression when facing a new experience.
Socialization won't eliminate the dog's natural instincts. But, it will prevent other potential problems.
Training and Exercising your Azawakh
Training and exercising are one of the most fun parts of owning a dog. The Azawakh needs regular, daily exercise, but not excessive amounts. This breed is great for active families who want a dog they can take running or hiking. But, remember to be aware of those natural instincts.
Azawakhs enjoy spending as much time with you as possible. So, they will do well with families who can exercise alongside them. Either formally, or with playing sessions. Their independent streak can pose a challenge in training. The rewards you offer for good behavior will have to compete with how rewarding they find it just to go off and do their own thing!
It will help to start training from a young age, and be fun and consistent. Punishment based methods won't work well with this breed. They learn best with positive reinforcement based training.
Azawakh Health and Care
All dog breeds are prone to some health issues. But, the Azawakh is generally healthy, as long as you choose a reputable breeder. However, there are some tests recommended by the OFA. This includes:
Hips and elbows
Cardiac problems
Eye problems
Hypothyroidism
Studies have also investigated problems like leukomyeloencephalopathy, and cerebellar hypoplasia.
Although rare in the breed, these are problems that are potentially a risk for these dogs. So, make sure to only choose reputable breeders that health test parent dogs.
Do Azawakh Dogs Make Good Family Pets?
For the right family, this breed can be a great family pet. Azawakhs are friendly, intelligent, and affectionate dogs that love to spend plenty of time with their people. They won't do well with families that aren't at home for long periods in the day, leaving their pets alone. They need company. These dogs also need families that can provide them with regular exercise, and plenty of training.
Socialization is vital for puppies. So owners must dedicate plenty of time to this, particularly in the first few months of the puppy's life. If you're in America, you may struggle to find this breed, as they are so uncommon. So, be prepared to stay on a wait list with reputable breeders.
Rescuing an Azawakh
These dogs aren't hugely popular in America yet. So, you might struggle to find one in a rescue center. It is also likely to be hard finding breed specific rescue centers for the Azawakh.
If you're keen to bring home a rescue dog, you will likely have to wait for one to come along, rather than finding it straight away. Let local rescue centers know what you're looking for, so they can contact you if one comes in.
Plus, check in with rescue centers specific to hound breeds. They are likely to welcome Azawakhs in.
Finding an Azawakh Puppy
Just like how finding a rescue pup might be tricky, you might struggle to find an Azawakh puppy. You may need to go on a waiting list for litters with reputable breeders. But, don't resort to puppy mills or pet stores in your attempt to get a puppy sooner.
These dogs are generally healthy, but the risk of health issues increases if you turn to puppy mills and pet stores. These places breed to meet demand with no care for the health of puppies or their parents. It's all about quick profit.
Although their puppies may be cheaper up front, the risk of veterinary bills throughout the rest of their lives will offset this.
Choose reputable breeders, and ask lots of questions. Expect questions back! The best breeders want to make sure their pups are going to good homes.
You can read more about finding a healthy puppy in our puppy search guide.
Raising an Azawakh Puppy
Azawakh puppies can take a lot of work. They need consistent socialization and training from a young age. But, there are some great guides to help you with all aspects of puppy care and training.
You'll find them listed on our puppy care page.
You can also take a look at our online Puppy Parenting Course for help with every step of raising a puppy.
Similar Breeds
If you love the Azawakh, but aren't sure it's perfect for your family, there are plenty of similar dogs you can also consider. Here are just a few:
Pros And Cons of Getting An Azawakh
Want to recap the best and worst bits of this unique breed? Take a look below:
Cons
Can be really hard to find a puppy or rescue dog
Very few studies on breed health
Can be quite independent dogs
Natural chase instincts can make walks and homes with other pets tricky
Pros
Comes in a huge variety of colors and patterns
They have lovely temperaments, and love to spend lots of time with you
They enjoy playing and respond well to positive training methods
Generally very healthy dogs
Are you preparing to bring home one of these uncommon dogs?
Azawakh Products and Accessories
If you're getting ready to welcome an Azawakh into your family, there are plenty of great doggy products you can get. Take a look at some of the guides below for more information!
If you already have one at home, make sure to tell us what they're like in the comments below!
Is An Azawakh Puppy Right For You?
The unusuaal Azawakh is loving and devoted. But they are also headstrong, and have a high prey drive. They can make great homes for people invested in positive dog training, that have the time to socialize them properly.
References And Resources