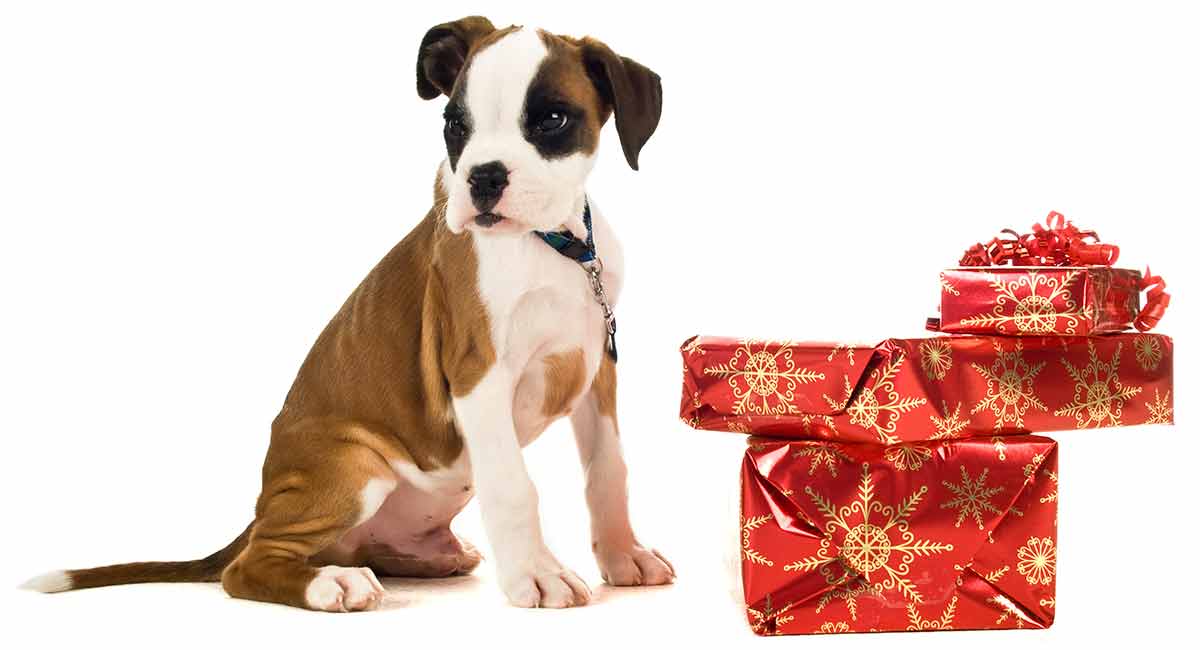 The best Boxer dog gifts show off the fun and loyal personality of this brilliant breed.
But they also need to reflect the person you are giving them to.
That's why it's important to have a varied range of ideas to choose from.
Whether you are looking for themed gifts, apparel, home decor or toys, there is something for every Boxer lover.
All of these products were carefully and independently selected by the Happy Puppy Site team. If you decide to make a purchase from one of the links marked by an asterisk, we may earn a small commission on that sale. This is at no extra cost to you.
Gifts for Boxer Dog Lovers
You don't necessarily need to own a Boxer dog to love the breed.
These guys are irresistible—from their big eyes down to their funny little tails.
Their infectious personality has every dog lover vying for their attention.
Boxer Themed Welcome Statue
For starters, check out this adorable Boxer themed welcome statue* by World of Wonders.
Built to be an eye-catching ode to any Boxer lover near and far.
This small porch piece will let everyone know that only like-minded Boxer loving folk are welcome in this domain.
We think this next Boxer gift would go well with the Boxer statue above.
Skye Boxer-opoly Game
And for the real Boxer fanatic, you can't pass up this Late for the Skye Boxer-Opoly game*.
It's an old-school board game with a modern-day twist.
Best of all, it's totally Boxer-themed.
Gather your friends and family and enjoy this pawsome, one-of-a-kind Boxer gift game set.
It is great for up to six players and comes with super cute, Boxer-themed playing pieces.
But what if you know a Boxerless Boxer lover who wants a soft, fuzzy Boxer to hug?
DEMDACO Boxer Plush Toy
While nothing can compare to the real thing, we bet the DEMDACO Brown Boxer Dog plush beanbag stuffed toy* will at least elicit some strong snuggles.
This plush stuffed dog may not be real, but he's just as soft and snuggly.
He is even weighted down with bean bag fillers to add extra comfort.
Of course, we couldn't finish this list without a car decal for those Boxer dog-obsessed humans you know.
LittleGifts Car Magnets
Why not declare it loud and proud with this adorable and clear-cut car magnet by Smart Tag LIttleGifts Car Magnets*.
There's no stickers or messy window damage when it's time to take it off.
You can move this magnetic decal anytime you like. Best of all, it's Boxer-themed.
Boxer Dog Gifts and Collectibles
Do you know someone who needs a Boxer collectible?
We have a list of Boxer collectibles and gifts below that will simply melt your heart.
Whether you are seeking a memorial collector piece or just something sweet and sentimental for that Boxer loving pal of yours, we've got you covered.
Boxer Bracelet
Let's start out with this gorgeous Boxer-themed bracelet by Rachel Olevia*.
It is simple, beautiful and adorned with the perfect number of charms for the Boxer loving woman in your life.
Complete with a silver paw, bone and Boxer silhouette, we are certain this piece will become a favorite accessory in no time.
We also love that it comes in an adorable box that declares proudly "Best Boxer Mom Ever."
How cute is that?
DEMDACO Willow Tree Angel
For a timeless collection piece, we love this Willow Tree Angel of Friendship by Demdaco*.
These classic collectible figurines feature a number of different carvings and poses for all kinds of life milestones.
But this one in particular honors the companionship and everlasting love between a person and her dog.
Willo Tree Statue For Boxer
Another Willow Tree statue for Boxer* lovers honors the human and canine relationship, only this one offers comfort.
This child hugging a dog is sure to be a timeless and beloved collectible for any Boxer lover—or dog lovers of any kinds.
Are you looking for a collectible that captures the pure innocence and love in a Boxer's eyes?
Pet Pals Boxer Puppy Statue
This "Pet Pals" Boxer puppy statue* by Border Concepts perfectly depicts that one-of-a-kind Boxer expression.
The one that has stolen so many hearts over the years.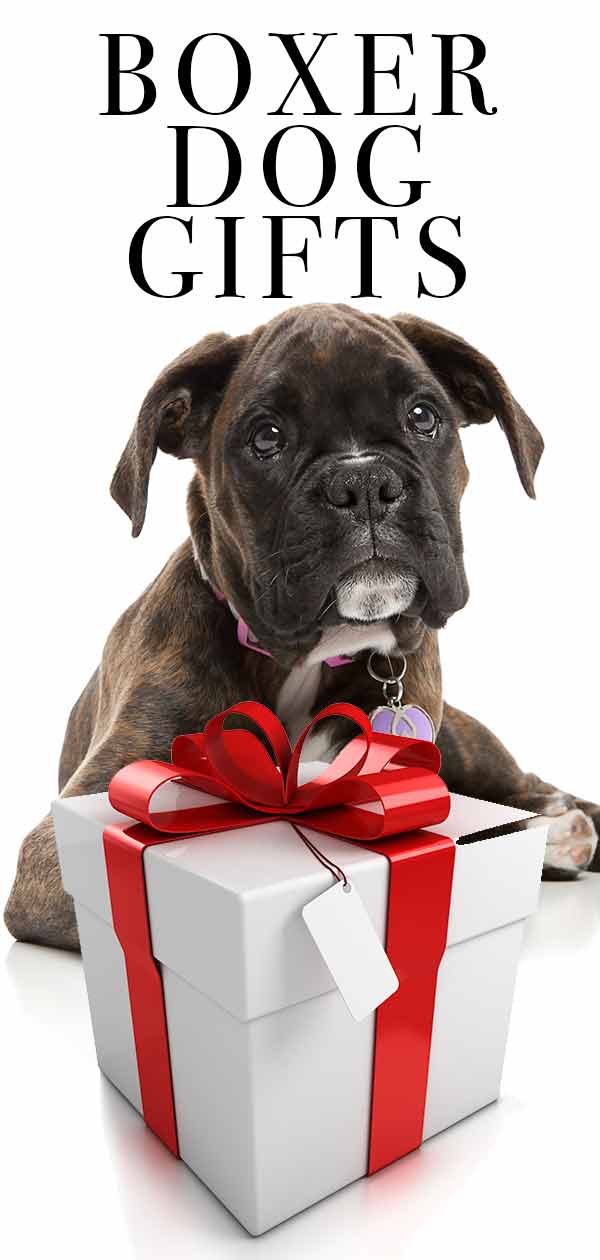 Gifts for Boxer Dog Owners
Are you a Boxer owner and proud of it?
Or perhaps someone you know and love is a Boxer owner and needs some gifts perfectly suited to express their joy?
Don't worry. We've got you.
Boxer Sign Kathy Paw Print
For the interior decorating types who have blessed their homes with a Boxer dog, you have to check out this ridiculously adorable Boxer sign by Kathy Paw Print*.
Echoing what we already know to be true, this black and white rustically painted wooden sign reads "All you need is love…AND A BOXER."
And if that's not cute enough, the sides are adorned with little black Boxer paws. Yes, we are melting over here.
Boxer Mug
Another must-have gift for the Boxer dog mom especially is the Crazy Dog Lady Mug for Boxer moms by ThisWear*.
This seriously hilarious coffee or tea mug gives a way-too-true warning of what it's like being a crazy Boxer mom—and we love it.
Boxer Window Decal
Of course, we also love this Boxer Mom Dog Vinyl Window Decal by NickerStickers*.
Another perfect gift for the crazy Boxer-loving mom in your life, this car decal is both classy and sassy.
Boxer Christmas Ornaments
Last but not least, these sweetly simple Boxer Christmas Ornaments by ThisWear* come in a package of three and sport a Boxer, a Boxer paw and a bone.
What we love most about these decorative ornaments is that the user can get creative with them.
They don't have to be used for the Christmas tree at all.
Perfect year round, these Boxer ornaments can be used to hang on doorknobs, in your car or even in your bedroom.
The possibilities are endless.
Boxer Dog Themed Gifts
Hungry for more Boxer-themed gifts that are overall just adorable and Boxer-licious?
Boxer Themed Wine Glass
Then take a look at this fabulous Boxer-themed wine glass by Etched Laser Art*.
This is the absolute perfect gift for the Boxer loving, wine loving, wine-glass enthusiast.
Boxer Themed Pint Glass
Not a wine lover? Don't worry.
Any Boxer loving (and beer loving) owner can sip in style with the Boxer Dog-themed mug*, also by Etched Laser Art.
If you're not sold on the Boxer themed mugs and wine glasses, don't worry. We've got some great Boxer themed décor for you.
Stupell Boxer Doorstop
Check out this super useful Boxer themed doorstop by The Stupell Home Décor Collection*.
This handcrafted product is made in the United States. Enjoy admiring this muscular, proud Boxer.
Practical Boxer Dog Gifts
Any Boxer lover knows there is nothing practical about a Boxer. They are big, clumsy, silly and wonderful.
Still, that doesn't mean a Boxer owner or even a Boxer lover won't appreciate a practical Boxer dog gift.
Boxer Key Rack and Leash Holder
For example, what owner wouldn't love this Boxer key rack and leash holder* by the Metal Peddler?
Adorable, Boxer-themed and super useful, we definitely think this gift is a winner.
Boxer Tote Bag
Know any Boxer lover who is in need of a super cute and practical tote?
Then check out this Big Dog Tote Bag by Pet Studio Art*.
Of course, this last practical Boxer-themed gift might be one of our favorites.
Boxers have short hair, making them susceptible to colder weather.
Dog Blanket Coat
Help the Boxer lover you know keep her Boxer warm and snug during colder months with this practical, stylish Dog Blanket Coat by Zack & Zoey*.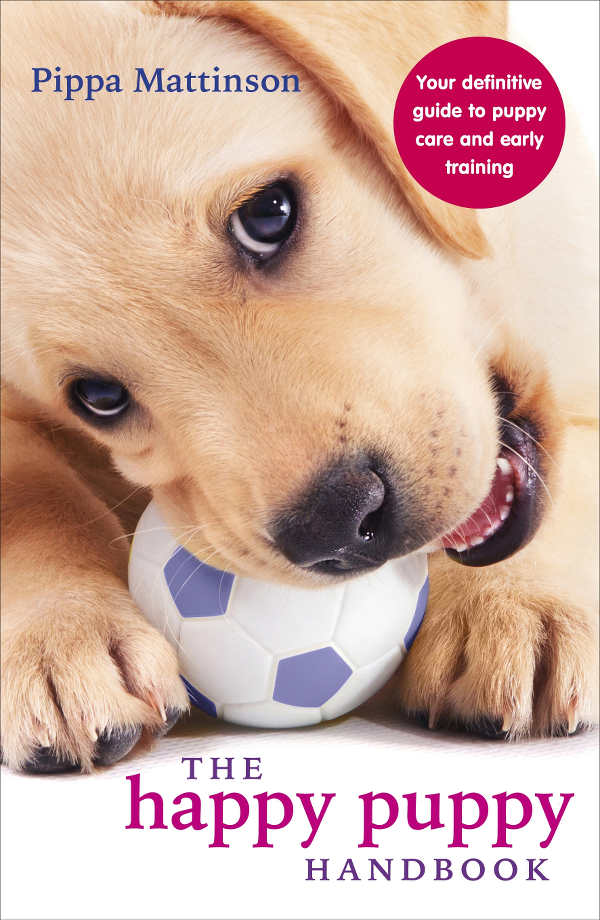 It comes in eight different colors and is complete with an adorable little dog paw print on the bootie.
Fun Boxer Dog Gifts
Fun and funny are one in the same, right?
That's what we are going with here. We found the most hilarious and oh-so-true mug that will have any Boxer lover in stitches.
Just take a look for yourself.
Boxer Dog Mug
This Boxer Dog Mug by Pithitude* puts a fun spin on a stinky reality—Boxers and their farting problems.
You will literally laugh out loud at the sight of these Boxer dog gifts.
Boxer Shower Curtain
Another fun gift for that super-obsessive Boxer lover is this amazing Boxer-themed shower curtain by Wknoon*.
Fun and practical, this shower curtain is sure to delight any Boxer enthusiast.
And finally, we can't leave this fun Boxer gift list without talking about socks.
Everybody loves socks, especially when they have their favorite dog all over them.
Bare Feet Boxer Socks
These Bare Feet Originals Novelty Boxer Socks* by For Bare Feet are sure to be a hit with the Boxer-fanatic you know and love.
Other Dog Gifts
There are plenty of other gift guides out there, if you're looking for even more inspiration!
Boxer Dog Gifts
The web is saturated with gifts for dog lovers, but this list above is especially for those who are nuts about Boxers.
Did you find the perfect gift for the Boxer-loving person in your life?
Let us know which Boxer dog gift was your favorite in the comment section below.
If you want to read more about Boxers, take a look at the best food for Boxers.
Affiliate link disclosure: Links in this article marked with an * are affiliate links, and we may receive a small commission if you purchase these products. However, we selected them for inclusion independently, and all of the views expressed in this article are our own.
References and Further Reading: