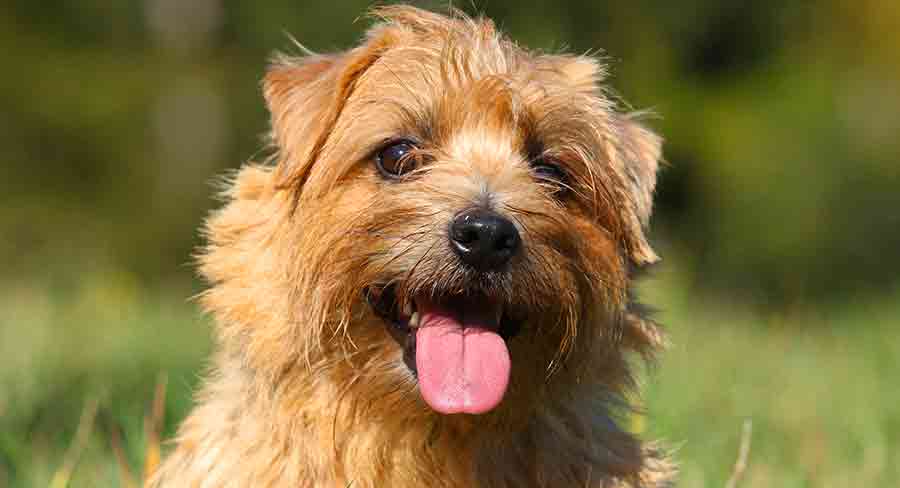 The Norfolk Terrier is a small, loyal, and feisty breed. It is very similar to the Norwich Terrier, but has drop ears.
Norfolk Terrier puppies will grow from 9 to 10 inches tall as adults, weighing 11 to 12 pounds.
But, despite their small size, they need plenty of training and exercise. Without this, they can show unwanted behaviors like barking and digging.
Common Questions About the Norfolk Terrier
Click the links above to jump straight to the answers. Or, keep reading for the full guide to this little breed.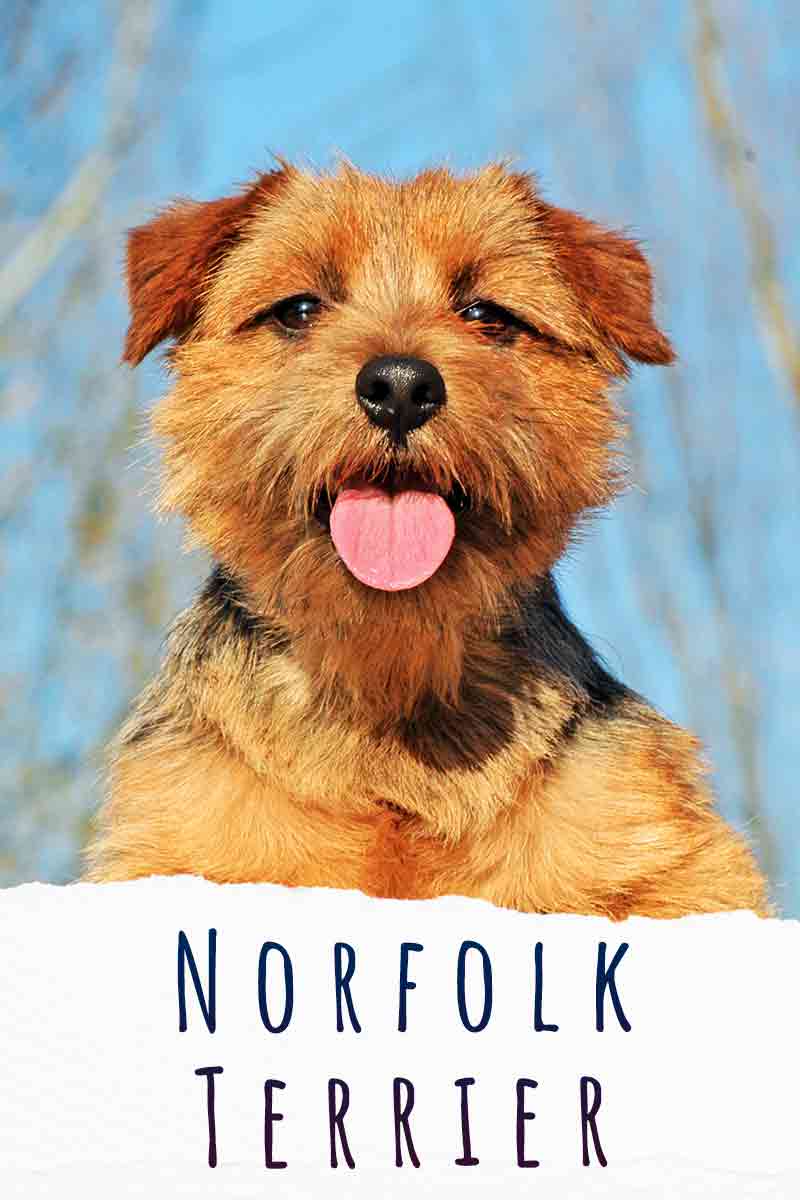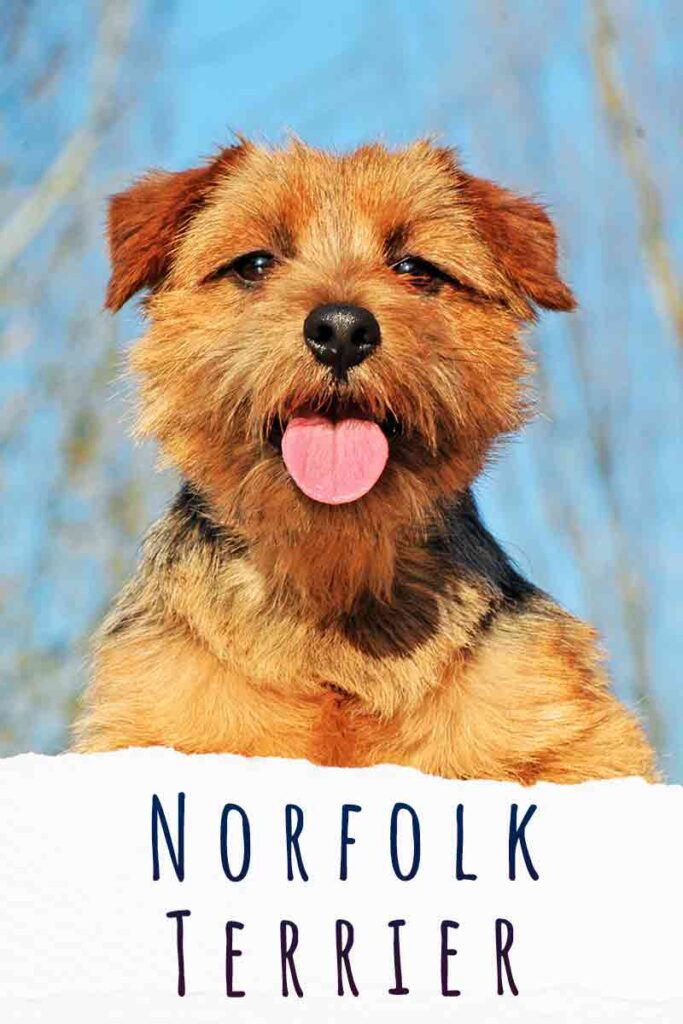 History and Original Purpose
Like all terrier breeds, the Norfolk Terrier has a rich history as a working dog. But, originally, this breed and the Norwich Terrier were known as one and the same.
It wasn't until 1964 that the Norfolk Terrier was recognized as its own breed. Until then, it shared the name Norwich Terrier, and sometimes Jones Terrier.
As their name suggests, this little terrier breed comes from the county of Norfolk in England.
They were first used as ratters and fox bolters in 20th Century England.
Nowadays, these little dogs are more common as a family pet. But, they have kept a lot of the breed's original hunting and chase instincts.
Norfolk Terrier Appearance
The fully grown Norfolk Terrier is a small dog breed. They often only stand between 9 and ten inches tall.
Their weight as an adult will be around 11 or 12 pounds, on average.
These small dogs will have a short, wiry coat. The main feature that distinguishes them from the Norwich Terrier is their ears.
Rather than upright, straight ears, they have drop ears that fold neatly over.
Coat colors include:
Grizzle
Red
Brown
Wheaten
Red wheaten
Black and tan
Any of these colors may also have black markings.
Norfolk Terrier Temperament
Like all terrier breeds, the Norfolk Terrier is known for being feisty, loyal, and energetic. But they can also have a stubborn streak.
These dogs will form strong bonds with their owners and immediate family. They aren't always best in homes with other pets or very young kids.
If they are not properly socialized, or they show strong natural instincts, they may chase other pets or young kids. In extreme cases, this can end with nipping or worse.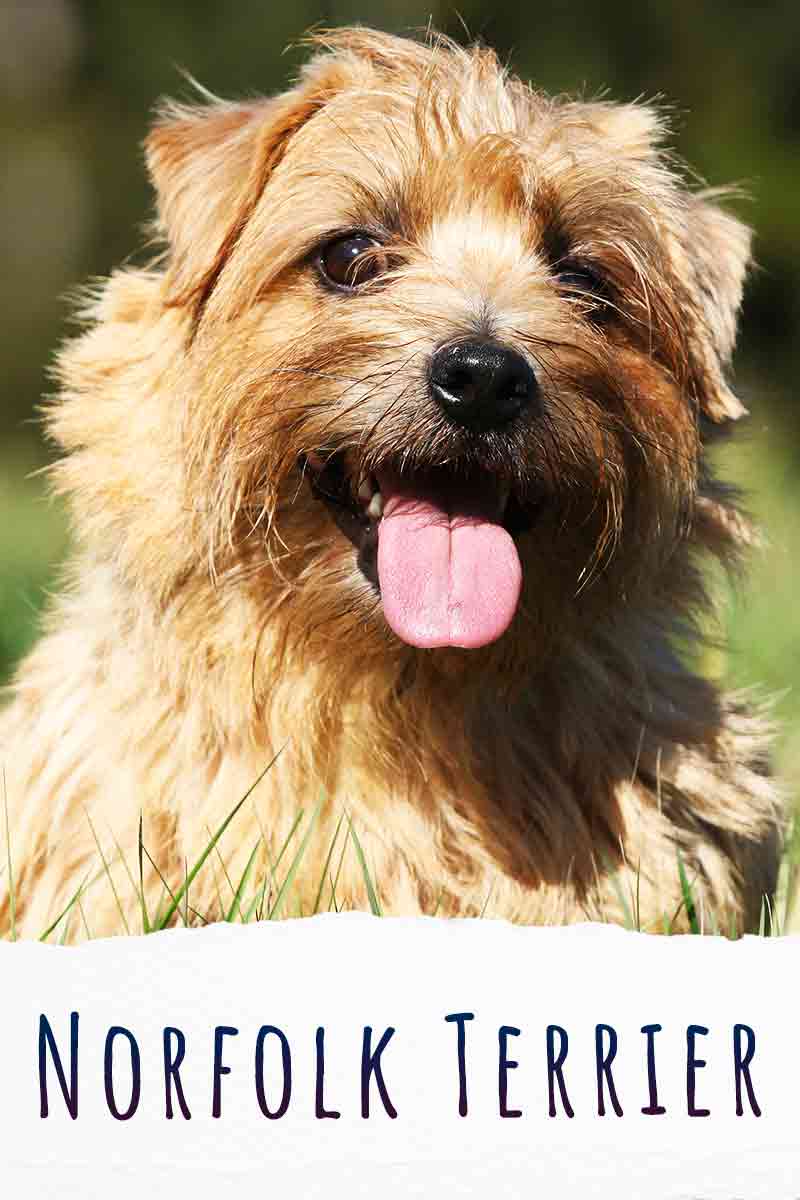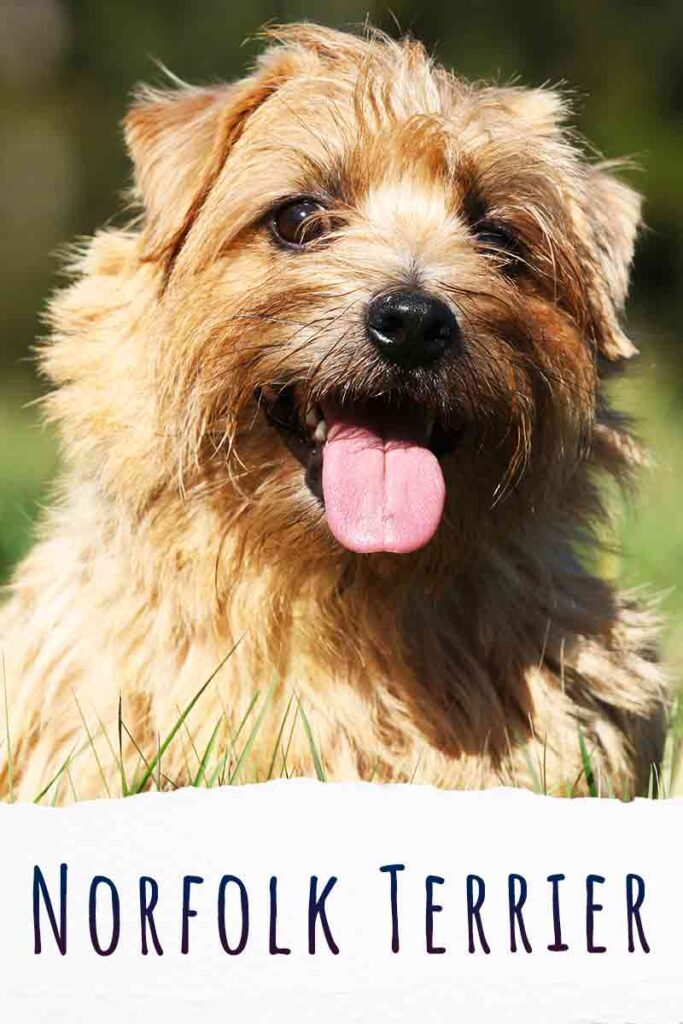 So, it's vital that Norfolk Terriers are well trained and socialized from the moment you bring them home.
Even though they're small, these dogs have lots of energy to burn. They are clever and friendly when properly raised.
But, make sure that you are giving them enough mental and physical stimulation every single day. Without it they can show destructive, unwanted behaviors like digging and barking.
Norfolk Terrier Training and Exercise
This breed needs the chance to run and stretch their legs every single day. But, make sure you choose a safe, enclosed area to exercise your terrier. They are prone to chasing other animals.
Even the strongest recall can fail if your Norfolk Terrier has its sights set on a squirrel in the park.
Obedience training should start from a young age, as should socialization.
These little dogs form strong bonds with their families and owners. So, positive reinforcement training methods will yield the best results.
But, they can still display the stubborn terrier independence. So, keep training sessions short and interesting.
Puppy classes are a great idea for this little breed.
Norfolk Terrier Health
These little dogs can live well into their teens if they live healthy lifestyles and come from a reputable breeder.
One study into canine lifespan found that the Norfolk Terrier lived, on average, to 11 years old. But, for some, lifespan reached up to 17 years.
There are some health issues that potential owners should be aware of when considering this little breed. Owners should learn about the following:
Muscular Dystrophy
Mitral Valve Disease
Keratin deficiency
Portosystemic Shunts
Skin disorders
Patellar Luxation
Dental issues
Eye issues
The OFA recommends a number of cardiac, eye, and joint tests for Norfolk Terriers before breeding.
Norfolk Terrier General Care
These little dogs are seasonal shedders. They need grooming once or twice a week to keep their coats shiny and healthy.
During those shedding seasons, their coat should be hand stripped. If you aren't confident doing this yourself, a groomer can do it for you.
This little breed generally isn't a great match for people with allergies. But, with a good grooming and cleaning schedule, you may cope.
Grooming sessions are a great opportunity to check your terrier's overall health.
Use these sessions to clean your Norfolk Terrier's teeth and ears. You may also need to trim their nails if they aren't worn down enough in their daily exercise.
Norfolk Terrier Puppies
Norfolk Terriers aren't the most popular breed out there. So, it may take you some time to find a reputable breeder.
But, this lower demand can work in your favor, as there may be smaller waiting lists when you find a reputable breeder.
Avoid puppy mills and pet stores. Their puppies may be cheaper than those from a breeder, but they are often less healthy.
Puppies from puppy mills are more likely to suffer from hereditary health issues and behavioral problems as they grow up.
Ask your chosen breeder lots of questions, and see evidence of health testing. If a breeder refuses to let you see where the puppies are kept, or to meet the mother, it's best to choose a different breeder.
How Much Does a Norfolk Terrier Puppy Cost?
Generally, the price for Norfolk Terrier puppies will start at around £1500.
But, it can be higher if a puppy comes from champion lineage.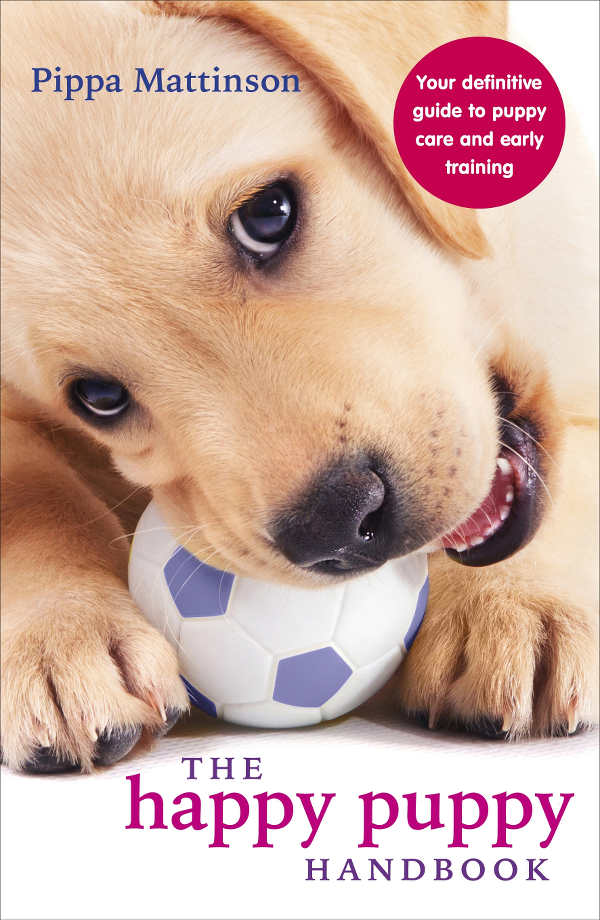 Prices will also vary depending on demand, and on where you're looking. In some states, these prices may be higher.
Are Norfolk Terriers Good Family Dogs?
For the right family, the Norfolk Terrier will be a great choice. But, they are best for owners with lots of time to dedicate to their training, socialization, and daily needs.
So, they may be a better choice for more experienced owners.
These little dogs need plenty of exercise and interaction every day. They may not suit homes with small children and small pets due to their natural hunting instincts.
Norfolk Terriers can be quite vocal, especially if their needs are not met. So, bear this in mind if you live in an apartment, or have nearby neighbours.
As long as they are well socialized, these little dogs will get on with most people and other dogs. But, you should still supervise play time with other dogs.
If you're considering this breed, stick with short and interesting training sessions based around rewards. Punishment techniques can bring out the stubborn streak in this breed.
Similar Breeds
This breed isn't for every home. If you're considering the Norfolk Terrier, you may also want to look at the following dogs.
Do You Have a Norfolk Terrier?
These little dogs aren't yet hugely popular, but they can make a great addition to the right home.
Do you have one at home already? Or are you bringing a new Norfolk Terrier puppy home soon?
Let us know your experiences with this breed in the comments!
Readers Also Liked
References and Resources