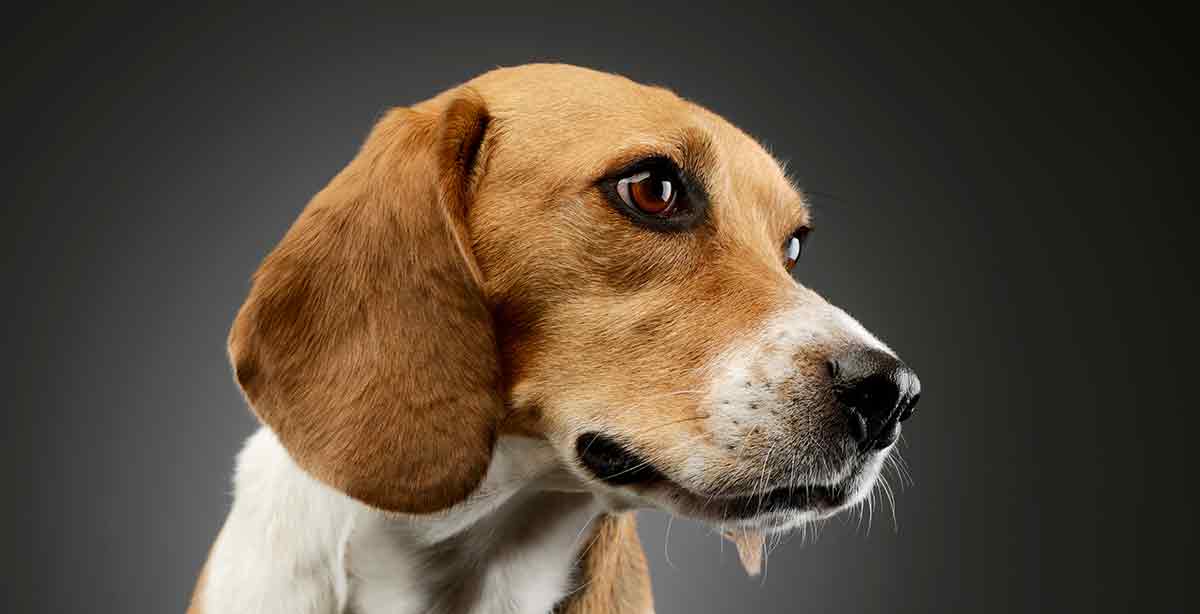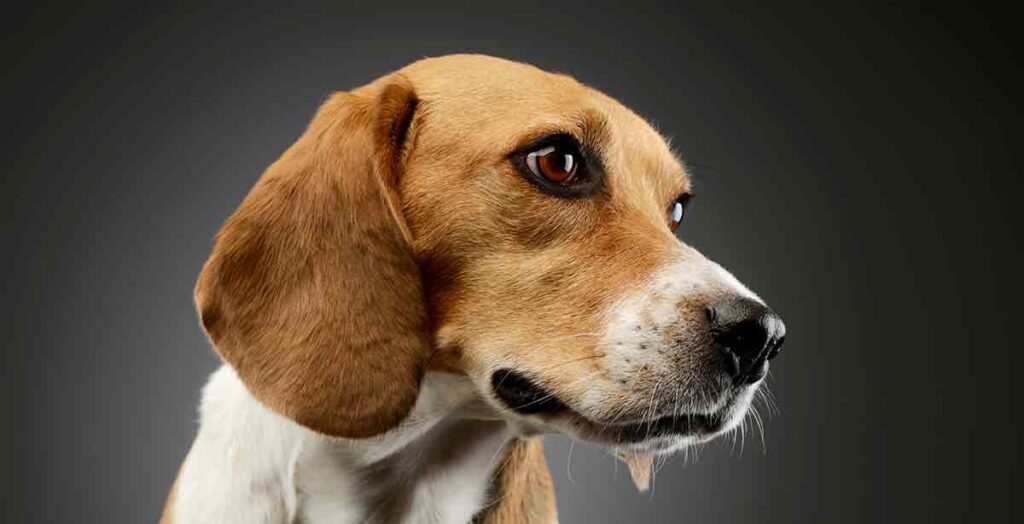 The full grown Beagle is a small hound, weighing 20 – 30lbs and standing around 13 to 15 inches tall. They are friendly, lively and loyal dogs, which makes them a great pet for active homes. You can expect your bouncy buddy to live up to around 12.5 years. Today we're going to let you know the ups and downs of ownership of a beautiful Beagle. From temperament to training, exercise and home life.
Contents
Is a full grown Beagle on the horizon for your family? Or are you still struggling to decide whether this is the best pet for you? In this guide, we're going to look at a range of Beagle traits. We'll also give you the low down on their health, lifespan and plenty more besides.
What do full grown Beagles look like?
These are sturdily built, compact dogs. And they have a very traditional hound-like appearance. With long ears and a proud head, and a long proudly held tail.
They have short coats. They are normally a tri-colored mixture of tan, black and white. But they can come in a range of other colors, including blue, white and tan, pied or mottled.
Fun facts!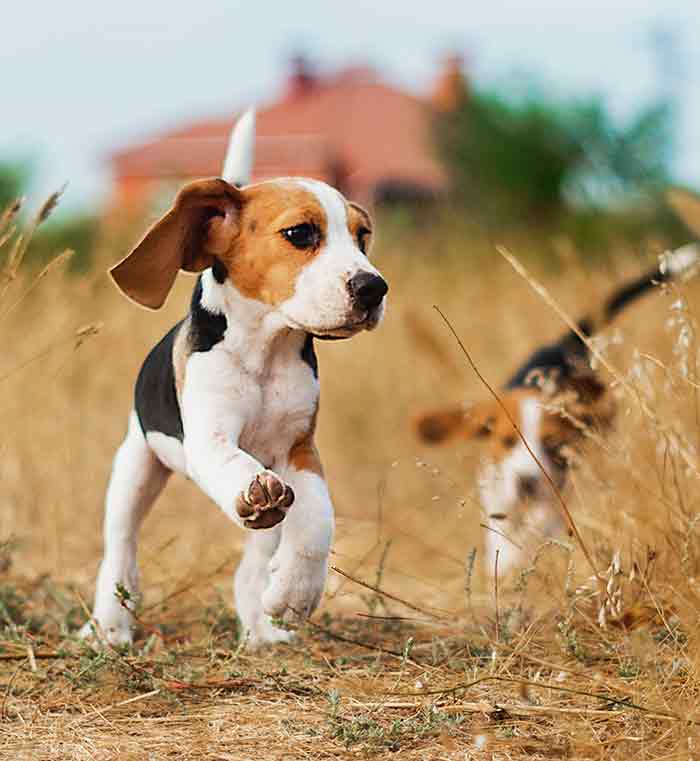 History and original purpose of the Beagle
Beagles might be popular pets now, but they started out as a hard working hunting hound.
The traditional role of the Beagle is well known. Bred for generations to work and hunt in packs, they are perhaps most commonly associated with fox hunting with horses.
Full grown Beagles love to use their noses, and they are very good at it. Even if you are not interested in working your dog, this inquisitive pup will really benefit from some scent work training. Beagles as a breed get huge enjoyment from following a trail or seeking out hidden items. They can make fantastic search and rescue dogs or contraband sniffer dogs for this reason.
Beagle temperament
Beagles in general have really lovely temperaments as a result of their working origins. They are fantastically friendly to other dogs and human alike. They are by nature very social creatures, and love to be around you.
The downside of their social natures is that they don't like to be left alone. They also require plenty of exercise as they are a fit and energetic breed. Taking them out for a good long walk or a few sprints is a necessity.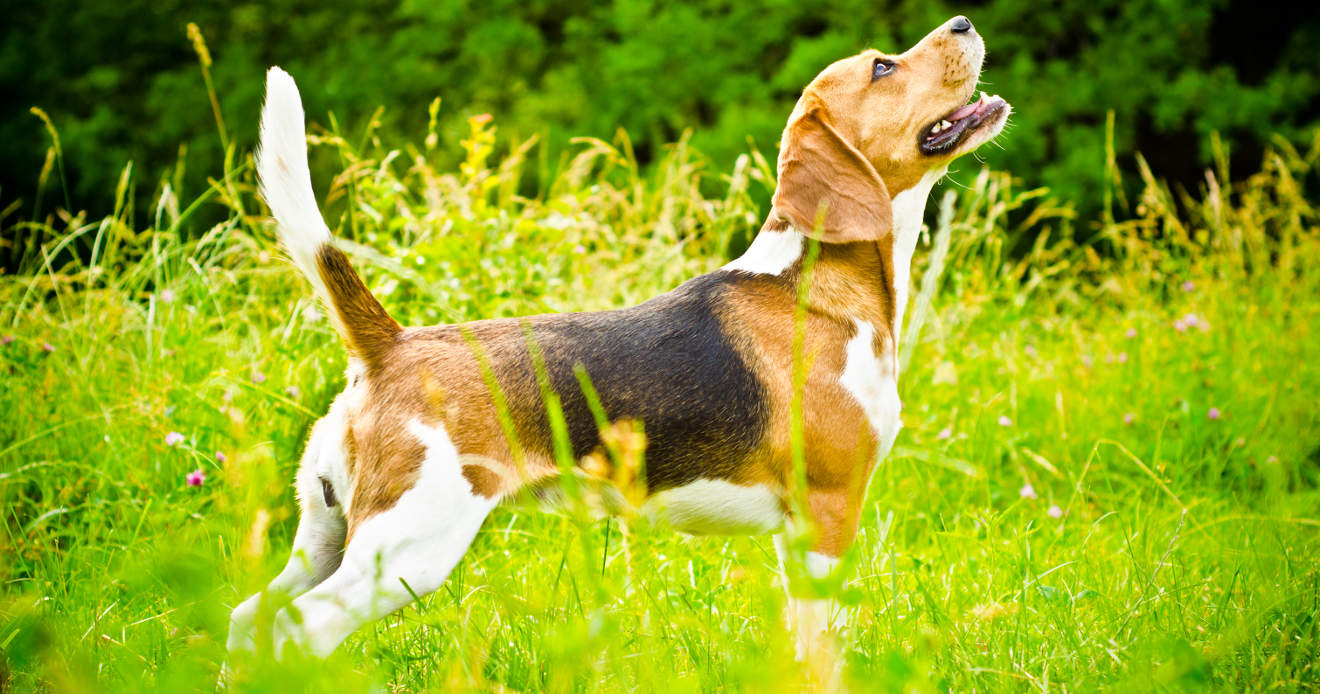 Are full grown Beagles ever aggressive?
Beagles are friendly dogs. They tend to be tolerant of most humans and to get on well with the members of their family. However, any dog when afraid can potentially become aggressive.
We recommend thoroughly socializing your puppy from the time he gets home. Take him to meet lots of people, and have lots of people visiting your home for the first few weeks. This will help him to see strangers as normal and a positive thing. A confident dog is a friendly dog.
Are Beagles a noisy breed?
Life with this breed is unlikely to be a very quiet one. Like most pack hounds, they like to 'sing'.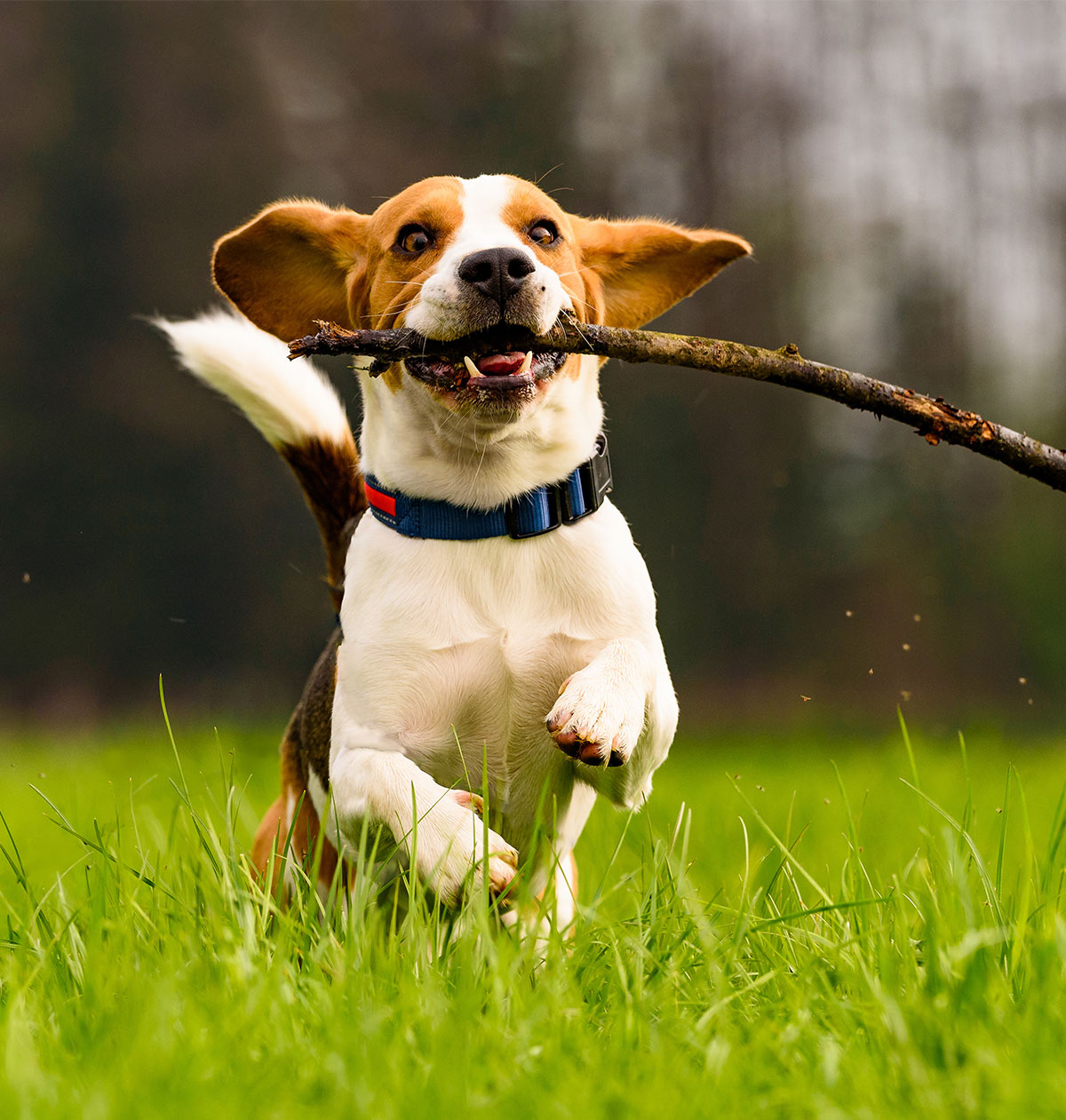 Noise is par for the course with this pup, but there are steps you can take to reduce it. They are very friendly dogs who as we have seen love company, but they do have the classic hound howl down to a fine art.
If you have close neighbours or live in a quiet residential area, then this could cause issues for you at some point. It is something to take into serious consideration before getting your puppy.
There are ways to reduce howling in hound breeds, but it takes time. As well as an absolute dedication to avoiding and not rewarding the noise from the word go. If you are concerned that you wouldn't be able to follow through with this, then a Beagle might not be the best dog for you.
Up you are up for the challenge? Then you will have a wonderful, charming, companion to share your home with.
Training and exercising your full grown Beagle
A Beagle puppy will have the instinct to chase and hunt, and so a great recall will be essential. Beagles are hounds and as such bred to be rather interested in other animals. Fortunately, they are also highly food motivated. Positive reinforcement training with treats from a young age is therefore essential.
You must make sure that your dog's recall is proofed at each stage. Building up slowly the levels of distractions you expect them to come back to you in the presence of. Training and exercise can be combined, by teaching them tricks, fetching and even to hunt back and forth.
Keeping your Beagle fit will help to keep her healthy.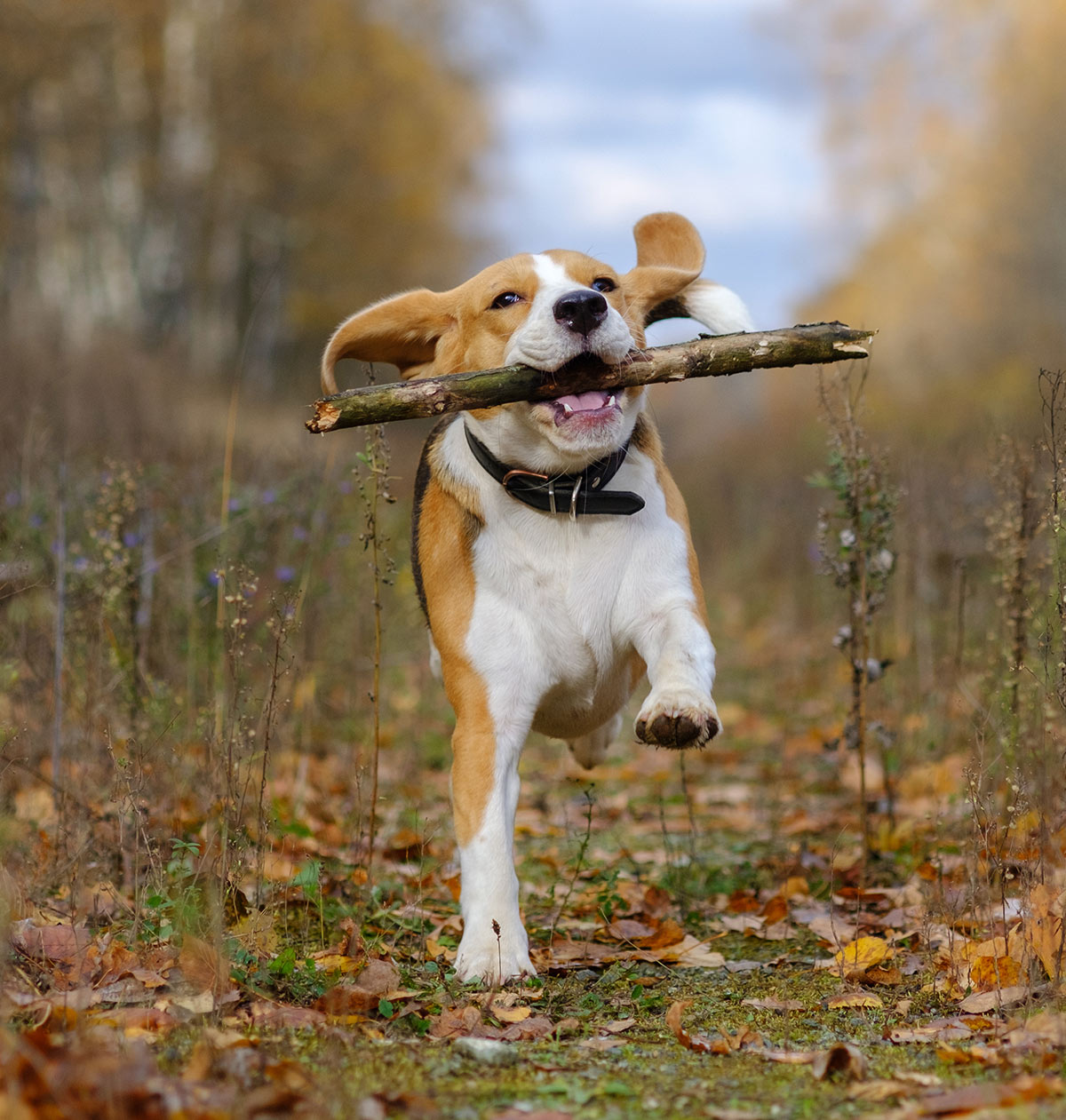 Full Grown Beagle health and care
Adult Beagles are relatively healthy and active dogs, but they are not immune to health problems. Like many breeds of dog, Beagles are prone to canine hip dysplasia. Make sure both of your puppy's parents have good hip scores. This will reduce the chances of him developing it as he grows.
Canine Epilepsy is a cause of seizures in some Beagles. Don't buy a puppy with a family history of this condition.
Musladin-Lueke Syndrome is a nasty disorder characterised by deformities of the feet and face in Beagles. It can result in problems walking and potentially in seizures later on in life. Make sure your pup's parents are DNA clear.
Steroid Responsive Meningitis is a disease seen in a few breeds of dog, including Beagles. An immune response triggers and inflammation of blood vessels supplying the brain and spinal cord. It can cause pain in the head and neck, lethargy and a fever. Your puppy's parents should be clear for this disease.
Grooming & Care
Although active and noisy dogs, they don't require much in the way of special care. There main needs include plenty of exercise and a good amount of your company.
They are fairly small in size and have a neat short coat length. You will not have to groom them too frequently, unless they are moulting or have rolled in something grubby!
Above all else, she needs companionship in a loving home. Preferably that doesn't have neighbours who mind the odd howl or two!
Do Beagles make good family pets
These pups can make excellent family pets for the right homes. Homes where a family member is home for much of the day are ideal. And those where someone is always keen to get some exercise in are preferable.
Are Beagles good with children?
Very small children might not be compatible with their need for attention.And all puppies go through a chewing and biting stage which doesn't go well with lots of kids' toys on the floor. But their generally cheerful temperament is a great fit for an active family.
As long as they don't mind a bit of noise, or are able to stop the kids accidentally encouraging it!