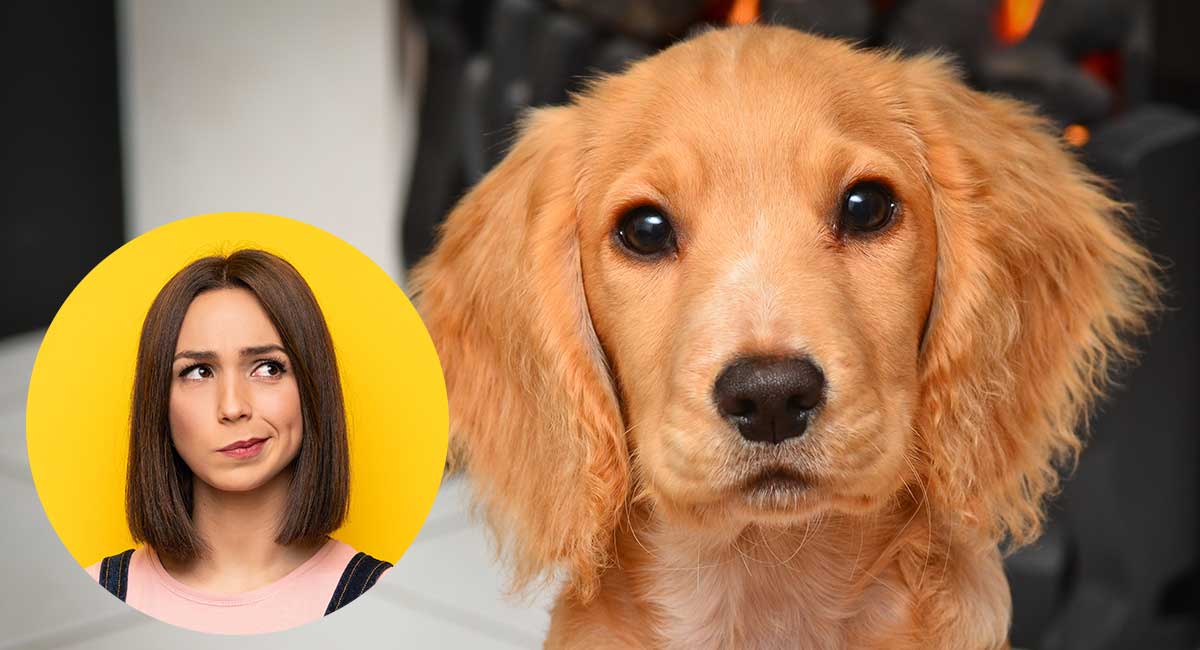 PRA in dogs is short for progressive retinal atrophy. It is the name for a group of inherited eye diseases affecting over 100 different breeds.
All types of PRA disease in dogs are characterized by loss of night vision first, followed by loss of daytime vision, and eventually blindness.
Since PRA symptoms usually only appear in dogs over 5 years old, DNA testing is used to make decisions about mating younger dogs.
Read on to find out more about how this disease can affect your dog.
Progressive Retinal Atrophy In Dogs
In this article we look at progressive retinal atrophy in dogs, find out what PRA clear means, and look at how PRA testing parent dogs might benefit your puppy.
To skip to some of our most asked about topics, you can use this menu:
Or find out all the facts by reading along!
What Is PRA In Dogs?
There are a number of different eye diseases in dogs.
Progressive retinal atrophy (PRA) describes a group of eye diseases which are similar in their cause, onset, and symptoms.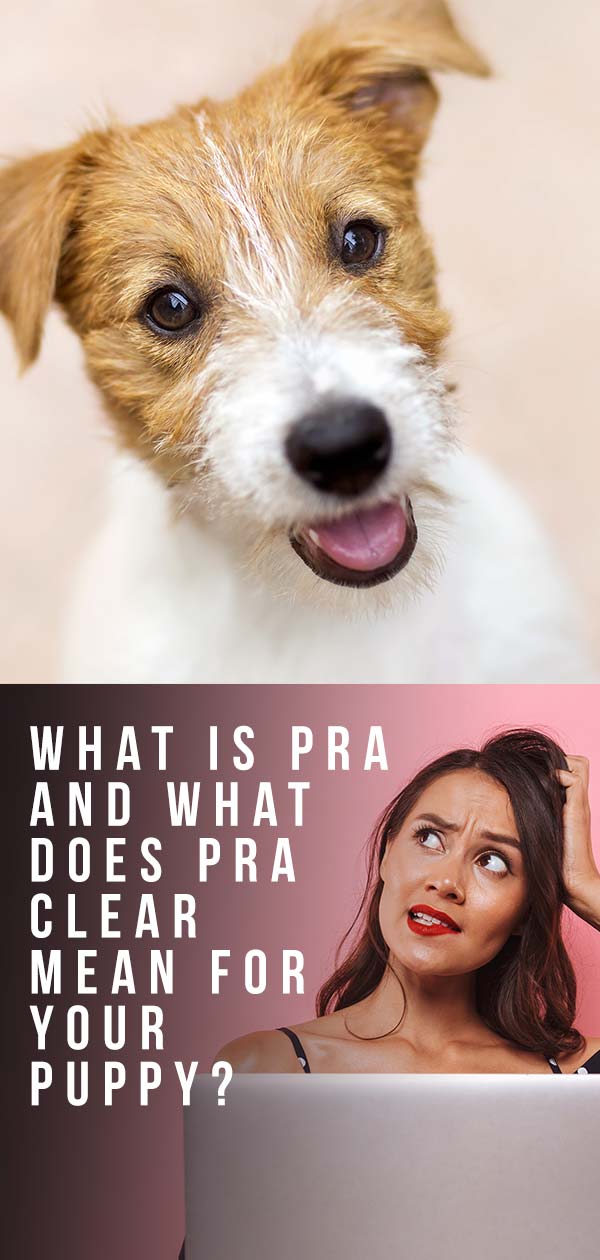 There are many types of PRA in dogs. Some types are widespread. But others are very rare.
Some are almost entirely limited to specific breeds and their mixes.
Altogether they are responsible for many cases of blindness.
So it is important when looking for a puppy that you understand whether he is at risk of a PRA disease. Plus, the way PRA testing for parent dogs works.
Let's look first at what defines PRA diseases in dogs.
PRA In Dogs – Definition
PRA affects the retina, the membrane that lines the back of the eye.
The retina contains tiny receptors which record what we see, and send that information to the brain.
PRA causes a gradual and incurable degeneration of the retina in both eyes.
Without a retina, or with a retina that is damaged or not functioning effectively, an affected dog's sight will diminish and he will eventually become completely blind.
What Does PRA Stand For?
PRA stands for progressive retinal atrophy.
Progressive because the disease causes the dog to become progressively more blind as time goes on.
Retinal because the damage is to the retina itself.
Atrophy because that's the medical term for something that is degenerating or being destroyed.
PRA is commonly thought of as a single disease. But actually it's more accurate to think of progressive retinal atrophy as something which happens in several similar diseases (many of which have PRA in the name, or get called PRA anyway, even if they don't).
To understand why there is more than one type of PRA, and which are the most important ones, we need to look at how they are caused.
What Causes Retinal Degeneration In Dogs?
PRA diseases in dogs are hereditary.
They are caused by mutations in dogs' DNA. In fact at the time of writing, over 90 different mutations, affecting over 20 different genes, have been linked to progressive retinal atrophy.
Each mutation causes a slightly different kind of PRA. One which starts earlier or later, progresses quicker or more slowly, etc.
The most common type of PRA disease is called progressive rod cone degeneration PRA (prcd-PRA).
prcd-PRA affects a diverse range breeds. So we know the mutation that causes it must have arisen very early on in the history of domestication.
In fact, it predates the foundation of some of our most ancient breeds. Including the Akita, Siberian Husky, and Afghan Hound.
Other PRA causing mutations have emerged more recently. And many are still largely confined to the breed they originated in.
Is PRA Common In Dogs?
prcd-PRA is the most widespread type of PRA, affecting over thirty different breeds.
In the following breeds, at least one in five dogs have the prcd-PRA mutation:
American Cocker Spaniels
American Eskimo Dogs
Finnish Lapphunds
Karelian Bear Dogs
Giant Schnauzers
Lancashire Heelers
Nova Scotia Duck Tolling Retrievers
Many people are also worried about progressive retinal atrophy in Labradors. About 1 in 6 Labrador Retrievers have the prcd-PRA mutation.
However, as we shall see in a moment, having the mutation doesn't necessarily mean a dogs will develop symptoms. And the frequency of dogs who actually lose their eyesight will depend a lot on the breeding decisions made on behalf of each breed.
Other Types of PRA
The pace at which new genetic variants of PRA are discovered is increasing.
In fact, finding a way of quickly identifying new mutations responsible for PRA has become a busy branch of research in its own right!
Some of the most significant other types of PRA we know about so far are:
PRA Type III
PRA Type III originated in a common ancestor of Tibetan Spaniels and Tibetan Terriers. It is still most commonly seen in these breeds.
Autosomal Dominant PRA
This is a rare type of PRA. It is usually only seen in English Mastiffs and Bullmastiffs.
It is significant because unlike other types of PRA, puppies only need to inherit one copy of the mutation from one parent to be affected by the disease in later life. (More on this in a moment.)
Golden Retriever PRA 1 & 2
GR_PRA1 and GR_PRA2 are PRA-causing mutations which originated in Golden Retriever lines.
Approximately 7% of Goldens carry one of these mutations.
And interestingly, so now do 5% of Goldendoodles.
It's important to note that for these golden dogs and the breeds which carry prcd-PRA, carrying the genetic mutation doesn't necessarily mean they'll develop PRA symptoms.
We'll look at why that is in a moment, but first let's see what the symptoms of PRA diseases are.
What Are The Symptoms Of PRA In Dogs?
Symptoms of PRA, and the age they begin, vary subtly from one type of the disease to another.
Symptoms can first occur at any age, from a few months old to late middle age.
Loss of vision in low light is usually the first symptom. So the dog seems to see okay during the day, but struggles in the evening or after dark
Sometimes the loss of vision will progress rapidly, in other cases more slowly.
In some types of PRA the dog will retain some peripheral vision for a long time.
Diagnosis Of Progressie Retinal Atrophy In Dogs
If your dog is showing any signs of poor eyesight, or if his pupils don't seem to react normally to changes in light, these are good reasons to have him checked over by a vet.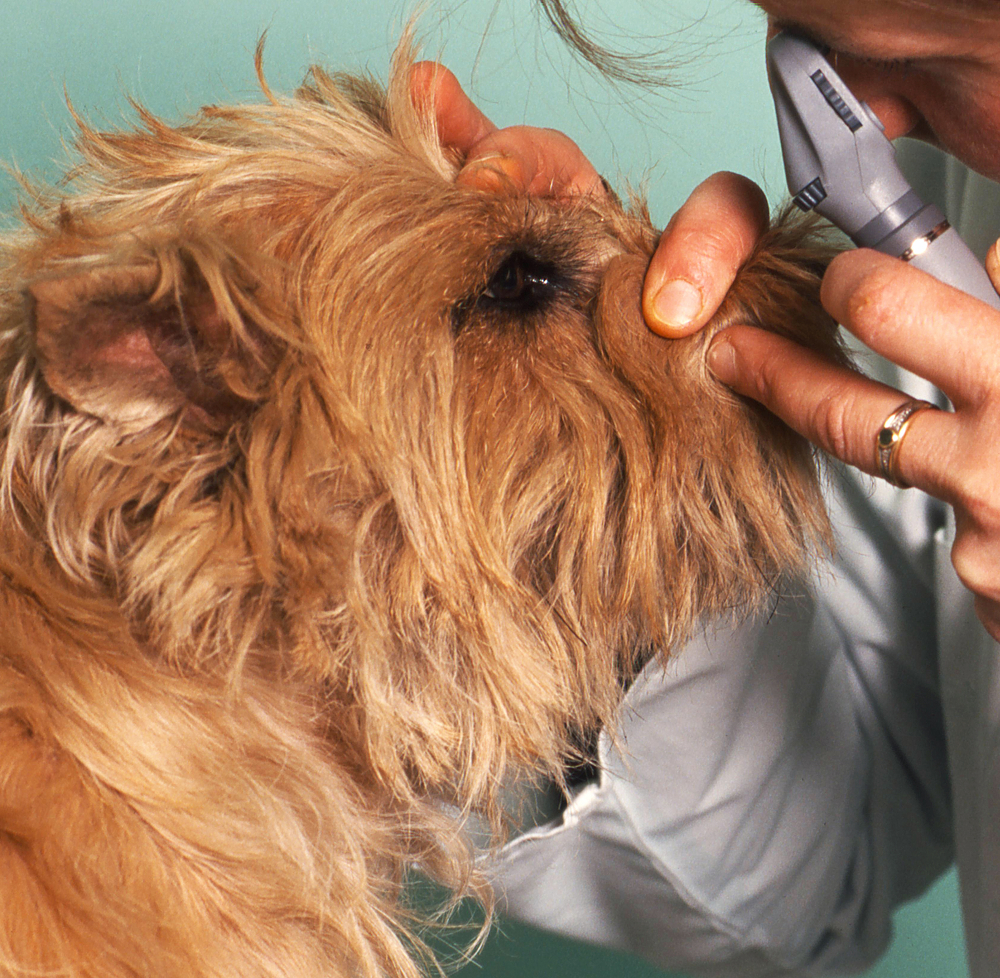 A physical exam of your dog's eye using a special tool that shines a light through his pupil will reveal signs of the disease once it is established.
DNA tests of cheek swabs or blood samples are also available for many types of PRA. We'll come back to those in more detail in a moment.
In elderly dogs, age related causes of blindness will need to be considered too.
Can PRA be cured?
There is no cure for PRA.
But although we cannot cure PRA, we can test for it.
And this is an important part of your Puppy Search journey.
People sometimes ask "should a dog with retinal atrophy be put down?". Rest assured it is most unlikely that your dog will need to be euthanised due to PRA.
It is a tragic thing for a young dog to lose his eyesight. But with good care and support, most blind dogs can live happy and fulfilling lives.
PRA Testing In Dogs
PRA diseases are inherited. So if we can ensure that our puppy's parents are free from it, we can ensure that our puppies will be free from it too.
The only way to be sure your puppy won't get PRA is to ensure that his parents are both tested with good results.
There are two different ways of testing for PRA.
We can examine the eye of a dog to see if he shows signs of the disease
We can test the dog's DNA to see if he carries the genes that cause it.
1. PRA Eye Testing In Dogs
Until quite recently, the eye exam was our only test.
This was problematic. Many affected dogs do not actually develop signs of the disease until they are getting on in years, and have already produced puppies.
It did give an indication to breeders as to which of their younger dogs might then be likely to be affected. But fortunately we now have a much more definitive test.
2. PRA DNA Testing In Dogs
There are many different types of retinal atrophy and several pharmaceutical companies have developed a range of tests to help breeders choose healthy dogs to breed from.
The best known of these companies is Optigen. And you're likely to see this name crop up often.
Optigen were bought by Mars Petcare in 2018, and their tests are now available to buy from Optimal Selection in the USA and MyDogDNA in Europe.
The cost depends upon your region, and the suite of tests you choose. If you only want a single test for a specific type of PRA, you might need to approach a more specialized lab.
The DNA tests for PRA diseases are very specific. They test for a particular variety of the disease and which test or tests are appropriate will depend on the breed.
What DNA Tests will Identify
DNA tests are particularly helpful because they identify three categories of dog
Affected dogs
Carriers
Clear dogs
Most PRA disease are recessive, which means dogs only develop symptoms if they inherit the same faulty gene from both parents.
PRA Affected Dogs
Affected dogs are the unlucky dogs who inherit the same faulty gene from both parents.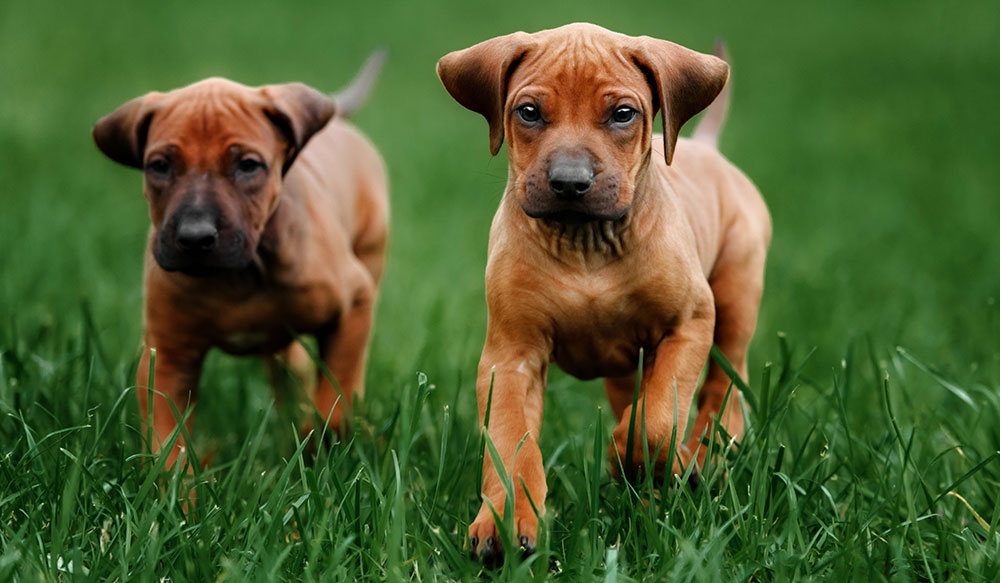 They will all eventually develop PRA symptoms, and eventually lose their eyesight. Sometimes at a very young age.
If PRA affected dogs mate, they will pass the faulty gene on to all of their puppies.
PRA Carriers
Carriers have one faulty gene and one healthy gene.
In most PRA diseases, the healthy gene will switch off the faulty gene and a carrier will never develop retinal atrophy.
(The notable exception to this is the Autosomal Dominant PRA seen in English Mastiffs and Bullmastiffs – in this type, carriers will also develop symptoms).
They will, however, pass on the faulty gene to about half of all their puppies.
PRA Clear dogs
Clear dogs have two healthy genes.

What PRA clear in dogs means that they will never develop that type of PRA.
A dog tested clear for a particular type of PRA can also never pass the gene for it to their puppies.
This makes them ideal candidates for breeding.
But that's not to say that only PRA clear dogs should be allowed to breed.
Breeding From Carriers
PRA testing in dogs enables us to breed from carriers. Provided that the carrier is mated to a clear dog, in the knowledge that none of the puppies will be affected.
Some of course will be carriers themselves. Therefore all must be tested before mating.
But the ability to breed from carriers is a good thing, and in fact it's important that breeders continue to do so.
Especially in breeds with a very small gene pool, breeding from PRA carriers gives us the widest possible choice of genetic material to work with.
This helps to slow the inevitable loss of genetic material from our pedigree breeds which will eventually cause more harm than good to a breed's health.
Checking Certificates
The DNA tests for PRA are type-specific. Which means a dog certified clear for one type might still carry a mutation for another type.
For added confidence, breeding dogs should undergo an annual sight exam as well as a DNA test.
So when you choose a puppy, ask not only which type of PRA their parents have been tested for, but for their annual eye exam certificate too.
The Future Of Research Into PRA In Dogs
The good news for dogs at high risk of PRA is that identifying new genetic variants and developing novel treatments is an active area of research.
In part, this is because PRA in dogs is a valuable model for understanding retinitis pigmentosa – its human equivalent. So we have a vested interest in understanding it better, and managing its symptoms!
In 2015, a new genetic mutation causing PRA occurred spontaneously in a litter of Weimaraner puppies.
These puppies and their descendants have been a valuable source of information for scientists studying how PRA disease in dogs can come about.
They're also a great illustration of how responsible breeders that keep track of the health of their breeding lines can make important contributions to the health of future generations.
New Treatments For Dogs With PRA
Although we cannot cure PRA yet, there is some hope for treatment in the future, in terms of prolonging the daylight vision of affected dogs.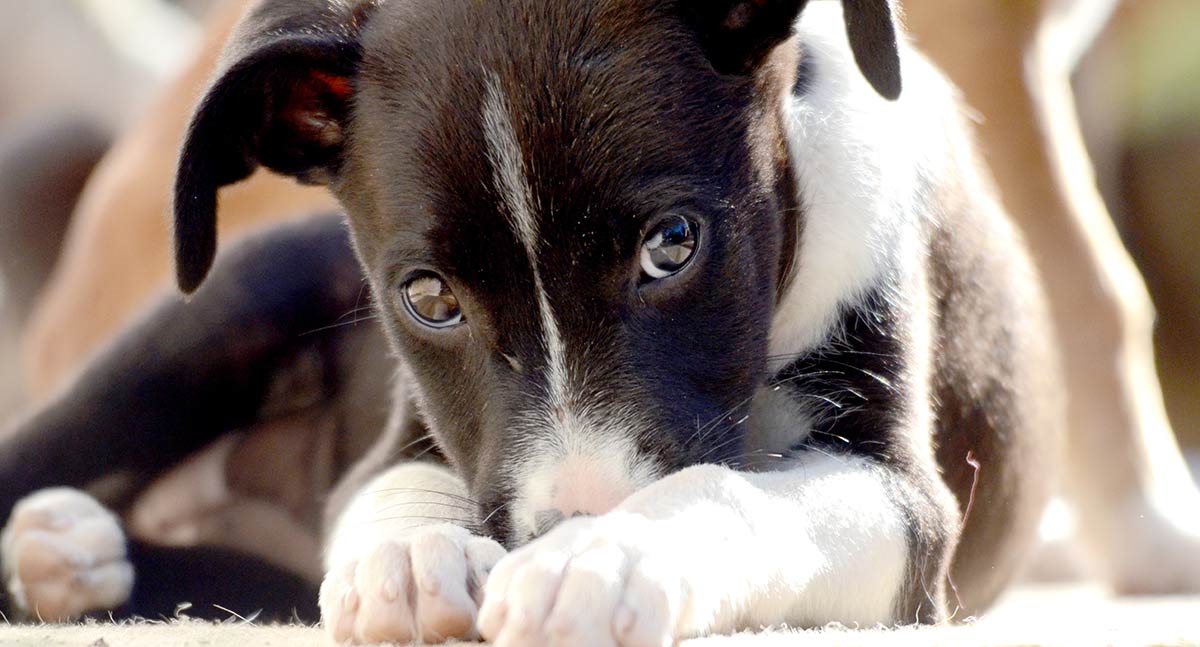 Vision in low light depends upon retinal cells called rods. These are the cells that are destroyed by PRA. This is why dogs with PRA lose their night or evening vision first.
The retinal cells that help us see in bright light are called cones. Cones are not directly destroyed by a PRA mutation, but by the toxic by-products released by rod cells as they die.
Chemical released from dying rod cells might also trigger the onset of cataracts. But since both problems are often simply part of aging, it has been difficult to prove this either way.
Treatment for the future may be focused on clearing these toxic by products (which also cause cataracts) so that the dog can retain his daylight vision for much longer.
Do You Have Experience Of PRA In Dogs?
If you are worried about your puppy's eyesight, do take him along to your vet for a check up.
They will be able to give you a diagnosis and the latest information on treatment and care.
Does your dog have PRA?
If you feel able to share your story with other people in the same position, please do so using the comments box below.
This article has been extensively revised and updated for 2019.
References and Resources
Kropatsch et al, A large deletion in RPGR causes XLPRA in Weimaraner dogs, Canine Genetics and Epidemiology, 2016.
Shaffer, Special issue on canine genetics, Human Genetics, 2019.
Bunel et al, Natural models for retinitis pigmentosa: progressive retinal atrophy in dog breeds, Human Genetics, 2019.
Miyadera et al, Genetic and phenotypic variations of inherited retinal diseases in dogs: the power of within- and across-breed studies, Mammalian Genome, 2012.
Winkler et al, A tool set to allow rapid screening of dog families with PRA for association with candidate genes, Veterinary Opthalmology, 2016.
Mancuso & Hendrix, Cataracts in Dogs, Clinicians' Brief, 2016.
Donner et al, Frequency and distribution of 152 genetic disease variants in over 100,000 mixed breed and purebred dogs, PLOS Genetics, 2018.
Mellersh, DNA testing and domestic dogs, Mammalian Genome, 2012.