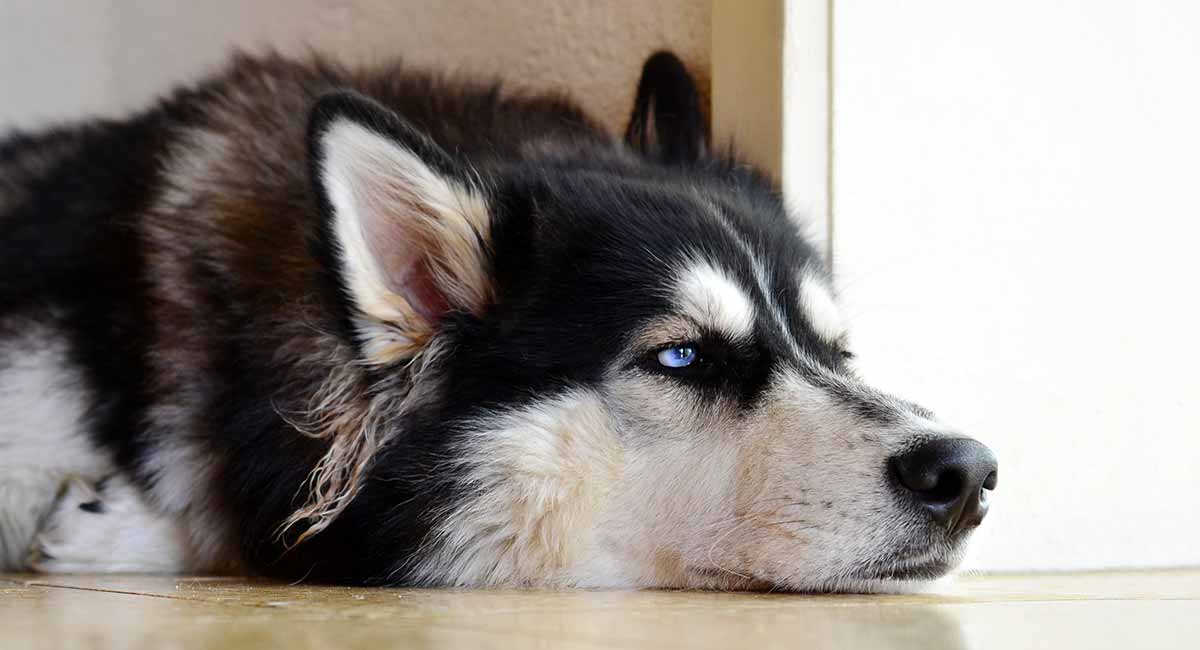 Have you ever caught sight of your dog yawning and wondered "Is my dog bored?" You may be on to something.
While a yawn doesn't necessarily translate to mean "I'm bored," animal researchers have verified that dogs, like people, can get bored.
In this article, learn the common signs your dog is bored, how to tell the difference between a bored dog and other issues such as illness and—most importantly—what to do with a bored dog to chase that boredom away.
Products included in this article were carefully and independently selected by the Happy Puppy Site team. If you decide to make a purchase from one of the links marked by an asterisk, we may earn a small commission on that sale. This is at no extra cost to you.
Do Dogs Get Bored?
Dogs are social animals that thrive on interaction and can get bored quite easily. Boredom in dogs can result in destructive behavior such as chewing and soiling indoors.  And one of the main causes of boredom in dogs is isolation.
Researchers have verified that dog boredom is a real issue in two key ways:
By studying how the brain of bored animals changes over time.
By observing behavior during boredom.
Brain Changes in Bored Dogs
When an animal gets bored, which researchers define as being deprived of enrichment and stimulation, the brain itself shrinks. As well, neurons (nerve cells) die off and new synapses (communication connections between neurons) do not form.
So when a dog has been bored for a period of time, that dog's brain will shrink and show fewer active nerve cells and synaptic connections than the brain of a dog that has been provided with enrichment and stimulation.
Behavior Changes in Bored Dogs
Another way to verify dog boredom is to watch what a dog does in a bored state.
Dogs will often begin to yawn, whine, bark, howl, take long naps or become destructive.
Pacing, self-harming, over-eating (or not eating), inappropriate elimination and aggression toward other family pets or people can also be symptoms of dog boredom.
What causes boredom in dogs?
Not only have canine biologists identified brain changes that indicate chronic boredom over time, but we now also know about certain behaviors that are strongly associated with the state of boredom.
As it turns out, being able to feel bored may offer animals an evolutionary advantage, pushing them to try new things and basically "get off the couch" and get out ahead of the pack.
Boredom kicks in when there is nothing to explore or there is no way to explore it.
Common Bored Dog Symptoms
Human boredom researchers have identified five different types of typical boredom.
Each type of boredom produces its own range of responses, or reactions, to the state of boredom itself.
Here are the five basic types of boredom along with their most common responses:
Indifferent boredom: You are bored but OK with it. You feel mostly calm and relaxed. This is the most positive form of boredom and can transform into creativity under the right circumstances.
Reactant boredom: You are bored and definitely not OK with it. You feel tense and anxious in a way that can lead to anger and behavioral explosions. This is considered a dangerous form of boredom.
Apathetic boredom: You are bored, and it makes you feel helpless. You don't believe you can do anything to not feel bored so instead you feel depressed.
Searching boredom: You are bored and eager to find a way to make it stop. Here, you will try anything you can to end the boredom, but if you don't succeed you may progress to reactant boredom.
Calibrating boredom: You are bored and not sure what would make it stop, so you don't really try to make it stop. But if something intriguing came along, you would definitely go explore it.
Of course, human intellectual comprehension about the state of boredom may help a bored person to cope with boredom in a way a dog could never realize.
In other words, your bored dog isn't going to sit there and ponder, "Hmmm, I wonder what type of boredom I have?"
You will have your answer to the question of "is my dog bored" when you come home and find the couch cushions shredded or your neighbor's nasty note on the door telling you your dog barked in the yard all afternoon.
Is My Dog Bored, Tired or Something Else?
It is also worth mentioning here that the same symptoms that may indicate dog boredom might be caused by something else.
For example, did you know that dogs will sometimes yawn when they are anxious?
If you see your dog yawning while at the vet, for instance, there is a good chance it is not boredom causing the yawning behavior.
Similarly, if your dog starts to yawn, whine, bark, howl or act up right before you are leaving the house, it is more likely something such as separation anxiety that is causing these behaviors rather than boredom.
However, these two issues may also feed on one another. For example, your dog may suffer from separation anxiety in part because he knows he will have nothing to do until you return home again.
Finding the problem
Illness can also cause a lot of the same symptoms that are now associated with dog boredom.
Excessive activity or chronic napping, self-harming behaviors such as biting at paws or skin, behavior or mood changes, inappropriate elimination, changes in eating habits and similar symptoms can each be a sign of allergies, infection or illness.
Because dogs can't "talk" to us using people language to tell us exactly what is wrong, you should always start off by taking your dog to the veterinarian for a check-up. Be sure to keep a journal of symptoms to help your vet figure out if illness or infection may be at the root of "bored" behaviors.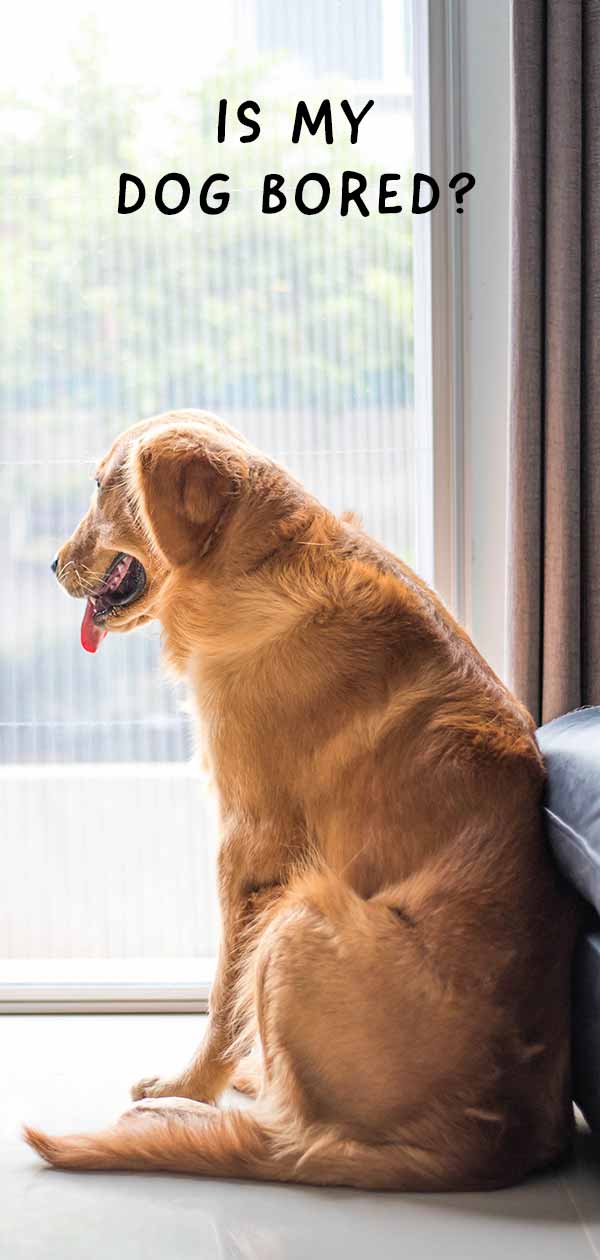 How to Tell If Your Dog Is Bored
Once your vet has examined your dog and you know she is healthy, it is time to move on to learn your dog's individual signs of boredom in dogs.
For example, some dogs may be more prone to whine or howl while other dogs may be more likely to tear up the furniture or urinate on your bed.
In other words, if you were trying to figure out is my dog bored, how would your dog show you?
Here is a list of common bored dog symptoms. This is not a complete list by any means, but you can use it as a starting point to figure out how your dog tells you she is bored and needs something to do.
Bored Dog Symptoms
Barking for no apparent reason
Whining
Howling
Yawning
Napping
Pacing
Eating more
Eating less
Inappropriate elimination
Destroying household furnishings or belongings
Self-harming
Aggression
Is My Dog Bored While I'm At Work?
Perhaps one of the most common problems pet owners face today is leaving a bored dog at home while they go to work.
Sharing your life with a pet dog can feel doubly challenging when you have to work outside the home for long hours most days. But this doesn't mean you can't have a pet dog and also have a full-time job.
It just means you need to take some time to provide your latchkey pup with stimulation and enrichment while you are gone during the day.
Thanks to modern technology, there are now some wonderful gadgets that can add excitement and spontaneous fun to your dog's day while you are out of the house.
These highly rated and popular gizmos let you talk with your dog, offer treats and observe your pooch to get more ideas for adding enriching activities to his home space while you are away.
Furbo Dog Camera: Treat Tossing, Full HD Wifi Pet Camera and 2-Way Audio*. This high-tech video toy will toss your dog treats on command or at prescheduled times.
It will alert you when your dog starts barking and opens up a two-way audio channel so you can talk to your dog. There is a free smartphone app to help you monitor your dog continuously.
Petcube Bites Pet Camera with Treat Dispenser, with Video, Two-Way Audio*. This is a similar device that offers options for continuous smartphone monitoring, two-way audio chat, treat dispensing and more.
Check out our independent review of the Petcube Bites device.
PetChatz HD: Two-Way Premium Audio/HD Video Pet Treat Camera with DogTv*. This unique audio/video interaction device will queue up DogTV (subscription sold separately), dispense soothing aromatherapy or treats, and even let your dog call you (Paw Call sold separately).
Choosing Toys for Bored Dogs
When choosing toys for bored dogs, you want to focus on any toy that can extend the playtime experience.
These popular dog toys to help with boredom all come highly rated by pooches and their owners.
Food Toys for Bored Dogs
Food and treat toys for bored dogs can make solo snacks and meals lots more fun.
OurPets IQ Treat Ball Interactive Food Dispensing Dog Toy*. This treat ball is a great choice to leave out during the day while you are out of the house.
Your pup needs to roll it around and jiggle it to be able to get the kibble out, and you can adjust the difficulty level to keep this toy engaging.
Outward Hound Nina Ottosson Dog Smart Puzzle Toy*. This smart puzzle toy can be used for treats or as a slow-feeder/meal extender toy.
There are several game levels so you can increase the challenge as your dog masters each level.
Wooly Snuffle Mat—Feeding Mat for Dogs*. This unique slow feeding device or treat mat help activate your dog's natural foraging behaviors by duplicating the sensation of "hunting" for small prey.
The mat is easy to fill and even easier to wash.
Sensory Toys for Bored Dogs
Toys that stimulate your dog's senses can eliminate both the boredom and your dog's anxiety of a silent, empty house.
Pet Qwerks Talking Babble Ball Dog Toy*. This talking ball comes in three sizes and has a motion-sensor to conserve battery life.
The toy makes 20 sounds and will start automatically as soon as your pup touches it.
Allstar Innovations Wobble Wag Giggle Ball*. If you have any concerns about leaving your dog home alone with a battery-operated toy, this ball is a perfect choice.
It uses a series of inner tunnels to produce the sounds as your dog moves the ball about.
Ethical Pets Sensory Ball Toy*. This fun multi-colored and multi-textured ball toy comes in two sizes.
It features a squeaker, a sound bell and a beef scent and flavor when your dog chews it.
Puzzle Toys for Bored Dogs
Puzzle toys can turn boredom into creativity and solo play.
Outward Hound Hide-A-Squirrel and Puzzle Plush Squeaking Toys for Dog*. What dog doesn't love to chase and actually catch a squirrel?
This plush toy features a log with small squeaking squirrels. You can choose from four sizes and four different characters.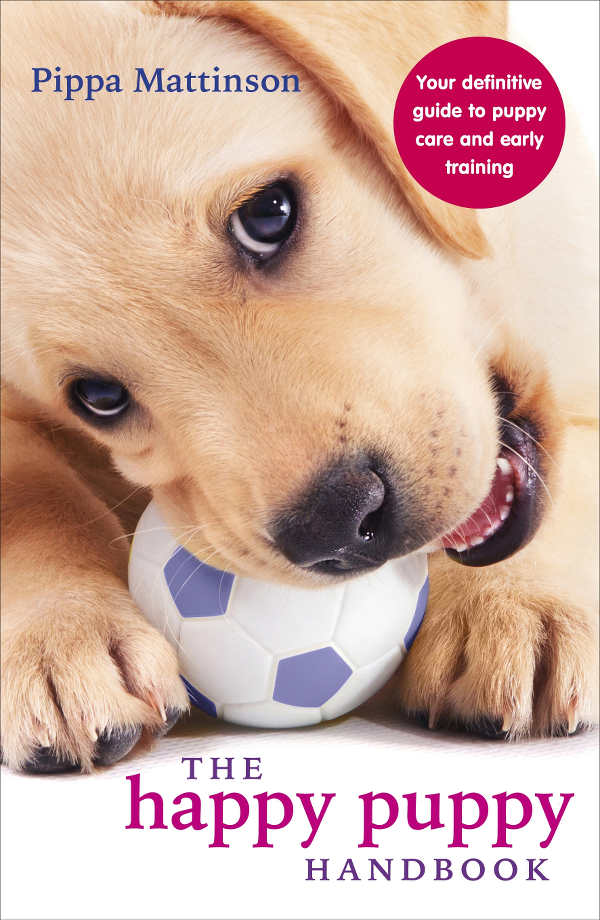 West Paw Zogoflex Qwizl Interactive Treat Dispensing Dog Puzzle Treat Chew Toy for Dogs*. This is a super-tough and durable chew and puzzle treat toy that your dog will have to study to master.
It comes in two sizes, three colors and can also be frozen.
KONG Wobbler*. You can't go wrong with any of the classic KONG line of puzzle and enrichment toys, which can also be stuffed with treats or frozen as needed.
Boredom in dogs – summary
The next time you catch yourself wondering is my dog bored, you will have a great selection of boredom busters for dogs to send boredom packing.
But the most important step you can take to relieve boredom in your dog is to spend time with them
Dogs are especially entertained by exploring the world outside your home, and plenty of regular walks help to ensure that boredom is kept at bay.
What are your favorite boredom busters for dogs?
Let us know in the comments box down below!
Affiliate link disclosure: Links in this article marked with an * are affiliate links, and we may receive a small commission if you purchase these products. However, we selected them for inclusion independently, and all of the views expressed in this article are our own.
References and Further Reading:
"7 Ways to Cure Dog Boredom," A to Z Veterinary Clinic
"Boredom in Dogs – it's More Common Than You Think!" Maranoa Veterinary Surgery
Burns, C., 2017, "Fetch or Whatever: Chronically Bored Dogs' Brains Could Shrink, Scientist Warns," Sputnik News
Buzhardt, L., 2016, "Signs Your Dog is Stressed and How to Relieve It," VCA Animal Hospital
"Captive Animals Show Signs of Boredom, Study Finds," 2012, University of GuelphScience Daily
Kubota, T., 2016, "The Science of Boredom," Live Science