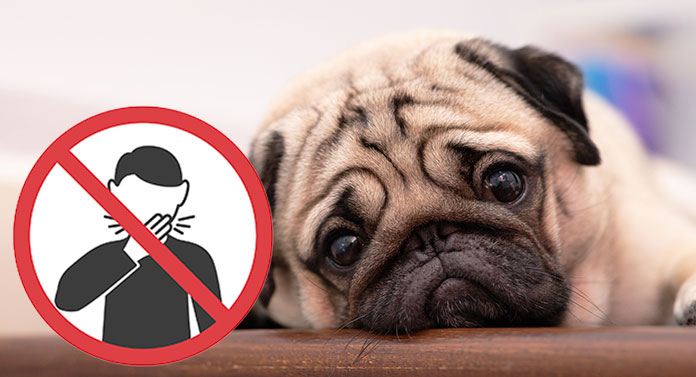 Are Pugs hypoallergenic? Pugs have short fur that doesn't require a lot of grooming, but they are a high shedding breed.
On top of this, their flat face shape can cause excessive saliva, which is one of the main sources of dog allergens.
Pugs are not a good breed for people with allergies. If you have allergies and own a Pug, you will need a diligent cleaning schedule and regular dog grooming sessions.
Let's find out more about the science behind Pugs and human allergies.
Are Pugs Hypoallergenic – Quick Links
If you suffer from dog allergies, it's a good idea to check dog breeds out before bringing them home.
We'll answer all of your questions about Pugs and human allergies in this guide. Let's start by finding out what hypoallergenic actually means.
What Does Hypoallergenic Mean?
Before we answer "are Pugs hypoallergenic" we should learn what the term means.
Hypoallergenic dogs are breeds that aren't meant to cause allergic reactions in humans. Or, dogs that are less likely to cause allergic reactions.
This normally includes low-shedding breeds.
However, many studies have found that the term is misleading. In fact, most say there is no such thing as a hypoallergenic dog breed.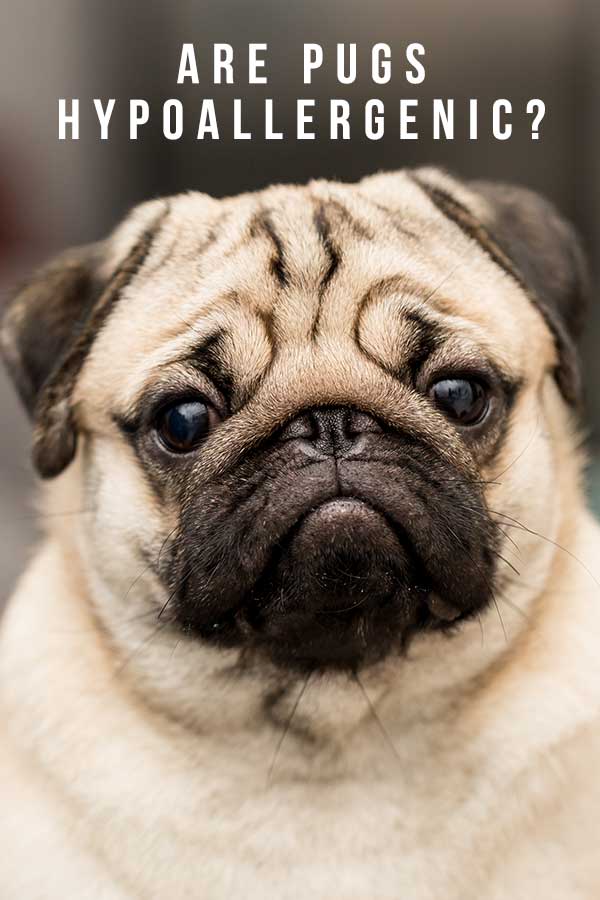 Where We Find Dog Allergens
Dog allergens are proteins in their saliva which trigger an over-the-top immune response in allergic people.
Dogs groom by licking themselves. So, those proteins are scattered into the environment on the surface of shed hair or dander.
But simply choosing a low shedding breed won't necessarily decrease the risk of allergies.
Studies that compared homes with non-shedding hypoallergenic dog breeds and non-hypoallergenic breeds actually found no difference in allergen levels between them.
One even found that allergen levels were higher in homes of hypoallergenic breeds. Perhaps because, without any shed hair to contend with, the homeowners did not vacuum as regularly.
So there is no evidence for ascribing the term 'hypoallergenic' to different breeds.
Are Pugs Hypoallergenic?
We know that no dog breed is truly hypoallergenic. But, some are less likely to cause allergies than others.
Pugs are not one of those breeds.
As we've learnt, dog allergens are most dense in fur, dander, and saliva.
Pugs are very heavy shedders, and their flat faces can lead to excessive saliva production.
So, if you suffer from allergies, a Pug isn't a great choice.
This extends to all colors of Pug. So, if you're wondering "are black Pugs hypoallergenic?" the answer is no!
All colors are just as likely to cause allergies.
Are Pugs Good for People with Allergies?
Generally, Pugs aren't a great breed choice for people who suffer from dog allergies.
They shed a lot, which can lead to fur and dander throughout your house.
Because of their facial conformation, they may also drool and salivate more than other dog breeds. This is another common way for dog allergens to spread through your house. But we will look at this more in a moment.
You can take steps to reduce the levels of allergens that spread through your house by cleaning. But, you can't stop it at its cause.
If you suffer from dog allergies, spend time with a dog before bringing them home to see if they trigger your allergies.
If they do, it's best to choose a different breed. Just remember that individual dogs from the same breed may cause different reactions.
Do Pugs Shed a Lot?
If the answer to "are Pugs hypoallergenic?" is no, what about their shedding in general?
Although Pugs have short fur that doesn't require a lot of grooming, they are very high shedders. Regular grooming can help you to maintain shed fur.
But it's likely that your life will involve a lot of cleaning and washing if you own a Pug.
And remember, allergens aren't just found on your dog's fur. They're also found in dander and saliva.
If you're looking for a low shedding breed, you should consider a different small dog breed. The Pug does not fit into this category.
Does Brachycephaly Make Allergies Worse?
There are no scientific studies that look into a link between dogs with flat faces and an increase in human allergy levels.
But, we know dogs with flat faces can overheat very easily, particularly when exercising.
Dogs that are hot will pant and salivate to try and regulate their temperatures. But, as we know, saliva is one of the places where dog allergens are most prominent.
So, if you own a dog breed that is frequently having to try and cool itself down by panting heavily, there's a risk that they'll produce more airborne allergens than a dog with a healthier facial conformation.
Because Pugs have squished faces, the skin around their muzzle forms folds. You will need to clean these to prevent any infection.
And that means getting regularly up close with saliva, which is known to contain dog allergens.
To avoid these risks, you will be better off choosing a low shedding breed with a long muzzle.
Living With a Pug if you have Allergies
If you live with a Pug and suffer from dog allergies, there are a few steps you can take to try and improve your symptoms.
You'll need to begin a rigorous cleaning routing around your house. This involves washing any soft materials that your dog comes into contact with frequently, and hoovering your floors every day.
You'll want to clean up any saliva that your dog leaves on his toys or the floor.
Plus, it's a good idea to groom your Pug at least once a week to try and control where the shed fur goes.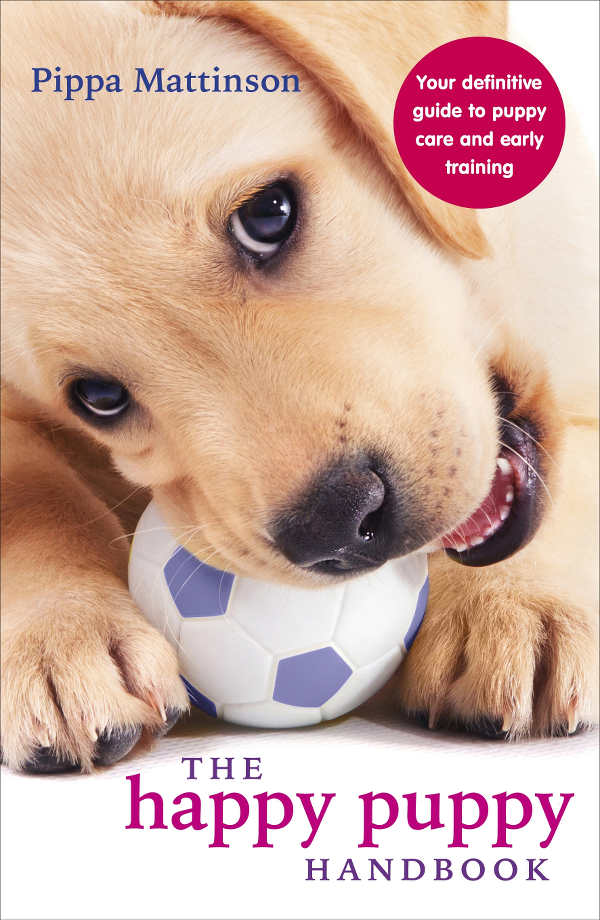 Some people find that it's easiest to restrict their Pug's access in the house. Don't let them go on the couch or on your bed.
But, studies have shown that the most effective method to reduce allergies is to remove the pet altogether.
Similar Breeds that are Good for Allergies
There are plenty of dog breeds out there that are more suitable for people that suffer from dog allergies.
But, the best way to check that you don't react to a puppy is to spend time with them before committing. Some people find that their allergic reactions differ to puppies from the same litter. So, this is by far the best method to find a dog that doesn't trigger your allergies.
Here are some other small, low shedding breeds that may be a better choice for you.
Are Pugs Hypoallergenic – A Summary
Sadly, Pugs are not hypoallergenic. In fact, they are a high shedding breed. So they are not suitable for people that suffer from dog allergies.
Alongside shed fur, Pugs may produce more saliva than other dogs because they overheat very easily. Saliva is another key source of allergens in dogs, so this may also trigger your allergies.
There are ways to live alongside a Pug if you have allergies. But studies and research show that removing the dog entirely is the most effective solution.
If you suffer from allergies, it's a good idea to look into low shedding breeds. Particularly those that don't suffer from brachycephaly and its associated problems.
References and Resources