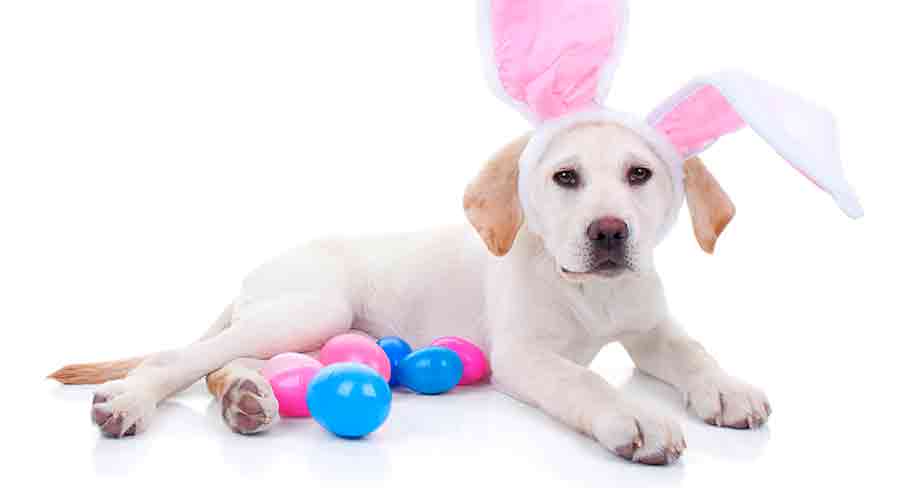 Dog Easter basket ideas are a great way to involve your pup in your Easter fun!
Do you want to make your furry bestie a dog Easter basket to celebrate the holiday? Then you are in the right place!
Traditionally, the Easter holiday has featured bunnies, chicks and lots of eggs. But perhaps this is the year to make the switch to a dog-centric celebration instead!
In this article, learn to make your own dog Easter basket if you feel so inclined. You will also be able to browse through a curated selection of the best ready made dog Easter baskets for a fun alternative to the DIY approach.
Products included in this article were carefully and independently selected by the Happy Puppy Site team. If you decide to make a purchase from one of the links marked by an asterisk, we may earn a small commission on that sale. This is at no extra cost to you.
What is a Dog Easter Basket?
It is nearly impossible to watch little kids hunting for Easter eggs without just breaking out into the biggest smile.
They are so eager and so keen to find the treasures and enjoy them!
Of course, for your pet pup, every day is a great day to expect the best out of life.
Every day brings so many treats, the best of which is your time and company.
So it just makes sense you would want to witness your dog's delight when you present a special dog Easter basket and watch them tear into the contents and enjoy the heck out of it all!
Do Dogs Like Easter Baskets?
The best part about watching your dog enjoy a dog Easter basket is that what your dog finds most fascinating may not be what you expect.
Dogs, like kids, often find just as much joy in cardboard packing boxes, wrapping paper and bubble wrap as they do in the gifts inside them.
All that to say, you don't have to break the bank to make a dog Easter basket your pup will love.
Now read on to learn how to make your own dog Easter basket customized for your dog's favs!
Make Your Own Dog Easter Basket!
So let's jump into creating your own dog Easter basket!
Easter Basket Safety
But first things first….a word about safety. If you are brand-new to pet parenting, you may not yet be familiar with all the things that are safe for people but not safe for dogs.
So be sure to pre-screen each item you want to put in your dog Easter basket for safety!
Especially take care to avoid chocolate, raisins, xylitol (a sugar substitute in everything from gum to peanut butter), any foods your dog might be allergic to, toys with small detachable parts or stuffing and Easter lilies (they are poisonous to dogs).
Non-Edible Items to Avoid
Non-food items can be dangerous for your pooch as well.
fake Easter "grass,"
cellophane candy wrappers
gift basket wrapping
thin wire
sharp wicker
plastic hollow eggs
and other common people decorations may look like treats or toys but can be extremely harmful if swallowed – be sure to keep them out of your dog's reach.
The Basket
Traditional Easter baskets are cute and fun, but chances are good your dog won't see anything in the basket you pick except yet another fun new toy (or snack).
In fact, as long as Easter goodies are forthcoming, your pup probably won't even care if there is a basket at all!
But it can be fun to line up everyone's Easter baskets, including your pet pup's. Here are some neat ideas for safe basket-type holders to put your dog's gifts in!
A New Dog Bed
Sheri OrthoComfort Bed
This cozy dog bed* by Sheri OrthoComfort can accommodate dogs up to 35 pounds.
It comes in a variety of colors and features a waterproof bottom.
JoyElf Orthopedic Dog Bed
This orthopedic dog bed* by JoyElf comes in three sizes.
It is easy to clean with a waterproof inner liner and comes with a free dog squeaky toy!
A New Snuffle Mat Feeder
Wooly Snuffle Mat
This dog-safe, machine-washable interactive treat and feeding tool* is the perfect safe place to hide your dog's Easter treats!
Sniffiz Mat
This colorful and engaging snuffle mat* is another great choice for your dog's Easter "egg" hunt!
A New Dog Toy Bin
Bone Dry Storage Bin
This adorable dog toy storage bin comes in round or rectangular in a number of colors.
It is made of durable polyester you can just wipe clean.
Bone Dry Wicker
This more traditional basket toy holder* is in the shape of a bone and features a top latch closure.
The wicker is made of polypropylene you can just wipe clean.
A Dog Bicycle Basket
Snoozer Dog Bike Basket
This fun padded bicycle seat* for small pups by Snoozer Pet Rider has a three-point safety restraint system and reflective stripe for visibility.
Petsfit Bicycle Dog Basket
This basket for dogs* up to 10 pounds mounts over the handlebars of your bicycle.
The inner pad is removable and machine-washable.
A New Travel Dog Crate or Car Seat
Snoozer Lookout Seat
This warm and cozy lined car seat* by Snoozer fits dogs up to 12 pounds.
It comes in a variety of colors with a safety strap.
Dog Booster Seat
This booster seat* comes in a front seat model for small dogs and a back seat model for larger dogs.
The plush liner is machine-washable.
What To Put In Your Dog's Easter Basket
This, of course, is the most fun part, because now you get to pick out your dog's Easter basket presents!
What will make your pooch's eyes light up and salivary glands get going?
Toys, Toys, Toys
Lobeve Variety Set
This variety set* is designed for small to medium dogs.
Tug ropes and tug-of-war rope toys, a rubber ring, stuffing-free squeaker toys and a flying disc round out this perfect playtime set.
Outward Hand Squirrel Toy
This hide-a-squirrel toy* has everything – enticing squeaking squirrels hidden inside a log!
Choose from four characters.
Dog Treats
Chewy Buddy Biscuits
This biscuits fun treat pack* features four different favorite canine flavors, each in its own resealable pouch.
Training Treats
These tasty training and anytime treats* come handily packaged in their own sealed handle jar.
How To Assemble Your Easter Basket
It can be smart to pick out your dog's Easter "basket" first before choosing the treats and toys – just to make sure everything you want to put inside will fit.
If you need or want to hide the gifts in the basket from your dog, one good idea is to put them all inside a paper grocery bag (or even a wonderfully scented old dog food bag) that your dog can then rip into to get the goodies.
If a basket just isn't working for you, consider this fun and creative alternative – hide your dog's Easter treats in plastic eggs and then host a supervised canine Easter egg hunt in your backyard!
Best Ready Made Dog Easter Basket Gifts
If you are pressed for time, you may find that one of these ready made dog Easter basket-type gifts is the perfect Easter present for your pup!
Easter Toy Sets
Dog Toy Gift Set
This gift set* features treats, a dog towel, balls, travel bowl, toys, pee pads, an ultrasonic dog whistle and poop bags
It also contains a cozy machine-washable pet blanket.
MLCINI Squeaky Toy Gift Set
This handy gift set* has it all – tug ropes, balls, squeakers, treat toys.
The toys come inside a non-toxic handy canvas carry backpack for park play dates.
Tasty Easter Treats
Claudias Canine Bakery
This carousel of canine party bones* is a perfect choice for one or many canines attending your Easter festivities.
There are 28 to 30 cookies (10 ounces) in the box.
Useful Gift Sets
Harry Baker Dog Spa Gift Set
Make your dog's next bath experience sublime with this fun gift set*.
It comes in two colors: pink and blue, and four sizes: XS, S, M, L. The whole gift set comes in a cute recycled steel carry pail.
Inside you will find an adorable dog bathrobe, a pin and bristle brush, plus dog shampoo/conditioner.
AMZpets Training Set
For new pups and owners, this little basket set* can't be beat!
Inside the belt-loop treat bag you will find a clicker, ultrasonic dog whistle, poop bag dispenser and potty training bells.
Remote Easter Treats
PetCube Bites Camera Treat Dispenser
PetCube Bites* is a great way to make every day Easter morning for your pup – even if you are not home!
The device has a remote treat dispenser, two-way audio, streaming video, a night vision mode and it even comes with a free bag of dog treats. Check out our review after we test-drove this feature-rich device!
Your Dog Easter Basket
We hope this article has given you lots of creative ideas for surprising your fur bestie on Easter morning. And don't forget to top it all off with the Easter gift your dog loves best – plenty of play and snuggle time with you!
Please drop back by and share your dog's favorite Easter morning surprise from your special dog Easter basket!
Affiliate link disclosure: Links in this article marked with an * are affiliate links, and we may receive a small commission if you purchase these products. However, we selected them for inclusion independently, and all of the views expressed in this article are our own.
References and Resources