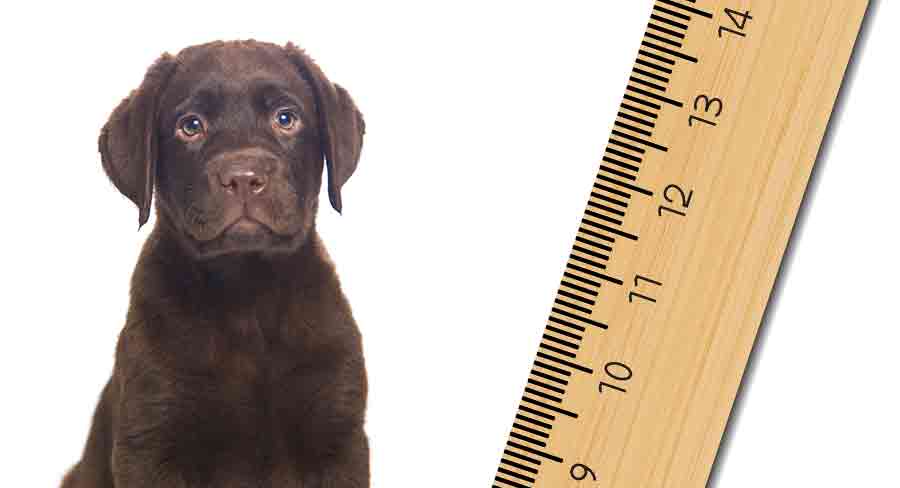 Welcome to our complete guide to Labrador size. Labs are a medium-large breed, but what does that really mean? How big do Labrador Retrievers get? And how can you predict the adult size of your own Lab pup? We've got all the detail you'll need on Lab size, weight, and growth.
Labrador Size
In this complete guide to Labrador size we'll look at how big a Lab should be, from puppyhood through to a full grown adult. We'll look at how fast Labrador puppies grow, when they stop growing, and how to tell if your pup is growing too fast.
We'll look at how height and weight vary between English and American Labs, or between males and females. And whether a full grown black Labrador is bigger than a yellow or chocolate Lab.
The Labrador Retriever
Labradors are part of the Gundog group of dogs. Originally bred as hunting dogs, to retrieve shot game, they needed to be hardy enough to work in and out of the water in winter, and strong enough to carry large birds.
The size and strength of the modern adult Lab reflects their practical roots. They are a medium-large breed, strong, agile and clever.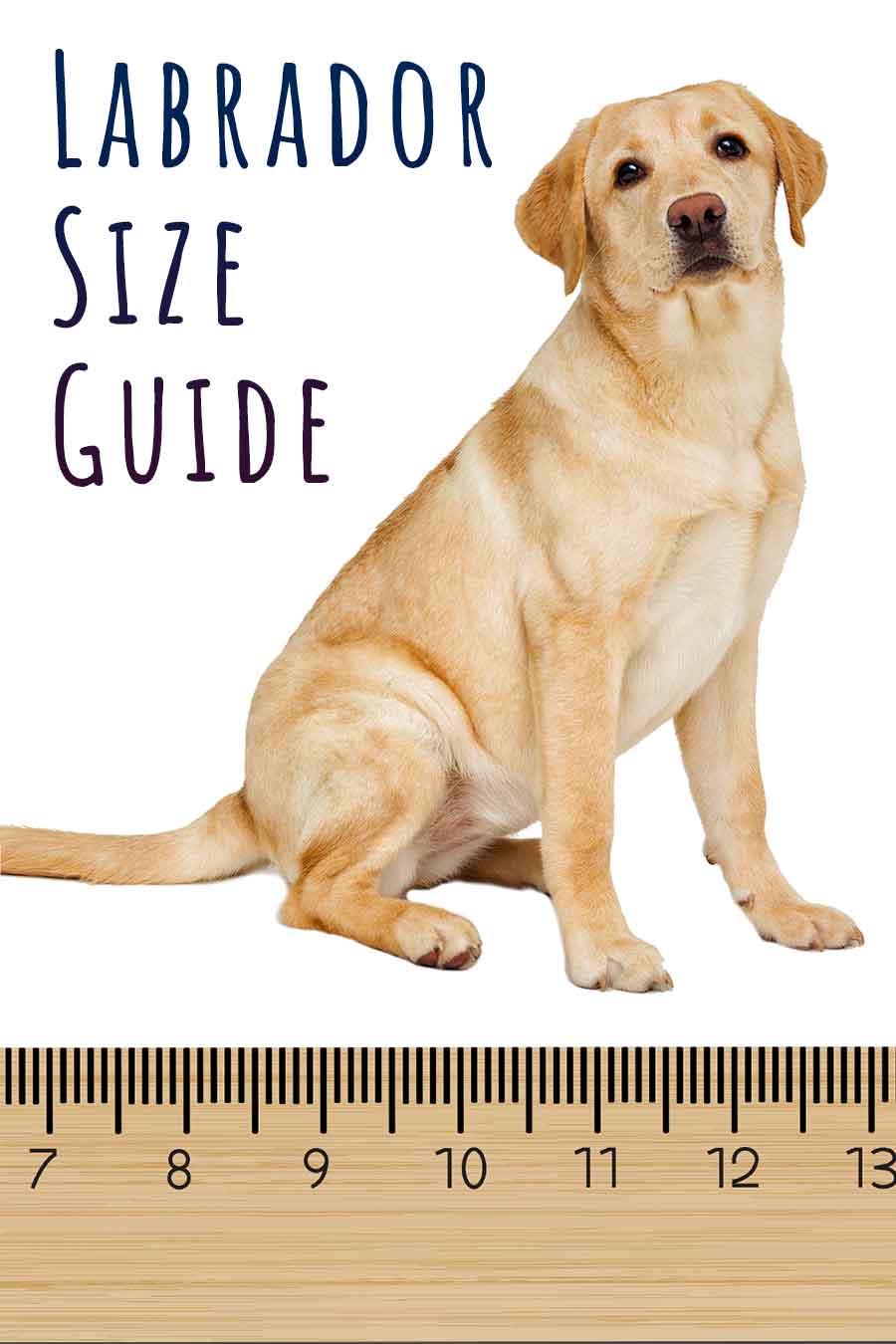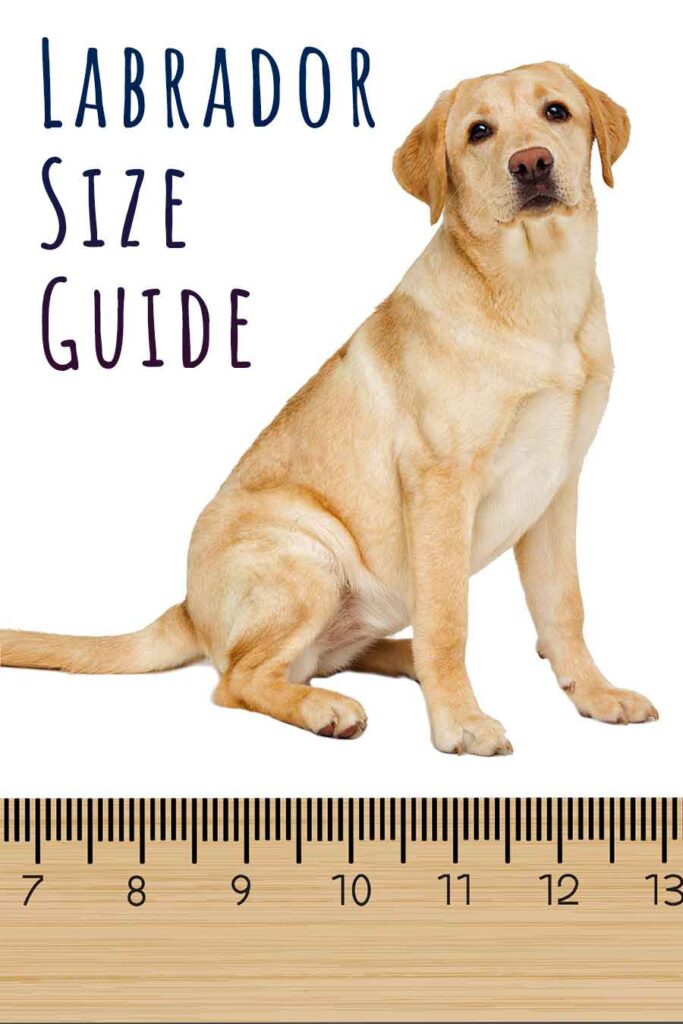 Before we look at how adult Lab size varies, and why, let's take a look at puppy size and Labrador growth rates.
How Big Are Labrador Puppies?
When you're choosing or caring for a puppy it can be good to know what 'normal' looks like, so you can spot if your pup is too small. Or if they are getting a little overweight.
Small size in puppies can be a sign of stress or illness. Puppies can be small due to poor nutrition – eating the wrong food, or not enough food – or other poor care. However puppies can also be small because their parents are small, or through random chance. If in doubt, ask your veterinarian to check your puppy over.
An overweight Labrador puppy is at increased risk of joint damage. Joint problems such as hip dysplasia and elbow dysplasia are already common in Labradors, so it's important to avoid letting your pup get overweight. So let's take a look at how big your pup should be, how fast Labradors normally grow, and how to keep that growth on track.
Normal Puppy Size
The standard advice given is that an 8 week old Labrador puppy will weigh around 16 pounds. Two for each week of its life. However, when puppy parents on the Labrador Forum were surveyed, they found a wide range of 'normal' healthy weights. With the majority of 8 week old puppies weighing between 6 and 16 lbs.
It's important that all puppies grow at an appropriate rate for their size.
Labrador Growth Rate
Labradors go through two stages of growth. A fast growth stage and a slower one. For roughly the first six months of their life, a Lab grows by approximately 2lbs in weight, per week. This is just an average – don't worry if your pup grows a little faster or slower!
From 6 months to a year old, Labs gain weight much more slowly, as they approach their adult size.
When Do Labradors Stop Growing?
By 9 months old, your Labrador will be close to their full grown adult height. After they are a year old they may gain a little weight and 'fill out' a bit more for a few months, but they are unlikely to get much taller.
Factors Affecting Labrador Growth
Labrador growth rate is affected by a number of factors, including genetics, diet, their general health, and when/if they are neutered.
English Labs, or show-bred Labs, tend to be shorter, but also stockier and heavier, than the working-type American Labradors. And puppies tend to take after their parents in build and weight.
Pups that eat too few of the correct nutrients, or who are chronically unwell, can grow too little. They may end up as smaller adults, failing to meet their full height or weight potential.
But pups that eat too much can grow too fast, and this is just as unhealthy. In addition to the usual problems that come with being overweight, fast growth can put too much strain on your pup's developing joints. This can increase the risk of serious, painful and activity limiting, joint injury.
Lastly, there is some evidence that early neutering (before six months) can cause dogs to grow for longer, and reach a greater adult size. And that this may increase a Labrador's risk of developing joint problems. Whether, and when, to neuter is a complex decision, and we've included links to some neutering resources at the end of this article, if you'd like to find out more.
Owner Responsibilities
You can't change your pup's genetics, but you can change how you manage the other factors affecting their growth. The correct diet in the correct quantities, is essential to help your Lab puppy grow at the optimum rate.
You can achieve this by feeding a good quality complete dog food (wet or dry) that is formulated for your puppy's age. Or by feeding a carefully balanced raw or 'natural' diet. But in either case it's important to remember that the amount of food each pup needs is different. Amounts on the packet are a good starting point. But keep an eye on your own pup's growth and adjust the amounts accordingly.
Is My Labrador Growing Too Fast
It's tempting to think you can fed your pup as much as they like, as long as they get enough exercise. Unfortunately this isn't the case for Labrador puppies. In fact too much exercise can damage their joints, just as being too heavy can. It's important to limit your pup's calories to their daily needs.
If in doubt, pop along to your veterinarian and get your pup weighed. If you do this fairly regularly, your vet will be able to guide you as to whether his growth is on track. Watch out for weight that continues to rise for more than a few months after your dog stops getting taller. This could be unnecessary weight gain, rather than your dog gaining muscle and 'bulking out' as they mature.
In between weigh ins, you can monitor your dog's weight by look and feel. You should be able to see a waist, and feel a few ribs, on your Lab. If you can't feel any ribs, she is likely to be overweight. If you can see ribs without feeling for them, she is probably underweight.
So now we know how big your pup should be. But what about once they are full grown? How big do Labradors get?
What Is The Average Labrador Size?
A full grown Labrador is a medium to large sized dog. Males are on average an inch taller than females, and around 10lbs heavier.
Coat color doesn't affect Labrador size. A full grown black Labrador is the same size on average as an adult yellow Lab, or chocolate lab, provide all three are the same subtype. (So all American, or all English, Labs).
But American Labs do tend to be taller and lighter than their English counterparts.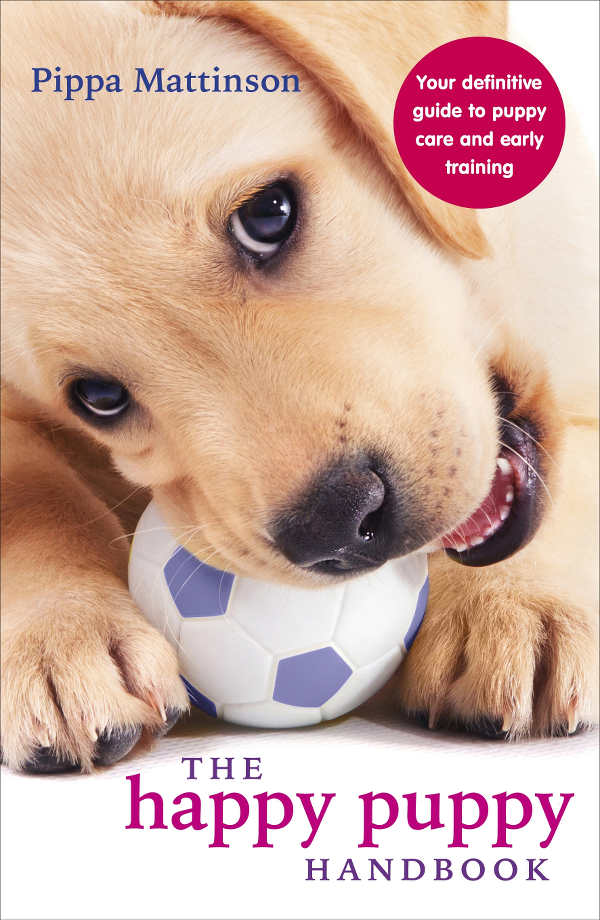 Labrador Height
How tall do Labs get? A full grown male Labrador is between 22 and 25 inches tall, and an adult female Lab is 21 to 24 inches tall. English Labs tend to be at the shorter end of this range. American Labs can be found in the full range of heights.
Labrador Weight
How heavy is a full grown Lab? Adult Labrador weight can range from 55 to 85 pounds. Full grown female Labs tend to fall between 55 and 70 pounds, with males weighing upwards of 65 pounds.
Labrador Size: Summary
Overall, Labs are medium-large dogs, weighing anywhere from 55 to 85 pounds, and standing 21-25 inches tall. This is a pretty wide range. And how big your pup gets will depend on whether they are male or female, American or English type, and on how big their parents are. Males are taller and heavier than females. And American Labs are taller, but lighter, than English Labs on average.
Your puppy will grow fastest in their first 6 months. And most Labradors are full grown by a year old, though they can continue to gain healthy weight for up to 6 more months. Taking care to feed a properly balanced nutritious diet, without too many calories, will help your pup grow at the correct rate, and reach a healthy adult weight that doesn't put extra strain on their developing joints.
Most important of all, there is no one 'correct' weight and height for your Labrador. What's matters most is that your adult Lab's size is the right one for them – a healthy weight that suits their build and ancestry, and will help them to have a long and active life.
Further Reading