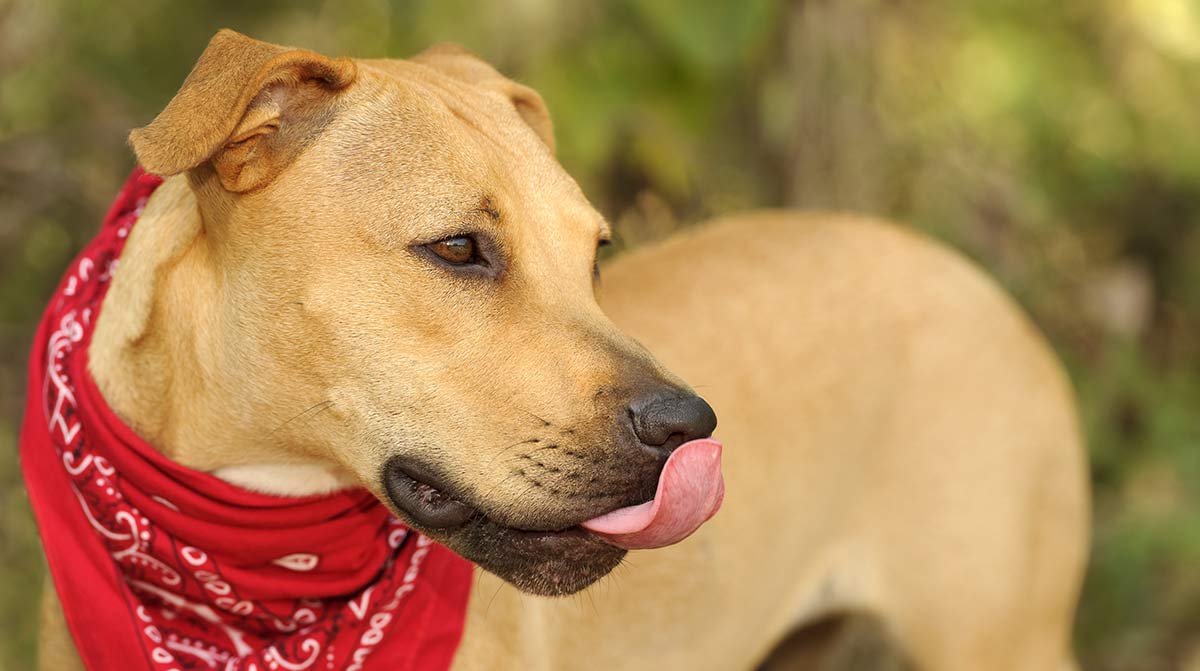 We all know that dogs lick themselves to keep their fur clean, but why do dogs lick the air ?
If you've ever watched a dog flicking his tongue in and out repeatedly, for no apparent reason, it seems like a pretty strange thing to do.
Like so much in the world of animals, there are reasons for this behavior, and sometimes it can be a sign that something is wrong.
When is licking normal?
Most dogs lick their own noses at times. Licking the nose helps to keep it moist which in turn enhances your dog's ability to smell things.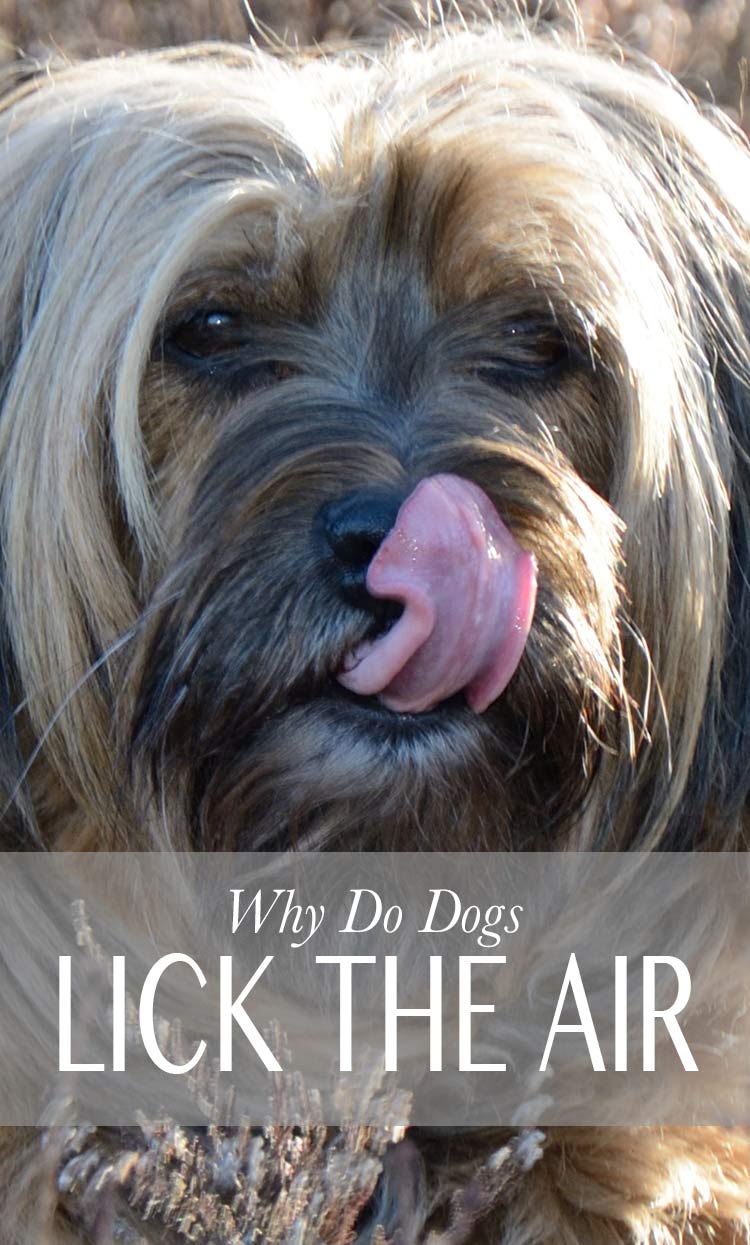 A dog may lick his lips to remove food from his mouth, or to avoid dribbling when his is hungry and expecting his dinner
When a dog keeps licking air
But when a dog keeps licking air, it is not about keeping noses moist or cleaning the remains of breakfast off his face.
It's a sign that your dog needs your help
Why do dogs lick the air occasionally
At the simplest level a dog may lick the air a few times to indicate he is feeling a little stressed.
We call this an 'appeasement' gesture – an attempt to get reassurance from his owner.
Your dog is basically say 'let's be friends, I don't want to fall out'. So don't be tempted to mock him, film him, or scold him. He needs your reassurance.
Appeasement is more likely to be the cause of air licking, if the dog is being trained with punishment.
Even mild non-physical punishment. In this case the dog may lick repeatedly at the air when in a training situation or when being stared at or watched
He'll usually stop air licking when you take the pressure off him
Prolonged and frequent air licking in dogs
There are both physical and psychological reasons for air licking in dogs. Some of which can be serious if left untreated.
So, if your dog is frequently and persistently air licking, you need to pay a visit to your vet.
You'll need your vet's help to eliminate some potentially serious health issues and to get to the bottom of your dog's behavior
A dog constantly licking air may be unwell
A dog with digestive problems may start air licking. Especially if he feels nauseous.
There are a range of potential problems that can cause nausea.
So your vet will want to give an air licking dog a good physical exam and may also draw some blood to send off to the lab for testing.
Why do dogs lick the air during seizures
Sometimes air licking is associated with a type of seizure, known as a partial seizure. This is another reason why it is so important to take your dog to the vet if he starts air licking
Dogs may lick the air and snap at the air during a partial seizure.  This is because seizures cause abnormal electric activity in the brain that in turn triggers abnormal muscle reactions in the dog.
Your vet will be able to help your dog is he suffers from seizures, and with medication it may be possible to prevent them altogether.
If a medical examination and tests reveal no physical problem, your vet may diagnose a compulsive disorder.
When air licking in dogs is a compulsive disorder
Like people, dogs can occasionally suffer from compulsive disorders that cause them to repeat behaviors over and over again.
Don't Forget To Add Your Dog!

Air licking in dogs can be a compulsive disorder and may respond to treatment.  So it is important to seek help from your vet.
He or she may in turn refer you to an animal behaviorist for further help and support
Why do dogs lick the air – a summary
Air licking in dogs can be caused by
Severe anxiety or stress
Nausea or tummy troubles
Dental Problems
Compulsive disorder
Seizures
Persistent air licking requires veterinary attention
Which dogs are more likely to lick the air?
Dogs that are nervous or sensitive are more likely to air lick than confident, calm dogs.
Dogs are suffering from stress or trauma – after being rehomed for example – may lick repeatedly. Either in an attempt to sooth themselves or to try and appease those around them.
Dogs that are ill may also be more likely to lick the air.
My dog is licking the air
If your dog starts licking the air you'll first want to rule out a source of stress.
Ask yourself if your dog has any reason to be anxious or upset. Have you changed his routine in any way – altered the way you discipline him. Are you trying out a new type of training.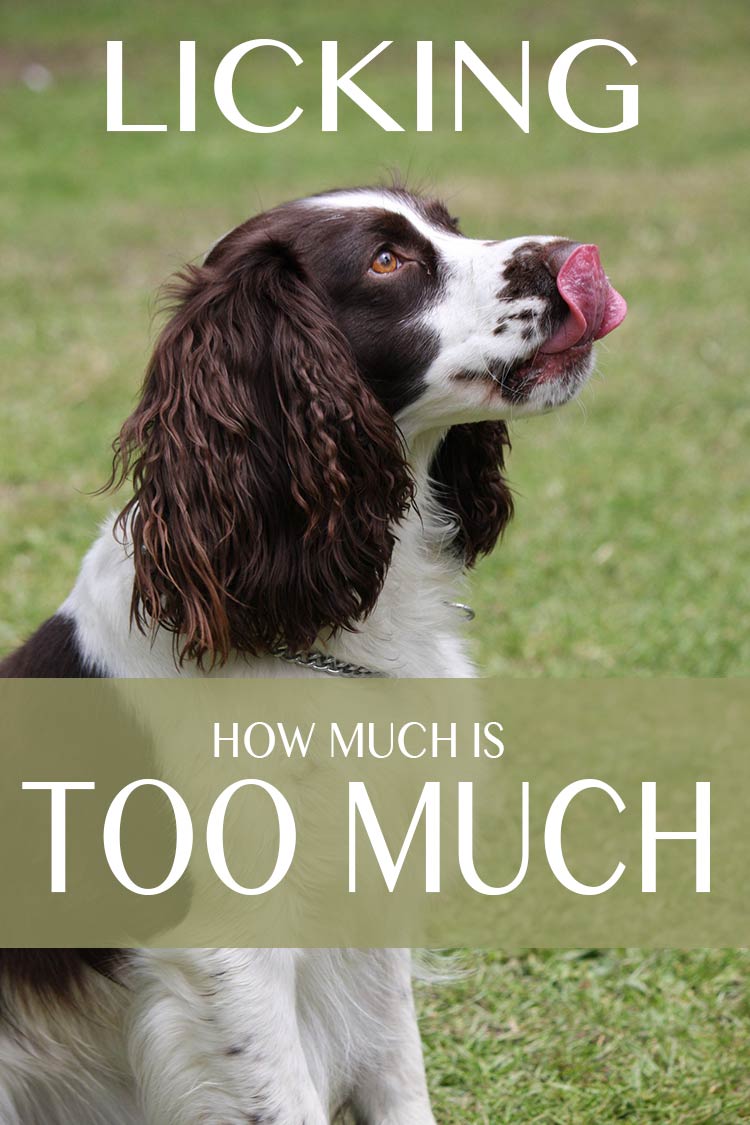 Has anyone special to him been absent – has another pet or family member died for instance.
Unless the problem resolves when you reassure and comfort your dog or change your training methods, you need to get veterinary help
How to stop a dog from licking the air
If you can't think of a reason that your dog could be anxious, or if the air licking continues, make an appointment to get your dog checked by a qualified vet.
If a medical examination and tests reveal nothing, your vet may diagnose a compulsive or behavioral problem such as a compulsive disorder.
He or she will be able to suggest ways in which you can manage and/or resolve the problem.
Prompt veterinary attention is important, as the longer you leave the air licking problem, the harder it may be to treat.