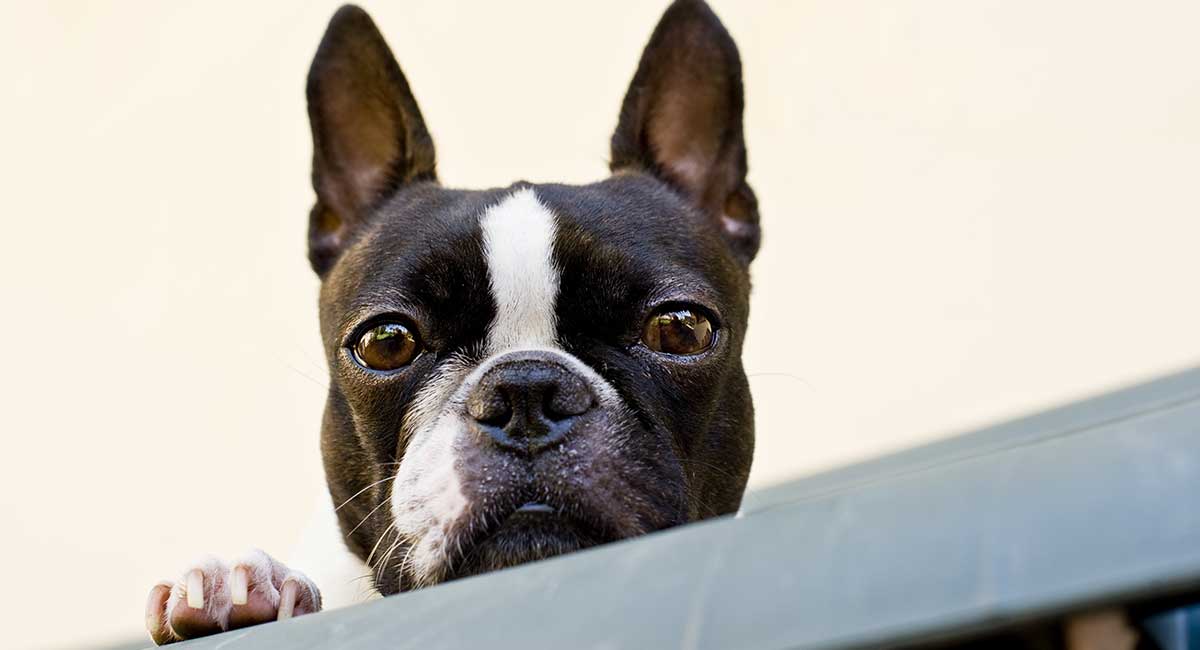 The Boston Terrier is a small breed, commonly kept as a companion or lap dog.
Originating in the United States, the Boston weighs up to 25 lbs and usually lives for about 11 years.
Boston Terriers have a low maintenance short coat, but a fairly high chance of having health problems.
This dapper little pup in his black and white tuxedo has been a favorite companion animal for years.
Is the Boston Terrier the perfect dog breed for you?
We'll explore the world of the Boston Terrier and tell you all you need to know to decide if this little dog with a big personality is the ideal pet for you.
What are the origins of the Boston Terrier breed? Let's find out now!
History of the Boston Terrier Dog
According to the official U.S. Boston Terrier breed club, the Boston is a true American breed, born and bred in the U.S.A.
In the 1800s, a breeder in Boston, Massachusetts named Robert Hooper acquired an English Bulldog and white English Terrier mix named Judge.
Judge is the founding dog of the Boston Terrier breed.
Bostons were originally called "Round Heads" before taking on the Boston Terrier name.
The American Kennel Club first recognized the breed in 1893. Today, the Boston Terrier (nicknamed "The American Gentleman") ranks 21st in the AKC's list of most popular dog breeds.
Boston Terrier Description
How large will your Boston puppy get when fully grown?
An adult Boston Terrier is a small to medium sized dog. It belongs to the non-sporting dog breed group, and not the toy group.
Size
In the official breed standard, the Boston Terrier weight is divided into three classes: under 15 pounds, 15 to 20 pounds, and 20 to 25 pounds.
Adult Bostons should not weigh more than 25 pounds when full grown, and the smallest adult size is usually around 12 pounds.
The breed stands between 15 and 17 inches tall at the shoulder.
There is little difference in overall size and body proportions between males and females.
As we mentioned, the Boston Terrier is not a toy breed, but many people are interested in finding out if there is such a thing as a miniature Boston Terrier.
Teacup Boston Terriers
There is no official miniature or teacup Boston Terrier breed.
Breeding for unusually small sizes is a trendy but controversial practice that can lead to serious health problems in dogs.
View any advertisements that you see for mini Bostons with extreme caution.
So-called teacup breeders often use unhealthy runts to create very small dogs.
Bostons on the smaller end of the normal weight range are around 12 pounds.
Healthy adults should not be below 10 pounds in weight and 15 inches in height.
Boston Terrier Coat and Grooming
Judge and his first descendants were dark brindle and white in color.
Today's Boston is well-known for its distinctive black and white coat, although the breed standard allows for brindle and white or seal and white as well.
The amount of white in the coat varies from dog to dog.
At a minimum, they should have white on the head and chest.
"Desired" markings for Bostons include a few more white areas, such as on the legs. The overall impression should be that of a tuxedo suit.
Shedding and Grooming
What about Boston Terrier shedding, and what are the grooming requirements?
The coat is short, smooth, and glossy.
The breed's sleek coat will shed somewhat, although not nearly as much as many thicker-coated breeds.
Experts recommend a once weekly brushing with a soft bristle brush.
Grooming mitts also work well on the Boston's coat.
Regular baths are generally not needed.
The Boston is a fairly low maintenance breed but be sure to trim your dog's nails and get into the habit of regular tooth brushings.
While grooming requirements are minimal for the Boston Terrier, what about the time you will need to spend training and socializing your dog?
Let's look at the Boston Terrier personality first.
Boston Terrier Temperament
Boston Terriers were bred to be companion animals and they thrive on plenty of human contact and attention.
Bostons have lots of appealing personality traits.
They are bright and active, always ready to play and make friends.
While energetic, they don't need too much outdoor space to keep them happy.
In fact, many Bostons are sophisticated city dogs, happy to live in an apartment and accompany their owners on walks around town!
The lively Boston can be a good choice for families with children. They also enjoy participating in organized activities like flyball and agility training.
Many Bostons also work as therapy animals, bringing their good cheer to patients in hospitals and nursing homes.
Boston Terrier Training
As a smart, outgoing, and eager to please breed, the Boston Terrier is very trainable.
Start training and socializing your dog from an early age and always use only positive reinforcement training techniques.
Reward good behavior with praise and treats and never punish your dog.
What are some "bad" behaviors the Boston Terrier might exhibit? Some owners complain that their dogs pull towards other people or animals when out on walks.
Consider enrolling your dog in a puppy kindergarten class with a professional trainer if you are a novice dog owner.
Healthy and Happy?
Now that we've talked about appearance and personality, what about health?
Like most purebred dogs, Boston Terriers can suffer from some inherited health problems.
Here's what potential owners need to know.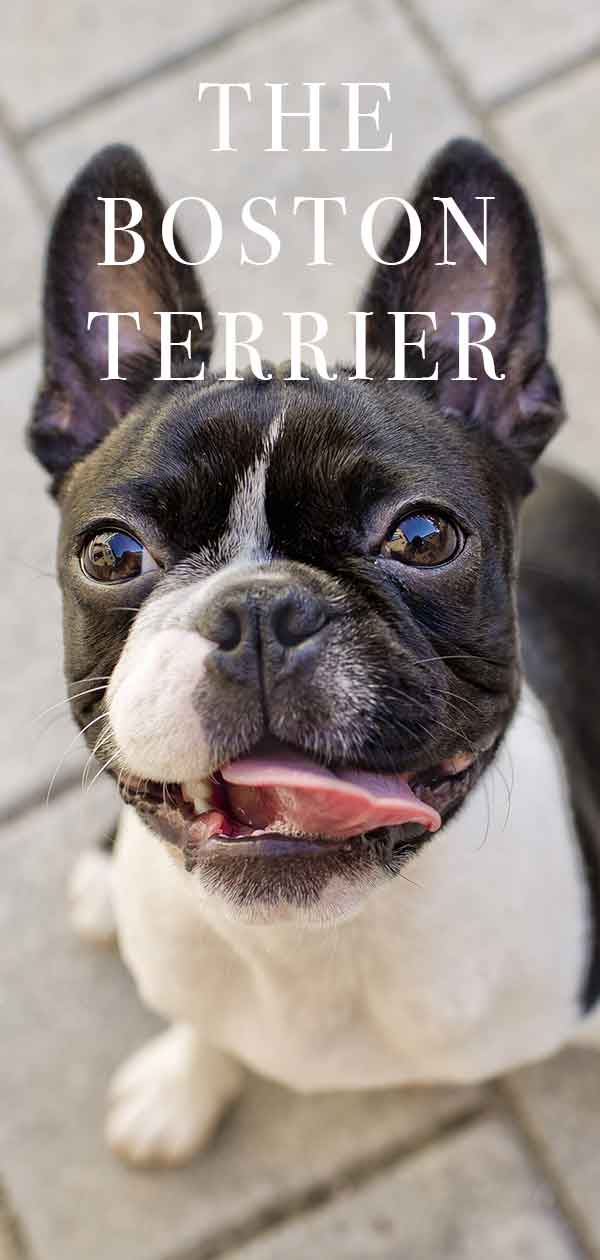 Boston Terrier Health
The Boston Terrier's Bulldog ancestry has contributed to the breed's appealing looks, but it has also led to some serious health problems.
Boston Terriers can be prone to certain inherited health issues related to the physical structure of the breed's head, face, and body.
We'll break down the most common health issues potential owners should be aware of.
Boston Terrier Eye Problems
The Boston has prominent eyes that many people find endearing, but these protruding eyes can be vulnerable to injury and disease.
According to the official breed club, Bostons suffer from more than 20 eye conditions, including corneal ulcers, cataracts, and glaucoma.
Boston Terriers suffer from two types of cataracts: early-onset hereditary cataracts and late-onset hereditary cataracts.
The early-onset form will affect both eyes of dogs as young as a few months old and can result in total blindness. The late-onset form is generally less severe.
Uncomfortable eyes
The Boston Terrier is also one of a handful of dog breeds that is especially prone to glaucoma, which is increased eye pressure.
Glaucoma can be either primary (which is genetic) or secondary (caused by other eye problems such as cataracts). Both types can occur in the Boston.
The Boston's protruding eyes can leave the breed vulnerable to corneal ulcers.
These are most commonly caused by trauma to the eye, such as scratches, and chronic dry eye.
Care should be taken to protect your dog's eyes from irritation and injury.
Many owners indeed protect their dog's eyes from too much exposure to sun, wind, dust, and sharp objects.
You also may want to keep eyedrops handy to wash irritants from the eyes and keep them moisturized.
Brachycephaly
The Boston Terrier's flattened muzzle causes the eyes to protrude, but there are also other health problems associated with short muzzles.
Brachycephalic syndrome is the term used to describe the multiple effects of airway obstruction and reduced airflow to the lungs in short muzzled dogs.
Bostons with brachycephaly can suffer from several chronic breathing and health problems.
Including collapsed larynx, gastrointestinal problems, heart failure, heat stroke, and respiratory distress.
While brachycephaly can be less severe in Bostons than some other flat faced breeds like English Bulldogs, it is always a good idea to choose a puppy that has a longer muzzle.
Spine and Joint Problems
Bostons can suffer from hereditary diseases of the spine and joints.
The most common joint problem in the breed is luxating patella, a hereditary condition often seen in smaller sized dog breeds.
Patellar luxation occurs when the area of bone where the kneecap sits (called the femoral groove) is malformed, leading to painful dislocation of the kneecap.
Screw Tails
The Boston Terrier breed standard calls for a short body length and either a straight or screw tail.
Short bodies and screw tails can result in a painful and debilitating spinal deformation called hemivertebrae.
In this disease, the bones of the spine are malformed, causing damage to the spinal cord.
Dogs with hemivertebrae can suffer from incontinence, limb weakness, and even paralysis.
While more commonly seen in some other small breeds derived from the English Bulldog (particularly the French Bulldog), many Bostons can also suffer from hemivertebrae.
How can you ensure that the Boston Terrier puppy you choose is healthy and will not suffer from inherited health conditions?
Boston Terrier Breeders
Since the Boston can be prone to some serious genetic health problems, it is especially important to choose your baby Boston Terrier from a reputable breeder who tests their dogs for inherited health conditions.
What kinds of tests should you look for when choosing a puppy?
The Boston Terrier Club of America maintains a health certification program for member breeders.
Participating breeders will test their dogs for a variety of health conditions and provide certified results to clients.
Tests can be either physical exams or genetic DNA tests.
Health Testing Is Vital
Dogs are examined for eye problems and luxating patella by veterinary specialists who work with established canine health registries.
Bostons can also be genetically tested for early-onset hereditary cataracts.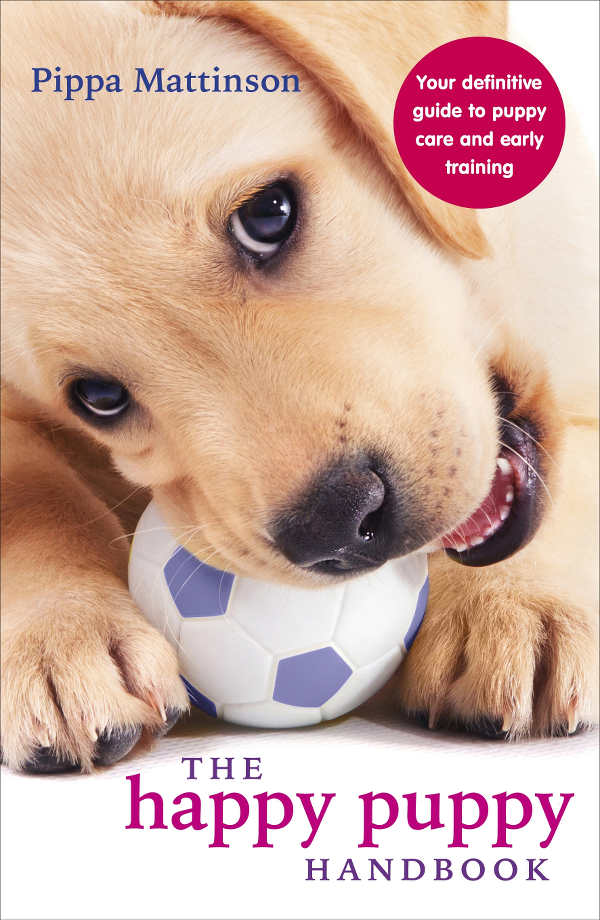 As we've seen, this is one of the more serious eye problems of the breed that can lead to blindness at a very young age.
Besides health testing, you should also look for an established small-scale breeder who welcomes visitors into their home and introduces you to your puppy's family members.
Finding Good Breeders
Responsible breeders will be as careful about choosing you as you are about choosing them, so be prepared to fill out an application and answer questions.
Remember that there is no such thing as a teacup Boston, and unusually small dogs can have serious health problems.
You should also avoid buying from large-scale, for-profit breeding operations known as puppy mills.
Puppy mill dogs are often found in pet stores or through online ads.
Once you've found a good breeder, how do you pick the perfect puppy?
Boston Terrier Puppies
Choose a puppy that has been well socialized in the breeder's home, rather than in cages or kennels.
The best puppies will have had plenty of exposure to other people and animals.
Look for a puppy that is friendly and playful.
Poorly socialized puppies will show signs of fear, shyness, or aggression.
Your puppy and all his littermates should appear healthy. Look for bright, clear eyes free from discharge. The nose should also be free from discharge.
Check for messy bottoms and signs of diarrhea.
The puppies should be curious and playful. Lethargy can be a sign of underlying health problems.
Boston Terrier Rescue
Is it possible to adopt a purebred Boston Terrier from a shelter or rescue group? Rescue is a great option, especially if you are open to getting an adult dog.
Check with the Boston Terrier breed club's rescue committee to see if they know of any available rescue dogs.
You may also want to search for other breed rescue organization in your area.
You can also do a breed-specific search for purebred Bostons and Boston mixes housed at nearby shelters on pet adoption websites such as Petfinder.
Is a Boston Terrier the right dog for you?
Choose your dog from a reputable breeder who health tests their dogs and start the training and socialization process at an early age.
Remember that your dog with its big, expressive eyes will likely need extra TLC.
Keep your dog's eyes clean and moist and see your vet if your dog shows signs of eye problems.
Already have a Boston? We'd love to hear from you! Tell us about your "American Gentleman" in the comments below.
References and Further Reading