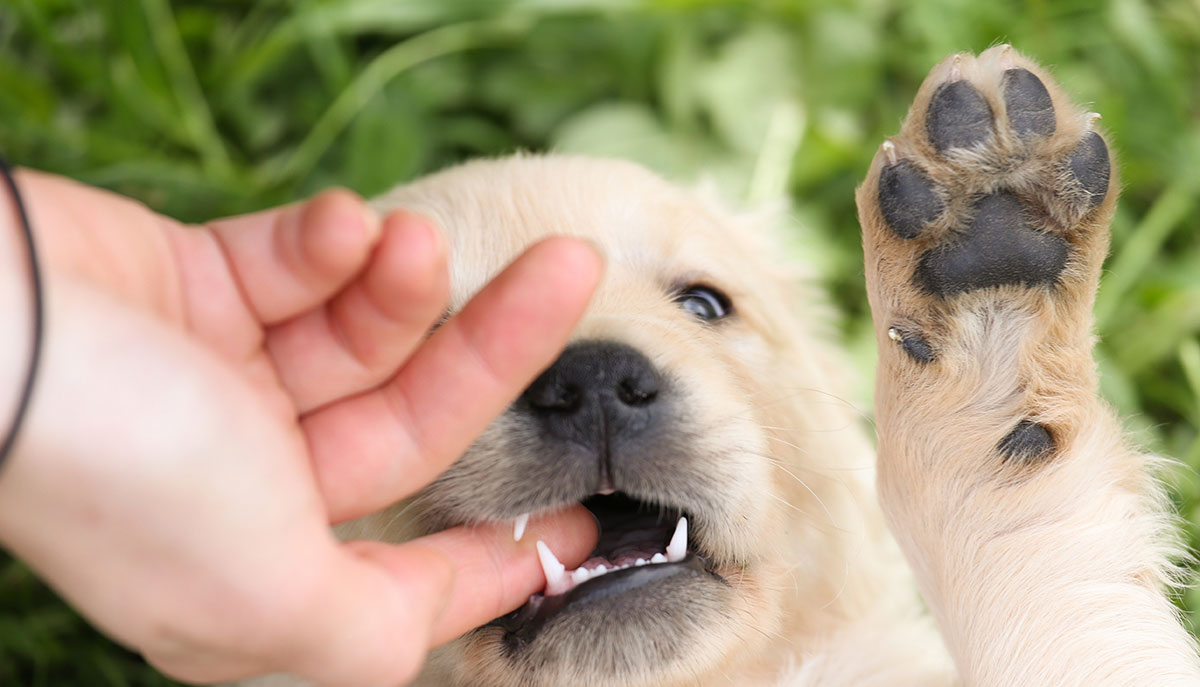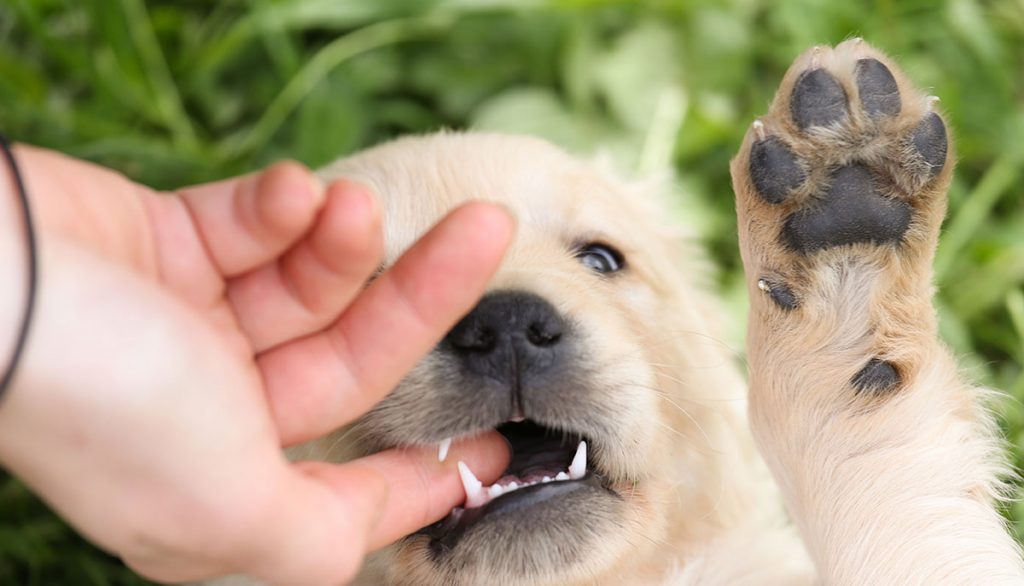 Learning how to teach a puppy not to bite can seem like a big deal, but with my tips and advice you'll have this problem solved in no time. The puppy biting stage can be tough, especially when you feel like your puppy is attacking you. But I'm going to show you how to get a puppy to stop biting without using force or frightening tactics. Focus on keeping your biting puppy calm, avoid rough physical play, and redirect biting onto appropriate toys and activities. Spend some time on the training exercise set out above. Play structured games with your puppy every day to teach your puppy a better way of interacting with you. You'll not only reduce biting but also build your puppy's confidence in being handled and strengthen the bond between you.
Contents
Today I'll share the difference between ferocious puppy play, aggression. I'll look at where your puppy is focusing their pointy teeth too. A puppy biting hands may need a different approach from a puppy biting faces, for example. I'll also talk you through puppies at different stages of their development. In general, 3 and 4 month old puppy biting problems tend to be the worst, but a 6 month old puppy still biting people is a more urgent problem.
My puppy won't stop biting – I've tried everything!
I feel your pain! You probably have people around you telling you this is 'normal', and your puppy will 'grow out of it'. But if your puppy bites a lot, it feels wrong! The puppy is crazy, behaves like a mad puppy, and the biting is out of control.
If your puppy keeps biting and won't stop, it's natural for you to wonder what's wrong with your puppy and to question whether your puppy's behavior is normal. And I'll be able to reassure you on that score.
I can also reassure you that you are most likely not imagining things if you think your puppy's behavior is more extreme than other puppies. Some puppies are harder to manage and some puppies do bite excessively compared with others. But happily, we can fix that. So hang on in there!
There are a number of ways that some puppies behave that makes the puppy biting stage much worse.
Growling and snarling
Repeated attacks
Hard bites and drawing blood
Not all puppies do these things, but when they do, it makes them harder to deal with! Let's look at each one in turn, before we move on to some solutions. You'll find it easier to teach a puppy not to bite if you understand the triggers that set the biting off, and understand how to manage your own puppy's individual behavior.
Biting And Growling
One thing that often worries people who have a new puppy in the family, is the growling that accompanies puppy biting. It sounds horrific. Great snarls and snaps accompany the biting and the puppy can appear quite demonic as he grabs onto your skin, or clothes. Tugging away with all the strength he can muster.
Ninety nine times out of a hundred this is completely normal play biting. Some puppies just love to make a lot of noise while they play. But just to reassure you, we'll look in a moment, at how you can specifically distinguish between aggressive biting and puppy play biting.
Repeated Attacks
If your puppy does this you'll know what I mean. Basically the puppy just comes back again and again. Relentlessly, attack after attack. If you push them away it only seems to make them worse. This is very wearing and can make new puppy parents feel quite helpless and distressed.
This kind of behavior shows that your puppy is confident and determined. Both great qualities in a dog. We just need to channel those qualities into a more appropriate behavior. We'll talk about that in the training section below.
My Puppy Bites Hard
Puppies do bite hard and it does hurt. And some puppies bit much harder than others. Even to the point of breaking the skin and drawing blood.
Firstly I want to reassure you that even at 8 weeks old, your puppy has learned to moderate his bite in play. Puppies have powerful jaws designed to tear through flesh and crush bones. Those of you who feed your puppy a raw diet will know that even an 8 week old puppy from a medium sized breed can crush bones the size of your little finger. But while it hurts when he bites your fingers, it isn't a serious or crushing bite. He is attempting to be gentle. He just isn't very good at it yet.
There are a number of reasons why some puppies bit too hard and we'll look at those next, but first let's look at what you might be tempted to do, or what you might have tried to do so far, in order to stop your puppy biting.
How To Teach A Puppy Not To Bite With Discipline
No-one wants to hurt their puppy, but when they are under attack, it's common for desperate puppy parents to ask how to punish a puppy for biting. As you may have found out, puppies are tough and many puppies will simply bounce back from a smack or a push.
Physically disciplining a puppy doesn't work unless it is severe enough to really frighten or harm a puppy. And importantly, punishment (verbal or physical) has been shown to increase aggression in dogs. So it's important that we find alternatives.
My puppy doesn't stop biting when i yelp!
Some puppies will stop biting you if you let out a loud yelp. The idea is that the puppy is shocked by the sudden noise which interrupts the barking and gives you a chance to distract the puppy with an alternative game.
Unfortunately this doesn't always work and may make more excitable puppies even worse! Happily, we now have some great very effective alternatives to punishment and yelping.
Our system involves focusing on the other meaning of word discipline: as education, rather than as punishment. What we will be doing, is a combination of both management and training. So we'll show you both how to prevent puppy biting, and, how to train your puppy not to bite in easy stages. First let's look at why puppies bite the humans that love them.
Why Do Puppies Bite?
Your puppy is almost certainly not actually getting aggressive. There are lots of potential reasons for puppies to bite. These include:
Teething
Play
Being from a mouthy breed
Over excitement
Biting and Teething
Puppy biting can worsen as a result of teething issues. Teething makes a puppy's mouth sore and itchy at times and biting down on toys, furniture and even your fingers, can provide a puppy with relief.
Puppies cut their first set of teeth before they are weaned and leave their mothers. The teething that you see is actually the adult teeth coming in. Teething is complete by about 7 months of age but many puppies have stopped biting before then. Many puppies have stopped biting completely by six months of age and biting is usually subsiding by the time that the puppy is heading towards five months old. This is if the puppy has been managed appropriately.
You can certainly help by providing your puppy with chew toys while they are cutting their adult teeth, but it's likely that teething does not play a huge part in most homes where puppy biting is a big problem. By far the biggest cause of biting is puppy play.
Puppy play biting
Puppies naturally bite one another in play, and when you bring your puppy home, he'll do the same with you. To him, it's all a game, and he has no idea that it hurts or upsets you.
Puppies that bite too hard are also often more excitable and impulsive than puppies that are more gentle. This means your management of the puppy will focus more firmly on reducing excitement levels and calming your puppy down. And I'll help you with that.
Mouthy Dog Breeds
Some breeds of dog are more mouthy than others. Herding dogs and sporting dogs, like German Shepherds and Labs, are more bitey as puppies than those from breeds that don't use their mouths as much. The German Shepherd puppy biting phase can last longer than for other breeds, and because they are bigger it might feel more upsetting too. Especially if they end up drawing blood.
Your puppy might be biting more than your neighbor's puppy because they are from a naturally more nippy breed. But all puppies bite to some extent.
Biting When Excited
The biggest contributing factor to play biting is over-excitement. So a more excitable puppy will bite more than a calmer puppy. And every puppy will bite more when they are over-excited or highly aroused by their environment. This also applies to puppies that bite when they take food from your fingers. A puppy in a very new situation where they lack confidence may bite when you give them a treat, even though they don't bite at home.
You'll notice we haven't mentioned aggression in that list of biting causes. And the reason for that is because it is so rare for a very young puppy to bite out of aggression. Let's take a closer look and put your mind at rest on that one.
My Puppy Is Hurting Me
Puppy bites can hurt. There's no doubt about that. But this doesn't mean that there's something wrong with your puppy or that they are going to grow into an aggressive dog. Play biting puppies bite hard and growl fiercely. Some puppies do occasionally draw blood. But these are not normally savage or crushing bites and the puppy is clearly enjoying himself. Whereas fear is at the root of all canine aggression and a fearful puppy is not having fun.
Fierce but fun!
The play biting puppy will launch himself at the target of his bite. Whether it is your slippers or your fingers, with equal tail-wagging enthusiasm, hanging on grimly and grabbing repeatedly when the item is removed from him. All this, shocking though it may seem, is normal, and is not a sign that your puppy is going to be an aggressive dog!
The puppy that is a cause for concern is the puppy that is frightened. Because although puppies rarely bite through aggression, the nervous puppy may become aggressive as he matures.
Is my Puppy Afraid?
A scared puppy may bite and scared puppies can grow into scared adult dogs so this is something you need to address quickly. You will know that your puppy is scared because he will first try to avoid whatever it is he is scared of.
He won't pursue your slippers or fingers, or your sleeves, but may try to hide in his bed or under the furniture and may bite when you attempt to remove him from his hiding place. A really frightened puppy will sometimes give off a distinctive musky smell.
This hiding, and retreating, and the scared smell are warning signs that you have scared your puppy badly, or that you have purchased a poorly socialised puppy. In this situation you need to get specialist help right away. Your vet should be able to advise you.
For the vast majority of puppy owners then, biting is normal puppy behavior. And before you start to work on a solution, it's good to be clear as to what is going on with your own puppy. So why do puppies bite so much? Let's find out.
Why is My Puppy Biting?
To work out the cause of your puppy's biting, have a think about what is happening just before they start biting you. Were you teasing them with a toy? Did you have your hands around the puppy's face? Were you feeding treats to the puppy?
Were you wearing fluffy slippers, Did you have a long item of clothing dragging on the floor? Had the puppy been playing with children? Working out the reason for their biting can help you to solve the problem, and absolutely assists in avoiding situations that will set it off while they are still small.
The chances are, your puppy is biting during rough play, or trying to engage you or your kids in rough play. And we'll talk about alternatives to rough play in a moment. But maybe you are wondering if you should just stop worrying and wait for your puppy to grow out of this phase. Maybe everything will be okay if you just do nothing?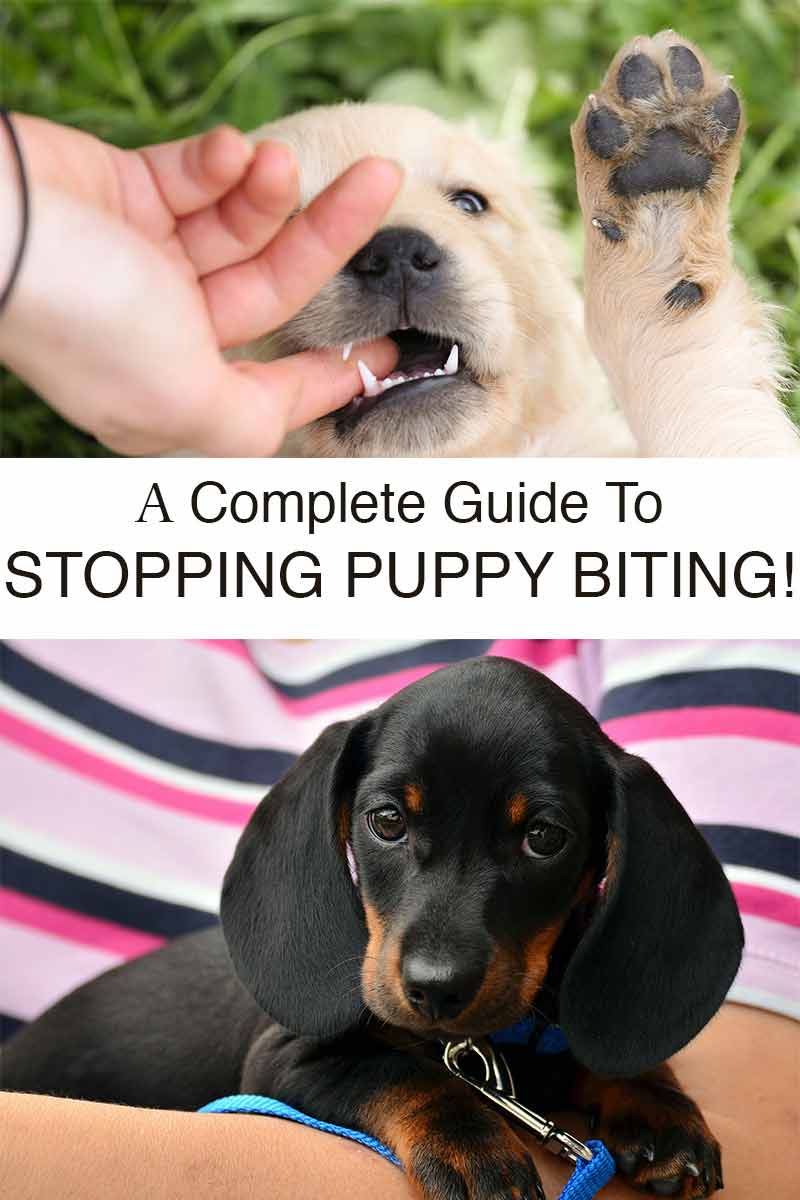 Is It Normal For Puppies To Bite?
The answer to this is 100% yes! All puppies bite. Every single one. And you really should be reassured that there is likely nothing abnormal at all about your puppy's biting.
And the good news is, it's a phase that will pass a lot quicker if you take a few simple steps set out below.
Do Puppies Grow Out of Biting?
To some extent biting is a phase caused by natural puppy playfulness and teething. And it's a phase that puppies do grow out of. Some puppies do stop biting with very little input from their family. Which is great.
But this doesn't happen for everyone. And some small puppies get so overexcited and so bitey when they are overexcited that people end up avoiding the puppy and failing to make that all important bond.
So it's important to be pro-active about reducing biting. And to know how to stop a dog from biting when they are past the very young puppy stage. And most of us will benefit by using the techniques explained below to hasten the day when biting is over. So although biting is part and parcel of owning a baby dog, it's something you just need to work through and manage in the right way.
If people have been exciting him, or rewarding him for attention seeking behavior then biting can persist. And it can be much more of a problem in bigger stronger puppies than in little ones. We'll look at that in a moment. You can hasten the point at which your puppy has stopped biting altogether by some 'no bite' training.
Bite Inhibition
This ability, that your puppy has, to moderate the power of his jaws in play, is called bite inhibition. It is something that his mother started to teach him when he was just a few weeks old. And now it is your turn to take over and complete the training process.
How To Stop A Puppy From Biting
We are going to look at the two different aspects involved in how to stop your puppy from biting. We can physically prevent puppies from biting and we can train puppies not to bite. Both of these are good strategies. It's helpful to know which strategy to use in which situation.
Prevention is important when you can't be training or when the puppy is overtired or over excited. Or when children are getting upset, or visitors are winding your puppy up.
What To Do When A Puppy Bites
Prevention usually involves interrupting the biting behavior before it gets going, so as soon as you see the puppy getting excited and starting to nip. You'll need to redirect the puppy into an alternative and more acceptable behavior, such as chewing on a toy. Or, it may involve you temporarily separating him from his playmates. Whether that is you, your kids, or other dogs.
In mild cases you may simply be able to put a toy in your biting puppy's mouth(paid link) and get him tugging on that instead of on your fingers. When your puppy is getting quite excited that may not be possible, and you'll need to put some physical space between you.
If you are on the floor with the puppy stand up. And if you are standing up, turn and walk away from the puppy. If he follows and starts biting again step over a barrier so that he can't get at you. This is where dog gates(paid link) come in very handy with small puppies. A standard baby gate works fine for most breeds of dog.
Managing the Puppy
You may have to pick up your biting puppy to remove him from the scene (if he is biting your children for example, rather than you). If he bites your hands and clothes as you try to restrain him, put him on the other side of a barrier or in his crate or puppy playpen(paid link) for a short while.
Although the puppy does learn from them, these are useful management techniques to enable you to control the situation. They help you to keep your puppy calm, and prevent the biting escalating through excitement.
Over-Excited puppies
Puppy play biting is directly linked to excitement. The more excited your puppy gets, the more and the harder he will bite. And the harder it will be to interrupt and distract him. Getting a puppy hyper and dealing with biting at night is especially common as you have family members home that have missed her and want to play. This is often the case when it comes to your puppy biting kids.
How to stop a puppy from biting when excited
Rough play excites puppies and noisy play does too. Children tend to squeal when they play and get very physical with puppies.
One of the first rules we all need to learn when playing with dogs, especially big dogs, is to stand up and stand still when the game gets too much. This standing tall, still and upright is a dog body language signal and it means 'play stops now'.
Puppy time out
Puppies don't really understand the concept of 'time out' in the way that children do. But sometimes its necessary to separate the puppy from their playmates and end the game. And that may mean putting the puppy in their crate for a few minutes and giving the puppy a chance to calm down.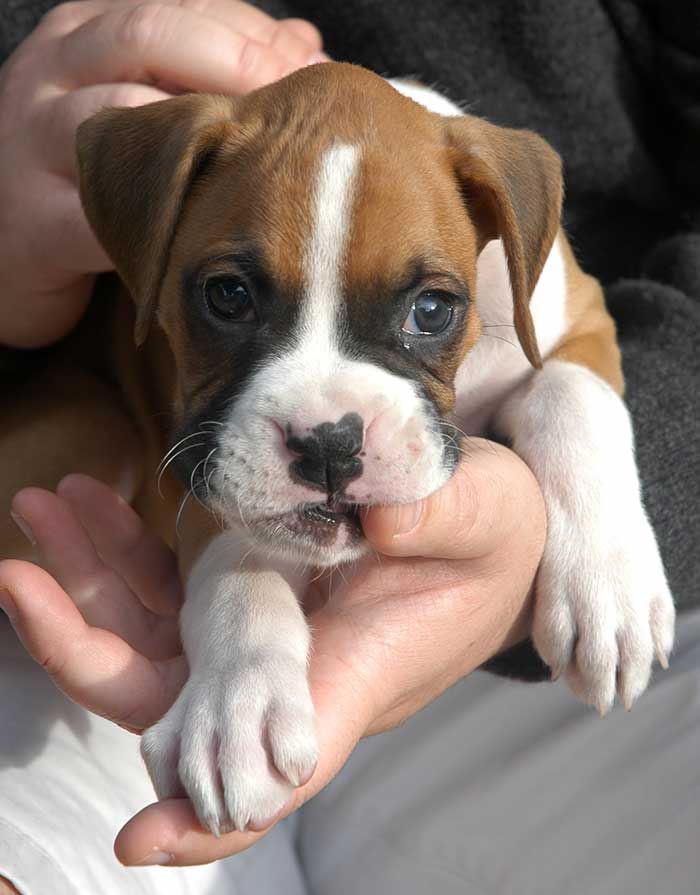 How To Teach A Puppy Not To Bite Through Gentle Play
It is also important that you manage the amount of time your puppy spends with people who get him over excited. This usually includes small children. And will probably include a proportion of your visitors who simply won't be able to resist squirming around on the floor with the puppy.
The best way to stop a puppy biting fast, is to stop physical games. That included ruffling the fur on your puppy's tummy with your hands, pushing or pulling the puppy around, and teasing the puppy with toys near their face and snatching them away.
Limit such play and call a halt to it if your puppy is biting. With medium to large breed dogs, physical rough and tumble play is not a great idea. It can lead to dogs bowling people over or humping them, neither of which is very pleasant.
Stopping play when it gets rough is a good management strategy and it is a form of training too. Over time, your puppy learns that biting and rough play loses him his playmates and that people simply leave if he is being mean.
Different Types Of Biting
Not all puppies bite in the same way. Some puppies are obsessed with biting peoples' feet, others with hands. Some puppies snap at faces, and other bite at leashes or snatch treats. Le't have a look at how we deal with these specific problems
Dog biting feet when walking
A puppy biting feet is one of the most common problems in the first few weeks, but it can persist for longer. This is a form of play biting that occurs in puppies that are very triggered by movement. And of course you can't walk around without moving! However, there are several things you can do.
Ditch the fluffy slippers for a few weeks, and tuck in any laces you are wearing. Wear shoes rather than bare feet for a few weeks too
Trigger points for biting are often when you enter or leave a room. Especially if you step over a baby gate to do so. Have a little pot of kibble to hand and throw a few pieces behind you just before you leave the room. This distracts the puppy and helps to break the habit.
Puppy biting hands
The first step in getting a puppy to stop biting hands, is to think about how you are interacting with your puppy. Make sure you avoid games that involve pushing or pulling the puppy, or placing your hands around their mouth and face.
Save petting and stroking for when your puppy is sleeping and relaxed, not for when they are playful or excited. The training exercise below will show you how to make a puppy stop biting at your hands when you go to groom them or leash them.
How To Teach A Puppy Not To Bite
The idea of this exercise is to teach a puppy to accept being stroked and handled in any way, without touching us with his teeth. You'll need to choose an event marker that tells your puppy you liked what he just did. The event marker is a distinctive sound. I suggest you use the word 'YES', but a clicker (paid link)is also and excellent choice. He gets a treat immediately after the event marker, and no treat if he doesn't hear it.
So for example – if you put your hand out near his face and he goes to nip or even mouth your fingers, you say nothing – just take your hand away. But if you put your hand out near his face and he sits still and doesn't attempt to mouth you, then you say YES and give him a treat(paid link). Your aim is to be able to stroke your puppy's face and ears.
Even around his mouth, without him making any attempt to bite you. But don't expect to get there in one go. You'll need to start with something less challenging, like a gentle movement of your hand nearby. You can also make it easier for him by starting this training when he is calm and not distracted. Later on you'll be able to do it when he is more playful and even when he is excited. But for now, keep things simple.
No Bite Training Exercise
Here's a summary of the first stages
Get your puppy's attention
Move your hand towards him in the direction of his muzzle, but not close to him
If he moves his mouth towards your hand take your hand away and try again with more distance between you
If he ignores your hand say YES and give him a treat (put it on the floor)
If he can't resist your hand no matter how far away it is, hold a treat over his head in your right hand and move your left hand towards him while he is focusing on the treat. This is a type of 'lure' and you don't want to do it too often – you can find out more about luring in 'stage one dog training.' It can be a good way of getting the training started so that you have chance to say YES and give the puppy the opportunity to learn what you want him to do.
Over the next few sessions, you can work on getting your hand closer and closer to the puppy. Until you are brushing the sides of his face without him making any attempt to mouth or bite at you.
Progress to touching and holding his collar, stroking his ears, grooming him, examining his paws and so on, all the time rewarding him for the correct behavior. Anytime the mouthing returns, back up to a point where he can succeed and move forward more slowly again. Remember, training a puppy not to bite is a process, not a single event. Tackle it one stage at a time.
How To Teach A Puppy Not To Bite Through Inhibition
Some experts feel that puppies should be allowed to mouth and even bite gently for a week or two before being prevented from biting altogether. Simply follow the instructions for managing your puppy (above) when he bites hard. But allow him to mouth you when he bites gently without much pressure.
This is a great way to teach a dog excellent control over his mouth. After a couple of weeks of this, you can progress to the training exercise I outlined in the previous section.
But my Puppy is still Biting
If you're experiencing 4 month old puppy biting, 5 month old puppy biting, or even 6 month old puppy biting, you may be getting worried. You may feel he should have grown out of it by now. The older biting puppy is a slightly different problem and we'll look at that below.
5 month old to 6 month old puppy biting
Dealing with a 9 week old puppy biting is normally accepted as normal. If a two month old puppy bites you sigh, look lovingly at them and work out the problem. But when your 6 month old puppy is still biting it can be frustrating. You thought they would have grown out of it by now!
When it gets to dealing with an 8 or 9 month old puppy still biting its a little soul destroying for their long suffering family. But do be assured that this is still within the range of normal. Especially for certain breeds. Lab puppies for example can keep biting a little longer than other calmer dogs.
When will my puppy stop biting?
Not many puppies are still biting in a troublesome way by five or six months old, so provided you are not still playing rough physical games with your puppy, you can expect some respite by that point.
But those puppies that are still biting at six months or older, are are usually causing their owners a lot of concern.
Older puppies that bite in play have often learned that this gets them a lot of attention. They have discovered that people squeal and shout and get quite cross.
How to get a dog to stop biting – 6 months and over
Sometimes these people push and shove the dog around which young dogs quite enjoy when they are playing. For these dogs it is important that you stop all physical play, with all family members. If a puppy is biting hard at your hands when you try to interrupt his game. Or an older puppy is getting out of hand biting at clothing, you need to put your puppy on a harness and house-line ( a short trailing leash). This will enable you to control your puppy, and take him to a calming place, without handling him.
You can just pick up the end of the line and lead him away. Older biting puppies are often bright and bored. And the best approach to avoiding future episodes of bad behavior is a structured programme of training and interesting activities. A professional dog trainer using modern positive training methods will be able to help you with these.
How to play with puppy without encouraging biting
Managing a biting puppy does not mean you need to stop playing with your puppy altogether. On the contrary, you probably need to play more often with your puppy, but in a more structured way.
And that means playing puppy games together
Puppy games are extremely simple and fun exercises that you can work through with your puppy that occupy your puppy's mind, prevent boredom and lay the foundations for more formal training exercises later on.