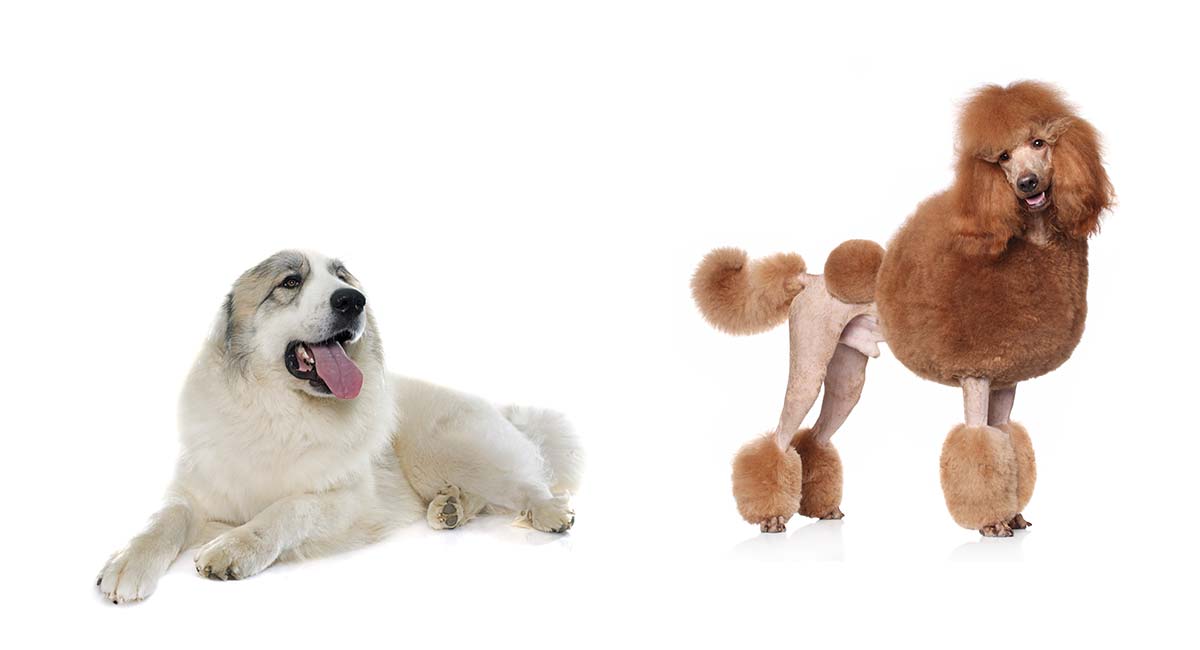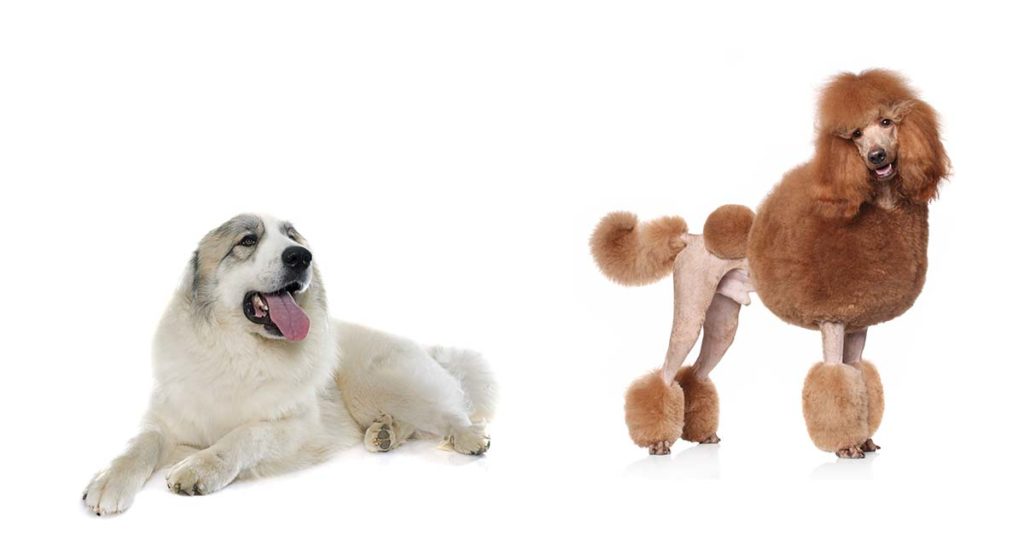 The Pyredoodle is a Great Pyrenees Standard Poodle mix. They are long legged, narrow faced, floppy eared dogs that need lots of grooming and clipping. This hybrid dog has working roots on both sides of the family, they are intelligent and do best when given a job to do. Large, loyal and protective, they are great watchdogs. But they can make great pets for the right home too. Positive reinforcement training is essential for this powerhouse puppy, and will help you to form an even stronger bond as they grow.
Early vs Late Generations
There are different levels of crosses. At the most general level, the first generation, or F1, cross is a litter of puppies that comes from a crossing of the Great Pyrenees with the standard Poodle. The second generation, or F1B, cross is a litter of puppies that comes from a crossing of a Pyredoodle with either a Great Pyrenees or a standard Poodle. The third generation and later, or F2, F3, F4, etc, cross is a litter of puppies that comes from a crossing of two Pyredoodle parents.
In the earliest generations (F1 and F1B), since it is impossible to predict in advance which genetic traits a puppy will inherit from either purebred dog parent. This is where you will see the most variation between puppies even within a single litter.
The later the generation (F2 or later), the more control the breeder may exert over the appearance, personality, traits, health issues, coat type, and other important characteristics of the resulting puppies.
If you have your heart set on acquiring a Pyredoodle with certain specific traits, you may fare better seeking a breeder that specializes in later generation (F2 or later) Pyredoodle puppies.
Working Origins
The history of the Pyredoodle is very recent, but we can still find out a lot about them by looking into their parents' pasts.
The Great Pyrenees, or Pyrenean Mountain Dog, is a calm, beautiful, large dog breed that first arose in the area of the Pyrenees Mountains between France and Spain. The climate in the Pyrenees Mountains is quite cold, especially in winter, and this dog's beautiful thick fur coat speaks to generations of outdoor work guarding sheep and other livestock from fearsome predators, including wolves and bears!
This dog's native name is Le Grande Chien des Montagnes, or "the big dog of the mountains." This is a truly ancient dog breed. Canine biologists have dated remains of this breed all the way back to the Bronze Age (beginning in 1800 B.C.).
The modern Poodle is bred in three sizes: toy, miniature, and standard. However, the standard Poodle represents the original Poodle purebred dog breed, and the Pyredoodle is the result of a cross between the Great Pyrenees dog and the standard Poodle dog.
The Poodle's name refers to this water-loving dog's working job of retrieving downed ducks from lakes and rivers for hunters. This dog breed dates back at least 400 years.
What Do They Look Like?
The Pyredoodle has been described as "the best hits" of the Great Pyrenees dog and the standard Poodle dog. Of course, you will find greater stability in puppy traits with later generations of Pyredoodles, but there are plenty of traits you can assume they will have. Like a long coat, with straight to wavy curls and a decent height if they are bred with Standard Poodle lines.
Pyredoodle Grooming
One of the most beloved traits of the standard Poodle is this dog breed's low shedding coat.
The Great Pyrenees dog, on the other hand, has a thick, dense, double layer coat that sheds regularly, and can shed profusely when the seasons change. Some Great Pyrenees owners call this twice-annual big shed the "snowstorm."
With earlier generations of Pyredoodles, all bets are off as far as whether your puppy will inherit the high-shedding, thick, long coat of the Great Pyrenees or the curly, wiry, non-shedding coat of the Poodle.
In either case, you will need to brush and groom your puppy regularly and may want to invest in professional grooming to ease your workload and keep the coat and skin in the healthiest condition.
Are Pyredoodles Hypoallergenic?
While biologically speaking there is no such thing as a truly hypoallergenic dog breed, it is true that the Poodle's thick, wiry, curly coat doesn't really shed. This is because the coat catches shed hairs before they can fall to the ground.
But when you mix in the Great Pyrenees coat, this dog could have quite straight fur. Allowing dander to free flow around your home! We therefore don't recommend this mix to allergy sufferers.
Are They Giant Dogs?
Fully grown, a Great Pyrenees dog can easily top 100 pounds, although 85 to 100 pounds represents the range. Adult males are more likely to weigh 100+ pounds. These dogs generally stand 27 to 32 inches tall.
An adult standard Poodle can weigh 40 to 70 pounds, with adult males outweighing females by about 10 pounds on average. Adult standard Poodles can stand 10 to 15 inches tall.
From this mix of genetic attributes, you can estimate that a full grown Pyredoodle dog may weigh anywhere from 40 to 100+ pounds and stand anywhere from 10 to 32 inches tall! Here, meeting each parent dog personally will give you a better sense of the adult weight and height of your puppy.
Personality and Temperament
The Pyredoodle overall is known to be a loving, friendly, affectionate, and social pup who thrives when spending time with their people in an active lifestyle.
Some people call Pyredoodles the "nannies" of the canine world for their devotion to herding and protecting "their" charges!
They are likely to be fairly cold towards people that they don't know. And might also guard their property, with loud barks and growls. But with good socialization in puppyhood you can help them to feel a little more warmly towards strangers.
Socialization & Training Needs
The Pyredoodle is a mix of two very intelligent, independent and driven parent dogs. It will be very important to start socialization and training early and keep at it, using only positive training methods and lots of rewards as motivation.
This dog needs plenty of exercise every day, ideally through a combination of walks, runs and time spent training.
Pyredoodle Health Issues
Pyredoodle dogs may inherit genetic health sensitivities from one or both parent dogs. For this reason, it is important to verify parent dogs have been pre-tested for all known health issues that may impact their breed.
The Canine Health Information Center (CHIC) recommends testing Great Pyrenees dogs for hip dysplasia and patellar luxation. Optional recommended tests include cardiac, thyroid, elbow dysplasia, hearing, eye issues, and bleeding disorders.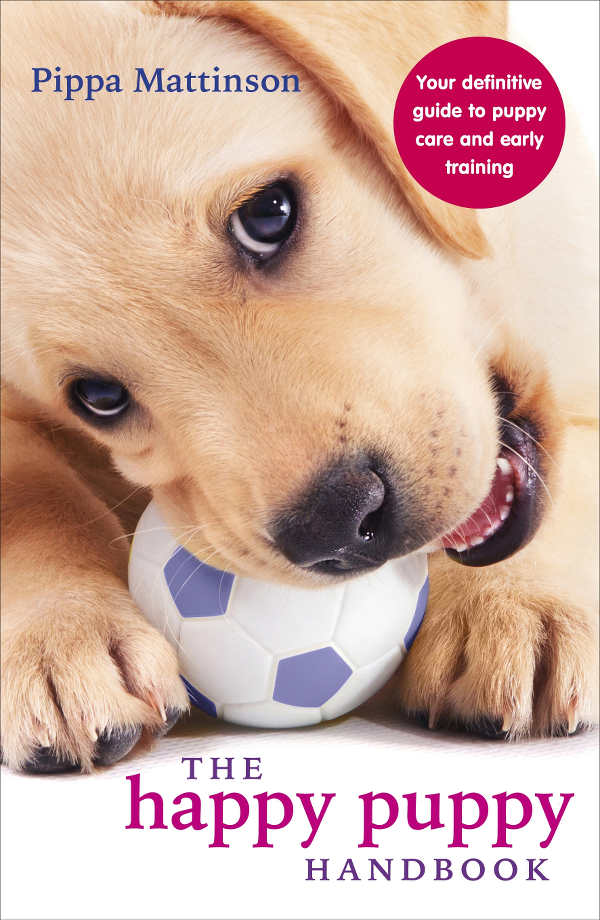 CHIC recommends testing standard Poodles for hip dysplasia and eye issues. Optional recommended tests include thyroid, skin, and heart issues.
Are Pyredoodles Good Family Dogs?
Pyredoodles can be great family dogs. Both parent dogs tend to be excellent watch dogs. They are highly intelligent with strong guarding and protective instincts towards "their" people. Both will be warm and loving with family and naturally reserved with strangers.
The watchdog trait is strong in both purebred parent dog. But neither dog is aggressive and both are smart enough to be readily trainable.
Pyredoodle Puppies
Great Pyrenees Poodle puppies are going to be very cute – this is something you can count on. For this reason, it is important to do all your research. Get the information you need before you begin contacting breeders and visiting available litters of Pyredoodle puppies!
The healthiest Pyrenees Poodle puppies will come from reputable and responsible Pyredoodle breeders. Those who place the health of their puppies above all else. Including appearance attributes.
Responsible Pyredoodle breeders should ensure that their parent dogs are always pre-screened. Tested for any known purebred genetic health issues prior to breeding. This will ensure preventable health concerns are not passed on to future litters of Pyredoodle puppies.