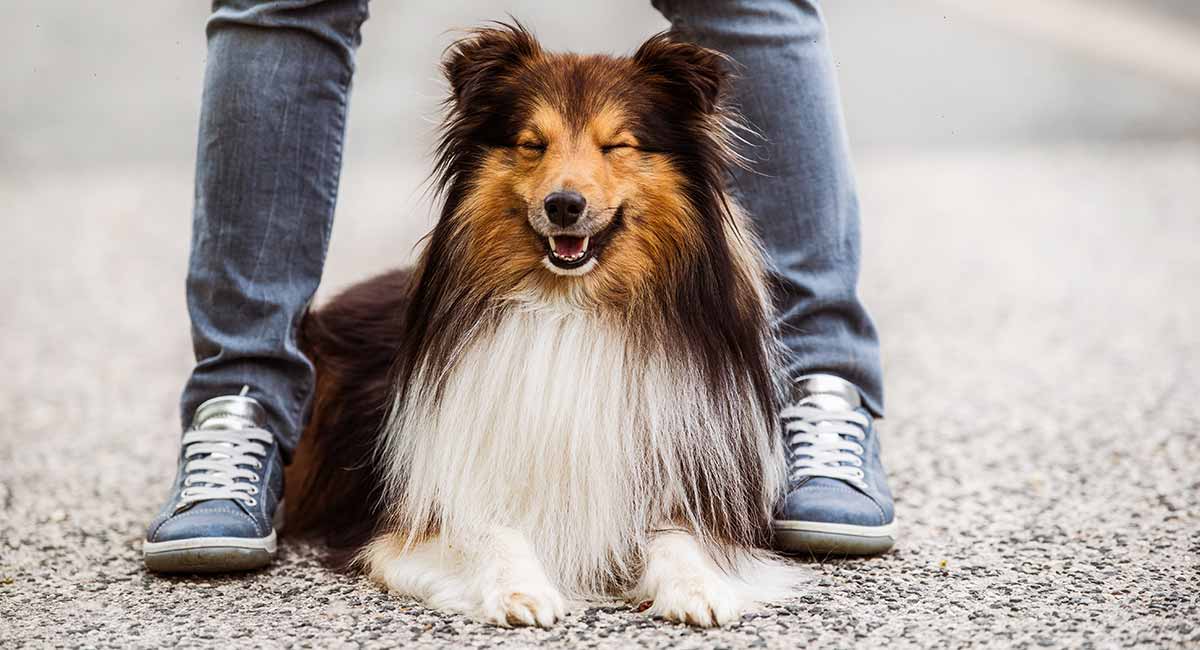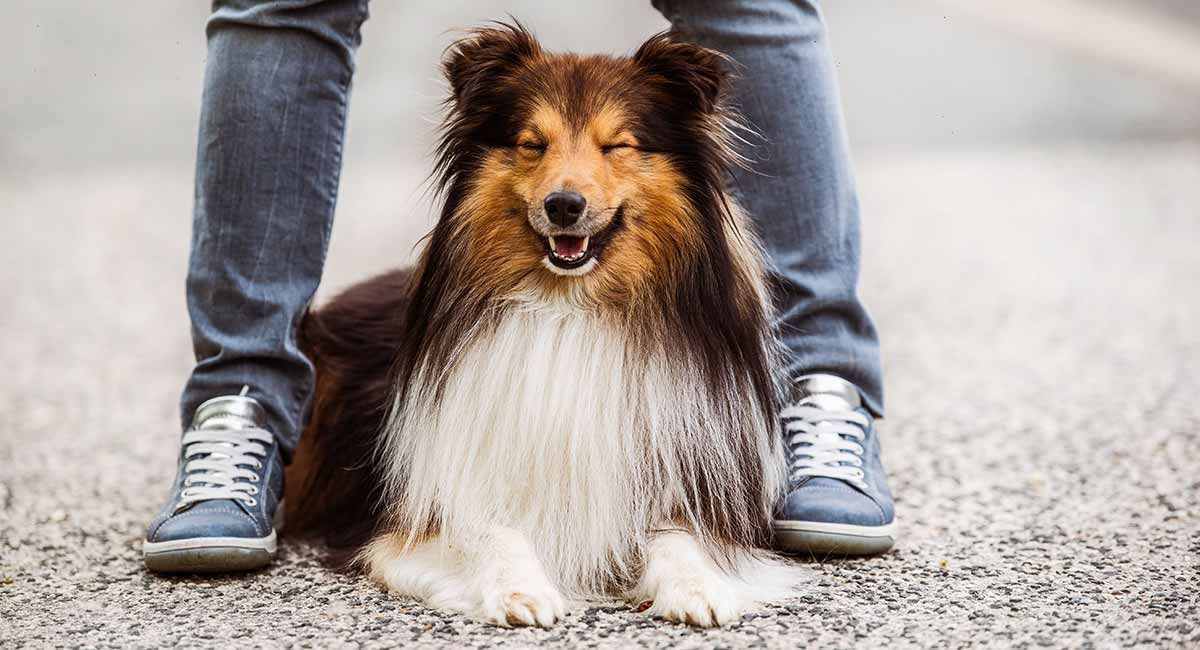 Long haired dogs are undoubtedly beautiful to behold, and many of us dream of owning one. We imagine running through the fields with our longhaired friend, its tresses swept by the wind. Of course, dreams don't always match reality for many long haired dog breeds!
Yes, while you can have this wonderful dream, it takes some work  to bring it to life. As any human with lovely long and lush locks will tell you, you need to take care of your hair. It's no different with hairy dog breeds.
All of the canine handsomeness comes at a price. Especially the time and possible expense that's required to maintain those gorgeous locks and flowing tresses.
Large long haired dog breeds, as well as long haired little dogs, don't just wake up in the morning looking that way by accident!
A lot of handiwork on the part of their owners goes into keeping a dog with really long hair looking its best. You need to bath them and use shampoo. Most of all, you need to groom your longhaired canine companion.
Need to Groom!
Depending on the breed and type of coat, long haired dogs are kept in tip-top condition via regular grooming, clipping, and washing.
It also helps if you keep them out of mud and dirty ponds, and stop them rolling in dust baths. Sadly, you will find that some of the most-loved long-haired dogs are the most likely to see a sand pit as the perfect playpen! Or, insist on crashing into the undergrowth and come out covered in burrs and bits of briar!
Such is the curse of hairy dogs!
Oftentimes, long haired dog breeds need daily attention. You should keep this in mind if you are considering adopting a pooch from one of the long haired small dog breeds or the long haired dog breeds list.
Don't forget that you need to put aside time for daily grooming. Likewise, don't forget to save some time for exercise, too. Many of these longhaired breeds are very energetic and need daily walks and playtime.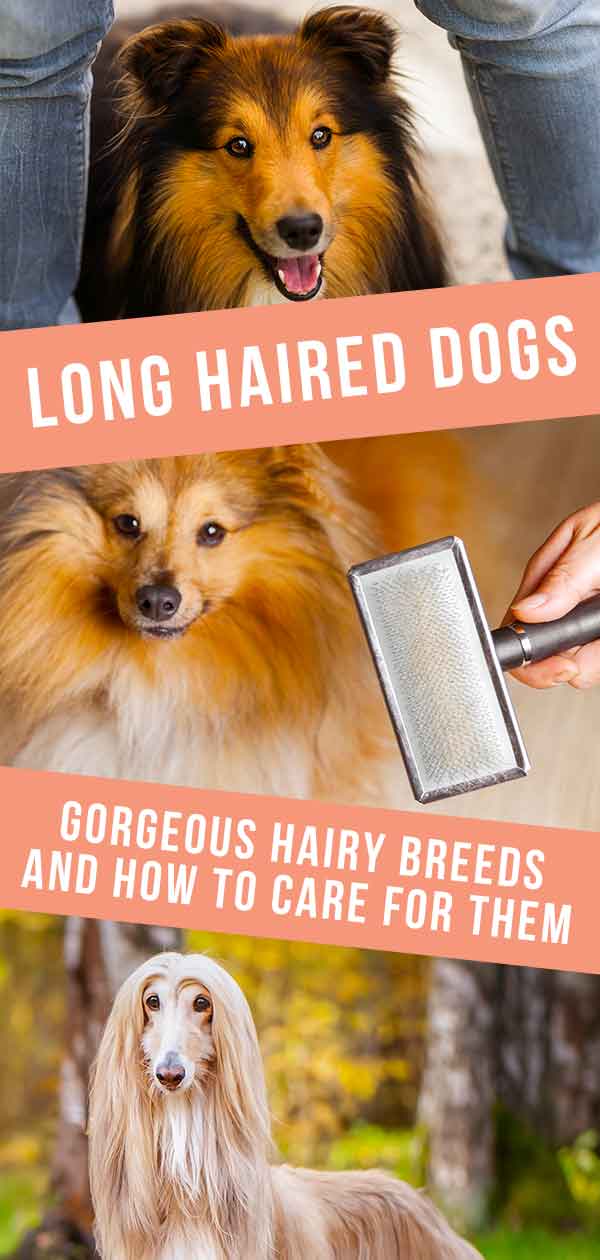 What potential grooming problems come into play with long haired dogs?
Well, the grooming issues and concerns are the same for all long haired dog breeds. It doesn't matter if you are living with a long haired sheepdog, a small white long haired dog, or long haired hunting dogs.
Let's take a look!
Grooming Issues for Long Haired Dogs
Really, there are two major problems when it comes to grooming. The first is getting the dog to sit and let you brush her fur without fidgeting and trying to get away. The second is how to get a brush or comb through their hair. Some dogs have thin, sensitive skin, and it can be difficult to groom without hurting them.
Of course, some dogs are naughty and just want to get away and play rather than sitting still while you brush.
So, why don't we start by getting your dog to sit still for grooming in the first place. If we can solve this, then we can work on your grooming technique!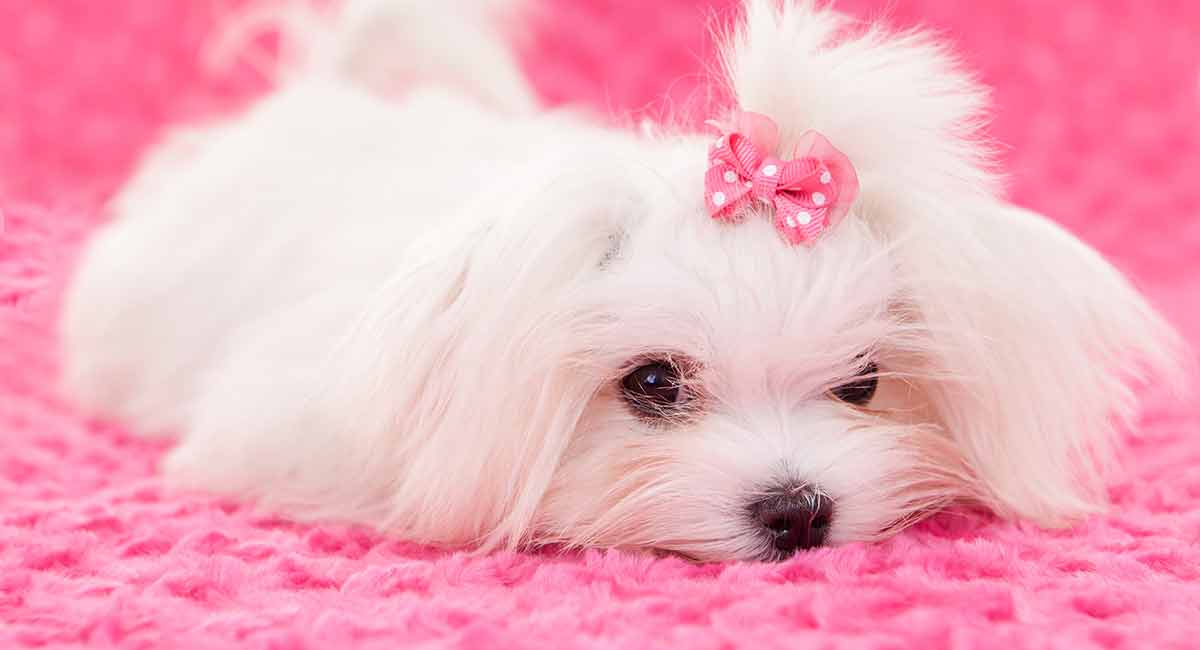 Sitting for Grooming
First off, many dogs have a hard time standing or sitting still long enough to make the grooming session worthwhile. It can be a nightmare to deal with, but a few useful tips can help
In this case, a little snack may help to ease anxiety or break up the boredom. As the saying goes, an ounce of prevention is worth a pound of cure!
Make sure you get your pup used to handling, because this is the best way to ensure that grooming goes off without a hitch.
If you pet and brush your little one early and often, she will be comfortable being handled and groomed.
Grooming, by the way, is also a terrific bonding experience for you and your pet. If she sees it as love and affection, not only will she sit still, but she will start looking forward to grooming.
Of course, this can be more tricky if you adopt an adult dog where it is more difficult to train them to sit still. Treats can help, but you might need to groom little and often, just a bit of her coat at a time.
Another thing you can do is avoid leaving too much time between grooming sessions. This can really make your life much more difficult.
Going Too Long Between Grooming Sessions
Letting grooming go too long can result in tangled or matted hair. This can ensnare bugs, dirt, debris, and bacteria.
Matted hair can also trap moisture beneath, creating an excellent environment for infection to set in. If you are not careful, your dog can easily develop painful skin conditions beneath the mats, which can be very uncomfortable.
And, once a mat develops, if you try to detangle it, this often results in pulling on your dog's sensitive skin. This can cause irritation or even damage the skin. Apart from that, if you are trying to make grooming time pleasurable to encourage your dog to sit still, then hurting her isn't going to help.
Just this simple change, of grooming daily and getting rid of any matted fur as soon as you see it, can make all the difference!
Now, we looked at the training, but what are the best grooming techniques for you and your dog? Well, before we start on technique, you need the right tool for for the job
What kind of tools you need to keep large long haired dogs (and tiny ones, too!) neat and clean? Well, we have good news for you. You can find the right hair-care gear without breaking the bank!
The most common grooming tools are simple and inexpensive. When you use them regularly, this will ensure that your beloved dog's coat remains problem-free.
Grooming Matters! Dog Grooming Tools
You really don't need many tools to care for your dog. As always, while you can find really cheap options, they tend to be fragile and will break very quickly. On the other hand, why spend a fortune on tools when you really don't need to?
A standard grooming toolbox may include just a few economical items such as:
We also love the grooming mitts because they can make grooming enjoyable for your dog. Don't forget that you will want to invest in good shampoos and other bathtime gear.
Here, it's good to mention that owning a white dog with long hair is a special case. White fur needs a bit more elbow grease to stay that way, or it can veer off into a dingy gray or yellowish hue! That's always something to bear in mind!
You can learn more about the grooming process, and a multitude of grooming tools, by taking a look at how to groom a Poodle or Golden Retriever.
Are You Still With Us? Do You Still Want a Hairy Dog?
So, have we put you off longhaired dogs for life, or are you still interested? If you are, we don't blame you! Besides, grooming doesn't take too much time or energy with gentle combing, good training, and a daily routine.
If you're in the market for a pooch from one of the many long haired dog breeds, we have a few extra special dogs for you to consider and choose from! Some of these are absolutely gorgeous and also have great personalities.
Of all the types of long haired dogs, let's start off with a breed that counts both a spectacular looking black long haired dog and a white long haired dog amongst its number. This is, of course, the fabulously-maned Afghan Hound, which is one of the most beautiful and elegant dog breeds.
If you like big long haired dogs, this might just be the breed for you.
Afghan Hound
Glamorous Afghan Hound fur grows so long and luxurious. You may be tempted to pull it back into ponytails or even braid it!
Its soft hair is just made for wannabe hair stylists – if you have young kids and an Afghan, you'll know exactly what I mean. It wasn't the braids the dog objected to but the huge pink bows!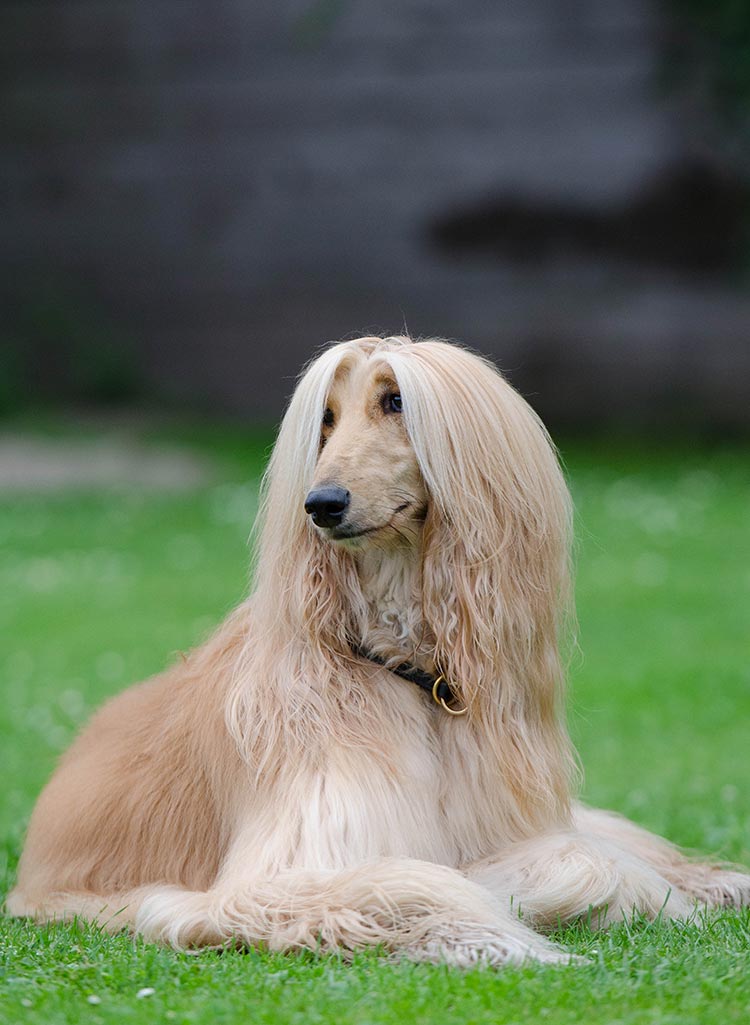 In reality, the ancient Afghan Hound's lush flowing locks are as functional as they are beautiful.
This breed originated in the Afghan mountains, where the winters are hard and brutal, so dogs and humans needed to be tough. Many years ago, clever breeders selected dogs with long hair until we ended up with the Afghan hound. Their luxurious fur acted as vital protection against the unforgiving elements
The Afghan is a regal looking but powerfully built dog. Interestingly, it has ginormous paws that served as a kind of snowshoe for the snow-bound hound. They have great stamina and love going for long walks, whatever the weather.
The extremely active Afghan Hound is not a breed that is frequently seen among purebred long haired dogs.
Long Haired Dogs Breed Characteristics
This hound reaches approximately 26 inches tall and averages 50–60 pounds. It has a typical lifespan of 12-18 years.
Beneath the Afghan Hound's imposing exterior lies a sweet, sensitive soul who nonetheless enjoys a bit of "me time."
Some describe this Afghan Hound tendency as a free-spirited independent streak, or as a cool, detached aloofness. The truth is that this pooch has an amazing capacity for loyalty and will readily show its owner his goofy side!
The Afghan Hound likes to please, which can make housetraining easy, and they are willing to learn new tricks. They can be scatterbrained big long haired dogs, too!
At the same time, you should understand that this hound retains an inherent desire to hunt and take off on its own. Accordingly, some early and supportive training helps it learn good doggie manners.
Furthermore, you or someone in the family needs to be active. They should be prepared to take dog for long walks or spend a lot of time playing.
If you are seeking an exquisite looking dog with a strong athletic streak, who will bond with its special human, consider adding this hound to your family.
Health and Care for these Long Haired Dogs
But you should know that, as is the case with other long haired dogs, the Afghan Hound coat requires regular attention.
In fact, you should expect to spend several hours a week grooming this pooch. He requires intensive care to keep his magnificent locks free from mats and tangles.
In addition to daily brushing, this pedigree dog requires a schedule of regular baths. These should include shampoo and conditioner, and definitely not a hose-down in the yard!
Overall, this pedigree canine can experience the same type of health conditions as other big dogs, including hip dysplasia.
The Afghan is a deep-chested breed that can develop bloat. You should be cautious if the dog needs to be aanesthetized, because it has a low body fat content.
However, if you are prepared to put in the time training, exercising, and grooming your Afghan, they are superb pets. These hairy dogs are a great addition to the family.
So, how about going from one of the most beautiful dogs you will see, to a long haired dog with a great personality.
Bearded Collie
The long haired Bearded Collie sports a beard, but also boasts an adorable mustache and a cascade of hair that reaches to the ground. With their cheeky personalities and furry face, the Beardy is a dog you just want to hug forever!
Of course, you could always cut back this fountain of hairiness, but you would lose one of the most distinctive features of this bushy creature!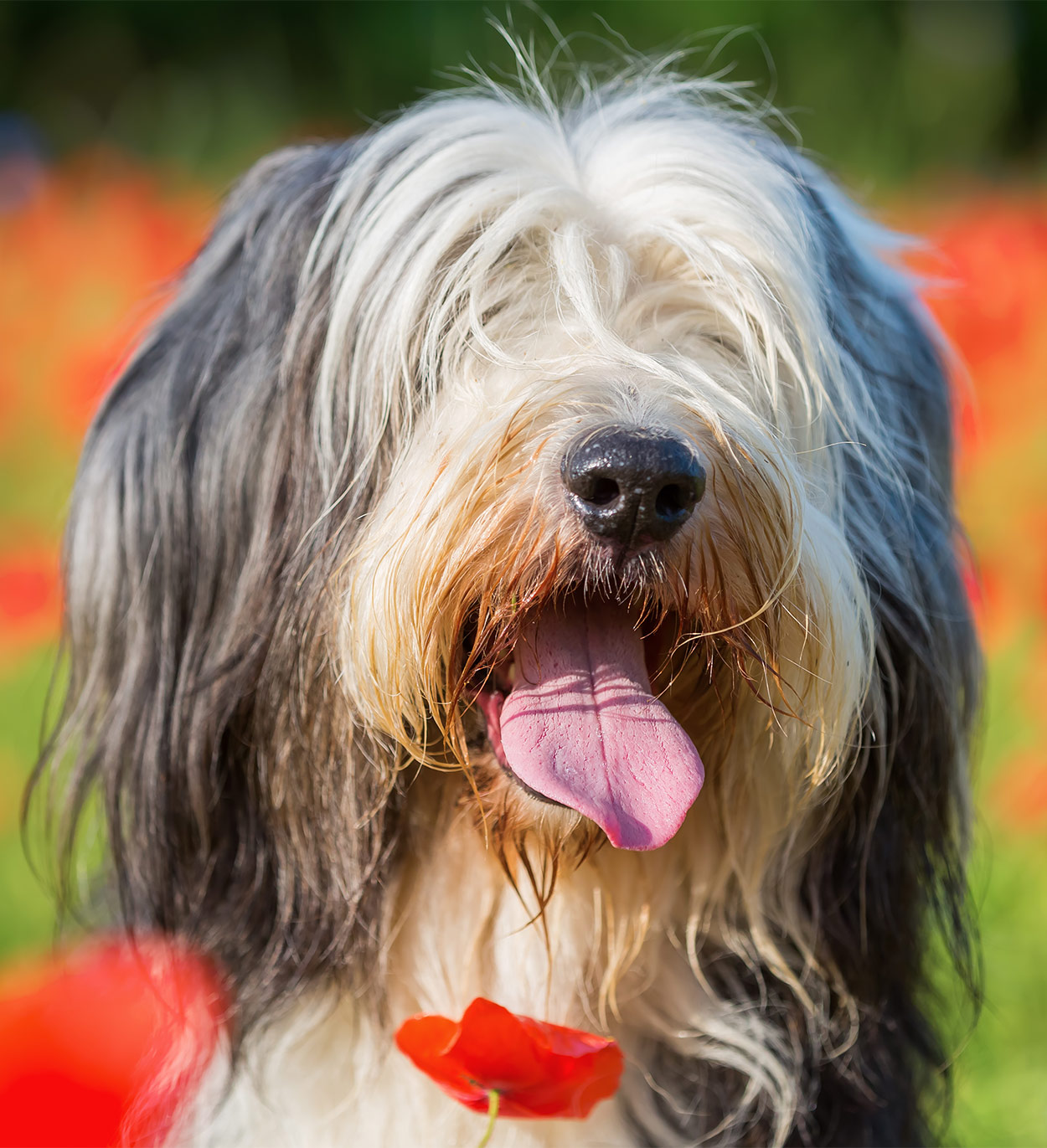 Long Haired Dogs Breed Characteristics
This collie is a member of the herding group. It is a medium sized dog that averages a respectable 21 inches in height.
These pooches typically weigh in at 45–55 pounds and live a solid 12–14 years.
Temperament wise, this hirsute character is an affectionate bundle of energy. Beardies are full of personality and eager to exercise to their heart's content in all kinds of weather. Bearded Collies love to run and play, and tend to love spending time with kids.
Like the Labrador Retriever, the Bearded Collie has a reputation for being a friendly fellow. However it tends to be more independent in thought than the people-pleasing Lab.
Nonetheless, early training and socialization will go a long way toward helping this pedigree dog learn your behavioral expectations and some solid doggie manners. They are intelligent dogs and love training, especially if you make it into a big game.
This is the sort of pooch who would do well with children, energetic singles, or families who enjoy an active, outdoor lifestyle.
So, where did the Bearded Collie's proclivity for activity come from?
Long ago shepherds relied on Bearded Collies as herding and droving dogs in the harsh Scotland landscape. Accordingly, these lovable hairy pooches have a strong and ingrained work ethic. They are intelligent, energetic, and love being part of the family.
Health and Care for these Long Haired Dogs
According to the AKC, grooming a Bearded Collie is a two-part process.
Ideally, brush your Bearded Collie daily to keep your dog mat-and tangle-free. Their fur is coarser than the Afghan's, but it mats easily and, of course, Beardies love getting filthy. They will wade through muddy puddles and roll in the dirt while they are playing. Of course, you can never stay mad at them for long!
Accordingly, you should always groom thoroughly when they get dirty. It's also a good idea to give a more thorough once-a-week grooming session using a "pin rake, brush, comb, and possibly anti-tangle spray." This will sort out any dead hair and keep the coat in ideal condition.
How long can you expect to spend each week grooming this dog with very long hair?
Roughly an hour and a half to two hours at a minimum! They can be hard work, but they are usually pretty well-behaved once they are used to it.
Overall this is a generally healthy breed, although hip dysplasia is always a risk factor. In addition, Bearded Collies can suffer thyroid and autoimmune issues.
Otherwise, they are a great family pet with that lovable, hairy face always looking at you to see if you want to play.
Bearded Collies are energetic, but there is another breed that is absolutely full of energy.
Cocker Spaniel
Once the most popular breed in the U.S., the lovely little Cocker Spaniel is among the more spirited of the small long haired dogs. They are bundles of energy that love to run and play fetch, and Cockers are usually very friendly with people and other dogs.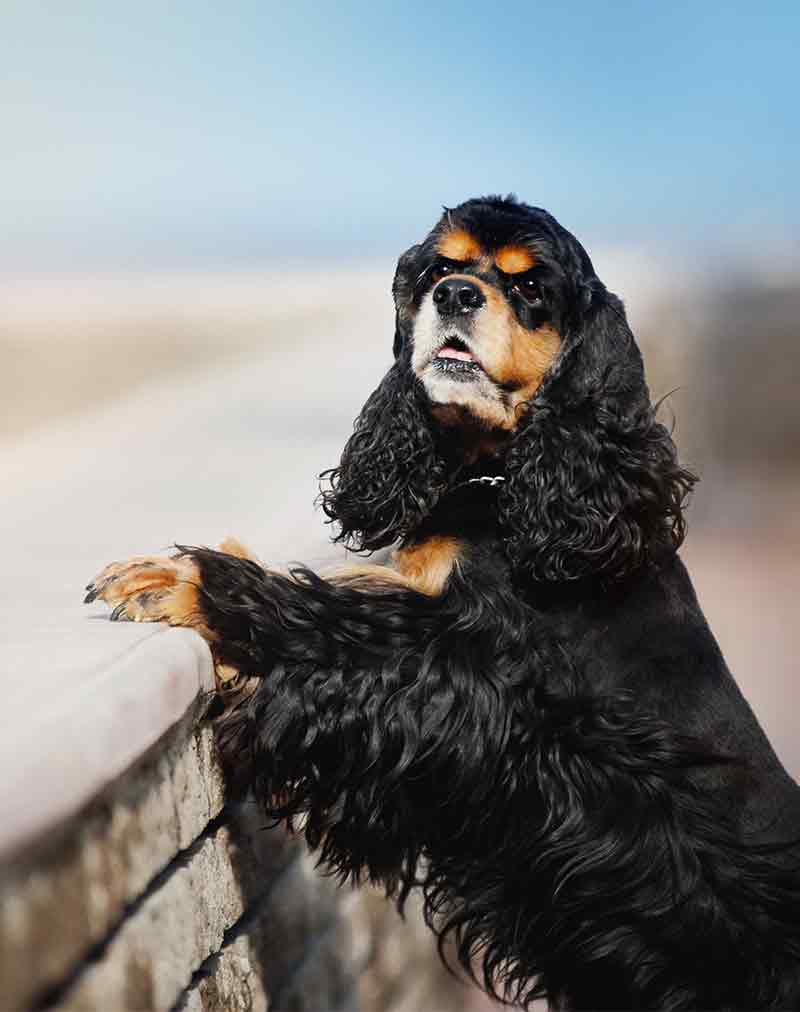 Long Haired Dogs Breed Characteristics
A member of the sporting group, this cheerful, playful little fellow averages 15 inches tall. It packs a solid 20 to 30 pounds on its petite (and hairy!) frame. Despite their relatively small size, they are sturdy and resilient dogs able to cope with rough and tumble and bad weather.
Rain won't stop this dog from wanting her walk!
This is a pooch who comes in a wide range of pretty hues and patterns. The tradeoff for all of these colorful options is the time it will take to keep the coat in tip-top shape. They love nothing better than crashing through the brush, chasing something and messing up your grooming!
Then again, if you like transportable, small long haired dogs, who are also active and perky, give this spaniel a second look. His immaculately groomed hair will garner plenty of second looks from other dog lovers as well!
The Cocker Spaniel is an ancient breed, originally from Spain, where it was in high demand as a bird hunter's assistant. That's the main reason they love to play fetch and other games.
Health and Care for These Long Haired Dogs
To this day the active breed requires daily exercise. Sometimes, a play session at the dog park, time running around the yard, or energetic walks are all that's needed. Most Cocker Spaniels love toys, too.
On the other hand, you will expect to spend a bit more time grooming. That's if this active and very energetic dog will sit still for a minute!
We recommend regular brushing with a metal dog comb, followed up with a comb-out using a slicker brush.
To forego a day of this routine risks unwanted mats and tangles that will take even more time to remove!
In addition, this hairy little dog needs a regular bath, with ample rinsing to avoid skin irritation.
Next up? A slow, warm, blow dry!
Overall, this pedigree dog enjoys a relatively long lifespan (10–15 years) and good health.
As with most dog breeds, hip and joint issues are an ever-present issue. When caring for this breed's long hair, pay special attention to its sensitive skin in order to avoid possible irritation or infection.
Now, let's look at a rarer breed you might never have heard of.
Komondor
If an unusual and rare but spectacular-looking pedigree dog is on your wish list, look no further than the incomparable Komondor! This beautiful and faithful dog will certainly become a topic of conversation when you take him for a walk!
The Komondor surely has to be one of the most unusual-looking hairy dogs, and also one of the most handsome.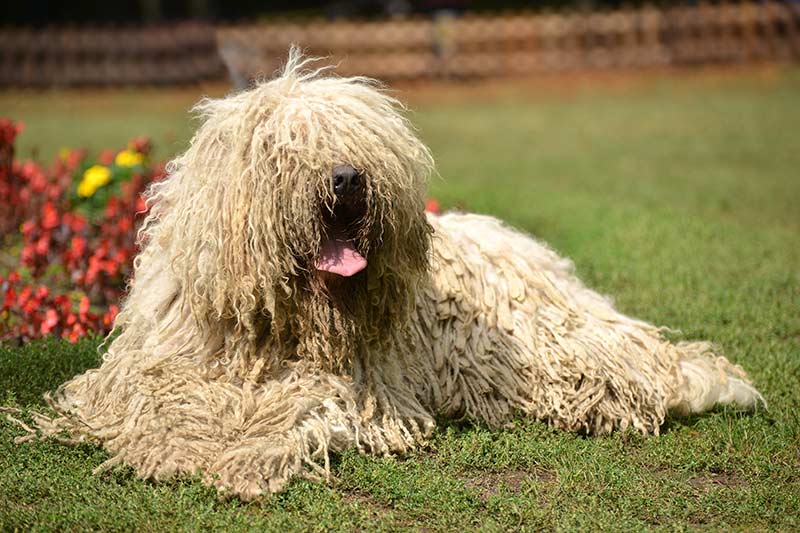 Long Haired Dogs Breed Characteristics
This is a large, one-of-a-kind pooch who averages 25–30 inches tall. Males weigh around 100 pounds and females a bit less, at 80 pounds and over.
A strong, muscular, and courageous canine from the working group, this hairy animal is best for experienced dog owners, because it has a bit of a head-strong, guard dog personality.
The centuries-old Komondor was bred in Hungary. Shepherds wanted to produce a capable, large flock dog able to protect a herder's sheep when away from home.
This protective nature shows up today as a self-assuredness. As a result, these dogs require early and supportive training in order to channel the dog's energy in positive ways.
But the most exceptional feature of this big boned, athletic dog is undoubtedly its corded, dreadlock-like hair.
Imagine a flock of sheep: now imagine long and twisted white fur that looks like the fleece of a wild sheep. The Komondor coat really is a salute to the dog breeders of long ago!
In fact, this similarity helped the guard dog to blend in with the herd. The camouflage improved its chances of taking any predator by surprise. The thick coat also protects it from the elements.
Health and Care for these Long Haired Dogs
Grooming a Komondor usually requires a professional with expertise in caring for the unique corded locks.
Groomers don't brush the twisted hair in the traditional sense. Instead, the coat needs regular bathing to keep the hair healthy and clean.
After a quick squeeze to get rid of the excess water, it's time to blow dry the dog.
You can learn more about dog bathing through this excellent article on the American Society for the Prevention of Cruelty to Animals website.
Luckily, this magnificent breed has no known, major health issues to complicate its lifespan. However, as is often the case, hip dysplasia is always a possible risk for large breeds such as the Komondor.
In addition, it is a breed that can suffer dangerous inflation of the stomach called bloat.
With the right training, lots of exercise, and good grooming, these big long haired dogs can make a great pet.
Now, from the large to the very small, and a dog that is very popular around the world.
Yorkshire Terrier
Are you looking for a long haired toy dog, one you can tote around, take to the market, or just cuddle in your lap?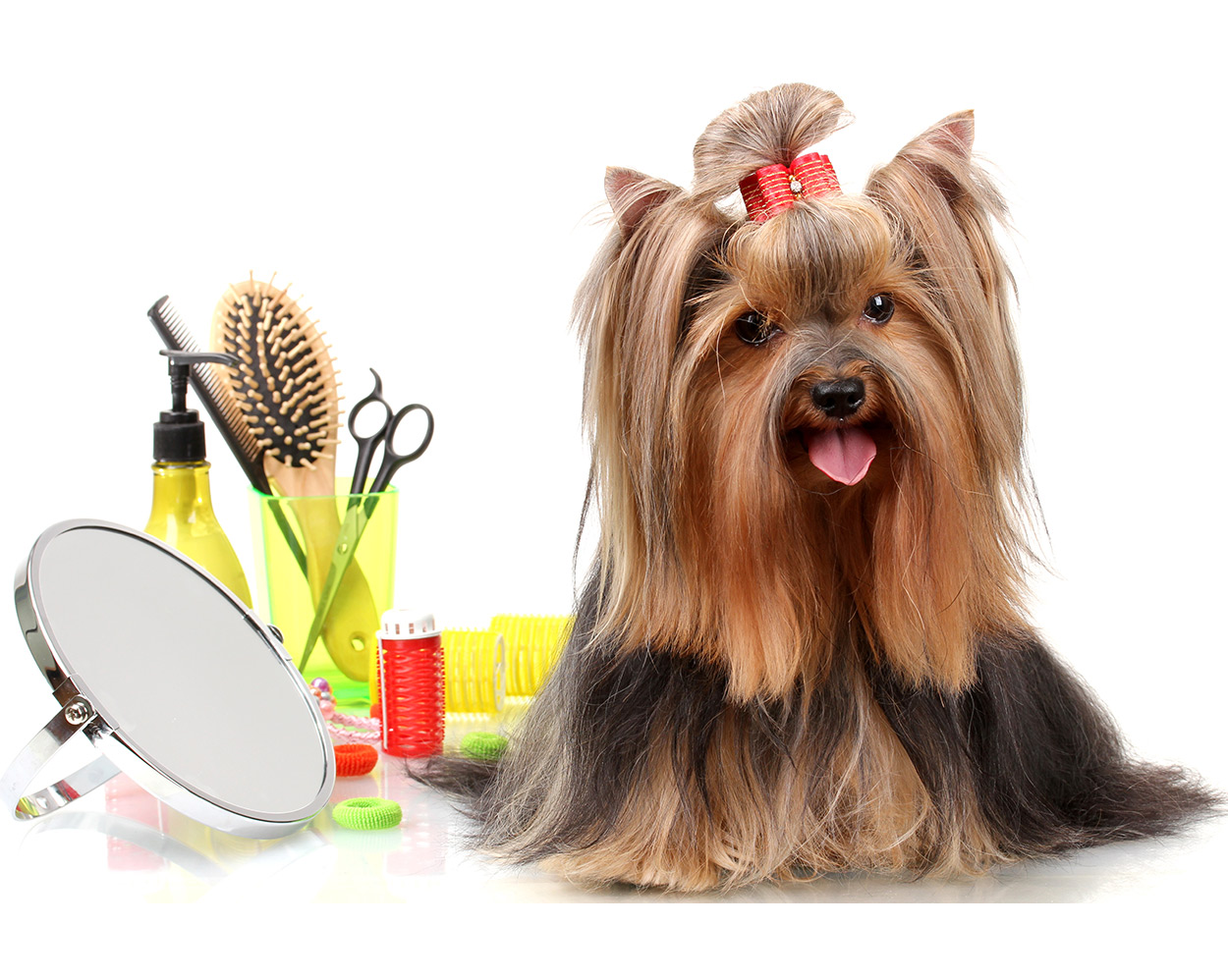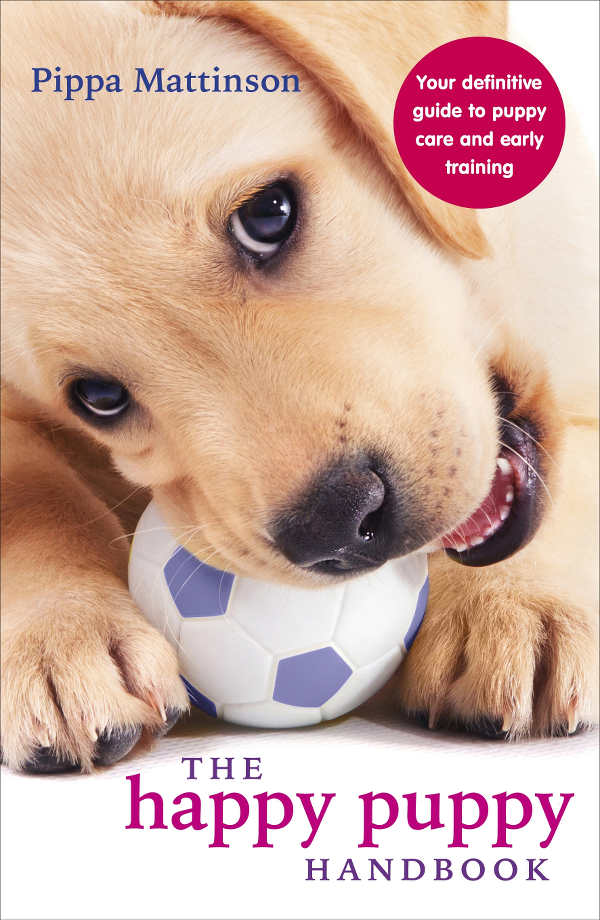 May we suggest an affectionate Yorkshire Terrier for you? They are certainly one of the most popular small long haired dogs
These little dogs can make great companions that love curling up next to you at night, their paws twitching as they dream. As the saying goes, a Yorkie is a very small dog that thinks it's a big dog!
Long Haired Dogs Breed Characteristics
This delightful little pup has a glorious, flowing blue and tan mane coupled with a curious outlook on life that compliments its lively energy level.
You can expect a petite Yorkshire Terrier to average 7–8 inches in height and average a very economical 7 pounds.
The Yorkshire Terrier was developed in the mid-19th century as a way of controlling the rodent population in Northern England.
It excelled at its job, keeping pests at bay both in textile mills and coal mines.
This is a tough-minded little dog who nonetheless enjoys a good snuggle in your lap!
This delightful little dog came to American shores in the late 1800s. Currently, it is in the top ten of the AKC's most popular dog breeds.
Today's Yorkie retains some of that fierce warrior disposition, but they are favorites for individuals who desire an animal companion with a sparkling, playful, and people-pleasing personality. They make great guard dogs, too, because they will bark if anyone comes near the house.
The Yorkshire Terrier's coat is considered to be hypoallergenic, so it should cause fewer issues among allergic individuals. Of course, this varies from person to person.
Health and Care for these Long Haired Dogs
Interestingly enough, Yorkie hair is similar to human hair!
It requires special attention, and their long hair requires daily brushing.
Either way you decide to groom your Yorkie, trimmed hair or flowing hair, she should have regular baths: ideally once a week on average.
Slipped knee joints (patellar luxation) are potential problems, and eye issues may occur, particularly if the hair has significant contact with the eyes. This can be a problem for many hairy dogs and is always worth watching.
The former issue can be mediated by limiting your little one from jumping from too high a distance, especially when its bones and joints are developing during the puppy period.
To prevent eye problems, you can always ask your dog groomer to keep the hair around her eyes trimmed.
On that small but big-hearted note, it's time to finish, for now.
Do You Love Long Haired Dogs?
We hope that you enjoyed our look at long haired dogs!
Whether you are looking for a black and white long haired dog, a brown long haired dog, red long haired dog, or even a tall long haired dog, each one of these hairy dog breeds will present pros and cons in regard to their long, lush locks.
A long haired dog is magnificent to look at, but someone has to put in the elbow grease to maintain that beautiful façade!
Unfortunately dogs, unlike cats, need your help to stay neat and clean and looking their best.
But if you have the desire for a long haired dog, and the time and inclination to groom it on a regular basis, there are gorgeous long haired pooches and multiple breeds that are just waiting to be your forever friend!
Why don't you hairy dog lovers leave us a comment and share your long-haired dog experiences and tips? We love updating our articles with new info, like we did with this one in summer 2019.
Sources
McGreevy, P.D., Righetti, J. and Thomson, P.C., 2005. The reinforcing value of physical contact and the effect on canine heart rate of grooming in different anatomical areas. Anthrozoös, 18(3), pp.236-244.
ASPCA, Bathing Your Dog
Park, S.A., et al, Clinical manifestations of cataracts in small breed dogs, Veterinary Ophthalmology, 2009
Rettenmaier, J.L., et al, Prevalence of canine hip dysplasia in a veterinary teaching hospital population, Veterinary Radiology and Ultrasound, 2005
Hodson, T., Custovic, A., Simpson, A., Chapman, M., Woodcock, A. and Green, R., 1999. Washing the dog reduces dog allergen levels, but the dog needs to be washed twice a week. Journal of allergy and clinical immunology, 103(4), pp.581-585.