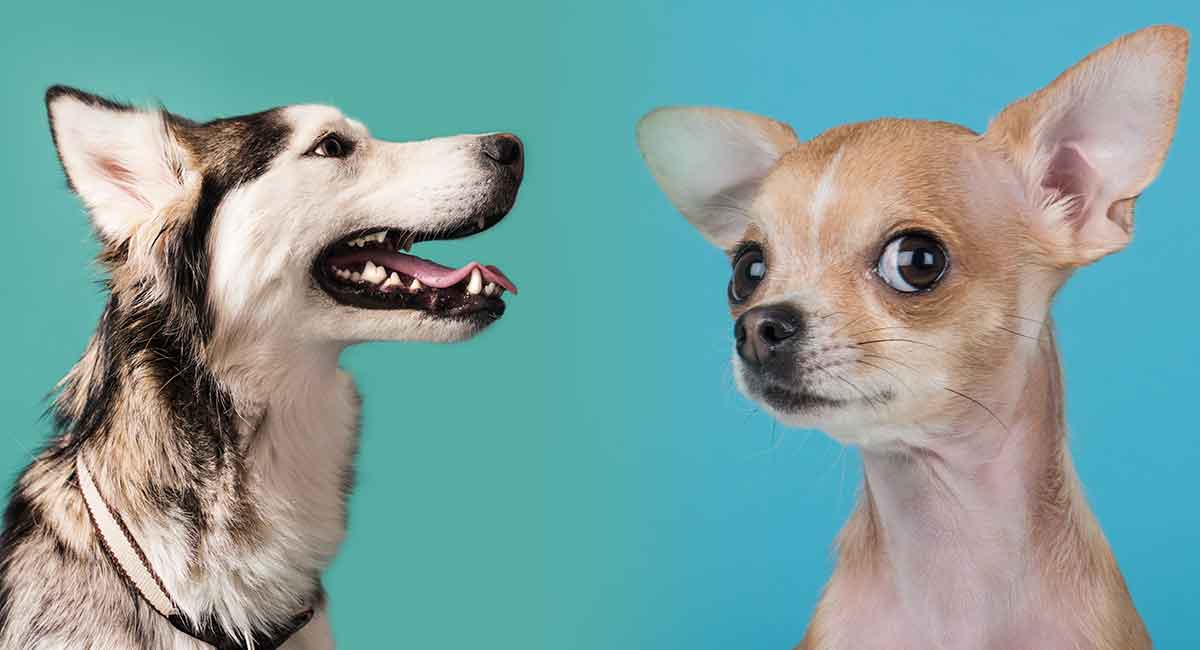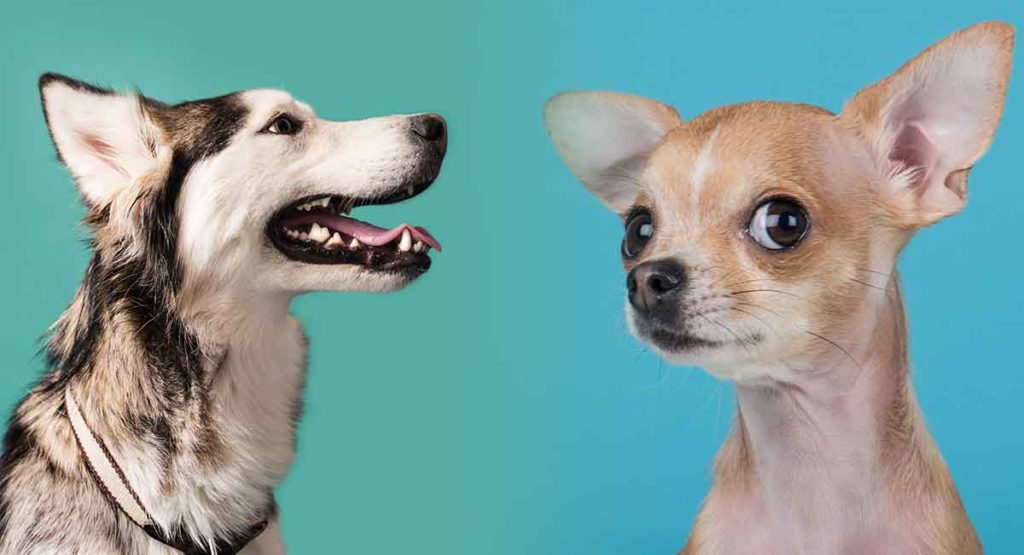 Chihuahua Husky mix dogs are confident, loyal and loud! They are great watchdogs as well as lapdogs, and can even make good apartment pets sometimes. Today we'll be checking out the breed traits of the Chihuahua Husky mix, to help you decide whether this is the right new pet dog for you. We'll see how well their grooming, exercise, training and dietary needs fit with your family and lifestyle. Give you tips for finding a breeder and raising a happy, healthy dog. And help you to predict what your Chihuahua Husky mix puppy will look like, weigh and act like when they are fully grown.
The Husky Chihuahua mix might sound like a curious combination. But both these breeds have a lot to offer. Albeit in very different ways. So how do these characteristics play out when the two combine? Let's take a look at what their health, lifespan and characteristics are likely to be like based on their two parent breeds.
What is a Chihuahua Husky Mix?
The Chihuahua Husky mix is also known as the Husky-Chi. They combine two confident, loyal dogs into one package. But what size that package will be can vary hugely! These are two very differently proportioned dogs, so they come in a lot of forms.
Where Does the Husky Chihuahua Mix Come From?
The Chihuahua Husky mix is a designer dog created by crossing the Siberian Husky with the Chihuahua. The Chihuahua, who is the national dog of Mexico, was likely bred down from an ancient breed by the Aztecs to create a small companion dog. He is naturally bossy, full of pizazz, and totally adorable.
The Siberian Husky, on the other hand, is a born working dog. His ancestors were created to work in the freezing climates of Siberia, hauling loads for the Chukchi people. He played a vital role in the survival of the Chukchi, and due to his working days, the modern-day Husky has an incredible resiliency, loads of energy, and lots of love to offer.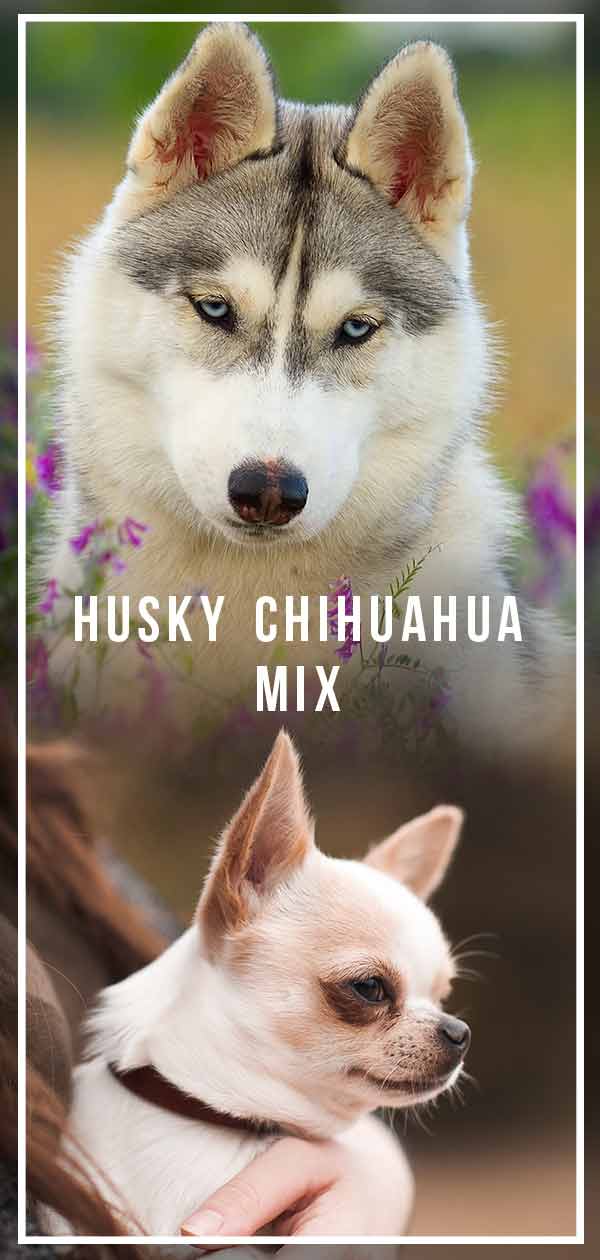 Fun Facts!
The Husky Chihuahua mix goes by a few unofficial nicknames like the Huskyhuahua and Husky-Chi.
However, since the Husky Chihuahua mix is not considered a breed in his own right, these names are not accepted by any major breed club or affiliation.
Husky Chihuahua Mix Appearance
Breeders aim for the Chihuahua Husky mix to look like a Miniature Husky. And often they have Husky markings, a longer nose and a shorter stature than an adult Husky. But they can differ a lot from dog to dog.
There are two types of Chihuahua's, although these types are unofficial and not recognized by major breed clubs or organizations. The Apple Head Chihuahua is the only type accepted for show. He has an apple-shaped head and a shorter muzzle with a 90-degree angle where the forehead meets the snout. The Deer Head Chihuahua has a head that is shaped like the head of a young deer. He also has wide eyes and very large ears.
The Husky Chihuahua mix may seem like a strange combination, and if you are scratching your head and wondering what this crossbreed might look like, we really can't tell you for sure. This is because the Husky Chihuahua mix could inherit any number of his parent breed's genes, meaning he could look a lot like a Husky, or a lot like a Chihuahua, or he could even look somewhat like both. It will all be left up to chance.
Chihuahua Husky Mix Size
A Husky is around 20-23.5 inches tall and weighs about 35-60 pounds. The Chihuahua, on the other hand, is significantly smaller than the Husky. He ranges in size from 5-8 inches tall and weighs no more than 6 pounds.
Coats and Colors
The Husky's coat is thick, double-layered, weather resistant, and comes in quite a few colors, including:
White • Sable
Black • Splash
Agouti • Silver
Piebald • Brown
Black and Tan • Red
Black and White • Grey
Copper
The Husky also has erect ears, a long tail, and expressive eyes that can be blue or brown, or even one of both! But some Chihuahua's can have smooth coats, which are sleek and lie flat, while others have long coats that require more brushing and grooming maintenance. Both coat types come in several colors, including:
Black • Gray
White • Silver
Fawn • Tri-Color
Chocolate
Remember, your Husky Chihuahua mix could inherit any of the above traits from his purebred parents.
Husky Chihuahua Mix Temperament
The Husky Chihuahua mix could inherit different personality traits from his parent breeds as well, so his temperament it is going to depend on genetics and chance. You should keep in mind that while the Husky is a friendly and outgoing dog, he is large and powerful and will need early socialization and obedience training to ensure he is a well-adjusted and well-behaved dog.
And the Chihuahua may be small, but he packs a big punch as far as personality. This tiny breed may begin to think he is the boss if he is allowed to, so owners should be careful to properly train this breed in which behaviors are appropriate.
Are Chihuahua Husky mixes good with kids?
Both breeds can do well with other household pets and children, although the Chihuahua may not always have the same patience for very small kiddos as the Husky does.
In fact, some studies suggest that the Chihuahua may be prone to aggressive behaviors. Especially if they are not properly trained and socialized. Small children should be supervised with this crossbreed to ensure that everyone gets along safely.
Exercising Your Husky Chihuahua Mix
Training and exercising your Husky Chihuahua mix will go hand-in-hand. This is a crossbreed who comes from two active parents and will need plenty of exercise to stay happy, healthy, and mentally sound.
An hour or so of exercise a day should suit this crossbreed and having a safely fenced in backyard or similar area where the Husky Chihuahua mix can play freely will also be a plus. However, be careful not to over exercise your Husky Chihuahua mix, especially if he is a cross between the Husky and the Apple Head Chihuahua.
A Husky Chihuahua cross could be susceptible to heat sensitivities. While most Husky dogs and Husky crossbreeds do fine in warmer climates, owners should avoid walking them on very hot days.
Chihuahua Husky Mix Training
Both the Husky and the Chihuahua are intelligent breeds. However, the Husky was bred for work and the Chihuahua was bred for companionship. The Chihuahua may be prone to independent and bossy behaviors, while the Husky will be eager and willing to please you.
Regardless of which temperament your Husky Chihuahua inherits, experts encourage positive reinforcement training methods, including praise and treats, as opposed to scolding and punishments.
Of course, early socialization beginning in puppyhood, as well as obedience training, will also help to ensure your Husky Chihuahua mix grows up to be a happy and well-adjusted adult dog. Although you should also note that sometimes smaller dogs like the Chihuahua can have trouble potty training.
Husky Chihuahua Mix Health
Since the Husky Chihuahua is a crossbreed, he could be prone to inheriting the same genetic health issues that threaten his purebred parents.
Hybrid Dog Health
Due to the unique characteristics of each breed, it's not hard to see why breeders decided to cross them! But what about the crossbreed controversy? Unfortunately, not everyone agrees with the rising trend of designer dogs. While some experts find themselves arguing over whether crossbreeds are really just mutts, others are more concerned with health.
It is true that purebred dogs are prone to suffering from genetic health issues due to centuries of overbreeding. But there are skeptics who argue any evidence that supports the idea of crossbreeds being inherently healthier.
Still, it is a compelling theory, considering that crossbreeding does widen the gene pool and could subsequently lower the chances of certain genetic health issues being passed down. And while we don't have any concrete answers for you regarding who is right or who is wrong, we still thought you ought to know the conflict exists. Especially if you are considering getting a crossbreed of your own.
Chihuahua Health
A specific conformational defect to be aware of is Brachycephaly, which we discussed above. The Apple Head Chihuahua is especially prone to this disability due to the structure of his skull and the shortness of his muzzle. This disability can cause serious breathing problems, pain, snoring, and other respiratory issues.
Some other serious health problems a Chihuahua parent could pass on to the Husky Chihuahua mix could include dental issues, collapsing trachea, Luxating patella, liver shunt, and heart disease.
Other issues could include corneal ulcers and ocular scratches to their bulging eyes. A Chihuahua should undergo the following health tests:
Patella Evaluation
Cardiac Exam
Ophthalmologist Evaluation
Siberian Husky Health
Huskies can be prone to some serious issues including hip dysplasia, corneal dystrophy, cataracts, progressive retinal atrophy, uveodermatologic syndrome, follicular dysplasia, zinc deficiency, and hypothyroidism. The AKC suggests these health screening exams to keep your Husky or Husky cross in ship-shape:
Ophthalmologist Evaluation
Hip Evaluation
Chihuahua Husky Mix Care
Along with health screening, you can help to stay on top of your Husky Chihuahua mix's health by making sure he is adequately cared for. He should be on a diet of high-quality dog food specified for his age and size. Make sure the first few ingredients include real meat and there are no unnecessary additives or grains.
Be sure to check your crossbreed's ears regularly to keep them clean and clear of infection and trim his nails consistently to keep them from breaking or splitting. Your Husky Chihuahua mix should also be groomed two or three times a week to keep loose hair under control and his coat and skin healthy.
How Long Do Chihuahua Husky Mix Dogs Live?
The lifespan of a Chihuahua Husky mix is likely to be fairly good, somewhere in the teens.
Chihuahuas live 14-16 years and have several known potential health issues. The Husky, who lives approximately 12-16 years, is considered to be a pretty healthy breed. And mixed breeds tend on average to live longer than pure bred dogs.
Do Husky Chihuahua Mix Make Good Family Dogs?
If properly trained and socialized, the Husky Chihuahua mix has the potential to make for a good family pet. However, and as mentioned above, the Chihuahua especially can be prone to aggressive tendencies like snapping and biting, and may not have much patience for very young and playful children.
On the other hand, if you have concerns regarding health, you may opt to rescue an adult Husky Chihuahua mix whose health will be more predictable.
Pros and Cons of Getting A Husky Chihuahua Mix
Do you want to see some basic pros and cons of owning a Husky Chihuahua Mix?
Pros
Unique Looking
Sassy and Spirited
Intelligent and Outgoing
Loyal and Playful
Cons
May Not Look How You Expect
Unpredictable Health Issues
Unpredictable Temperament
May Be Difficult to Train
Rescuing a Husky Chihuahua Mix
If you opt to rescue a Husky Chihuahua mix, we recommend researching the local shelters in your area. Adoption fees usually range from $50 to $100.
For more information on adopting a dog from a shelter, visit us here.
Finding A Husky Chihuahua Mix Puppy
If you are choosing to forgo a rescue and would like to look into getting a Husky Chihuahua mix puppy, we recommend doing plenty of research.
Breeders typically charge around $500 to over $1000 for puppies.
Furthermore, most reputable breeders understand the importance of early health screening in litters and responsible breeding practices, meaning that you may spend a bit more, but your puppy will get the healthiest start possible.
Beware of pet stores and puppy mills. Irresponsible breeding practices can lead to unhealthy puppies who also may grow up with temperamental issues.
Raising A Husky Chihuahua Mix Puppy
Raising your Husky Chihuahua mix puppy is going to take a lot of patience, time, and love.
Make sure you always utilize positive training methods and are prepared for your puppy before you bring him home.
For tips and products that will help you prepare for a new puppy, click here.
Husky Chihuahua Mix Products and Accessories
Some of our favorite products for the Husky Chihuahua Mix include Greenies Original Dog Dental Chew Treats.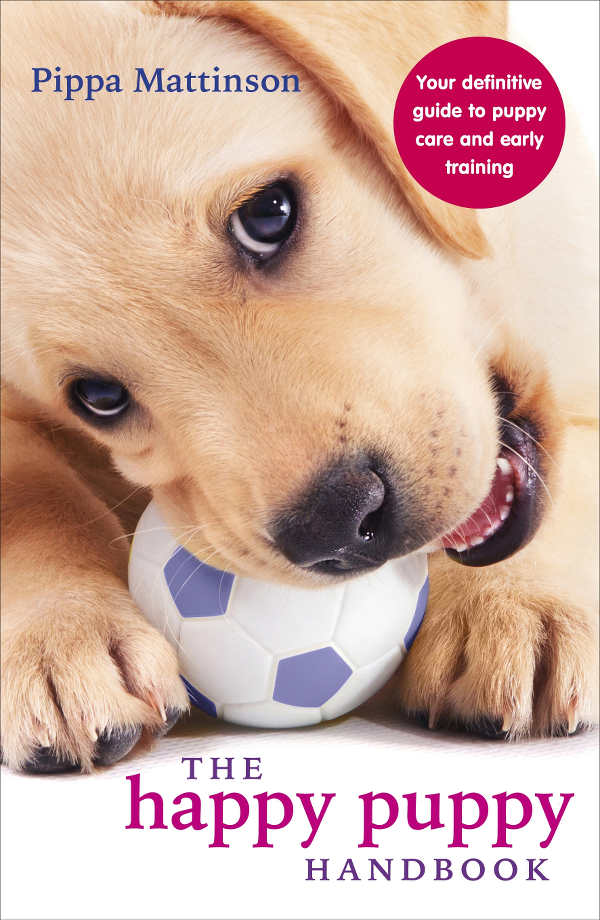 We love this product, especially since the Husky Chihuahua mix can be prone to dental issues.
We are also all about the Eagloo No Pull Dog Harness With Front Clip for when you take Fido on walks.
Not only does this harness help relive pulling tendencies, but it is also less dangerous for your dog's fragile trachea.
Similar Husky Chihuahua Mixes and Breeds
Do you like this crossbreed but think another one may suit you better?
Here is a list of some other breeds and crossbreeds that are similar to the Husky Chihuahua Mix!
Husky Chihuahua Mix Rescues
Looking for a rescue in your area? Check out these complete lists of rescues in the US, UK, and Australia.
Do you know of any reputable shelters we forgot to mention?
Please let us know in the comments section below!
Is A Husky Chihuahua Mix Right for Me?
If you are a family with very small children, then the Husky Chihuahua mix may not be the best choice for you.
However, if you are an active family with older, more respectful children or no children at all, then this may be an excellent crossbreed to join your home.
Keep in mind he will need lots of exercise, training, and early socialization to grow into a happy, healthy, well-adjusted member of your family!
As always, we wish you the best of luck on your journey to finding the right dog for you! Make sure to take a look at some Husky names for inspiration, too!
References and Resources
Deborah L. Duffy, Yuying Hsu, James A. Serpell, Canine Aggression, Behavior Science, Official Journal of the International Society for Applied Ethology,
Borbala Turcsan, Adam Miklosi, Eniko Kubinyi, Owner Perceived Differences Between Mixed-Breed and Purebred Dogs
Tiffani J Howell, Tammie King, Pauleen C Bennett, Puppy Parties and Beyond: the role of early age socialization practices on adult dog behavior, Volume 6, pages 143-153
Nathan B Sutter and Elaine A Ostrander, Dog Star Rising: The Canine Genetic System, Nature Reviews Genetics, Volume 5, pages 900-910
Lowell Acumen DVM, DACVD, MBA, MOA, The Genetic Connection; a Guide to Health Problems in Purebred Dogs, Second Edition, 2011
Carol Beuchat Ph.D. The Myth of Hybrid Vigor in Dogs…Is A Myth.