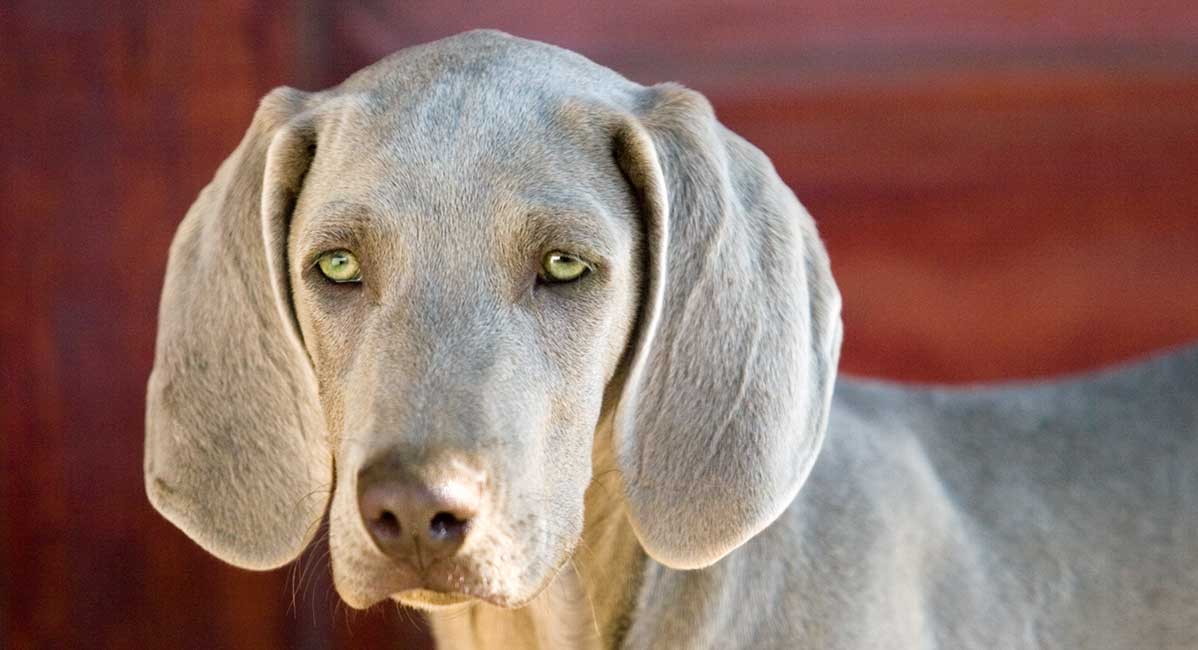 Dogs with green eyes are rare, but they do exist! Have you ever seen dogs with green eyes? Well, if you have, you should consider yourself lucky, as they're pretty unusual creatures! Pitbulls, Pomskies and Weimaraners are reported to have produced dogs with green eyes on occasion. Most dogs have brown eyes, although there are a few breeds where blue or amber eyes are also seen. Blue-eyed pups can include Siberian Huskies and Border Collies. Some dogs even have one blue eye and one brown eye! But dogs with green eyes – really? Today we look at the breeds of dogs that often do have green eyes and how this can be.
Contents
Canine Eye Color – it's all down to genetics!
So, what determines the color of a dog's eyes within different breeds? The color of a dog's eyes is controlled by his genes. In general, most dogs' eyes are various shades of brown, regardless of the animal's coat color. That's because they all carry a gene which produces a brown pigment called eumelanin in the iris.
However, there are a number of different genetic factors that can cause blue, amber, or green eyes in certain breeds. One such factor is the Merle gene, and it is found on the canine chromosome 10 (CFA 10).
The Merle gene is changes coat color and eye color by creating patches with reduced eumelanin. Dogs with the Merle gene typically have irregular beige or gray patches in the base color of their fur, creating a brindled or patchy effect across the whole body. This color phenomenon is seen in many breeds, including:
Border Collies
Australian Sheepdogs
Dachshunds
Great Danes
Welsh Corgis
Chihuahuas
Cocker Spaniels
Pomeranians
Most dogs who carry the Merle gene also have blue or amber eyes. Very (like, very very) occasionally these dogs can end up with green eyes. However, for two types of dog, pale green or blue/green eyes are slightly more common. They are American Pit Bull Terriers, and Pomeranian Huskies (Pomskies).
(Incidentally, Huskies don't have blue eyes because they carry the Merle gene, but because they carry a different gene which causes blue eyes independently of coat color.)
How Do Dogs with Green Eyes Occur?
More science! So we know that dogs with brown eyes have brown pigment in their eyes. But dogs with blue or green eyes don't have blue or green pigment!
In fact, they have no, or very little pigment. They appear blue or green because of the way light refracts (bends) when it travels through the lens of the eye (which is clear). In that respect, they appear blue for the same reason the sky and the sea do!
Which Dogs Have Green Eyes?
So eye color all comes down to density of eumelanin pigment in the iris. Dogs with brown eyes have lots of eumelanin pigment, which we see as brown. Amber-eyed dogs have eumelanin pigment in their eyes, but not as much – probably because of other genes which modulate how much is made.
Dogs with green eyes have a very small amount of eumelanin – we mostly see light being refracted, but a tiny amount of pigment too. And dogs with blue eyes have no pigment in their iris at all.
Inheritance of Green Dog Eyes
The inheritance of eye color in dogs is affected by lots of genes. This is how we see so many shades of eye color in our dogs and not just one shade of brown and one shade of blue. But we know that the Merle gene is one which most commonly gives dogs blue or green eyes. So let's find out more about that now.
Health issues associated with the Merle gene
Dogs with green eyes who carry the Merle gene can suffer from a number of health conditions, especially affecting their eyes and ears. Mild to severe deafness can occur in Merle gene carriers.
Merle dogs' hearing problems are caused because the kind of cells that make eumelanin (called melanocytes) also play an important role in the structure of our inner ear.
We don't know exactly why yet, but without those cells sound waves don't stimulate dogs' middle and inner ears correctly, resulting in complete or partial deafness.
Dogs with green eyes and the Merle gene also have less pigmentation in the iris of the eye, which can affect their eyesight. This means dogs with green eyes can sometimes suffer from increased intraocular pressure (glaucoma), and poor refraction ability within the eye, and colobomas.
Are Dogs With Green Eyes Rare?
The answer to this question is, very rare! Outside of the American Pit Bull Terrier, most dog breeds with green eyes are cross-breeds.
For most breeds eye color inheritance is so complicated, that it is impossible to engineer breeding a dog with the exact right amount of iris pigment to give green eyes. When it happens, it is pure fluke, like the stunning Weimaraner in our main image.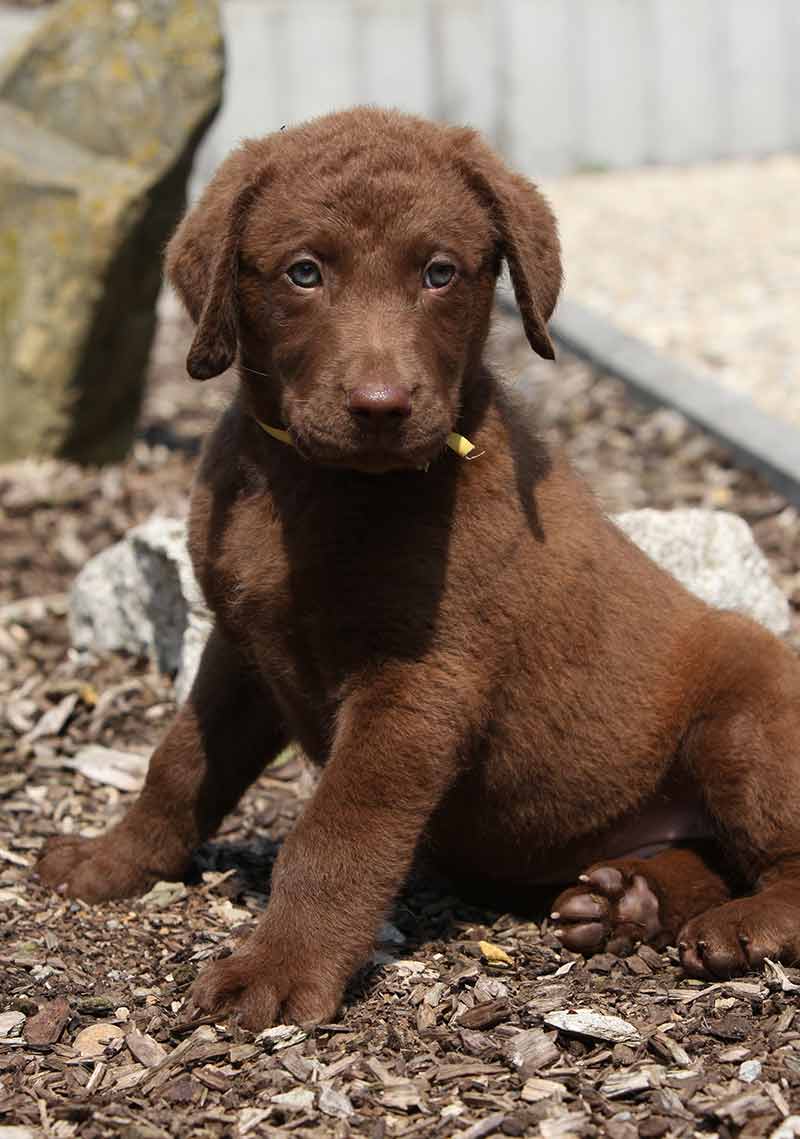 In some cases, green eyes at birth will turn to an amber color as the puppy matures and more pigment is produced.
Night Vision and Dogs With Green Eyes!
One time when almost every dog will have green eyes is at night. Dogs' eyes glow a ghostly green when you shine a light on them in the dark! But why do dogs' eyes give off a green reflection?
Unlike humans, dogs and other crepuscular or nocturnal animals have a light-reflecting surface at the back of their eyes called the tapetum lucidum.
The tapetum lucidum acts just like a mirror, reflecting light from outside the eye onto the eye cells which interpret it into images.
This maximizes the use of all available light, and improves the vision of animals that are active at night or at dawn.
Some prey animals such as deer, horses, and cattle also have this visual adaptation so that they can see predators approaching under cover of darkness.
The specific eye glow color is influenced by the amount of zinc and riboflavin in the tapetum lucidum. A dog's coat, eye color, and age can also influence the color of his eye-shine.
Older animals have denser optic lenses, which decreases the amount of light that is reflected back from the eye. My elderly German Shepherd cross's eyes became cloudy as she aged, until her eyes barely glowed at night at all.
Why Do Dog Eyes Glow Green?
The truth is that not all do! Most dogs are born with a purple tapetum lucidum. However, by the time the dog reaches 16 weeks of age, the tapetum has changed to a yellow-green color, which is reflected in their night-time glow.
Dogs who have white coats and blue eyes often produce a red-eye glow in the dark. This red color is caused by blood vessels in the eyes that reflect when they are exposed to a light source.
We see the blood vessels because these dogs don't produce any pigment in the tapetum lucidum at all.
A notable exception to the green glow rule is the Schnauzer, whose eyes glow a beautiful turquoise blue under torchlight! Now, let's have a closer look at the specific breeds of dogs with green eyes!
The American Pitbull Terrier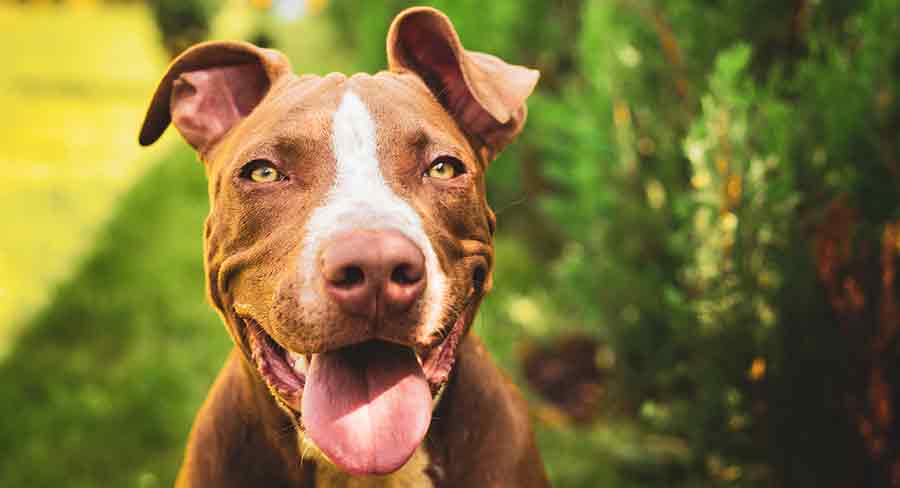 It's thought that the Pitbulls originated in England where fighting dogs were bred from mastiffs.
Back as far as the 1200s these dogs were used in the grisly sports of bear and bull baiting, until these pastimes were banned in England in 1835.
After this, the Pit Bull was crossed and re-crossed to create a smaller, more agile dog that would be suitable for dog fighting, which took the place of bull baiting when it was banned.
Unfortunately, the Pit Bull breed latterly became synonymous with modern dog fighting rings, and was also the attack dog of choice for criminals.
So, the poor Pit Bull comes with rather a tarnished reputation!
Pitbulls as pets
Lovers of the Pit Bull claim that the breed is just as friendly, loyal, and family oriented as a Labrador or Dachshund!
Even so, it's still essential that Pit Bull puppies are properly socialized from the get-go.
Pit Bulls do have boundless energy and need a lot of exercise.
When choosing suitable toys for Pit Bulls, pick something that the dog can hang on to and pull!
Although the Pit Bull is famed for its legendary jaw strength, it's not the actual strength of their grip, but rather their tendency to hang on and not let go that makes them special!
American Pit Bulls can grow to 19 inches in height and typically weigh up to 35 pounds.
If you take on a Pit Bull as a pet, you can expect him to live up to about 12 years.
Pitbull health problems
In general, Pit Bulls are a robust and healthy breed.
However they can be prone to a few common health problems.
In addition to the hearing and vision problems that are associated with all dogs with green eyes, the Pit Bull can suffer from joint conditions such as hip and elbow dysplasia.
Some cross bred Pit Bull types are born with outturned "Charlie Chaplin" feet, leading to wrist sprains and problems negotiating stairs.
Note on owning Pitbulls
In the UK, ownership of Pit Bulls and Pit Bull cross-breeds is currently banned under the Dangerous Dogs Act 2014.
The breed is also banned in Germany, France, and Australia.
However, you can own a Pit Bull in some states and cities in the US, although ownership is governed by strict Breed Specific Legislation.
Under BSL, insurance is required for Pit Bulls, which can sometimes be prohibitively expensive.
The Pomsky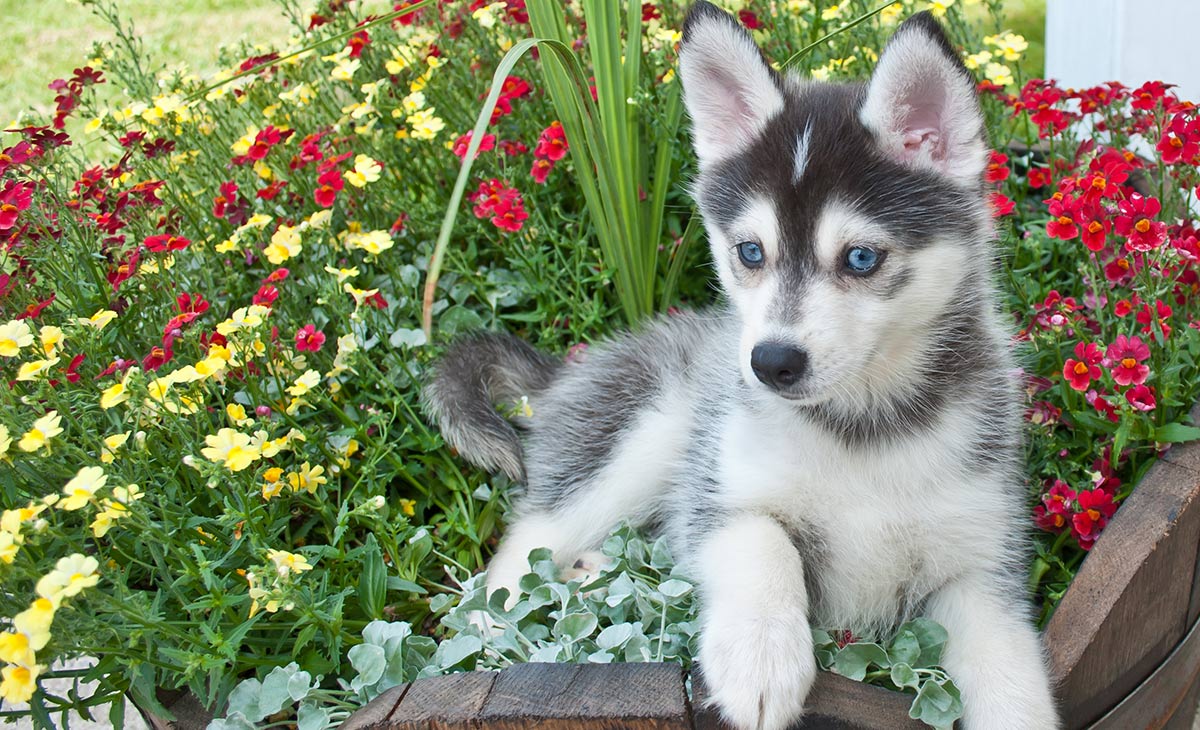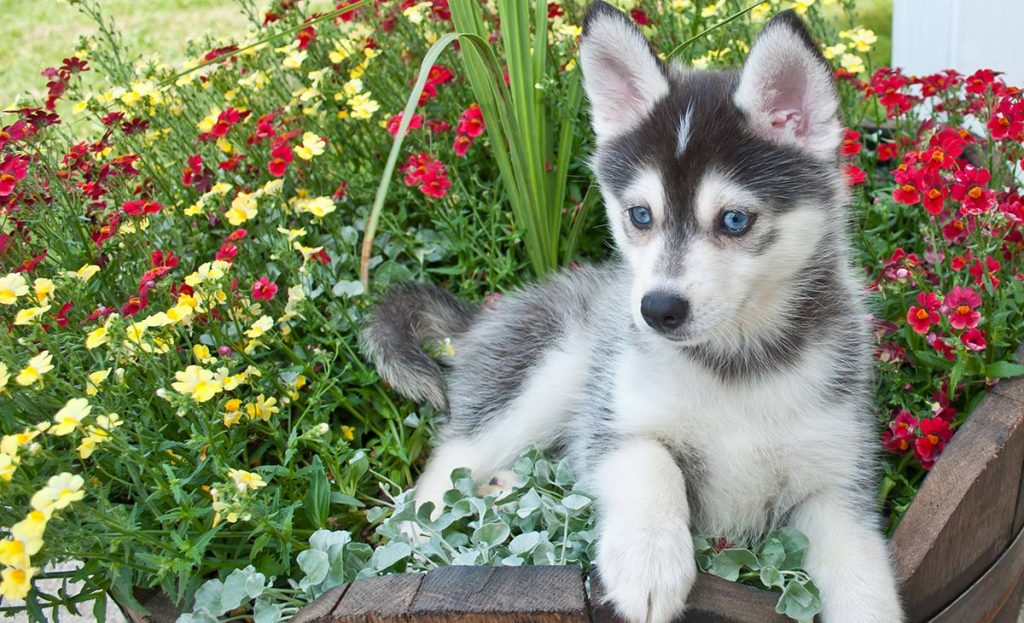 The Pomsky is a cross-breed between two pure breeds – the Pomeranian and the Siberian Husky.
Pomskies can grow up to 15 inches in height and weight between 15 and 30 pounds.
If you take on a Pomsky as a pet, you can expect to devote up to 15 years to his care!
Pomsky breed history
The Siberian husky side of this designer breed was originally bred to haul heavy sleds over ice and snow.
These dogs are tough and hardy, often living outside in the harshest of weather conditions, and being fed on frozen, raw meat.
Huskies are medium sized and powerful with an independent streak but a friendly, loyal nature.
By contrast, the Pomeranian is a small toy breed.
It too has distant sled dog origins, but is now a pampered household pet!
Pomskies are created by crossing a male Pomeranian with a female Siberian husky.
For reasons of practicality due to the size difference between the two breeds, this normally takes place via artificial insemination.
Pomskies as pets
Pomskies vary tremendously in appearance and to some extent in personality too.
Your cute, fluffy Pomsky puppy may grow into a mid-sized dog with the best of both temperament aspects of his parents.
However, you could end up with a larger pooch who is more independent, taking more after the Husky side of his breeding. It's really a lottery!
You'll need to devote several hours each week to grooming your Pomsky. Both breeds used to create your pup have double coats with soft, fluffy under-hair.
Your Pomsky pup will shed significantly twice a year, usually in the fall and spring when you'll need to get busy with your slicker brush to get rid of any loose hair!
Pomskies need quite a lot of exercise, but again this depends on the individual.
Dogs who have taken more of the Siberian husky character traits will have more energy to use up than those who are more Pomeranian in nature.
Pomsky health problems
Both of the breeds that are used to create the Pomsky are typically healthy and strong.
However there are a few health issues that can crop up with this breed.
Dilated cardiomyopathy can affect Pomskies as they grow older.
This form of heart disease often goes undetected until it has progressed quite far.
Look out for breathing problems, coughing and loss of appetite, all of which can be indicative of this condition.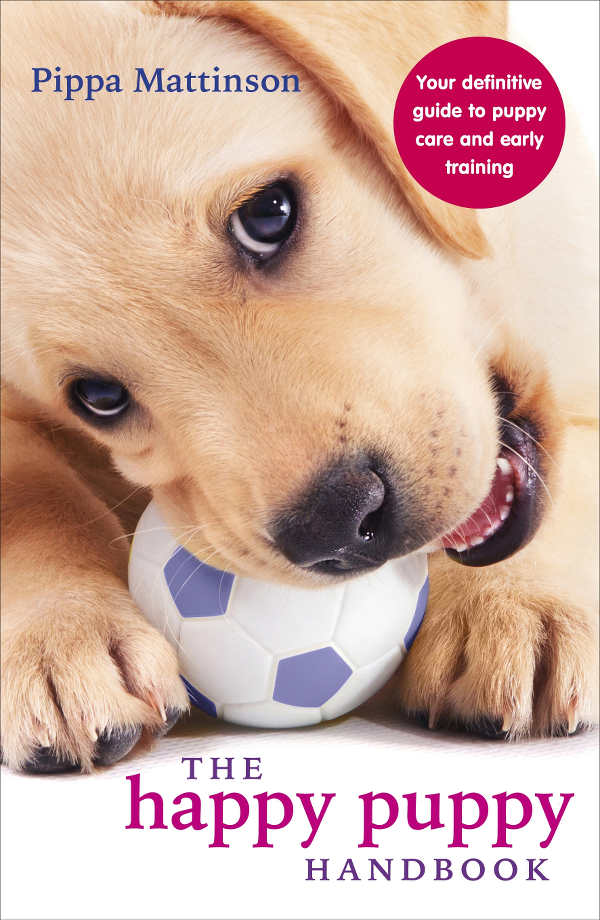 Patellar luxation is a condition where the dog's kneecap slips out of place.
Although this condition is often painless, it can lead to joint problems and inflammation in later life if it's left untreated.
Collapsing trachea is a condition that affects small dogs such as Pomeranians, and sometimes Pomskies can have it too.
The condition is characterized by labored breathing, coughing, and exercise intolerance.
Drug therapy is usually used to manage this problem, but it can be life-shortening.
Legg-Calve-Perthes disease is a musculoskeletal condition.
In dogs suffering from this problem, the hip joint begins to disintegrate and the joint and bone become inflamed.
The condition is common in toy breeds and causes lameness, pain, and muscle wasting.
Pomeranians are prone to hair loss, affecting the whole body.
Because of the Pomsky's heritage, the breed can suffer from this condition.
As in many small breeds, the Pomsky's teeth can become crowded.
This can lead to accumulations of plaque between the teeth, which can ultimately cause gingivitis and canine periodontal disease.
You can help to prevent dental problems in your Pomsky by cleaning his teeth daily with a pet toothbrush and proper pet toothpaste.
Dog breeds with green eyes
So, dogs with green eyes are pretty rare!
American Pit Bulls, Pomskies and dogs carrying the Merle gene are most commonly seen with green eyes, thanks to the magic amount of pigment they make in their irises.
Many more dogs of all eye colors appear to have ghostly green eyes at night,which is down to their special night vision and the reflective qualities of their eyes.
Do you have a Dog with Green Eyes?
If you do, please share your pup's story with us in the comments section below.
We'd love to hear about him or her!
References