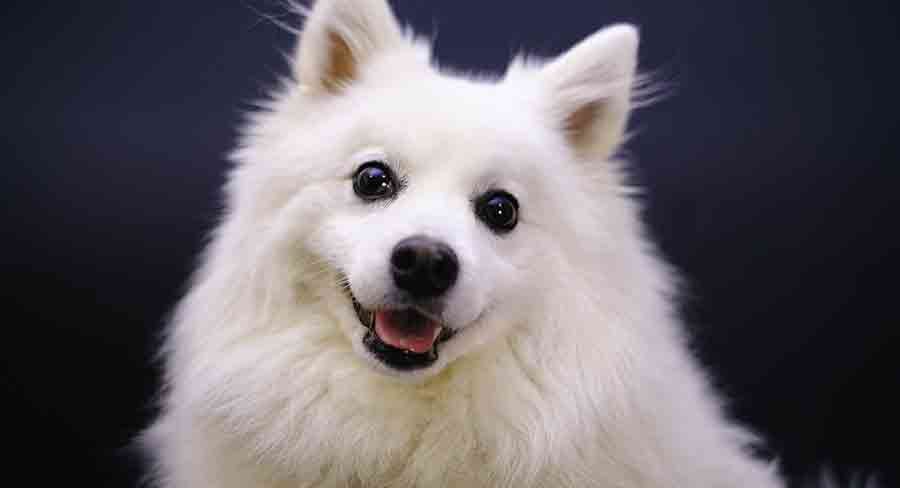 The American Eskimo Dog is an affectionate, loving breed with a thick, fluffy coat. They come in three sizes: toy, miniature, and standard. But, no matter their size, they are always energetic, alert, and intelligent. This breed is also high shedding, so won't suit families where anyone suffers from dog allergies. Regular grooming can help to keep on top of all that shedding fur.
Are you getting ready to welcome an American Eskimo Dog into your family? Or, are you still trying to decide whether this breed is the right fit for your home? Read on for a complete guide to this unique, lovable breed.
American Eskimo Dog at a Glance
Size:
Toy: 9 – 12 inches, 6 – 10 lbs
Miniature:12 – 15 inches, 10 – 20 lbs
Standard: 15 – 19 inches, 25 – 35 lbs
Temperament:
Affectionate, energetic, friendly
Lifespan:
13 – 15 years
Cost of puppies:
$800 – $2000
Colors:
White
White and biscuit
Frequently Asked Questions
History of the American Eskimo Dog Breed
The name of this breed can throw people off a little when looking into its history. It may come as a surprise to learn that the American Eskimo Dog actually descends from the German Spitz breed, which was brought across to America by German immigrants in the 1800s. Originally these Spitz dogs worked alongside farmers in all-round working roles. However, their purpose developed until the American Spitz was a common performer in travelling acts, circuses and shows. Popular acts included dancing, and this was the first breed to walk across a tight-rope!
So where does the name come from? The name change for this breed didn't happen until the first world war. A spitz breeding kennel in Ohio dubbed the term "American Eskimo", and it quickly spread, replacing the original German name of this breed. The American Kennel Club registered its first American Eskimo Dog in 1995.
American Eskimo Dog Appearance
This breed has a thick, double layered coat that tends to be even denser around the chest and shoulders. In all, it gives this little dog a lion-like appearance. However, the coat color is always white, or white and biscuit-cream. Standing out from this pale background, an Eskie will have a black nose, black lips, and black eye-rims. Their tail will be equally thick and fluffy, curling up and falling over their back.
How Big Do American Eskimo Dogs Get?
The American Eskimo Dog breed is available in three sizes. Their activity levels and care needs vary slightly from one size to the next, but personality and overall appearance is the same.
Toy: 9 – 12 inches tall, weighing 6 – 10 lbs
Miniature: 12 – 15 inches tall, weighing 10 – 20 lbs
Standard: 15 – 19 inches tall, weighing 25 – 35 lbs
The above statistics refer to the adult dog's size. Most breeders will specialize in certain sizes, so you will know what sort of bracket your dog will fall into from a young age.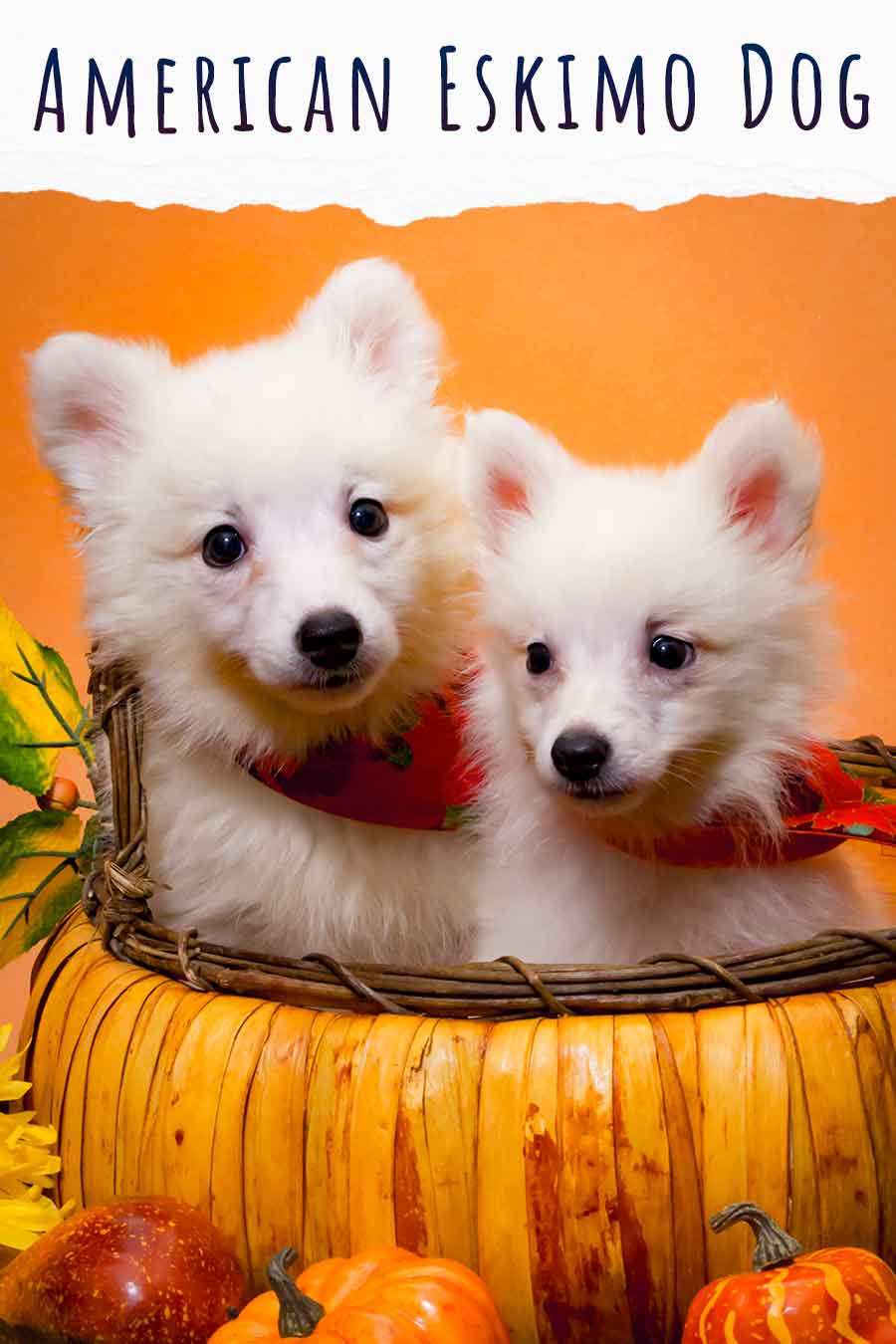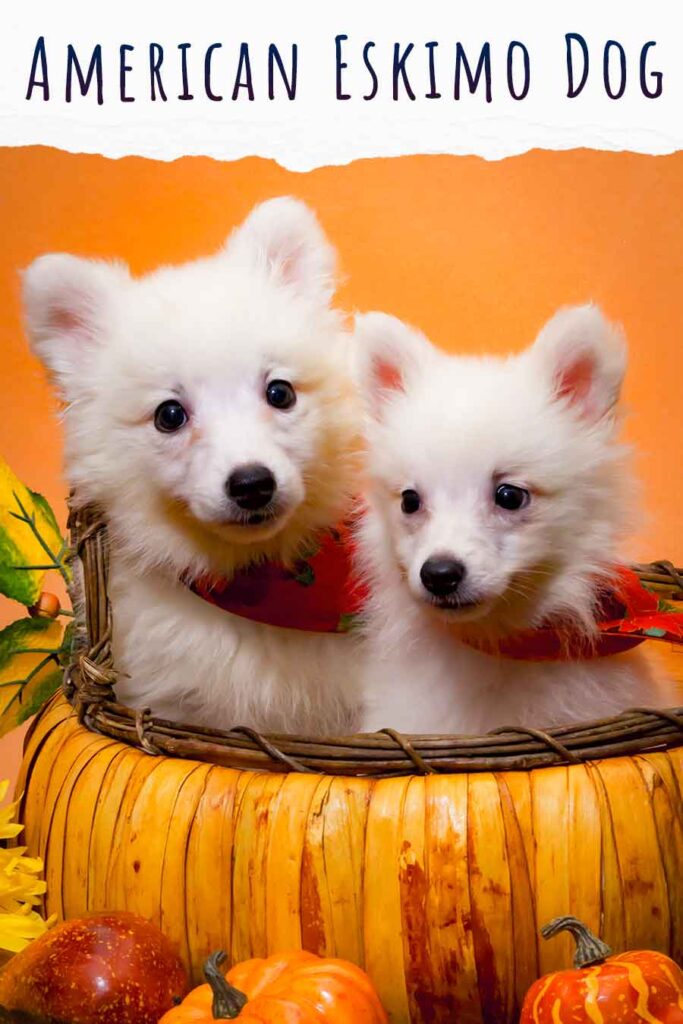 American Eskimo Dog Temperament
The Eskie breed has worked alongside people from the very start of their history. Their job roles changed slightly throughout that time, but no matter what they were doing, it was always alongside and in front of people. Whether that was a tight-knit farming family, or a large circus crowd. Because of this, the breed had to be friendly, affectionate, and eager to please.
These dogs are intelligent and quick to pick up commands. They do best in homes where they are never left alone, as they will thrive spending time with people. This breed will usually be just as friendly towards strangers as to their own family, so won't suit anyone looking for a guard dog. And, they usually get along very well with children, as long as the children are taught how to care for a dog properly from a young age.
Despite this affection towards humans, Eskies don't always get along well with other animals. They may be wary of other dogs, and could be reactive around cats and smaller pets. Socialization is the best way to try and minimise this risk. Even if you don't have other pets at home, socialization will encourage the best possible temperament from your American Eskimo dog.
American Eskimo Dog Training and Exercise
Eskies of all sizes form close bonds with their families, and tend to be very eager to please. This, paired with their intelligence, makes for great trainability! The best methods for these dogs are positive reward-based methods. This will encourage and strengthen the bond between you and your dog, and can be used to train your dog in everything, from loose leash walking or going on their bed to doing fun tricks, like spinning around or walking on two legs.
The larger the American Eskimo Dog, the more exercise they will need. Standard sizes will need more daily exercise than toy varieties. But, all sizes will need some form of active time each day. Training, doggy sports, and games will provide both exercise and some much needed mental stimulation. So, make sure your Eskie is getting enough mental and physical stimulation to prevent any unwanted behaviors.
American Eskimo Dog Health
Like all dog breeds, there are some hereditary health concerns for the American Eskimo Dog. Some of these can be identified and avoided with health testing before breeding. But, others can develop throughout your dog's lifetime. Here are some of the most common health problems found in this breed:
Hip and elbow dysplasia
Progressive Retinal Atrophy (PRA)
Heart problems
Patellar Luxation (slipped kneecap)
Autoimmune Thyroiditis
Legg-Calve-Perthes
Diabetes Mellitus
In some dog breeds, white fur is linked to hearing issues and congenital deafness. So this is also something that American Eskimo Dog owners should watch out for.
How Long Do American Eskimo Dogs Live?
Generally, as long as this breed receives good care, it can live into its teens. And, smaller dogs tend to live longer than larger dogs, so it's likely that the toy and miniature versions of this breed will live longer on average than the standard variety.
American Eskimo Dog Shedding and Grooming
No matter their size, the Eskie breed has a thick, double layered coat that will shed a lot all year round. Grooming them regularly will help to maintain this shedding fur. And, of course, the smaller the breed is, the less grooming and shed fur you will have to deal with. So, be honest about how much time you're willing to dedicate to brushing and cleaning fur before getting this dog breed.
American Eskimo Dogs are not hypoallergenic. But, in truth, no dog breed is. The proteins that trigger allergy symptoms can be found in your dog's dander (skin flakes), saliva, urine, and more. The Eskie coat doesn't trap any falling hairs or dander, so this will be spread throughout your home. This can trigger allergy symptoms, particularly as your dog will groom their fur, spreading their saliva onto hair before it sheds.
Not all individual dogs will trigger allergies if you suffer from them. So, it can help to spend some time with an Eskie before committing, to see if you're lucky enough to avoid the allergies in this case. If not, you may do better with a low shedding breed.
Are American Eskimo Dogs Good Family Pets?
The American Eskimo Dog can make a great family pet for people who have enough time to dedicate. If you spend a lot of time away from the house, or have lots of other animals, this breed might not be quite right for you. Eskies need plenty of attention and active time with their families. They get along well with everyone, including children. But, if you have kids at home, make sure you teach them the right ways to interact with a dog, including signs that your dog is getting impatient, or has had enough. This is vital for avoiding any misunderstandings or aggression.
Despite their relatively small size, an American Eskie will need plenty of exercise, socialization, and training from a young age. They will also need lots of mental stimulation to ward off unwanted behaviors, such as barking or destruction in the house. And, be prepared to clean up lots of shedding white hairs. Grooming is a must for this breed.
American Eskimo Dog Puppies
When searching for an American Eskimo dog for sale, it's important to choose a reputable breeder. They will health test all dogs before breeding to minimise the chance of puppies inheriting any of the health issues we identified earlier in this guide. They will be happy to show you proof of this, to let you meet the mother dog, and to answer any questions you have. They'll likely have plenty of questions for you in return, to ensure their puppies are going to good, suitable homes.
When looking for your new puppy, don't go to puppy farms, pet stores, or backyard breeders. Although it can be tempting to get a puppy from these places, whether you want to 'save' the dogs, or just to get a cheaper puppy, supporting them by buying their puppies will only encourage them to breed more. Dogs from these places are generally less healthy (due to no health testing) and can suffer from behavioral problems from a lack of early socialization and even being taken away from their moms too early.
American Eskimo Dog Price
On average, American Eskimo Dog puppies from a reputable breeder can cost anywhere from $900 to $2000. There are a number of things that will impact the price of a puppy. This includes:
Your location
Demand for puppies
Pedigree
Intended purpose of puppies (eg. companions, show dogs, working dogs)
Size variety
And so on. Puppy farms and bad breeders will usually be cheaper, but the long term cost of these dogs will add up if health issues rear their heads. If you're struggling to afford an Eskie from a reputable breeder, rescue is your next best option.
American Eskimo Dog Rescue
Rescuing an Eskie is a great way to offer a slightly older dog a loving home. And, sometimes you'll even find puppies in rescue centers. Dogs can be given up for a number of reasons – it doesn't always mean that they won't make a great family companion. And, they tend to be cheaper than puppies from reputable breeders, so it can be a great way to bring home a dog if those initial costs are too high for you.
Make sure you speak to rescue center staff to make sure you're finding the best match for you. Let them know if you have any other pets or children at home. Rescue can also be a great way to learn a little more about your future dog's personality before bringing them home. And, a rescue Eskie will be just as likely to form a strong bond with you as a younger puppy would.
Similar Breeds
If you love the American Eskimo Dog, there are plenty of other breeds that you might also like. Take a look at some of our other breed guides below for more information!
Do You Have an American Eskimo Dog?
If you already have an American Eskimo Dog at home, we would love to hear about them! Have you managed to teach them any tricks that hark back to their earlier purpose as performance dogs? Or do you prefer to spend your time cuddled up together? Let us know your favorite thing about the Eskie breed in the comments!
References and Resources