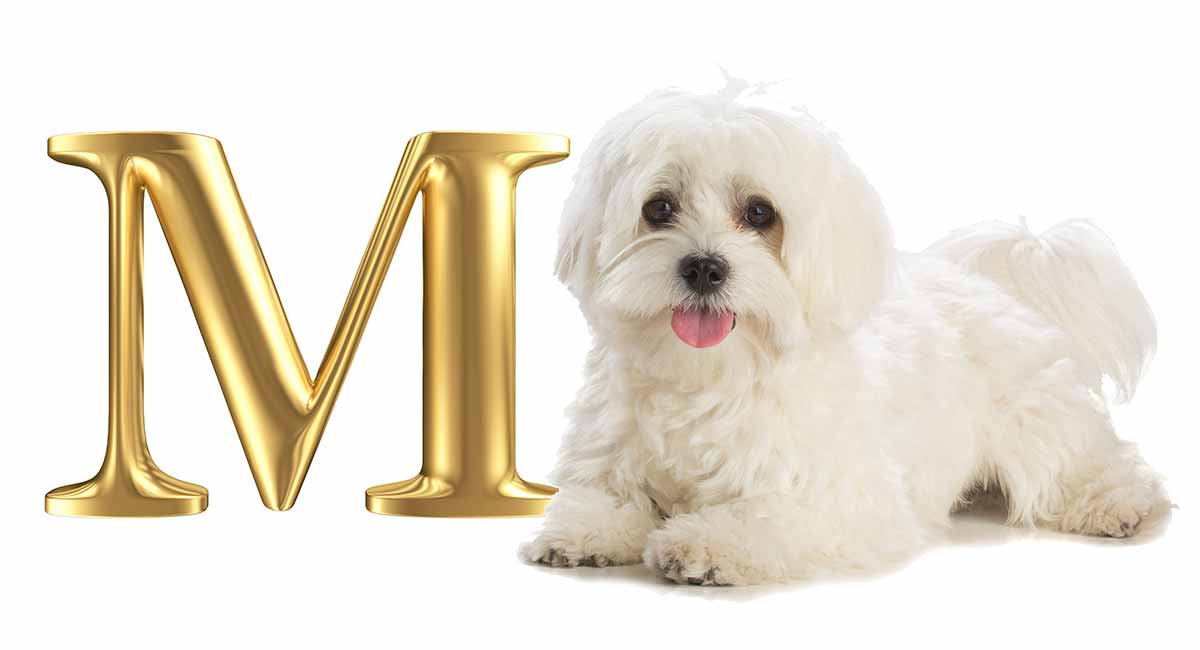 How many dog breeds that start with M can you think of?
It might surprise you how many official breeds there are!
Are you looking with a unique dog breed that starts with M to show off to your family and friends?
Maybe you've thought of the perfect name starting with M for your dog, and you want a breed that starts with M to match!
Whatever the reason, let's take a look at all the different official dog breeds that start with M you can get!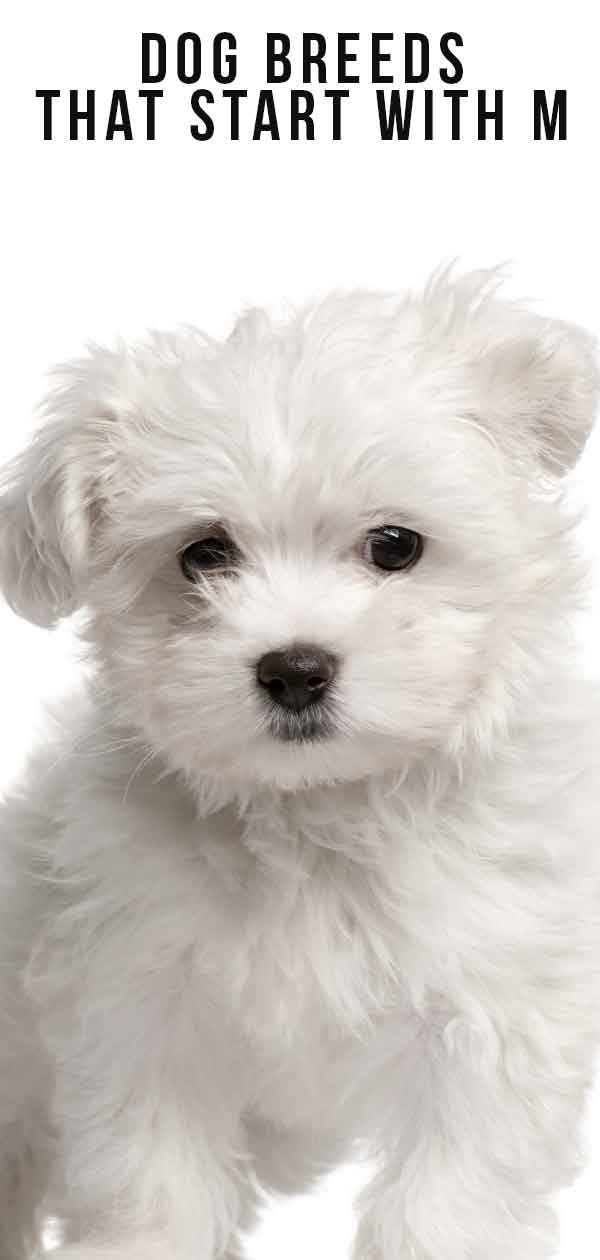 Maltese
The Maltese is an adorable small dog breed that can measure up to 9 inches tall at the shoulder, and will weigh under 7 pounds when fully grown!
The history behind this breed goes back thousands of years, and it was loved for its beauty as much then as it is now!
The Maltese was once used as a status symbol and fashion status in the Roman Empire and eventually exported to Europe by Chinese breeders.
This breed has long, white fur that needs to be brushed daily to keep it tangle-free and shiny.
The Maltese also requires regular bathing, so you shouldn't consider this breed unless you're prepared for its high grooming requirements!
It is also important to check and brush their teeth daily, as the Maltese are prone to dental problems as they age.
The Maltese breed is energetic, but manageable!
They only require occasional exercise to stay fit and happy – a daily walk, or time to run around inside or outside when playing should be enough for the Maltese.
The Maltese are an intelligent little breed, but need consistent training from a young age for best results.
This dog are a great choice if you want a breed you can use in dog sports like obedience and agility.
As well as training, socialization should start early, to ensure your Maltese is comfortable in as many new situations as possible.
The Maltese is relatively healthy, but there are a few health conditions it is important to be aware of.
As mentioned earlier, this breed can suffer from dental problems, but they can also experience
luxating patella
heart anomalies, and
liver issues.
Manchester Terrier (Standard)
The Manchester Terrier is a medium sized dog that grows to 16 inches tall and weighs around 22 pounds when fully grown.
They originated in the British city of Manchester, where they were used for hunting rats.
They have a sleek, short coat, that is black and tan and requires little grooming.
All they need is a weekly brush and an occasional bath to keep them looking their best.
Manchester Terriers love grooming time as a way to bond with their owners!
This is an athletic breed that requires regular exercise, but does still enjoy relaxing with its owner
They need at least one walk a day to stay happy and healthy, but also love playing games like fetch where they can really run around!
The Manchester Terrier is a very intelligent breed, that also loves pleasing its owners, meaning it takes really well to positive training.
Starting training and socialization early means you will get the best results from your Manchester Terrier!
This breed is another great candidate for a variety of dog sports, including obedience, rally, agility, tracking, dancing, barn hunts and scent work!
There are some issues that can affect the Standard Manchester Terrier. These include
juvenile cardiomyopathy
cataracts
Von Willebrand's Disease, and
patellar luxation.
Manchester Terrier (Toy)
Not only does the Manchester Terrier come in a standard size, but also as a toy, which is categorized as a separate breed!
When fully grown, the toy Manchester Terrier will be around 12 inches tall and under 12 pounds.
When it comes to grooming, the toy Manchester Terrier has the same needs as the Standard breed – although he's a lot smaller, so there will be less work!
His exercise needs are also the same, and the toy Manchester Terrier needs to be walked daily, and will appreciate the opportunity to run around outside!
The toy Manchester Terrier should respond to training just as well as the standard breed, and can be used in the same canine sports.
The toy Manchester Terrier is prone to the same health issues as the standard breed
juvenile cardiomyopathy
von Willebrand's disease, and
patellar luxation.
But it is also prone to some additional health issues due to its size, such as dental problems.
Mastiff
The Mastiff is a large, but calm breed that can grow over 30 inches tall and weigh anywhere up to 230 pounds.
They were originally used as big game hunters, guard dogs, and even war dogs.
They have a short, thick coat that requires occasional brushing and bathing, but will need more frequent grooming during shedding periods.
You might be surprised to find out Mastiffs don't actually require that much exercise, and can even be kept in apartments!
Daily walks of a couple miles or free play time outdoors should be enough to keep your adult Mastiff healthy and happy, although be careful not to over-exercise young puppies.
If your Mastiff gets tired or overheated, you may find yourself having to carry it home!
Because Mastiffs are so huge, early socialization and training is super important – you need to be able to control them!
They are intelligent dogs that like pleasing their owners and respond well to eye contact and positive training techniques!
Unfortunately, there are a couple of health problems to be aware of.
These include
allergies
eye issues
heart conditions
cancer
hip dysplasia
von Willebrand's disease
degenerative myelopathy
epilepsy, and
bloat.
Miniature American Shepherd
This small breed will measure up to 18 inches tall, and weigh up to 40 pounds.
They are very similar to the American Shepherd, but smaller!
Their double coat comes in a variety of colors, including
black
blue merle
red, and
red merle!
They do shed a lot, and have two main shedding periods each year.
You should be prepared to brush them weekly, and daily during their shedding periods.
This breed loves exercise, and can adapt to most homes as long as they get enough daily exercise to keep them happy and healthy!
They also do well at dog sports like obedience, agility and tracking.
The Miniature American Shepherd benefits from early socialization and training.
They are intelligent and eager to please, so respond well to training.
There are a few health conditions to be aware of, including
hip dysplasia
skin problems, and
dental problems
Miniature Bull Terrier
The Miniature Bull Terrier grows up to 14 inches tall, and weighs up to 28 pounds when fully grown.
It's identical to the Bull Terrier, but much smaller!
They have very few grooming needs, but will need an occasional bath and brush.
Their teeth should also be brushed regularly.
Miniature Bull Terriers do need a lot of exercise to stay in good shape, but they can be prone to sudden lameness when puppies.
Miniature Bull Terrier puppies shouldn't have too much exercise, as this can damage their joints.
Training and socialization are a must from an early age.
Miniature Bull Terriers are curious and intelligent, so do respond well to positive methods like clicker training.
This breed can be prone to
heart issues
kidney issues
deafness
luxating patellas, and
eye problems.
Miniature Pinscher
This breed grows up to 12.5 tall and weighs up to 10 pounds.
Although they're a small dog, they have a big personality!
The Miniature Pinscher has a short, firm coat, that only needs weekly grooming with a soft brush.
Although it's small, the Miniature Pinscher loves exercise!
A couple of walks each day should be enough to satisfy this breed, who will also love chilling with you at home at the end of the day!
Miniature Pinschers can have an independent streak, so early socialization and training is a must.
Obedience training is a good idea to minimise this independence.
Although generally healthy, you should watch out for health problems like
patellar luxation
cervical disc
Legg-Calve-Perthes disease
epilepsy
hyperthyroidism
heart defects
eye problems, and
dental issues.
Miniature Schnauzer
The Miniature Schnauzer grows up to 14 inches tall, and can weigh up to 20 pounds.
This breed are loved for their famous bushy eyebrows and beard!
Their wiry double coat coat comes in solid black, black and silver, or salt and pepper!
Their coat requires frequent brushing to look its best, and although the breed doesn't shed a lot, their coat needs to be trimmed every five to eight weeks, which most people choose a professional groomer for!
Miniature Schnauzers require daily exercise to stay happy and healthy.
However, they can adapt well to city living, so you don't need a big country home for this breed!
Miniature Schnauzers will love a fenced outdoor area to run around and play games in, but mostly they love spending time with you.
They do have a strong chase instinct, so should be kept on leashes when going on walks.
These pups learn quickly and are very eager to please, but can get bored with repetitive training due to their high intelligence!
They need to be socialized and trained from a young age, and do well at dog sports like agility, obedience, and rally.
Unfortunately this breed are prone to health conditions, including
cataracts
hyperlipidemia
pancreatitis
liver shunts
urinary stones, and
dental issues.
Mountain Cur
This medium sized breed measures up to 26 inches, and weighs up to 60 pounds when fully grown.
This breed originally guarded families and livestock against animals or intruders, but were also used to catch wild game for their frontier families!
The Mountain Cur has short hair and only requires occasional grooming.
However, this breed does shed twice a year, and so will need more frequent brushing then.
Mountain Curs are very active, and need daily exercise to stimulate them physically and mentally to avoid destructive behaviors.
They will love accompanying you on walks or hikes, but will also love other outdoor activities and sports.
When walking on a leash, it is important to make them heel to demonstrate you are their leader, as these pups can have an independent streak.
This can mean they're difficult to train, even though they're intelligent dogs and can excel in dog sports.
They love spending time with their family, but can be wary around strangers, and can see smaller animals as prey, so should be kept on a leash when walking outside.
Early socialization and training is a must with this breed.
The Mountain Cur is generally healthy and should live a long life with proper diets and exercise, but be sure to maintain regular vet checks.
Mudi
This medium-sized Hungarian dog grows up to 19 inches and weighs up to 29 pounds when fully grown.
This breed has beautiful curled fur that only needs occasional bathing and grooming.
They do require lots of exercise though!
They love running around outside just as much as they enjoy relaxing in the home!
The Mudi will appreciate a fenced off area where they can run around as much as they please.
They also love games that allow them to run, such as fetch, frisbee, or activities like herding and obedience.
They are a playful breed that are known to love digging and jumping, but exercise can help to minimise these habits!
Luckily, the Mudi is also extremely intelligent, enthusiastic and eager to please, which makes them super trainable!
You should start training and socialization as early as possible to achieve best results!
This is a generally healthy breed, but you should watch out for
hip and elbow dysplasia
eye problems
patellar luxation, and
heart problems.
Dog Breeds that Start with M – Summary
Were there any dogs on this list you hadn't heard of before?
Maybe you've now found your perfect pup!
If you've owned one of these dogs, be sure to let us know what they were like in the comments section!
References and Resources
Julia Wallace Bennett (et al), 'Dental Composite for the Fixation of Mandibular Fractures and Luxations in 11 Cats and 6 Dogs', Veterinary Surgery, 23:3 (1994)
Z. Pavlica (et al), 'Teeth Abnormalities in the Dog', Acta Veterinaria Brno, 70 (2001)
Courtney A Campbell (et al), 'Severity of Patellar Luxation and Frequency of Concomitant Cranial Cruciate Ligament Rupture in Dogs: 162 Cases (2004-2007)', Journal of American Veterinary Medical Association, 236:8 (2010)
B. Vidoni (et al), 'Diagnostic and Genetic Aspects of Patellar Luxation in Small and Miniature Breed Dogs in Austria', Orthopaedics, (2005)
Brenda Austin (et al), 'Gallbladder Agenesis in a Maltese Dog', Journal of the American Animal Hospital Association, 42:4 (2006)
Kirk N. Gelatt and Edward O. Mackay, 'Prevalence of Primary Breed-Related Cataracts in the Dog in North America', Veterinary Ophthalmology, 8:2 (2005)
C. H. Legge (et al), 'Histological Characterization of Dilated Cardiomyopathy in the Juvenile Toy Manchester Terrier', Veterinary Pathology, (2013)
William A. Priester, 'Sex, Size, and Breed as Risk Factors in Canine Patellar Dislocation', Journal of the American Veterinary Medical Association, 160:5 (1972)
M. Glyde (et al), 'Magnetic Resonance Imaging in the Diagnosis and Surgical Management of Sacral Osteochondrosis in a Mastiff Dog', Vet Record, 155:3 (2004)
R. D. Foale (et al), 'Left Ventricular Myxosarcoma in a Dog', Journal of Small Animal Practice, 44:11 (2006)
J. W. Kijas (et al), 'Canine Models of Ocular Disease: Outcross Breedings Define a Dominant Disorder Present in the English Mastiff and Bull Mastiff Dog Breeds', Journal of Hereditary, 94:1 (2003)
Joan R. Coates and Fred A. Wininger, 'Canine Degenerative Myelopathy', Veterinary Clinics, Small Animal Practice, 40:5 (2010)
Jerold S. Bell, 'Inherited and Predisposing Factors in the Development of Gastric Dilation Volvulus in Dogs', Topics in Companion Animal Medicine, 29:3 (2014)
Jessie Scaglione (et al), 'Ischemic Necrosis of the Digits and Hyperlipidemia Associated with Atherosclerosis in a Miniature American Shepherd', Journal of the American Veterinary Medical Association, 253:2 (2018)
David R. Sargan (et al), 'Mapping the Mutation Causing Lens Luxation in Several Terrier Breeds', Journal of Heredity, 98:5 (2007)
C. A. O'Leary and I. Wilkie, 'Cardiac Valvular and Vascular Disease in Bull Terriers', Veterinary Pathology, (2009)
C. A. O'Leary (et al), 'Polycystic Kidney Disease in Bull Terriers: an Autosomal Dominant Inherited Disorder' (2008)
M. Isola (et al), 'Dual-Energy X-Ray Absorptiometry in Canine Legg-Calve-Perthes Disease', Journal of Veterinary Medicine Series A, 52:8 (2005)
Charles J. Parshall (et al), 'Photoreceptor Dysplasia: An Inherited Progressive Retinal Atrophy of Miniature Schnauzer Dogs', Progress in Veterinary & Comparative Ophthalmology, 1:3 (1991)
K. N. Gelatt (et al), 'Inheritance of Congenital Cataracts and Microphthalmia in the Miniature Schnauzer', American Journal of Veterinary Research, 44:6 (1983)
Panagiotis G. Xenoulis (et al), 'Investigation of Hypertriglyceridemia in Healthy Miniature Schnauzers', Journal of Veterinary Internal Medicine, 21:6 (2008)
Panagiotis G. Xenoulis and Jorg M. Steiner, 'Lipid Metabolism and Hyperlipidemia in Dogs', The Veterinary Journal, 183:1 (2010)