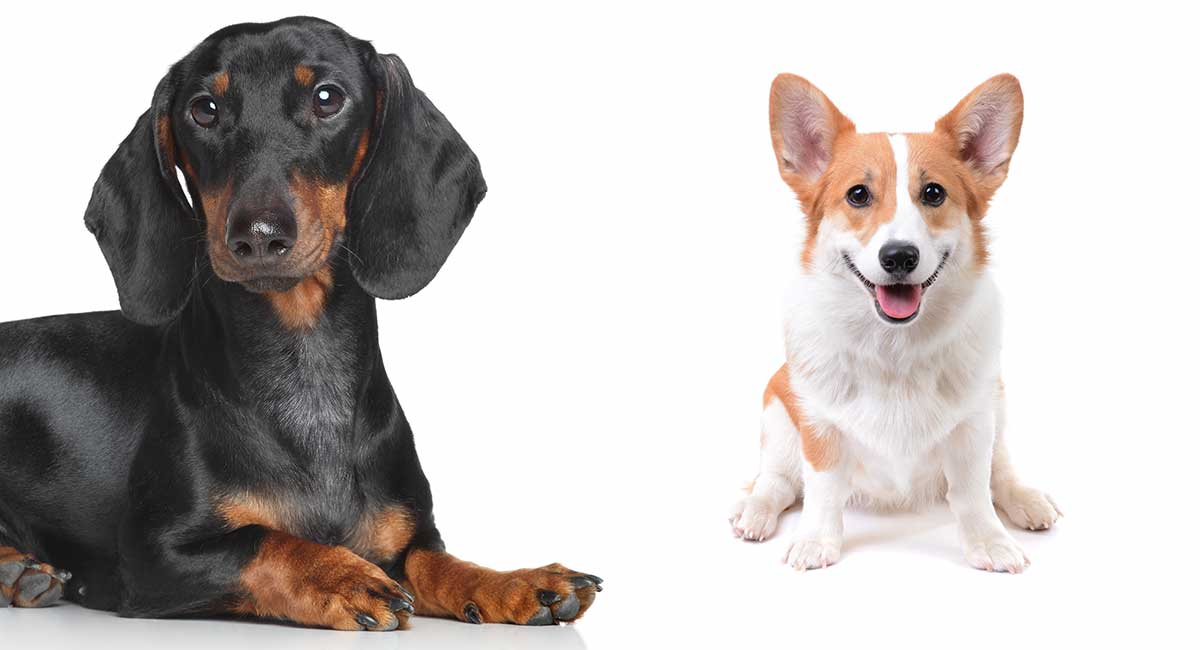 The dog popularly known as the Dorgi is actually a Corgi Dachshund mix.
It is impossible to predict exactly how a crossbred dog will turn out, or which parent it will resemble most. But Dorgis are smaller dogs, weighing between 16 and 30 pounds.
A Dorgi will usually be loyal, very attached to family, and intelligent. So, socialization is vital to prevent aggression and possessive behavior.
Unfortunately, both parents are prone to serious health issues that are linked to their elongated backs. So, Dorgis are likely to suffer from the same problems. Let's take a closer look at the breed.
What's In This Guide
Dorgi FAQs
Our readers' most popular and frequently asked questions about the Dorgi.
Dorgi: Breed At A Glance
Popularity: Dachshunds at number 12 and Corgis at number 13 on the AKC's list of most popular dog breeds
Purpose: Companion
Temperament: Likely to be very attached to his family
Dorgi Breed Review: Contents
History And Original Purpose Of The Dorgi
Much like many other mixed breed dogs, the exact origin of the Corgi and Dachshund mix is difficult to pin down.
This is largely because these types of mixed breeds often don't happen by design. It's more common that different dog breeds mate, and after the fact the resulting puppies may become popular as "designer dogs."
At any rate, a history of the individual parent breeds will give us a better idea of where the Corgi Dachshund mix ultimately comes from.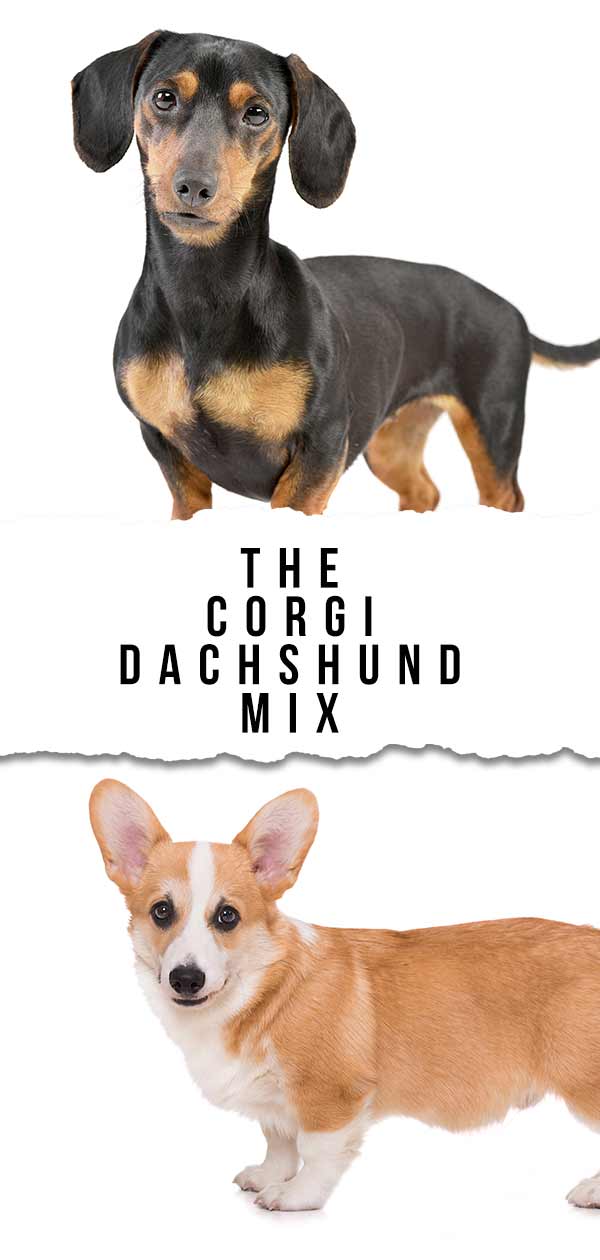 The Dachshund
Thought to originate from Germany and to date back some 600 years, the Dachshund was originally bred for hunting.
The German word "Dachshund" literally translates to the phrase "badger dog." They were named after their main prey.
Dachshunds, known for their long and muscle-toned bodies, would go to ground after badgers, rabbits, and foxes.
The smooth coat is considered to be the oldest type, with the long-haired developed for colder climes and the wire-haired for rougher terrain.
The Pembroke Welsh Corgi
Originally bred for herding, ancestors of the Pembroke Welsh Corgi are believed to date back to the 10th century.
Adept at herding a variety of livestock, it is thought that they were especially skilled market dogs, able to drive flocks of geese to market with ease.
In addition to herding, the Corgi was an accomplished guardian of the farm, apt at keeping unwanted foxes, wolves, etc., away.
Interestingly, legend has it that the Corgi was used by Welsh fairy workers and warriors. It is said that the markings on their back are from the saddles of these fairy warriors.
The most famous Corgi owner is Queen Elizabeth II, who hasn't been without one during the whole of her adult life.
Fun Facts About The Corgi Doxie Mix
As mentioned above, Corgis are famous for being royal canines.
But did you know that the Dachshund Corgi mix also has royal connections?
Queen Elizabeth II also has two Dorgis named Candy and Vulcan. They're the result of her purebred Corgis mixing with her sister Margaret's purebred Dachshunds.
Dorgi Appearance
While differing in overall appearance, the Dachshund and Corgi can be of a similar size.
The Dachshund should be low to ground, with an elongated body and short legs. He should be strong and healthy in appearance. Weighing between 16 to 32 pounds, the Dachshund will ideally stand at 8 to 9 inches at the withers.
The Corgi should also be low to ground, with a slightly long body and squat legs. His appearance should be solid and sturdy.
The Corgi can weigh up to 30 pounds and measure from 10 to 12 inches in height at the shoulder.
You can expect the Corgi and Dachshund mix, therefore, to be somewhere between these ranges. It's probably safe to say, though, that this cross will be long bodied. Let's take a look at more in-depth details of each breed.
The Dachshund Parent
The long back of the Dachshund is unquestionably its most well-known characteristic.
Often referred to as a "sausage dog," this delightful hound has become very popular of late. There are two sizes, including the standard and the miniature. Additionally, they come with one of three types of coat: the smooth, the long-haired, and the wire-haired.
There certainly is a lot of choice! On top of that, each coat variety is said to have a different temperament:
Smooth haired Doxies tends to become attached to one person and can be aloof with others.
Long-haired Doxies can be the quietest and sweet by nature.
Wire-haired Doxies are said to be the most mischievous and headstrong.
With these points in mind, some may opt for a Corgi long-haired Dachshund mix, but please remember that these dispositions are not guaranteed.
Dachshund Colors
Common solid colorings are:
red
cream
black and cream
chocolate and tan
blue and tan
Isabella (fawn) and tan.
Possible Patterns
Dachshunds may have patterns, too, such as:
dapple
double dapple
brindle
sable
piebald.
Notably, the double dapple and piebald are discouraged from breeding for show.
The Corgi Parent
The Pembroke Welsh Corgi is recognized by his fox-like face, stumpy legs, and chunky body. He is smaller and much more popular than his cousin the Cardigan Corgi.
His coat lies flat and is medium in length overall, with a short dense undercoat and lengthier outer coat.
Possible colors are:
sable

black

tan

fawn

mixed.
The Corgi may also have white markings on legs, chest, neck, and muzzle.
Dorgi Temperament
Affectionate, faithful, and intelligent, this crossbreed loves nothing more than being with his family group. He may be possessive, though. So it is vital that Dachshund Corgi puppies are socialized from a very young age.
He does not do well when left alone for hours on end and, in common with many breeds, may become destructive and loud when bored.
Originating from hunting breeds, he will always be on the lookout for something to chase and is likely to have selective hearing when on the run. Care should be taken, therefore, when letting him off leash, should you be brave enough to do so.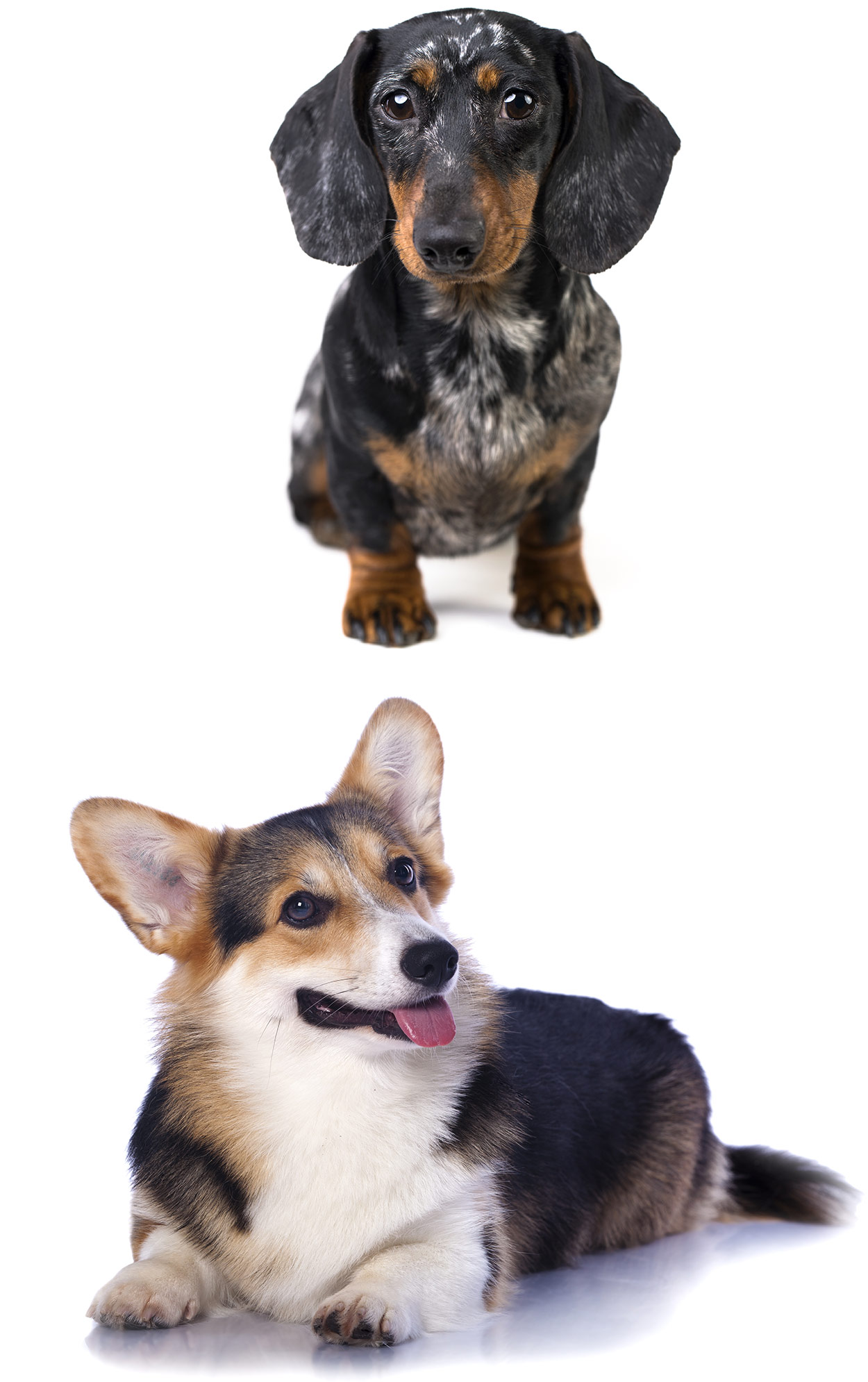 Both the Dachshund and the Welsh Corgi are known to be noisy dogs, so this mix is likely to be the same. Dachshunds were bred to bark while underground so their masters knew their whereabouts. He can also be suspicious and is likely to bark if strangers approach.
Corgis are excellent alert dogs and will let you know if he suspects that an intruder is at large. Be prepared, therefore, for noise with the Dachshund Corgi mix.
Training And Exercising Your Dorgi
The product of two curious and highly intelligent breeds, training the Corgi Dachshund mix should be a breeze. Dachshunds, though, can be stubborn, so patience will be required.
It is always a good idea to enroll in a puppy training class if you lack experience or confidence. Reward-based training is the best way to gain trust and is a fun way to interact with your dog.
It's also advised that this mix be properly socialized. Corgis and Dachshunds can tend to be a little snappy and often are best as only dogs. Proper socialization from an early age can curb these tendencies.
For specific information on important areas of training, visit our puppy potty training article and our crate training guide.
Exercise Needs
As both breeds are lively and active, the Corgi Dachshund mix will require a fair amount of exercise. Weight gain should be avoided, as it is essential that his back remains as strong as possible, for as long as possible.
Two moderate walks per day, totaling at least 45 minutes to an hour, would be an ideal way to keep him fit, healthy, and happy.
Mental stimulation is also a vital exercise for this intelligent pup. Agility is an excellent sport for smart dogs like these to tax the brain and to wear them out physically.
Dorgi Health And Care
With an expected lifespan of 12 to 15 years, the parent breeds of this mix are generally healthy.
However, both breeds do have a shared tendency toward problems with their backs. This is due to the spine being so elongated in these breeds.
Back Issues And IVDD
By far, the main issues for the Dachshund stem from back problems such as intervertebral disc disease, or IVDD. A staggering one in four Dachshunds will become disabled or, worse still, paralyzed by back disease. Welsh Corgis, sadly, are also prone to back complications.
The simple fact is that dogs with unusually long backs and short legs are susceptible to such diseases, as so much strain is put on the spine. The back is just not designed to be stretched in that manner and is therefore genetically weak.
Regrettably, both the Dachshund and the Welsh Corgi are considered to be high-risk breeds for IVDD. The best advice for any Dachshund Corgi mix owner is to ensure that they lead a healthy lifestyle.
Regular exercise and a well-balanced diet are essential to ensure that he isn't over- or underweight. Likewise, it is important to prevent him from jumping too much and from running up and down stairs, as this places stress on the back.
He must be picked up correctly with one hand under the chest and the other under the hindquarters. Ensure that children are taught the importance of handling their pet with care.
Other Health Concerns
The other two major conditions to look out for are:
Thankfully, health screening is available for both of these conditions.
Others to look out for include DM (degenerative myelopathy), hip dysplasia, patellar luxation, and Von Willebrand's disease.
Grooming Your Corgi Doxie Mix
The amount of grooming of the Dachshund depends entirely on the coat type. The smooth requires little grooming, while the long-haired will need regular brushing to keep the coat tangle free. Wire-haired Doxies are usually hand-stripped to keep them tidy.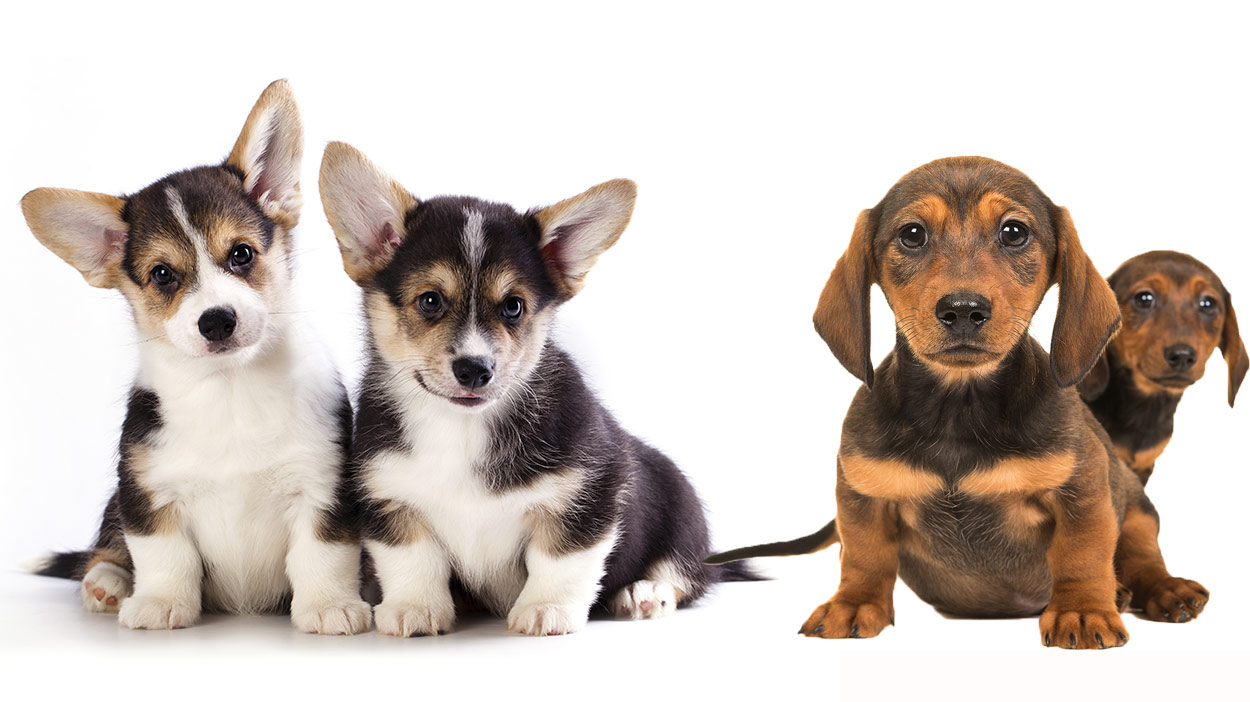 The Corgi, on the other hand, will need daily brushing, preferably with a slicker brush. Their coat is thick and does shed, so frequent brushing will help remove dead hairs.
Thus, the grooming requirements of this crossbreed could be at either end of the scale, depending on which parent breed they take after.
Similar to all dog breeds, eyes and ears should be examined regularly to avoid infection. Nails should be checked and clipped monthly.
It is always a good idea to clean your pet's teeth by brushing with a dog-friendly toothbrush and toothpaste.
Do Dorgis Make Good Family Pets?
Being an affectionate and loyal companion, this mix should make an excellent family pet. But the health problems that this dog faces should not be ignored just because this is a cute mix.
If you do decide to pick a dog with such a defect, you must be willing to take good and proper care of him.
While the dog will be undeniably striking, we should perhaps ask whether crossing breeds, when both are at a high risk of structural health issues, is ethical. It may be kinder, in the long run, to think about different small breeds without these problems.
However, if you decide to look for this mix, we recommend trying to adopt a grown Corgi Dachshund mix in need of a home.
As with all animals, children will need to learn to respect their pets' feelings and personal space. And socialization and training are definitely needed to curb any tendency toward herding, especially around small children.
Rescuing A Dorgi
If you are interested in getting a mixed breed dog, we definitely recommend looking into Dorgi rescues.
Rescuing a dog gives the dog another chance at a happy family life. And it gives you and your family a loyal and loving pet who was in need!
On top of that, adopting from a shelter or rescue is typically much less expensive than buying from a breeder, even for mixed breed dogs.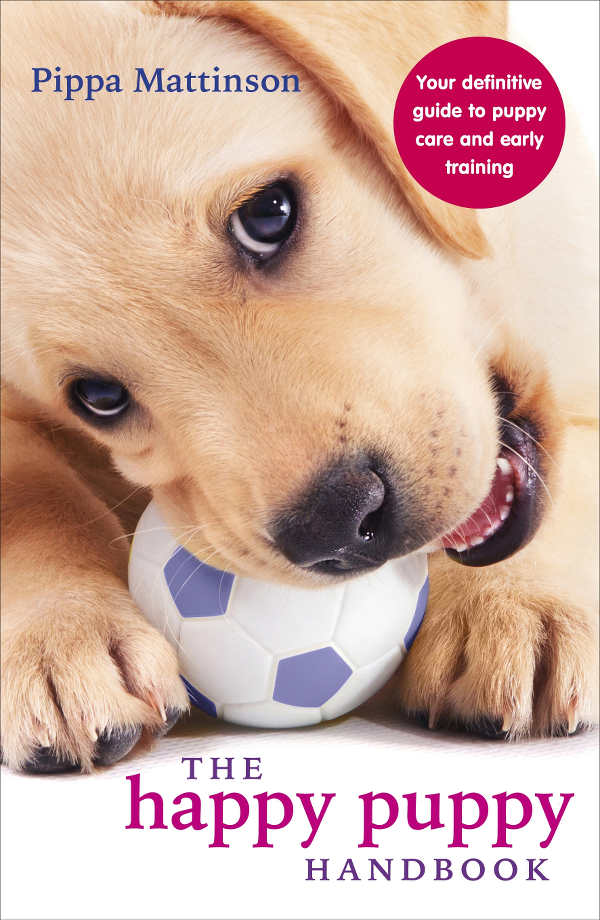 Take a look at our list of rescues here.
Finding A Dorgi Puppy
If a rescue is not right for you, the best chance you have of finding healthy Corgi Dachshund mix puppies is to go to a reputable breeder.
This may prove difficult with a cross of this nature, as there are currently no official breed clubs, and a good breeder may be hard to find. You can look at the internet, but try to keep an open mind when contacting or, more importantly, visiting puppies.
Ask as many questions as you can think of. Any decent breeder will be happy to talk about their dogs. Given the possible health issues associated with this particular mix, make sure that you ask about any history of back problems having affected the parents or their predecessors.
Ensure the parents have clear test results for PTA and Lafora disease. And make sure to steer clear of disreputable breeders or pet stores. Ultimately, you must be prepared to walk away if the breeder doesn't have the best interests of the dogs at heart.
For more information on how to go about finding a puppy, take a look at our puppy search guide.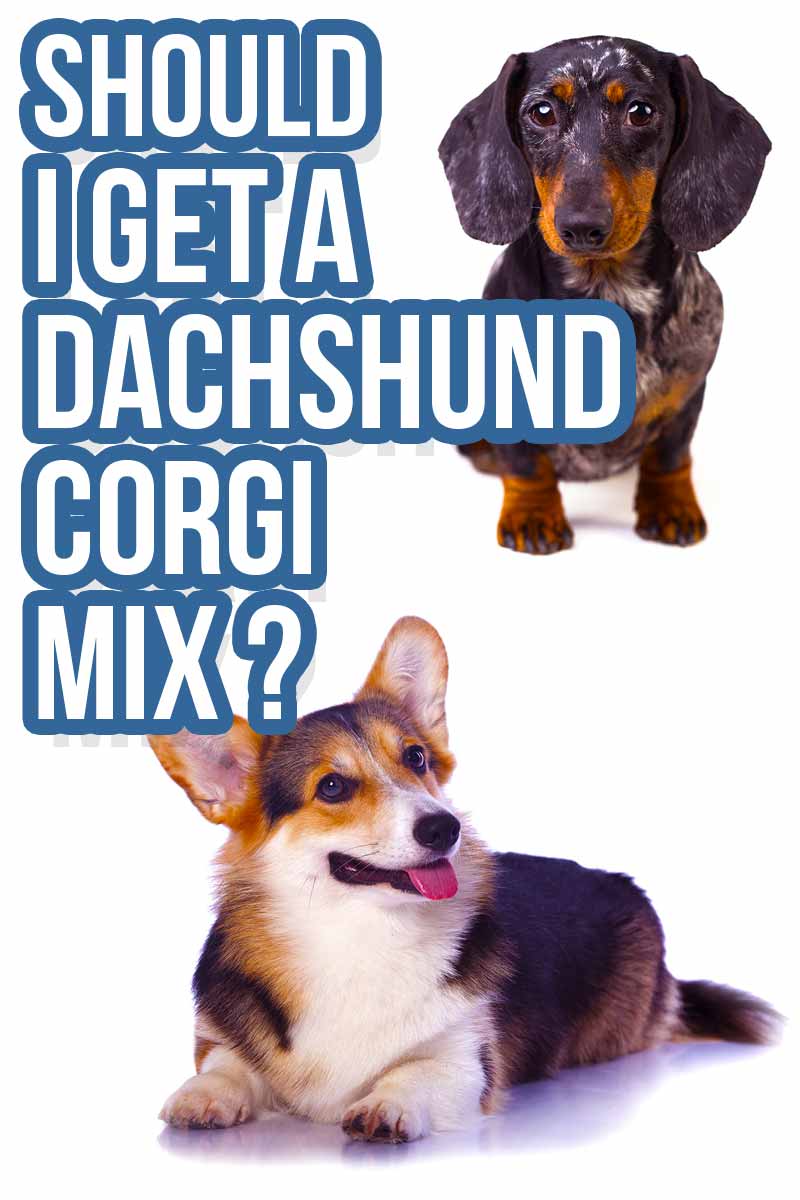 Raising A Dorgi Puppy
Any breed of puppy is a big responsibility, and a Dorgi puppy is no different!
However, there are some great guides out there to help with all aspects of puppy care and training.
You can find these guides listed on our Dorgi puppy page.
Dorgi Products And Accessories
Part of taking care of a Dorgi, or of any dog, is to make sure that they have the necessities. These include food, bedding, grooming tools, and toys.
Here are some lists of our Dorgi-centric recommendations for these products.
Pros And Cons Of Getting A Dorgi
Cons:
Likely to have health problems related to elongated back
Definitely needs socialization
May have herding instincts
Tendency to bark
Pros:
Comparing The Dorgi With Other Breeds
If you're intrigued by the Corgi Dachshund mix but interested in finding other mixes that may compare well with this one, we have a few to suggest.
First of all, a great comparison mix would be the Corgi Shiba Inu mix.
These dogs tend to be a little healthier than the Dachshund Corgi mix because they don't inherit the back problems from both parents.
Similar Breeds
However, if you're very interested in finding other similar breeds that may be around, here are a few to consider.
Dorgi Breed Rescues
There aren't many specific rescues out there for this mix, as it is still relatively low in commonality. But we've found some parent breed specific rescues located all around the world. If you're interested in rescuing a Corgi Dachshund mix, these are good places to start.
If you come across any other rescues for the parent breeds or for the Dachshund Corgi mix, please let us know in the comments below!
References And Resources
This article has been extensively revised and updated for 2019.