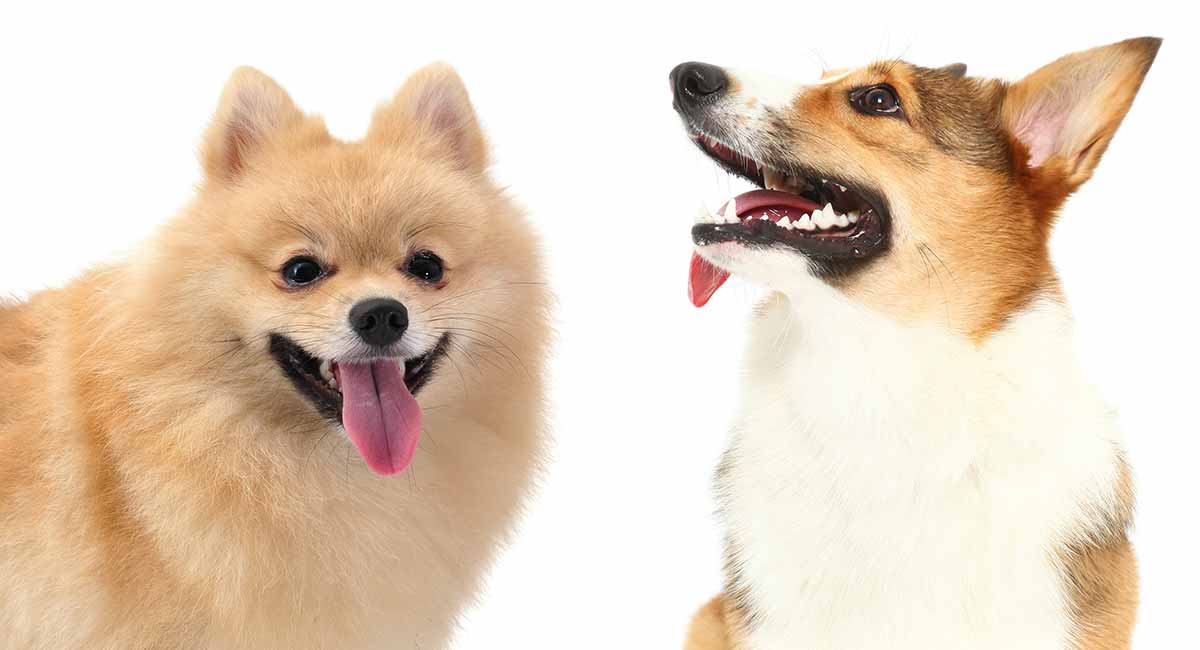 The Corgi Pomeranian mix is a cross between the playful Pembroke Welsh Corgi and the perky Pomeranian.
This first generation hybrid is affectionately known as the Corgipom.
In terms of appearance and temperament, these two popular pets are quite different. But both are small dogs with big personalities.
In this article, we'll take an in-depth look at the Corgipom to determine if this is the right dog for you and your family.
Where Does the Corgi Pomeranian Mix Come From?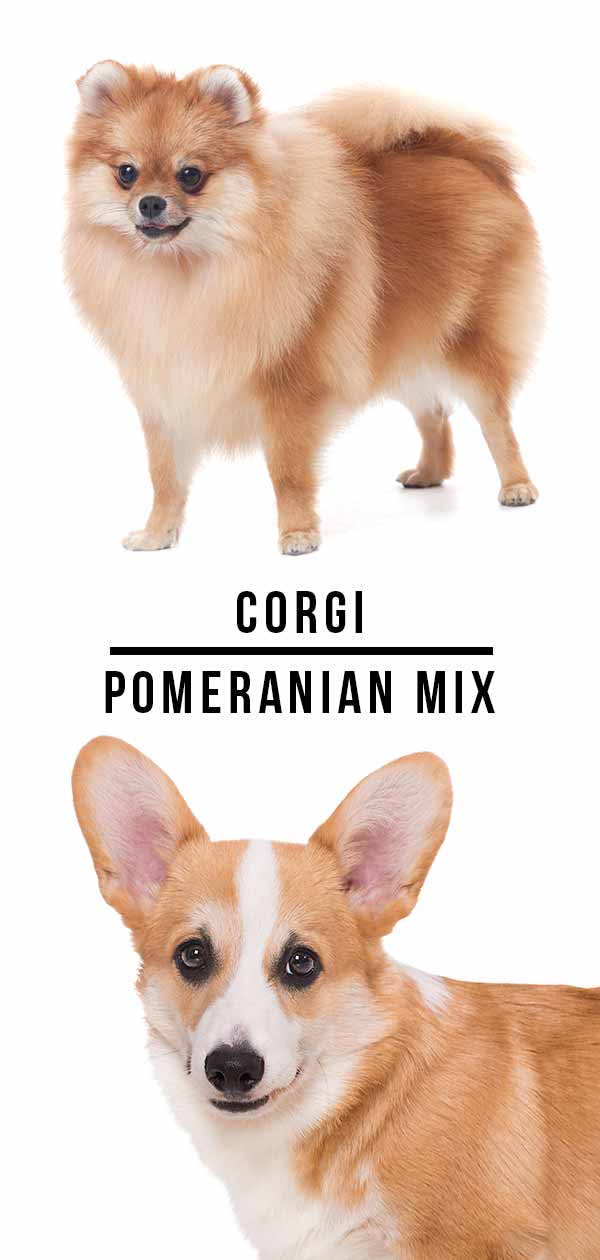 The Corgi Pomeranian mix is a modern mixed breed whose exact origins are unknown. But this isn't uncommon when two purebred dogs are crossed.
The best way to learn more about them is to look at the origins of each parent.
Origins of the Pembroke Welsh Corgi
Conflicting theories and Welsh folklore obscure the true history of the Pembroke Welsh Corgi's history.
According to legend, corgis pulled the carriages of fairies on their way into battle. The markings of warriors' saddles are still visible on their backs.
A more accepted theory is that they come from crossing the Swedish Vallhund with native Welsh dogs.
Another theory suggests their ancestors were a sturdy, short-legged herding breed brought to Wales by Flemish weavers in the 12th century.
So, what about the Pomeranian?
Origins of the Pomeranian
The Pomeranian originally descended from the much larger Arctic Spitz dog that was often used for herding, pulling sleds, and as a guard dog.
They are named after Pomerania, a region that is now part of Poland and western Germany.
In Italy, these dogs were used to watch over valuables and alert their owner to thieves.
Queen Victoria first spotted the breed in Florence and returned to Britain with the Poms in tow. She then became a breeder and is credited with reducing them from 30 lbs to their toy size.
The Designer Dog Debate
A cross between two different purebred breeds is referred to as a mixed breed or designer dog.
This seems simple enough. However, emotions run high when it comes to this practice.
Purebred breeders argue that mixing two breeds contaminates the bloodlines of purebreds and compromises their physical traits and temperament.
But purebred breeding practices—continually breeding from a limited number of dogs—can spread a number of heritable health issues.
For this reason, designer dog breeders counter that mixed breed dogs are healthier as a result of something called hybrid vigor.
But the truth is, the health of any dog depends on many factors. Although a wider gene pool can, perhaps, reduce inherited health conditions.
Fun Facts About the Corgi Pomeranian Mix
The Corgi Pomeranian mix crosses two breeds that have long been favorites of royals.
When Queen Elizabeth II was seven years old, she received her first Pembroke Welsh Corgi. And she has had more than 30 since taking the throne in 1952.
Queen Victoria is widely acknowledged as the most famous person to own and exhibit Pomeranians.
Other famous Corgi fans include Stephen King, Betty White, and Ava Gardner.
Keanu Reeves, Sylvester Stallone, and Gwen Stefani are among other celebrity Pom owners.
Corgi Pomeranian Mix Appearance
To get a better picture of what the Corgi Pomeranian mix looks like, let's take a closer look at both parent breeds.
It's important to remember that puppies can take after either parent or might be a mixture of both.
Pembroke Welsh Corgi Appearance
This strong, sturdy little herder has short but powerful legs and a deep chest. These dogs are quite athletic and agile despite their size.
The Pembroke Welsh Corgi stands from 10 to 12 inches and is almost twice as long as they are tall.
Females weigh up to 28 lbs and males up to 30 lbs.
Their pointy muzzle and large, erect ears give them a distinctly fox-like appearance.
And their dense, medium length double coat comes in red, sable, fawn, and black and tan — with or without white markings.
Pomeranian Appearance
The tiny Pomeranian weighs no more than 7 lbs and stands a mere 6 to 7 inches tall.
This breed also has a foxy little face and erect ears.
Undoubtedly, their most distinctive physical trait is a glorious double coat with a frill that extends over their chest and shoulders.
This furry coat comes in almost two dozen colors but is most common in orange or red.
Corgi Pomeranian Mix Temperament
Just like appearance, temperament can be inherited from either parent or be a unique mix of both.
However, these two breeds do share some of the same traits.
The Corgi Pomeranian mix is extremely energetic and highly intelligent but can have a strong stubborn streak.
Both the Corgi and the Pomeranian are inveterate barkers. While this makes them excellent watchdogs, it may also drive you and your neighbors crazy.
Pembroke Welsh Corgis are intelligent, active, friendly, loyal, and protective.
They love to play and are very affectionate without being too needy.
Pomeranians seem unaware of their diminutive size. As such, these spirited little dogs are bold and lively.
And although they're typically friendly and loving around their family, the breed can be aggressive towards people they don't know.
Training Your Corgi Pomeranian Mix
Socialization is important for small dogs too.
Importantly, puppies introduced to a wide range of friendly people and positive situations from an early age are much less likely to have behavioral problems.
Moreover, the Corgi's willingness to please makes them more responsive to training than the Pomeranian.
Since small dogs have tiny bladders and need to eliminate frequently, potty training requires patience and vigilance.
Exercising Your Corgi Pomeranian Mix
The Corgi Pomeranian mix will most likely be a moderately energetic dog that requires daily physical exercise.
But this small dog is best suited to walking since their short legs won't be able to keep a very fast pace.
You'll also want to stop them from jumping on and off of furniture. This will prevent them from injuring their joints and bones.
Stimulating mental activities can keep this smart puppy from unwanted behaviors such as nuisance barking.
Corgi Pomeranian Mix Health
Despite hybrid vigor, the Corgi Pomeranian mix is still susceptible to the health conditions known to affect their parents.
And unfortunately, both of these breeds are subject to some serious health problems.
Therefore, genetic testing is crucial to avoid passing down heritable conditions.
Pembroke Welsh Corgi Health
The Pembroke Welsh Corgi is typically a healthy breed with a lifespan of 12 to 13 years. But their short legs and long back can cause some problems.
This is a true dwarf breed and their adorably short legs are the result of a phenotype called chondrodysplasia.
In fact, the word "corgi" is Welsh for "dwarf dog."
This puts them at risk for a number of conformational problems, such as elbow and hip dysplasia and intervertebral disc herniation.
Degenerative myelopathy is an incurable disease of the spinal cord.
It begins with the loss of coordination in the hind limbs and progresses until the dog is unable to walk.
Cardiac problems, cancer, and a bleeding disorder called von Willebrand's disease can also affect the breed sometimes.
Corgis are at risk for eye issues like progressive retinal atrophy, cataracts, and corneal ulcers.
Pomeranian Health
The Pomeranian has an average life span of 12 to 16 years.
Patellar luxation is fairly common amongst Pomeranians. With this condition, the kneecap is not properly set at the joint leading to various problems.
This breed is also susceptible to some terrible neurological conditions. Hydrocephalus and syringomyelia both affect the brain and spinal cord. The conditions are caused by the shape and structure of the dog's skull.
Eye problems, such as cataracts, ear infections, dental issues, and skin conditions can also affect this breed.
Corgi Pomeranian Mix Grooming and Feeding
Both the Corgi and Pomeranian have thick double coats that shed a lot.
This means the Corgipom is sure to have a profuse amount of fur that requires daily grooming to remove dead hair and reduce matting.
These dogs shed heavily twice a year. This is known as blowing their coat.
In addition, we advise regular nail trimming as well as teeth brushings two or three times a week.
The Pomeranian is at high risk for dental problems, which can lead to other health concerns. That's why it's so important to choose a high-quality dog food formulated for small dogs.
And since both parent breeds are prone to obesity, watch their calorie consumption, including treats. So, be sure to check with your vet if you're concerned about your pet's weight.
Do Corgi Pomeranian Mixes Make Good Family Dogs?
Whether or not the Corgipom will make a good family pet depends on the individual dog and the type of family.
Both parent breeds are typically friendly, smart, and lively. But they're not the best choice for families with young children.
The Pomeranian can become snappy if not handled properly. Plus, their small size also puts them at risk of injury.
This mix does best in families where someone is home during the day. Also, make sure you have time to dedicate to daily grooming.
By far, the biggest drawback to choosing a Corgi Pomeranian mix is the potential for health problems. Particularly, those associated with conformational issues.
For this reason, we recommend adopting a Corgipom instead of purchasing a puppy.
Rescuing a Corgi Pomeranian Mix
Going the adoption route gives you a much better idea of what health problems the dog may have.
Not only is this the less expensive option, but there's also a good chance your new dog is already vaccinated.
In addition, some may already be socialized and trained.
However, the best reason to adopt is to give a good home to a dog in need.
Finding a Corgi Pomeranian Mix
As the popularity of mixed breeds continues to grow, finding a particular designer dog like the
Corgipom is becoming easier.
But the problem is that this also increases the number of less-than-reputable breeders. Those who are more interested in cashing in on a trend than in the welfare of their animals.
Puppy mills are known for churning out as many puppies as possible in horrible conditions. These dogs get little to no exercise, human interaction, or veterinary care.
Most pet stores and many websites get their puppies from puppy mills. That's why it's extremely important to visit the breeder. That way you can see what kind of environment the dogs are living in and meet the parents.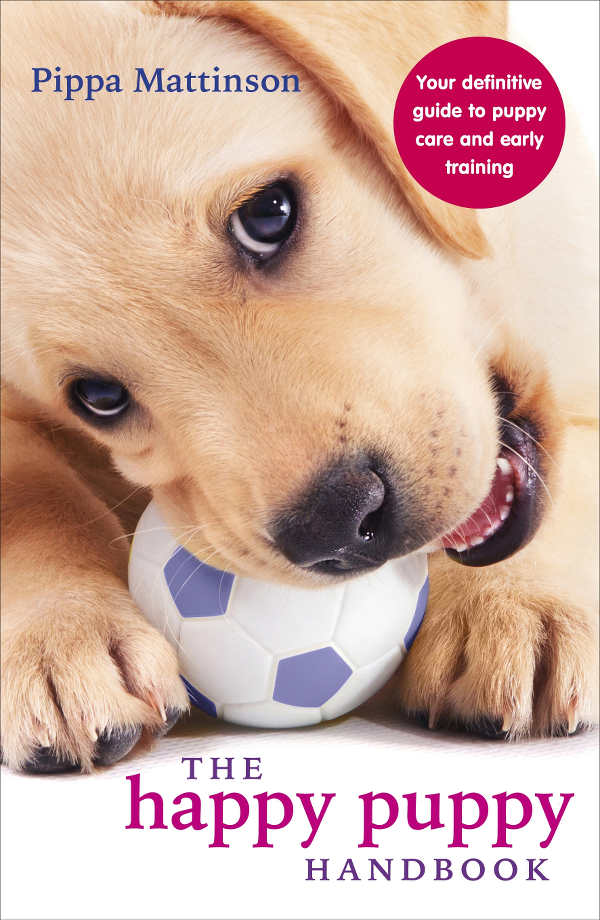 In addition, good breeders can prove that both parents were tested and cleared of any genetic health problems.
For more information on finding a puppy, check out our puppy search guide.
Raising a Corgi Pomeranian Mix
Raising a puppy to adulthood is a big responsibility.
These puppy care and puppy training guides will help you meet the challenges of every stage of a puppy's development.
Corgi Pomeranian Mix Products and Accessories
Here are some ideas on how to keep your Corgipom happy, healthy, and out of mischief.
Best Food for Pomeranian Puppy Dogs
Pros and Cons of Getting a Corgi Pomeranian Mix
Cons
Require daily grooming
Have a tendency to bark a lot
Stubbornness makes these pups difficult to train
Potential for extensive health problems.
Pros
Very smart, friendly companions
Well-suited for apartments and small living spaces
Good watchdogs
Adorable.
Similar Corgi Pomeranian Mix Breeds
Here are some Pomeranian mixed breeds that don't have the same conformational problems as the Corgi:
Corgi Pomeranian Mix Rescues
The following rescues specialize in Corgis and Pomeranians:
US
Canada
UK
Australia
If you know of any shelters to add to this list, let us know in the comments below.
Is a Corgi Pomeranian Mix Right For Me?
Since the Corgi Pomeranian mix is at risk for severe spinal problems, we recommend rescuing a dog from a shelter.
If you still want a puppy, be sure to choose one that doesn't have the short legs and long back of the Corgi.
References and Further Reading
Nicholas, FW, et al. 2016. Hybrid vigour in dogs? The Veterinary Journal.
Flint H. 2017. Understanding Fear and Stranger-Directed Aggression in Companion Dogs. Thesis from the University of Guelph.
Parker HG et al. 2009. An Expressed Fgf4 Retrogene Is Associated with Breed-Defining Chondrodysplasia in Domestic Dogs. Science.
Windsor RC et al. 2008. Lumbar Cerebrospinal Fluid in Dogs with Type I Intervertebral Disc Herniation. Journal of Veterinary Internal Medicine.
Zeng R et al. 2014. Breed Distribution of SOD1 Alleles Previously Associated with Canine Degenerative Myelopathy. Journal of Veterinary Internal Medicine.
Oswald GP et al. 1993. Patent ductus arteriosus and pulmonary hypertension in related Pembroke Welsh corgis. Journal of the American Veterinary Medical Association.
Petersen-Jones SM et al. 2000. Development and use of a polymerase chain reaction-based diagnostic test for the causal mutation of progressive retinal atrophy in Cardigan Welsh Corgis. American Journal of Veterinary Research.
Soontornvipart K et al. 2013. Incidence and genetic aspects of patellar luxation in Pomeranian dogs in Thailand. The Veterinary Journal.
Itoh T et al. 1996. Syringomyelia and hydrocephalus in a dog. Journal of the American Veterinary Medical Association.
Park SA et al. 2009. Clinical manifestations of cataracts in small breed dogs. Veterinary Ophthalmology.