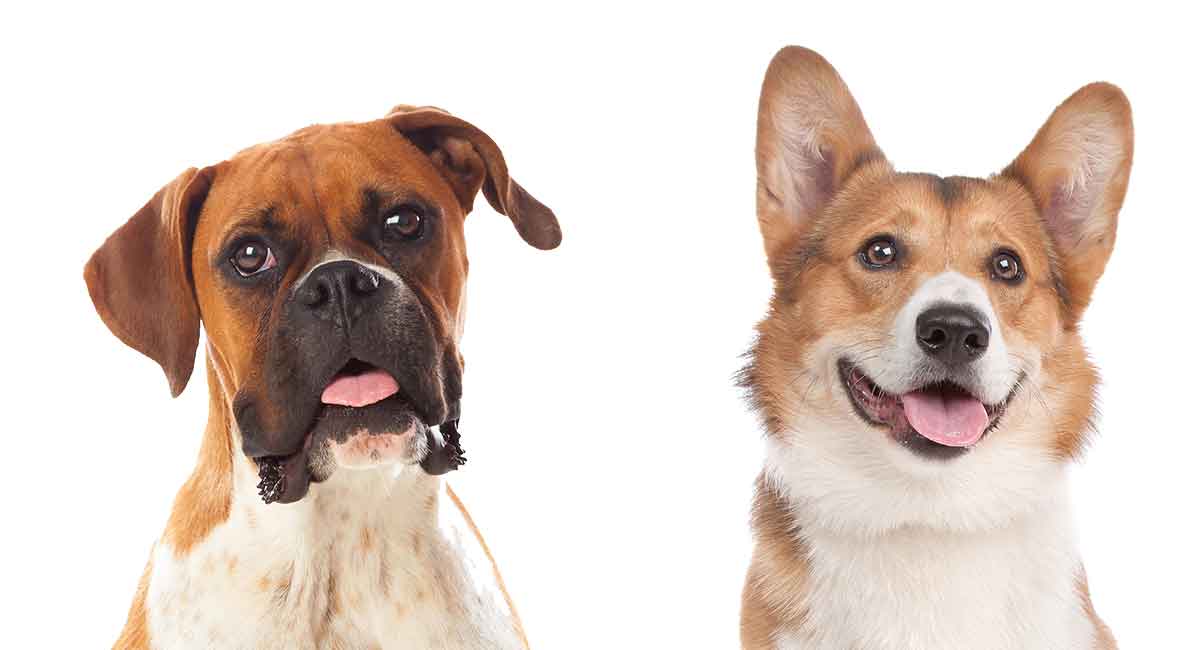 The Corgi Boxer Mix is a cross between two of the nation's favorite dogs: a purebred Corgi and a purebred Boxer.
This mix results in a medium-sized, energetic and outgoing breed.
Breeders aim to combine the winning qualities of the purebred parent breeds in the Corgi Boxer mix. The puppies inherit features from both parents. As a result there is some variation in appearance and characteristics.
Here's the rundown on everything you need to know about this cute combination!
Why are 'Designer Dogs' Controversial?
Selectively breeding two different purebred dogs to create a new mix is a relatively recent practice. Combining breeds to create 'designer dogs' is not without controversy.
Pure breed advocates claim that purebred dogs are more predictable in terms of physical appearance, temperament, and general health.
In addition, they also argue that responsible selective breeding can reduce genetic problems associated with the breed.
However, research suggests purebred dogs still face a greater risk of hereditary conditions than mixed-breed animals due to irresponsible breeding practices and limited gene-pools.
Mixed-breed proponents suggest that 'hybrid' animals actually have a reduced risk of developing breed-specific inherited disorders. There is some evidence to support this claim.
Where Does the Corgi Boxer Mix Come From?
The Corgi Boxer mix is a relatively new breed.
However, we can take a look at the histories of the Corgi and Boxer breeds to find out where our new mix comes from!
Corgi History
Corgis first originated in Medieval Britain. In 1107, Henry I recruited weavers from Flanders (modern day Belgium).
Flemish weavers were reputed to be the finest in Europe. The King wanted beautiful tapestries to show off his wealth and status.
The weavers settled in south-west Wales and established farms. The small dogs they brought to herd cattle were the ancestors of today's Corgi.
By the 1800s, there were two distinct Corgi lines: the Pembroke and the Cardigan. Today, the Pembroke is the most popular and recognizable.
Boxer History
Boxers descend from hunting dogs popular in Europe since Medieval times.
These dogs, named Bullenbeiser (bull-baiters) were much larger than the modern Boxer.
Bullenbeiser were bred for big-game hunting, which was popular among Europe's noble families.
By the 1800s, big-game hunting was in decline, and by the 1860s, it was virtually non-existent.
Prudent breeders crossed the Bullenbaiser with smaller, mastiff-type dogs from England. This produced the Boxer we recognize today.
Fun Facts About the Corgi Boxer Mix
Perhaps the most well-known Corgi enthusiast is HRH Queen Elizabeth II. She was given her first pup in 1933 and until recently bred Corgis herself.
Boxers were the first dogs utilized by the Police Force in Germany.
Boxers have performed many different jobs, including cattle herding, watchdogs, guide dogs for the blind, and war dogs in both World Wars.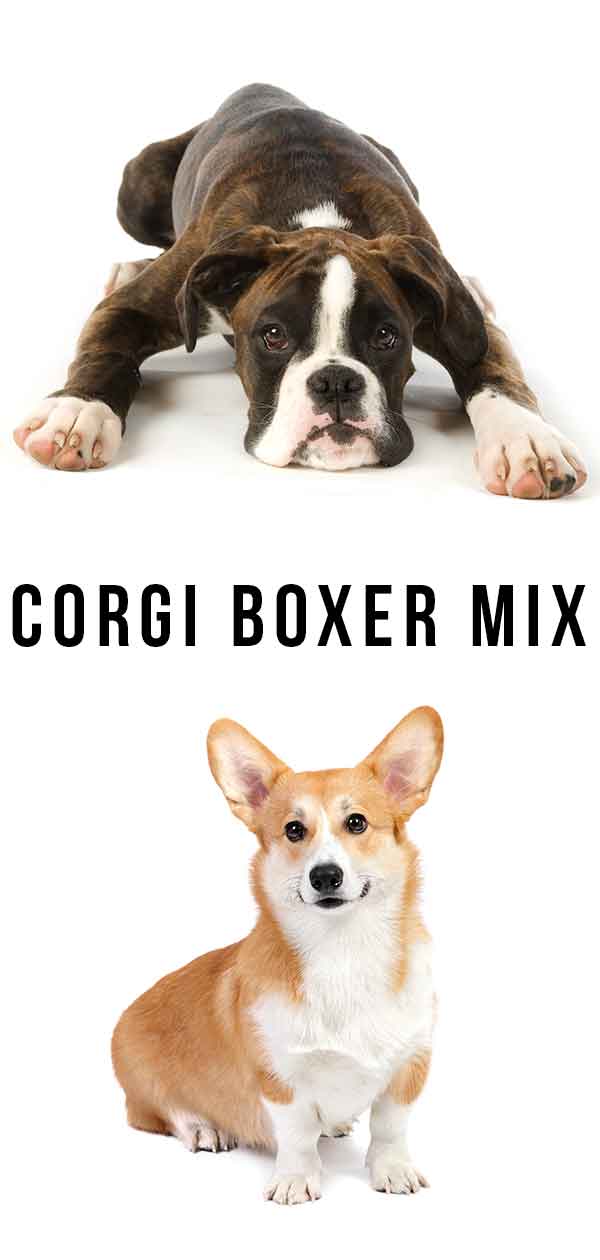 What Does the Corgi Boxer Look Like?
Corgi Boxer mixes will inherit physical characteristics from both parents.
Their appearance can vary. Therefore, looking at the parent breeds can give us an idea about how features might combine in the Corgi Boxer mix.
The Corgi
Corgis stand 10-12 inches tall, with a long, stout body. Their short legs keep them low to the ground. Pembroke Corgis have pointed ears, and Cardigan Corgis rounded ones.
Corgis weigh up to 30 lbs. Corgi coats can be red, fawn, sable or black and tan, with or without white markings.
The Boxer
Boxers are medium-sized, standing anywhere between 21 and 25 inches tall. Males weigh up to 80 lbs whereas females weight approximately 10 lbs less.
The Boxer has a broad, blunt muzzle, and an undershot bite. A Boxer's coat is brindle or fawn, with white markings.
Combining the Two
The height of a Corgi Boxer mix will vary depending on which parent it more closely resembles. It is likely in either case to share the strong, muscular build common to both breeds.
A Corgi Boxer mix's coat will be somewhere in between the thick, coarse fur of the Corgi and the smooth, close coat of the Boxer. It will also have a similar range of coloring and markings.
The good news is both types of coat are easy to care for, requiring minimal grooming to maintain condition.
Corgis and Boxers share a similar average lifespan. A healthy Corgi Boxer mix, therefore, can expect to live anywhere between 10 and 13 years.
What is the Temperament of the Corgi Boxer mix?
Boxers and Corgis are both known for guard dog loyalty. Both are friendly, inquisitive breeds.
The Corgi in particular is often described as 'fearless'. For a little dog, he is confident and possesses a 'big dog bark'- a throwback from his ancestry herding cattle.
As such, the Corgi Boxer mix is likely to be energetic, outgoing dogs who enjoy interaction with people, giving them the potential to be great family dogs.
Corgi Boxer Mix Aggression
There have been some reports of Corgis displaying higher levels of aggression than Boxers.
However, behavior is strongly influenced by training, socialization, supervision, diet, and exercise.
These factors, researchers say, are generally better indicators of temperament than breed or group alone.
As with any pet introduced into the household, it's a good idea to properly supervise your dog around youngsters. With proper training and care, the Corgi Boxer mix can make a great addition to your family.
Corgi Boxer Mix Exercise
Your Corgi Boxer mix will need regular exercise. Plus the opportunity to play and interact.
This can be achieved through exercise outdoors, combined with active play sessions!
However, it's important to ensure they are not left alone for long periods to avoid boredom and acting out.
Providing a range of toys to stimulate your pup will help to keep them occupied when you're away.
Training Your Corgi Boxer Mix
Both Corgis and Boxers respond well to training. So if your Corgi Boxer mix is a chip off the old block, training should be relatively straightforward and enjoyable!
Training should start early. Rewards-based training has been shown to be highly effective. Just make sure food is not your only reward, to prevent your pet becoming overweight.
When potty-training, remember if your Corgi Boxer mix is on the smaller side, he will need to use the bathroom more frequently on account of his size and metabolism.
You'll also need to help your pup become accustomed to using a crate, if applicable.
With any type of training, consistency is key!
Training Guides
Check out our detailed guides for more tips and information:
What Health Issues Can I Expect in a Corgi Boxer mix?
To assess the potential for health issues, let's take a look at the parent breeds.
A cross between two purebred dogs can be vulnerable to the same diseases as its parents.
Therefore, it is important to learn about these potential conditions.
Corgi Health: Intervertebral Disc Disease
The Corgi's long, low build is actually the result of disproportionate dwarfism.
This shortening of the limbs has a correlation with intervertebral disc disease (IVDD).
IVDD causes cushioning between spinal vertebrae to harden, resulting in pain and paralysis.
Breeding specifically to obtain longer, lower dogs puts animals at greater risk of IVDD, as does being overweight.
Corgi Health: Von Willebrand's disease
Corgis can be prone to von Willebrand's disease.
This is a bleeding disorder common in purebred dogs.
Corgi Health: Dysplasia
Corgis commonly suffer from canine hip dysplasia (CHD).
This is a condition which can cause lameness and severe arthritis.
Boxer Health: Dysplasia
Similar to the Corgi, Boxers may also suffer from CHD and/or canine elbow dysplasia.
This is common in larger breeds.
Boxer Health: Heart Problems
Boxers commonly experience heart issues such as aortic stenosis (usually identified by heart murmurs) and cardiomyopathy.
Cardiomyopathy is a serious condition which can cause sudden-onset problems such as heart attack.
Blood tests can reveal the risk of cardiomyopathy.
Boxer Health: Cancers
Boxers can be at risk of developing certain cancers.
Unfortunately, it's not possible to predict the chances of developing cancer. Early detection is key.
Health Issues Common to Both Breeds
Both Corgis and Boxers are prone to canine degenerative myelopathy (DM), an adult-onset disease similar to Motor Neuron disease in humans.
This is a serious disease which causes gradual paralysis.
Unfortunately, most dogs diagnosed with DM will need to be euthanized within a year.
Reducing the Risk
Research shows that consulting pedigree health databases can reduce the risk of inherited disorders in dogs. Responsible breeders will do this when selecting breeding pairs.
Corgi-Boxer puppies should be screened for issues affecting the parent breeds.
What Can be Screened?
The official breed club recommends Corgis be assessed for:
hip dysplasia
eye disorders
cardiac issues
degenerative myelopathy (DM)
von Willebrand's disease (an inherited bleeding disorder).
For Boxers, the official breed club recommends evaluation of:
hips
elbows
thyroid function
AS/SAS cardio function
aortic valve disease
boxer cardiomyopathy
ARVC DNA
degenerative myelopathy (DM)
Caring for Your Corgi Boxer Mix
The Corgi Boxers mix is low-maintenance when it comes to grooming. A weekly brushing is generally enough to keep their coat in great condition.
Make sure to check your pup's eyes and ears as part of this weekly routine.
The Corgi Boxer mix benefits from daily teeth-cleaning to maintain their oral health.
You'll also want to set time aside every few weeks to trim their nails.
Corgi Boxer Mix Diet
It's important to choose high-quality dog food appropriate for your dog's age and activity level.
Be careful: overfeeding or an excess of treats can lead to your pet becoming overweight. This, in turn, can lead to health problems.
Read more about raising a Corgi-Boxer puppy here.
Finding a Corgi Boxer Mix Puppy
Any search for a puppy should start with a reputable breeder.
Responsible breeders will be happy to provide proof of parentage and health screening.
In addition, breeders worth their salt will be happy to answer your questions and to allow you to observe puppies with their mom.
If you feel concerned or pressured, remember that you are under no obligation to a particular breeder.
Don't be afraid to walk away and look elsewhere. Be patient: finding a breeder you trust can take time. But it'll be worth the wait to have a happy, healthy dog.
Where to Avoid
Pet stores are not good places to buy a puppy.
Unfortunately, many pups in pet stores come from less responsible breeders and puppy mills.
Puppy mills aim to make as much profit as possible. Breeding practices and standards of care may be poor as a result.
Moreover, it can also be more difficult to obtain information about a dog's parentage and health history from a puppy mill.
Do Corgi Boxer Mixes Make Good Family Dogs?
The Corgi Boxer mix is a medium-sized breed.
It has little grooming requirements but will need daily exercise. The Boxer Corgi Mix isn't a breed that likes being left alone for too long.
Therefore, it will do well with families who can spend lots of time with it!
They take well to training, but will need early and consistent socialization and training. This will help your Boxer Corgi Mix grow into a happy, healthy dog!
Corgi Boxer Mix Rescues
There are many fantastic dogs awaiting rescue.
If you're interested in rescue, the following organizations are a great place to start your search:
US:
Official Pembroke Welsh Corgi Club
American Boxer Club
UK:
The Kennel Club (Corgis)
The Kennel Club (Boxers)
Canada:
The Pembroke Welsh Corgi Association Canada
The Boxer Club of Canada
Australia:
Currently, the Australian National Kennel Council does not have an approved rescue list, however you can find further information about the organization and breed here.
Do you know of a great rescue organization? Join the list by commenting at the bottom of the article!
Similar Breed Mixes and Breeds
If you're smitten with Corgi crosses, you might also want to consider:
German-Shepherd Corgi mix
You can also browse a full list of popular mixes here.
Pros and Cons of Getting A Corgi Boxer Mix
Cons:
Corgi Boxer mixes can inherit certain serious health issues. It's important to consider whether you can reasonably invest in pet insurance to cover any problems that may arise.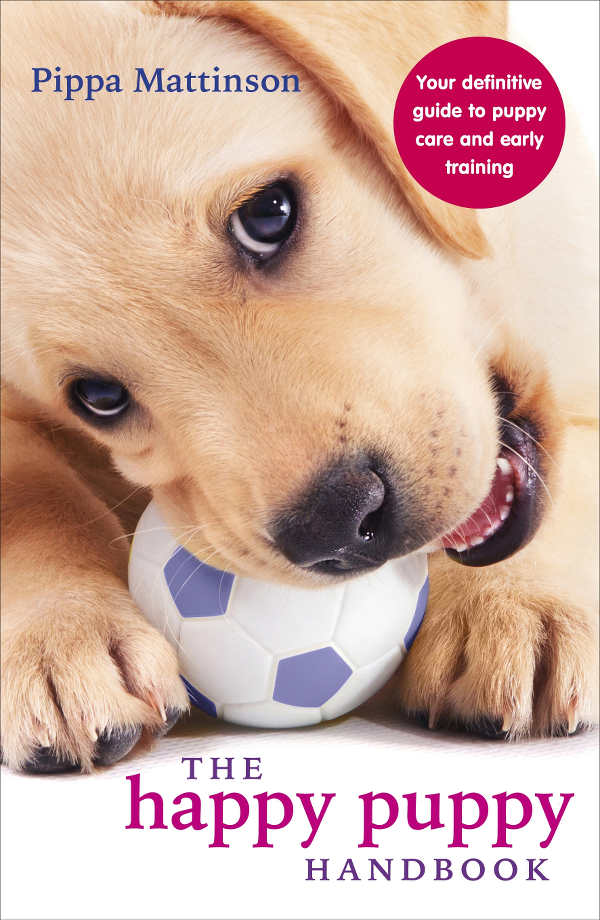 You will need to train your Corgi Boxer mix. Training takes time and requires patience. Therefore, you should be prepared to commit to training before taking on a puppy.
Corgi Boxer mixes are energetic and need regular exercise, interaction, and play.
If you'll be away from the home a great deal, or have limited time and/or space to exercise your dog, you might want to re-consider whether this is the right breed for you.
As they can be lively, Corgi Boxer mixes may require supervision around children.
Pros:
Corgi Boxer mixes are loyal, friendly and inquisitive dogs who love to spend time with their owners. As such, they have the potential to be fantastic family dogs.
Beyond that, one brushing a week can keep your Corgi Boxer mix in great condition. That it to say, this breed doesn't require much grooming.
On the whole, your Corgi Boxer mix shouldn't be too difficult to train. It's important to point out however, that effective training is a commitment that requires lots of time and patience.
Is A Corgi Boxer Right For Me?
By now we've learned a lot about this popular mix! Our verdict?
Are you looking for a friendly, lively and loyal companion?
Can you invest in pet insurance in the event of health issues?
Can you devote time to training, frequent exercise and play?
If yes – a Corgi Boxer mix could be your perfect pooch!
Corgi Boxer mix owners: what do you love about this special mix? Join the conversation by leaving a comment below!
References and Resources
American Boxer Association
American Kennel Club
Awano, T. et al. Genome-wide association analysis reveals a SOD1 mutation in canine degenerative myelopathy that resembles amyotrophic lateral sclerosis, Proceedings of the National Academy of Sciences, 2009
Beuchat, C. Health of purebred vs mixed breed dogs: the actual data, Institute of Canine Biology, 2015
Beuchat, C. The myth of hybrid vigor is… a myth, Institute of Canine Biology, 2014
Blackshaw, J. Meaningful temperament assessment for aggression in dogs — can it be done? Urban Animal Management Conference Proceedings, 1999
Brooks, M. Management of canine von Willebrand's disease, Problems in Veterinary Medicine, 1992
Keller, G. et al. How the Orthopedic Foundation for Animals (OFA) is tackling inherited disorders in the USA: Using hip and elbow dysplasia as examples, The Veterinary Journal, 2011
Packer, R. et al. How Long and Low Can You Go? Effect of Conformation on the Risk of Thoracolumbar Intervertebral Disc Extrusion in Domestic Dogs, PLOS ONE, 2013
Pembroke Welsh Corgi Club of America
Sampson, J. How the Kennel Club is tackling inherited disorders in the United Kingdom, The Veterinary Journal, 2011
Shelton, D. et al. Degenerative myelopathy associated with a missense mutation in the superoxide dismutase 1 (SOD1) gene progresses to peripheral neuropathy in Pembroke Welsh Corgis and Boxers, Journal of the Neurological Sciences, 2012
Stafford, K.J. Opinions of veterinarians regarding aggression in different breeds of dogs, New Zealand Veterinary Journal, 2011
Verheijen, J. & Bouw, J. Canine intervertebral disc disease: A review of etiologic and predisposing factors, Veterinary Quarterly, 1982