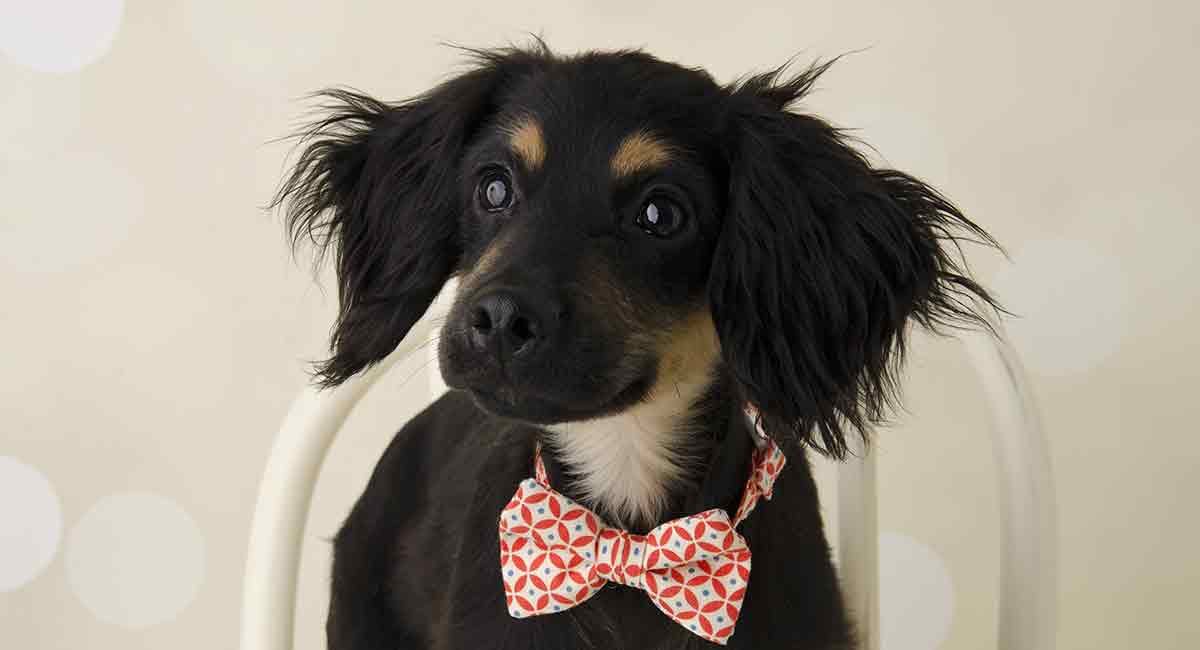 Cocker Spaniel mixes are very popular. Most are small- to medium-sized dogs.
Whether you choose to buy a Cocker Spaniel mix puppy or offer a loving, forever home to a Cocker Spaniel mix rescue dog, you'll need to know what to expect.
In this article, we'll take a look at the most popular Cocker Spaniel mixes.
Giving you the low-down on what to expect from these cute combinations.
1. Miniature Cockapoo
The Miniature Cockapoo is the offspring of a purebred Cocker Spaniel and a Miniature Poodle.
These intelligent, loving dogs are some of the most popular Cocker Spaniel mixes.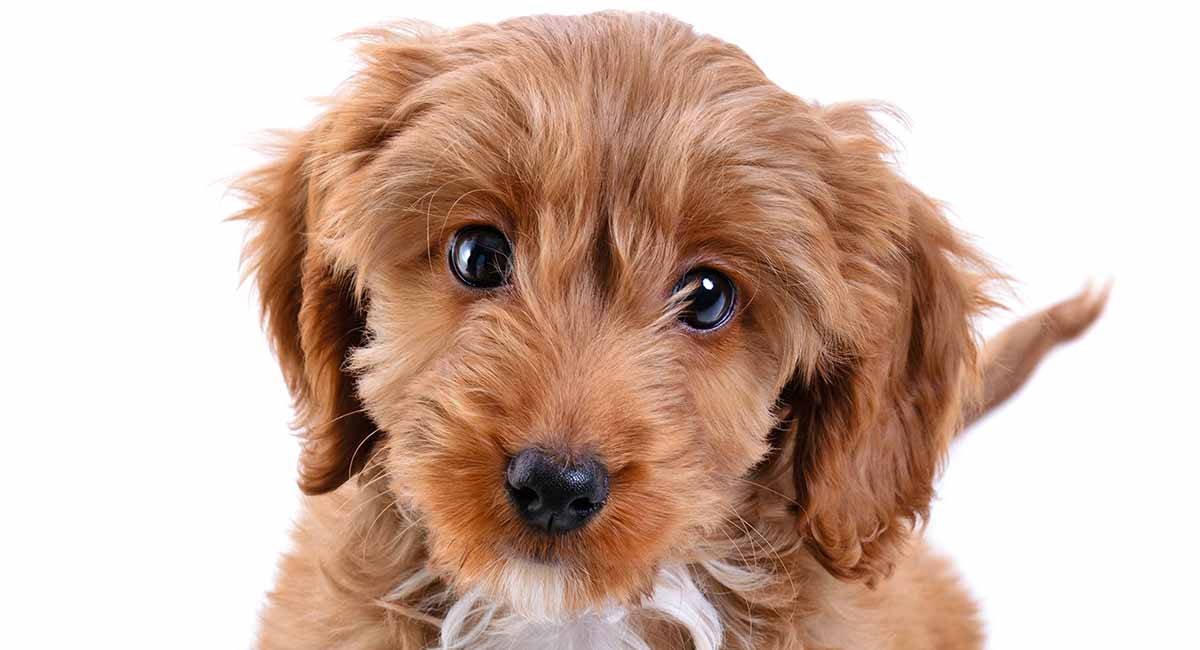 Generally healthy, Miniature Cockapoos can live up to 15 years.
One reason why Cockapoos are such popular Spaniel mix dogs is that they don't shed much coat, only requiring a small amount of grooming.
Although active and lively, the Cockapoo doesn't require a huge amount of exercise thanks to their small stature.
Read our detailed guide to find out more about this gorgeous, cute designer mix.
2. The Cockalier
The Cockalier is the offspring of a Cocker spaniel and a Cavalier King Charles Spaniel.
These medium-sized dogs are gentle, people-oriented and intelligent.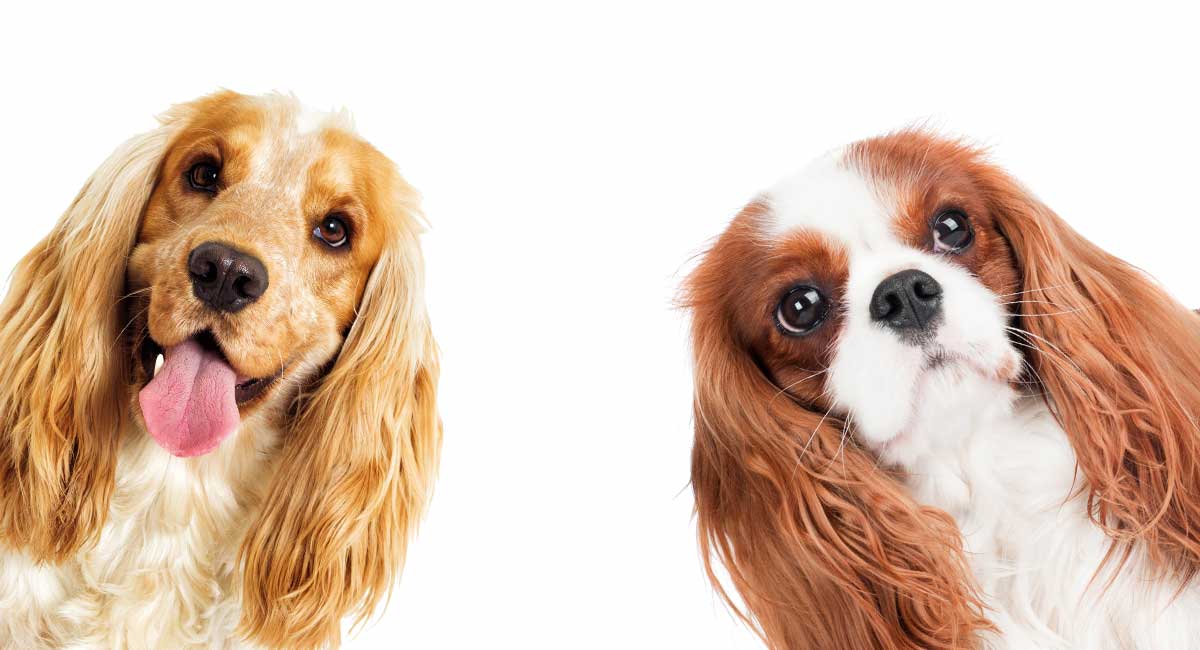 They also enjoy lots of play and exercise, especially with their owner, making them the perfect companion for a senior or a pet in a family with kids.
Cockaliers tend to inherit the long, wavy coat of both their parents.
That means you'll need to groom your pup several times a week to prevent matting.
Cavaliers also have a tendency to some very nasty health problems, which you will need to familiarise yourself with before taking the plunge.
You can read all about the Cockalier Spaniel mix dog in this in-depth article.
3.  The Corkie
Another favorite of the Spaniel mix breeds is the Corkie.
The Corkie is a cross between a Yorkshire Terrier and a Cocker Spaniel.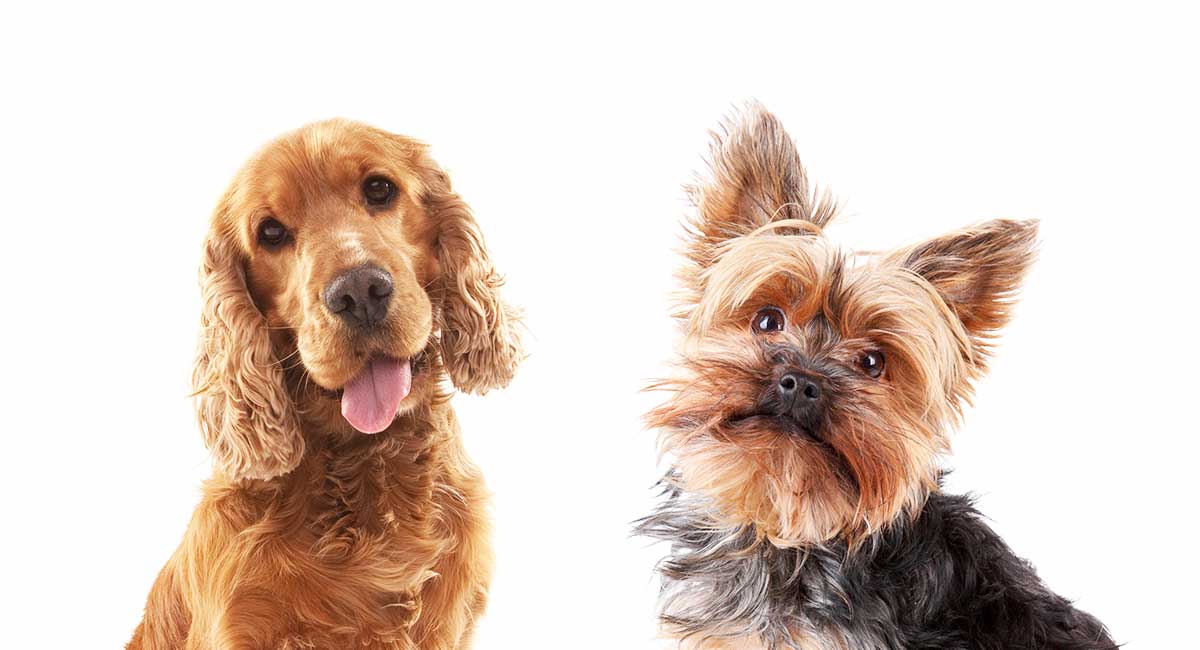 Although both breeds have been very popular as family pets for many years, the Corkie is a relatively recent development.
So how big will your Corkie puppy grow to be?
Corkies are usually small- to medium-sized dogs, standing around 12 inches tall at the shoulder and weighing roughly 10 to 12 pounds.
Corkies tend to have long, silky coats that require regular grooming, including trimming, brushing and bathing.
This Cocker Spaniel mix is lively, happy and playful.
Reputedly easy to train, the Corkie makes a perfect choice for families with kids of all ages.
Read more about the Corkie Spaniel mix breed in this thorough article.
4.  The Cocker Pei
The Cocker Pei is the result of crossing a Cocker Spaniel with a Shar Pei.
This intriguing designer breed is a recent experiment in crossbreeding.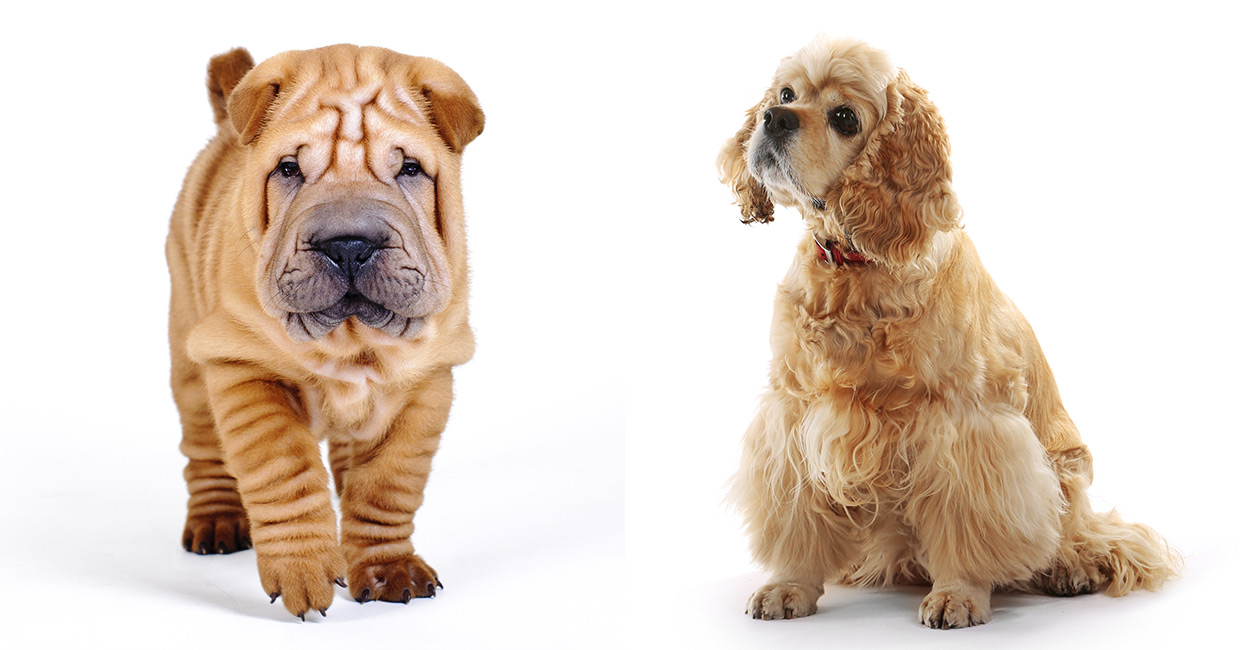 Because of the totally different appearance and character of each breed, it's very difficult to predict exactly how your pup will turn out when he's fully grown.
The Cocker Spaniel is a medium-sized dog, standing up to 15.5 inches tall at the shoulder, whereas the Shar Pei can grow up to 20 inches tall.
The Cocker Spaniel is stocky, weighing up to 30 pounds.
The Shar Pei can weigh as much as 60 pounds.
A Cocker Shar Pei mix, therefore, could be anywhere in between.
Read more about the Corkie Spaniel mix breed in this informative article.
5.  Cockapoo
The Cockapoo is a crossbreed that's obtained by crossing either a purebred Poodle with a purebred Cocker Spaniel, or vice versa.
The Poodle can be a standard, toy or miniature.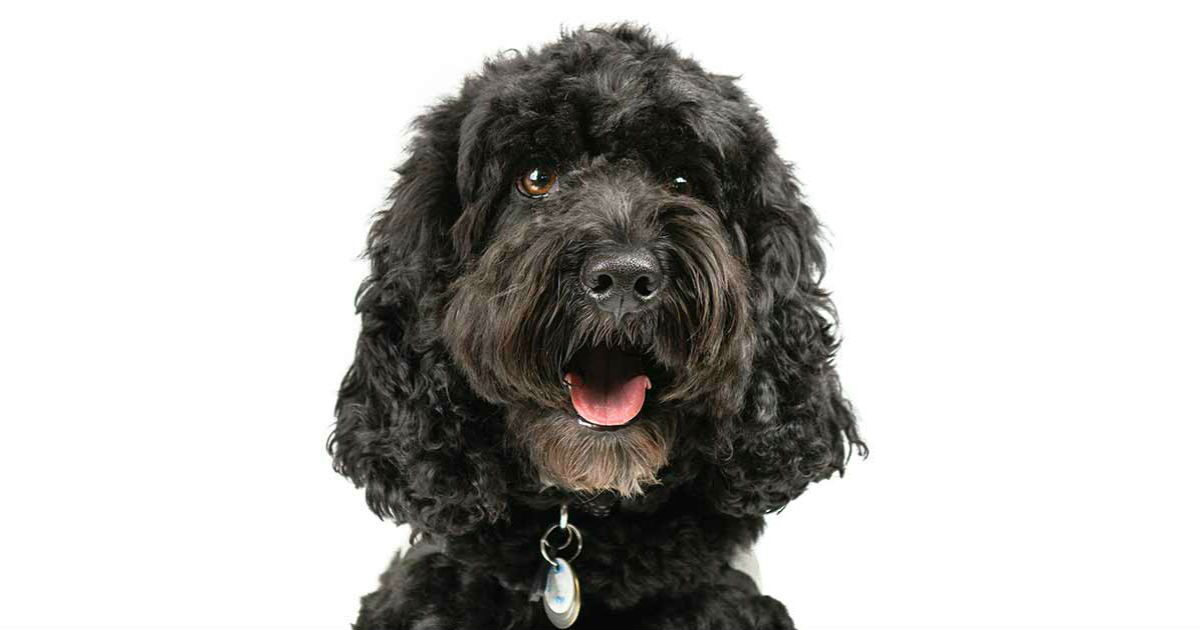 In the case of Cockapoos, it doesn't matter which parent is purebred, as long as one of them is.
The Cockapoo comes in a huge range of colors. Their fur varies between tight curls and long, scruffy waves.
Although Cockapoos do change their coats with the seasons like other breeds, they tend to retain their fur rather than shedding it all over your home.
You'll still need to groom your Cockapoo once or twice a week to get rid of loose hair and prevent the coat from matting.
Cockapoos make great family pets, being energetic, sociable and fun-loving.
To find out more about the Cockapoo, check out this comprehensive article.
6.  Golden Cocker Retriever
The Golden Cocker Retriever is a fairly recent crossbreed to appear on the designer dog scene.
The breed is derived from crossing a Golden Retriever with a Cocker Spaniel.
One of the parents must be a pure pedigree.
Both breeds have similar temperaments so it's a fairly safe bet that your puppy will grow up to be a reflection of both.
Golden Cocker Retrievers are friendly, active dogs that are usually easy to train.
As the name suggests, Golden Cocker Retrievers have medium-length golden coats.
They can look similar to a Cocker Spaniel because they often have long, floppy ears, and are medium size and build.
You'll need to take good care of your Golden Cocker Retriever's coat because they tend to have the same trousers and chest hair as their parents.
This can be prone to matting if not groomed regularly.
Both parent breeds suffer from an eye condition called progressive retinal atrophy, which can cause loss of vision as the dog ages.
Check that both your puppy's parents are certified free of the disease.
To find out more about the Golden Cocker Retriever, check out this thorough article.
7.  The Beaker
The Beaker is a Cocker Spaniel mix breed that's created by crossing a Cocker Spaniel and a Beagle.
Beakers are quiet, sweet dogs that can be a little aloof and easily intimidated by other dogs.
Beakers tend to get along much better with adult owners than with kids.
For this reason, they're not recommended as a pet for families with small children but would make a perfect solo dog for a senior or singleton.
The short-coated beaker doesn't need much grooming—just a quick brush once a week will suffice.
You'll need to enjoy walking if you take on a beaker.
These lively little dogs enjoy long walks, preferably several times a day.
8.  Cockerdor
The Cockerdor is a cross between a Labrador Retriever and an American Cocker Spaniel.
If you're keen to get a Black Spaniel mix, this could be the dog for you.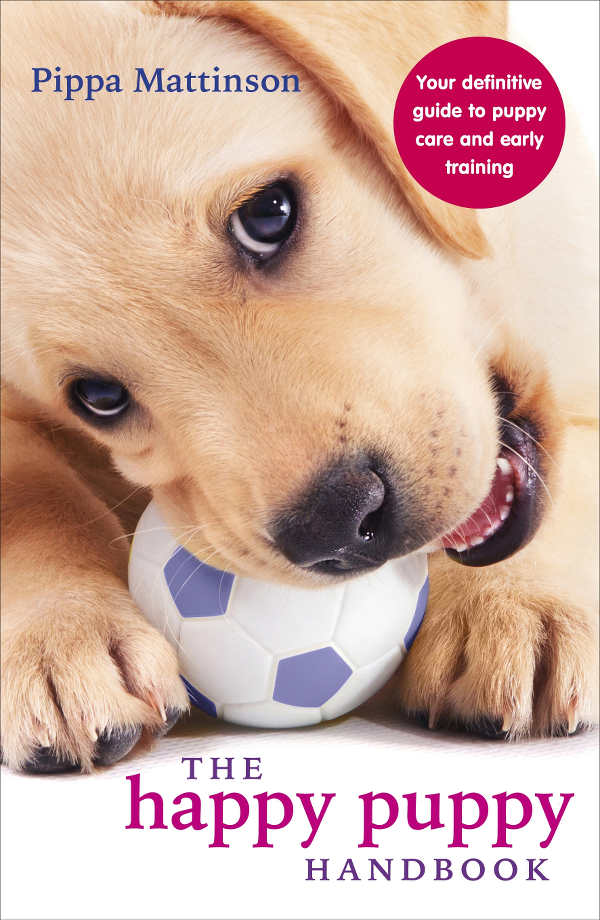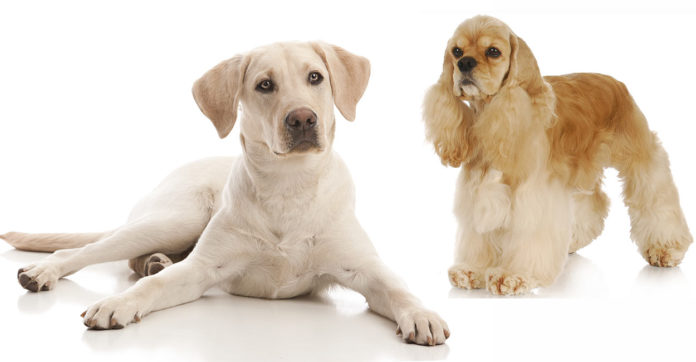 They come in lots of different colors, including black.
Cocker Spaniels are generally smaller than Labradors.
It's important to remember that your puppy may take on characteristics of one of the parents more than the other.
Therefore, you could end up with a 20-pound adult dog or a 70-pound one.
That's part of the fun of buying a Cocker Spaniel mix puppy. You don't know what you're going to get.
Cockerdors tend to be highly active, friendly and pretty easy to train.
Both parent breeds' temperaments are similar, so you can expect your puppy to grow up to have an easygoing, stable nature.
These dogs love people. They also get along well with other dogs.
For a full rundown of the Cockerdor's profile, check out this article.
Your Cocker Spaniel Mix
Cocker Spaniel mixes come in a variety of shapes and sizes.
When you choose a cross breed you can never be totally sure what to expect.
But if you are happy that both parents are healthy and friendly examples of their breeds, then the odds will be in your favor.
Whatever your spaniel is mixed with, make sure each parent is health tested for the diseases and disorders relevant to their breed.
And that you are happy that either temperament, or a combination of both, would suit your lifestyle.
What about you?
Are you the proud owner of a Cocker Spaniel mix? We'd love to hear about him!
Tell us all about your pup in the comments box below, and share your photos on the Happy Puppy Facebook page.