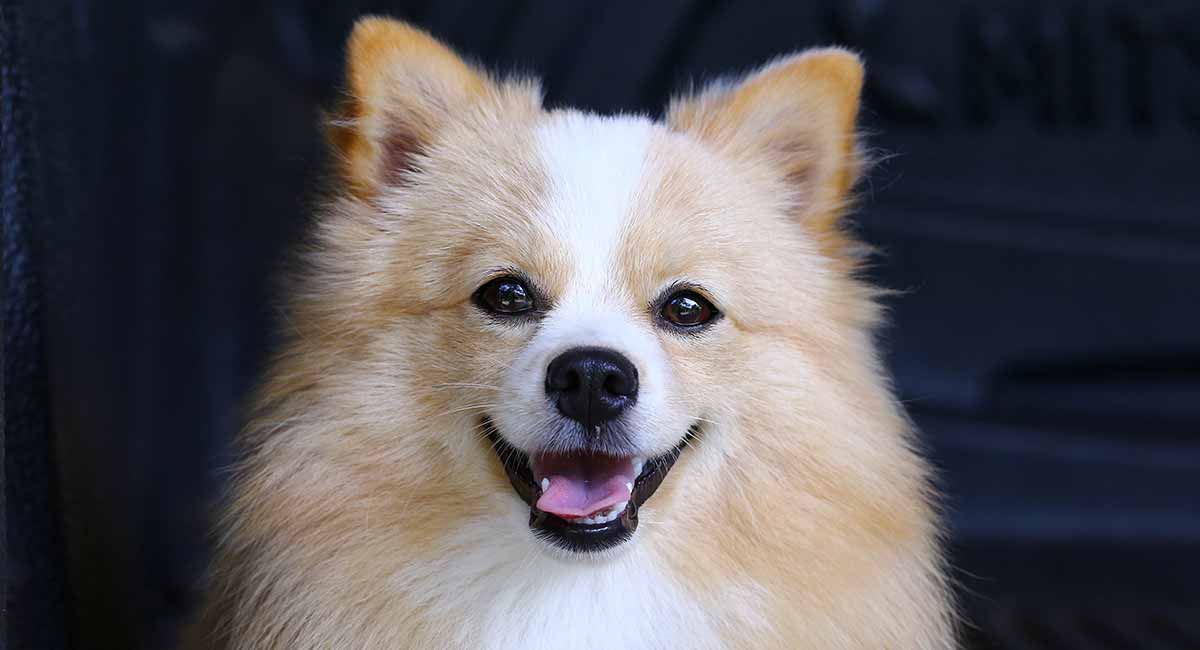 Are you hoping to bring a Chihuahua mix home to your family?
There are so many to choose from!
We've taken a look at the most popular Chihuahua mixes, to help you choose the right one for you.
Which Chihuahua Mix?
As it turns out, the world's smallest dog breed is not just a celebrity favorite or even the national symbol (if not the national dog) of Mexico.
This pint-sized purebred pup is also one of the top picks for crossbreeding new hybrid Chihuahua mix puppies!
But with so many seemingly adorable dogs to choose from, how can you tell which are the best?
And do any have that trademark Chi personality?
About the Chihuahua
The Chihuahua might be small in size, but no one ever told him that!
This dog has a personality the size of Mexico's largest state, named — yup, that's right — Chihuahua!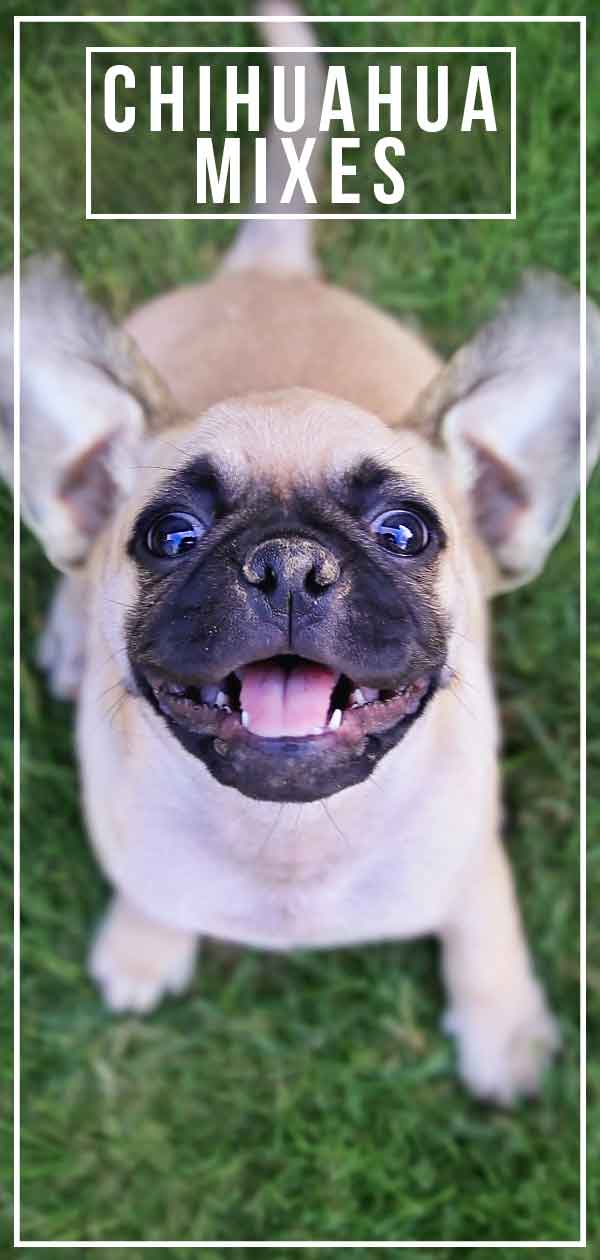 A recent DNA study confirmed that the purebred dog breed we know and love as the Chihuahua really did originate in Mexico, and not in Asia as some theorists had proposed.
Happily, the tiny Chi is typically a long-lived little pup with an average life expectancy of 14 to 16 years.
You might also enjoy:
They're known for sassy personalities, watchdog talents, loving natures and fondness for warm laps.
So it's easy to see why the Chi is such a popular choice for hybrid dog breeding today!
ShiChi: Shih Tzu Chihuahua mix
What do you get when you cross two really cute purebred dog breeds together? You get Shih Tzu Chihuahua mixes, of course!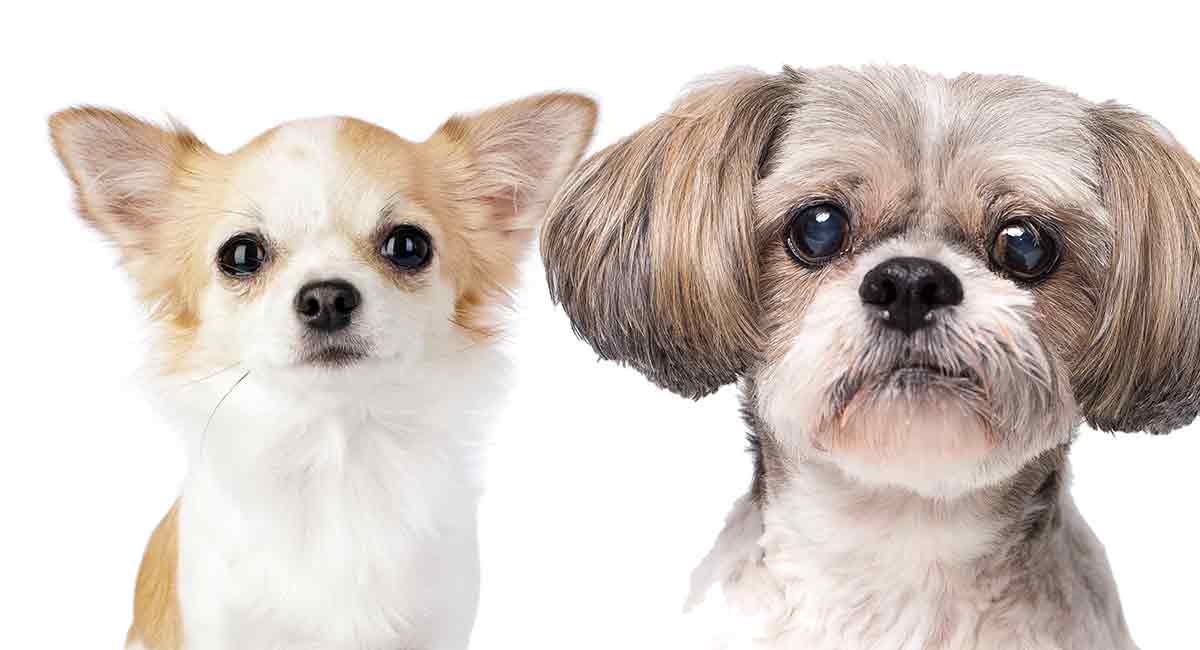 The Shih Tzu's ancient name means "lion dog." These dogs have a royal heritage as watchdog sentinels guarding palaces and monasteries in Asia.
So you know you are going to get an outstanding (if not particularly intimidating size-wise) watchdog when you choose a ShiChi!
You can also know going in that you will need to provide ongoing training and socialization to temper this dog's naturally territorial nature.
ShiChi mixes may weigh anywhere from 5 to 12 pounds depending on the size of the Chihuahua parent dog (toy or teacup). The typical life expectancy is 12 to 15 years.
Chion: Papillon Chihuahua mix
PapChi, Chion, ChiPap – even the names for Papillon Chihuahua mixes are precious, so you can bet this petite mixed breed pup is too!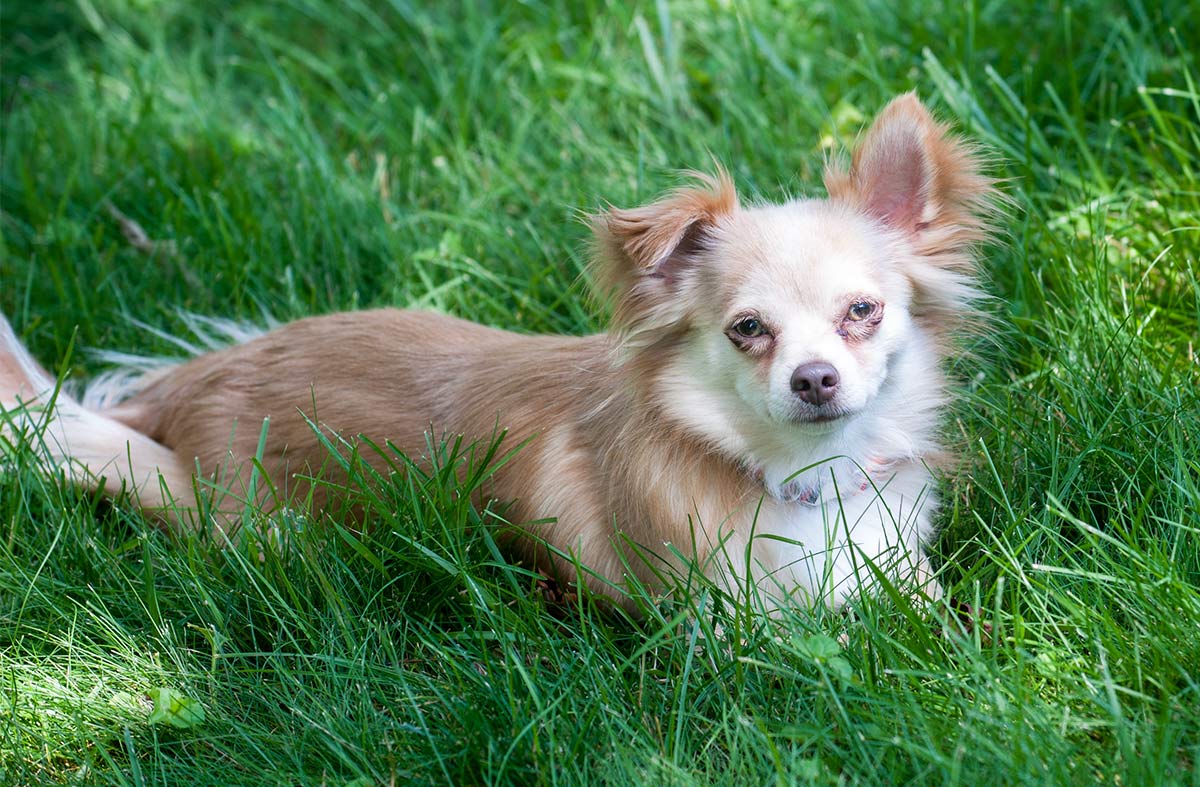 The Papillon Chihuahua mix crosses the diminutive and dainty "butterfly dog" with the modern descendant of the ancient Toltec TeChiChi dog.
Both the Papillon and the Chihuahua are "people" dogs to their core – bred for the companion life.
This hybrid dog breed will be lively and playful.
She can benefit from early training and socialization to learn how to stay calm around strangers and larger dogs.
A fully grown Chion may weigh just 4 pounds or closer to 10 pounds.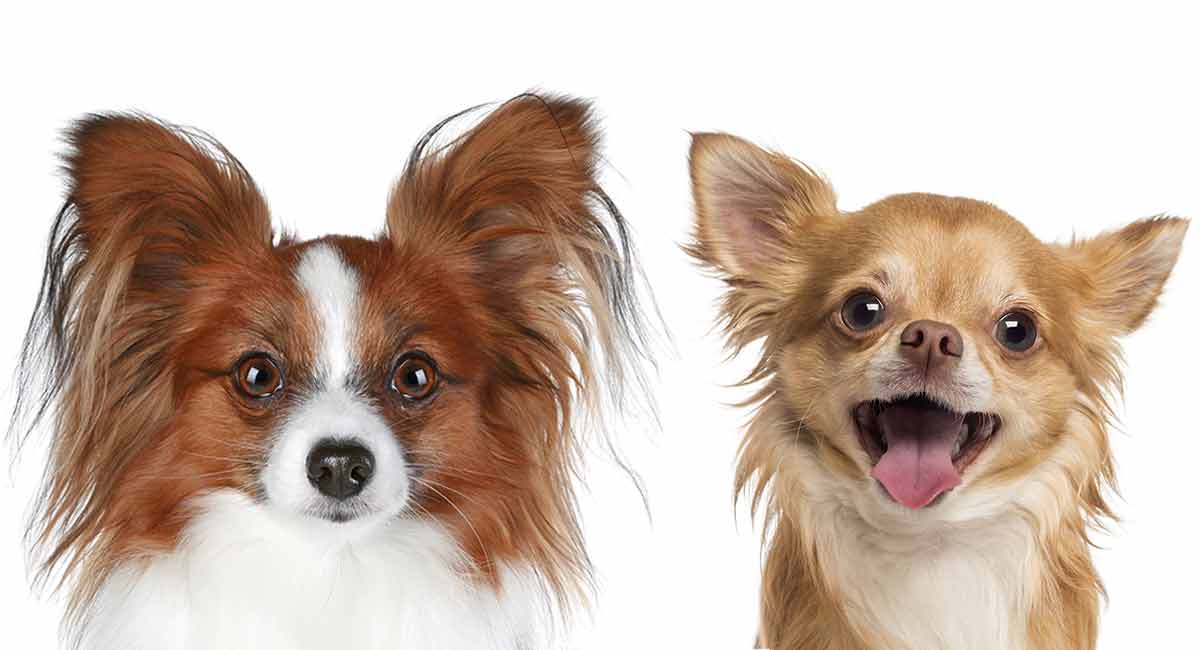 The typical life expectancy for this pup is anywhere from 12 to 15 years.
We hope you find our full Chion guide helpful when deciding if this is the right dog for you.
Chizer: The Schnauzer Chihuahua Mix
The Miniature Schnauzer is a hugely popular small dog breed and a Mini Schnauzer Chi mix can make an adorably cute little dog.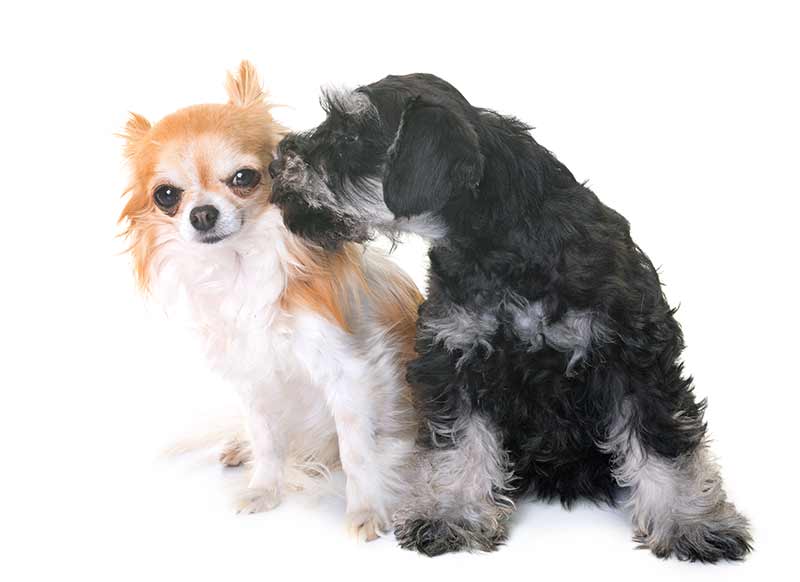 Likely to be a little larger than some of the other Chihuahua mixes listed here, the Chizer is less vulnerable to injury, and may well be a healthier option than some of his tiny cousins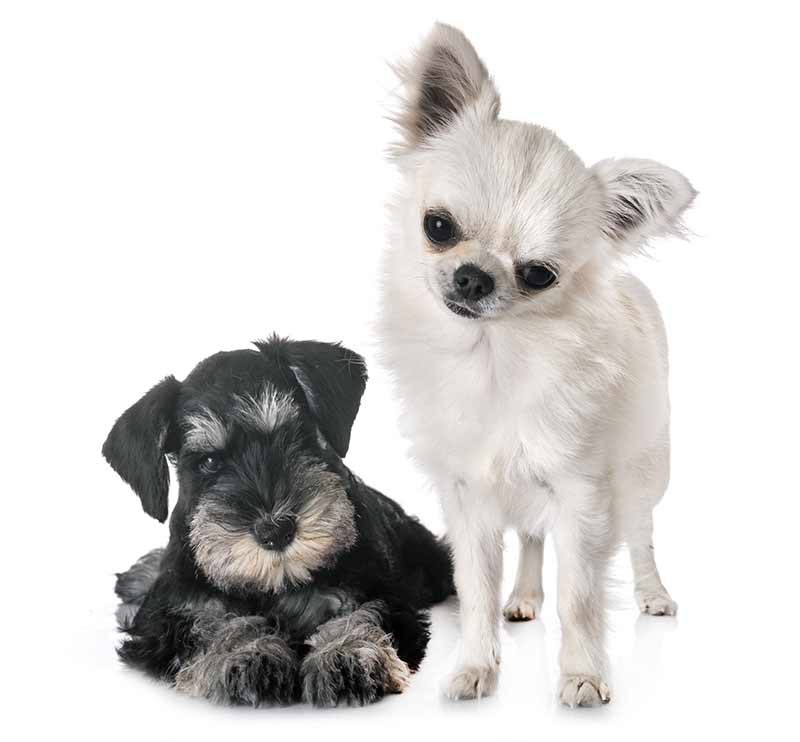 Plus you may get the bonus of some cute whiskers!
Pomchi: Pomeranian Chihuahua mix
Pomeranian Chihuahua mixes will always be "toy-sized," since both the Chihuahua and the Pomeranian belong to the toy breed category.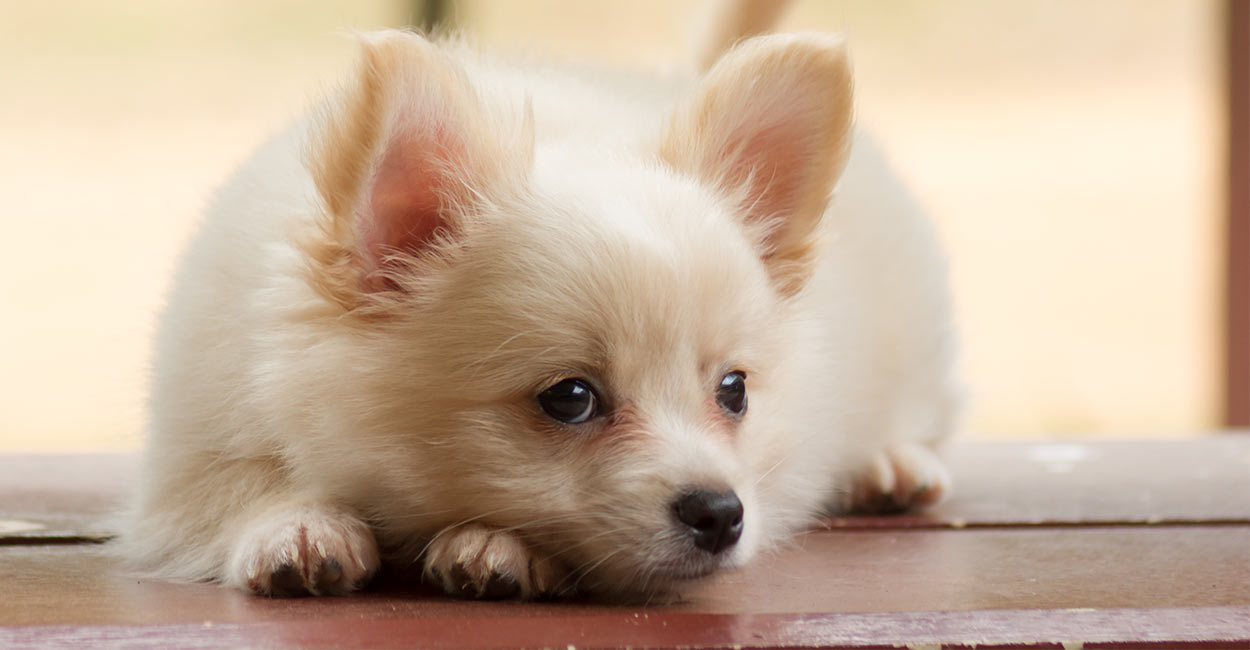 The Pomeranian hails from the ancient lineage of spitz-type German dogs. But this dog's sled-pulling ancestors were quite a bit larger than today's Pom dogs!
The Chihuahua, of course, has no idea she is a small dog.
Both the Pomeranian and the Chihuahua have similar personality traits.
So it is easier than with some hybrid cross breeds to predict your pup's adult temperament.
You can expect a loving, lively dog that needs to be with "her" people to stay happy and healthy.
PomChi dogs generally weigh between 5 and 12 pounds and have a life expectancy of 12 to 18 years.
We hope you enjoy our in-depth hybrid PomChi review guide where you can learn more about this unique pup.
Chipoo: Poodle Chihuahua mix
Poodle Chihuahua mixes can be some of the larger Chihuahua mix breed dogs because the Poodle is bred in three sizes: standard, miniature and toy.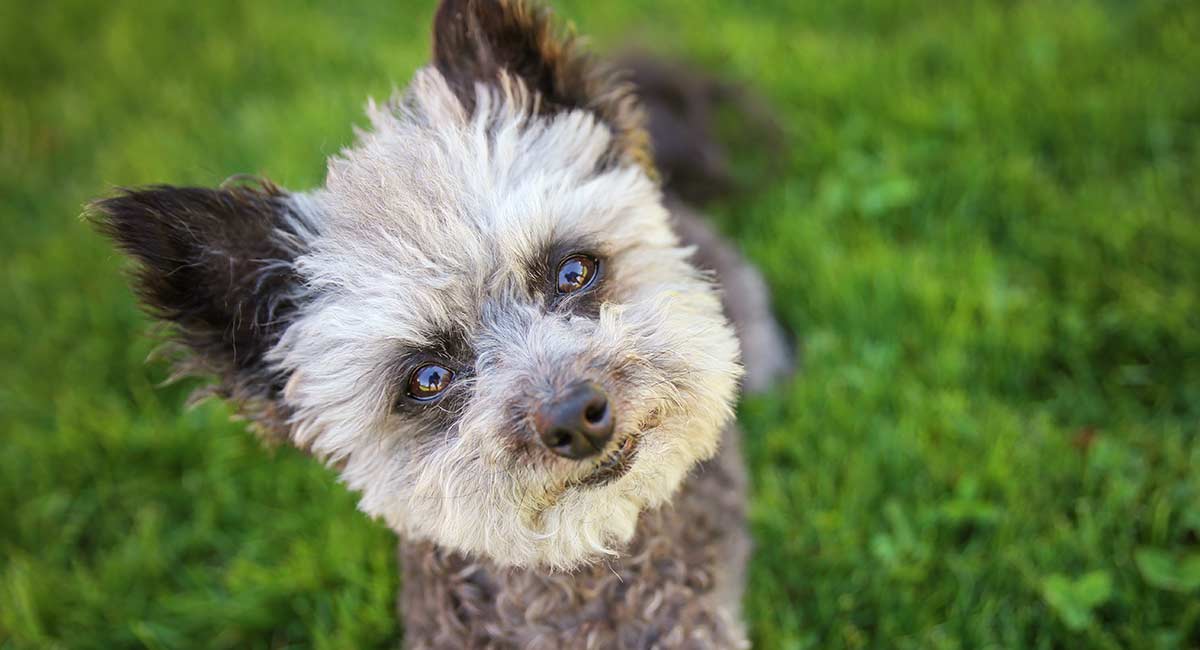 However, more Chipoo dogs come from miniature or toy Poodle parents than from standard Poodle parents.
An all black purebred Chihuahua is a fairly rare occurrence.
A Chipoo black Chihuahua mix can be particularly stunning when you have the influence of the Poodle parent's jet black, curly coat!
Both the Chihuahua and the Poodle are naturally lively, active, affectionate, loyal, and loving dogs.
Both can be reserved and/or territorial around strange dogs and people, making ongoing training and socialization a must.
A Chipoo can range in size from just 5 pounds to 20 pounds depending on the size of the Poodle parent dog.
The typical life expectancy is 12 to 15 years.
Our full Chipoo hybrid breed review gives you lots more valuable information about this singular Chi mix.
Cheagle: Beagle Chihuahua mix
Beagle Chihuahua mixes are easy to fall in love with.
Cross the lovable, cuddle-worthy Beagle with the sass and spirit of the Chihuahua and you get an adorable Cheagle!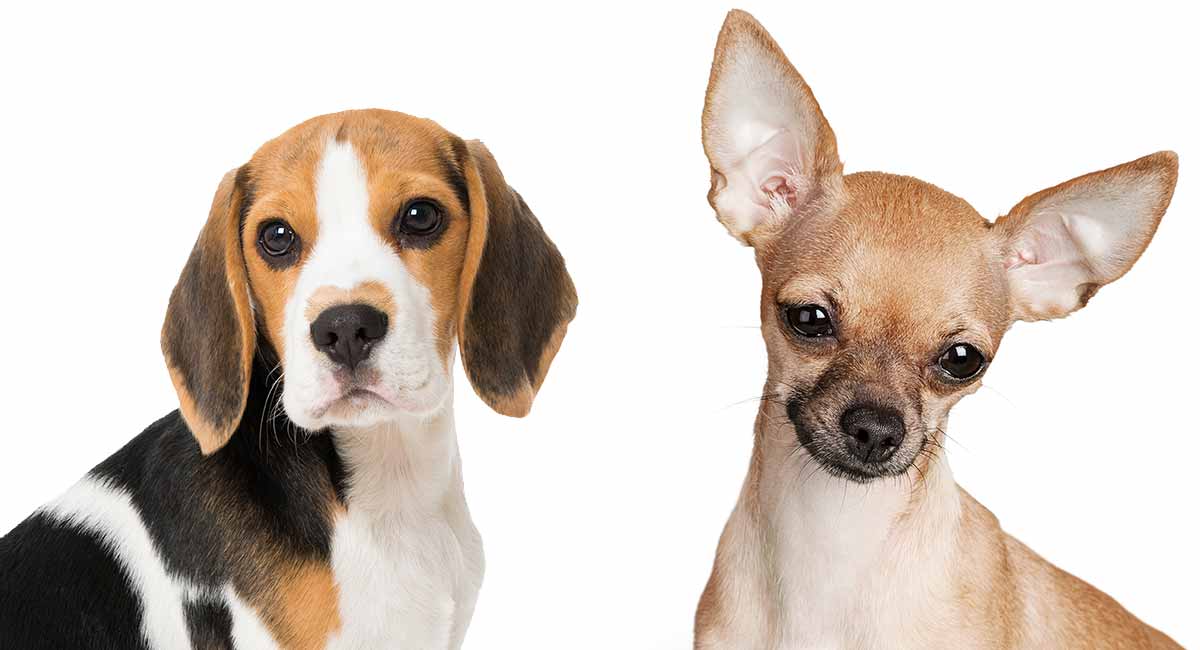 You can expect to get a pup with a strong desire to pursue and hunt while simultaneously guarding and protecting.
As you might imagine, training and socialization will be especially important to help your puppy grow up with an even and balanced temperament!
The Cheagle may vary in weight from just 6 pounds to 30 pounds, although most Cheagles fall in the middle of this weight range.
The life expectancy is from 10 to 14 years.
Enjoy reading more about the Cheagle in this full hybrid breed review.
Chug: Pug Chihuahua mix
Can any dog name be cuter than "Chug"?
These Pug Chihuahua mixes carry an ancient, noble lineage – on the Pug's side, this lineage spans all the way back to ancient Asia and Tibet.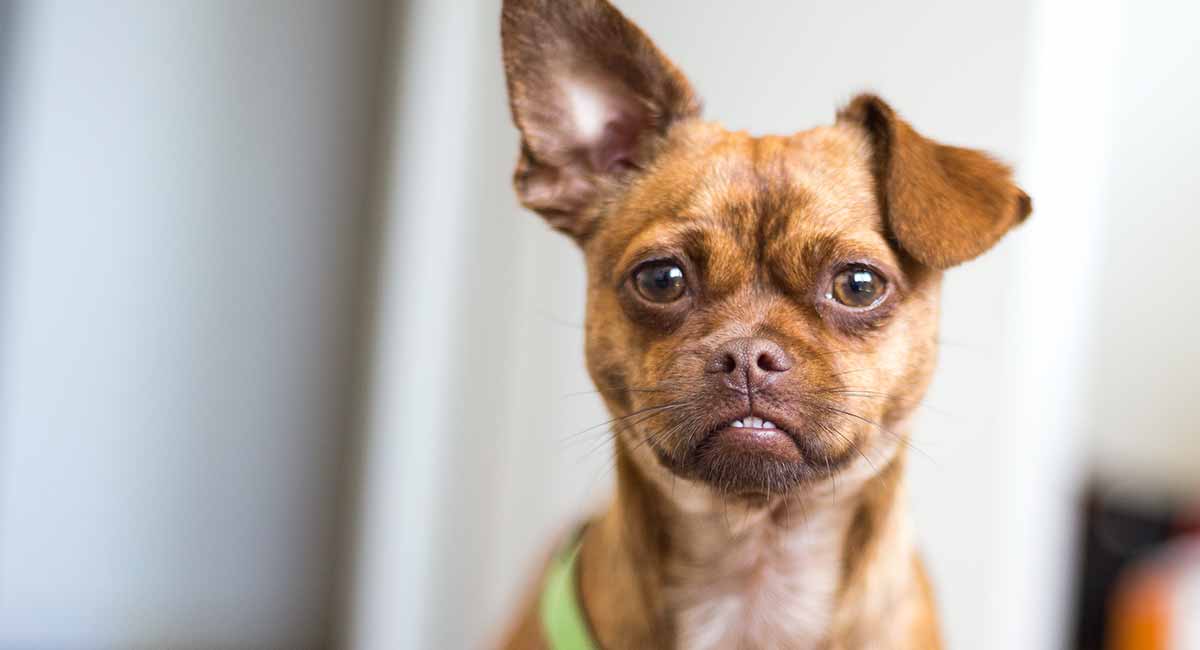 On the Chihuahua's side, this dog is as close to Mexican royalty as a canine can get!
The typical Pug has a more laid-back temperament than the average Chihuahua, which can help temper the Chi's natural guarding instincts and territorialism.
You can expect your full-grown adult Chug to weigh between 10 and 15 pounds.
The typical lifespan of a Chug is 10 to 15 years.
Learn everything you need to know to decide if the Chug is the right Chi mix for you with our in-depth review.
Chorkie: Yorkshire Terrier Chihuahua mix
Chorkies are Yorkshire Terrier Chihuahua mixes, and they are very popular!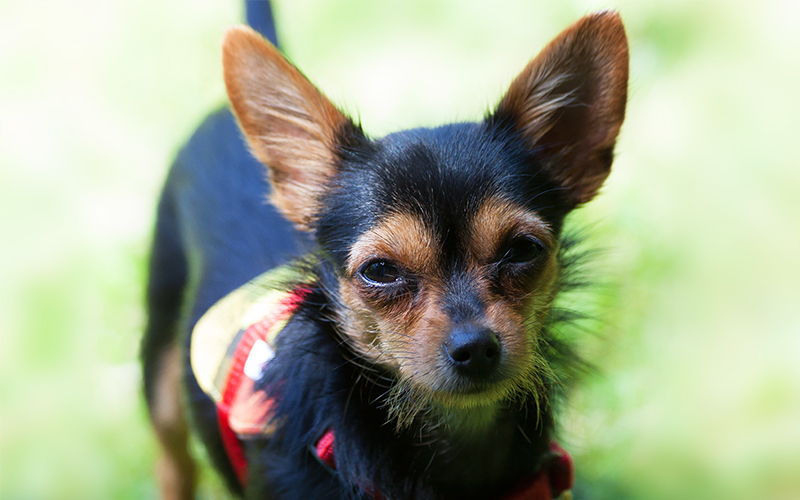 The Yorkie, as the Yorkshire Terrier is often nicknamed, may sport a long, luxurious coat, but underneath it beats the heart of an athlete and a superb ratter!
You can expect your Chorkie pup to be assertive and lively – a great all-around watchdog.
Chorkies are also some of the smallest of the Chi mix breed dogs, since both parent dogs typically weigh between three and seven pounds.
Their average lifespan is from 16 to 18 years.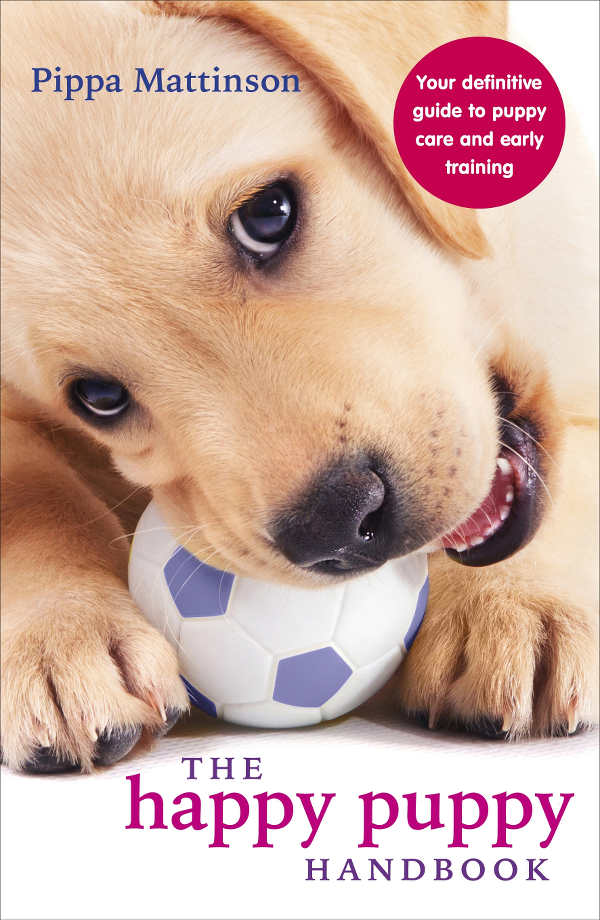 Enjoy learning even more about the Chorkie by reading our full review article.
Chibo: Boston Terrier Chihuahua mix
What do the Bochi, Bohuahua, Boston Huahua and Chibo have in common? They are all nicknames for Boston Terrier Chihuahua mixes!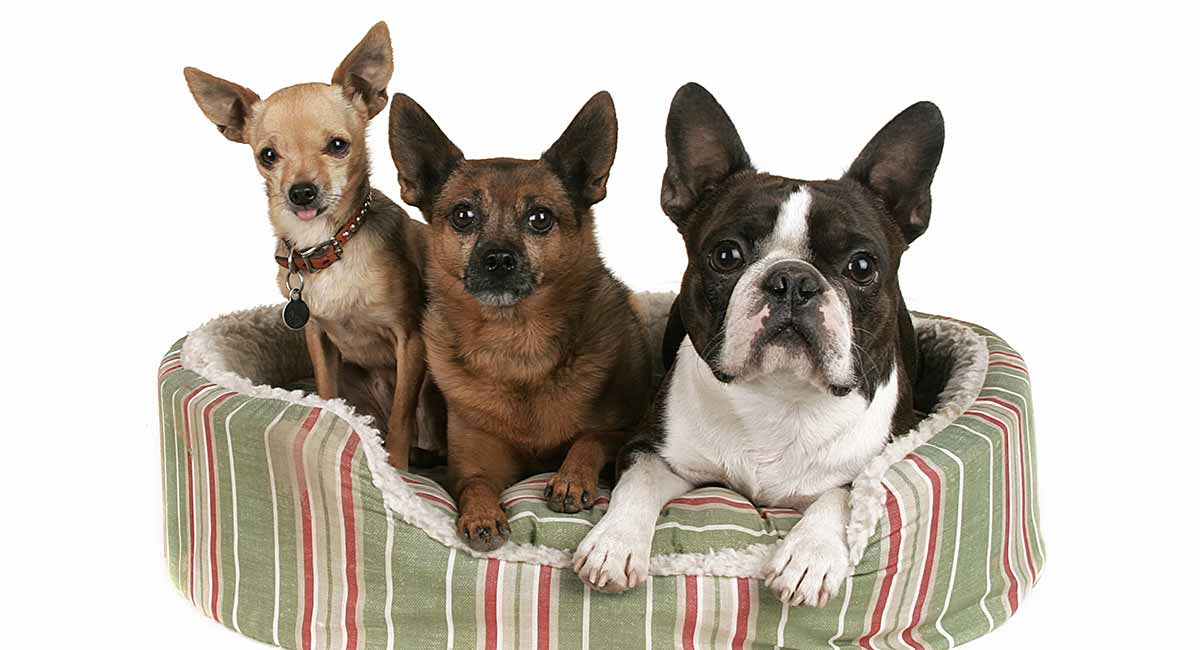 The Boston Terrier is a more recent purebred dog breed that was bred to fight and hunt rats.
This dog is so genteel, though, that, he has earned the nickname of "the American Gentleman."
The Chihuahua, of course, was bred to be a watchdog and companion to people.
This should give your Chibo a very confident and outgoing personality! Weight-wise, you can expect most Chibo dogs to weigh in at 10 to 15 pounds. The typical lifespan is 12 to 15 years.
Discover even more fascinating facts about the Chibo in our full hybrid review guide.
Jackhuahua: Jack Russell Terrier Chihuahua mix
If a petite, playful and active pup sounds like your cup of tea, you may want to consider Jack Russell Terrier Chihuahua mixes!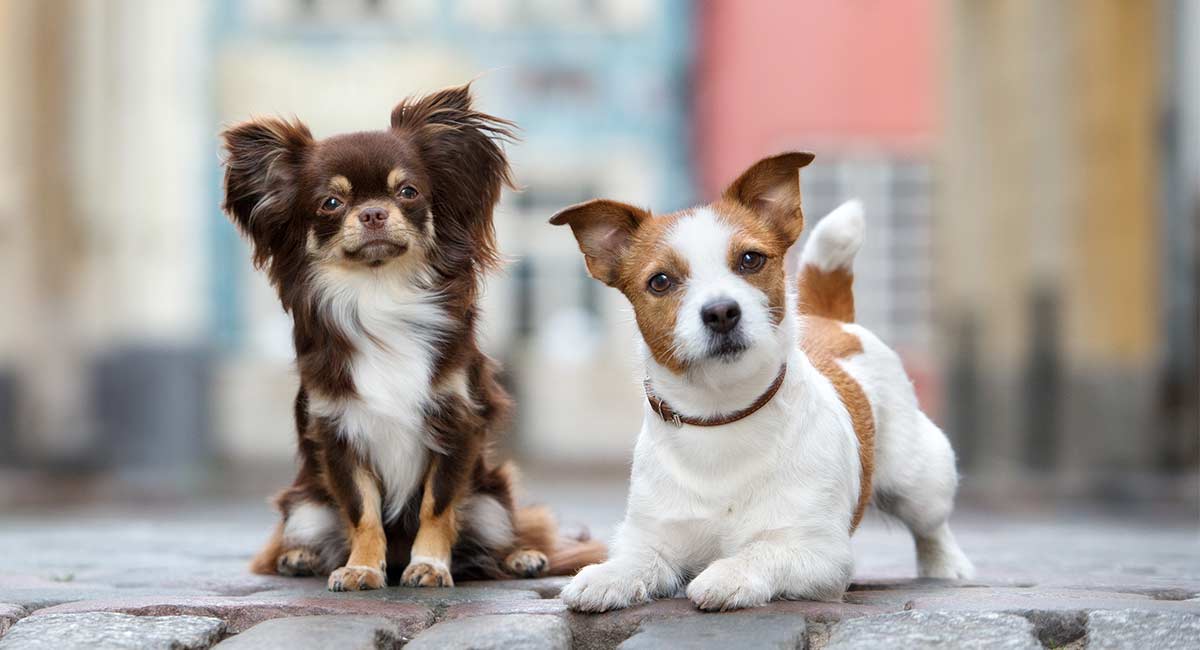 These hybrid dogs, also called "Jack Chis" by some, have naturally strong hunting and guarding instincts, so you will never have to worry about someone creeping up on you!
The typical Jackhuahua will weigh between 8 and 18 pounds and can live 13 to 15 years.
Learn more about the Jack Chi in our full review guide here.
Other Terrier Chihuahua mixes
Rat Terrier Chihuahua mixes, Fox Terrier Chihuahua mixes and Bull Terrier Chihuahua mixes are also becoming popular Chihuahua mix dogs in the growing world of hybrid dog breeds.
The Taco Terrier is a Fox Terrier Chihuahua mix.
The Bullhuahua is a Bull Terrier Chihuahua mix. And a Ratcha is a Rat Terrier Chihuahua mix.
Read more about these uniquely precious Chi mixes in our Chihuahua Terrier mix review guide.
Which Chihuahua mixes are your favorites?
You may also want to check out Chihuahua mix rescue dogs in your area as a great way to offer a loving pup a new wonderful forever home!
Which Chi mix pup is tugging at your heartstrings? Please share your favorite Chi mixes by posting a comment below!
RESOURCES:
van Asch, B., et al. "Pre-Columbian origins of Native American dog breeds, with only limited replacement by European dogs, confirmed by mtDNA analysis," Journal of the Royal Society of London Biological Sciences, 2013.
Baldwin, T., et al. "Chihuahua Puppy General Care," The Chihuahua Club of America, 2008.
Roeder, O. "Terriers Were Once the Greatest Dogs in the World," Five Thirty Eight/Westminster Dog Show, 2016.