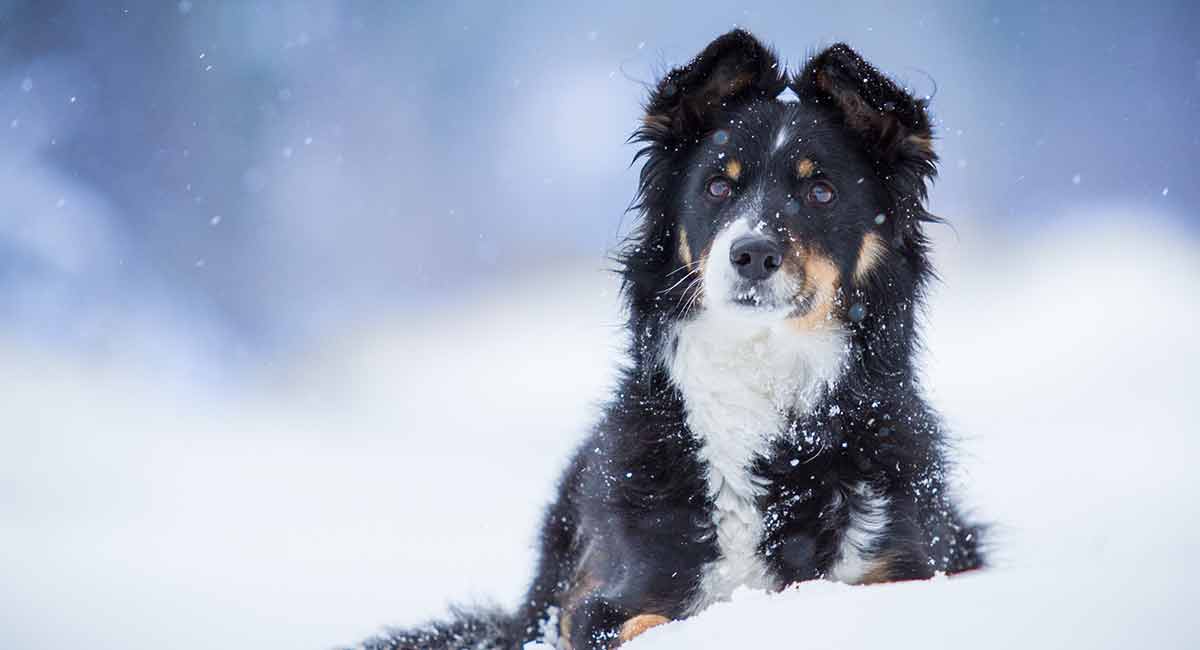 Border Collie mixes are not only cute but also highly intelligent. In this article we take a look at some of the most popular. We'll see how they compare in terms of looks, personality and health. And how their dual heritage make them good pets for different kinds of households. Let's start with a quick look at the breed they all have in common: the Border Collie.
The Border Collie
The
Border Collie
was specifically bred as a herding dog and, as most dog lovers know, herding breeds are inherently brainy. Border Collies, in particular, have an unrivalled ability to learn new commands and the meaning of words. In a working environment, this makes them an exceptional sidekick. Their good looks and loyalty have earned many of them an honorable place in our homes as companion dogs too. We also like the idea of an intelligent dog because they'll be easy to train, right? Well it's true that Border Collies pick up new commands quickly. But once they've mastered the basics, a Border Collie needs to be promoted to more complex "work". Without a daily mental workout, these dogs can get bored, frustrated and destructive.
The Pros and Cons of Crossbreeding
A lot of people have a lot of opinions about the merit (or lack of merit) in cross breeding. We talk more about it
here
. Some even argue that crossbred dogs are healthier than pure breeds, but the topic remains highly controversial. One promising possibility of a Border Collie mix is that they'll inherit a willingness to take life easy from their other parent. However, there's no guarantee that will be the case. And you probably won't find out until your Border Collie mix puppy is grown up whether he has the mental agility and work ethic of a full-blood Collie or not. With so many Border Collie mixes o choose from, how will you ever decide which one is right for you? Don't worry! Today, we'll cover 10 of the most popular Border Collie mixes out there. Ready? Let's go!
No 1: The Golden Retriever Border Collie Mix
The
Golden Retriever
ranks at number 3 out of 194 on the American Kennel Club (AKC)'s list of most popular dog breeds. So it will probably come as no surprise that breeders have crossed the Golden Retriever with the Border Collie. But what is it about the
Golden Retriever Border Collie mix
that has people talking? When it comes to Border Collie mixes, the Golden Retriever Border Collie cross puts intelligence, beauty, and a family-friendly personality into one package. The Border Collie Golden Retriever mix is easy to train and extremely loyal. This mix is a good option for families looking for a Border Collie hybrid who gets along well with children. However, keep in mind that they need tons of exercise. They do best with families who are active and invite their dog on lots of adventures with them!
No 2: The Border Collie and Poodle Mix
The Border Collie Poodle mix, also known as the
Bordoodle
, is one of the most adorable mixes on the list. The Bordoodle is a cross between two very brainy breeds indeed, and this mix is certainly going to wow you. The Border Collie Poodle mix needs plenty of exercise. This can include both daily walks and outdoor play in a securely fenced in backyard to ensure they are happy and healthy. The Poodle side of these pups can become extremely bonded to their people. You should also note that while the Poodle doesn't shed much, the Border Collie is quite a shedder. This means that grooming maintenance could vary for this crossbreed.
No 3: The Border Collie Pomeranian Mix
The
Border Collie Pomeranian mix
is a delightful cross between the
Pomeranian
and the Border Collie. This fluffy ball of energy and love is smaller than most of the other Border Collie mixes on this list. Their compact size means they take up less space in your home, but they are still an active dog. They fit well with active families who enjoy traveling and getting outside. Your puppy still will need early socialization and obedience training – his small size is no excuse for bad manners!
No 4: The Border Collie Australian Shepherd Mix
When it comes to Border Collie mixes, the
Border Collie Australian Shepherd mix
 is one of the most intelligent hybrid dogs on the list. The Border Collie is a herding breed from nose to tail and the
Aussie
is a rancher's dog with similar traits. This intelligent hybrid can easily outwit a novice owner. The Border Collie Australian mix will do best in homes with experienced dog owners who are ready and willing to train and exercise their active and intelligent crossbreed. A prospective owner should also note that this designer dog needs loads of mental and physical stimulation. This will ensure your dog doesn't become bored and destructive.
No 5: The Border Collie German Shepherd Mix
The
German Shepherd Border Collie mix
is a beautiful hybrid
—
the result of crossing two devoted working dogs. However, the
German Shepherd
is easier to train than the Border Collie. The latter was bred to roam freely and may display more of an independent way of thinking. Still, if German Shepherd Border Collie mix puppies are calling your name, rest assured, the Border Collie German Shepherd mix can make a wonderful pet for the right owner. Just make sure you are prepared to provide your puppy with proper training and consistent exercise. As with all the Border Collie mixes on this list, they will need early socialization and obedience training from puppyhood. This will ensure your pup grows into a well-rounded dog.
No 6: The Labrador-Border Collie Mix
The
Labrador and Border Collie mix
is perhaps one of our most popular Border Collie mixes on this list. The
Labrador Retriever
sits at number 1 out of 194 on the AKC's list of America's most popular dog breeds! If you're interested in a Labrador-Border Collie mix, be prepared for a hybrid dog with lots of energy. The Labrador can be slow to mature, and can sometimes take a few years to grow out of the puppy stage. For this reason, the Labrador Border Collie mix is best suited to homes with young owners or families who have the energy and time to keep up with their pup. And to train them! A black Lab Border Collie mix dog will most closely resemble a Border Collie. But Border Collie mixes with yellow and chocolate Labs will inherit remarkable and unique coats of their very own.
No 7: The Dachshund Border Collie Mix
The
Dachshund
Border Collie mix is an interesting cross between two very different breeds. The Border Collie has boundless energy, high intelligence, and can be an independent thinker. On the other hand, the Dachshund is small, spunky, and eager to please! Furthermore, the Dachshund and Border Collie have two incredibly different body types. This means you could wind up with one very interesting looking pooch! However, since the Dachshund's elongated shape has left them vulnerable to health complications, it's important to make sure their Dachshund parent has been fully health-checked. As far as temperament goes, be prepared for an active, friendly, and family-oriented crossbreed. Your dog will need plenty of training and exercise to stay happy and healthy.
No 8: The Blue Heeler Border Collie Mix
Also known as the Border Heeler, the
Blue Heeler Border Collie mix
is a very active and athletic crossbred. This mix hails from two herding breeds. So, when it comes to the Border Collie mixes on this list, the
Blue Heeler
Border Collie cross is one of the most energetic. As long as they are properly trained and socialized, this crossbreed can make a fabulous companion. This should include a good two or more hours of exercise every day. In addition, plenty of obedience training and early socialization are required, beginning in puppyhood.
No 9: The Border Collie and Beagle Mix
The
Border-Beagle
, as they are sometimes referred to, is a favorite owing to the adorable looks and affectionate personality of this mix. This is a cross between one of the world's best herding breeds and one of the world's most favorite hunting companions. The Border Collie and Beagle mix is an excellent choice for families with young children who have lots of energy. And while you may have to train their Border Collie side not to herd the kids around the sitting room, their Beagle side could make an excellent companion for youngsters. Beagles are also eager to please. If your Border Collie-Beagle mix inherits this trait, they will be a joy to train!
No 10: The Border Collie Jack Russell Terrier Mix
The Border Jack, as they are often called, is a cross between the active and clever Border Collie and the spunky little
Jack Russell Terrier
. As the offspring of two very smart breeds, the Border Collie Jack Russell Terrier is prone to independent thinking. Beginning early in puppyhood, your puppy will require early socialization, obedience training, and exercise. However, when it comes to Border Collie mixes, the Border Collie Jack Russell Terrier is said to do well in families. They enjoy being around children and other household pets.
Should I Get a Border Collie Mix?
Are you reading about these Border Collie mixes and wondering if one of them is right for you? If you're on the hunt for a Border Collie mix puppy, we suggest doing as much research into your chosen crossbreed, and each of the parent breeds, as possible. This will help you to determine if the particular crossbreed is suitable for your unique lifestyle and home. However, keep in mind that all the of the mixes on this list are intelligent breeds. If you are new to owning a dog, prepare yourself for the sheer energy and intelligence of a Border Collie breed or crossbreed.
Do You Live With A Border Collie Mix?
What is their parentage, and who do they take after most? Tell us all about them in the comments box?
Related Articles
References and Further Reading
American Kennel Club (AKC)
Sutter NB and Ostrander EA. 2004. Dog Star Rising: The Canine Genetic System, Nature Reviews Genetics. Ackermann L 2011. The Genetic Connection; a Guide to Health Problems in Purebred Dogs, Second Edition. Howell TJ, King T, and Bennett PC. 2015. Puppy Parties and Beyond: the role of early age socialization practices on adult dog behavior, Veterinary Medicine: Research and Reports