The Blue Lacy Dog is the Texas state dog. Also known as the Texas Lacy this is a working farm dog not officially recognized by many kennel clubs.
Blue Lacys are active and intelligent, medium sized dogs with a short fur and healthy athletic bodies.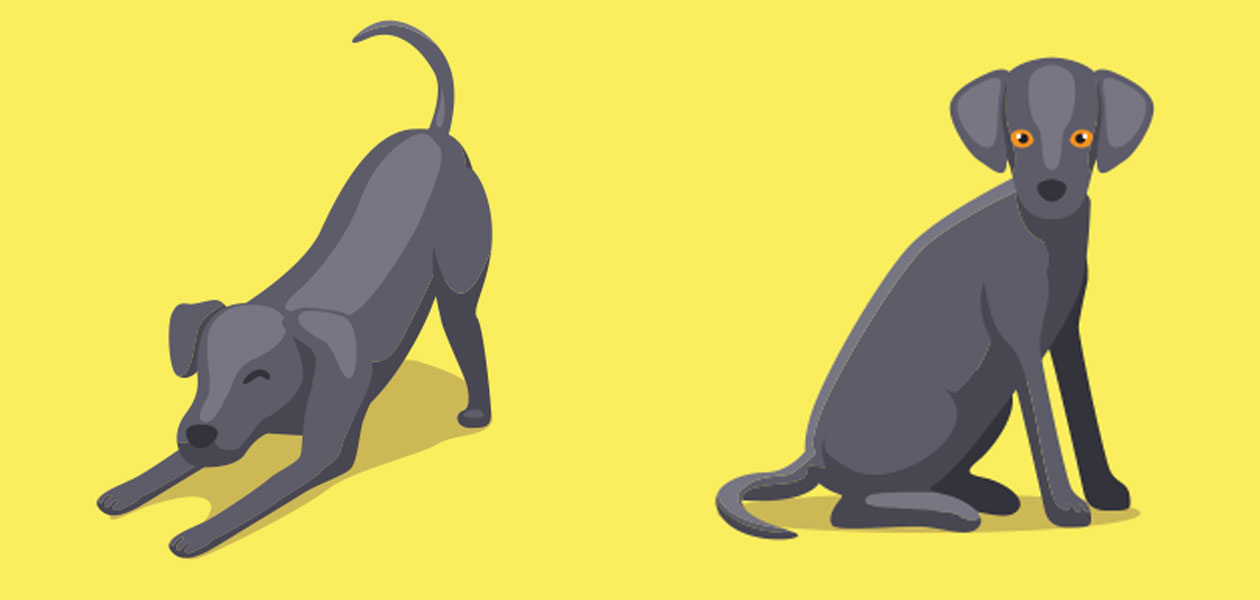 Blue Lacy colors
Although this is a blue dog breed with bluish grey fur, the Texas Blue Lacy can occasionally can be found with a red or tri-color coat.
The Red Lacy dog is even more rare than the blue hair dog. And you are more likely to find Blue Lacy puppies for sale than the red or tri-color variety.
Let's explore more about this lesser known dog.
What's In This Guide
Blue Lacy FAQs
Here are our readers' most popular and frequently asked questions about the Blue Lacy dog.
Click above to jump straight to the answers. But first, let's take a brief glance at the Blue Lacy.
Blue Lacy: Breed At A Glance
Popularity: Low outside Texas!
Purpose: Working dog
Weight: 30 to 50 pounds
Temperament: intelligent, hard-working, and alert
If you haven't heard much about this breed before, you're not alone. Here's what you'll learn about the Lacy dog in this guide.
Blue Lacy Dog Breed Review: Contents
First off, let's take a look at where this dog comes from.
History and Original Purpose
The Blue Lacy dog was originally bred by the Lacy family in 1858. Exactly how the breed was developed still remains a bit of a mystery according to many sources.
The Lacy brothers crossed coyote mixes with various hound breeds to create the Lacy dog. Some versions of the history say a wolf was used rather than a coyote.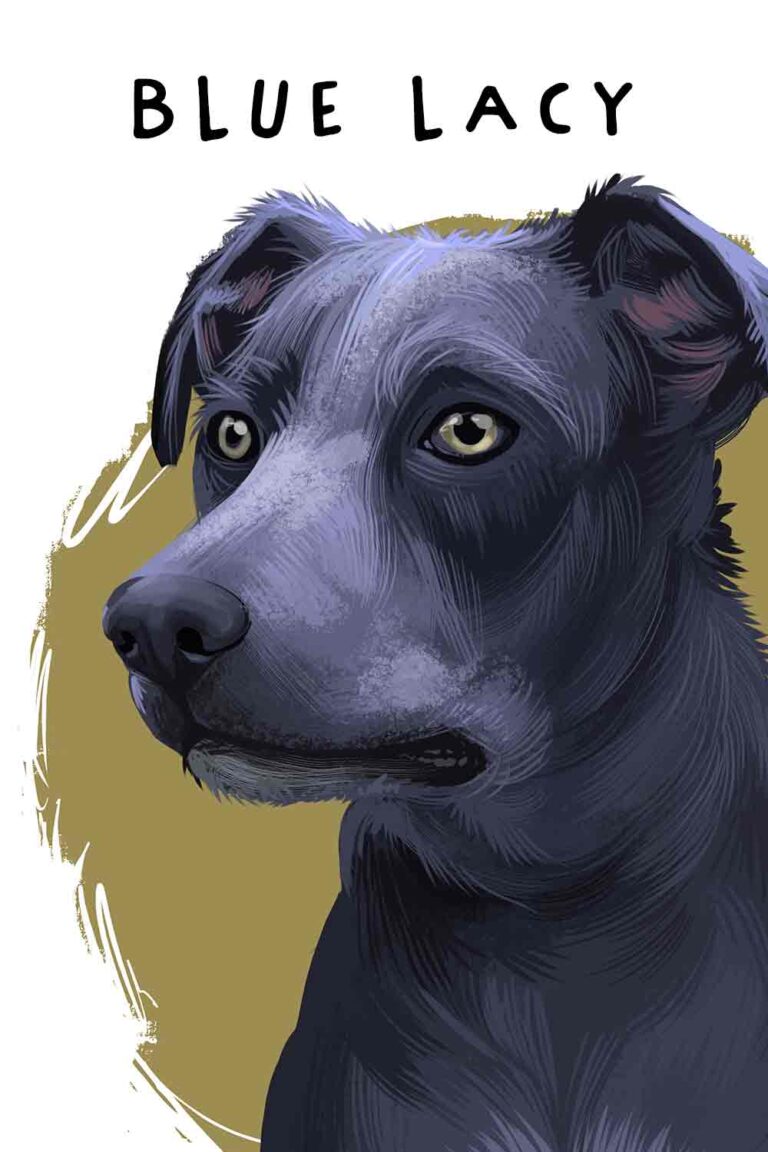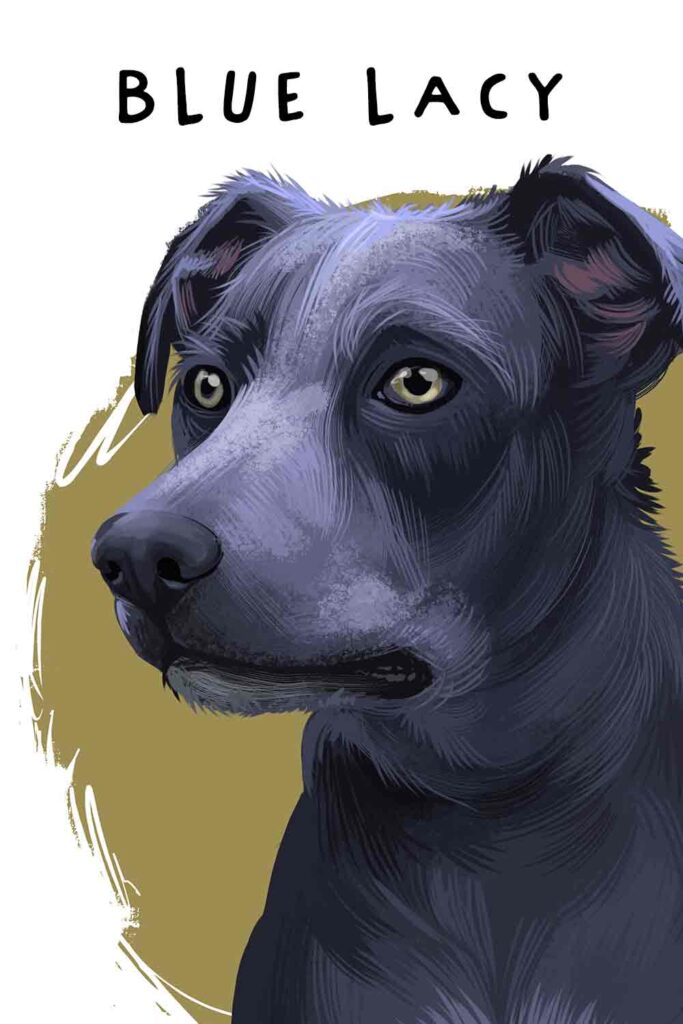 It was originally used to herd and round up wild hogs for slaughter.
The Blue Lacy was officially recognized by the Animal Research Foundation, and its breed standard can be found on the National Lacy Dog website.
Blue Lacy dogs are still used as multipurpose ranch dogs today. But, they aren't very popular outside their native Texas.
Fun Facts About Blue Lacy Dogs
Although one of the main jobs given to Blue Lacy dogs was hog herding, the breed is truly multi-purpose.
Here are some of the many responsibilities they have as ranch dogs:
Hog hunting and baying
Herding cattle and livestock
Blood trailing wounded game
Running trap lines
Treeing
Retrieving
Search and rescue.
This breed really is the perfect working farm dog.
Lacy Dog Appearance
These dogs generally grow to between 17 and 22 inches. As adults, they will weigh between 30 and 50 pounds. Males are often bigger than females.
Generally, these dogs have a strong, athletic appearance. But they look proportionate rather than stocky.
Blue Lacys have folded over, triangular ears, and webbed toes.
They have a short, dense coat that is accepted in blue, red, and tri-color. We will look at shedding and grooming a little later on in this guide.
For now, what is the Blue Lacy dog temperament like?
Blue Lacy Dog Temperament
These dogs were bred to be working dogs. And, even today, their temperament reflects this.
Blue Lacy dogs are intelligent, alert, and hard-working. They are happiest when they have a job to do.
This breed has a lot of energy, and needs plenty of space to run and work. They do not suit small apartment homes.
Intelligent dogs like this need plenty of mental and physical stimulation. If they do not get enough, they may express destructive behaviors.
Although these dogs can form strong bonds with their owners, they are likely to be territorial. So, socialize your puppy well from the time you bring it home.
Socialization will help to reduce the risk that your Blue Lacy is aggressive toward strangers and unfamiliar dogs.
Is the Blue Lacy Good with Cats?
If raised together, a Lacy likely won't have any problems with cats.
However, if it has not been socialized to cats, you may have issues. Socialize your Texas Lacy well to ensure that your dog doesn't display aggression to any other animals you're planning on keeping as pets.
Because of herding instincts and a high prey drive, this dog may be best suited to homes with no other small pets.
Training and Exercising your Blue Lacy Dog
Blue Lacy dogs are intelligent, so will take really well to training. However, they can be pretty independent and strong-willed.
This isn't the best dog for first-time owners.
Consistent, positive reward training is the best way to build a strong bond with your Blue Lacy.
These dogs also need a lot of exercise. They do best with an opportunity to run every day. Their webbed paws also make them great swimmers.
Without enough exercise, a Blue Lacy dog can become bored, stressed, and depressed.
So don't take on this breed unless you can provide enough time for exercise and training every day.
Blue Lacy Health and Care
The Blue Lacy dog was bred to be a working dog rather than for any particular appearance. This means it's actually a very healthy breed.
Breeders have worked hard to eliminate any potential defects. However, there are still a few problems that owners should be aware of.
Dogs with blue coats like the Blue Lacy dog are prone to color dilution alopecia. This can lead to patches of baldness, thin hair, or flaky, itchy skin.
You should make sure that you are feeding your pup with a high quality dog food, and taking them for regular veterinary check ups to ensure they can live a long, healthy life.
Shedding and Grooming
Sadly, no dog breed is hypoallergenic. Dog allergies are caused by allergens found in your dog's fur, skin cells, and even their saliva.
However, Blue Lacy dogs are a low shedding breed. So, you won't need to spend a lot of time grooming and cleaning up their fur.
The best way to see if a dog triggers your allergies is to spend some time with them before committing to bringing them home.
Do Blue Lacy Dogs Make Good Family Pets?
Blue Lacy dogs can make great, healthy family pets for the right home. If you are looking for an intelligent, all-round working dog, this is a great choice.
However, they only suit families that can give them the mental and physical stimulation they need.
These dogs need hours of exercise every day, otherwise they can become bored and depressed.
They can also be territorial, so need a lot of training and socialization.
If you're looking for a dog to curl up on the sofa with and cuddle all day, this isn't the right dog for you.
Rescuing a Blue Lacy Dog
The Blue Lacy Dog isn't a hugely popular breed, especially outside Texas. So, you might struggle to find one available in a rescue center, let alone any breed specific centers.
Rescue dogs are often cheaper than buying a puppy. But, you will need to make sure they are suitable for your home.
Some dogs are returned because of behavioral problems. So, check with the rescue center staff before committing.
Although there aren't many breed-specific rescue centers for the Blue Lacy dog, you can check in general dog rescue centers.
Especially in Texas, where the breed is more common.
Finding a Blue Lacy Puppy
If you live in Texas, you're more likely to find a breeder for Blue Lacy puppies. But elsewhere, you might have more trouble.
No matter where you are, it's important to choose a reputable breeder.
Breeding for health is really important. Especially in a dog like this with relatively few health problems!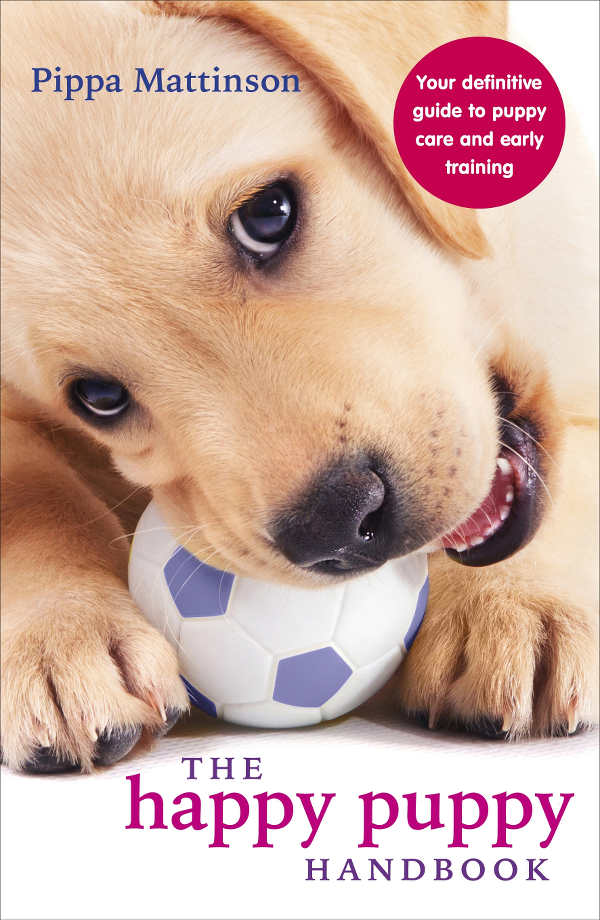 Ask breeders lots of questions and expect them to ask plenty back. Good breeders will be keen for their dogs to go to the right homes.
Make sure to always avoid puppy mills and pet stores. They often breed puppies that are less healthy just to make a quick profit. If a breeder cannot show you health tests, choose another breeder.
You can take a look at our puppy search guide here.
Raising a Blue Lacy Puppy
Raising any puppy is a big responsibility. But even more so when it's an energetic, sensitive breed like this.
You need to dedicate plenty of time to positive reward training. Any harsh methods can cause a Blue Lacy to shut off from you.
You can read about puppy care in our other guides. Or, take a look at our online Puppy Parenting course for more help.
A major part of raising a puppy is choosing the right products.
Blue Lacy Dog Products and Accessories
Even though Blue Lacy dogs are working dogs, there's still a ton of great puppy products and accessories available. Here are some we recommend.
Pros And Cons of Getting A Blue Lacy Dog
We've taken in a lot of information about this breed here. So, let's go over the main points!
Cons
This breed won't be happy just sat cuddling you on the sofa all day
They have a strong prey drive and herding instinct, so may not suit homes with other pets
Need several hours of vigorous exercise a day as adults
Hard to find outside of Texas
Pros
Very few health problems
Respond well to positive reinforcement training
Well suited to a variety of roles on a farm or ranch
Low shedding breed
Similar Breeds
If you're not sure that this well rounded dog is for you, or you're struggling to find a reputable breeder, here are some other breeds to check out.
Blue Lacy Dog Summary
What do you think of the Blue Lacy dog breed? We would love to hear about your experiences if you own this breed.
What's your favorite thing about them?
References And Resources
Gough, A. (et al), 'Breed Predispositions to Disease In Dogs and Cats', Wiley Blackwell (2018)
Strain, G. 'Deafness Prevalence and Pigmentation and Gender Associations in Dog Breeds at Risk', The Veterinary Journal (2004)
Ebeling, J. 'Texas Blue Lacy State's "Official Dog"', Ranch and Rural Living (2005)
Harrell, S. 'Lacy Dog – A True Texas Tradition', Ranch and Rural Living (2011)
Lacy-Gibbs, H. 'The Saga of the Original Lacy Hog Dog', National Lacy Dog Association (2000)
'The Official Lacy Dog Standard', National Lacy Dog Association
Jae-Hoon, K. (et al), 'Color-Dilution Alopecia in Dogs', Journal of Veterinary Science (2005)