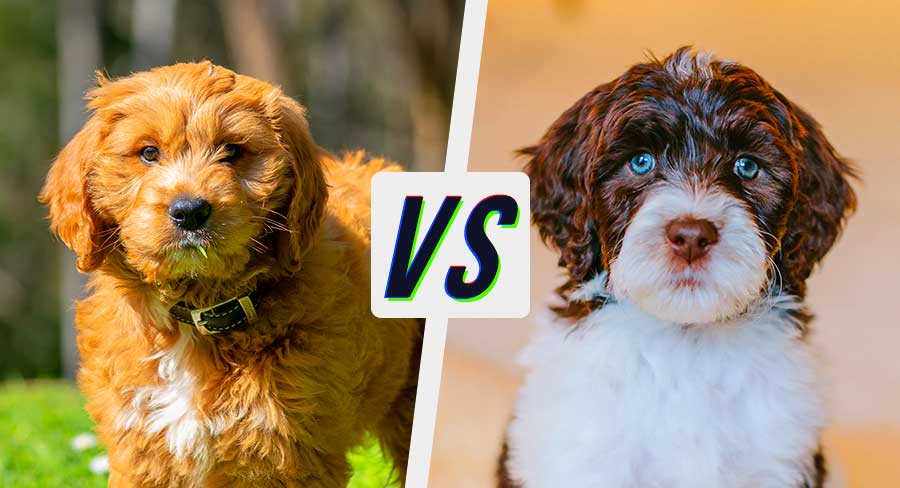 Bernedoodle vs Goldendoodle – which dog is right for you? Doodle hybrids have skyrocketed in popularity. Today there are countless varieties to choose from. One very popular mix that has recently surfaced is the Bernedoodle. But how does this mixed breed compare to other classic Doodles like the Goldendoodle? Today, we're helping answer that question.
The Bernedoodle mix is often much larger than the Goldendoodle. But, both dogs have high energy needs, and can vary a lot in coat type and color! Especially if you choose a first generation mix. Since the Goldendoodle is more popular, it may be easier to find Goldendoodle puppies. But, it's important to learn everything you can if you're choosing between these two modern dogs. Join us as we talk more about the Bernedoodle vs Goldendoodle and decide which dog is right for you.
Bernedoodle vs Goldendoodle Menu
Click the links above to jump straight to the section that interests you. Or, keep reading for all the info!
What is a Bernedoodle?
The Bernedoodle is a cross between the purebred Standard Poodle and the purebred Bernese Mountain Dog. Some people may spell the name as "Bernadoodles", but it's the same mix! Devoted, intelligent, gentle, and sweet are common Bernedoodle traits. These dogs are believed to have come after their Goldendoodle counterpart. In fact, some believe the first deliberate crossbreeding of a Bernese Mountain Dog and a Poodle happened as recently as 2003.
On his own, the purebred Bernese Mountain Dog is a working dog first from Switzerland. There, he was used mainly as a droving dog, herding dog, farming dog and watchdog. The Poodle, on the other hand, is a German-bred dog famous for his intelligence and adaptable nature. When combined, the Bernese Mountain Dog Poodle mix makes a beautiful, friendly, and intelligent companion.
What is a Goldendoodle?
The Goldendoodle is credited with being one of the first deliberate doodle hybrids. It came around shortly after the Labradoodle and Cockapoo rose to fame. Bred mainly for companionship, the Goldendoodle is a cross between two highly intelligent and popular purebreds – the Standard Poodle and the Golden Retriever. Other popular names for this mix include the Groodle or Golden Poo.
Golden Retrievers are Scottish dogs first bred to retrieve game for their masters. Their dashing good looks and winning temperaments have made them some of the most popular family companions world-wide. Mixing the Golden Retriever with the Poodle combines remarkable traits like intelligence, beauty and athleticism. And later generation mixes also have the potential of being low shedding, which is a highly sought-after trait in most Doodle mixes.
Bernedoodle vs Goldendoodle Temperament
Both the Bernedoodle and Goldendoodle are friendly dogs. They tend to get along well with children and other pets. The Groodle temperament is a bit more social than the Bernedoodle's. He knows no stranger. This trait makes him a lousy guard dog. But it's a great trait for those who enjoy having company over often.
The Bernedoodle gets on well with most people too. Though, he is more likely to be wary of strangers and will likely make a better watchdog and protector for your home. Although both mixes are often friendly, it's important to socialize them well as puppies. This will encourage the best possible temperament, and create a confident, happy dog!
Bernedoodle vs Goldendoodle Size and Appearance
Comparing the Bernedoodle and Goldendoodle can be a tricky task, as both dogs are similar in several ways. But, one of their main differences is size and appearance. The full grown Bernedoodle is the larger of the two hybrids. Bernedoodle size often stands between 20 and 25 inches, weighing between 55 and 75 pounds. But, these mixes can easily reach as much as 100 lbs. For a smaller version, many consider the mini Bernedoodle. A full grown mini Bernedoodle will be much smaller than the standard mix.
The Goldendoodle, on the other hand, tends to stand between18 and 23 inches and weighs roughly 30 to 60 pounds. Miniature Goldendoodles are also popular, using a Miniature or Toy Poodle parent. Sizes will vary from one dog to the next, and some first generation mixes may fall outside these ranges.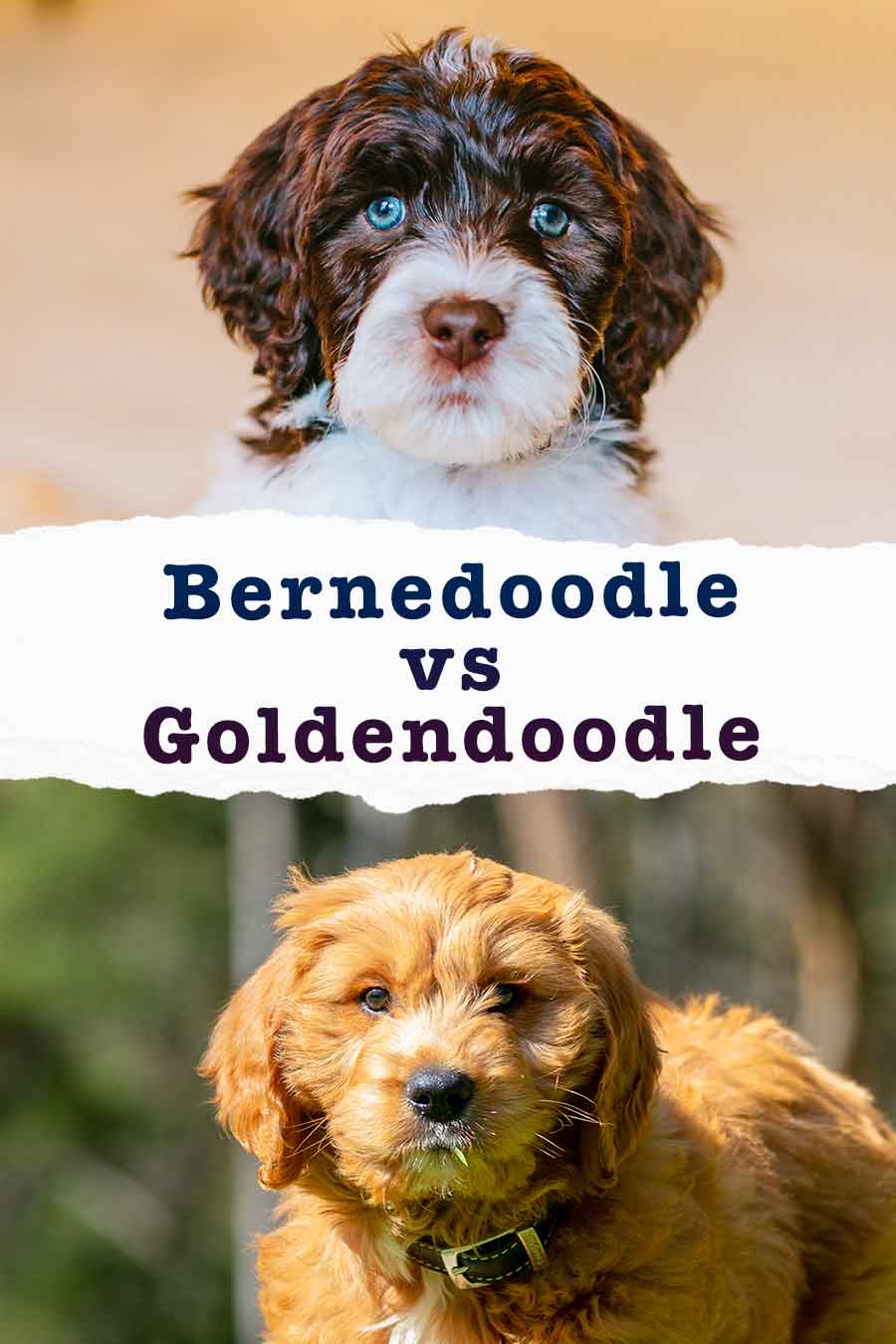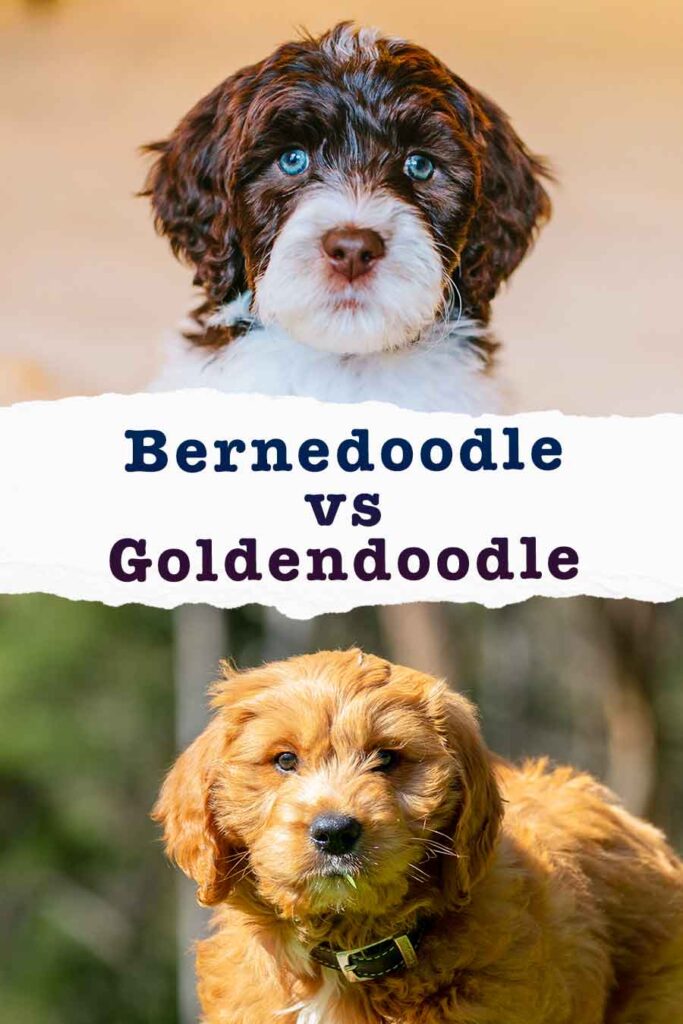 Coat Type and Color
Both breeds have Poodle parentage, which can mean their coats are less likely to shed or produce allergy inducing dander. Many people consider later generation crossbreeds to be hypoallergenic. There is no such thing as a truly hypoallergenic dog, but later generation puppies may shed less.
We should also point out that all crossbreed dogs have some unpredictability when it comes to their appearance. This means that your crossbreed dog could look more like one parent breed over the other instead of a perfect mix of both. Looking up pictures of Bernedoodle puppies or Goldendoodle puppies online can help you see the potential variety.
You can expect the Goldendoodle to have a longer, somewhat shaggier coat. The Goldendoodle is also more likely to be a solid color like gold or yellow. Shades like this are possible in the Bernedoodle thanks to the Poodle influence – for instance Bernedoodle apricot coloring is possible. But, tri color Doodles are more common for this mix. Both dogs have floppy ears, long tails, and both dogs are large breeds.
Bernedoodle vs Goldendoodle Exercise and Training
When it comes to training and exercising the Bernedoodle and Goldendoodle mixes, their needs are similar. Both dogs need at least an hour or so of exercise each day to ensure they are happy and healthy. They will do best with active owners and families who have time to devote to both physical and mental stimulation. And both hybrids will benefit from a large, securely fenced backyard where they can play.
Bernedoodle dogs enjoy activities that require them to use their strength. This could include pulling carts or wagons. The Goldendoodle, on the other hand, is more likely to enjoy water and swimming as an activity. Both dogs will enjoy hiking, camping, and visiting the dog park so long as they are properly socialized.
Bernedoodle vs Goldendoodle Health and Lifespan
Like all dogs, the Bernedoodle and Goldendoodle mixes can both struggle with genetic health issues. The Bernedoodle is more likely to struggle with common health issues including hip and elbow dysplasia, skin issues, eye issues, hot spots, and allergies. The Goldendoodle is more prone to suffering from health issues such as hip dysplasia, sebaceous adenitis, cancer, cataracts, and Addison's disease.
So how does the Bernedoodle lifespan compare to the Goldendoodle lifespan? On average, the Goldendoodle lives longest with an average of 10 to 15 years. In contrast, the Bernedoodle lives around 9 to 14 years on average. But, you may find that some pups exceed this prediction!
Bernedoodle vs Goldendoodle Grooming
The grooming needs for a Bernedoodle and Goldendoodle are relatively similar. These dogs are easiest to manage when their coats are kept trimmed in a puppy cut. Their coats can both grow out longer, but this will require more grooming.
The longer their coats grow the more likely they are to develop tangles and mats. It will be important to brush and bathe both Doodles on a routine basis. Coat type can also vary from straight and thick, to wavy, to very curly. So, grooming will vary depending on this trait. No matter what fur type, both Goldendoodles and Bernedoodles need to have their teeth brushed. Their nails should also be trimmed every few weeks.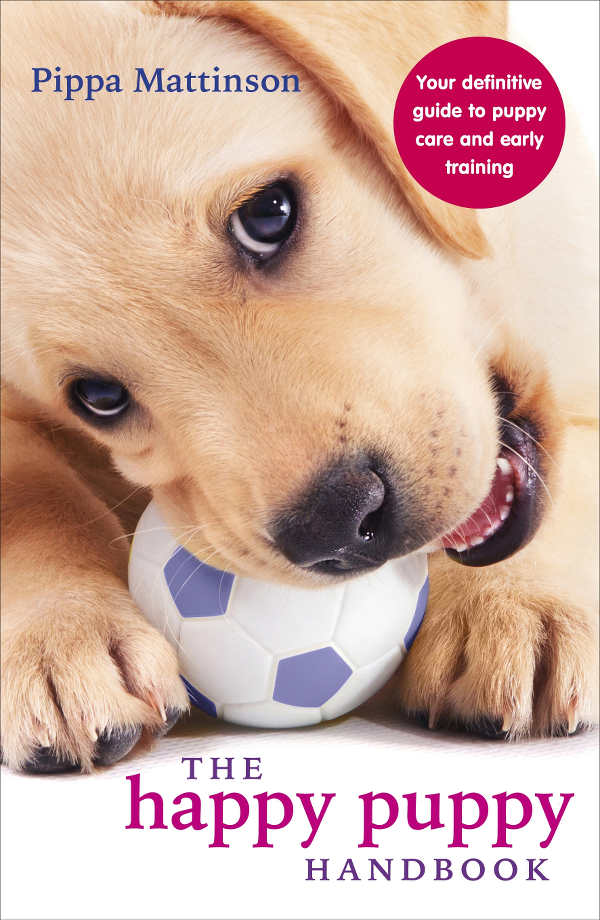 Bernedoodle vs Goldendoodle Overall Cost
If you are looking to get one of these popular mixes through a breeder, prepare to spend a pretty penny. Both dogs are costly when going through a breeder. The Goldendoodle average price is at least $1,000. While the Bernedoodle average price starts at $2,000. Mini Bernedoodle price is similar, but can be much higher!
While these costs are high, it's important not to try and cut corners or go through unreliable sources. Avoid backyard breeders, puppy mills, or those who are not certified to sell these puppies. You also have the option of looking into shelters. The average cost of rescuing a Bernedoodle or a Goldendoodle is between $150 to $500.
Bernedoodle vs Goldendoodle – Which Dog is Right for You?
Choosing between these dogs can be tough. But the good news is that both hybrids have wonderful qualities and will make a great companion for the right owner or family. Remember, both dogs do well with children and other pets. But, the Bernedoodle is more likely to be a bit guarded while the Goldendoodle is more outgoing. Bernedoodle dogs are slightly larger than the Goldendoodle, and he may have a shorter lifespan.
Both dogs suffer from similar health issues, and have similar exercise needs. Their grooming requirements will vary depending on the traits they inherit. The Bernese Mountain Dog Poodle mix price tends to be higher than the Goldendoodle's. But, you can always go via a rescue center if you are struggling with the initial cost. So, which dog is the dog of your dreams? Tell us below!
Readers Also Liked
References and Resources