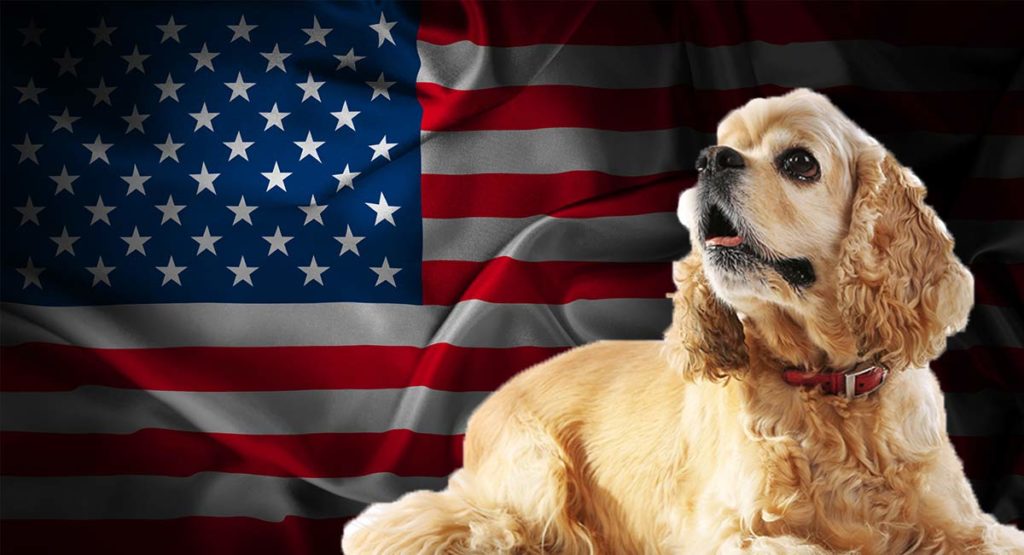 American Dog Breeds – 10 of the Best from The USA
There's a reason we refer to our canine colleagues as "man's best friend."
Dogs are the oldest domesticated animal in human history.
In fact, their domesticated presence has been proven to exist throughout ancient times in human civilizations all over the world.
Dogs and humans have been enjoying a mutually beneficial relationship since our earliest days on each continent.
Today we're going to talk about American dog breeds in particular.
Through time, ancient American dogs have morphed into the modern American dogs we know and love today.
Their bloodlines are as rich and fascinating as America itself.
American Dog Breeds
Here is our list of American dog breeds, including some of the most popular and well loved breeds.
American Cocker Spaniel
Alaskan Malamute
Plott Hound
American Water Spaniel
Chinook
Boston Terrier
American Eskimo
Catahoula Cur
Pitbull
Redbone Coonhound
Let's find out about some of our favorite All-American dog breeds today.
# 1: The American Cocker Spaniel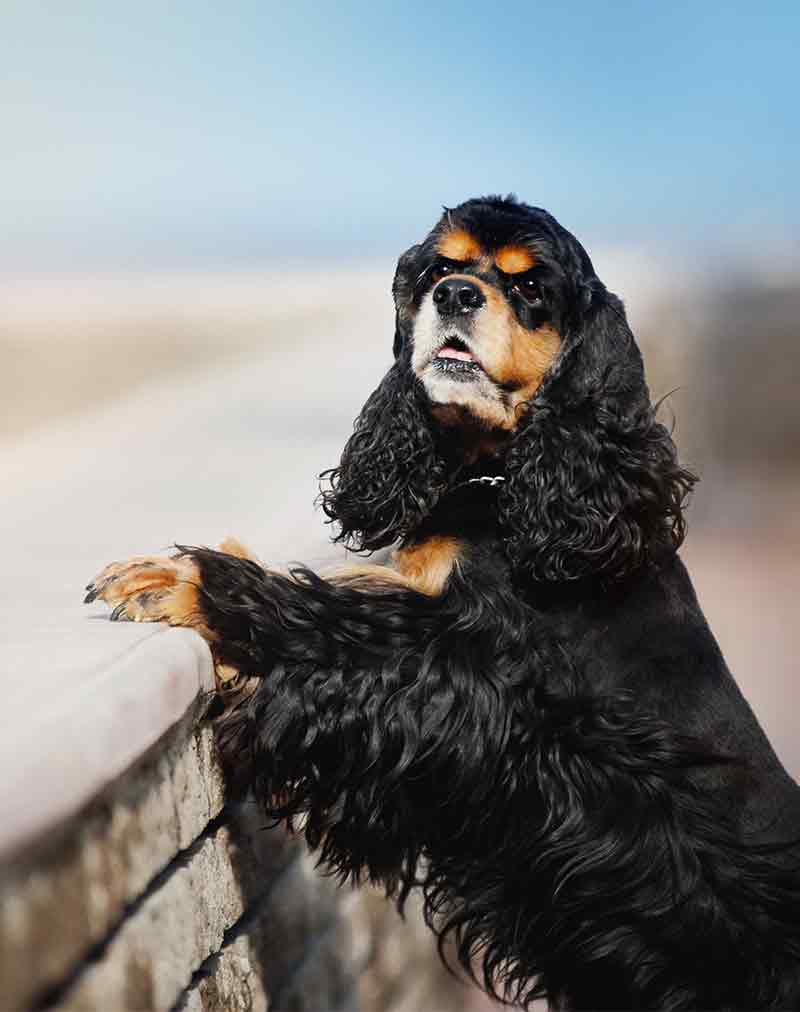 Her Roots
The first Cocker Spaniel to be documented in America was a dog named Captain, who joined his human family on the Mayflower in 1620.
However, it wasn't until 1778 that the first Cocker Spaniel was registered with the American Kennel Club (AKC).
The dog was mostly bred for hunting. But it wasn't long before the breed became noticed for her sweet nature and friendly disposition. This pegged her as a favorite amongst dog lovers very early on.
In fact, the oldest breed club for dogs in the United States is the American Cocker Spaniel Club, created in 1881.
Known today simply as the Cocker Spaniel, the American Cocker Spaniel is different from the English Cocker Spaniel, mostly in size and body shape.
However, up until the 1920s, the English Cocker Spaniel and the American Cocker Spaniel were one and the same.
The Cocker Spaniel Today
The American Cocker Spaniel is one of America's most cherished dog breeds, coming in at number 29 out of 194 on the American Kennel Club's list of most popular dog breeds in the US.
She makes an excellent family pet and is known for her gentle nature and love for her family.
Famous for those large, sweet eyes and her long, wavy ears, this dog has found fame throughout American history.
She was noted especially for her starring role in one of Disney's most beloved classics, The Lady and the Tramp.
Her Qualities
The Cocker Spaniel is the smallest of the sporting type breeds, weighing up to 30 pounds and standing 15.5 inches at her tallest.
Bred to be easily transportable in her hunting days, this American dog breed has a compact, sturdy body and a stubby tail.
She is an intelligent dog who is eager to please, with a gentle nature and happy disposition.
She does excellently with children and is renowned for being easily trainable, her playful personality, and her joy for life.
Health Issues and Lifespan
The American Cocker Spaniel has a lifespan of 12-15 years.
The breed does have some hereditary issues to be aware of, such as cardiomyopathy, ectropion, urinary stones, otitis externa, canine hip dysplasia, hypothyroidism, seborrhea, phosphofructokinase deficiency, entropion, liver disease, allergies, and congestive heart failure.
# 2: The Alaskan Malamute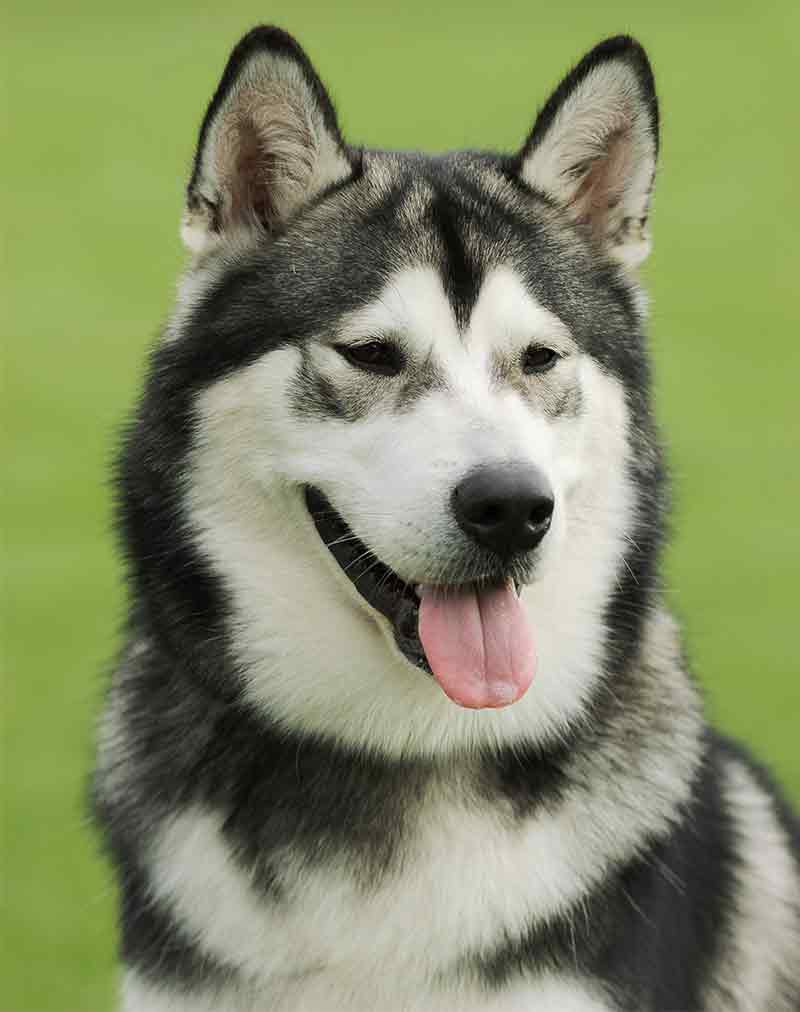 His Early Years
This large American dog breed was bred for his impressive strength, giving him the ability to haul heavy cargo over rough, cold terrain. He has also found use throughout history as a sled dog.
This is one of the earliest breeds of dog that actually can be followed to today's modern breeds, giving him an ancient bloodline that dates back to eastern Asia.
Most closely related to other famous arctic breeds such the Siberian Husky, the Alaskan Malamute is believed to have been roaming American terrain for as much as 12,000 years!
Along with the Alaskan Husky and the Siberian Husky, the Malamute is likely a descendant of the ancient Chukotka sled dogs, who originated in Siberia.
Like the Chukotka sled dogs before him, the Alaskan Malamute played a vital role in human survival.
He worked alongside his human counterparts as a hunter, guard dog, sled dog, and companion.
The Malamute Today
Today, the Alaskan Malamute still finds use as a sled dog. Because of his incredible size and strength, he is also still used for hauling heavy cargo over short distances.
Ranking at 59 out of 194 on the AKC's list of most popular dog breeds, the Alaskan Malamute's fondness for people makes him a wonderful family dog. His brave and vigilant nature makes him a great watch dog as well.
Qualities and Temperament
This member of the large American dog breeds weighs up to 85 pounds and stands up to 25 inches tall.
He has a thick, waterproof coat that sheds excessively and will need consistent brushing to keep loose hair at bay.
But don't let that deter you! This is a very well-behaved dog who is easy to train, quick to learn, and fun to be around.
Despite his large size, the Alaskan Malamute is graceful and agile, making him a wonderful indoor dog.
He is loved for his friendly nature and playful personality, and he is a faithful companion who needs plenty of exercise to stay fit.
He does very well with children, but we always recommend early socialization and training, especially with larger breeds. This will help ensure your Alaskan Malamute is a happy and well-adjusted family pet.
Owners be warned, however: this dog is an escape artist who can maneuver his way through fences, gates, and crates.
He also loves to dig.
Health Issues and Lifespan
The Alaskan Malamute has a lifespan of 10-12 years.
He can be prone to hip dysplasia, chondrodysplasia, and polyneuropathy.
As his coat is so thick and waterproof, prospective owners should be mindful that this American breed cannot tolerate heat well and could be prone to heatstroke in warm conditions.
# 3: The Plott Hound
His Past
If you have never heard of the Plott Hound, you're not alone. In fact, this American dog breed is one of the least known breeds in the United States!
You would think being the state dog of North Carolina would give this pup a paw up, but that's not the case.
He's largely unknown, despite his unique physical appearance and remarkable history.
The Plott Hound is of the coonhound family, the only one who was not derived from the foxhound type.
He originated in North Carolina over 200 years ago as a pack-hunting dog, primarily used for hunting wild boar.
Named after the Plott family and the Plott Balsams mountain range in North Carolina, this dog is the descendant of a pack of hunting hounds Mr. George Plott brought with him when he migrated to America in the late 18th century.
The Plott Hound Today
This member of North American dog breeds is still mostly used for hunting. He also does well in canine sports and has proven himself in tracking.
Although this is a rather friendly breed who does well with children and shows lots of affection and loyalty to his family, he does not do well in apartments or city living.
He is a country dog who is best suited for roaming large acres of land.
Personality and Appearance
Short-haired and floppy-eared, this medium American dog breed can weigh up to 60 pounds and stand as tall as 25 inches.
His coat has unique, marbled markings that come in several color varieties, though his classic hound-like face leaves no question as to what type he belongs to.
The Plott Hound is a clever breed, confident by nature and very intelligent. He loves his family and is faithful, easily trainable, and rather brave.
This breed requires lots of exercise and plenty of outdoor play to remain happy and healthy.
As a pack dog, the Plott Hound does well with dogs he is raised with, but may not be as friendly to strange dogs.
He should also be supervised around other household pets as he has a high prey drive. Early socialization and training is key to ensuring a safe and healthy relationship with his family.
Potential Health Issues and Lifespan
The Plott Hound will live anywhere from 12-14 years.
He can be prone to hip dysplasia, elbow dysplasia, hypothyroidism, Von Willebrand's disease, and gastric torsion (bloat).
# 4: The Chinook
His History
The Chinook is a very rare American dog breed who was originally developed in New Hampshire in the 20th century by Arthur Treadwell Waldon.
It is believed that the Chinook stems from one particular ancestor, the breed's namesake, who was a large male crossbreed named Chinook. This crossbreed is said to be the offspring of a husky and a large mastiff.
The original Chinook was born around 1917 and was a prized dog of Waldon's.
He produced several descendants, and Waldon carefully chose among these in order to build up his stock.
It is stated that these dogs, used primarily for hunting and as sled dogs, were particularly muscular and large.
The breeding practices of the Chinook were so tightly controlled by Waldon's breeders that the breed virtually went extinct during the 1940s.
In fact, by 1981, it is recorded that only eleven Chinooks who met eligible breeding standards existed.
Amazingly, a group of breeders in Maine, Ohio, and California were able to work diligently to save the breed and bring it back from extinction.
The Chinook Today
The present-day Chinook currently holds the title of New Hampshire's official state dog.
Though he is still used as a sled-dog and for hunting, he is primarily an adored family pet known for his intelligence and trainability.
He makes a wonderful working dog who partakes in search-and-rescue missions and excels in canine sports such as sledding and carting.
Unfortunately, despite the hard work of breeders bringing this dog back from near extinction, the Chinook is still considered to be one of the rarest dog breeds on the AKC registry to date.
Personality and Appearance
This rare American dog breed is intelligent, patient, and very loyal to his family members. Tawny-colored, he is a large dog who weighs up to 90 pounds and stands nearly 26 inches tall.
Despite his muscular frame and powerful strength, he is known for his affinity for children.
He needs consistent exercise, as he is very busy and enjoys being active.
Health Issues and Lifespan
The breed has a lifespan of 12-15 years.
He is most predisposed to cataracts, persistent pupillary membranes, and retinal dysplasia, chronic allergies, hypothyroidism, heart disease, bloat, bone cancer, and colitis.
# 5: American Water Spaniel
Origins
Hailing from regions along the Fox River during the early 19th century, the American Water Spaniel was created to assist hunters as much on land as in the water.
He is excellent at hunting and bringing in all kinds of game, whether they are fish, ducks, birds, or anything else. This member of American small dog breeds is equipped to do it all!
Originally known as the American Brown Spaniel, he is renowned for his ability to withstand the frigid temperatures of climate and water.
The American Water Spaniel became the official dog of Wisconsin in 1985.
The Water Spaniel Today
The American Water Spaniel is an active breed who makes a wonderful family pet when properly trained.
He is well equipped to continue with his water hunting, with his webbed paws and waterproof coat.
But he is also a popular family pet and does very well with children.
However, he can be aloof with strangers and has an independent streak.
This small American dog breed is a compact, intelligent dog who needs exercise, along with consistent training and attention.
Though he is very adaptable to apartment life and has an even temperament, if left without proper training or attention, this dog is likely to become very vocal and even destructive.
Personality and Appearance
The American Water Spaniel can weigh up to 45 pounds and stands about 18 inches tall. He has a dark brown coat that is curly, thick, and waterproof.
This happy dog is described as charming and sweet, with long, floppy ears similar to those of the American Cocker Spaniel.
Keen on the outdoors, this athletic breed thoroughly enjoys hunting and swimming.
Health Issues and Lifespan
This breed can be predisposed to cataracts, progressive retinal atrophy, hypothyroidism, allergies, epilepsy, diabetes, glandular disorders, hip dysplasia, and elbow dysplasia.
He has a lifespan of 10-14 years.
# 6: The Boston Terrier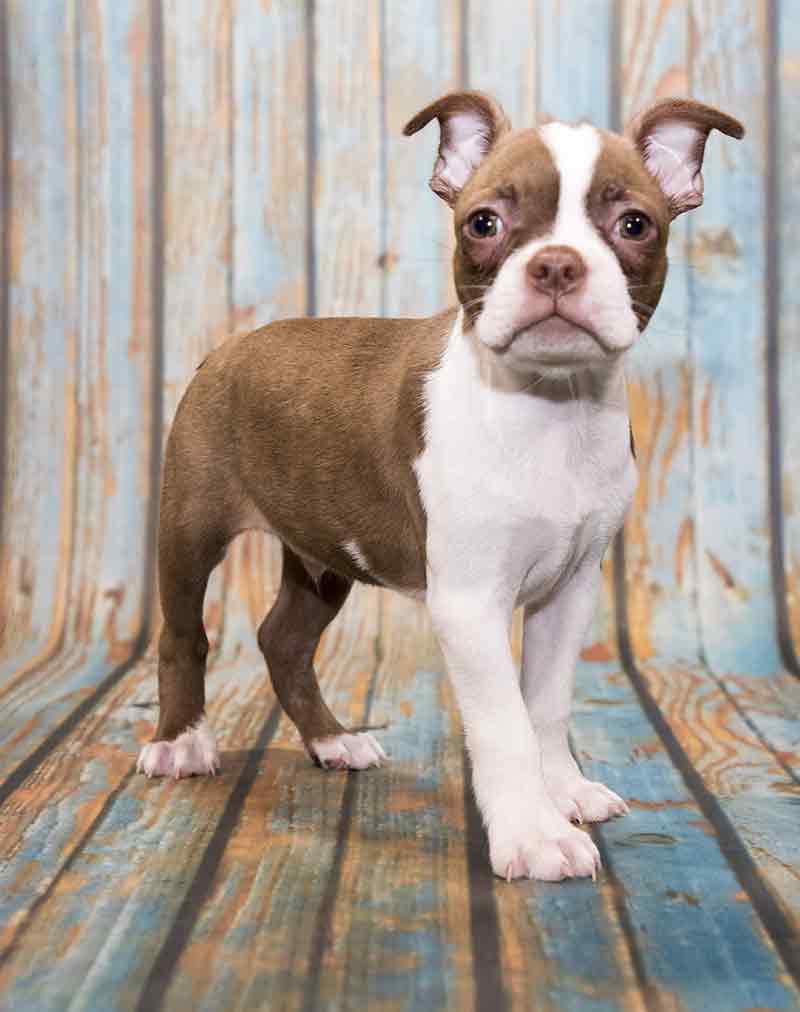 His Roots
Hailing from Boston, there was once a time when the early Boston Terrier weighed up to 44 pounds.
That's right! Originally, this breed was used for pit-fighting and rat hunting, but luckily the Boston Terrier's sociable and joyful nature made him a popular companion dog.
Eventually, the breed was bred down from the larger fighting size to the tinier Boston Terrier we know and love today.
Back in his early days, this small American dog breed's popular tuxedo coat was of little importance when it came to the breed's makeup. During the 20th century, however, the distinctive markings became a breed standard.
The tuxedo even landed him with the nickname "The Gentleman."
The Boston Terrier Today
Ranking in at 15 out of 192, the Boston Terrier is a very popular family dog who is adaptable, hilarious, and easy to train.
He is said to be smart as a whip and therefore does great in doggy sports such as obedience training, agility, and lure coursing. He also makes for a wonderful therapy dog.
Qualities and Appearance
Friendly, smart, and entertaining, this small American dog breed only weighs 12-25 pounds and stands 15-17 inches tall.
He is perhaps best known for his black and white (or sometimes brindle and white or dark brown and white) tuxedo jacket, his compact body, and his huge, round eyes.
These are alert dogs who are easy to care for and have a mischievous streak that makes them fun and amusing for families.
He is also a great city dog, as his compact size means he does well in smaller homes and apartments.
Health Issues and Lifespan
The Boston Terrier lives anywhere from 11-13 years.
The Boston Terrier's flat face makes him more predisposed to brachycephalic syndrome, a condition that causes breathing problems.
They can also be prone to patellar luxation, hemivertebrae, sensorineural deafness, cataracts, corneal ulcers, glaucoma, cherry eye, distichiasis, keratitis sicca, and entropion.
For female dogs who are used for breeding, puppies will almost always be delivered by Caesarian section due to the naturally large heads of the pups.
# 7: American Eskimo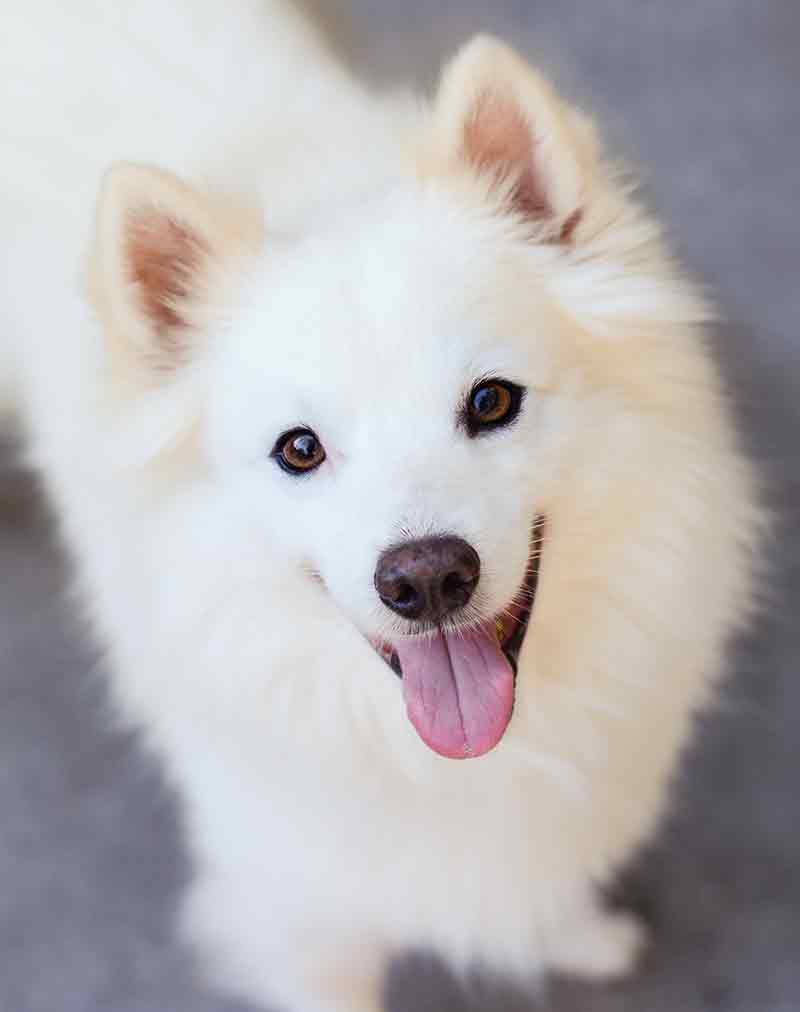 Origins
Hailing from both Germany and the United States, the American Eskimo was mainly used to protect her people and property.
In the 1930s, a famous American Eskimo named Stout's Pal Pierre walked a tightrope in Barnum and Bailey's Circus.
Nearly all members of this breed can trace their lineage back to the circus dogs who were bred and sold after the show.
The American Eskimo Today
Today, these dogs make great family pets and do well with children.
The American Eskimo is still famous for her ability to learn and do tricks, which is what made her such a fabulous performer in the circus.
Because of her ability to pick up tricks and perform on command, this American dog breed also does well competing in all kinds of dog sports and dog shows.
Appearance and Personality
Spirited and cheerful, the Eskie comes in toy, miniature, and standard sizes.
The toy weighs up to 10 pounds and stands 12 inches, while the mini weighs up to 20 pounds and stands up to 15 inches tall. The standard weighs up to 35 pounds and can be 19 inches tall.
This is a beautiful dog with a thick white coat and lion-like mane surrounding her chest and shoulders.
She is described by the American Kennel Club as the "total package of brains and beauty."
Due to her watchdog roots, the American Eskimo is known to be a rather vocal dog.
She will alert her family to the most suspicious of things, such as rogue trash bags blowing in the wind out front or that shady looking squirrel claiming residence in the backyard tree.
Health Issues and Lifespan
The American Eskimo has a lifespan of 13-15 years and is prone to hip dysplasia, progressive retinal atrophy, allergies, and obesity.
# 8: The Catahoula Cur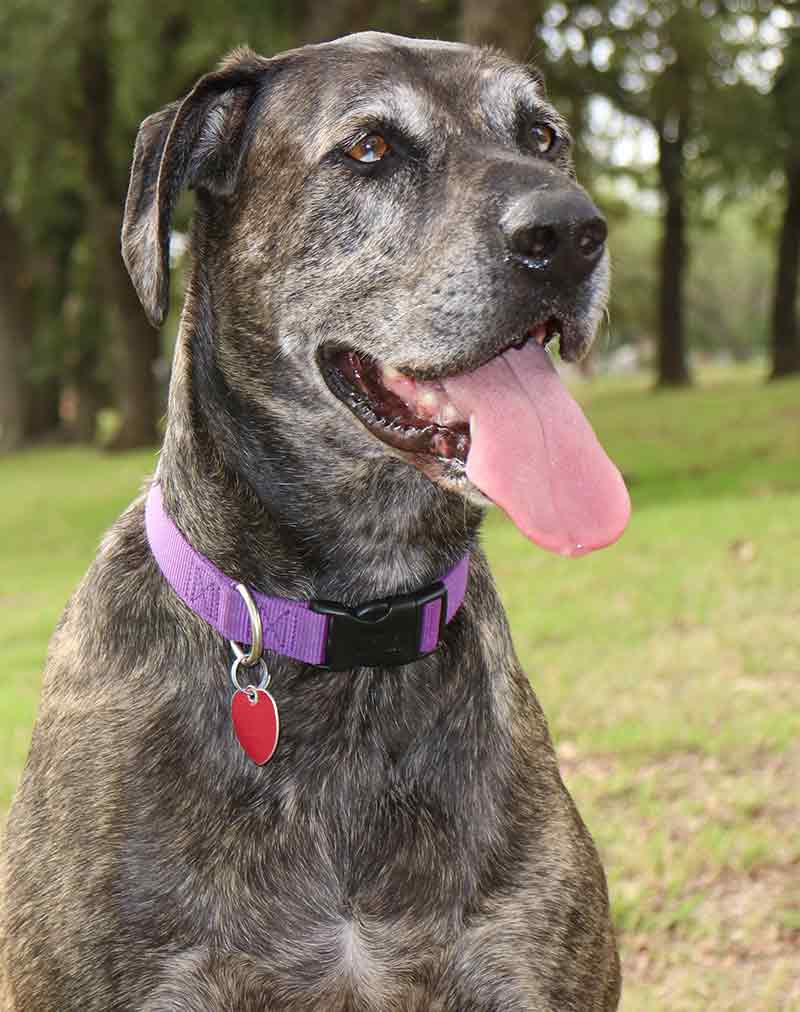 His Origin
Named after Catahoula Parish, Louisiana, this American dog breed was originally created to hunt wild boar.
Although his lineage is a bit murky, there are several fascinating theories worth looking into.
One such theory speculates that the Catahoula Cur is the result of Native Americans breeding their own dogs with molossers and greyhounds, which arrived in America during the 16th century.
Regardless of his origin, the Catahoula is a proud southern dog who holds fast to his claim as the state dog of Louisiana.
The Catahoula Today
The Catahoula Cur is remarkably skilled in the areas of herding and hunting, and he still finds use in these fields today. He also makes a wonderful family dog.
Though he can be pushy, this breed is not aggressive and does well with children. He will take them on as though they were his own pups, herding them around as if they were his responsibility to care for.
An ideal owner of this breed should have plenty of time to commit to the Catahoula Cur, as this dog requires a consistent amount of attention so as not to become bored or depressed.
Personality and Looks
Full of energy and rather curious, this clever American dog was bred for ability over appearance. For this reason, his modern-day looks can vary drastically.
He ranges in size from 40-112 pounds and stands as tall as 20-26 inches. He has a short coat that comes in a vast amount of colors as well.
Health Issues and Lifespan
The Catahoula Cur has a lifespan of 10-14 years.
He is most prone to deafness and hip dysplasia.
# 9: The American Pit Bull Terrier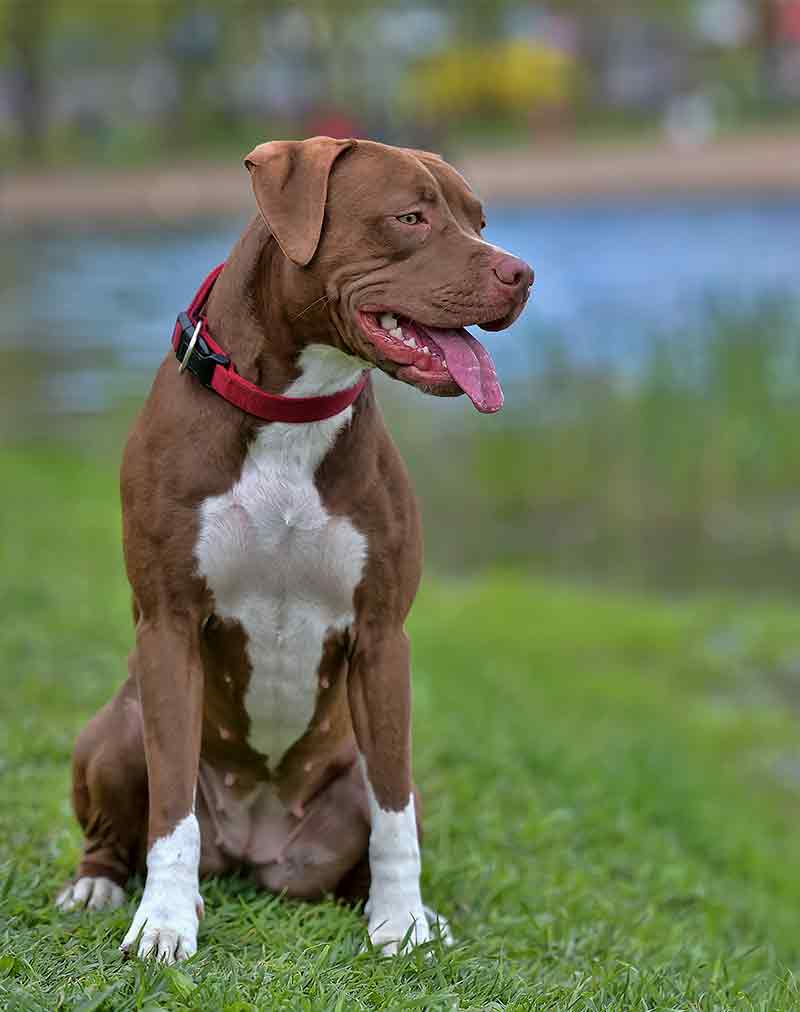 His Past
The Pit Bull Terrier has a colorful origin that can be traced not only to the United States but also to England, Scotland, and Ireland.
Fashioned by breeding Old English Terriers and Old English Bulldogs, the Pit Bull was made to be brave and powerful.
Unfortunately, Pit Bulls have been used primarily for blood sports such as bull and bear baiting. When the practice finally became banned in 1835 after animal welfare laws were put into place, proponents turned to pitting these dogs against other dogs.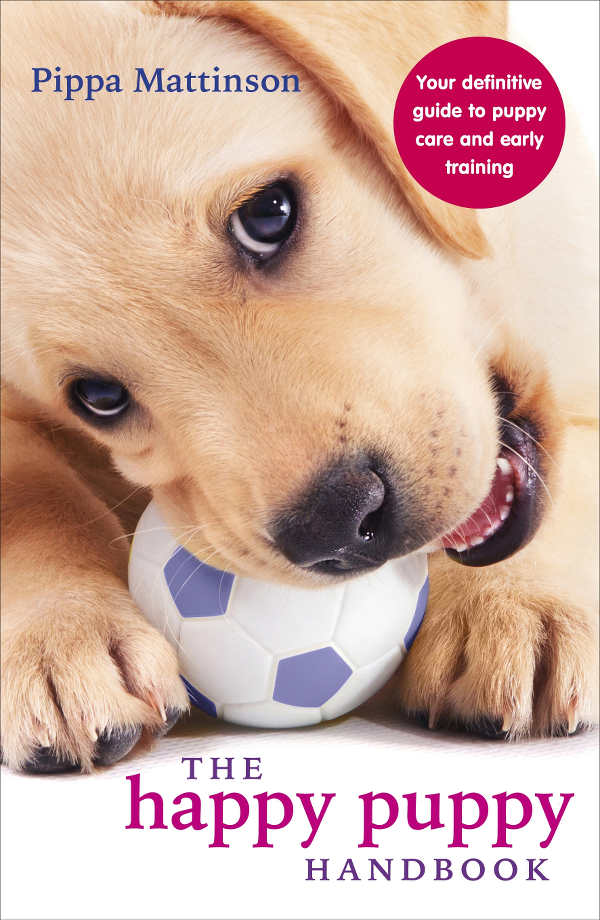 Sadly, this practice, although illegal and deplorable, still continues today.
The Pit Bull Today
Unfortunately, many Pit Bulls still suffer today at the hands of illegal dog fighters, spawning groups of Pit Bull lovers to dedicate themselves to rescuing and rehabilitating this loyal and friendly breed.
Potential owners should note that, because of his reputation, the Pit Bull is banned in certain areas of the United States. Dog owners can be held legally responsible for dog-related injuries to others.
However, despite the Pit Bull's reputation as being aggressive and unpredictable, a 2014 review of dog bite studies published by the American Veterinary Medical Association found that breed doesn't necessarily mean bite.
In fact, there are many studies which disprove the theory that Pit Bulls are inexplicably dangerous.
Qualities and Appearance
The Pit Bull is a loyal dog known for his confidence and eagerness to please. He is a medium American dog breed who stands anywhere from 18-21 inches tall and weighs around 35-60 pounds.
He is very muscular with a short coat that sheds occasionally and comes in a variety of colors.
Many dog lovers enjoy this breed as a doting, docile companion pet. Properly trained and socialized, Pit Bulls do well with children and other animals.
Still, as with all large breed dogs, we suggest implementing early obedience training and socialization and supervising them around younger children.
Health Issues and Lifespan
The Pit Bull has a lifespan of 8-15 years.
He is more prone than average to suffer from hip dysplasia, patella problems, thyroid dysfunction, congenital heart defects, and demodex mange. They can also suffer chronic skin allergies.
#10: The Redbone Coonhound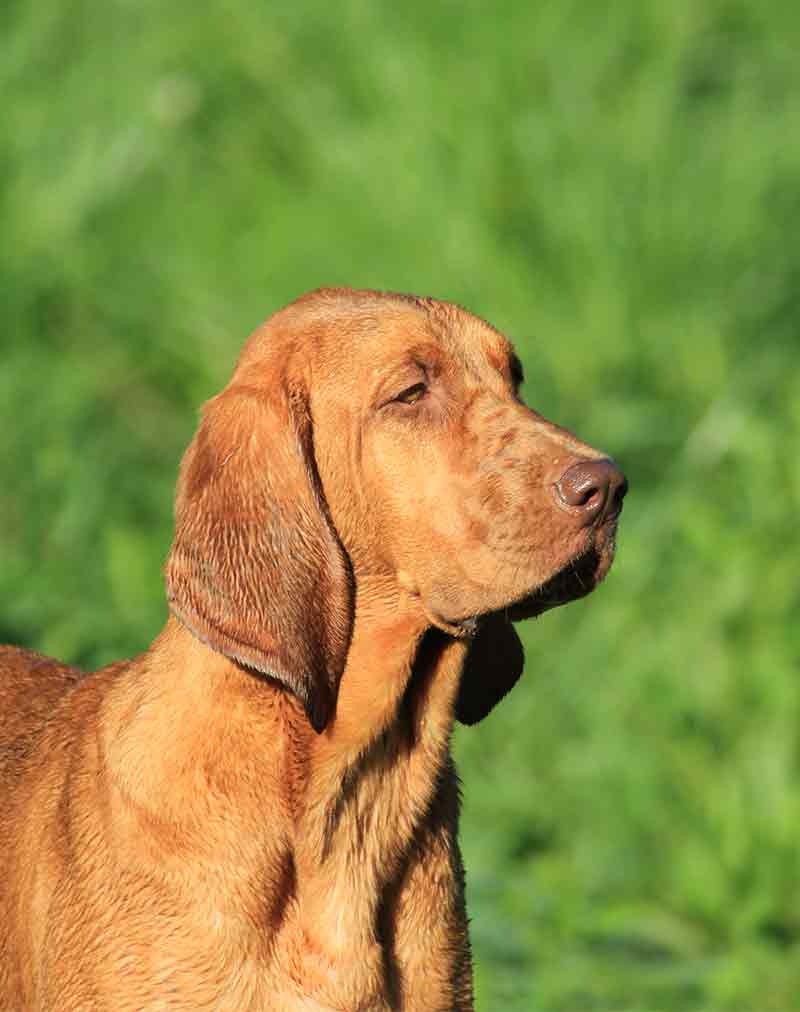 Roots
In his early years, this all-American dog breed was selectively bred from European hunting dogs who were imported to America in the late 18th century.
The coonhound was bred to not back down and to have wonderful stamina. He was used mostly to hunt raccoon and deer but was also skilled at hunting larger, more formidable prey such as bears and cougars.
The Redbone Coonhound is named after Tennessee native Peter Redbone, who was one of the dog's earliest breeders.
The Redbone Coonhound Today
Still widely used as a hunting dog today, the Redbone Coonhound is prominent in the world of hunters and farmers, but he is not well known by those looking for companions or show dogs.
The Redbone wasn't recognized by the AKC until 2009, and he still sits at 143 out of 194 in popularity, despite his family-friendly nature.
Still, the Redbone Coonhound did manage to find some claim to fame in Wilson Rawls' 1961 novel Where the Red Fern Grows.
Qualities and Appearance
The Redbone weighs 45-70 pounds and stands 21-27 inches tall. He is described as a beautiful dog with a sleek red coat, a muscular build, and long, floppy ears.
This American dog breed is even-tempered and easy to train. He has a calm demeanor and gentle spirit, but he is a fierce hunter when on the job!
Health Issues and Lifespan
The Redbone Coonhound lives anywhere from 12-15 years.
He does not suffer from any major health issues, although he can be prone to hip dysplasia and ear infections.
Are the American Dog Breeds Right for Me?
All dogs are different, regardless of their origin.
The most important thing you can do when looking into adding a new dog to your household is to be sure you research as much as possible about your desired breed.
Also, make sure you find your dog through a reputable source, whether it's a responsible breeder or a well-known shelter.
As with all dogs, not just American dog breeds, we recommend early socialization and training to ensure a happy, healthy, well-adjusted dog.
Remember, despite some of these American dog breeds being rather healthy in comparison to others, we still recommend early health screening to help avoid or prepare for any inherited health conditions down the road.
With plenty of research, early health screening, and proper socialization and training, each and every last one of the American dog breeds we covered above have the potential to make a wonderful addition to your household!
Did our American dogs list of the best American dog breeds help you to find your potential furbaby? Let us know in the comments!
References
Barbara Van Asch, Ai-bing Zhang, Mattias C. R. Oskarsson, Cornelya F. C. Klutsch, Antonio Amorim, Peter Savolainen, Pre-Columbian Origins of Native American Dog Breeds, With Only Limited Replacement by European Dogs, Confirmed by mtDNA Analysis, Proceedings of the Royal Society Biological Sciences
Literature Review, Dog Bite Risk and Prevention: The Role of Breed, American Veterinary Medical Association, May 15th, 2014
C. Vila, J. E. Maldonado, R. K. Wayne, Phylogenetic Relationships, Evolution, and Genetic Diversity of the Domestic Dog, Journal of Heredity, Volume 90, Issue 1, Pages 71-77
Tiffani J. Howell, Tammie King, Pauleen C. Bennett, Puppy Parties and Beyond: the role of early age socialization practices on adult dog behavior, Volume 6, pages 143-153
Nathan B. Sutter and Elaine A. Ostrander, Dog Star Rising: The Canine Genetic System, Nature Reviews Genetics, Volume 5, pages 900-910
Lowell Acumen DVM, DACVD, MBA, MOA, The Genetic Connection; a Guide to Health Problems in Purebred Dogs, Second Edition, 2011