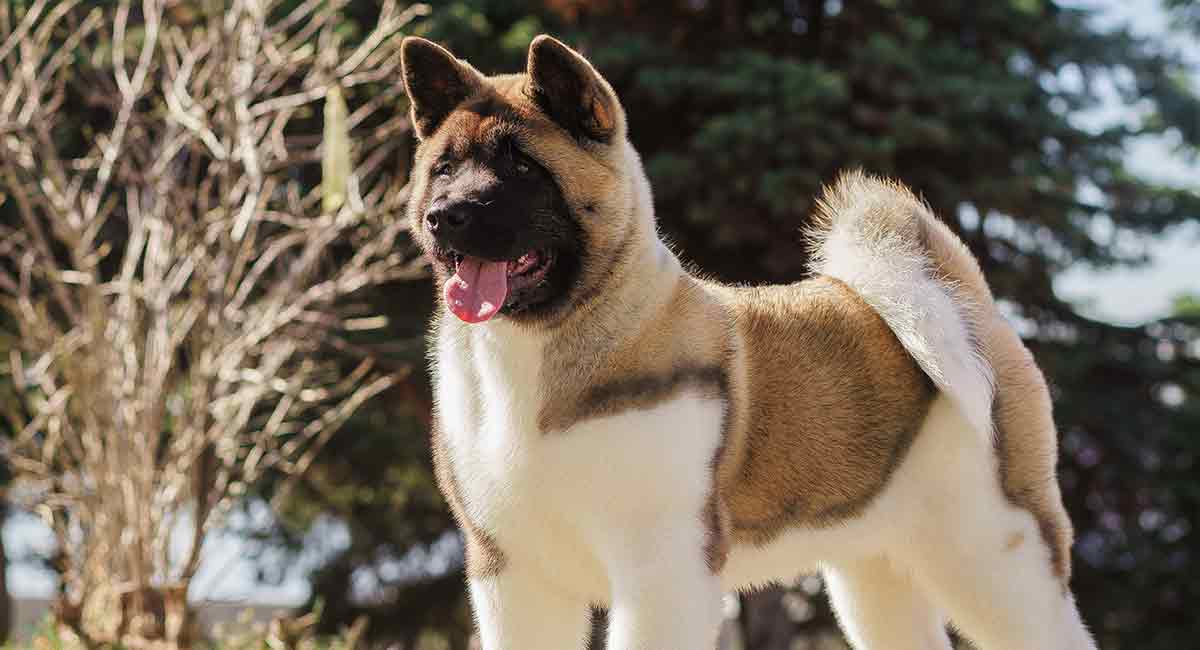 American Akita dogs are confident, energetic, bold and protective medium sized dogs with show coats. These cute watch dogs can make great guard dogs, but are also found as loving companions. If you're looking for an imposing dog and have plenty of extra time, this fluffy pup can make a wonderful pet. However, if you entertain guests a lot or don't have much time to spend on socialization and training, an Akita is probably not the right dog for you.
Contents
We've got everything you need to know about the American Akita! We take a look at what sets it apart from the Japanese Akita, when and why they split, and what it means for the modern American Akita. We will also give you the information to decide whether this is the right breed for you, and let you know how to train them to be a friendly pet.
American vs Japanese Akitas
The Akita is a muscular, unique-looking canine that is native to Japan. They are known for their strong guarding instincts, imposing statue, and loyalty. There are actually two types of Akitas: the American Akita and the Japanese Akita. Both have unique characteristics due to their different locations and bloodlines.
American Akita History
The American Akita is descendent of the Japanese Akita. The two types did not diverge until after World War II. There were Akitas in American before the world war. But these dogs stayed very similar to their Japanese counterparts.
Helen Keller is credited with bringing the first Akitas to America after she was gifted with a pair by the Japanese government. There were a few dog shows for the breed held. But, then World War 2 began. At this time, USA service members began serving as part of the occupation force in Japan. Some of these service members met the Akita and were impressed. So, when they returned to the US, they brought these Japanese dogs with them.
Generally, the US servicemen were more drawn to the large, "bear-like" Akita than those with smaller frames. The dogs they brought to America reflected this sentiment. While the Japanese Akita breeders were concerned with keeping the breed as close to the original as possible, the American breeders worked to make the breed bigger and more imposing. This difference in breeding priorities led to the two types diverging.
Club Recognition
The Akita was recognized by the American Kennel Club in 1955 and was placed in the Miscellaneous class. However, it wasn't until 1972 that the breed standard for the Akita was approved. The breed was then moved to the working class. However, imported Akita from Japan were still common. So, the types did not diverge too greatly due to interbreeding.
In 1974, the American Kennel Club stopped registering further Japanese imports. This caused the American Akita to develop their own unique bloodline and traits.
What Do American Akitas Look Like?
The American Akita is similar to the Japanese Akita in many ways. These dogs are very strong and muscular. They have large bones and can be very imposing.
Their muzzle is deeply set. Their dark brown eyes are small. And, their ears are slightly angled forwards. Many describe their massive head as "bear-like." This differs from the Japanese Akita who typically has more fox-like features.
How Big Are American Akita Dogs?
They weigh upwards of 100 pounds. Males typically stand at 26-28 inches, while females stand at 24-26 inches.
Colors and Coats
Their coat is medium length and made up of two layers. The undercoat is thick and soft while the outercoat is thinner and course. The American Akita comes in a variety of colors, including:
red
gray
black
silver
pinto
white
black brindle
blue brindle
brown brindle
red brindle
fawn, and
fawn brindle.
All Akitas have a mask, but the American Akitas can have a mask of varying colors. White is most common, but black and pinto masks are also possible.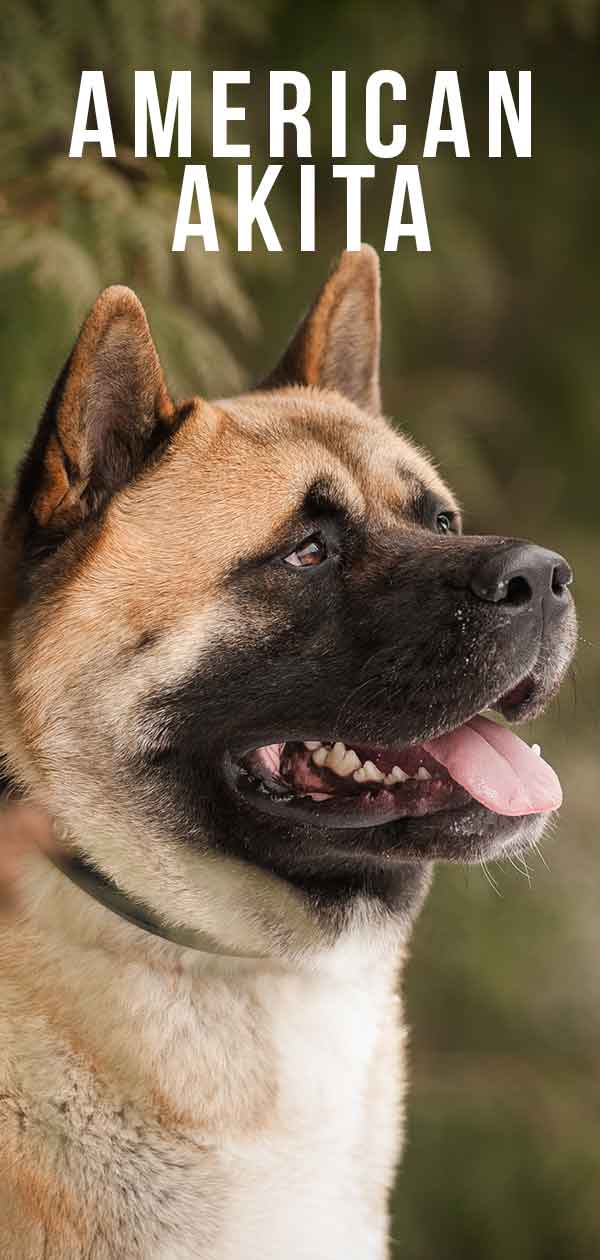 American Akita Temperament
The American Akita is known for being somewhat aggressive. They have intense guarding instincts and are very loyal to their families. They are suspicious of strangers and can be aggressive towards those they don't know if not properly socialized and trained.
A well-trained Akita is accepting of non-threatening strangers. But those who are not trained will respond with aggression. They have hunting instincts and can mistake smaller pets and livestock for game. Even if they are not taught to hunt, they will chase and kill small animals.
Do They Make Good Family Dogs?
We do not recommend this dog for most families. Their high training and socialization needs combined with their intense guarding instincts can be difficult for most families to handle.
The Akita is generally good with children in their family, as they are loyal and protective. However, the same cannot be said for children who do not belong in their pack. This is worth keeping in mind if your kids like to have their friends over to visit regularly.
These dogs are described as feline in nature. They have a tendency to groom themselves and family members. They are extremely clean. The American Akita is not good with other dogs, especially those of the same sex. This is not a dog you take to the dog park.
Training Your American Akita
The American Akita can be difficult to train, and only thrive with posiitve reinforcement based training. They are very stubborn and resistant to commands that are only backed by punishment. These dogs are not good for first-time owners or those who prefer punishment based methods.
Positive training should begin as early as possible. It is not uncommon for Akitas to begin training before they even leave the breeder. Socialization is paramount for these dogs. If not socialized and trained, they will assume every stranger is an enemy and react accordingly. They are very territorial of their property and family members.
Aggression is not uncommon for the untrained Akita. But, with proper training, the Akita should learn to be accepting of strangers. Socialization with other dogs is also important. But it should be noted that not all Akitas will become accepting of other dogs, even if they are heavily socialized.
Training is extremely important for the American Akita due to their large size, powerful stature, and guarding instincts. This is not a breed of dog to get if you don't have time for daily training.
Potty training is usually pretty easy for these dogs. They are naturally clean and have been reported to potty train themselves. Crate training is vital due to these dog's guarding and aggressive behaviors. A crate can provide them with a safe place to be while you have visitors over and can help them learn to tolerate the presence of strangers.
Potential Health Problems
Like every breed, the American Akita does have a few health problems that are worth noting. They are prone to eye problems like Progressive Retinal Atrophy, which can cause blindness. Hip dysplasia and bloat are also common due to their large size. Hip dysplasia can gravely reduce your dog's quality of life, while bloat can be life-threatening.
Autoimmune thyroiditis is also not uncommon. This disorder is characterized by the immune system attacking the thyroid gland and often causes hypothyroidism. Von Willebrand Disease is also reported in Akitas. This disease is genetic and prevents the blood from clotting normally.
It is important to ensure that the parents of any Akita you adopt have passed the appropriate genetic screenings. Hip dysplasia, Progressive Retinal Atrophy, and Von Willebrand Disease all have genetic components.
When taken care of, Akitas usually live between 10 – 15 years. They require minimum grooming and often do a good job of keeping themselves clean. They do shed heavily a couple times a year and will need to be brushed during these periods.
Rescuing an American Akita
If you decide to rescue an adult Akita, there are a couple things you should keep in mind. Firstly, you should give your Akita plenty of time to warm up to you and your family. These dogs do not trust strangers and can take week and months to warm up to you.
Secondly, training should start as soon as possible. Crate training is specifically important because it can help your Akita warm up to your home faster.
Thirdly, try to keep your home calm for a week or two after adopting your pet. During this transitional period, you Akita can be more on edge than normal, which can cause aggression problems.
American Akita Puppy Breeders
Finding an American Akita puppy should not be difficult. There are many breeders throughout the United States. American Akitas can cost quite a bit of money, however. Normally, they are around $1000 – $2500.
Be sure to adopt from a reputable breeder. Pet stores and puppy mills do not always follow ethical breeding guidelines, which can result in unhealthy puppies with bad temperaments.
Feed your puppy a high-quality commercial food or a raw food diet.
American Akitas will shed a couple times a year. You will need a quality de-shedding brush during this period. While you will not have to bath your Akita regularly, a good shampoo is still important for those times your dog gets dirty. You should also invest in lots of toys and a good quality crate.