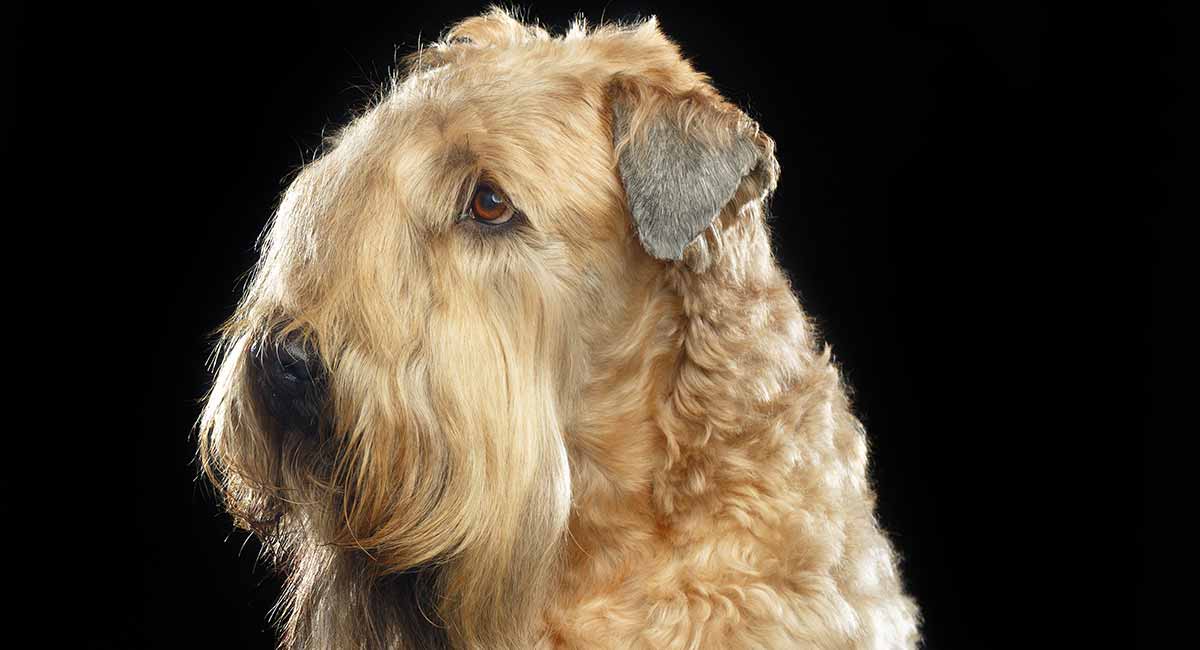 The Soft Coated Wheaten Terrier is an incredibly unique looking and personable breed. They grow up to 20 inches tall and can weigh from 30-45 lbs.
They are known for their long, silky hair and friendly personality. Many owners praise these dogs as great family pets.
What's In This Guide
Wheaten Terrier FAQs
Our readers' most popular and frequently asked questions about the Wheaten Terrier.
Breed At A Glance
Popularity: Ranks 53 of 193 in the American Kennel Club Rankings
Purpose: Originally bred to hunt, herd and guard the family's home. Now mostly a companion animal.
Weight: 30-35 lbs (female), 35-40 lbs (male)
Temperament: Spirited, happy and devoted to his family
Wheaten Terrier Breed Review: Contents
Let's learn a little about where this breed arose.
History and original purpose of the Wheaten Terrier
The Soft Coated Wheaten Terrier's origin story starts in Ireland.
Early breeders bred these dogs for work on farms. Their duties ranged from herding to hunting and everything in between.
The Wheaten Terrier likely shared a common ancestor with other terrier breeds. These include the Kerry Blue Terrier and the Irish Terrier.
However, it does differ from these breeds in some ways. The gentry did not commonly own Wheaten Terriers.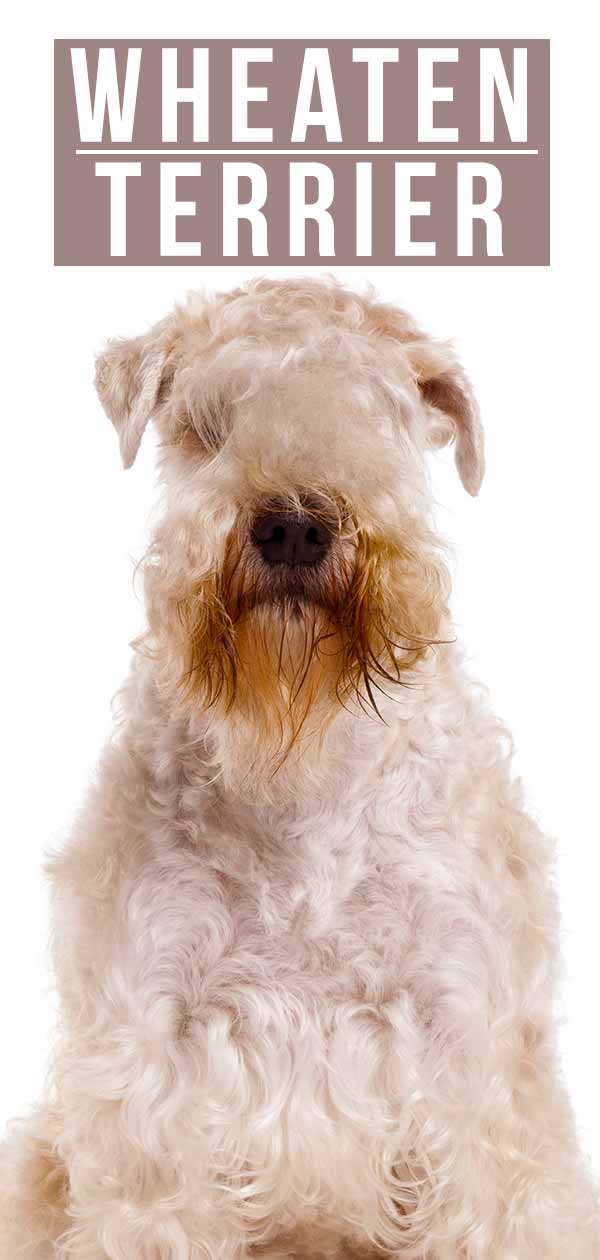 These dogs were commonly referred to as the "poor man's wolfhound" in Ireland. This is due to their association with the lower class.
Their tails were often docked to avoid taxes. This has mostly fallen out of practice today.
The Wheaten Terrier has been around for a long time. But, it was only recognized by the Irish Kennel Club in 1937.
The first reported exportation of the Wheaten Terriers to the United States wasn't until the 1940s. In 1973, the Wheaten was finally recognized by the American Kennel Club.
Fun facts about Wheaten Terrier
They were found in Victorian artwork, including Frederic William Burton's 1841 painting "The Aran Fisherman's Drowned Child."
They were once known as the "Poor man's wolfhound" in Ireland.
As they lack an undercoat, this breed does not shed much, making them a better fit for those with allergies.
Wheaten Terrier Appearance
The Wheaten Terrier is considered to be a medium-sized dog.
On average, they reach from 17 to 20 inches tall. They weigh 30 to 40 pounds.
The breed has a square statue and is well built.
They might be small compared to other dogs. Still, they are very compact. They have a lot of strength in their little body.
Coat
The Wheaten Terrier's coat is by far its most defining feature. The coats are generally a warm wheat tan color and flow in soft silky waves.
An Irish Soft Coated Wheaten Terrier's coat tends to be silkier and thinner than the American counterpart. American Soft Coated Wheaten Terriers are usually described as "wooly" and have thicker fur.
This difference in coat has led to some debate. Which variation is the "true" Wheaten Terrier?
Breeders in Ireland and Britain believe that the Irish coat is more authentic than the American version.
That said, the American Kennel Club does not always accept the Irish type.
The debate is long from over. I would expect us to see the discussion continue for a very long time.
Wheaten Terrier Temperament
The Soft Coated Wheaten Terrier temperament is usually described as energetic and playful.
One thing that sets them apart is their enthusiastic greeting. Wheaten Terriers may jump up and lick their owners on their face. This is referred to as the "Wheaten greeting" in Ireland.
Many consider them to be less yappy than other terriers. However, Wheaten Terriers can easily be more hyper and active than your average canine. Their incredible energy requires a lot of exercise as a healthy outlet.
They can do well with children and cats if introduced at a young age. However, they possess a powerful prey drive due to their hunting origins. This can lead them to quickly consider cats prey if not properly introduced.
They might become protective of their families and bark at strangers. But they rarely get aggressive. Their bark is usually worse than their bite.
They make great alert dogs but terrible guard dogs.
Overall, Wheatens are very friendly, loving, and get around well with other dogs and small children.
Training and Exercising your Wheaten Terrier
Links to crate training
This is not a breed that is well-suited to being home alone much at all. That said, it can still be helpful to have your dog crate trained. Think — you need to clean the floors, are traveling in the car and don't want a surprise visit onto your lap, or they need to be left at the vet's for a time.
We have a guide on crate training you can access to learn more about this process.
Socialization
Early socialization is one of the most important factors that makes for a long-term happy dog (and family!). This is one reason to be very attentive to the conditions at the breeder's where you find your pup.
Dogs, just like humans, adapt to those around them. If a dog is not given ample opportunities when young to get used to interacting with all kinds of people and animals, these interactions can be a source of stress for all and a training challenge later on.
So you want both to get your puppy from a great home and then to make sure and expose her to plenty of other people and animals from early on (of course paying attention to any guidance your vet may have about avoiding parks prior to immunization completion).
Training
Harsh training methods commonly result in fear and aggression. Positive reinforcement training is essential. This is especially true of such a sensitive breed.
Start with short sessions and keep your energy upbeat, positive and fun. If your puppy is tiring of a session, stop and give plenty of positive reinforcement. Regular short sessions will be far more effective in the long run than overdoing it in irregular sessions.
Training a dog is a commitment, but with your investment of time and energy, the effects will help you and your pup live together well for the rest of their life!
Exercise
Wheaten Terriers are active and energetic dogs. They need regular exercise.
In the summer, they love water and can be great swimmers. Of course, you want to be extremely attentive and careful at all times with your pup near the water, especially at first.
You also want to be careful in getting your Wheaten Terrier puppy into exercise. While activity is good, it should remain unstructured and free for the first year at least. Their bones are still forming, so you want to be sure and not over-do the exercise in any young dog. Definitely pay attention on walks and never push a tired puppy to keep going.
Wheaten Terriers are considered to have moderately-high energy levels. They usually do not slow down too much with old age.

Wheatens have a high prey drive. All walks should take place on a leash. They will chase just about anything that moves.

Wheaten Terrier health and care
Soft Coated Wheaten Terriers are usually considered a healthy breed. However, they are prone to a couple of health problems that are important to look out for.
The Wheaten is not especially susceptible to any physical defects, though puppies from less-careful breeders could suffer hip dysplasia. Hip dysplasia is when the hip joint is not formed properly and leads to long-term pain and arthritis. It is usually screened for and dogs who experience it should not be bred.
The following are some major health concerns that are more common among this breed than dogs in general.
PLN and PLE
This breed is known to have a higher than normal susceptibility to two protein-losing diseases. Protein-losing nephropathy (PLN) and protein‐losing enteropathy (PLE) occur in the kidneys and gut, respectively. There is a known gene that is linked to PLN and can (and should) be tested for in breeding dogs.
Unfortunately, these diseases usually go hand-in-hand. The condition will often start in the gut with PLE, and progress to include the kidneys with PLN.
PLE causes a dog to lose protein through the gut and not be able to adequately absorb it. This can rapidly lead to protein malnutrition that can be fatal.
Unfortunately, there is no cure for either of these diseases. At times, strict dietary restrictions and medication may help to some degree.
Symptoms commonly start with vomiting, diarrhea and weight loss are common symptoms.
Due to the increased prevalence in this breed, the breed association recommends that all dogs be screened for this on a yearly basis.
Renal Dysplasia
Renal dysplasia is a disorder in which a dog's kidneys never actually develop correctly. They can appear to function fine at first, but often ultimately start to fail. In many cases, it can lead to severe kidney damage before any symptoms appear.
There is no cure for renal dysplasia. The lack of symptoms makes it very hard to catch before it is too late. Therefore, the prognosis is usually not good.
In terms of prevention, yearly blood tests by your vet could catch minor damage to the kidneys before it has progressed too far. With this knowledge, you could adjust some dietary factors for your pup to perhaps help slow the progression some.
Addison's Disease
Addison's disease is more common among dogs of this breed than others. This is a condition of the adrenal glands where they do not make enough hormones.
Addison's disease can occur for two reasons.
The dog's immune system can destroy the adrenal gland, and
a tumor can impair adrenal gland function.
Lethargy, weakness, vomiting, weight loss, dehydration, diarrhea, excess thirst and shaking are all common symptoms.
Luckily, Addison's disease is controllable through oral medication. Fortunately, as long as one seeks treatment early, the prognosis is usually good.
Common minor issues
Importance of testing
According to the SCWTCA health testing guidelines, the following tests should be done in breeding dogs:
Genetic test for PLN
PLN / PLE screening (yearly)
Renal Dysplasia screening (yearly)
Addison's Screening (yearly)
The SCWTCA also recommends that your vet check for signs of PLN/PLE, renal dysplasia, and Addison's disease on a yearly basis.
Lifespan
They typically live anywhere from 10-12 years, but some may live up to 17 years. This is about average for their size.
Soft Coated Wheaten Terrier shedding
Surprisingly, for the Soft Coated Wheaten Terrier shedding is not much of a problem.
Their fur keeps on growing like our hair.
However, this trait does mean that they will need some extra grooming and haircuts like some other terrier breeds.
Grooming
With a Soft Coated Wheaten Terrier shedding is not a major issue at all. That makes this a popular breed for people with mild allergies.
Even without shedding, they still do require regular grooming to stay looking sharp.
You should groom them two to three times a week. This should include a thorough brushing.
Wheaten Terriers are very prone to mats. Take extra care to brush these out as soon as possible or they will continue to grow.
A Wheaten Terrier haircut might also be helpful for some dog owners.
Trimming is not necessarily a must-do. It can help cut down on the amount of grooming necessary, though.
After all, the less hair the dog has, the less you have to brush.
A Wheaten Terrier's nails also need to be trimmed regularly. Overly long nails can be painful and cause walking problems.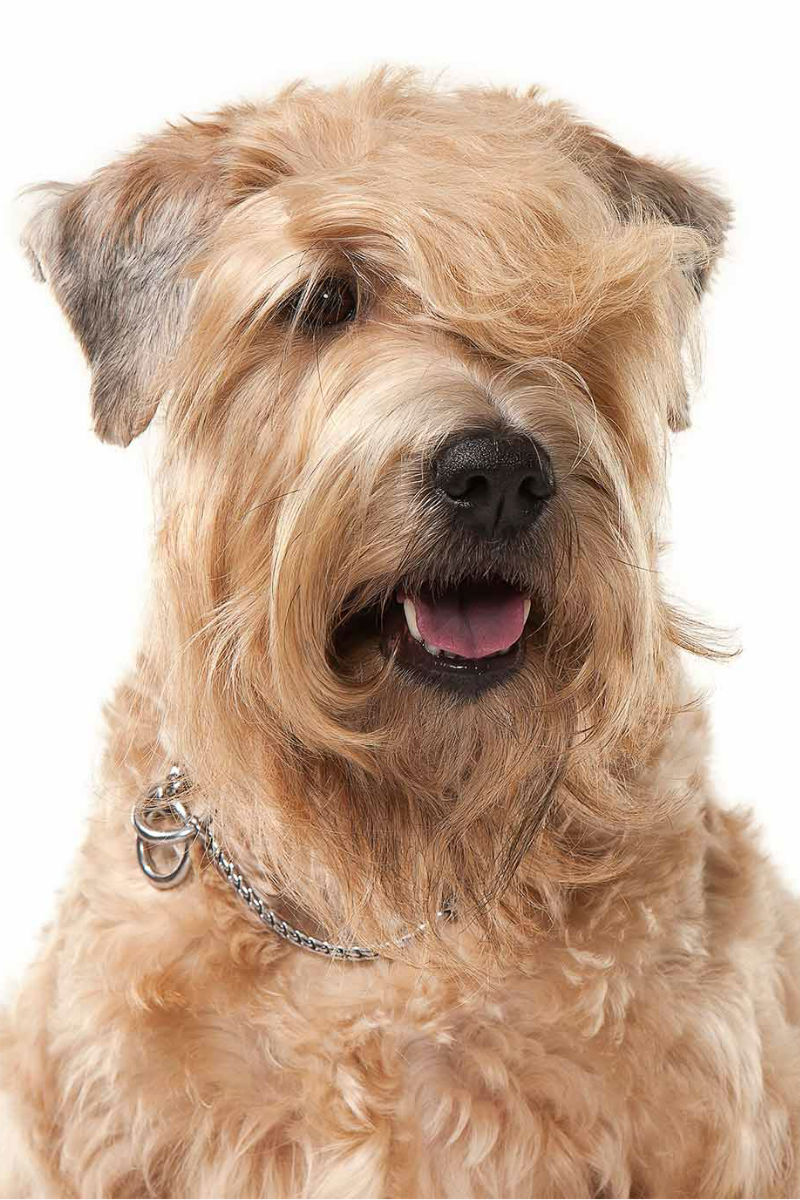 Do Wheaten Terriers make good family pets
Soft Coated Wheaten Terriers make great family pets. However, owners need to meet their exercise and grooming requirements.
They wouldn't be a good fit for those living in small apartments or with little time. Their grooming and exercise requirements can be a handful.
Feeding
As a medium-sized and moderately-active dog, this breed needs high-quality nutrition. You will want to keep tabs on their weight to make small adjustments quickly if they are getting overweight.
You have many options for high-quality food. Both high-quality commercial foods and carefully planned homemade diets can work well.
You should consult your specific food for quantity depending on your pup's weight, but it would generally be 1.5 to 2 cups of dry food twice a day.
This breed often has sensitive stomachs, so a grain-free diet may be worth trying as it can be easier to digest.
You may also want to supplement his diet with a little fish oil sprinkled on top of the food to help maintain the silky coat in nice condition.
Of course, in the unfortunate case that your dog does fall ill with one of the protein-losing conditions, they may have a higher protein need, something you should discuss with your vet. Nutrition needs for dogs that develop renal disease may include a lower protein intake.
However, they make great family pets for families with small children.
Rescuing a Wheaten Terrier
Rescuing a dog (or puppy!) can be a great experience for you and can help to save the life of a vulnerable dog who might not otherwise make it.
These dogs may need a new home for a variety of reasons. They can be great, calm, already trained companions — a real plus if you don't quite feel up for raising a puppy!
Most rescues will also come with health checks, up to date on vaccinations, and be neutered/spayed.
In case this is an option you want to pursue, we have included a list of rescue societies at the bottom of this page.
Not sure you want to rescue, or not finding a rescue Wheaten anywhere near your home? Keep reading to learn about finding a puppy.
Finding a Wheaten Terrier puppy
Ready to look for a Wheaten puppy? We have a guide on our site with lots of helpful info to guide you in your search.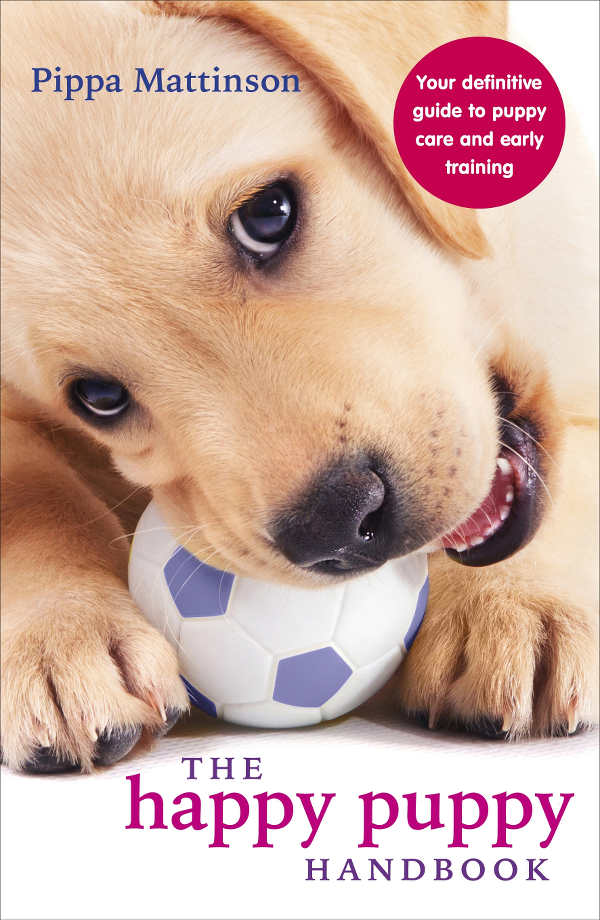 You should expect to pay around $800 to $1200 for a Wheaten Terrier puppy, more if they are from an elite lineage.
There are a few things to look out for in this search. The first is to make a commitment to absolutely avoid puppies that may have come from puppy mills. Common signs of puppy mills include puppies sold in pet stores, sometimes those on local ad listing sites.
You should be able to visit the home where the puppy has been raised, see the conditions and meet at least one parent. In addition, reputable breeders will have health records available on both parents. When visiting, take note of the conditions and the relationship between the breeder and the dogs. If you have any concerns, feel free to walk away.
Why is this so important? Well, first off for basic animal welfare. Conditions in puppy mills can be astonishingly inhumane. The over-crowing and over-stretching of resources also mean there is more likelihood of the dog coming with poor early socialization and a much higher tendency for future behavior problems.
Designer mixed breeds are becoming very popular due to their unique mixes of traits and hybrid vigor. Looking for a mix might be something else to consider for your new pup!
Choose your Wheaten Terrier from a qualified breeder.
Always ask about the parent's health before choosing your puppy. PLN and PLE are genetic.
Raising a Wheaten Terrier puppy
Caring for a vulnerable Wheaten Terrier puppy is a big responsibility. There are some great guides to help you with all aspects of puppy care and training. You'll find them listed on our puppy page.
Have you thought about getting a designer terrier-mix?
Popular Wheaten Terrier breed mixes
American Eskimo Wheaten Terrier Mix (Wheaten Eskimo)
Wheaten Terrier Poodle Mix
Havanese Wheaten Terrier Mix (Havawheat)
Labrador Retriever Wheaten Terrier Mix (Wheatador)
Yorkshire Terrier Wheaten Terrier Mix (Wheaten Yorkie)

These mixes and more can be found in our Wheaten Terrier Mix Guide.
Comparing the Wheaten Terrier with other breeds
Wheaten Terrier vs. Irish Terrier: Sharing ancestry, there may be more similar than different between these two breeds. The Irish Terrier, however, may not be quite as well suited for new dog owners, needs a bit more attention to grooming, and may have a higher drive to bark.
Wheaten Terrier vs. Kerry Blue Terrier: Again, these two breeds share ancestry, so have many traits in common. The Kerry Blue Terrier may be a bit more active, with slightly higher exercise needs and (if not properly trained) can be less friendly towards other dogs. The Kelly Blue Terrier may also need less grooming attention.
Wheaten Terrier vs. Airedale Terrier: Both are good with kids. The Airedale Terrier is somewhat larger and higher energy.
Some of these are similar breeds, but here are a few more for you to check out.

Similar Breeds
Other dog breeds you might want to consider:
Irish Terrier
Kerry Blue Terrier
Lakeland Terrier
Glen of Imaal Terrier
Pros And Cons of Getting A Wheaten Terrier
Cons of getting a Wheaten Terrier:
It is important to remember that they require a lot of time for grooming.
They will also need a lot of regular exercise.
Wheatens can bark excessively if not carefully trained as a puppy.
Pros of getting a Wheaten Terrier:
These are genuinely one-of-a-kind dogs with great personalities.
They're energetic, delightfully friendly and look striking.
They are an excellent pet for families with small children.
Wheaten Terrier products and accessories
Wheaten Terrier Breed Rescues
USA-Based Wheaten Terrier Rescues:
UK-Based Wheaten Terrier Rescues:
Australia-Based Wheaten Terrier Rescues:
Irish WT Society — Not a rescue, per se, but may have knowledge of dogs in need of rescue
Canada-Based Wheaten Terrier Rescues:
Soft Coated Wheaten Terrier Club of Canada (BC Section) — Rescues
Do you have a Soft Coated Wheaten Terrier? How do you get on with him/her? Let us know in the comments below!
References And Resources
Adams VJ, et al. 2010. Results of a Survey of UK Purebred Dogs. Journal of Small Animal Practice.
Duffy D et al. Breed differences in canine aggression. Applied Animal Behavior Science 2008
Gough A, Thomas A, O'Neill D. 2018 Breed Predispositions to Disease In Dogs and Cats. Wiley Blackwell
Littman, M., et al., 2008, "Familial Protein‐Losing Enteropathy and Protein‐Losing Nephropathy in Soft Coated Wheaten Terriers: 222 Cases (1983–1997)," Journal of Veterinary Internal Medicine
O'Neill et al. 2013. Longevity and Mortality of Dogs Owned In England. The Veterinary Journal
Packer et al. 2015. Impact of Facial Conformation On Canine Health. PlosOne
Schalamon et al. 2006. Analysis of Dog Bites In Children Who Are Younger Than 17 Years. Pediatrics
History of the Breed," Soft Coated Wheaten Terrier Club of America Inc.
Strain G. Deafness prevalence and pigmentation and gender associations in dog breeds at risk. The Veterinary Journal 2004
Vaden, S., et al., 2013, "Familial Renal Disease in Soft‐Coated Wheaten Terriers," State of the Art Review
Vaden, S., et al., 2008, "Food Hypersensitivity Reactions in Soft Coated Wheaten Terriers with Protein‐Losing Enteropathy or Protein‐Losing Nephropathy or Both: Gastroscopic Food Sensitivity Testing, Dietary Provocation, and Fecal Immunoglobulin E," Journal of Veterinary Internal Medicine