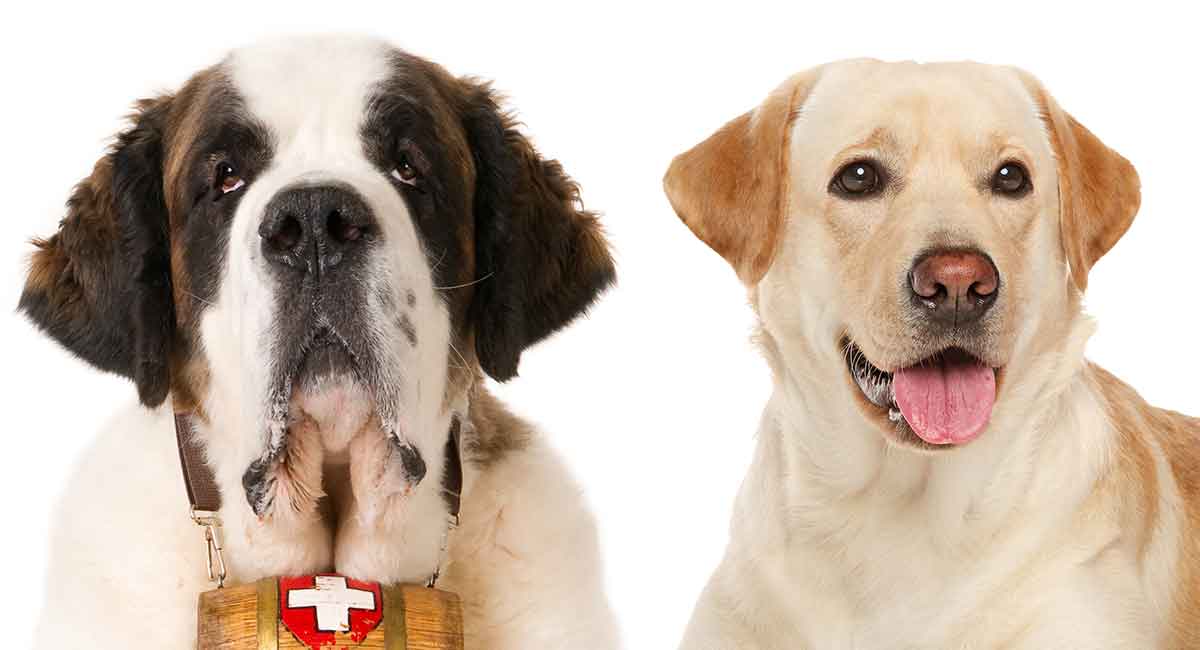 If you're looking for a big, friendly companion, you're sure to fall in love with the St. Bernard Lab Mix: the Labernard.
The Labernard is a cross between the playful St. Bernard and the outgoing Labrador Retriever.
In this article, we cover everything you need to know about this amazing mixed breed so you can determine if this is the right dog for you.
The Designer Dog Debate
Before we learn more about the Labernard, let's discuss the controversy surrounding mixed breeds.
Fans of these so-called "designer dogs" claim that mixing two different breeds creates a healthier animal.
This is due to hybrid vigor, or the belief that an expanded gene pool can reduce the incidence of inherited disease associated with inbreeding.
However, the other side of the aisle states that it's important to keep breeds pure.
This article gives more in-depth information about both sides of the argument.
Where Does the St. Bernard Lab Mix Come From?
Like many mixed breeds, there's not a lot of information about the origins of the Labernard.
Their history likely dates back to the early 1990s when the demand for smaller versions of large breeds surged.
We can learn about this dog by looking at the origins of both parent breeds.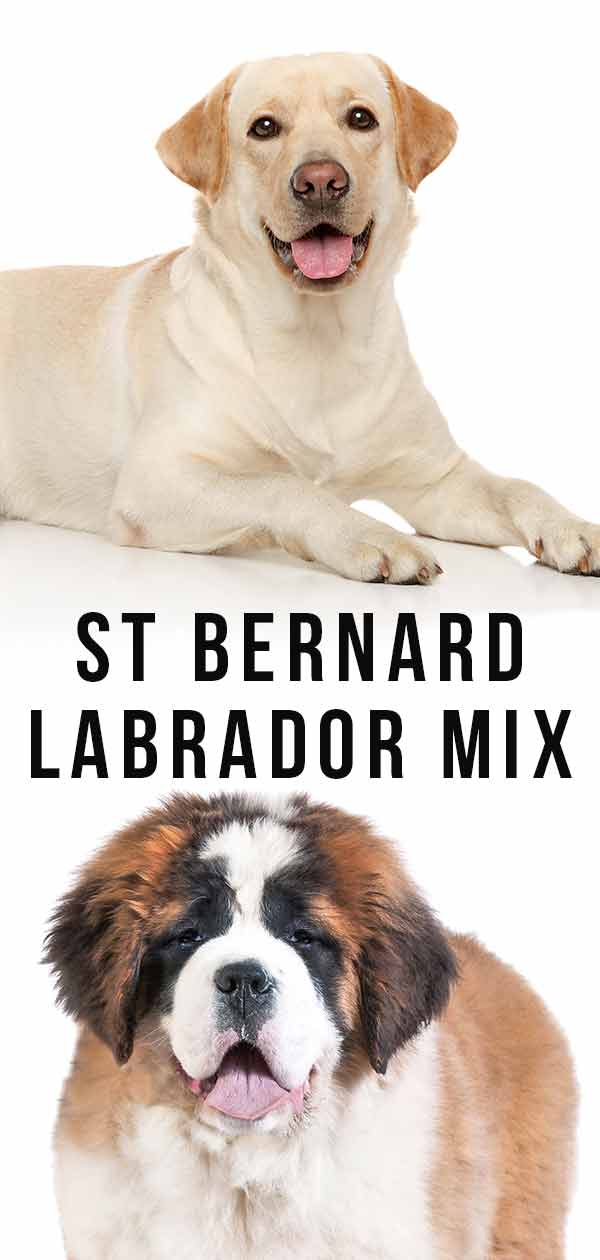 St. Bernard History
In 1050, a monk named Bernard of Menthon founded a hospice on the Great St. Bernard Pass, high in the Swiss Alps.
Crossing the pass was extremely dangerous, and the hospice monks developed powerful working dogs to help locate and rescue lost travelers.
Their amazing sense of smell enabled them to detect bodies buried under the snow.
These dogs were believed to be descended from the Molosser, large mastiff-like Asiatic dogs brought to Switzerland by the Roman armies.
Lab History
Descended from the traditional waterdog of Newfoundland, the Labrador Retriever was originally employed as a hunting companion and fisherman's mate.
When they were brought to England, aristocratic breeders refined and standardized the breed during the latter half of the 19th century.
Fun Facts About the St. Bernard Lab Mix
Despite popular belief, St. Bernards have never carried casks of brandy around their necks to revive wayward travelers.
It's estimated that the breed has rescued over 2,000 people.
In fact, a St. Bernard named Barry is credited with saving 40 lives by carrying them on his back to safety.
The lovable Lab has been America's most popular dog breed for a record-breaking 26 years.
Labradors use their keen sense of smell to detect cancer in people.
Former American President Bill Clinton, actor Kevin Costner, actor Steve Martin, Prince Charles and actress Sandra Bullock are among famous Lab lovers.
St. Bernard Lab Mix Appearance
Any time you mix two different breeds, there's no way to know the puppies' exact appearance.
However, expect a large dog.
St. Bernard Appearance
The St. Bernard stands 26 to 30 inches and weighs 120 to 180 pounds.
Although very powerful, strong and muscular, the term "genial giant" describes the breed well.
Their heads are huge; bear an intelligent expression; and feature wrinkled brows, short muzzles and dark eyes.
Their coats are usually short and very dense, although there are long-haired St. Bernards.
The most common colors are white and red or white and brown-yellow.
Labrador Retriever Appearance
The Labrador Retriever stands 21.5 to 24.5 inches and weighs 55 to 80 pounds.
This strongly built, medium-sized dog features a well-balanced conformation.
The heads are in proportion to their strong bodies. They feature wide muzzles and ears that hang close to their heads.
Their eyes express kindness and a friendly, intelligent nature.
One of their most defining features is their short, dense, weather-resistant coat. Their fur colors are black, yellow and chocolate.
St. Bernard Lab Mix Temperament
As with appearance, mixing two dogs means the puppies can inherit either parent's temperament.
That's good news if you're choosing the Labernard.
This cross combines two intelligent breeds known for being gentle, outgoing and even-tempered.
Despite their size, St. Bernards are not known to be aggressive toward people.
They're usually fine with other pets when raised with them. However, the breed is known to show aggression to other animals.
The Lab is energetic, outgoing and happiest when engaged in family activities.
Both breeds are known for being patient and calm with children.
Training Your St. Bernard Lab Mix
Due to their physical strength, high energy levels and sheer size, the St. Bernard Lab mix requires early socialization and plenty of patience.
Obedience training may be required for the inexperienced dog owner.
This dog responds well to positive reinforcement training based on praise and rewards.
While some St. Bernards can be stubborn, they're also eager to please. Consistency and patience are key.
Labradors have a reputation for being easy to train.
They're keen with a strong desire to please.
Some can be overly boisterous but take to training if they think you're playing a game with them.
Exercising Your St. Bernard Lab Mix
If your Labernard takes after the St. Bernard parent, this dog requires only a moderate amount of exercise such as a daily walk or play session.
However, this breed is quite capable of much longer excursions.
When it comes to the Lab, this is a highly energetic dog who needs lots of daily exercise to release energy and avoid destructive behavior.
Labs excel at swimming, running, fetching and most canine sports.
Their agility and energy make them successful working dogs in a variety of important roles.
Both parent breeds are happiest when doing activities with their families.
St. Bernard Lab Mix Health
Like most large dogs, the Labernard is susceptible to health concerns that are related to their size.
Hip dysplasia is a common problem for large dogs and affects both parent breeds.
This genetic deformity of the hip joint occurs when the femur doesn't fit into the hip socket properly.
Even very young puppies can be at risk.
Signs of hip dysplasia include:
Hind leg lameness
Decreased activity
Swaying and staggering
Narrow stance
Difficulty or reluctance to jump, run or climb stairs
This 10-year study found 46.9 percent of St. Bernards and 6.8 percent of Labs are afflicted.
Both parent breeds also suffer from some serious eye conditions.
Entropion, a condition in which the eyelids roll inward, can result in corneal ulcers if the hair on the eyelid rubs against the cornea.
Ectropion occurs when the lower eyelid droops outward and exposes the surface of the inner eyelid.
The following health tests are recommended for both the St. Bernard and the Labrador:
Hip evaluation
Elbow evaluation
Ophthalmologist evaluation
Bloat in large dogs
One of the most serious and distressing conditions that can affect large, deep-chested dogs is bloat.
This is a sudden, life-threatening gastrointestinal disorder in which the stomach fills with gas and makes breathing difficult.
If the stomach twists on itself, it can sever the blood supply.
All St. Bernard Lab mix owners should be aware of the symptoms and know what to do if their dog has them.
Signs of bloat include:
Bloated stomach
Pacing
Drooling
Panting
Inability to vomit
Rapid breathing
This is an emergency situation, and immediate surgery is the only treatment. No one is exactly sure what causes bloat to occur.
However, feeding your St. Bernard Lab mix multiple small meals and preventing strenuous activity around mealtime can reduce the risk.
St. Bernard Lab Mix Expected Life Span
The St. Bernard has an average life span of eight to 10 years.
The Labrador lives from 10 to 12 years.
St. Bernard Lab Mix Grooming and Feeding
Whether the St. Bernard is short-haired or long-haired, their coats need weekly brushing to remove dirt and loose hair.
They require daily grooming during shedding season. The Lab's thick, water-repellent double coat sheds regularly.
All breeds should have their nails trimmed and teeth brushed.
Your St. Bernard Lab mix needs high-quality dog food that's formulated for large breeds and is age appropriate.
Both of these dogs love to eat and can be prone to obesity.
Watch their calorie consumption, and that includes treats during training.
Overfeeding a large-breed puppy can result in an overweight dog and cause musculoskeletal disorders.
Feeding your dog morning and evening, rather than once a day, can reduce the incidence of bloat.
Do St. Bernard Lab Mixes Make Good Family Dogs?
When it comes to finding a loving family companion, you can find the perfect match in the St. Bernard Lab mix.
Both parent breeds are known for being friendly, gentle, obedient and patient.
This makes them ideal candidates for families with children, as long as young ones are always supervised.
It goes without saying that this is a dog not well-suited for apartment living or small spaces.
The St. Bernard Lab mix needs plenty of room to romp. Having people around is also very important for this dog.
You'll need to be able to dedicate time and attention to him.
Rescuing a St. Bernard Lab Mix
Before you look for a breeder, consider rescuing a dog.
Unfortunately, many people get a big dog like a St. Bernard Lab mix without realizing the amount of exercise, time and extra expense that's entailed.
It takes a while for a rescue dog to get used to his new home.
But if you're lucky enough to find a St. Bernard Lab mix in a shelter, he's a loving addition to your family.
Finding a St. Bernard Lab Mix
Searching for a specific breed like the Labernard may take some time.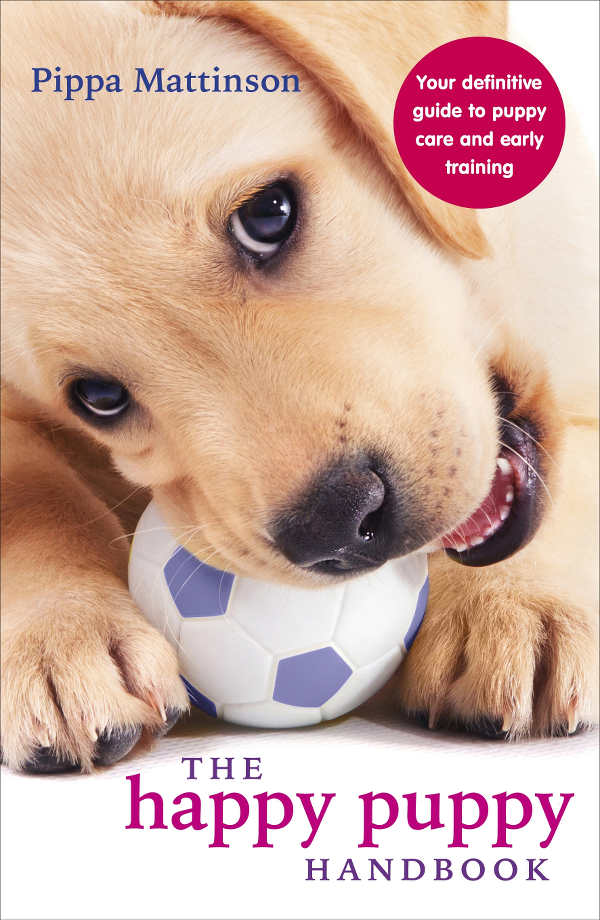 Don't be tempted to buy readily available dogs from puppy mills and pet stores.
These dogs are often unhealthy. Take your time and find a breeder with a good reputation, even if it means traveling to do so.
Visit the premises and notice how the puppies interact with the breeder. This gives you an indication of the care they've received.
Getting proof that the puppies are health tested is also very important. This article gives you some insight on how to find a breeder.
Raising a St. Bernard Lab Mix
Early socialization and positive reinforcement training are important for all puppies to grow to be well-adjusted adult dogs.
For large breeds like the St. Bernard Lab mix, it's really crucial.
St. Bernard Lab Mix Products and Accessories
From dog food to dog beds, these products are designed with big dogs in mind.
Pros and Cons of Getting a St. Bernard Lab Mix
Cons:
Potential to be massive and needs lots of space
Requires plenty of exercise and attention
Can be destructive if left alone too often
Pros:
Excellent temperament
Good with kids
Eager to please and should be fairly easy to train
Similar St. Bernard Lab Mixes and Breeds
If you're having trouble finding a Labernard, here are some similar mixed breeds to consider:
St. Bernard Poodle mix
Bernese Mountain Dog Lab mix
St. Bernard Lab Mix Rescues
These rescues are dedicated to the St. Bernard and Lab.
If you want an organization to be added to the list, please comment below:
Is a St. Bernard Lab Mix Right for Me?
Do you have room in your home and your heart for a dog that can weigh close to 200 pounds?
The St. Bernard Lab mix is a whole lot of dog, but you won't find a friendlier, more lovable breed.
This is a dog who needs you to be able to dedicate time for exercise every day.
If you're a first time owner or don't have a house with a fenced-in backyard, this is probably not the right dog for you.
Active families who take him along on excursions and aren't away from home for long periods are ideally suited for this breed.
References and Further Reading:
Blackshaw J.K., 1991, "An Overview of Types of Aggressive Behavior in Dogs and Methods of Treatment," Applied Animal Behavior Science, Vol. 30, Issues 3-4, pgs. 351-361
Corley, E.A. and Hogan, P.M., 1985, "Trends in Hip Dysplasia Control: Analysis of Radiographs Submitted to the Orthopedic Foundation for Animals, 1974 to 1984," Journal of the American Veterinary Medical Association, Vol. 187, Issue 8, pgs. 805-809
Glickman, L.T., et al., 1994, "Analysis of Risk Factors for Gastric Dilatation and Dilatation-Volvulus in Dogs," Journal of the American Veterinary Medical Association, Vol. 204, Issue 9, pgs. 1465-1471
Hawthorne, A.J., et al., 2004, "Body-Weight Changes During Growth in Puppies of Different Breeds," The Journal of Nutrition, Vol. 134, Issue 8, pgs. 2027S–2030S
Mellersh, C.S., 2014, "The Genetics of Eye Disorders in the Dog," Canine Genetics and Epidemiology, Vol. 1, Issue 3
Nicholas, FW, et al., 2016, "Hybrid Vigour in Dogs?," The Veterinary Journal, Vol. 214, pgs. 77-83