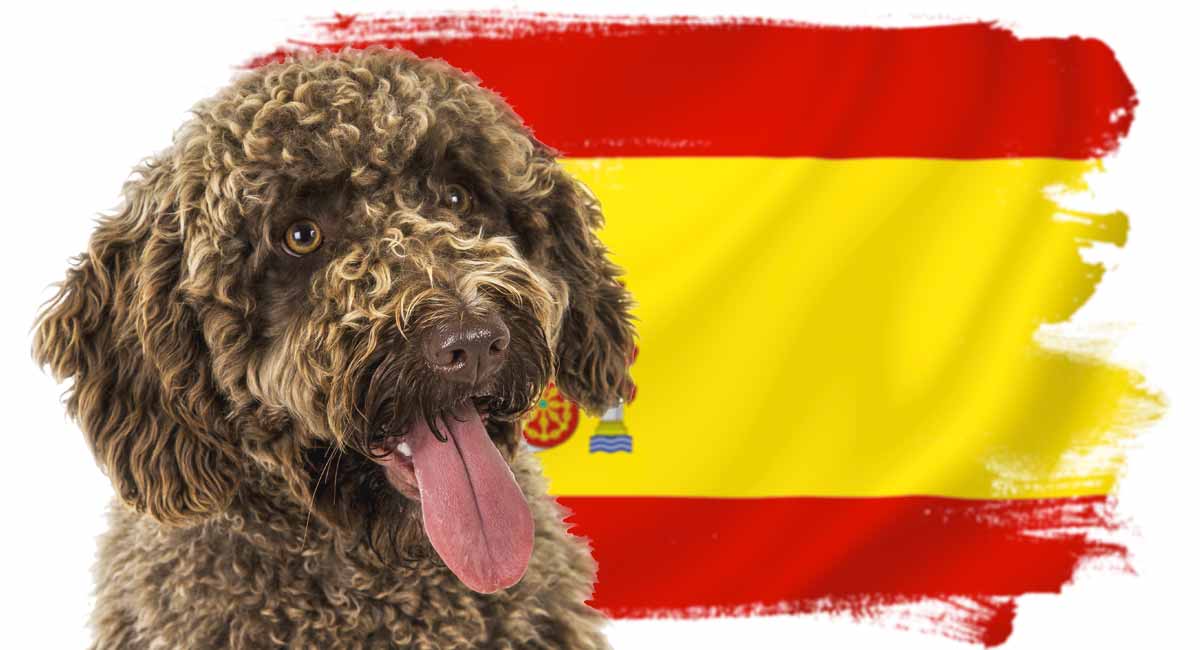 Spain was the original birthplace of many wonderful Spanish dog breeds, some of which were unknown in English-speaking countries.
These dogs tend to be wonderful hunting and herding dogs, as well as great family pets. We have a lot to thank the Spanish for tapas, sangria, flamenco; and Spanish dog breeds like the Purdeguero de Burgos, Spanish Pointer, and the Spanish Mastiff
This article breaks these dog breeds from Spain down into four general categories:
large dogs, hunting dogs, terriers and herding dogs. So, let's take a look at these Spanish breeds of dogs!
Contents
Large Spanish Dog Breeds
1. The Spanish Mastiff
Our first Spanish dog breed is the incredibly powerful Spanish Mastiff stands 28 to 35 inches tall at the shoulder. They have a big head with droopy skin that gives them a sleepy yet noble expression.
They have a deep, loud bark, which you will be able to hear from quite a distance away.
This Spanish dog breed is strong, kind and loyal. People bred them for their strength to protect those under their care.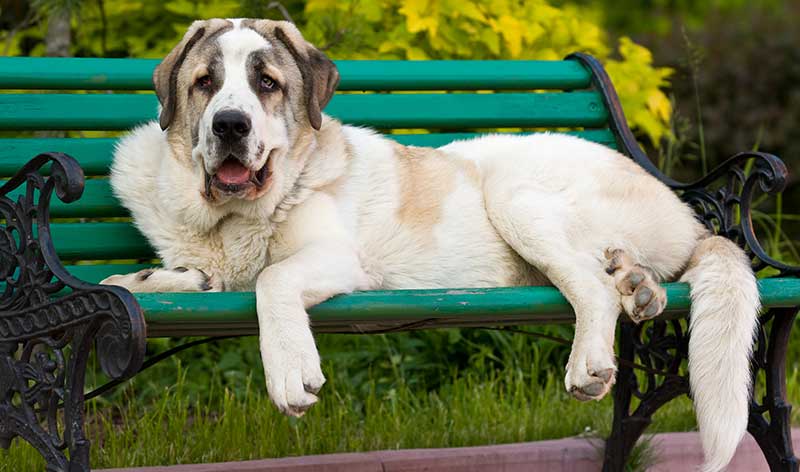 Although they are a large breed, they do not require a great deal of exercise due to their relaxed nature. However, setting aside time each day for some play outside, a walk or a hike will promote both the physical and mental health of the dog.
Given their size, strength, and nature, they were originally used as guard dogs to protect herdsmen and their flocks of Marino sheep.
You can trace their history back to the Middle Ages.
Health Issues And Lifespan
As is common with large dogs, hip dysplasia can be a concern. This breed is also prone to heart problems, eye issues, and bloat. Make sure you check with your breeder that there are no histories of these issues before you commit to a puppy from them.
The Spanish Mastiff is generally a healthy dog and has an average life expectancy of about 10 to 11 years.
Mastiff Fun Facts
People date this Spanish dog breed back 2000 years
Virgil mentions an Iberian Mastiff in his poem The Georgic.
2. The Great Pyrenees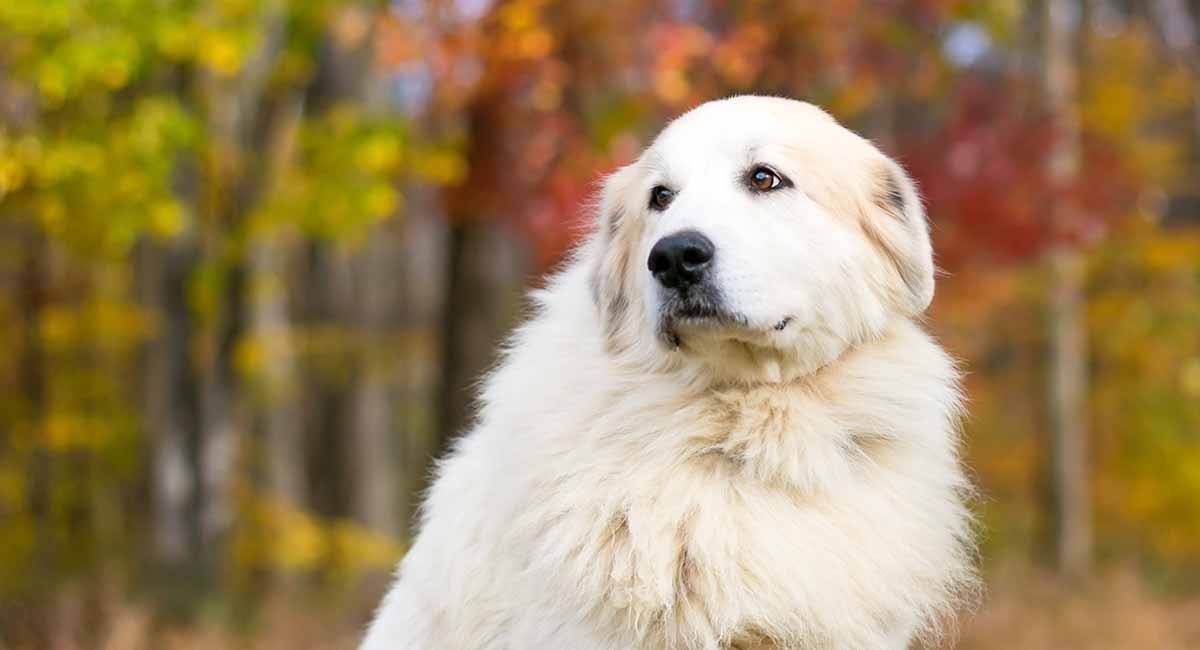 Also known as the Pyrenean Mountain Dog, these stately, handsome dogs stand 27 to 32 inches tall at the shoulder.
They have a distinctive, thick white coat and a kind, calm face. This breed originates in the Pyrenees Mountains on the border between Spain and France.
Similar to the Spanish Mastiff, people bred these dogs to guard flocks of sheep from wild animals or thieves. Their calm, patient nature came in handy for this job since they had to sit for hours on end watching the sheep entrusted to their care.
For the most part, they are very placid and mellow. But they are capable of moving with speed. They also exhibit strength and determination when it comes to protecting their flock (or family).
Health Issues And Life Span
The Great Pyrenees are known to suffer from certain neurological and immune-related disorders. They may also experience some issues with hip dysplasia, luxating patella, and their eyes.
Ethical breeders will make sure that their dogs are screened for health problems that can crop up. But despite efforts to breed responsibly, the Great Pyrenees can still be susceptible to bloat.
These Spanish dogs have a life expectancy of 10 to 12 years.
Great Pyrenees Fun Facts
People once knew this Spanish dog breed as the royal dog of France
These dogs have made popular appearances in many movies like the French film Belle And Sebastian and American films Dumb And Dumber and Finding Neverland.
Spanish Hunting Dog Breeds
3. The Galgo Espanol
People often confuse the Galgo Espanol (Spanish Greyhound) with the Greyhound. These dogs look similar with their graceful, sleek build and athletic abilities. But they come from different genetic stocks.
Galgos are leaner and longer than Greyhounds, which is a testament to their endurance. They are one of the popular hunting dog breeds from Spain. They are used for hunting and racing, particularly in rural parts of Spain.
Galgos are laid-back, gentle and curious companions. However, while they will happily lounge in a comfy spot when they are relaxing, they do appreciate a short walk or even a jog.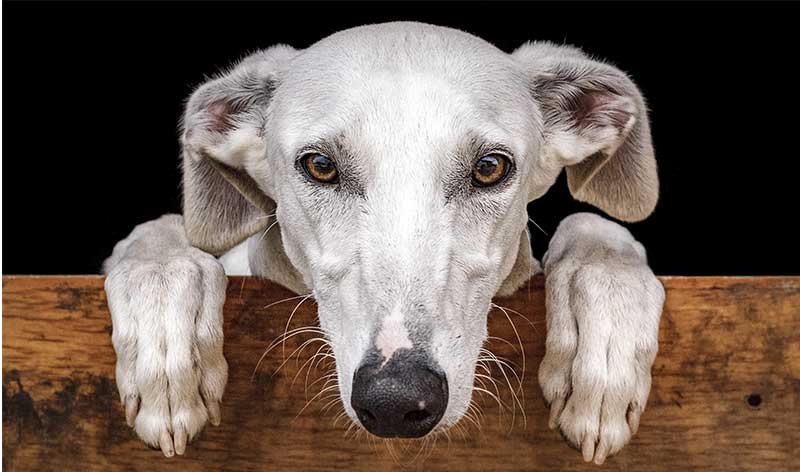 Galgos may take matters into their own hands if they get a little bored. For this reason, they jump tall fences with ease when they decide it's time to explore.
They come in a variety of colors. And their coats can be smooth or longer and rougher.
Sadly, both Galgos and Greyhounds have suffered terrible mistreatment at the hands of humans. People often abandon Greyhounds after their racing days are done. Similarly. it is common for people to abandon the Galgos after they are no longer needed for hunting or coursing.
Health Issues And Life Span
Galgos are a hardy, agile Spanish dog breed, and are not prone to many health problems. But keep in mind that sighthounds may occasionally be at risk of osteosarcoma (bone cancer) though.
They have an average life expectancy of 10 to 13 years.
Galgos Fun Facts
Due to their jumping abilities, you should make sure fences are taller than six feet to avoid their escape from your yard
These Spanish dogs are great competitors in the canine sport of luring
4. The Spanish Water Dog
The Spanish Water Dog is a distinctive looking pooch. It is a medium-sized Spanish dog breed with a curly coat.
We have mentioned this dog in the hunting dog section due to its abilities as a retriever. But this versatile, hard-working dog can herd as well.
These dogs are smart, hardworking and playful. And they have a long history around the lakes of the Iberian Peninsula.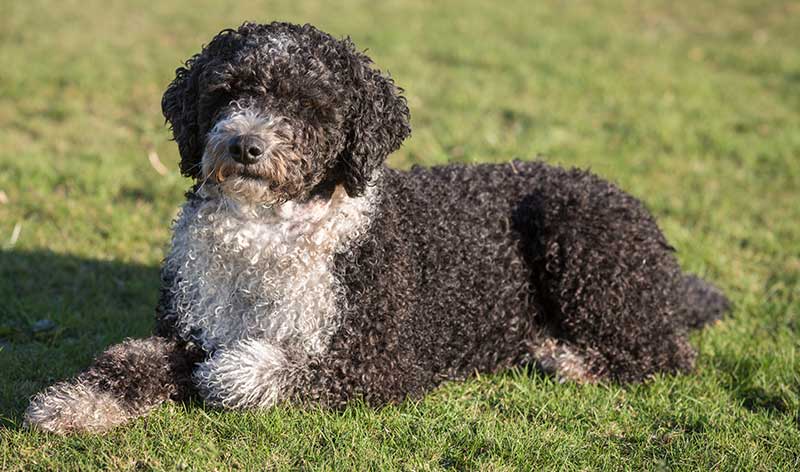 People have various theories as to where they came from originally. But most people believe they made their way across from Turkey.
Whatever their origins, people prized them as retrievers of waterfowl. And people knew them for their sheep-herding abilities.
They have an upbeat temperament and will thrive with plenty of positive reinforcement training (clicker style).
For those that have an active lifestyle, these dogs can make great jogging companions when fully grown. And they will benefit from owners giving them at least one decent opportunity to stretch their legs each day.
Health Issues And Life Span
Spanish Water Dogs can suffer from hip dysplasia and eye problems. And their ears are also an area that needs some attention as they can be susceptible to infections and foreign bodies becoming lodged inside.
The average life expectancy of a Spanish Water Dog is 12 to 14 years.
Spanish Water Dog Fun Facts
The American Kennel Club didn't recognize these Spanish dogs until 2005
We know them by many other names: Perro de Agua Espanol, Churro, Perro Turco, Pewrro Rizado, Barbeta, and Laneto
5. Perdiguero de Burgos (Spanish Pointer)
The Spanish Pointer has been around since the 1500s. And they most likely had a role in the development of some of the other pointer breeds we see today.
Hunters originally used this large pointer on deer hunts. And they are another one of the popular Spanish hunting dog breeds.
But these days, when hunters use them as a gun dog, it is usually for smaller animals such as quail and partridge.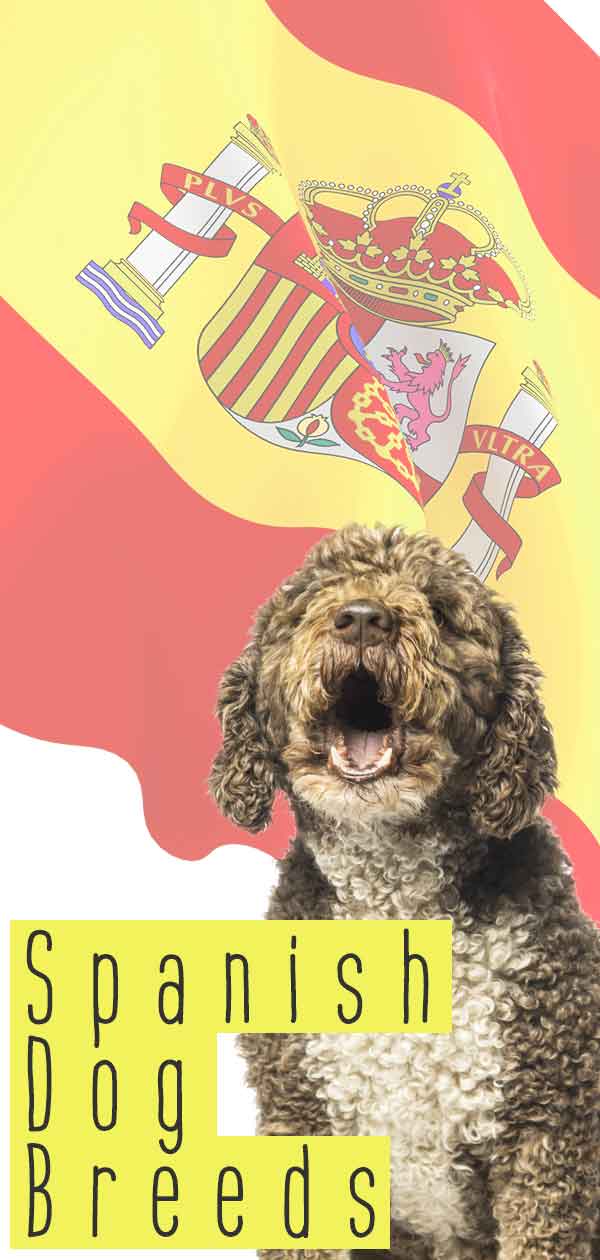 People know these dogs to be calm, dignified in nature, and also highly intelligent. These qualities are a trademark of all pointing dogs.
Similar to other pointers, these dogs come mainly in white and liver. They have a solid, robust body and a short, sleek coat.
Health Issues And Life Span
Despite being a relatively healthy breed, it is still recommended that you make sure they're screened for hip dysplasia.
Furthermore, you should know that bloat can also be an issue because these Spanish dogs are deep-chested.
The Spanish Pointer has an average lifespan of about 12 to 15 years.
Spanish Pointer Fun Facts
The British brought this Spanish dog breed home with them after the War of Spanish Succession in 1713
People found images of Pointer dogs inside 3000-year-old Egyptian tombs
6. Ibizan Hound
These sleek little hounds have a history spanning more than 3000 years. And we can trace them back to ancient Egypt.
People brought the Ibizan Hound to the islands off the coast of Spain to hunt rabbits. Their lean, athletic build and agility made them perfect for the job.
This Spanish dog breed can run very fast and also jump as if spring-loaded. Some people know Ibizan Hounds who jump as high as 5 or 6 feet from a standstill.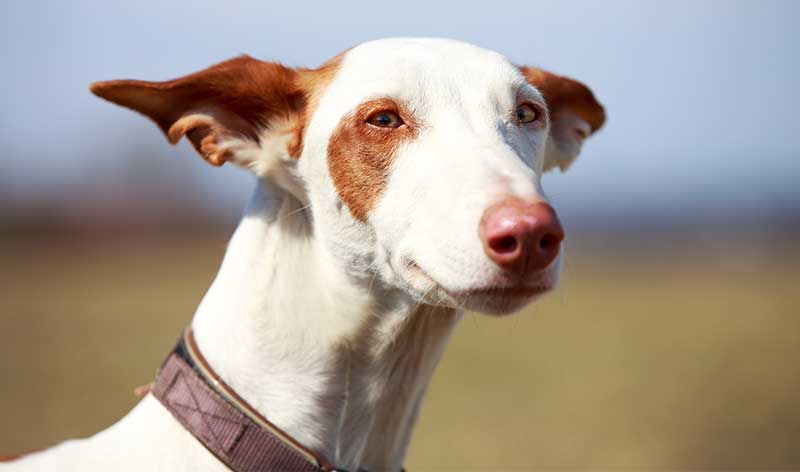 Because they have a strong prey drive, owners should not let them off a leash in unfenced areas. This is both for the dog's safety and for the safety of the local cat population.
Being athletic, these dogs do need a lot of exercise. They will enjoy a good run once or twice a day. And at home, they are loyal and friendly, making them popular family pets.
They come in both smooth and wire coats and they are not high maintenance when it comes to grooming. If you give them an occasional brush and wash, this will keep their coats clean and healthy.
Health Issues And Life Span
Despite being largely healthy, Ibizan Hounds can be prone to hip dysplasia, hypothyroidism, seizure disorders, eye problems, and deafness. You should check that any breeder you contact screens for such conditions.
The Ibizan Hound has a life span of 11 to 14 years.
Ibizan Hound Fun Facts
They can smile! Some owners can get their dog to grin widely as a trick
Some people associate Ibizan Hounds with Egypt, but most people believe that these dogs originally came from Malta
7. Podenco Maneto
This little hunting dog resembles a dachshund with its long body and short legs. However, the Podenco Maneto also has pointy, upright ears and their short, smooth coat comes in shades of white and red.
They range in weight from about 18 to 25 pounds and stand as tall as 14 inches.
We don't know the exact origins of this breed. However, most people believe they come from Andalusia.
Hunters used the Podenco Maneto with a team of dogs to detect prey. With their short legs, this Spanish dog breed is not fast. But they can work their way through dense brush and narrow canyons that other dogs cannot.
People know these dogs for their quiet and methodical work. Once they detect their prey, they bark to alert the other hunting dogs to give chase.
Not only do these little dogs with a big personality make good hunters, but they also make excellent canine companions. They're great family dogs, who are loyal and affectionate with their owners. They enjoy simply being in the company of their people and will curl up at your feet.
They are intelligent, independent, and strong-willed. So, owners will need to show a firm hand when it comes to training. Like most dogs, they respond well to positive training methods.
Health Issues And Life Span
We don't know a lot about the hereditary health problems of the Podenco Maneto.
Due to their short legs, this Spanish dog breed is prone to intervertebral disc problems. They are also a breed with a history of dental issues and will need their teeth regularly brushed to maintain good oral health.
We also don't know their average life expectancy.
Podenco Maneto Fun Facts
There are 19th-century paintings that depict this short-legged breed of dog in Spain
Some people refer to them as Andalusia Hound Maneto dogs
Spanish Terrier Breeds
8. Ratonero Bodeguero Andaluz
The English-speaking world knows them as the Andalusian Rat Terrier or Spanish Terrier. But this medium-sized dog is only officially recognized in Spain but has its roots in England.
The original dogs made their way to Spain back in the days when trading between the British Isles and the region of Jerez was popular. These original dogs that the Andalusian Rat Terrier came from have come to be known as Fox Terriers.
The Andalusian Rat Terrier stayed true to the original dogs brought to Spain. Consequently, they look a little different than the Fox Terriers we know today. These dogs have smooth coats, unlike the Fox Terrier, which went on to acquire the wire coat later in their development.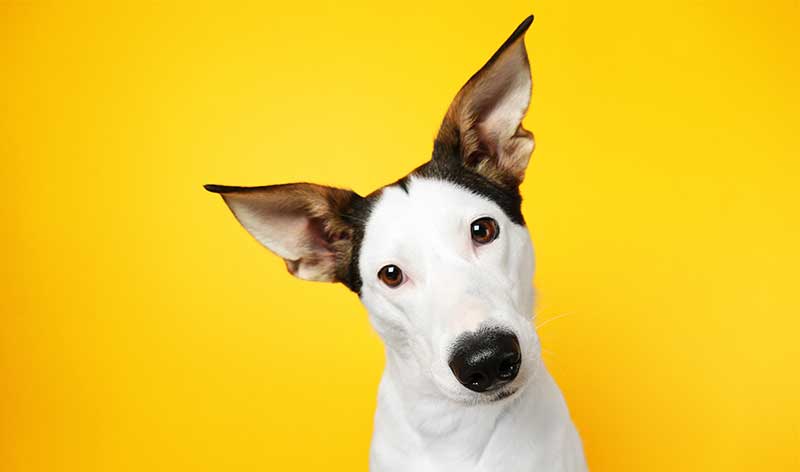 People bred this Spanish Terrier to work. Therefore, they are agile, muscular, and keen to get on with other dogs and work as a team.
They are bright and energetic in temperament. And while they are loyal companions, if they detect a rat, their prey drive will kick in and they will take off.
While these little fellows have been around for a while, they were only recognized by the Royal Canine Society of Spain in 2000.
Health Issues and Life Span
Like some of our other Spanish dog breeds, there is little data available regarding health problems with this breed. However, they do like their food, so keep an eye on their gluttonous tendencies as weight gain can be an issue.
They seem to be a healthy breed with a life span of 15 to 18 years.
Ratonero Bodeguero Andaluz Fun Facts
This Spanish Terrier goes by several names: Andalusian Mouse-Hunting Dog, Bodeguero Andaluz, Perro Ratonero Bodeguero, and Ratonero Bodeguero Andaluz
This is just one of the Spanish breeds of dog people used to catch rats in horse stables and Andalusian cave homes
Spanish Herding Dog Breeds
9. Pyrenean Shepherd
The Pyrenees Shepherd often worked alongside the larger Great Pyrenees in the mountainous border between Spain and France. The smaller Pyrenean Shepherd's job was to herd the flock.
These hardy dogs grow to be anywhere between 15 to 21 inches at the shoulder. They come in a variety of colors, and two general varieties: rough-faced and smooth-faced.
Smooth-faced "Pyrs" have shorter fur around their muzzle. And the muzzle itself is also a little longer than their rough-faced siblings.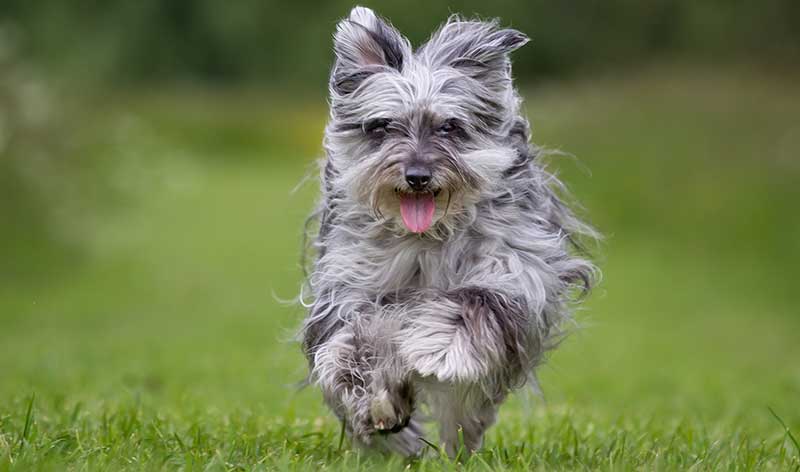 Bred to be alert and lively, these dogs are smart, active and always up for a challenge.
They respond well to clicker training and will need plenty of exercise and interaction with their family to be happy.
Health Issues And Life Span
You should make sure they are bred from stock that is free of joint problems, such as hip dysplasia, and patellar luxation. Also, you should make sure they're screened for any inherited disorders, such as epilepsy and eye problems.
This breed is quite sturdy and they are relatively healthy with a life expectancy of 15 to 18 years.
Pyrenean Shepard Fun Facts
Renaissance artists in France feature the Pyrenean Shepard in their artwork
They are exceptional at managing sheep. Only two of these dogs are required to manage a flock of 1000 sheep!
10. Catalan Sheepdog
This is one of the more cheerful Spanish breeds of dogs that hails from North-Eastern Spain. And they have a long history as working dogs.
Originally, people used these dogs for herding and protecting flocks. Generations of farmers greatly valued their courageous yet friendly temperament.
In the 1950s and 1960s, these dogs went into rapid decline as traditional farming methods started to die out. In the 1970s, however, a group of dedicated breeders set about to save the breed that has led to its resurgence as a pet in recent times.
Nowadays, the Catalan Sheepdog has become increasingly popular as a family pet.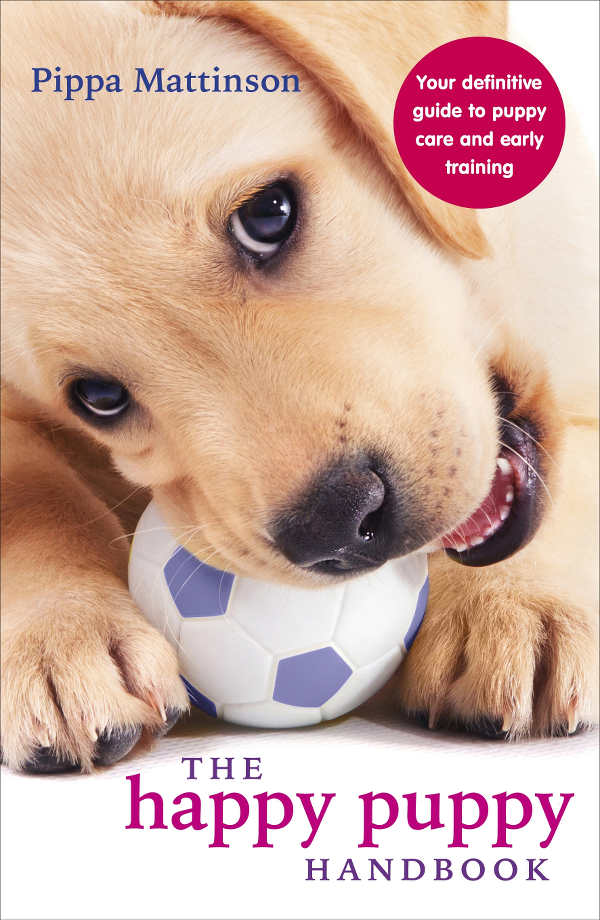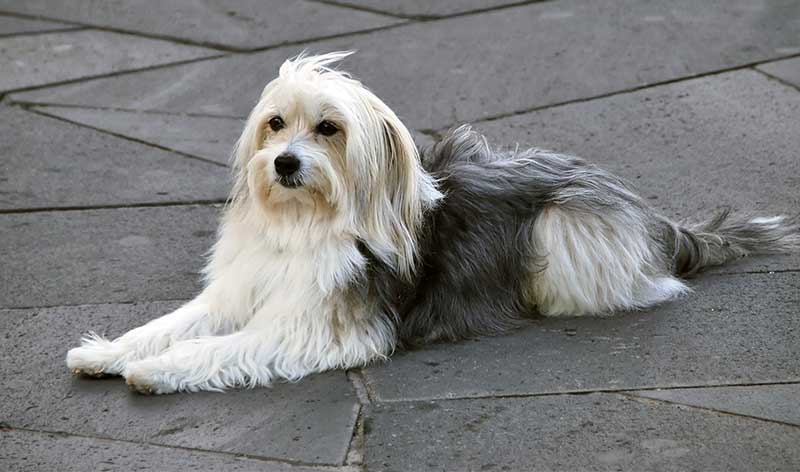 These dogs have long shaggy fur, which provides them with protection in just about any weather. They come in fawn, sable, grey and black coloring, with a variety of combinations of these base colors.
Catalan Sheepdogs are loyal, fun-loving and easily trainable. However, perhaps due to their original role of herding and guarding a flock, they can be initially wary of strangers.
As working dogs, they need plenty of exercise and will enjoy activities like canine sports.
Health Issues And Lifespan
You should make sure breeders screen for hip dysplasia and eye conditions.
As a testament to their history as hardy, all-weather workers, these dogs are fairly healthy. Their average life expectancy is about 12 to 14 years.
Catalan Sheepdog Fun Facts
This dog goes by a few different names, including Gos d'Atura Català, Catalan shepherd, and Catalan sheepdog.
There is a short-haired variety of this breed that is less popular and is nearly extinct
11. Spanish Alano
This strong and muscular Spanish dog breed stands at an average height of 24 inches and weighs on average between 72 and 99 pounds.
They have a short and stiff coat that comes in brindle, black, grey, red, or fawn. Those dogs with a solid coat of fawn or red may also have a mask of black or grey.
These dogs date back to the 5th century AD in Spain. And people believe they originated from the Alani tribe in a region of Iran.
People used the Spanish Alano as a hunting and cattle dog due to their strong jaw. Hunters and farmers employed these dogs to catch and hold the animals until they could arrive to finish the kill, or in the case of cattle, mark or vaccinate the cow. Unfortunately, people used them in bull-baiting and similar sports as well.
In addition to their role as a working dog, the Spanish Alano is a good companion and guard dog. They are dedicated and loyal to their family.
These dogs can be strong-willed. So, they are not recommended for first-time dog owners. They tend to need a strong and experienced hand.
Spanish Alanos tend to be good with other animals because they were originally used in hunting packs. But they need to be trained to get along with small animals due to their high prey drive.
Health Issues And Life Span
A few health concerns for you to watch out for, common to many large breeds, are hip dysplasia and gastric bloat.
The Spanish Alano has an average life span of 10 to 12 years and is a relatively hearty and healthy dog.
Spanish Alto Fun Facts
People believe they are related to the Great Dane and the Dogue de Bordeaux
Christopher Columbus used these Spanish dog breeds in the 15th century
Carlos Contera worked to help save the breed when they were going into extinction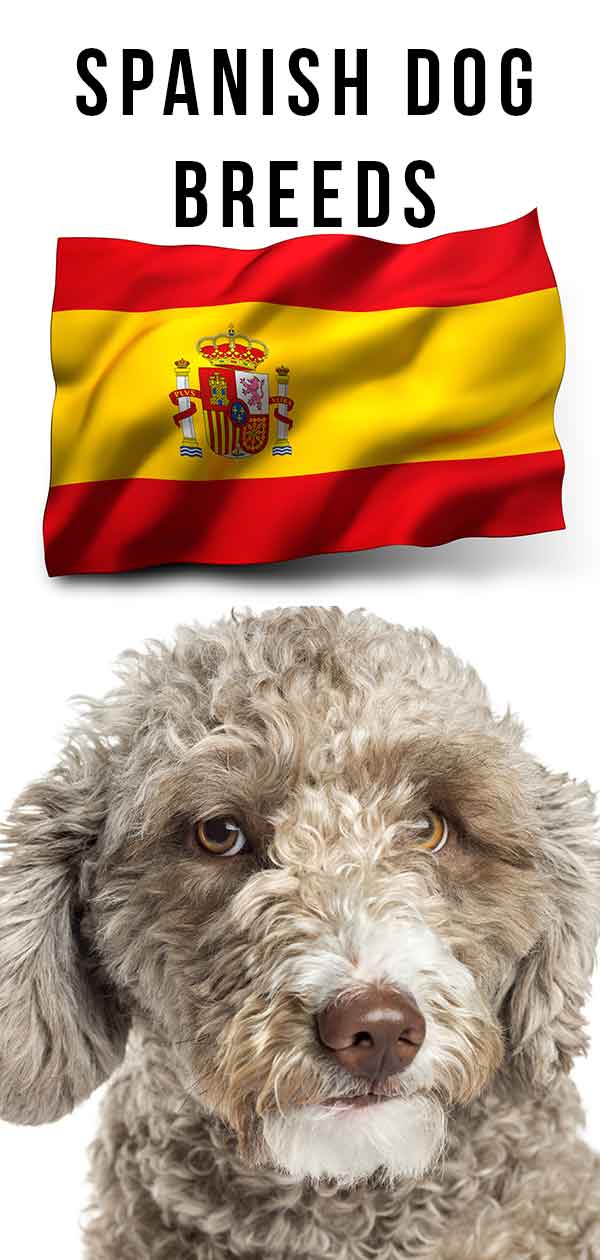 More Posts You May Like
If you've found our article on Spanish breeds of dogs interesting, here are a few more articles you might enjoy as well: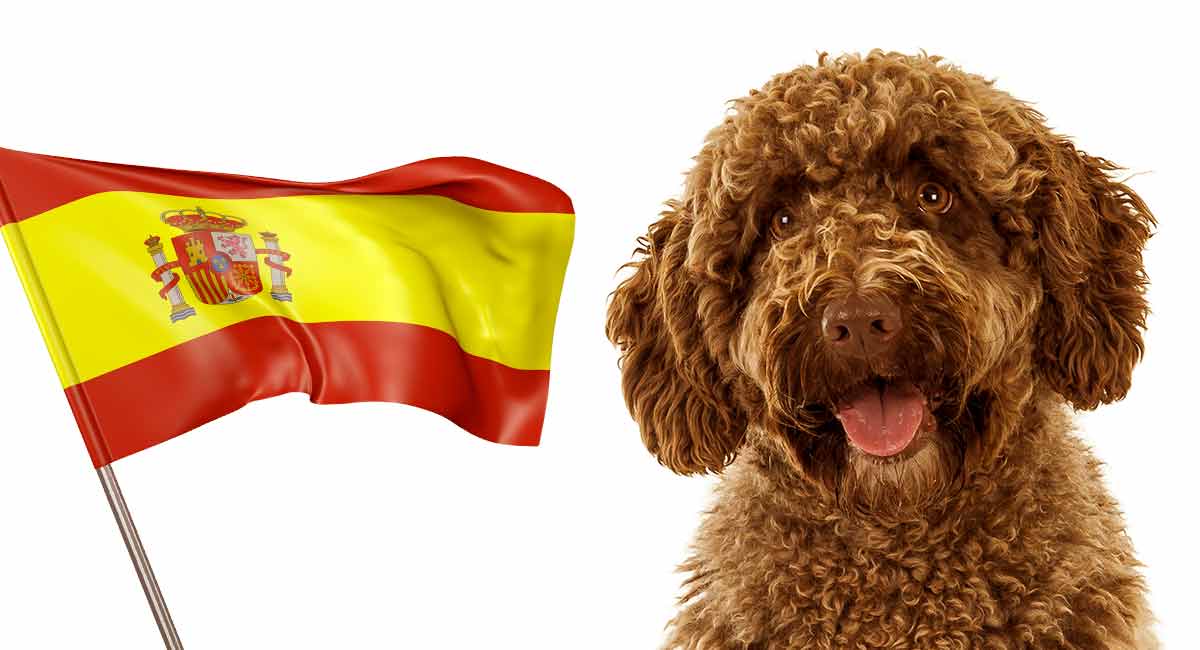 Spanish Dog Breeds
We hope you have enjoyed this roundup of some of the most popular dog breeds from Spain. However, there are plenty more Spanish breeds of dogs to explore.
Do you own or know of any dog breeds from Spain that we didn't mention here? What have your experiences been with Spanish dog breeds?
Please tell us about them in the comments section below.
References And Further Reading
American Kennel Club (AKC). (Accessed 2019). "Ibizan Hound."
Brass, W. (1989). "Hip Dysplasia in Dogs." Journal of Small Animal Practice.
College of Veterinary Medicine. (Accessed 2019). "Neuronal Degeneration." The University of Minnesota.