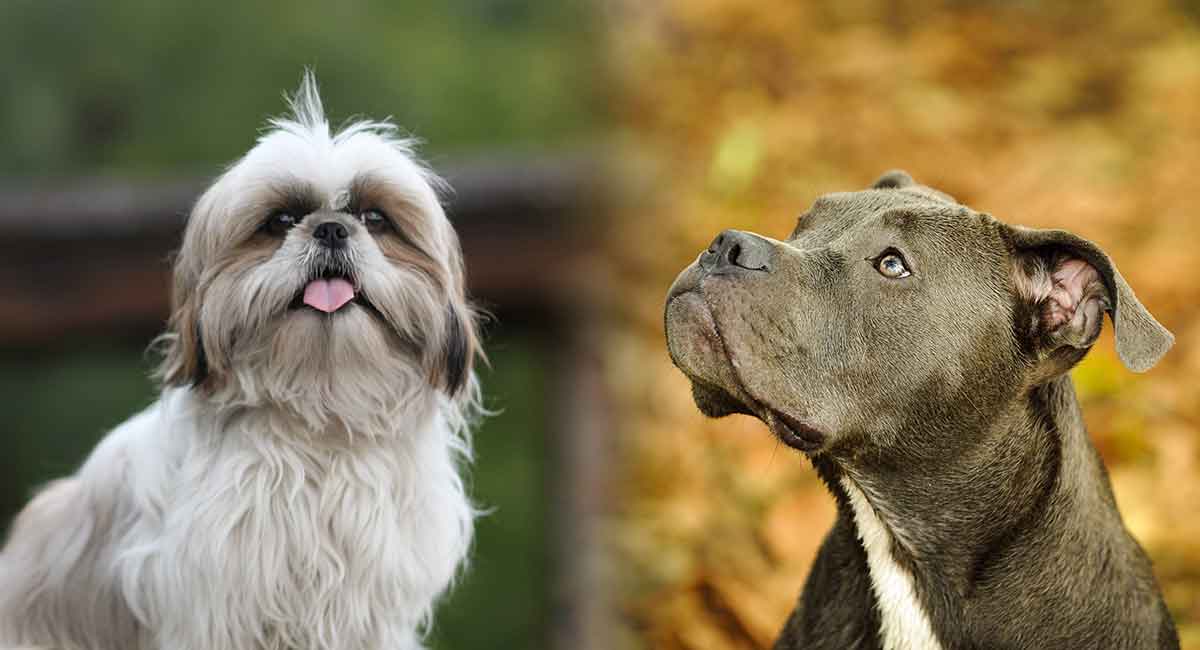 The Shih Tzu Pitbull mix combines two popular types of dog.
The silky Shih Tzu and the athletic Pitbull are both well-loved companion breeds.
But because they look and behave so differently, predicting the traits of a Shih Tzu Pitbull mix is very difficult.
When bred together, they make a unique crossbreed. But does the mix make a good family companion?
Read on to find out about the appearance, temperament, maintenance, and health of the Shih Tzu Pitbull mix.
Where Does The Shih Tzu Pitbull Mix Come From?
The Shih Tzu and the Pitbull both have rich histories.
Shih Tzus have been around since the 17th century and were a favorite of Chinese royalty. They were so highly valued that the Chinese refused to sell or trade them, and they only became recognized by the American Kennel Club in 1969.
Pitbulls aren't currently recognized by the American Kennel Club as an independent breed but are listed as a type of dog descended from bulldogs and terriers. Dogs in the Pitbull type include the American Pitbull Terrier and the Staffordshire Terrier.
They can all be traced back to the 1800s when they were used for blood sports in the United Kingdom. They later became family companions and catch dogs for hunters.
By crossing the Shih Tzu with a Pitbull, you get the mix. They're mutts, meaning their parents are two different breeds.
Mutts are often thought to be healthier than purebred dogs, which are dogs whose parents are the same breed. Because dogs of the same breed are genetically similar, they're likely to pass on any negative genetic information to their offspring if bred together.
This is why purebred dogs are often vulnerable to predisposed health conditions. That's not to say all purebreds have bad genes though. A responsible breeder will take precautions to minimize this risk.
Fun Facts About the Shih Tzu Pitbull Mix
The Shih Tzu's name comes from the Chinse word for "lion" due to their fluffy hair, which can often still be seen when mixed with the Pitbull. They're in many ancient Chinese paintings.
In the 1900s, Pitbulls were used as a "nanny dog" to guard children as they were considered trust-worthy and gentle. Despite their reputation, their temperaments are often loving and loyal as shown by their long list of celebrity fans including Jennifer Aniston and Marc Jacobs.
Shih Tzu Pitbull Mix Appearance
Breeding a mixed breed is a game of chance. There's no guarantee which features it will get from either parent. There's likely going to be variation between each Shih Tzu Pitbull mix.
They will usually be between 10 to 25 inches tall and will weigh around 15 to 30 pounds as adults.
Typically, the face resembles the Shih Tzu's flatter features more so than the Pitbull's squarer features. This puts the mix more at risk to develop health issues, which we will look more into later on.
As the Shih Tzu is a small and stocky dog whereas the Pitbull is a medium and muscular dog, it's hard to predict what the mix's body type will be. Preferably, it will take more after its Pitbull parent to avoid having the Shih Tzu's elongated spine.
The fur tends to be silky and fluffy due to the Shih Tzu genes but is unlikely to be long and flowing as the Pitbull is a short-coated breed.
Both breeds come in a range of colors and markings including black, yellow, red and brindle. The mix's color and markings depend on those of its parents.
Shih Tzu Pitbull Mix Temperament
As both parent breeds have generally pleasant temperaments, a Shi Tzu Pitbull mix should too.
Their notable love of children means Pitbulls are great family companions. They're enthusiastic, loyal and willing to work.
Due to their strong jaws, they can cause severe injuries if they become aggressive, but this is unlikely if socialized correctly.
Shi Tzus are lapdogs so are naturally outgoing and loving. They're not as independent as the Pitbull and enjoy being fussed over.
If not socialized properly, they're likely to become aggressive or fearful later in life. But their small jaws cannot cause as much harm as the Pitbull's. A Shi Tzu Pitbull mix should have a wonderful temperament that would fit well into any family if socialized appropriately.
Because the Pitbull has been bred to have the trait of "gameness", the mix may be inclined to chase or guard things. This is worth considering if you have other pets in the house.
Training Your Shih Tzu Pitbull Mix
Positive reinforcement training with the use of treats should be effective. You can attend training classes or train it yourself.
Potty Training Your Shih Tzu Pitbull Mix
Smaller dogs like the Shih Tzu Pitbull mix often have a stubborn side and can be harder to housebreak. If you get one that hasn't already been potty trained, it's recommended you cover carpeted areas and restrict access to rooms you don't want them to use.
Potty training can be a long process, but you can use our potty training schedule to keep you on track.
Crate Training Your Shih Tzu Pitbull Mix
Training your dog to feel comfortable when in a crate should also be carried out. It reduces the risk of separation anxiety, keeps the house tidier, and reduces stress for vet visits and car journeys.
You can read more about crate training here.
Socializing Your Shih Tzu Pitbull Mix
Socialization is the learning process dogs go through when they're young to make them suitable companions. This includes being handled and exposed to new people and sensory stimuli during their early weeks of life.
If socialization doesn't take place correctly, it can result in an aggressive or fearful dog. As the mix is half Pitbull, which can be a dangerous breed due to those powerful jaws, training is essential to reduce the risk of injuries.
Ensure you socialize your dog properly if you get it from a young age. Or if it's an adult who's been poorly socialized, carry out behavioral training.
Exercising Your Shih Tzu Pitbull Mix
The amount of exercise a Shih Tzu Pitbull mix requires depends on its size. But in general, a 30 to 60-minute walk daily is recommended.
The mix can often suffer from having spines too long to sufficiently support their legs. Therefore, don't make its exercise regime too intensive to reduce the risk of back pain and more severe issues such as paralysis.
If the mix has the Shi Tzu's flatter face, it's at risk of being brachycephalic and should not swim as it could drown. It may struggle to breathe, so avoid heavy exercise to prevent it from overheating, especially in hot weather.
Because of their breathing problems, Shih Tzu mixes should not be kept on leashes that go around the neck. Instead, attach the leash to a harness that goes around the body to relieve any additional pressure.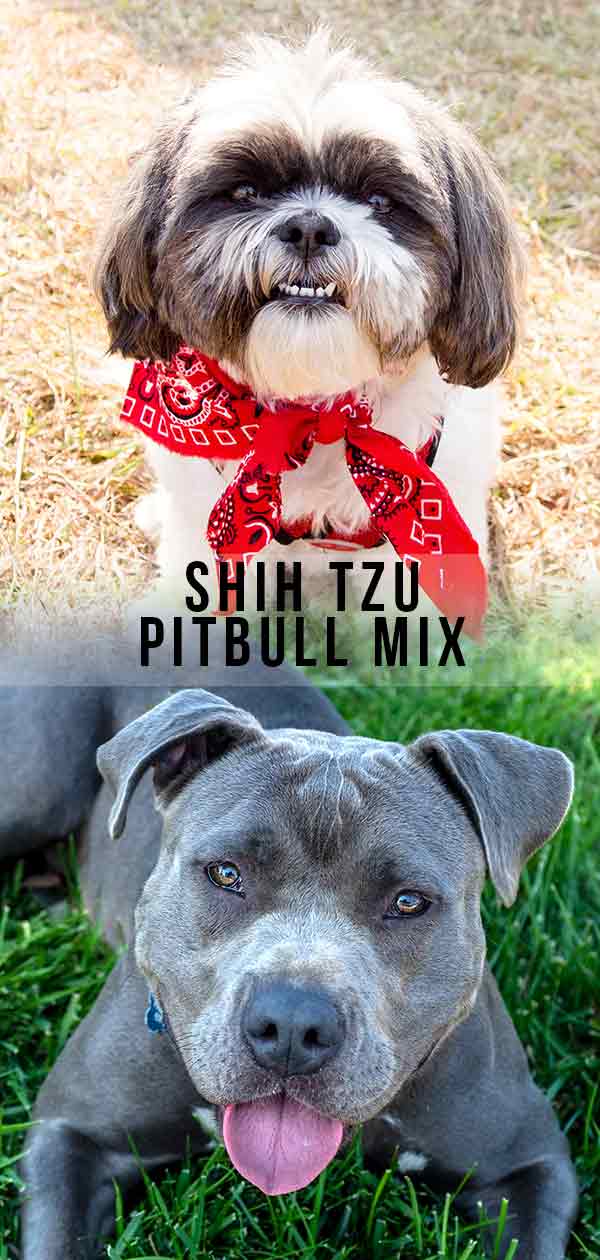 Shih Tzu Pitbull Mix Health
A Shih Tzu's expected lifespan is 10-16 years and a Pitbull's is 8-15. A mix should live for a similar amount of time, but this depends on its health status.
A dog's conformation is its overall structure including its external appearance. Exaggerations and defects in a dog's conformation can result in health issues and disabilities.
Let's take a look at each breed parent's health issues that could be passed onto your Shih Tzu Pitbull Mix
Pitbull Health
Despite being a pretty sturdy breed, Pitbulls are genetically predisposed to hip dysplasia, heart disease, and allergies. There's a chance your mix will also be prone to these issues.
Shih Tzu Health
As mentioned before, Shih Tzus have flat faces and long spines, making them vulnerable to a long list of problems. These include overheating, struggling to breathe, dental issues, epilepsy, and intervertebral disc disease.
Shih Tzu mixes are also prone to dental issues as their small skulls cause overcrowding, so it's recommended you carry out some dental care steps to reduce the risk of decay. You can purchase dental treats or even brush their teeth using special brushes and toothpaste.
Your mix may suffer from these problems, but as it's crossbred with a Pitbull, its chances are not as high as those of a purebred.
Genetic Health And Testing
To reduce the risk of getting a dog with health problems, it's highly recommended you view its genetic history. If you don't have a breeder who can provide you with this, you can pay to get tests done yourself.
For more information about choosing the right health tests, and current disease statistics by breed, visit the Orthopedic Foundation for Animals' Canine Health Information Center.
Shih Tzu Pitbull Mix Grooming
The amount of grooming the mix will need depends on which parent it takes after the most. Shih Tzus' coats are much harder to maintain than those of Pitbulls due to their length and silkiness.
A comb-through with a slicker brush a couple of times weekly is recommended.
Shih Tzu Pitbull Mix Feeding
The nutritional requirements of a Shih Tzu Pitbull mix depend on its life stage, health status, and activity levels.
There are different commercial food options out there to explore or you may wish to take the homemade food route.
Adults will usually thrive on 2 meals a day, whereas puppies will need 3 to 4 smaller ones. You don't want your mix to become obese as this can worsen any predisposed health issues.
Do Shih Tzu Pitbull Mixes Make Good Family Dogs?
Because both parent breeds of a Shih Tzu Pitbull mix have great temperaments, they're family-friendly pets.
However, the Shih Tzu parent is likely to pass down a lot of predisposed health issues to the mix, giving it a worsened quality of life. If you're set on getting one, you should consider rescuing an adult from a shelter instead of buying one from a breeder.
Rescuing a Shih Tzu Pitbull Mix
Contact your local rescues and enquire about the Shih Tzu Pitbull mix.
Alternatively, look into breed-specific rescues for Shih Tzus and Pitbulls and ask if they have the mix.
We'll link to some Shih Tzu and Pitbull specific rescue shelters at the bottom of this article.
Finding a Shih Tzu Pitbull Mix puppy
Mixes like the Shih Tzu Pitbull are gaining popularity due to their often sturdier genetic make-ups. Local and breed-specific rescues may hold Shih Tzu Pitbull puppies.
If they don't, you could find a reputable breeder online or by contacting local breed clubs. A responsible breeder will be keen for you to visit and will be transparent about their dogs' genetic histories.
It will be important to ensure that the breeder can provide proof of proper testing of the parents, as poor genes create an increased risk of health problems arising later in life.
You should steer clear from pet stores and puppy mills where puppies are mass-produced. Not only are the puppies from these places often kept in cruel conditions, but they're more likely to be bred irresponsibly.
Bear in mind that in some countries and regions like the UK, owning or breeding an American Pitbull Terrier is illegal. In those situations, you can look for mixes with other dogs of the Pit Bull type.
You can use our puppy search guide for more information on finding the right puppy for you.
Raising A Shih Tzu Pitbull Mix Puppy
Raising a puppy of any breed can be a big challenge.
By providing them with high-quality care in puppyhood, you are setting them up for healthy and happy adulthoods. Use our puppy care guide to get clued up and become a responsible owner.
It's important you carry out training in puppyhood for it to be most effective. We have a wide catalog of information in our puppy training guide.
Shih Tzu Pitbull Mix Products and Accessories
To prepare for your new family member, you should get the necessary supplies in advance to make its transition period as easy and stress-free and possible.
Here are some products for Shih Tzus and Pitbulls that may work for your mix. Consider which parent it takes after the most when purchasing supplies.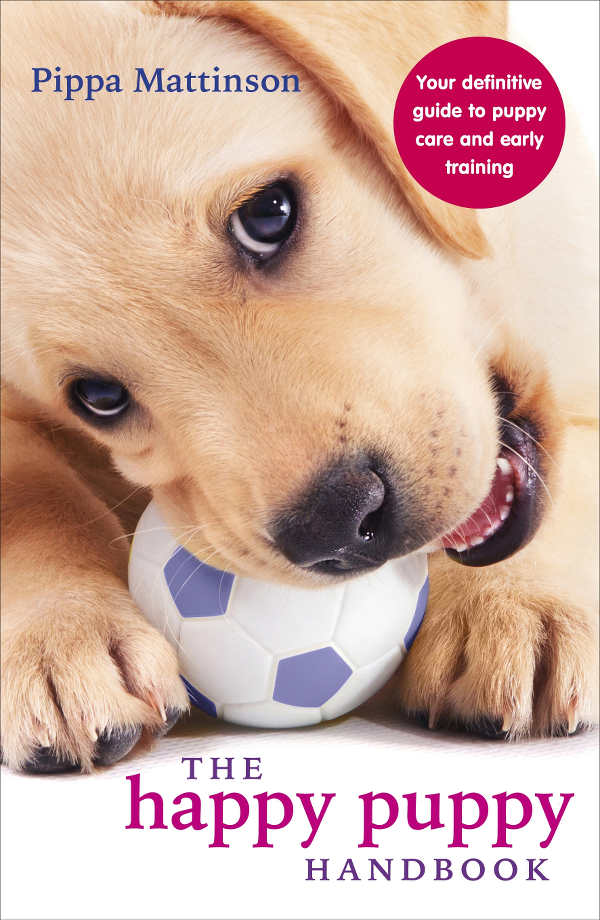 Best Dog Food For Pitbulls
Pros and Cons of Getting A Shih Tzu Pitbull Mix
Cons
Potential health problems. Their long spines, flat faces, and small legs can rack up expensive vet bills
If improperly socialized, they may be hostile towards humans and can give a nasty bite
Their stubborn side can make housebreaking a challenge
Pros
If properly socialized, they should have a lovely temperament, making them good family companions
Don't require intense exercise
They are fairly independent
Similar Shih Tzu Pitbull Mixes and Breeds
Because of the long list of health implications that comes from the Shih Tzu parent, it's worth considering other Pitbull mixes:
Shih Tzu Pitbull Mix Rescues
US Rescues
UK Rescues
Canada Rescues
Australia Rescues
Please comment below if you are interested in joining one of these listings.
Is A Shih Tzu Pitbull Mix Right For Me?
You may want to reconsider if you have young children, as the Shih Tzu Pitbull mix can cause severe injuries if provoked.
If you don't mind the potential health problems, a Shih Tzu Pitbull mix might be the dog for you.
Their affectionate temperaments mean they require a lot of love and attention, so only get one if you have the time for it.
And remember to be a responsible owner and get genetic testing done so you know how to best support your dog.
References and Resources
Clark. The International Encyclopedia of Dogs. Howell Book House. 1995.
Gough et al. "Breed Predispositions to Disease In Dogs and Cats." Wiley Blackwell. 2018.
O'Neill et al. "Longevity and Mortality of Dogs Owned In England." The Veterinary Journal. 2013.
Schalamon, et al. "Analysis of Dog Bites In Children Who Are Younger Than 17 Years." Pediatrics. 2006.
Duffy et al. "Breed differences in canine aggression." Applied Animal Behavior Science 2008.
Packer et al. "Impact of Facial Conformation On Canine Health." PlosOne. 2015.
Adams et al. "Results of a Survey of UK Purebred Dogs." Journal of Small Animal Practice. 2010.
Nolen. "The Dangerous Dog Debate". American Veterinary Medical Association." 2017.
Lockwood. "Are Pit Bulls Different? An Analysis of the Pit Bull Terrier Controversy." Anthrozoos, 1:1. 2015.
Beuchat. "Health of purebred vs mixed breed dogs: the actual data." The Institute of Canine Biology. 2015.
Park et al. "Treatment of a giant pulmonary emphysematous cyst with primary bronchoalveolar papillary carcinoma in a Shih Tzu dog." The American College of Veterinary Surgeons. 2017.