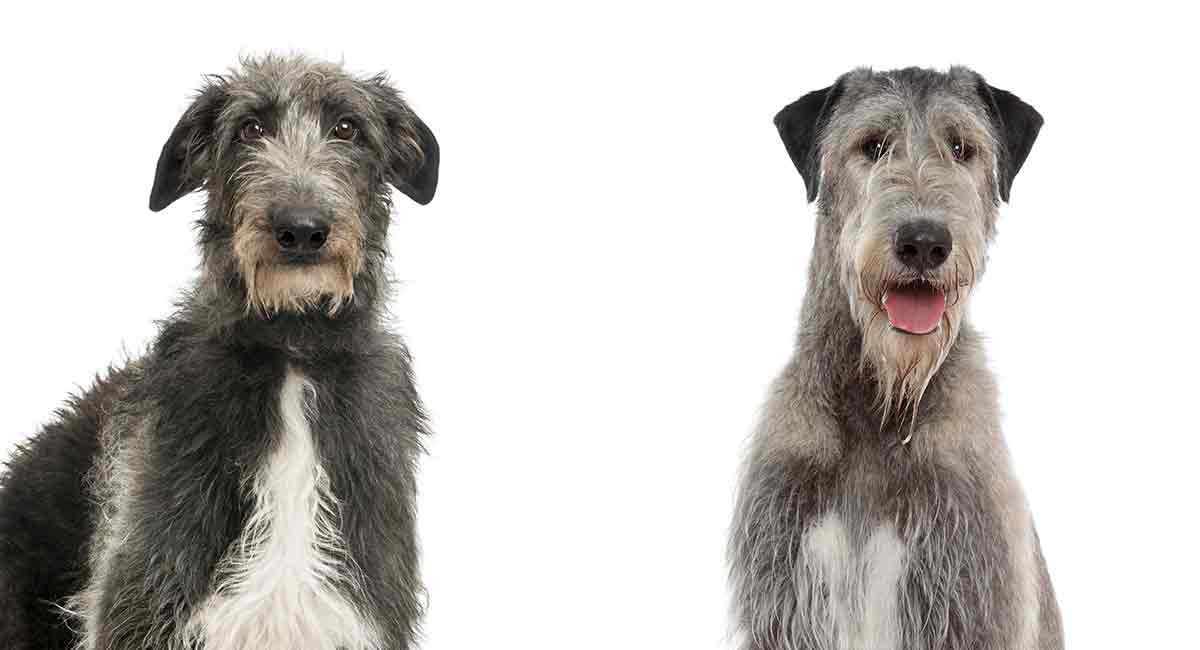 Welcome to our comparison of the Scottish Deerhound vs. Irish Wolfhound!
Two large and powerful sighthounds who were bred to lock eyes on their prey and go for the chase!
The Scottish Deerhound and Irish Wolfhound look very similar and were both bred to hunt.
But there are some differences between them.
For example, one breed is larger than the other, one breed was meant to hunt deer while the other was meant to hunt wolves, and one breed does best with a friend.
In this guide, we'll elaborate on the above discrepancies and more between the Irish Wolfhound and Scottish Deerhound.
Scottish Deerhound vs. Irish Wolfhound – what's the difference?
Deerhound, wolfhound…what are their similarities and differences?
As their breed names suggest, the Scottish Deerhound and Irish Wolfhound both were bred to do roughly the same thing (hunt by sight), but for different prey and on different islands.
They are each members of the hound group.
They both have a "hairy Greyhound" appearance (more on that below) and are both among the largest dog breeds.
But if the two hounds are so similar, then can you go wrong when deciding whether the Scottish deerhound, Irish wolfhound, or neither would be most suitable for your home?
The answer is yes, and the difference lies between how big of a dog you want and how much energy you are able to contend with.
We'll dig deeper into the physical and temperamental difference between Irish Wolfhound and Scottish Deerhound dogs in the upcoming sections.
Deerhound vs. Wolfhound appearance
As mentioned above, the Scottish Deerhound and Irish Wolfhound both resemble the Greyhound, but with even more muscling and long, wiry fur.
They are each very large, even giant dogs, but the Irish Wolfhound can be larger than his Scottish comrade.
This size difference may be attributed to the prey which each breed was trained to hunt – Scottish Deerhounds hunted 400-pound red deer while Irish Wolfhounds hunted fearsome wolves.
Irish Wolfhound vs. Deerhound temperament
With their similar intended uses and extensive histories (both breeds have long and difficult to trace origins), Irish Wolfhounds and Scottish Deerhounds thus have pretty similar temperaments.
When they aren't in pursuit of prey or otherwise running about, both breeds are actually very docile creatures who love curling up on the couch with their favorite human or furred friend.
(They are so serene that we have the Scottish Deerhound included in our Calm Dog Breeds list and the Irish Wolfhound included in our Lazy Dog Breeds list.)
Although both hounds love a good "snuggle session," it's important that you keep up their activity levels throughout their lives due to some breed-specific health problems (more on those in a later section).
Exercise
When it comes to the Deerhound and Wolfhound's exercise requirements and need for kinship, there are some distinctions which should not be taken lightly.
Generally speaking, Scottish Deerhounds require more activity each day than Irish Wolfhounds.
We said that they are calm and lazy breeds, respectively, but in order to stay so calm and lazy, each breed requires time every day to stretch their legs outdoors, preferably in pursuit of a target (e.g., toy)…it's what they were bred to do and love!
Additionally, Scottish Deerhounds are rather sensitive souls who may become destructive if kept alone. Irish Wolfhounds are not particularly fond of alone time, either.
If you are away from home for hours each day, then you should not plan to have a Scottish Deerhound or Irish Wolfhound, unless you have a dog walker on hand to spend time with your pooch.
At Home
If you cannot be home all day, then you may need another dog to keep a Deerhound company, since this breed grows very attached to companions and craves time with people.
Furthermore, since sighthounds are wont to chase after small pets and wildlife, both breeds should be kept in homes with only dogs as pets.
Though they are massive dogs and can seem imposing at first glance, both Deerhounds and Wolfhounds are excellent family members, including families with children…
Just make sure your tiny tots aren't so tiny that a hound could accidentally knock them over!
Scottish Deerhound vs. Irish Wolfhound size
Both Scottish Deerhounds and Irish Wolfhounds are impressively big dogs…neither breed is a good idea if your home is not accommodating to a towering and heavy breed!
Deerhounds may reach 28-32 inches at the shoulder and weigh 75-110 pounds, while Wolfhounds are commonly taller than 30 inches at the shoulder and weigh a whopping 105-120 pounds!
Some especially large male Wolfhounds have reached upwards of 180 pounds!
In both cases, the smaller specimens are typically females.
Scottish Deerhound vs. Irish Wolfhound coat
Wolfhounds and Deerhounds have a wiry and somewhat harsh to the touch coat.
The Scottish Deerhound only has the wiry outer coat, while the Irish Wolfhound has a double-coat, with a soft undercoat protected by the wiry outer coat.
Wolfhound coats may be blue-gray, brindle, gray, or gray-brindle, with or without white markings.
Deerhound coats are acceptable in many more colors, including shades of black, blue, brindle, cream, gray, brindle, red, silver, wheaten, and white.
They may also have white, gray, or black markings.
Scottish Deerhound vs. Irish Wolfhound grooming and shedding
Though the Wolfhound has a double-coat and the Deerhound does not, grooming either coat is pretty easy.
You can get away with weekly brushings to keep either coat from accumulating debris and dead hair. Baths are only warranted if either breed is dirty or smelly.
As far as shedding goes, the Scottish Deerhound sheds seasonally, while the Irish Wolfhound sheds throughout the year, but not excessively.
Even though he has a double coat, the Irish Wolfhound does not completely shed his undercoat seasonally, like many other double-coated dog breeds.
Since both breeds are runners, you'll need to stay on top of nail trims to prevent the nails from getting overgrown and sore.
Scottish Deerhound vs. Irish Wolfhound health problems
With great size comes a great risk for multiple health problems, and this is no different in Deerhounds and Wolfhounds.
Both breeds are particularly susceptible to heart problems, bloat, hip or elbow dysplasia, and bone cancer…
All conditions of which are prevalent in giant dog breeds.
Overbite has also been observed in both breeds.
Additionally, drug sensitivity and issues with anesthesia have been an issue for some Scottish Deerhounds, and Irish Wolfhounds may also develop liver shunt and pneumonia.
Prevention & Lifespan
Genetic testing can help to identify some inherited disorders, but with giant dog breeds, the aforementioned conditions may simply occur with age.
You can stave off some issues, like hip or elbow dysplasia, by keeping a Deerhound or Wolfhound active throughout their entire life.
Furthermore, as is often the case with very large dogs, both Deerhounds and Wolfhounds have short life spans.
Wolfhounds typically live for 6-8 years. Deerhounds typically live slightly longer, with a lifespan of 8-11 years.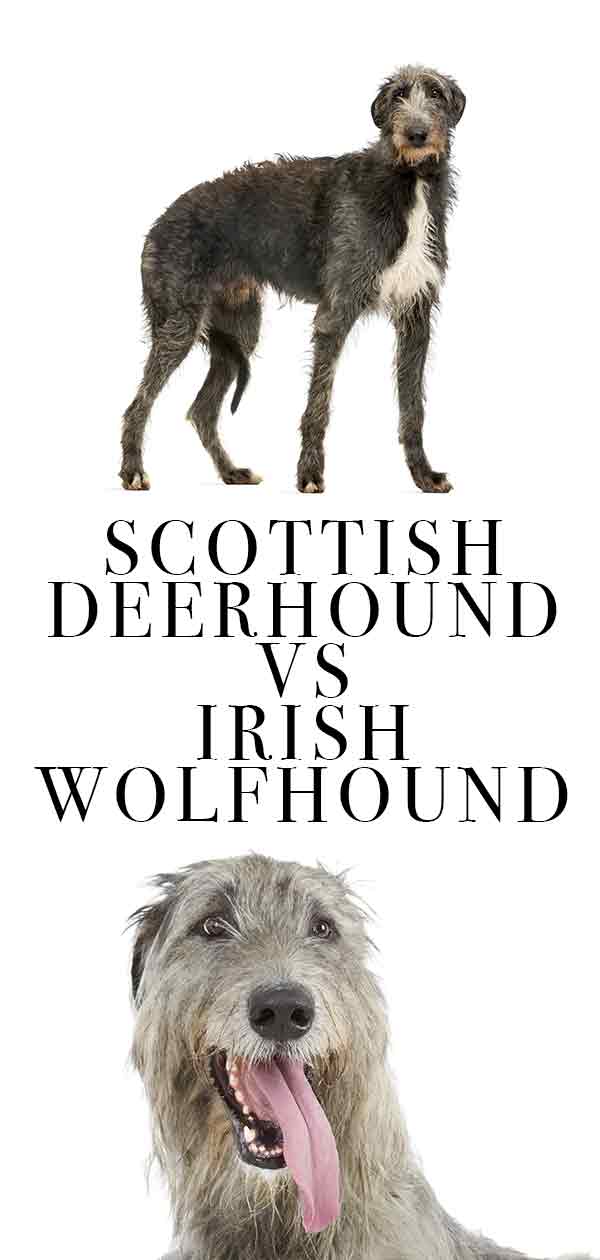 Scottish Deerhound vs. Irish Wolfhound intelligence and training
Both Wolfhounds and Deerhounds can present a training challenge due to their breeding and size.
Sighthounds commonly take off after prey with little notice. Trying to get one to focus more on you and less on the rabbit that he's eyeing will be hard, indeed!
Therefore, it may be necessary to enroll a Wolfhound or Deerhound in doggie training classes so as to keep their focus on their handler.
Once you have their focus, though, both breeds are intelligent and can be used for sporting events. And, with the Scottish Deerhound's particular affinity for people, he is a wonderful candidate for therapy dog training.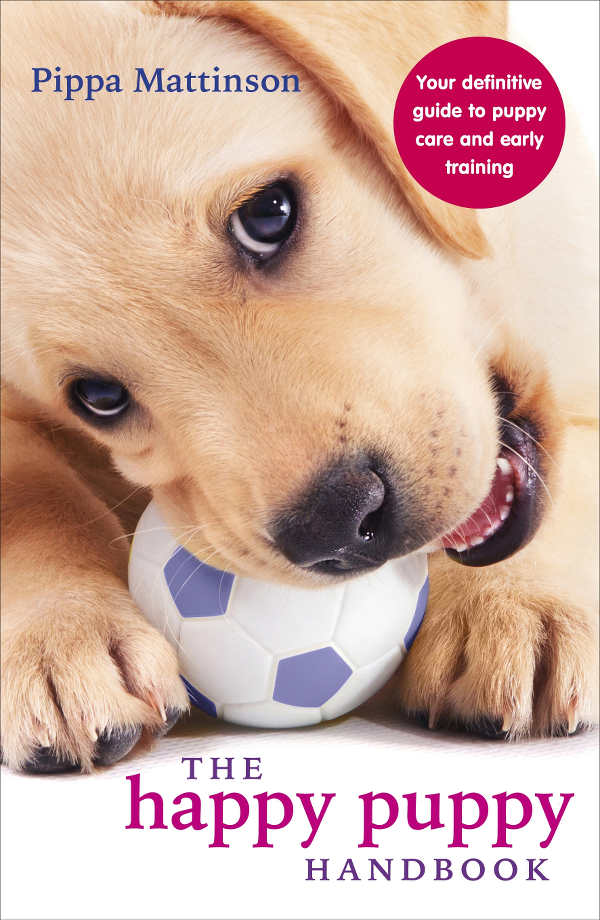 Maturity timeline
However, one thing you must consider before putting either of these hounds through training is the timeline for large and giant breed puppies to mature.
Deerhound and Wolfhound puppies may continue growing for two or three years before they are fully mature.
This is a much longer timeframe than that for much smaller dog breeds, which typically mature within one year.
Therefore, a Deerhound or Wolfhound is still very much a puppy when other breeds are considered to be in adulthood!
And, with being a puppy comes having a puppy mentality and physical attributes, which means you should not forcefully exercise or train a Deerhound or Wolfhound puppy.
You can, of course, begin working on obedience and socialization from a young age, but no rigorous or harsh training regimens should be used.
Scottish Deerhound vs. Irish Wolfhound – a summary
Throughout this guide, we've touched upon the similarities and differences between the Irish Wolfhound and Scottish Deerhound.
They are both sighthounds with the looks and speed of a much hairier Greyhound, with the Wolfhound being the larger of the two.
Each breed is energetic when in action and serene when at rest, but the Scottish Deerhound may need longer periods of activity to remain relaxed when in the home.
Neither breed is suitable for life alone or cooped up, especially the sensitive Deerhound.
Both breeds are prone to giant-breed health problems.
Overall, if your home is large enough, active enough, and social enough for a Scottish Deerhound or Irish Wolfhound, then you'll be blessed with a kind and relaxed companion, regardless of which breed you choose.
More Breed Comparisons
If you've loved learning about the differences between these two breeds, we've got plenty of others you can check out.
Have a look at some of the different breed comparisons we've got below.