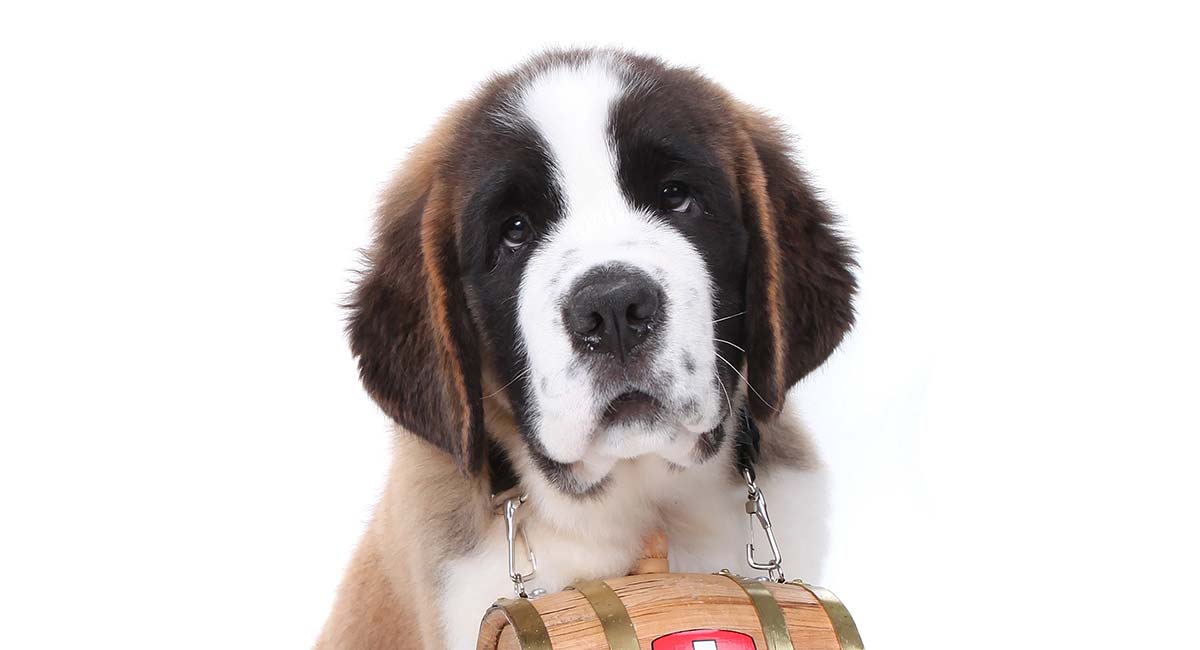 What's the first thing that comes to mind when you hear the words Saint Bernard?
Do you picture a large furry dog with a barrel around his neck, heading out to rescue someone stranded in the snowy Swiss Alps?
The St Bernard breed has a storied history that many animal lovers find appealing.
While we're all familiar with the image of this friendly and gentle dog, what's it like to share your life with this large and lovable breed?
In this article we'll give you all the St Bernard facts, including the breed's history, size, grooming and training requirements, health and lifespan, and how to find a St Bernard puppy.
If you're thinking about making a Saint Bernard your next pet, we'll tell you what you need to know to make an informed decision.
Up first: Saint Bernard history!
St Bernard Dog Breed
Is the St Bernard rescue dog folklore true?
Yes, the Saint Bernard really does have a long history as a mountain rescue dog in Switzerland.
In 1050, a monk named Bernard of Menthon founded a hospice in the Swiss Alps.
People traveling through the Alps often got stranded in snowy mountain passes.
Over the years, the hospice monks bred large, sturdy dogs to help them seek out and rescue stranded travelers.
Whether they carried brandy in casks around their necks is open for debate!
The St Bernard dog is descended from an ancient type of large working dog called the Molosser.
Other Molosser breeds include the Mastiff, Bulldog, and Cane Corso.
Before they were known as rescue dogs, St Bernards had a long history as hard-working farm dogs.
Like other Molossers, the Saint Bernard is a very large dog.
How large? Let's look at St Bernard size next.
Saint Bernard Description
Before you fall in love with that cuddly St Bernard dog puppy, you might want to know how big St Bernard full growns will be.
These are a member of the giant dog breeds. So they are big!
How much does a St Bernard weigh?
Male Saint Bernard weight can range between 140 and 180 pounds.
The St Bernard average weight of females is between 120 and 140 pounds.
What about St Bernard height?
In addition to being heavy, the breed is also quite tall.
Males stand 28 to 30 inches tall at the shoulder.
Females are 26 to 28 inches tall.
The Saint Bernard breed standard calls for a strong, powerful, and muscular dog.
The breed has a large, short-muzzled head with some wrinkles.
The St Bernard is a big and sturdy dog breed, built to handle hard work in cold weather.
The thick Saint Bernard coat helps protect the breed in the snow, but how much grooming will it need?
Saint Bernard Coat and Grooming
Two types of coats are possible in the Saint Bernard.
There is a short haired St Bernard and a long haired St Bernard.
Short-haired dogs are sometimes called smooth coat St Bernards.
The short coat is very dense and smooth, with some longer fur on the thighs and tail.
The long-haired version of the Saint Bernard has a medium length coat that could be straight or wavy.
Like the short haired Saint Bernard, the thighs and tail are bushy.
St Bernard colors are white combined with various shades of red and brown.
Generally, the chest, nape, feet, tail tip, and noseband are white.
The head can sometimes have a mask that is darker than the rest of the coat.
Does All That Thick Fur Require a Lot of Maintenance?
Both the short and long coated Saint Bernards should be groomed with a slicker brush and metal comb on a weekly basis.
The breed sheds seasonally, and during that time, daily brushing may be needed.
The Saint Bernard coat does not normally require professional trimming or grooming.
An occasional bath may be a good idea.
St Bernard Temperament and Training
The Saint Bernard has an endearing personality and truly earns the nickname of gentle giant.
They are famously good with children of all ages, playful yet calm and tolerant.
Of course, with very young children, care should be taken with any large dog breed, even the gentle St Bernard, given the overall weight and size of a full-grown dog.
What About Training Requirements?
All large dog breeds require good obedience training and socialization starting in puppyhood.
While the Saint Bernard has a kind, eager-to-please temperament, its large size means that extra care needs to be taken during training to make sure your dog doesn't have unwanted behaviors like jumping on guests or eating your food off the table.
Use only positive reinforcement training techniques with your Saint.
Never punish your dog, and always reward good behavior.
Will the large Saint Bernard size have a negative impact on health and lifespan? Let's find out.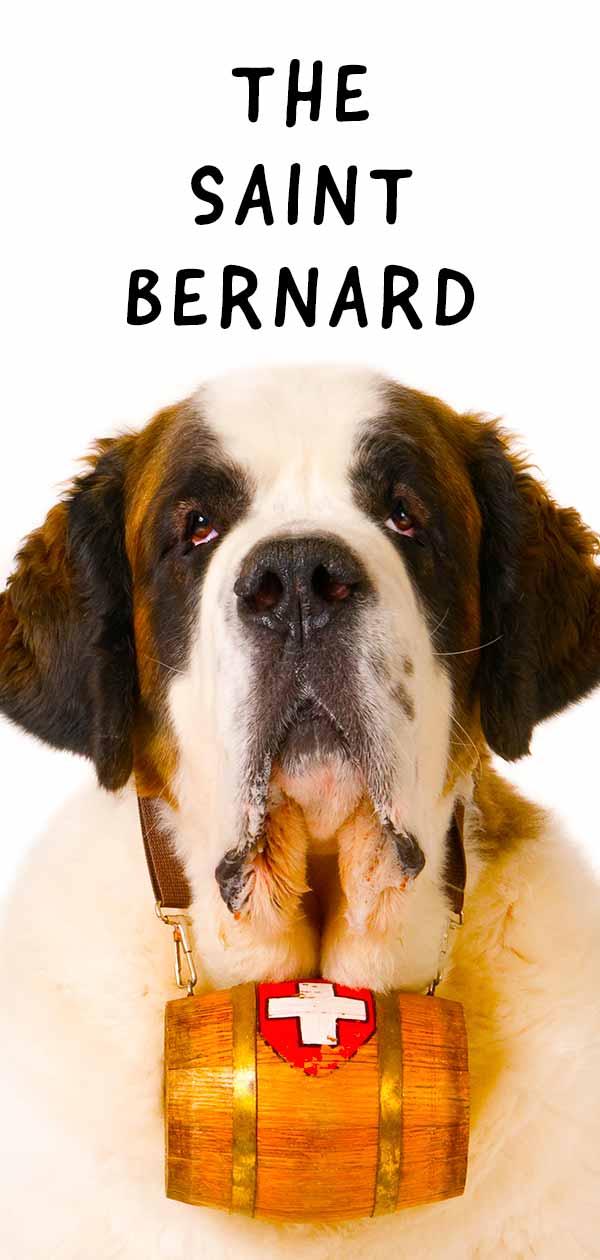 Saint Bernard Health
The Saint Bernard can be affected by genetic health problems common to the breed, as well as some health issues that are often seen in very large dog breeds.
Let's look at the most common St Bernard health conditions that potential owners should know about.
Bloat
Gastric dilation-volvulus (GDV) is a potentially life-threatening condition seen in large dog breeds with deep chests like the Saint Bernard.
Commonly called bloat, GDV occurs after a dog quickly eats a big meal and the stomach expands with gas. You can read more about bloat here.
Sometimes the bloated stomach rotates as well.
Dogs suffering the effects of bloat require immediate veterinary treatment—and often surgery.
Saint Bernards and other breeds prone to bloat should be fed multiple small meals per day.
Elevated food bowls can also help.
You can also talk to your vet about a preventive treatment for GDV called gastropexy, which attaches the stomach to the body wall to prevent dangerous twisting.
Hip Dysplasia
Hip dysplasia is a common condition seen in many larger dog breeds, including the Saint Bernard.
These dogs can also be prone to elbow dysplasia.
This disease is often hereditary in nature and causes abnormal development of the hip joint.
Dogs with hip dysplasia experience pain, stiffness, and lameness.
They can also develop arthritis.
Depending on the severity of an individual dog's case, there are a variety of surgical and non-surgical treatments available.
Because hip dysplasia can be inherited, be sure to choose a St Bernard breeder who health tests their dogs for this condition.
We'll talk more about health testing in the section on finding a puppy.
The Saint Bernard breed can also be prone to some eye and heart problems.
Eye Problems
Eye problems include entropion, ectropion, and cherry eye.
Entropion is an inward turning of the eyelids, ectropion is an outward turning of the eyelids, and cherry eye occurs when the 3rd eyelid protrudes from the eye.
Heart Problems
Dilated cardiomyopathy (DCM) is a serious heart disease that can occur in St Bernards and other large breed dogs.
Middle-aged male dogs are most likely to get DCM.
Dogs with DCM have weakened and enlarged hearts.
Fluid accumulates in the body and the dog will show signs of weakness, tiredness, and shortness of breath.
While treatment is available to make your dog more comfortable, DCM is a progressive disease and leads to heart failure.
As with hip dysplasia, responsible Saint Bernard breeders will test their dogs for DCM and share the results with puppy buyers.
We'll look at how to choose a healthy puppy later, but first a word about St Bernard life expectancy.
Saint Bernard Lifespan
How long do St Bernards live?
This is a common question shared by potential owners of St Bernards and other large breed dogs.
Large dogs tend to have shorter lifespans than small dogs, and the Saint Bernard is not an exception.
The average St Bernard lifespan is between 8 and 10 years.
According to the official US St Bernard breed club, a lifespan of 10 years or longer is possible, but it is unusual enough that they are interested in tracking individual dogs and genetic lines with longer than average lifespans.
Because quality of life is as important as length of life, it's important to choose a breeder who health tests their dogs for chronic inherited health problems like hip dysplasia and dilated cardiomyopathy.
Here's what you should know when picking a St Bernard puppy.
Saint Bernard Puppies
St Bernard puppies are irresistibly cute balls of fluff, but before you lose your heart to one of these little guys, it's important to ensure that your puppy comes from a responsible breeder.
Avoid buying a puppy from a retail pet store or an online ad.
Many dogs sold through pet stores or the internet come from large-scale, for-profit breeding operations known as puppy mills.
Choose a local, small-scale breeder who welcomes potential buyers into their home and shares all relevant health testing information.
Recommended health testing for St Bernards includes veterinary examinations for hip and elbow dysplasia, heart disease, and eye problems.
The test results should be submitted to established canine health registries and certified by their experts.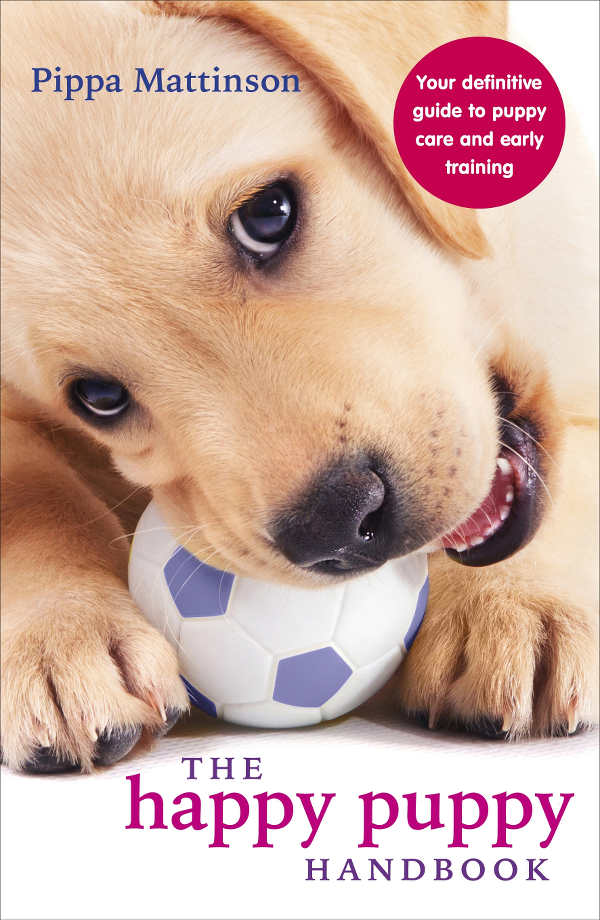 Your breeder should make test results for your puppy's parents available to you.
Other Suggestions for Finding a Good Breeder
Besides reviewing test results, there are other things you can do to ensure that you are choosing a healthy puppy.
Visit one or more breeders in person and meet your preferred puppy's parents and littermates.
Look for friendly, lively puppies and clean, well kept living conditions.
Responsible breeders will provide you with references, AKC registration papers, and a contract outlining conditions for returning a dog for health or other reasons.
Saint Bernard Rescue
Interested in adopting a homeless Saint Bernard?
Rescue can be a great option, especially if you are interested in an adult dog.
Available dogs in the US are listed with the Saint Bernard Rescue Foundation.
You can also check with local animal shelters and dog rescue groups for adoptable St Bernards and St Bernard mixes in your area.
Is a St Bernard the Right Dog for Me?
The Saint Bernard dog can be a wonderful option for fans of large dog breeds who are seeking a loving family pet.
While they are very gentle and patient with children, it's still important to teach children how to interact with dogs and train your dog not to jump on children.
The calm Saint Bernard has a lower activity level and exercise requirements than some of the more energetic large dog breeds.
Requirements
Regular walks and play sessions in the backyard or at the park are enough to keep most happy and healthy.
Feed your Saint Bernard a quality large breed dog food.
Elevated bowls and 2–3 smaller meals per day can reduce the risk of bloat.
St Bernards do shed seasonally… and yes, they also drool!
In addition to brushing, be sure to trim your dog's nails and clean her ears and teeth regularly.
The Saint was bred to live in a cold climate, so make sure you take special care of your dog in hot weather.
Provide your dog with fans or air conditioning indoors and plenty of shade and water outdoors.
Restrict walks and play sessions to mornings and evenings when temperatures are coolest to ensure that your dog stays comfortable and safe.
The Saint Bernard
Already have one of these gentle giants?
We'd love to hear from you!
Tell us about your St Bernard in the comments below!
Readers Also Liked
References and Further Reading
Gastric Dilation-Volvulus. American College of Veterinary Surgeons.
Ward, M.P., Patronek, G.J., Glickman, L.T. Benefits of Prophylactic Gastropexy for Dogs at Risk of Gastric Dilatation-Volvulus. Preventive Veterinary Medicine, 2003.
Harari, J. Hip Dysplasia. Merck Veterinary Manual.
Canine Eyelid Diseases. Animal Eye Care LLC.
Bulmer, B.J. Managing Dilated Cardiomyopathy (Proceedings). CVC in Washington, D.C. Proceedings, 2010.