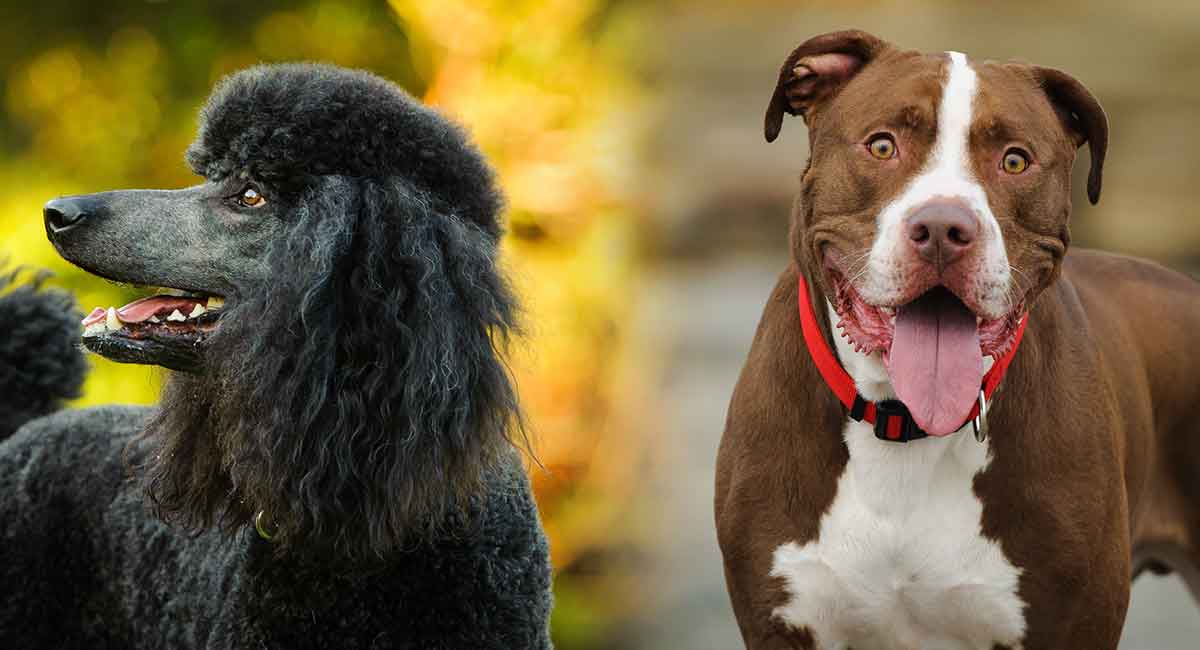 Pitbull Poodle mix puppies are fun, active, and intelligent. Also known as the Pit Boodle, or Pitdoodle, this hybrid breed can make a great family pet. Training and exercise is essential for this smart and energetic dog. Poodles come in three different sizes so the height and weight of your dog will depend on which Poodle was involved. We're going to look at the behavior traits, and characteristics of the Pitbull Poodle mix, and give you some tips for raising a healthy, happy dog.
What is a Pit Boodle?
The Pitbull Poodle mix combines the loyal Pitbull and the mellow Poodle into a dog that owners hope will be loyal, family oriented, loving, intelligent and trainable.
When we are talking about a Pitbull Poodle mix today we will focus on the American Pitbull Terrier as the Pit parent. But you will need to check when looking for a puppy as these mixes are often confused with the Staffordshire Terrier Poodle mix.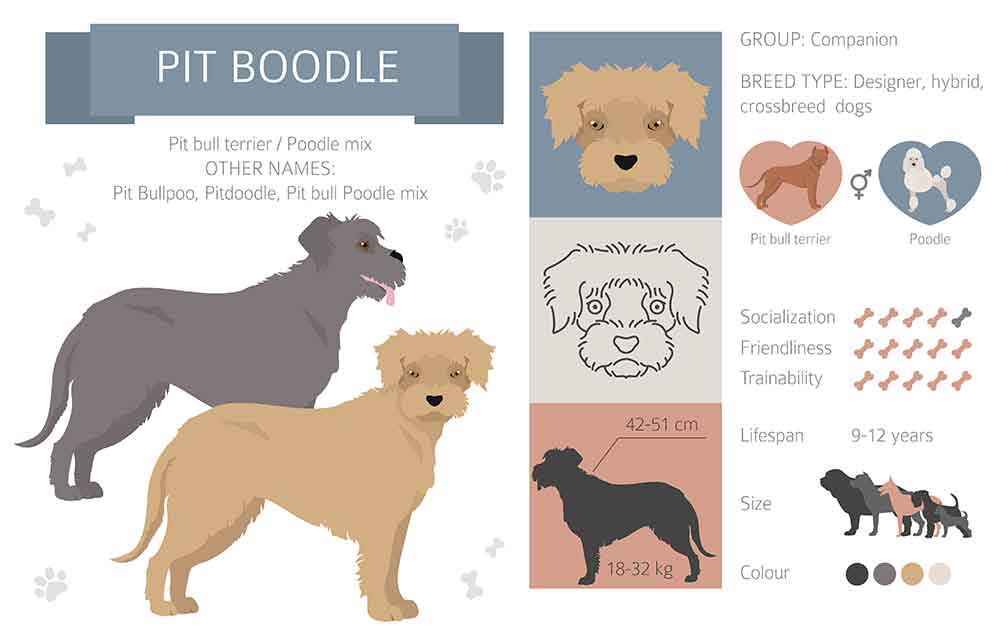 A Pitbull Poodle mix puppy has the potential to be a wonderful family companion, with the right care, socialization and training. But a Terrier Poodle mix also has the potential for quite a lot of variation. Although both hard working dogs, they have quite different personalities. Some better suited to pet life than others!
Where Does the Pitbull Poodle Mix Come From?
One great way to get to know your Pit Boodle's potential personality is to get to know their parents a little better. A Poodle Terrier is 100% working dog, but in rather different ways.
Pitbull Origins
Amazingly, Pitbulls can be traced back to the early 1800s in the United Kingdom. They were originally bred from Old English Bulldogs who gained their reputation from a cruel blood sport known as "bull baiting." The "pit" in Pitbull comes from ratting; rats were placed into a pit so that they could not escape.
Later, people began to make Pitbulls fight other Pitbulls because it was easier to hide from the law than previous forms of cruel "entertainment." Despite the forced fighting reputation, people bred the Pitbull with some quality traits that we love about them today. Pitbulls have a reputation danger and violence due to bad breeding and handling by people in the past, but today well-raised Pitbull lovers include Jennifer Aniston, Kaley Cuoco and Jessica Biel.
Poodle History
Gorgeous Poodles are natives to Germany and dates back as early as the 15th century. The Poodle worked in swamps as a waterdog, retrieving fallen birds. Additional theories have been proposed about the origins of Poodles.
The first one is that the Poodle was developed by rugged Asian herding dogs captured by Berbers (North African people). The second theory is that they were descended from dogs that left the Asian steppes with the Goths. The Goths were a federation of ancient German tribes.
Pitbull Poodle Mix Size
Not every full grown Pitbull Poodle mix will look exactly the same. The Pitbull is a muscular dog with a powerful medium-size body. The influence of the Pitbull in this mix means that your puppy is likely to be stockier and sturdier than the average Poodle. But their weight depends upon which Poodle they are combined with! The Standard, Miniature or Toy.
Although Pitbull puppies might look fairly dainty, an average adult Pitbull will weigh somewhere from 38lbs – 60lbs. Whereas Poodles range from 4lbs to . Your Pit Boodle dog will when full grown weigh anywhere between the weights of their parents. Here is a rough guide!
Standard Poodle Pitbull mix: 38 – 70lbs
Mini Poodle Terrier mix: 10lbs – 50lbs
Pitbull Toy Poodle mix: 4lbs – 50lbs
Teacup Pitbulls
One of the reasons some breeders combine Pitbulls with Poodles is to make a mini Pit Bull. To do this they mix them with a Toy Poodle, shrinking down the average size of the puppies. There is no true toy Pitbull breed, most of those which are advertised are some sort of Poodle and Terrier mix.
What Do Pit Boodles Look Like?
The coat on the Pitbull is short and sleek whereas the Poodle has a dense curly coat. The Poodle Pitbull mix will likely have looser curls than the purebred Poodle. Both breeds come in a wide range of colors and so the Pitbull Poodle Mix comes in different shades of brown, grey, blue, apricot etc. And can included patches of white fur on a darker background.
Poodles have a long muzzle, and domed skull. They have wide-set ears and oval-shaped eyes that can be various dark colors. Whereas Pitbulls have a broad chunky skull. Your puppy when adult will likely have a head that falls somewhere in-between. Not as fine and delicate as the Poodle, but not as broad as the Pitbull.
Pitbull and Poodle Mix Temperament
Just because a Pitbull has a bad reputation doesn't mean they are bad dogs. Among family and friends they have a playful temperament and friendly nature. However, the breed is known to be protective of their family and because of the strength and power of the Pitbull and their gripping bite, an aggressive individual can be dangerous. Aggression is caused by fear and lack of socialization, and this can be avoided by taking proper steps to make sure your puppy is fully socialized and trained.
It takes time, dedication and effort to make sure you have a well-behaved and obedient Pitbull mix. And you'll need to go the extra mile with socialization when your puppy is very small, to make sure that there is no trace of aggression in your puppy.
Poodles are often described as alert, intelligent, loyal, trainable, active and instinctual. They are very smart dogs and can learn from commands and tricks very quickly. They also tend to bond quickly with family. While Poodles can be shy toward strangers they rarely act in an aggressive manner, but it's important when mixing a Poodle with a more powerful breed that you take extra steps when socializing your puppy. .
Training Your Pit Poodle Mix
Socialization is the key for this mix. You can't just bring your puppy home and spend the next few weeks getting to know them in the comfort of your home. Go out and about with your Pitbull Poodle mix puppy every day for the first few weeks. With the puppy in your arms (to avoid infection) you have to introduce them to many, many different people and many different experiences.
You'll be taking your puppy to the mall, on a bus, to friend's houses, to visit schoolchildren, people in uniform, and of different ethnicities. They'll need to watch cars and trucks go by, hear sudden noises, see bright lights, balloons, children playing and much more. For extra socialization training, take your new puppy to the vet and ask what dog kindergarten classes would be appropriate for you and your dog.
Like any new puppy, you'll want to start potty training as soon as possible. This does take a little time, love and consistency. However, you and your puppy will be much happier in the end because you won't have to clean up any unwanted accidents. An easy and effective way to get them potty trained is by crate training them.
Pitbull Poodle Mix Health
Mixed breed dogs can be controversial, but the evidence now suggests that with careful breeding, hybrids can be healthier than purebred dogs. But that doesn't mean there aren't some conditions that they are prone to.
Unfortunately, like all animals, Pitbull Mixes may have a few health issues. Pitbulls are prone to a few common health concerns include actinic keratosis, allergies, bloat, cancer, cataracts, congenital heart disease and hip dysplasia. If you have any concerns about your Pitbull's health (or any dog's health), it's important to visit your local veterinarian. Pitbulls mixes also need to be groomed and bathed regularly to keep their coats healthy. The most common health issues in the Poodle are:
Addison's disease
gastric dilation volvulus
thyroid issues
tracheal collapse
epilepsy
sebaceous adenitis
juvenile renal disease
hip dysplasia
cancer.
Poodles can live anywhere from 11 to 12 years. The most common of their health issues are ear infections because their no-shedding coat grows into their ear canals, where it traps wax and dirt. This mixed breed can live a healthy, fulfilling life with proper care and regular visits to the vet.
Do Pitbull Poodle Mixes Make Good Family Dogs?
Any dog can be a good family dog with the right care, love, attention and training. If you don't have the time and/or inclination to go out and about frequently with your puppy then your Pitbull mix could be at risk of aggression or other behavioral issues associated with fearfulness. However, if you are prepared for the responsibilities that come with a dog, and to go the extra mile with that all important socialization during puppyhood, then the Pitbull Poodle mix could be a great fit for your family.
Rescuing a Pit Boodle
Before you rescue a dog, you need to keep a few things in mind. All rescue dogs are likely less social and affectionate due to a possible poor upbringing and new environment. You have to give them time to adjust to a new home.
Furthermore, be ready to handle any fleas or skin issues that your rescue dog may have. It is very common for a rescue dog to have these issues, especially one with curly hair. Proper grooming can be a solution to these any of these problems.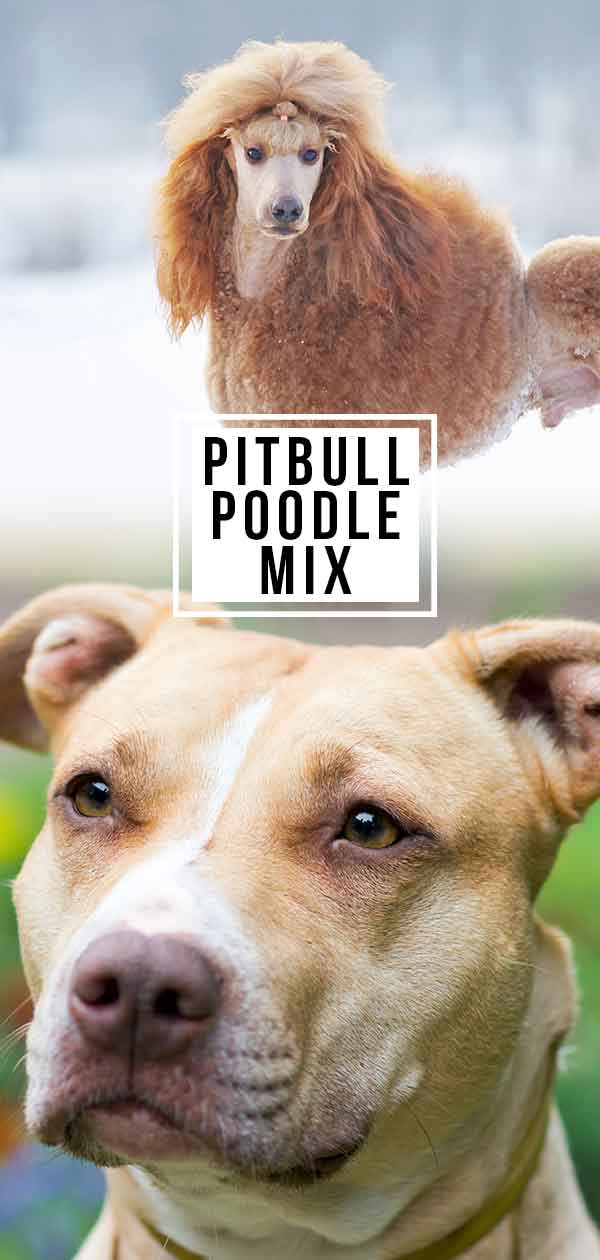 Finding a Pitbull Poodle Mix Puppy
You might have a little difficulty when it comes to finding a Pitbull Poodle mix puppies. The Pit Boodle puppy is not the most common cross, but they do come up from time to time. When you find a breeder, make sure that you meet both parents. They should have a strong bond with their owner, and a purpose in life beyond being used to produce puppies. Parent dogs should know their own name, and be a treasured pet or working companion.
Make sure that you see proof of health certificates for both parents, and that the puppies have been raised in a place where they were able to get plenty of socialization with humans.
Raising a Pitbull Poodle Mix Puppy
When it comes to raising your new puppy, you need to get them on a healthy diet. You don't want to feed them just any food; you want to get them the best and healthiest food possible. It is very important to research and figure out what food is best for your puppy. In addition, you need to make sure that you give them a moderate amount of exercise.
Since one of the parent breeds has the potential to be aggressive, you don't want this mixed breed to get bored. If this dog gets bored, your Pitbull Poodle mix may become destructive and start chewing on home goods. This is where exercise and treat training makes sure that you have an obedient, loving and docile pet.
Pitbull Poodle Mix Products and Accessories
All dogs love to play with chew toys or play fetch. Look for a good chew toy that can withstand their powerful jaws. Also, walking a powerful dog can be somewhat difficult, especially if they try to chase another animal. You can make walking easier and avoid any unwanted accidents by getting your Pitbull Poodle a harness. And teaching them to walk nicely at your side. A harness is more comfortable for your dog and gives you more control of your pet.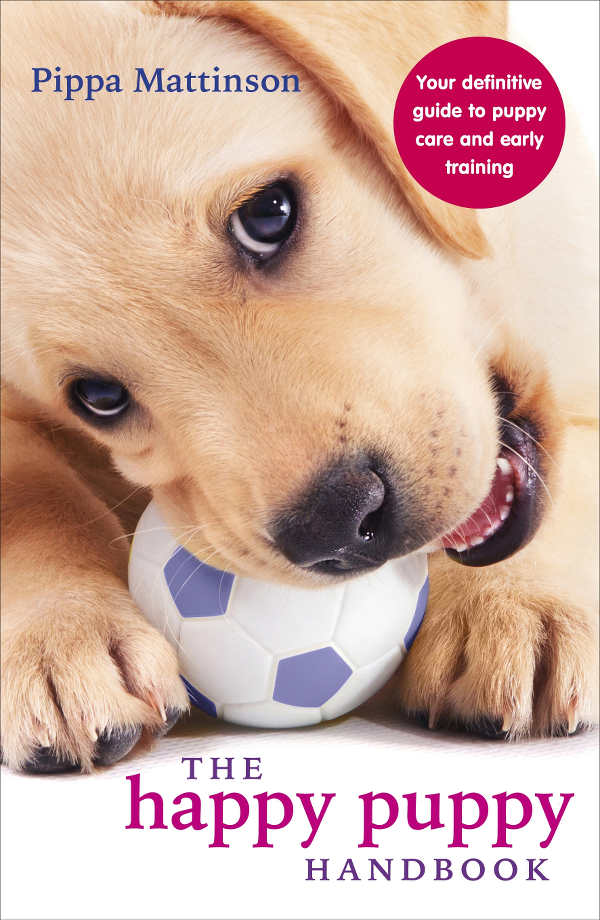 Pros and Cons of Getting a Pitbull Poodle Mix
This mixed breed can be a sweetheart that wants nothing more than to please the owner. They can also be very loyal. However, this mixed breed can be protective and cautious of new people.
Make sure that you spend plenty of time with your Pitbull Poodle to avoid bad behavior. Lastly, train them properly to make sure they act and behave in a way with you agree.
Is a Pitbull Poodle Mix Right For Me?
If you are okay with taking the time to train and take care of this Pitbull Poodle mix, then it may be the right dog for you. They are loyal, loving, trainable and playful.
Similar Pitbull Poodle Mixes and Breeds
If the Pitbull Poodle mix does not seem like a good fit for you, consider alternative breeds that need a good home. We found similar breeds that may be the perfect fit for you and your family.
These breeds include
By going with a similar breed, you avoid potential downfalls in health and own a breed that is perfect for your needs.
Pitbull Poodle Mix Rescues
Here is a list of rescues for these dogs. If your company would like to be added to this list, comment below.
Related Articles
References and Further Reading: