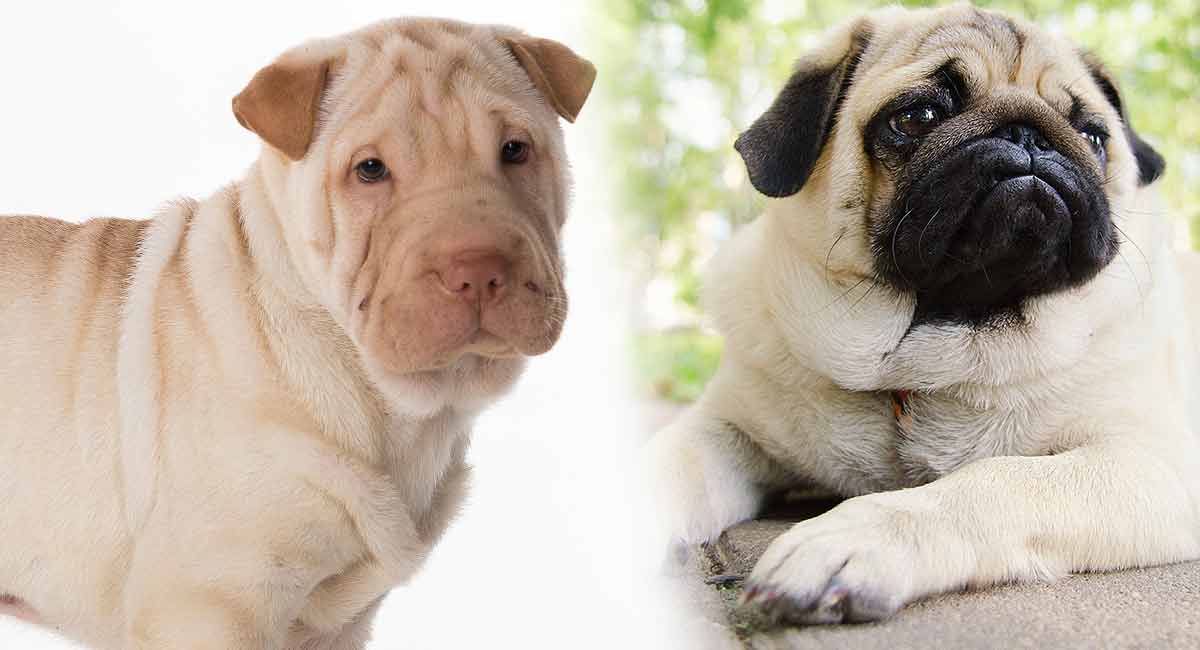 The Shar Pei Pug mix is also known as the Ori-Pei and has one Pug parent and one Shar Pei parent. They have the laid-back nature and stocky figure of a Shar Pei but are usually small like the Pug.
Often social, and clever, Ori Pei have lots of qualities which make them great pets, but sadly they are also prone to several severe health conditions.
Contents
Click the links below to jump to each section of the article. Or, just keep scrolling to read it all!
Let's read on for more about the Ori Pei breed!
Where Does the Ori Pei Come From?
The Ori Pei is a crossbred pup with Pug and Shar Pei blood. It originated in North America in the 1970s and is growing in popularity alongside other crossbreeds.
Ori Peis aren't purebred dogs, and they aren't recognized by any of the major breed registries.
These pup's parent breeds have a history of their own. Pugs were royal dogs in ancient China, beloved by Chinese Emperors. They were bred to be companions to royal families.
Shar Peis also originated in China but were bred to guard property. They may have also been used for dog fighting.
Fun Facts About the Shar Pei Pug Mix
Ori Peis go by many other names as well, including Pugpei, Sharpug, and Pug-a-Pei, to name a few!
The Ori Pei's parent breeds are incredibly popular.
Plenty of famous people own pugs, including Paris Hilton, Chris Pratt, and Hugh Laurie.
Shar Peis won't sit back and let their humans have all the spotlight! They've starred in several television roles, including the TV show "Lost" and an animated role on The Simpsons.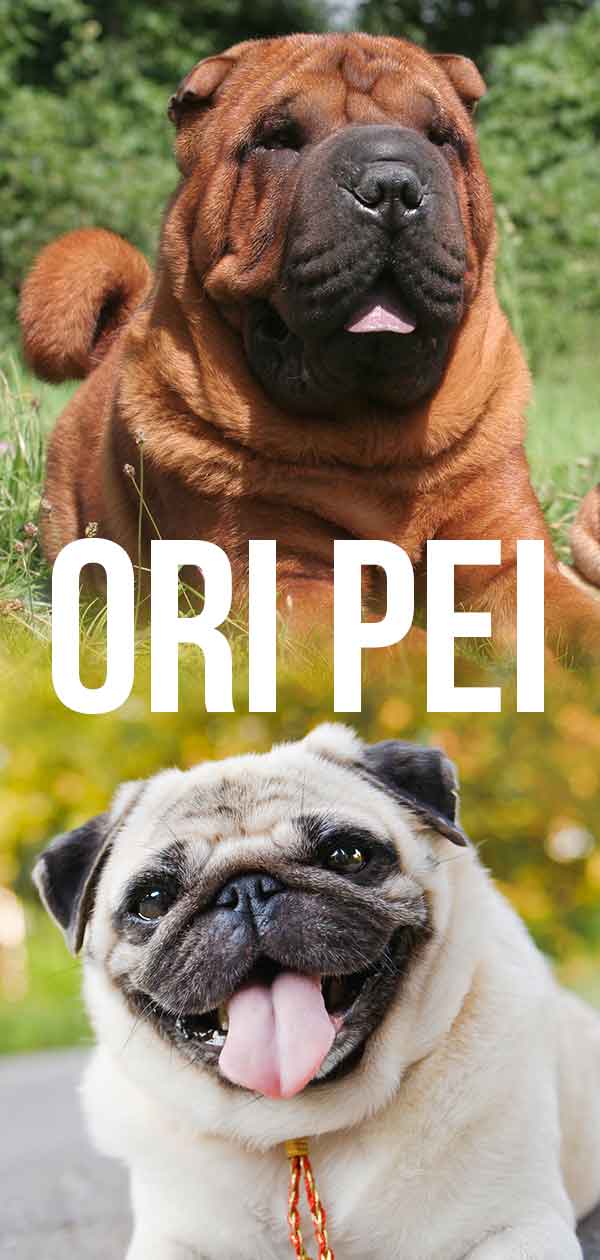 Ori Pei Appearance
Mixed breeds can take after both parents in different ways. In a mixed breed litter, the puppies' appearances may differ quite drastically.
However, by looking at the parent breeds, we can safely predict some aspects of a mixed breed pup's appearance.
Ori Peis are normally 10-14 inches tall and weigh 15-30 pounds.
These dogs have short-haired, wrinkled fur. They are born in various colors but are typically tan or black. Usually, the fur around their snouts is black.
They tend to have a stocky build and wide, short muzzles. Their tails curl over their backs, or they may have a screw tail like the Pug.
These features are immediately distinctive, and charming in their way, but regrettably, they are also the root of most of the Ori Pei's health problems as we'll see later.
Shar Pei Pug Mix Temperament
When looking at the temperament of mixed breeds, we first need to know how the parent breeds behave. The mixed breed will combine these elements in some form.
This makes their behavior a little unpredictable, but we can still get a decent idea of how they may act.
Pug Temperament
First up is the Pug. Pugs are playful dogs, especially in their youth. They're incredibly attached to their humans and always want to be at their side.
For this reason, you don't want to leave Pugs alone for extended amounts of time. They're incredibly social dogs.
Pugs are also smart, protective, and stubborn.
Shar Pei Temperament
Next up is the Shar Pei. These dogs are known for being independent and sometimes stubborn. Though they'll love their families, they're anecdotally less prone to separation anxiety than Pugs.
They're also pretty tough guard dogs, with the sturdy frame to match!
When we combine these traits, we get an idea of the temperament an Ori Pei will have. Ori Peis are known for being friendly, smart, and sometimes stubborn.
They aren't typically aggressive and are good with families. However, they do love to chase small animals. It may be stressful for cats or other smaller pets to live with them for this reason.
Like any dog, you will want to supervise Ori Peis around kids. Ori Peis are known for their friendly disposition, but it's still a good idea to make sure both dog and child are taught to behave appropriately with one another.
Training Your Ori Pei
Ori Pei should be easy to train, but they sometimes have an independent, stubborn streak that demands extra reserves of patience.
With lots of praise and some rewards they can't resist, you and your pup will get the training down. For more help, see our training guides.
You can also check out our potty training and crate training guides!
Socializing Needs
Lastly, you'll want to socialize your Ori Pei. This is important for all breeds, but especially so for those with guarding tendencies.
You'll want to introduce them to a variety of strangers and other dogs, which will teach them not to be distrustful of new people or animals they meet.
If you do have small animals or even children in the house, you'll want to teach your Ori Pei early on not to chase them.
Exercise Needs
When it comes to exercise, these dogs don't need huge yards or tons of playtime. They're content indoors a large portion of the time, but do make sure they get some exercise in throughout the day. Walks or jogs can be good for them, as well as give you a chance for leash training.
When they are exercising, keep an eye on them, because their short muzzle may cause breathing problems or issues with overheating.
Ori Peis don't handle extreme temperatures well, so be mindful when taking them outside in the heat or cold.
Ori Pei Health
Both the Pug and the Shar Pei have a notorious risk of developing health problems as a result of their conformation (body shape).
Combining both breeds in the Ori Pei dog unfortunately doesn't solve any of these problems.
Which means they're likely to require careful management and possibly expensive veterinary care throughout an Ori Pei's life.
The most common health problems that Ori Pei's might inherit from their parents are:
Brachycephalic Disorders
Pugs are extremely brachycephalic (short-snouted). Shar Pei's also have small, pinched snouts.
This can make it hard to breathe, or use panting to maintain a safe internal body temperature during hot weather or exercise.
Brachycephalic Airway Syndrome is also linked to sudden death during hot weather.
And this is why "lazy" or "laid back" Ori Pei's are often being misinterpreted. It's not that they don't have the same doggy instincts to run and play, they're just too disabled by their shape to take part.
If an Ori Pei also inherits the bulging eyes of a Pug, they might suffer the consequences of Brachycephalic Ocular Syndrome.
Spinal disorders
Dogs with screw tails are more vulnerable to malformed vertebrae further up the spine as well.
This can lead to structural problems like curvature of the spine, and neurological problems such as incontinence and hind leg weakness.
Other Health Concerns
Ori Peis are also susceptible to the following health conditions, which are commonly seen in Pugs and/or Shar Peis
Yeast Infections – These infections occur because of all the folds the Ori Pei has. To minimize this risk, keep them clean and dry.
Elbow Dysplasia – malformed elbow socket
Hip Dysplasia – malformed hip socket
Legg-Calve-Perthes – a hip and joint disorder, causes limping
Patellar Luxation – dislocated kneecap
Nerve Degeneration – a disease affecting the spinal cord
Epilepsy – a seizure disorder
Sensitivity to Vaccines
Hypothyroidism
Cancer
Ori Pei Grooming and Daily Care
Ori Peis have short coats and therefore won't need much in the way of brushing. However, they will need regular baths and upkeep concerning the folds of their skin. You can check out our guide to caring for wrinkly dogs to learn more!
You should feed your Ori Pei an appropriate diet, split into two or more meals daily.
Healthy Ori Peis typically live 12-15 years.
Do Ori Peis Make Good Family Dogs?
Ori Peis are likely to be friendly and loving dogs who get on well with children and adult dogs.
But sadly, the majority of Ori Pei's are likely to lead uncomfortable lives and develop serious health problems as a result of their conformation.
We advocate against breeding dogs with such a harmful body shape.
So, if you'd like to bring an Ori Pei home, we recommend rescuing one from a shelter, rather than encouraging further breeding.
Rescuing an Ori Pei
Rescue is a fantastic option when looking for a new dog! It's also the most responsible thing to do in cases like this, when the breed isn't very healthy.
Regrettably, a lot of extremely brachycephalic dog breeds are relinquished to shelters when the veterinary costs of caring for them become too much for their owners.
You can sometimes find mixed breeds in shelters or general rescues, but you may have a better chance at a breed-specific rescue.
Rescues that specialize in Pugs or Shar Peis may also have Ori Peis up for adoption.
Raising An Ori Pei Puppy
A lot goes into raising a new puppy! It can be overwhelming, especially if you're a first-time dog owner.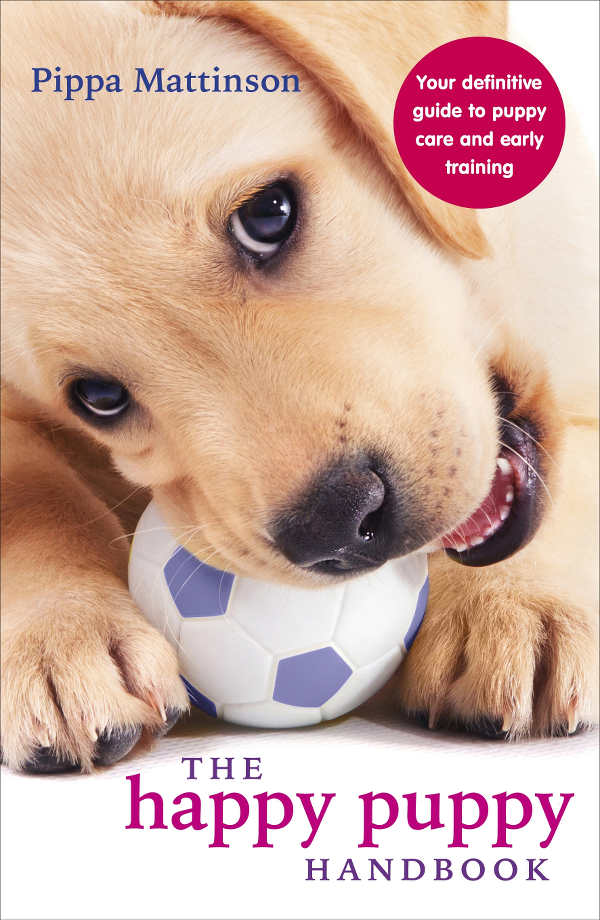 Luckily, our puppy care guide and our training guides provide a wealth of information.
Ori Pei Products and Accessories
Here are some products for your Ori Pei that you will love!
The Best Pug Bed
Pug Harness
Pros and Cons of Getting A Ori Pei
Ori Pei Cons
The worst thing about Ori Pei's is that they come with many, many health problems.
They aren't suited to extremely high or low temperatures, and might be better off inside on very hot or cold days.
They are also prone to separation anxiety and may be difficult to train.
Ori Pei Pros
Ori Peis are good with kids and suited to small homes including apartments.
Similar Ori Peis and Breeds
Here are some mixed breeds similar to Ori Peis:
Cocker Spaniel Shar Pei mix
Shar Pei Bulldog mix
Shar Pei Lab mix
Pitbull Shar Pei mix
Or you might want to try the bear coat Shar Pei!
Ori Pei Rescues
Below is a list of rescues where you may find an Ori Pei. If you know of any other rescues, please let us know in the comments!
Ori Pei Rescues USA
Ori Pei Rescues Canada
Ori Pei Rescues UK
Ori Pei Rescues Australia
Is An Ori Pei For Me?
Ori Peis are sociable dogs. You will be likely to build a good rapport with this dog, but their health problems mean we don't recommend their breeding. We recommend that you don't buy from a breeder. If you are set on getting one, look to rescue an Ori Pei.
References and Resources
Kapatkin et al. Genetic Control of Canine Hip Dysplasia. University of Pennsylvania. 2002.
Mele, E. Epidemiology of osteoarthritis. Veterinary Focus. 2007.
Muller, G. Skin diseases of the Chinese Shar-Pei. The Veterinary Clinics of North America. Small Animal Practice. 1990.
Ostrander, E. The Genetics of the Dog 2nd Edition. CAB International. 2012.