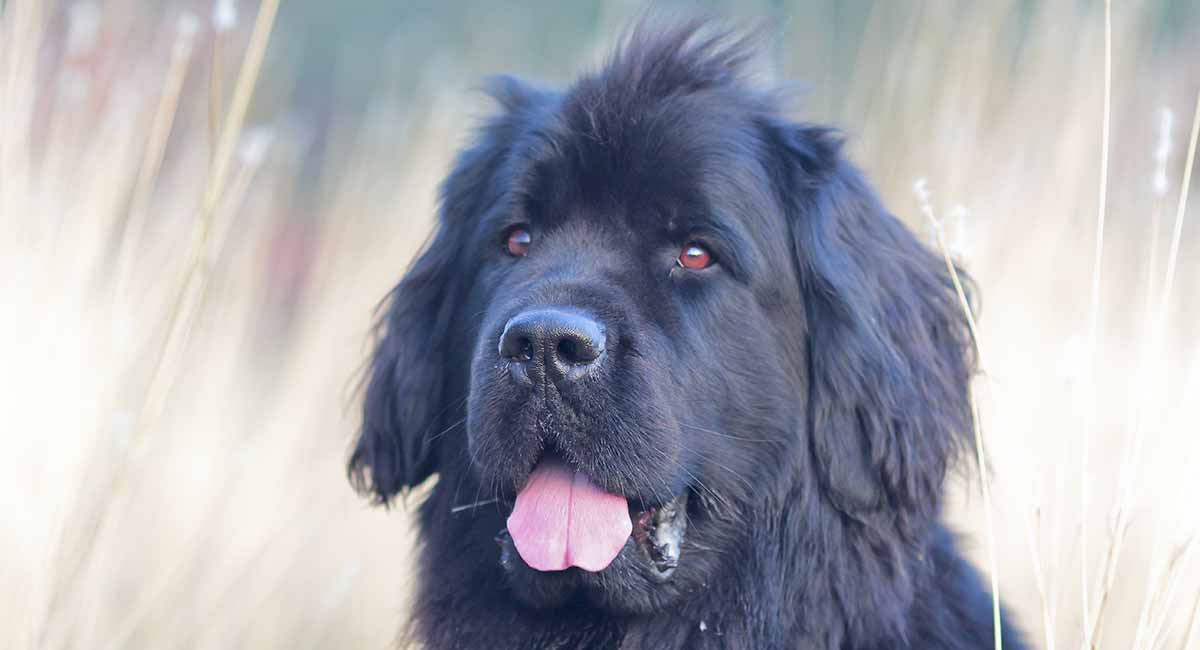 Are you looking to add a Newfoundland to your life, hoping he will make the perfect companion for you?
Newfies are popular family dogs, with a hard-working reputation and affinity for children.
However, Newfoundland dogs are not for everyone and there are many important things you should know about this large breed before deciding to get one.
Luckily, this article is full of useful Newfoundland dog breed information, and hopefully, it will help you to ultimately decide if this big, beautiful breed is right for you!
Welcome to the World of the Newfoundland Dog
Affectionately nicknamed Newfies or Newfs, the Newfoundland is a large, gorgeous purebred who was originally created to work.
Powerful yet gentle, this dog has even been called a "nanny dog" due to his reputation for how well he does with young children.
But how did this breed come to be, and what is his place of origin?
Let's find out!
Where Does the Newfoundland Breed Come From?
The Newfie is an old Canadian breed hailing from the regions of Newfoundland and Labrador, where he was a renowned seaman's dog.
He was famous for his strength, used for hauling in fishing nets, as well as his natural swimming ability.
This breed was so dedicated to his human counterparts that he also became a famous water rescue dog.
While his working and hauling days are now long behind him, the Newfoundland is still a favorite amongst water rescue teams, who continue to employ him worldwide today.
With his naturally webbed paws, water-resistant coat, and immeasurable strength and courage, the Newfoundland is somewhat of a canine superhero.
In fact, did you know that the famous 8,000-mile journey of Lewis and Clark in 1802 was aided by a Newfoundland dog?
Famous Newfies
That's right! And the mission would not have been the same without him.
The accompaniment of the dog, who was appropriately called Seaman, played a vital role in the journey as he not only served as a hunter and guard dog during the trek, but also saved countless lives during a buffalo attack.
In England, Newfoundlands found favor amongst nobles and commoners alike.
In fact, Lord Byron even established a monument dedicated to his Newfoundland dog, named Boatswain.
The monument still stands to this day at Newstead Abbey and continues to be a popular attraction for tourists, who are continually amazed at the fact that Boatswain's tomb is actually larger than that of his master.
But how did such a courageous and powerful dog become known as a nanny dog?
According to the American Kennel Club, it was Senator and Mrs. Robert F. Kennedy's Newfoundland who garnered the endearing moniker.
The Newfie, named Brumus, is famous for the vigilant role he took during the rearing of the Kennedys' 11 youngsters!
And today, the Newfoundland remains as loved as ever, ranking at number 35 out of 194 on the American Kennel Club's list of most popular dog breeds.
Newfoundland Dog Temperament
Pictures of Newfoundland dogs show these animals as large, striking breeds with a strong build, thick coat, and bear-like face.
However, as history has proven, these dogs are actually quite docile and sweet.
Part of the working group, the Newfoundland water dog is famous for his gentle personality, incredible instincts, and natural courage.
A well-rounded breed, the Newfoundland hound makes a fabulous dog for singles and families alike.
Although prospective owners should keep in mind that this is a breed who is incredibly devoted to his family members and requires lots of companionship to stay happy.
The loyal Newfoundland temperament means he will not do well left alone for long periods of time.
However, the Newfoundland personality makes for an excellent companion animal for those who have flexible work schedules or even work from home.
Newfoundland Personality
Incredibly well-behaved, a Newfoundland is not an aggressive breed, nor is he known to be aloof or untrusting.
He is eager to please his people and wants nothing more than to be a helpful, well-loved part of the family!
Still, as with all dogs, the large Newfoundland dog needs to be socialized early on in puppyhood to avoid any undesirable behaviors and to ensure he grows up to be well-rounded and adaptable.
The big Newfoundland dog may also benefit from obedience training, as he is such a large and powerful breed.
But just how large and powerful is the Newfoundland dog full grown? Let's find out!
Description of a Newfoundland
What are the main Newfoundland dog characteristics?
As previously mentioned, Newfoundland dog images show a dog who is bear-like in stature, with a large head, long ears, a long tail, and wide, webbed paws.
Newfoundland pictures also show a thick, dense long coat, sparkling, intelligent brown eyes, and a sweet, endearing face.
But what isn't shown in some Newfoundland dog photos?
For starters, Newfoundland dog pics don't show us his impressive size!
But just how big is the breed?
Newfoundland Size
Well, considering the Newfoundland is described as being "strong enough to save a grown man from drowning," the Newfie is rather huge. This is why it's made our list of dogs that look like bears!
If you look up the Newfoundland dog size comparison to a human, you're likely to be amazed.
This breed is breathtakingly gigantic, and a prospective owner should certainly make sure they are prepared for this before going out and buying a cute little Newfie pup.
And while the Newfoundland size ranges depending on if you have a male or female, the average full-grown Newfoundland is massive, with Newfoundland dog height being anywhere from 26 to 28 inches long and Newfoundland weight being 100 to 150 pounds!
Newfie Coat
When going over Newfoundland dog characteristics, we shouldn't forget to mention the dog's coat!
Thick, dense, and double-layered, the Newfie's water-resistant coat is a sight to see.
The outer layer is very long, while the undercoat remains shorter and softer.
The beautiful coat comes in three Newfoundland colors.
A Newfoundland dog's coat can also be one solid color or have white markings included.
Newfoundland dog colors include:
• Black
• Blue Belton
• Brown
So how do you care for and groom this magnificent dog? Don't worry! We are about to tell you.
How to Groom and Care for my Newfoundland
When considering all the Newfoundland dog facts, we must consider this breed's dense coat. Of course, any prospective owner wants to know about shedding, grooming, and more.
But do Newfoundland dogs shed?
Yes, dogs like Newfoundland dogs do shed, and in fact, Newfoundland dog shedding is a daily thing, especially when the breed is spayed or neutered.
A Newfoundland dog will also shed more during shedding season, which happens twice a year.
When it comes to grooming, Newfoundland dogs should be brushed at least once a week to keep loose hair under control and to help the long fur from becoming tangled or matted.
Keep in mind that during shedding season, the Newfie will need his coat brushed daily.
Otherwise, you and your home may become as fuzzy as he is!
Bathing can be occasional unless the Newfoundland has gotten himself particularly messy, which is entirely possible as this is a breed who highly enjoys the water.
And just like all dogs, the Newfie will need his nails trimmed regularly to keep them from cracking and splitting and his ears cleaned and trimmed to keep moisture and waxy build-up from causing infection.
Training and Exercising A Newfoundland
Although he is quite a giant breed, the Newfoundland is remarkably easy to train and eager to please. He is highly intelligent and adept at picking up new commands.
He enjoys making his people proud of him and will do just about anything as long as he is directed with a loving, consistent hand.
However, we should keep in mind that the Newfoundland is a sensitive breed who will not respond well to harsh training methods.
While Newfoundland dog swimming skills are quite famous, keep in mind that your Newfie may not enjoy water if he is not introduced to it early on.
If you want your Newfoundland to swim, experts recommend introducing him to water gently and patiently, and making sure his water experiences are positive and fun for him!
As far as exercise goes, the Newfoundland will require at least a half-hour of exercise a day to stay fit and healthy.
Swimming, jogging, and hiking are all great ways to meet this large breed's exercise needs, as he loves anything outdoors and enjoys being with his people!
However, keep in mind that just because this is a large, active breed, he is not meant to be an outdoor dog. The Newfoundland requires companionship and was bred to live alongside his family indoors.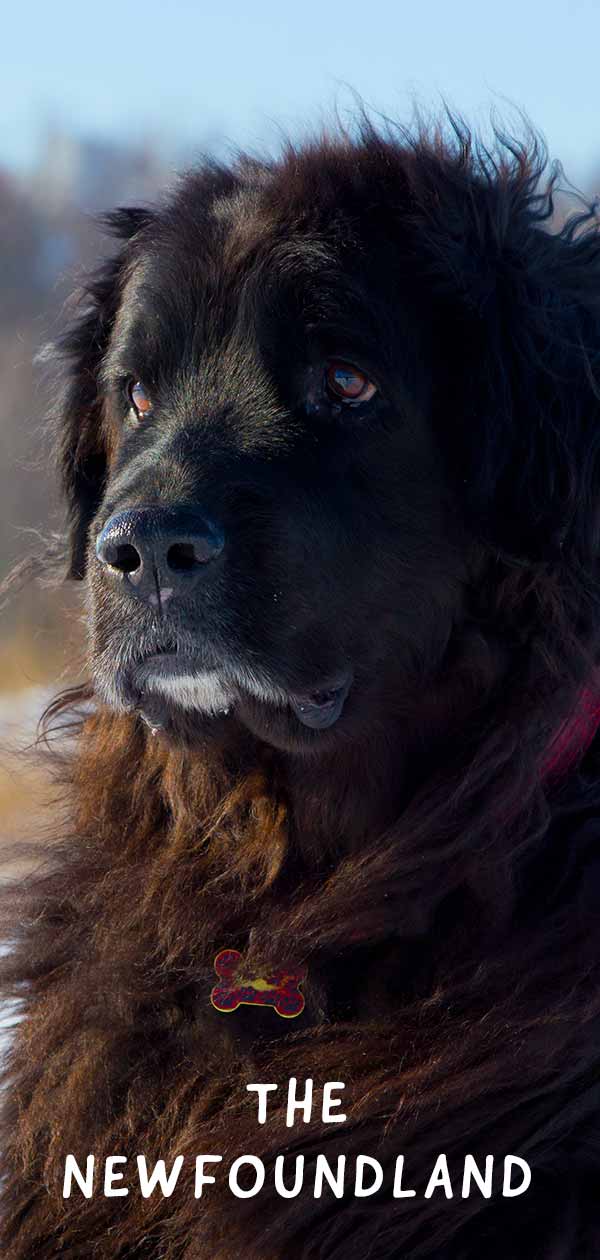 Newfoundland Health Issues and Lifespan
How long do Newfoundlands live? Sadly, the sweet Newfoundland dog lifespan is rather short.
As is typical with such large breeds, the Newfie, on average, only lives about 8 to 10 years.
You should also note that this purebred is prone to some pretty serious inheritable health conditions.
Including gastric torsion, cystinuria, hip and elbow dysplasia, epilepsy, sub-aortic stenosis, von Willebrand's Disease, cataracts, entropion, osteochondrosis dissecans, and cruciate ligament rupture.
To better ensure your Newfoundland puppy has the best chance at a long, healthy life, we suggest early health screening.
Early health screening in your Newfie pup may help you to prepare for or even prevent certain health conditions inherent to the breed.
What Dog Food is Best for the Newfoundland Breed?
Large dog breeds such as the Newfoundland tend to do best on high-quality dog foods rich in protein and low in unnecessary grains and additives.
Avoid dog foods high in ingredients like corn, soy, and wheat, and opt for dog foods that list meat proteins such as real chicken, salmon, or beef in the first few ingredients.
Whether you opt to feed your Newfoundland wet dog food, dry dog food, or specialty dog food, be sure that you are feeding him the appropriate diet for his age, weight, and activity level.
Remember, big dogs need dog food that is geared towards large breeds, as they require specific nutrients for skeletal growth.
Dog treats play a major role in training and bonding with our canine counterparts, but try to give them in moderation as they are pretty high in calories.
As always, we suggest doing research on any human foods you are uncertain about before you feed them to your Newfoundland. Remember, not all human foods are good for our dogs.
Deciding if the Newfoundland Is Right for Me
The Newfoundland is a popular dog breed, and after learning about him it is easy to see why!
Still, this is a lot of dog, and while he may have one of the sweetest temperaments around, he may not be the right dog for everyone.
Due to his sheer size and need for constant companionship, the Newfoundland may be more than many dog lovers can take on.
However, if you don't mind having a very large dog around, are able to meet his daily exercise requirements and grooming needs, and have the ability to work from home or be around him more often than not, then this breed may be right for you.
How Do I Find a Newfoundland Puppy?
Newfoundland puppies are adorable, but we can't forget they grow up into very big dogs!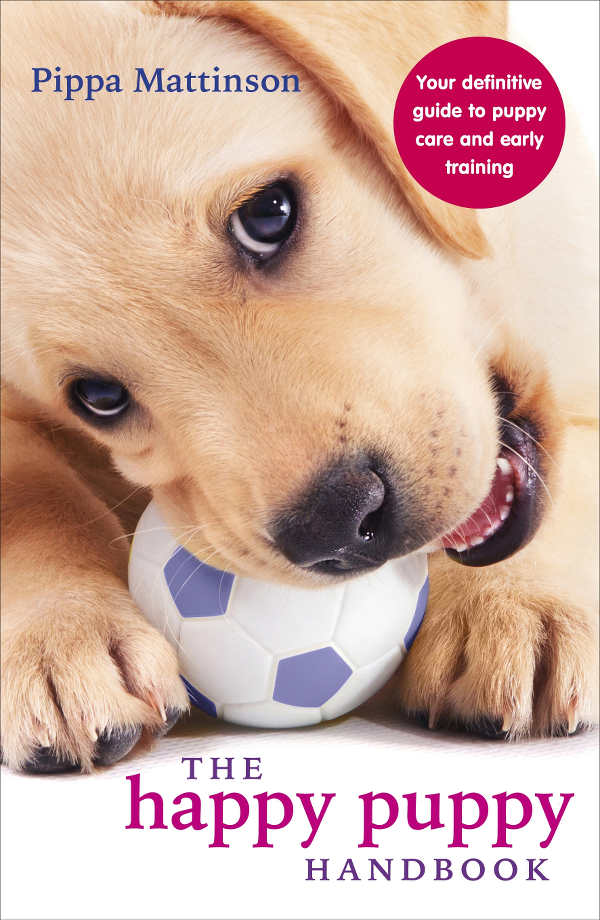 Even if you are looking to get a crossbreed, like the Newfoundland Retriever, you should still expect it to be a large animal.
Sadly, many Newfoundland dog puppy breeds wind up in shelters due to their size. For this reason, you may want to consider rescuing a Newfie.
While there are many rescue clubs specifically for the Newfoundland breed, it is important to do research to find the right club or shelter near you.
One of the benefits of going through a shelter, along with the fact that you'll be rescuing a needy dog, is the price.
Adoption fees are typically a fraction of breeder fees, costing anywhere from $50 to $100.
Not only that, but shelters will also usually pay for the first vet fee before your Newfie goes home with you.
Newfoundland Breeders
On the other hand, if you have your heart set on getting your Newfoundland from a breeder, expect to pay anywhere from $500 to over $1000.
If your Newfoundland's parents are show quality, the price will be more.
Still, there are benefits to going through a breeder.
For one, you'll be able to ask questions regarding health and temperamental issues of previous litters or the parent dogs.
And sometimes you may even be able to see the parent dogs for yourself.
Getting a face-to-face look at your Newfoundland puppy's parents may help you to better determine what his temperament and appearance will be as he gets older.
Furthermore, reputable breeders will have health-screened their litters and should, therefore, be able to provide you with certificates proving your Newfie pup is healthy and ready to go home!
Do you have a Newfie dog or crossbreed? Tell us all about it below!
References
S.C. McKenna, J.L. Carpenter, S.C. McKenna, Polycystic Disease of the Kidney and Liver in the Cairn Terrier, Veterinary Pathology
V.M.D. M.S. R.L. Pyle, D.V.M., D.Sc., D.F. Patterson, D.V.M., PhD., S. Chacko, The Genetics and Pathology of Discrete Subaortic Stenosis in the Newfoundland Dog, American Heart Journal
Anje C. Wiersma, Polona Stabej, Peter A.J. Leegwater, Bernard A. Van Oost, William E. Ollier, Joanna Dukes-McEwan, Evaluation of 15 Candidate Genes for Dilated Cardiomyopathy in the Newfoundland Dog, Journal of Heredity, Volume 99, Issue 1, Pages 73-80
J.P. Koeman, W.J. Biewenga, E. Gruys, Proteinuria Associated with Glomerulosclerosis and Glomerular Collagen Formation in Three Newfoundland Dog Littermates, Veterinary Pathology
Booth, K., A Case of Juvenile Nephropathy in a Newfoundland Dog, Veterinary Record, Vol. 129, No. 24, Pages 596-597
Tiffani J Howell, Tammie King, Pauleen C Bennett, Puppy Parties and Beyond: the role of early age socialization practices on adult dog behavior, Volume 6, pages 143-153
Nathan B Sutter and Elaine A Ostrander, Dog Star Rising: The Canine Genetic System, Nature Reviews Genetics, Volume 5, pages 900-910